Many places to visit in Jaipur will make one's mind and soul happy. From royal forts to never-ending marketplaces that span miles, the Pink City has it all!
List of Top 20 Places to Visit in Jaipur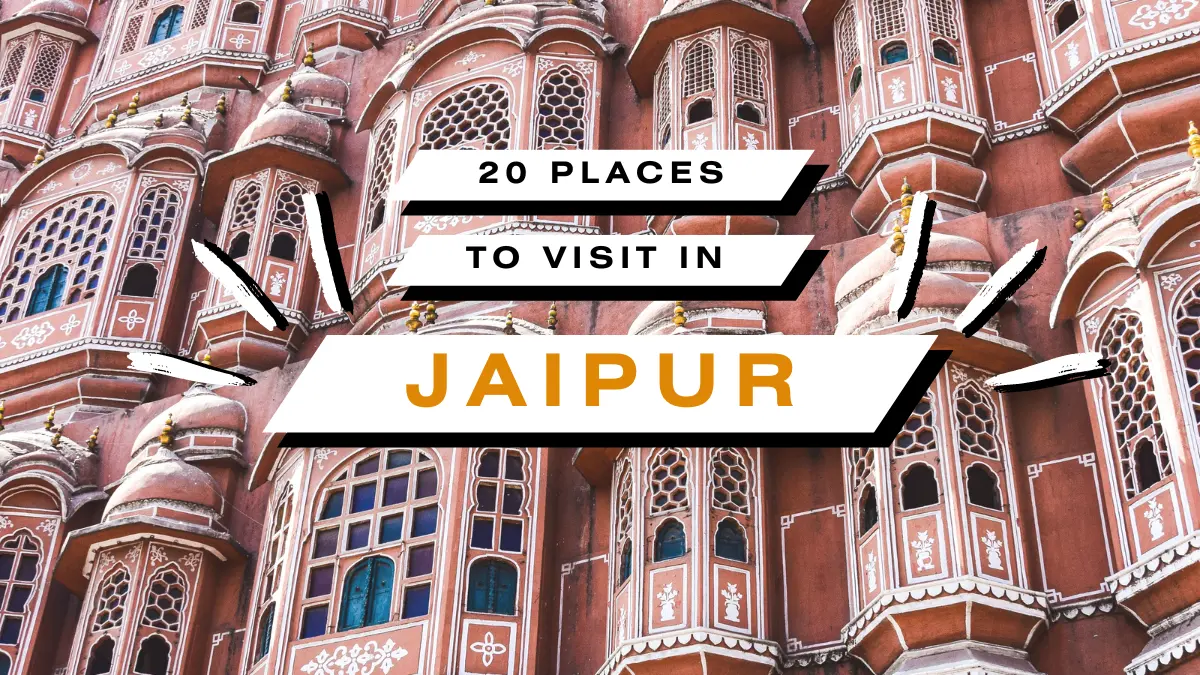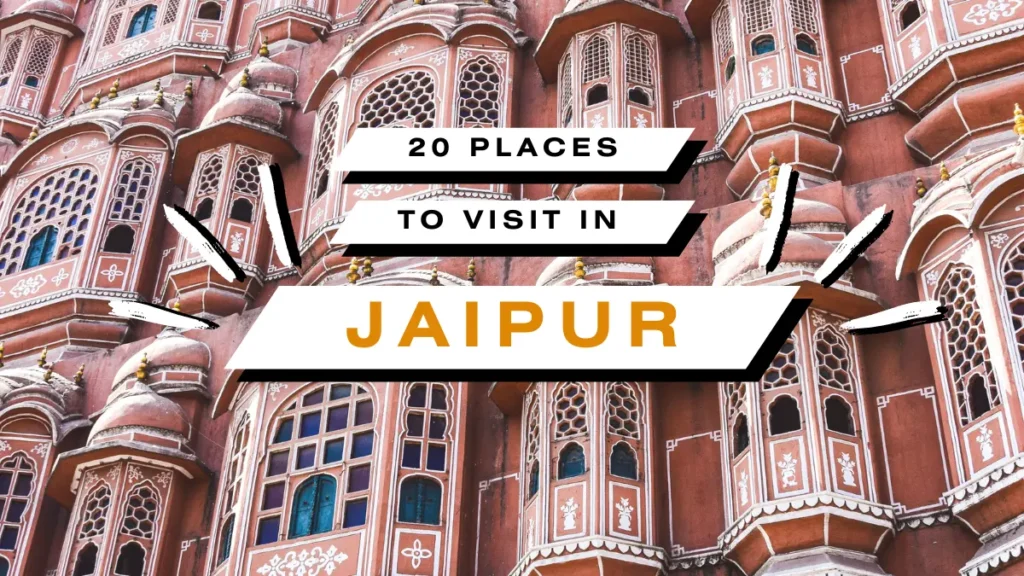 Nahargarh Fort
Amer Fort
Hawa Mahal
Jal Mahal
Patrika Gate
City Palace
Galtaji Temple
Central Park
Bapu Bazar
Raj Mandir
Abhaneri Step Well
Chokhi Dhani
Gaitore ki Chhatriyaan
Panna Meena ka Kund
World Trade Park
Sargasuli
Jantar Mantar
Birla Mandir
Moti Doongri
Birla Auditorium
1. Nahargarh Palace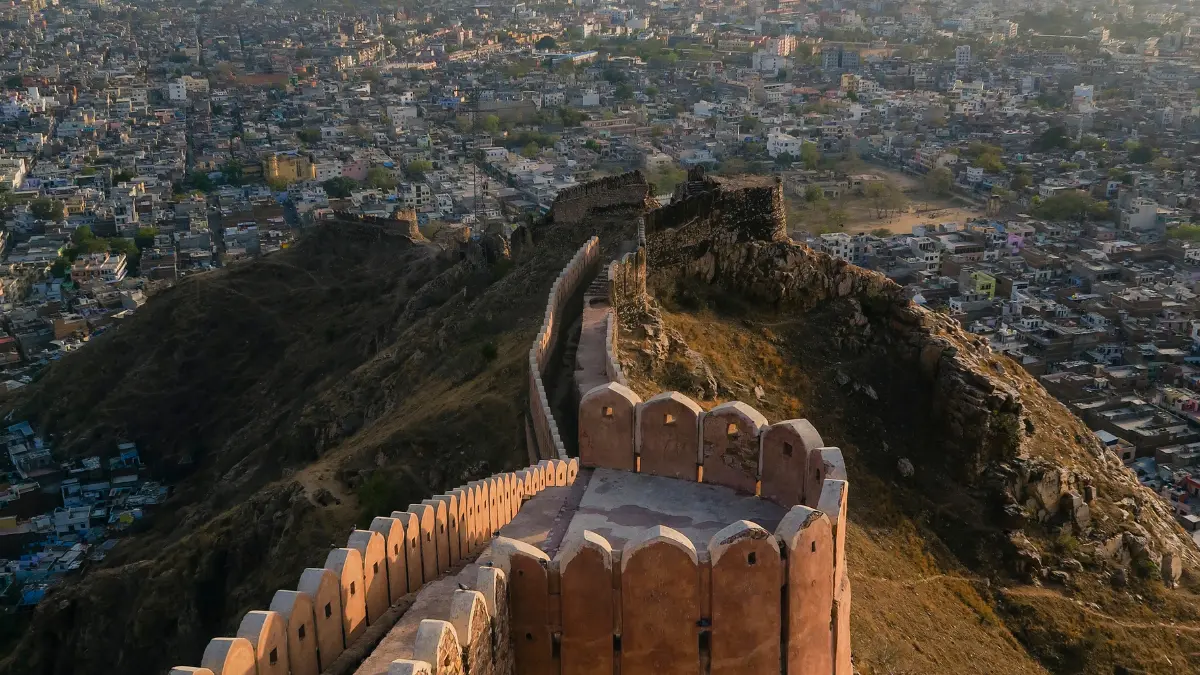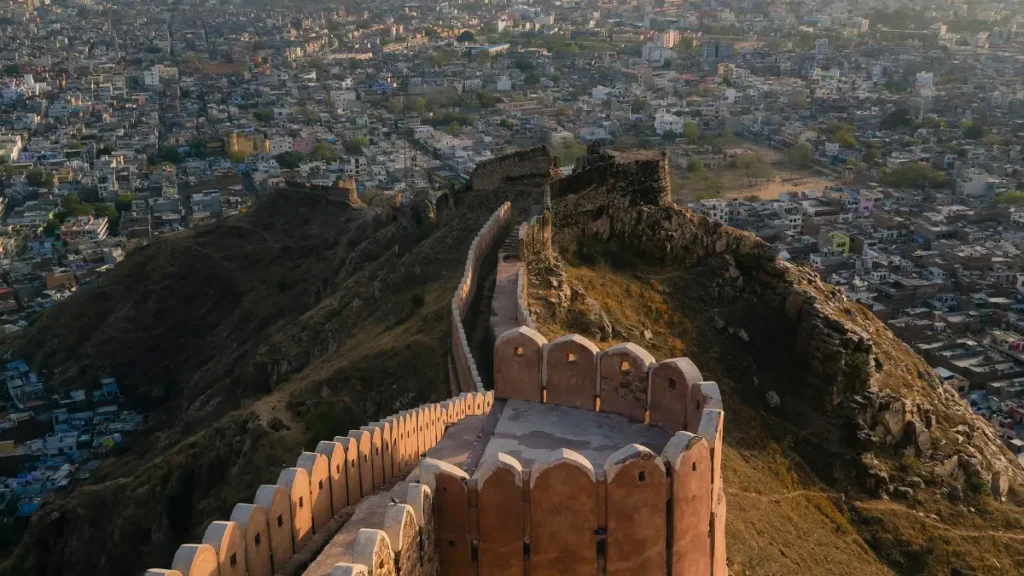 In Nahargarh Palace, history, architecture, and spectacular landscapes combine perfectly to create an enthralling voyage through time. This magnificent hilltop fortress, positioned high above the Pink City of Jaipur, provides visitors unparalleled panoramic views of the bustling cityscape and insight into Rajasthan's regal past. You'll be taken back in time as you visit its well-preserved buildings, such as the beautiful Madhavendra Bhawan and historic temples. Nahargarh Palace will captivate your senses and leave you with memories of Rajasthan's imperial splendour that will last a lifetime, whether you're a history enthusiast, an architecture lover, or just looking for a peaceful vacation with amazing photography possibilities. You can come here for the most amazing Jaipur sightseeing experience.
Timings: The Fort is open from 10.00 A.M. to 05.30 P.M.
Entry Fees: INR 50 for Indians and INR 200 for foreigners. Indian students pay INR 5 by showing their student identity card
2. Amer Palace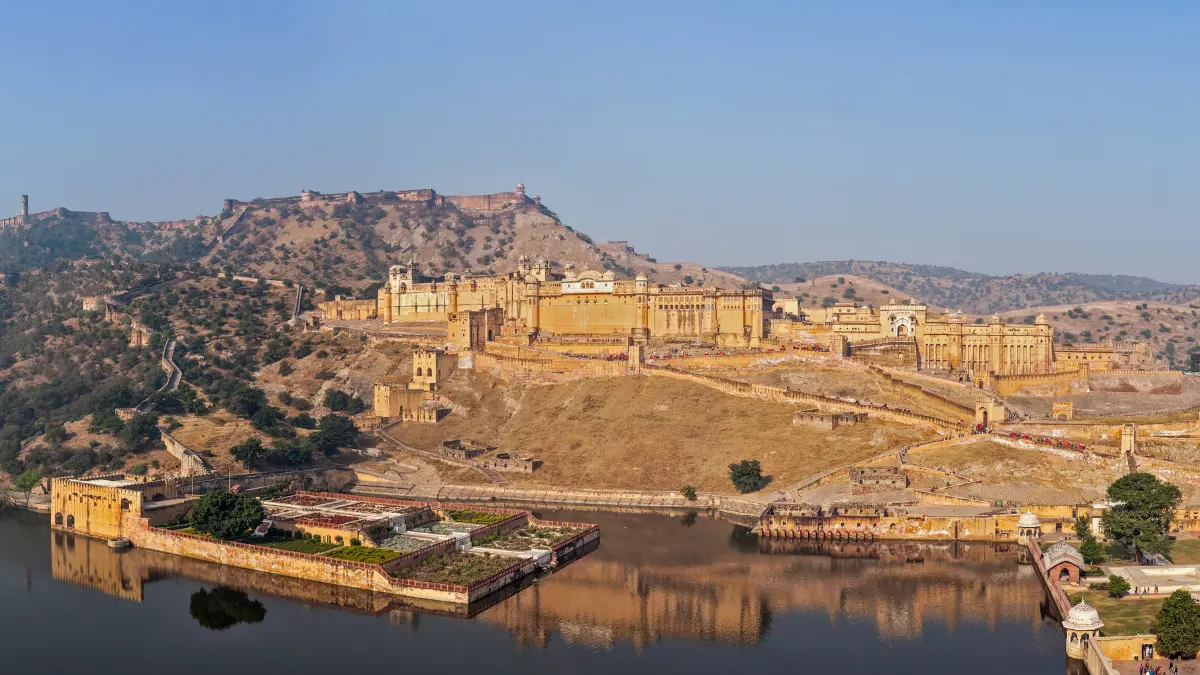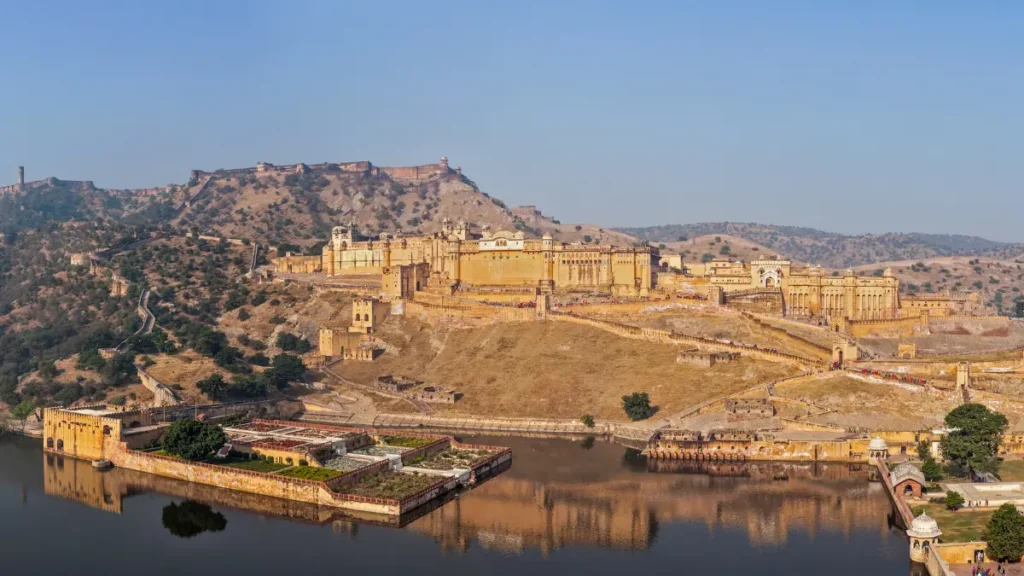 Amer Palace lures you with its alluring charm, a magnificent tribute to Rajasthan's glorious heritage. This architectural marvel, located just outside Jaipur on a hilltop, has a regal grandeur. You'll travel back in time as you walk past beautiful palaces, tranquil courtyards, and magical gardens as you climb its imposing ramparts. This UNESCO World Heritage Site's elaborate patterns, mirror-lined hallways, and historical significance will wow you. In addition, the captivating views of the nearby Aravalli hills and the Maota Lake offer a magnificent background, making Amer Palace a must-see for history aficionados, lovers of architecture, and anybody looking to experience Rajasthan's regal splendour.
Amer's beauty makes it one of Jaipur's top 10 tourist places.
Timings: Amer Palace is open daily from 08.00 A.M. to 05.30 P.M. The lights and sound shows start from 07.30 P.M.
Entry Fees: INR 25 for Indians and INR 550 for foreigners. There are student discounts
 3. Hawa Mahal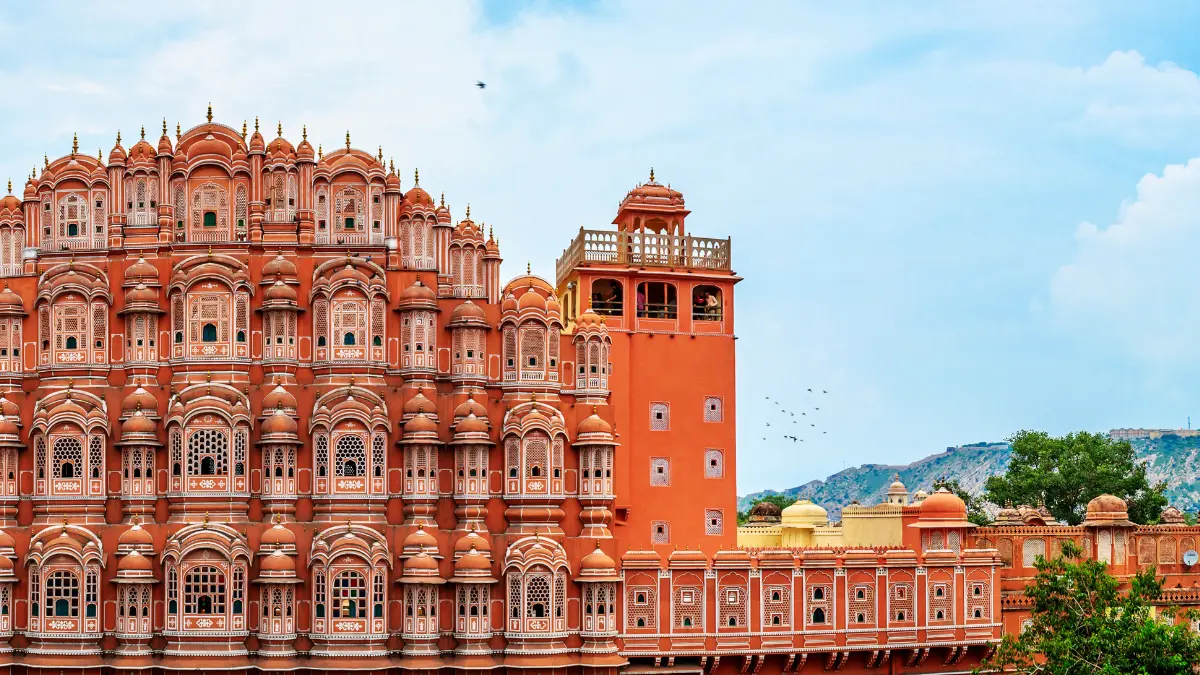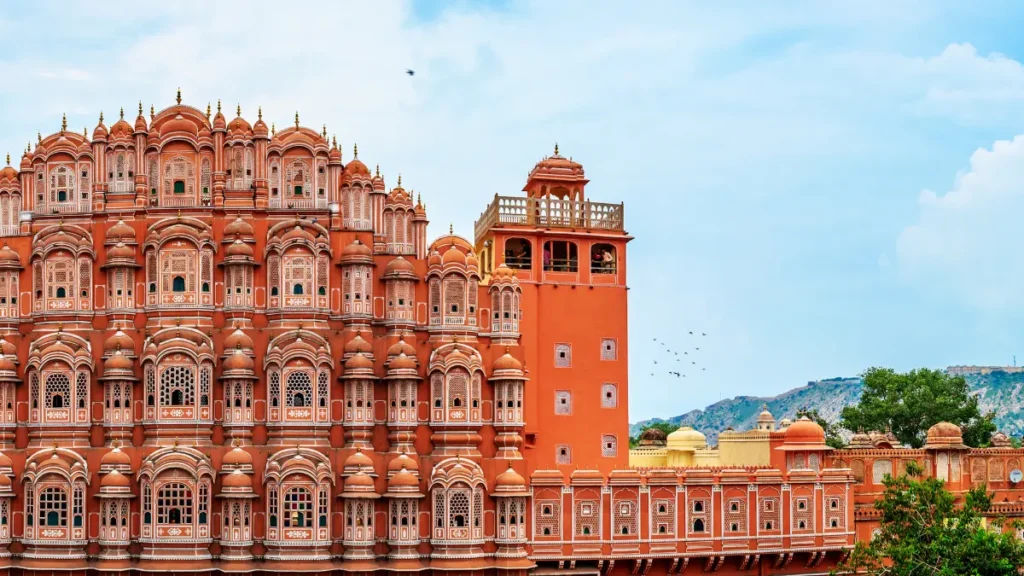 The famous "Palace of Winds" in Jaipur, Hawa Mahal, is an amazing architectural feat that skillfully combines beauty and function. This five-story palace was constructed in 1799 with a striking pink sandstone front and 953 beautifully carved jharokhas (windows) to allow the royal ladies to see street festivals and daily life while staying hidden from the public. A clever architectural achievement, the palace's honeycomb-like lattice work ensured privacy while producing a cooling wind and acting as a natural air conditioner. A trip into the royal past occurs at the Hawa Mahal, representing Jaipur's rich legacy and inventiveness, where history, art, and practical architecture come together in a stunning exhibition of Rajputana beauty.
The Tattoo Café and Wind View Café are the best restaurants in Jaipur to get a complete view of the Hawa Mahal.
Timings: Hawa Mahal is open on all days from 09.00 A.M. to 05.00 P.M.
Entry Fees: INR 50 for Indians and INR 200 for foreigners.
4. Jal Mahal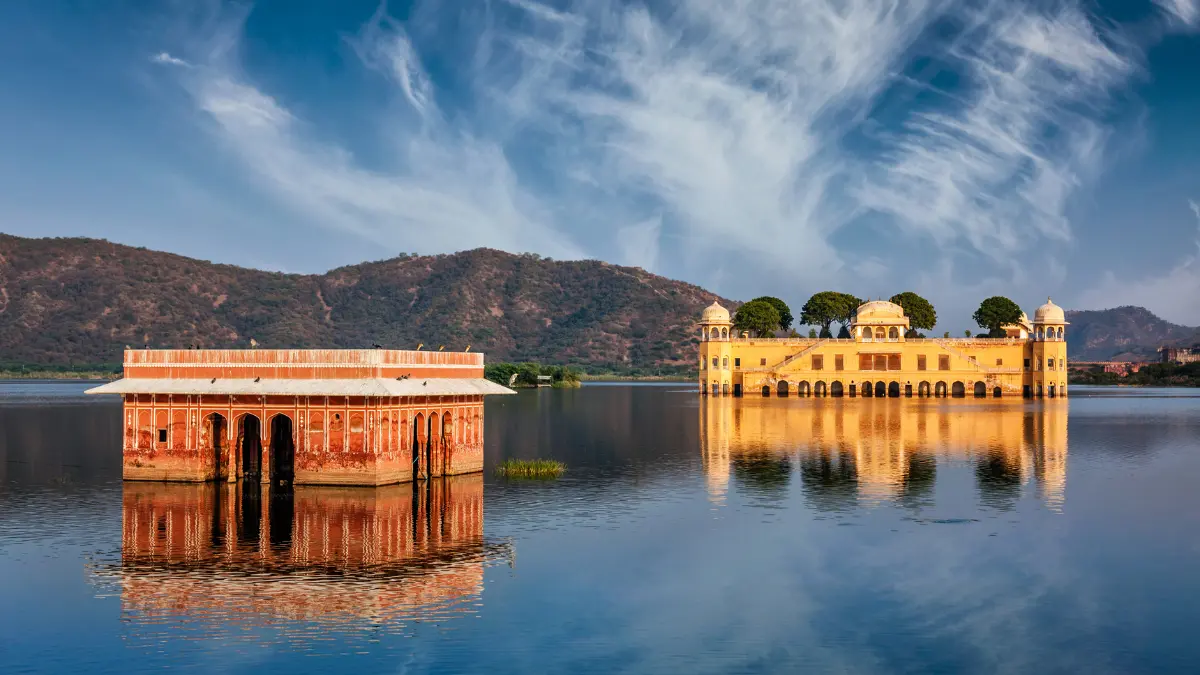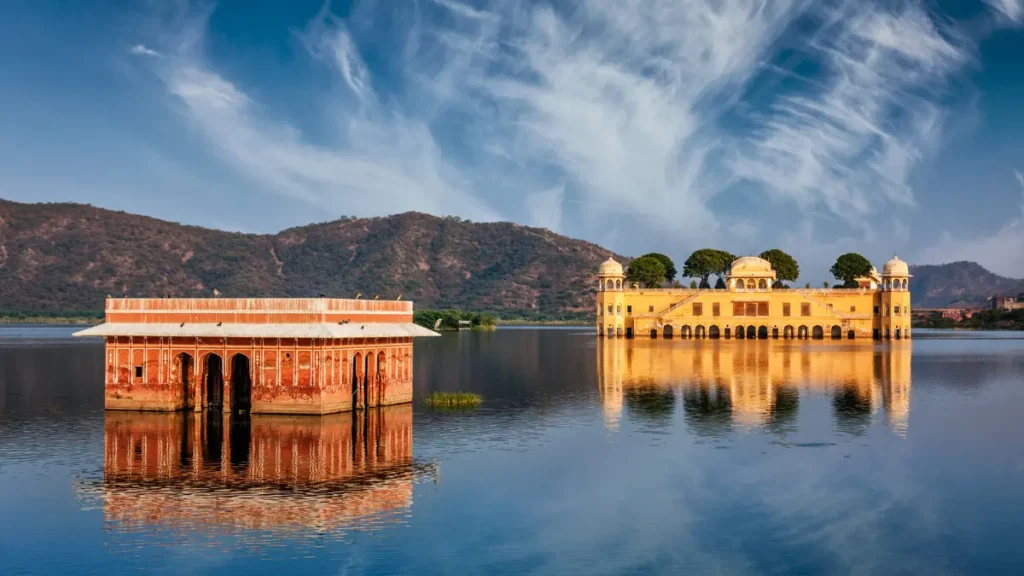 The "Water Palace," called Jal Mahal, is a stunning architectural wonder in the middle of Man Sagar Lake in Jaipur, Rajasthan. In front of the Aravalli hills, this magnificent five-story castle floats on the lake, casting a beguiling reflection. Maharaja Madho Singh I erected the Jal Mahal, a beautiful fusion of Rajput and Mughal architectural traditions, in the 18th century.
The palace's top levels and delicately built chhatris (domed pavilions) stand above the lake's surface, submerging the lower floors. This distinctive structure was a royal summer retreat, relieving the oppressive desert heat and being visually beautiful.
Although Jal Mahal's interior is not accessible to the general public, the palace is a well-liked location for photographs and is stunningly lit at night. Jal Mahal is a gorgeous and serene location that contributes to the appeal of Jaipur.
It is one of the most amazing places to visit in Jaipur for free.
Timings: Jal Mahal is open on all days from 06.00 A.M. to 06.00 P.M.
Entry Fees: There is no entry fee.
5. Jawahar Circle – Patrika Gate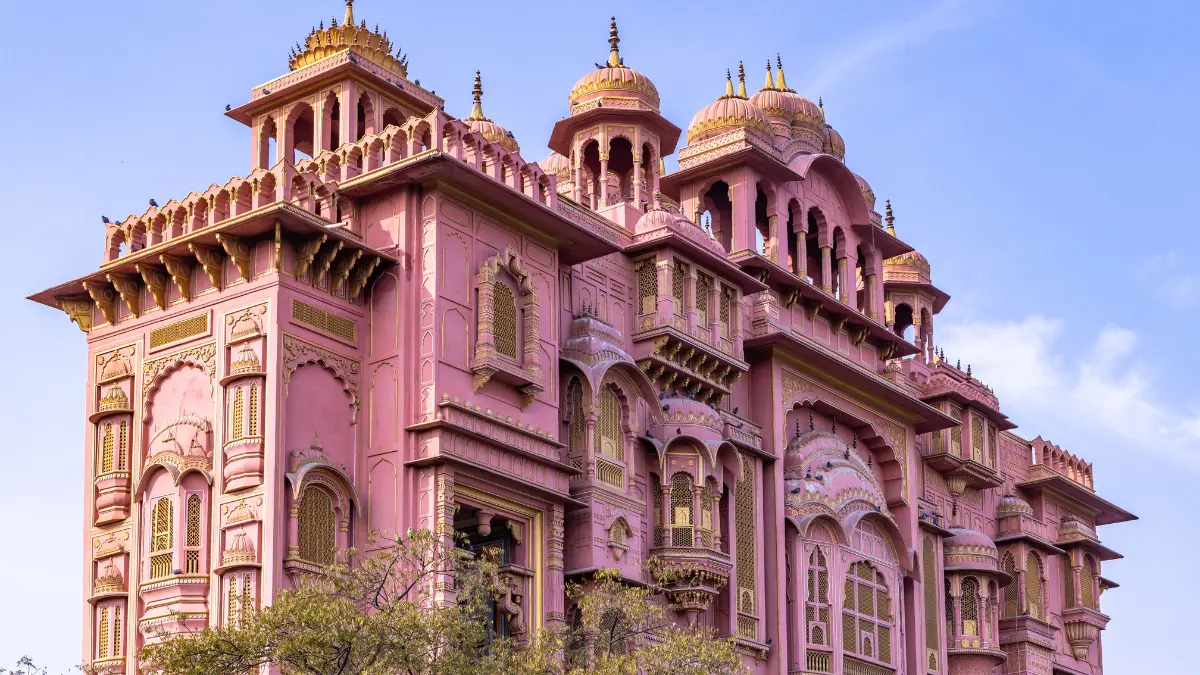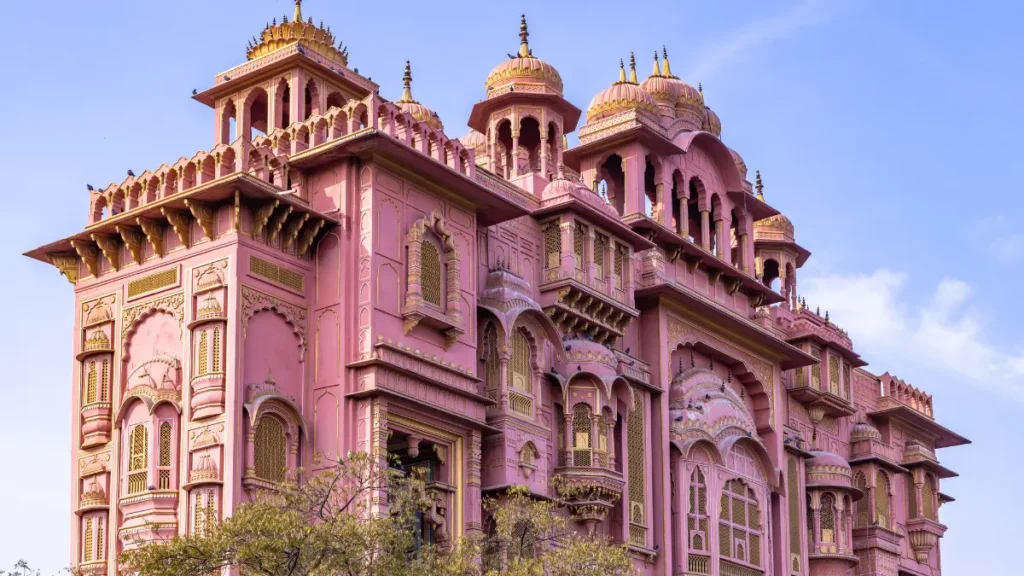 The Patrika Gate is a colourful and artistic beauty that exemplifies the city's illustrious history and culture. The Patrika Gate, inaugurated in 2016, is a more recent addition to Jaipur's environment than conventional historical landmarks. Its modernism does not lessen its importance, though.
The gate's design is an alluring fusion of beautiful artwork and Rajasthani architecture. Its nine pavilions represent Rajasthan's rich cultural diversity, such as music, art, dance, and folklore. The building is covered with vibrant frescoes, complex paintings, and elaborate murals that collectively highlight the state's rich traditions and history.
The Patrika Gate attracts visitors with its picturesque beauty and vivid aesthetics. It has grown to be a well-liked background for visitors and residents, providing a fantastic location for capturing special moments. This gate welcomes tourists with open arms to experience the brilliant tapestry of Rajasthan's customs and history as a colourful and artistic tribute to the state's rich cultural heritage.
From here, you can rent bicycles starting INR 50 per hour for touring around Jaipur.
Timings: Patrika Gate is open 24×7. Jawahar Circle is open on all days from 05.00 A.M. to 10.00 P.M.
Entry Fees: There is no entry fee.
6. City Palace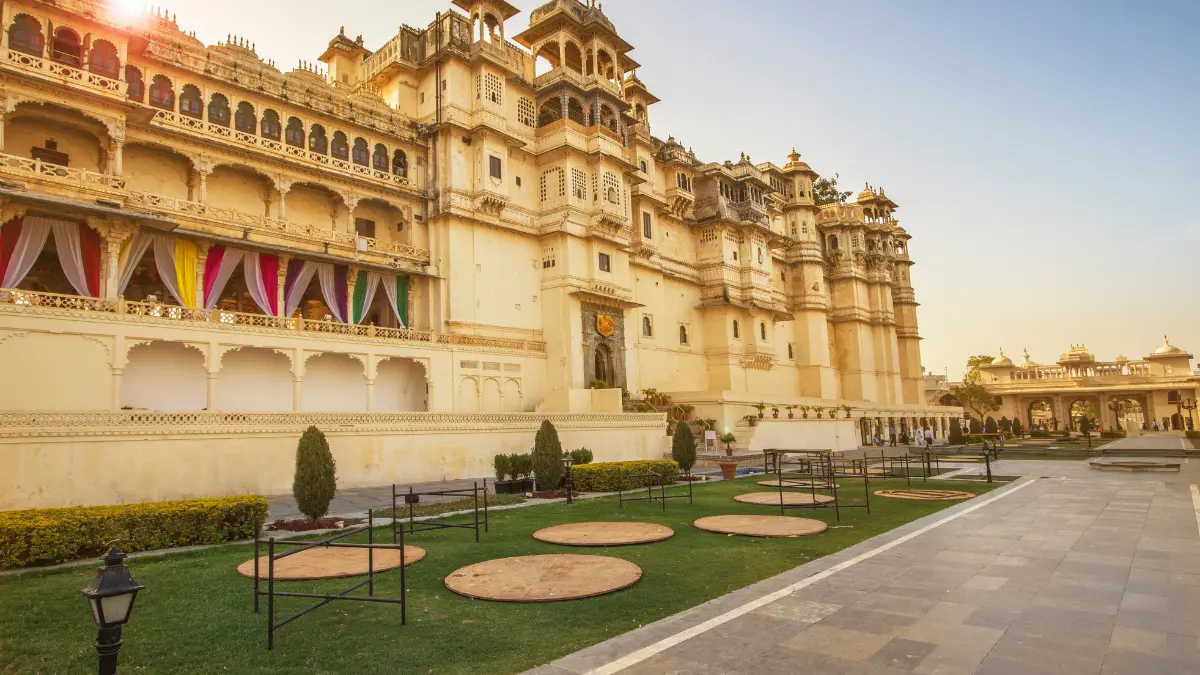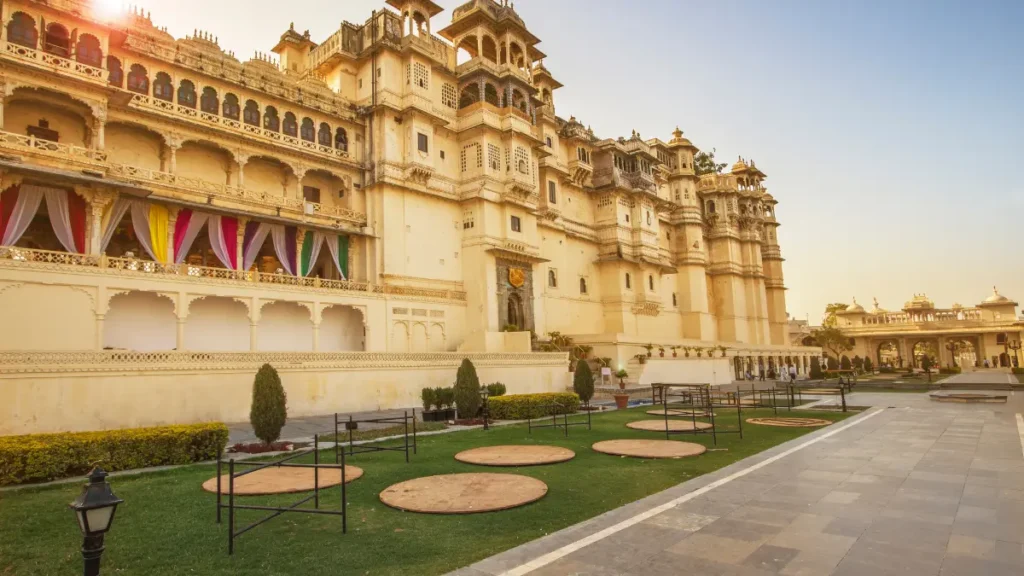 The City Palace in Jaipur is a popular tourist attraction. This vast palace complex is a remarkable mix of Rajput and Mughal architecture and is situated in the centre of the Pink City. The Jaipur royal family still resides in the palace. The lively royalty one experiences here is unmatched, making City Palace one of the most frequented places to visit in Jaipur.
The City Palace's beautiful façade, elaborate gates, and magnificent courtyards fascinate visitors. Within the compound, the Chandra Mahal and Mubarak Mahal each hold outstanding museums that feature an enthralling assortment of royal artefacts, costumes, works of art, and historical documents.
The palace's architecture is stunning, and it has well-kept gardens and reflecting pools as well. The exterior portions of the palace are available to guests, who may immerse themselves in the grandeur and history of Rajasthan, while the inner sanctuary of the palace remains private. Travellers who want to experience Jaipur's regal appeal must stop at the City Palace since it offers a cultural experience and a glimpse into the city's wealthy past.
Timings: The City Palace is open on all days from 09.30 A.M. to 05.00 P.M.
Entry Fees: INR 200 for Indians and INR 700 for foreigners. There are student discounts available.
7. Galtaji Temple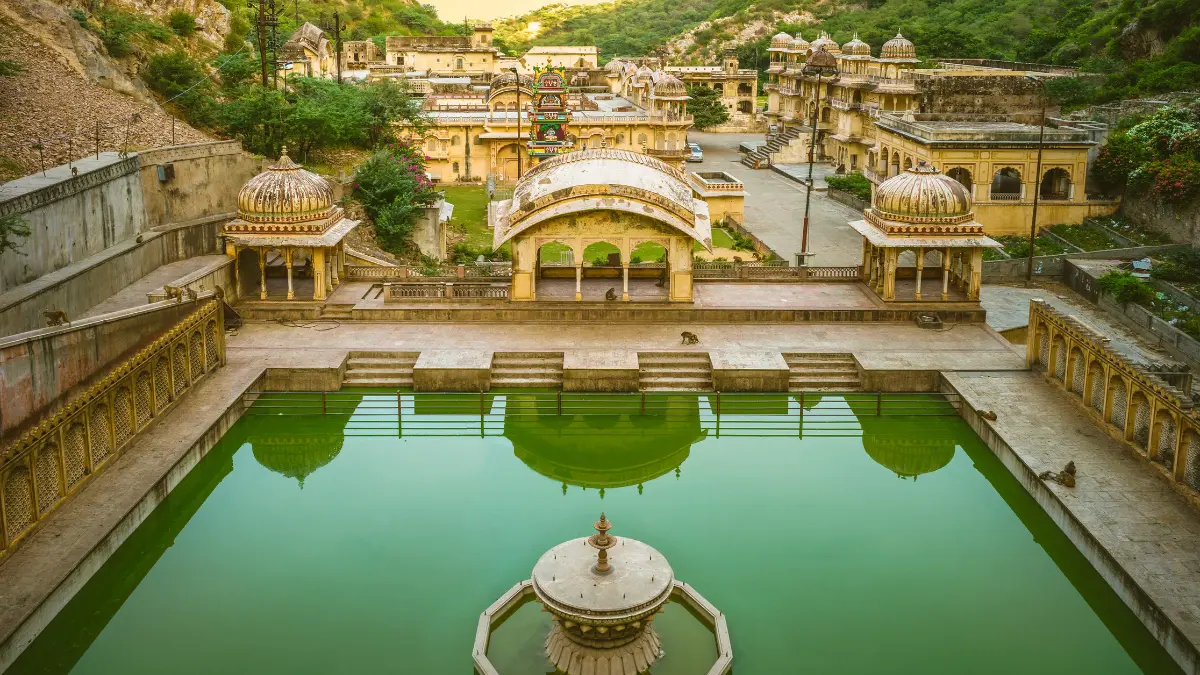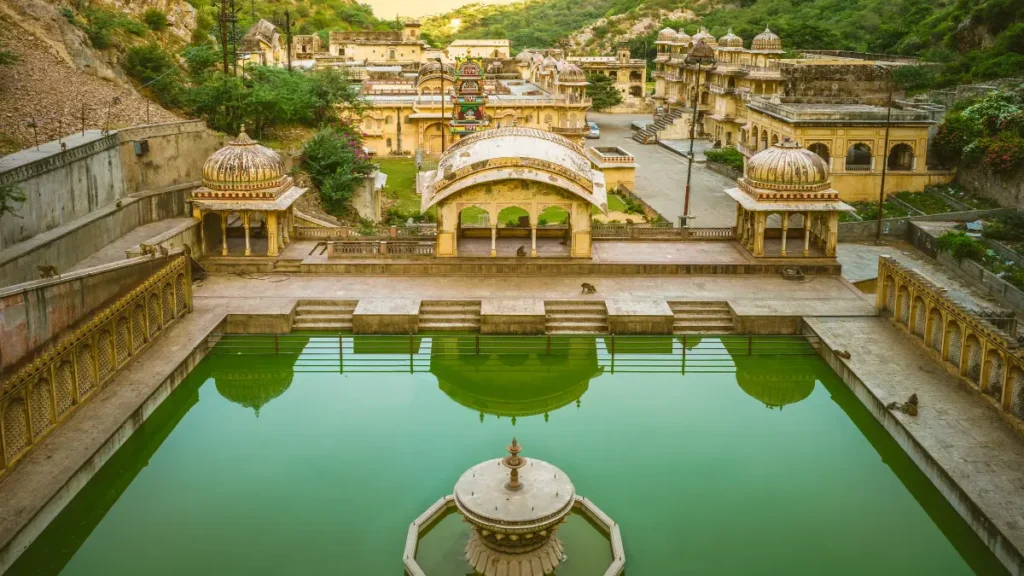 In the scenic hills encircling Jaipur, Rajasthan, is the unusual and mystical Galtaji Temple, often known as the Monkey Temple. This historic temple complex is significant to Hinduism and is well-known for its stunning architectural grandeur and the many monkeys that freely roam its grounds.
The Lord Hanuman-dedicated main temple is made of pink sandstone and has elaborately carved pillars and arches. There are many holy kunds (water ponds) within the complex where devotees take ritual showers because they believe these waters to be holy. The temple is bordered by natural springs.
The area's resident monkeys are revered and essential to the temple's allure. Visitors may observe these lively creatures in the tranquil temple setting going about their everyday lives.
In addition to providing a spiritual experience, Galtaji Temple also provides a peaceful haven from the bustle of the city. It is a must-visit location for anybody interested in learning more about Jaipur's diverse cultural heritage since it is a site where history, spirituality, and environment come together.
Timings: The temple is open on all days from 05.00 A.M. to 09.00 P.M.
Entry Fees: There is no entry fee.
 8. Central Park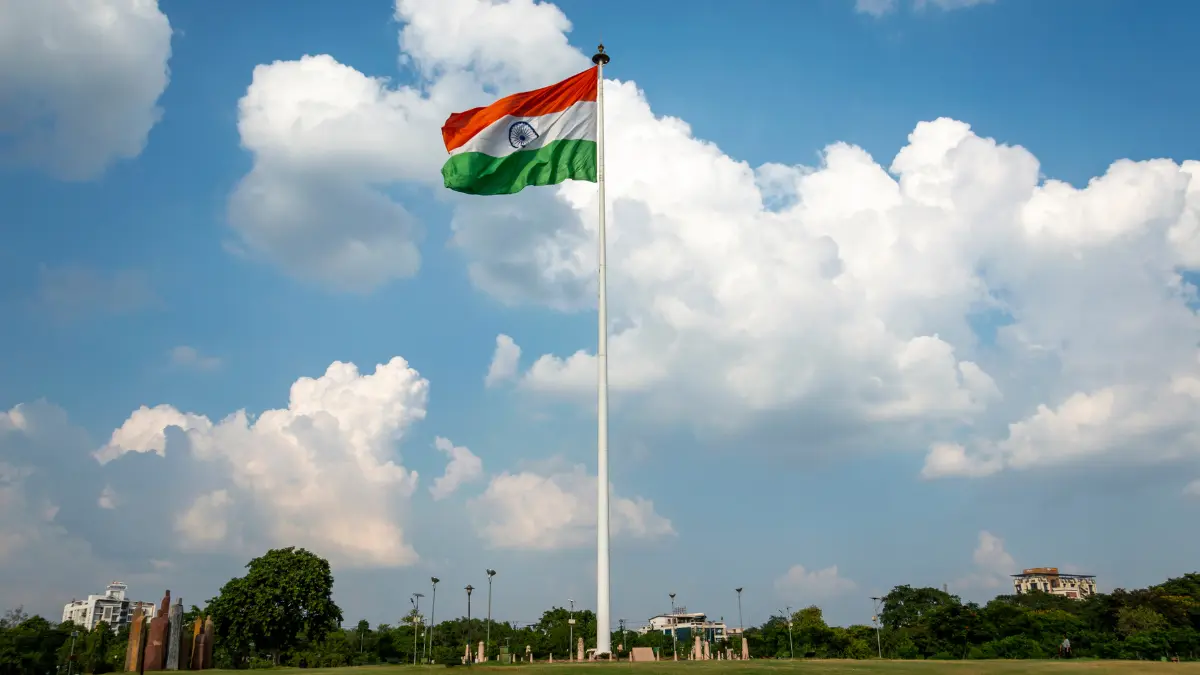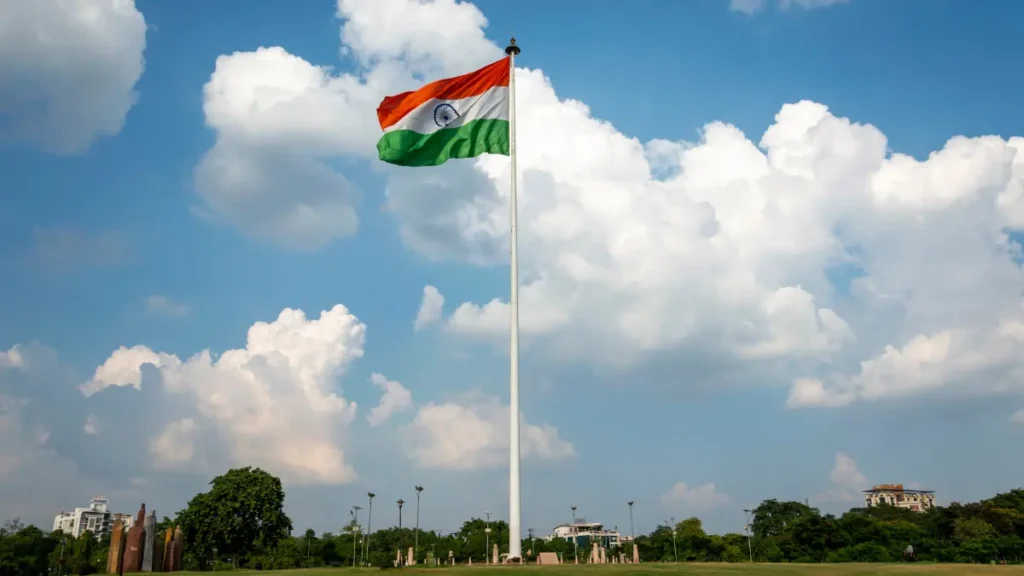 Jaipur's Central Park is a tranquil haven in the middle of the bustling city, providing inhabitants and visitors with a rejuvenating retreat into nature. With its star-shaped lake, beautifully designed gardens, and appealing island pavilion in the middle, this nearly 80-acre park is a haven of peace. Visitors may unwind amidst the vivid flowerbeds and fountains, take leisurely boat excursions on the lake, or go for quiet walks along the well-kept paths. With its recognisable gates and sculptures in the Rajasthani style, Central Park is a green oasis and a centre for culture and entertainment, holding activities, exhibitions, and even musical fountain shows at night.
Timings: Central Park is open on all days from 05.00 A.M. to 09.00 P.M.
Entry Fees: There is no entry fee.

 9. Bapu Bazaar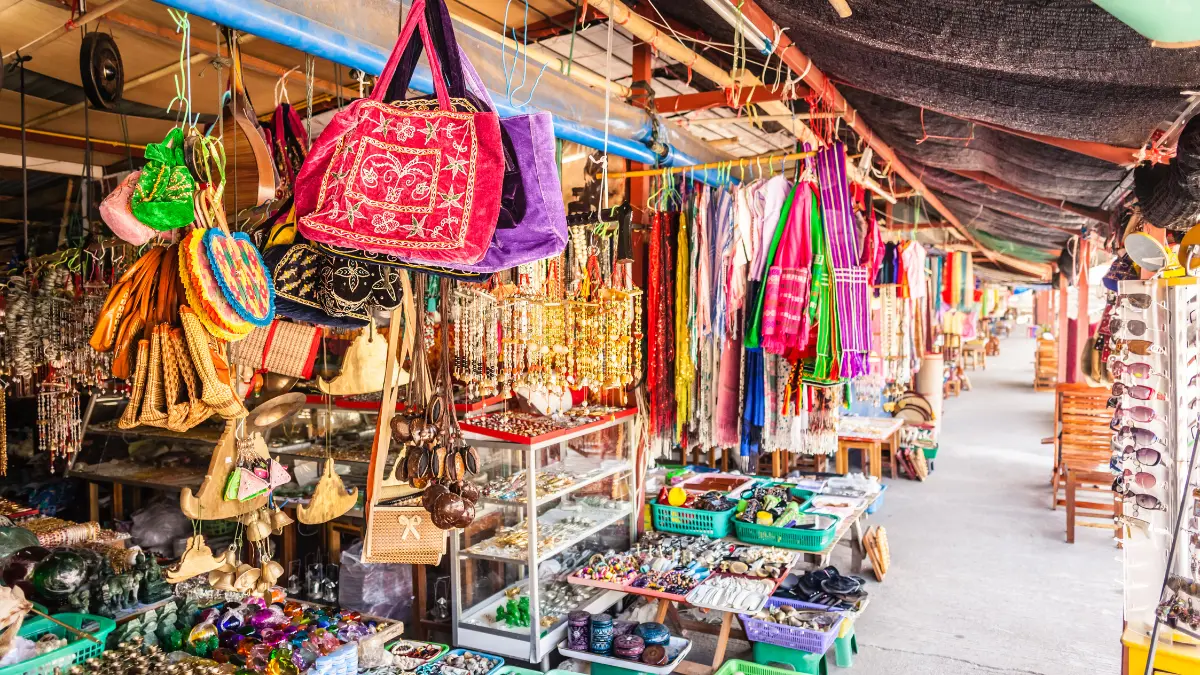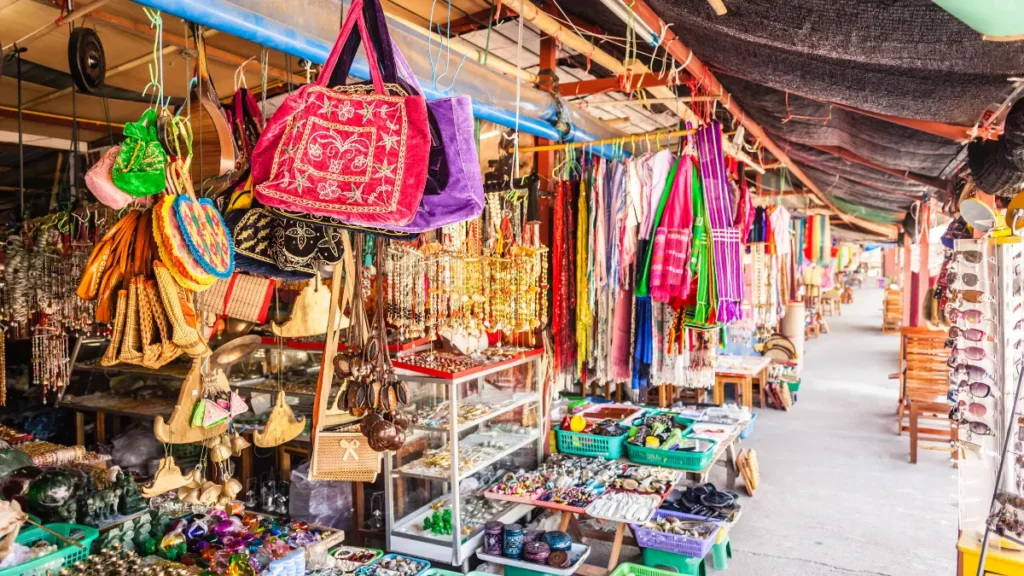 The bustling and well-known Bapu Bazaar, which lies in the centre of Jaipur, Rajasthan, captures the spirit of Pink City's rich cultural legacy and retail attractiveness. This lively bazaar, which bears Mahatma Gandhi's name, is a maze of twisting, small alleyways that are alive with activity and colour. It provides a lovely combination of traditional and modern shopping experiences.
The market is noted for its magnificent textiles and fabrics, including vivid Rajasthani sarees, tie-dye patterns, and elaborately embroidered items. For buyers seeking the best Indian clothing, it is a shopping heaven.
The gorgeous jewellery selection at Bapu Bazaar, which includes priceless jewels, silver accessories, and conventional Kundan and Meenakari designs, is also well-known. Art lovers may peruse a variety of handicrafts that highlight the beautiful artistry of Rajasthan, such as ceramics, marble sculptures, and delicately carved wooden objects. Although shopping is the main draw, Bapu Bazaar also offers delicious food. Various Rajasthani snacks and sweets are available in local restaurants and street food stands.
The crowded environment, which includes haggling between merchants and customers, heightened the dynamic mood. Bapu Bazaar is a must-visit location for visitors and shopaholics looking to experience the genuine flavours and crafts of Rajasthan's capital. It gives an immersive journey into the lively culture and history of Jaipur.
Timings: All shops open at 11.00 A.M. and close till 10.00 P.M. Certain shops that sell breakfast and tea are open from 05.00 A.M.
Entry Fees: There is no entry fee.
 10. Albert Hall Museum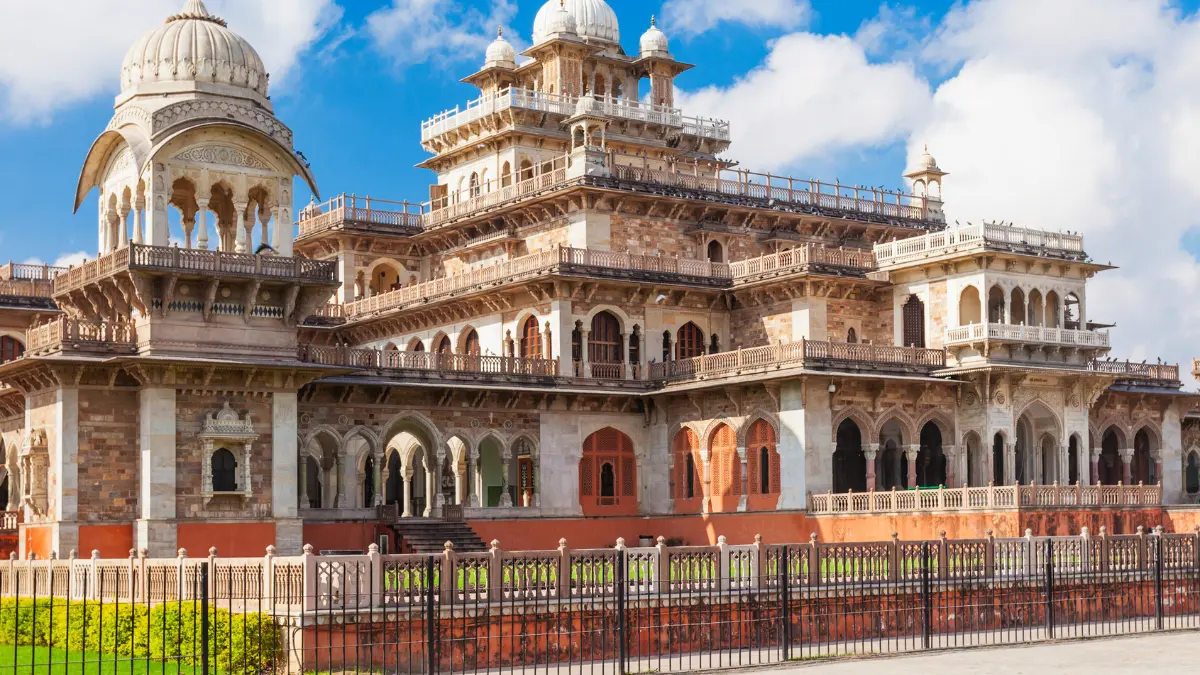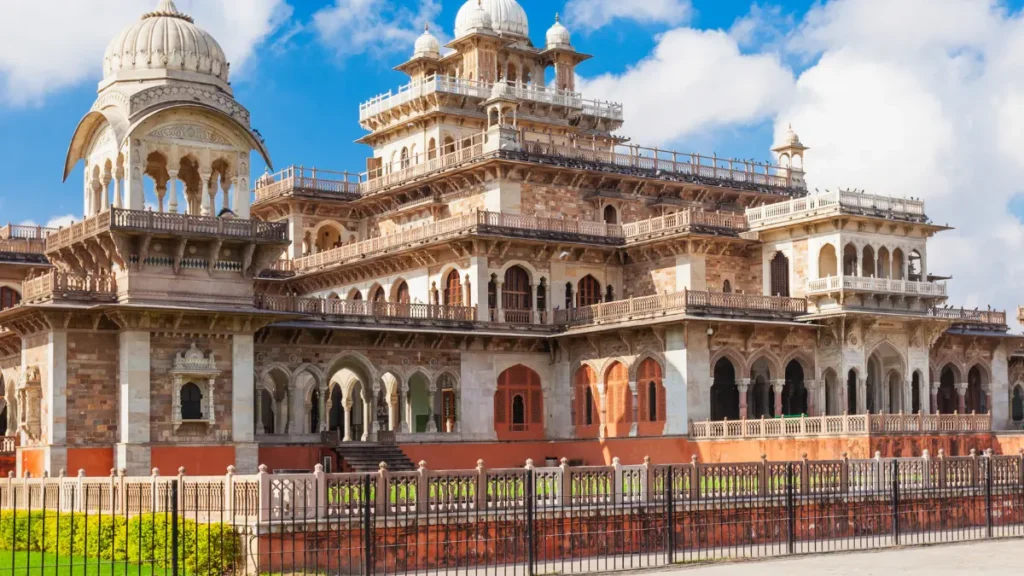 The Albert Hall Museum was initially intended to be a concert hall when it was constructed in 1876, and its name comes from the architectural resemblance to London's Victoria and Albert Hall Museum. It is often called the Government Central Museum and is a preserved example of Indo-Saracenic architecture. A staggering 16 art galleries house the vast collection of antiquities from all around the world that Albert Hall Museum has amassed. History aficionados will enjoy the antique coins, marble art, ceramics, rugs, and, most notably, the Egyptian mummy. As night falls, the museum assumes a completely different façade as gorgeous yellow lights illuminate the entire structure.
Timings: The museum is open daily from 09.00 A.M. to 05.00 P.M. and from 07.00 P.M. to 10.00 P.M.
Entry Fees: INR 40 for Indians and INR 300 for foreigners. Student discounts are also available.
11. Abhaneri Step Well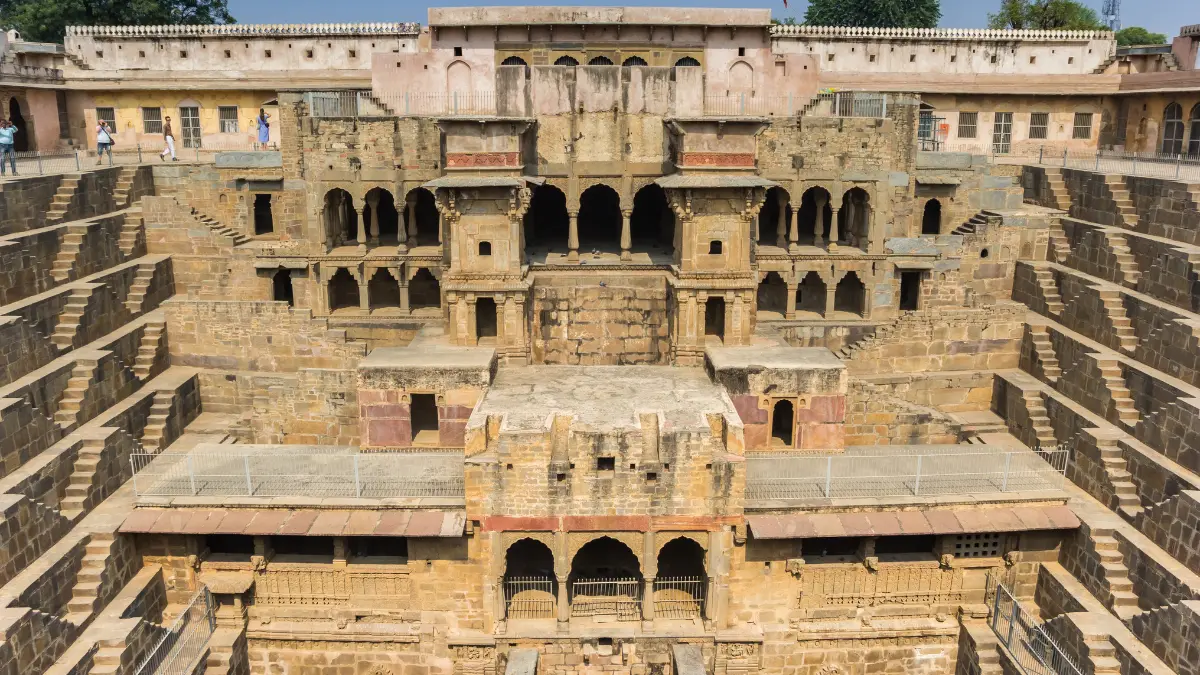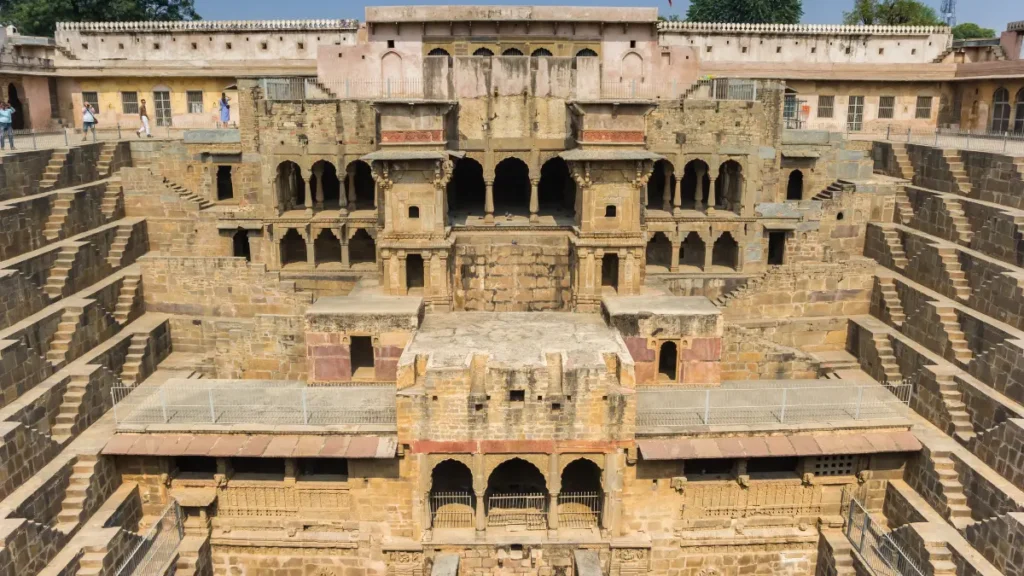 One of the biggest step wells in the world, Chand Baori, also known as Stepwells of Abhaneri, is located in Rajasthan. The main purpose of creating step wells was to store rainwater in the desert regions and act as natural air conditioners during the oppressively hot summers. The enormous pavilion, complicated construction and excellent geometry, including windows, galleries, and balconies, is thirteen stories high.
The shimmering green water shows out in contrast to the stone stairways as one looks from the top of the board towards the bottom, making it a sight to behold. A photographer may get great angles and photo chances when the sun is high in the sky because of the stairs' intricate maze-like patterning in the light and shadows. The Chand Baori is a photographer's dream because of its amazing architecture and the intricate geometric design of the entire building.
The Abhaneri step has many tales and people attached to it because it is so old. It is stated that no one has ever been able to descend and ascend using the same set of steps.
Timings: The stepwell is open to visitors on all days from 08.00 A.M. to 06.00 P.M.
Entry Fees: There is no entry fee.
12. Chokhi Dhani
A mock village named "Chokhi Dhani" is located about 20 miles outside Jaipur's main city and is an amazing representation of Rajasthani culture and cuisine. The word Chokhi Dhani means Rajasthani Culture in its literal sense.
The small village was constructed in 1989 across a 10-acre area with a specific goal: to draw tourists and introduce them to the genuine Rajasthani culture and traditions.
There are many activities one can enjoy here at Chokhi Dhani Jaipur. The famous Haldighati Battle is enacted here by artists for all tourists. The village also offers animal, cart, and boat rides. You will also be welcomed by performers doing the Kalebeliya and other Rajasthani dance forms. Visitors can also indulge in games like 'Bhool Bhulaiya' (Maze) and 'Gufa Jharni' (Trekking in artificial caves). There is also a museum and a shopping area available for all to visit and get some souvenirs.
It is one of the best places to visit in Jaipur to experience Rajasthani culture.
Timings: Chokhi Dhani is open on all days of the week from 05.00 P.M. to 11.00 P.M.
Entry Fees: The cost depends on the dining option you choose. It ranges from INR 750 to INR 1200 for adults and INR 450 to INR 800 for children. Entry for children below 3 years of age is free.
13. Gaitore Cenotaphs – Gaitore ki Chhatriyaan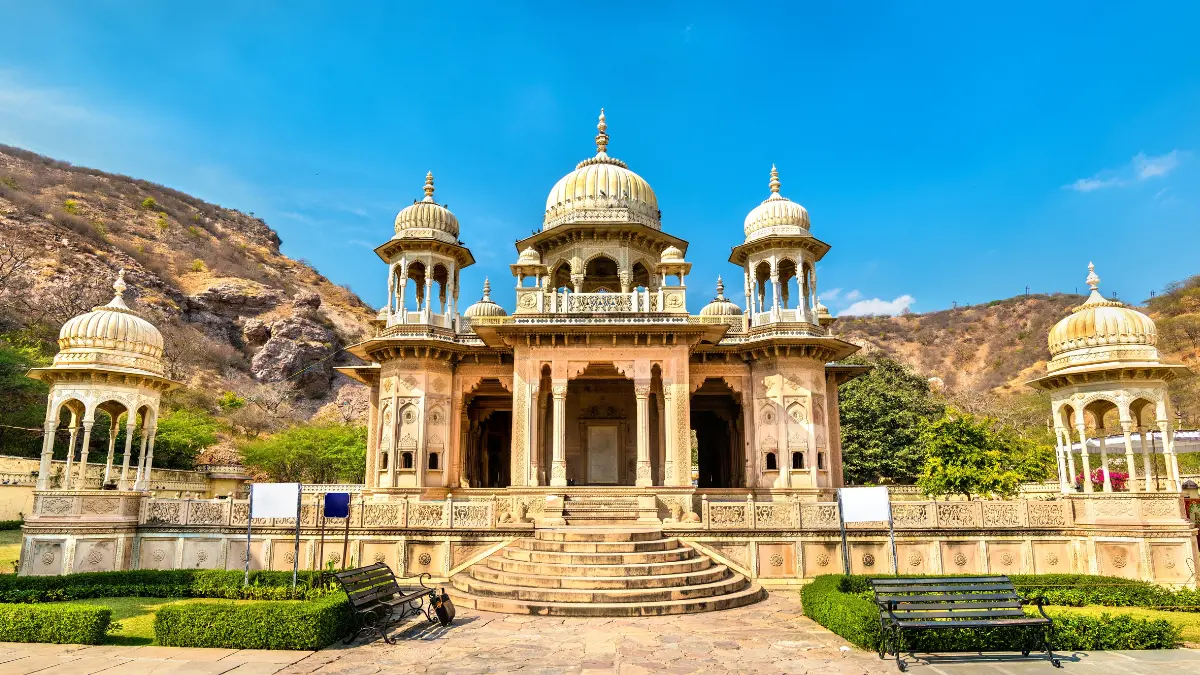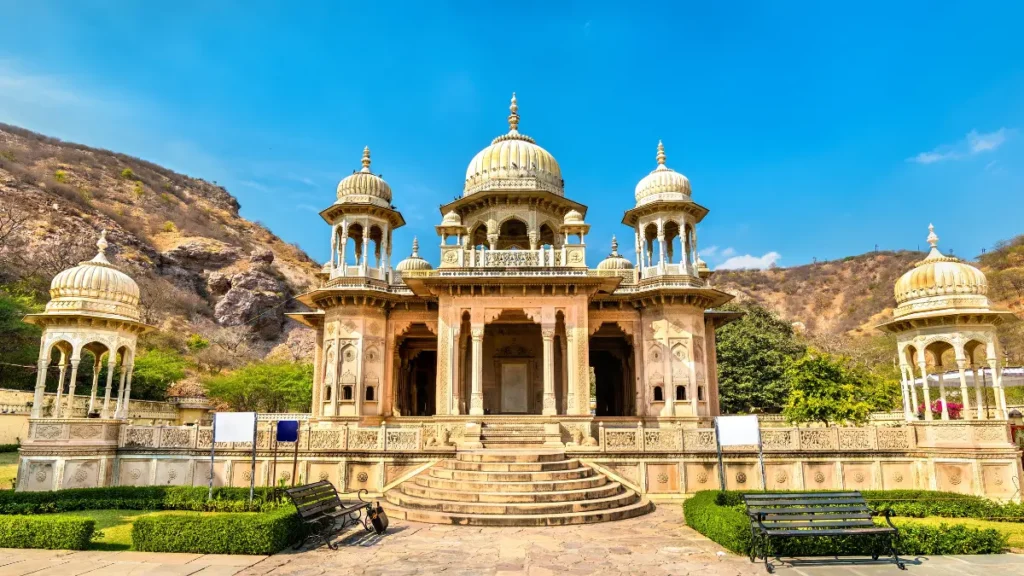 The Kachwaha, a Rajput dynasty who dominated the area, interred their dead at Gaitore Ki Chhatriyan, their royal cremation grounds. The complex is dotted with the cenotaphs of the royals, giving the impression of being made up of both elaborate towers and scaled-down open-air palaces. The structures designate the locations of prior leaders' cremations.
The cenotaphs are made of white marble from Makrana, which is of the highest quality. Some 'chhatris' are adorned with sculptures of Apsara (nymphs), Gandharvas (musicians), or processions. Maharaja Jai Singh II's cenotaph, with its 20 sculptured columns, is the most spectacular.
The picturesque location offers a breathtaking and expansive view of the entire city of Jaipur. You can see famous sites like the Jal Mahal and Mansarovar Lake from Gaitore ki Chhatriyaan. This area is less crowded and perfect for peace seekers when compared to other tourist places to visit in Jaipur.
Timings: The place is open from 09.30 A.M. to 05.00 P.M.
Entry Fees: INR 30 per person
14. Panna Meena ka Kund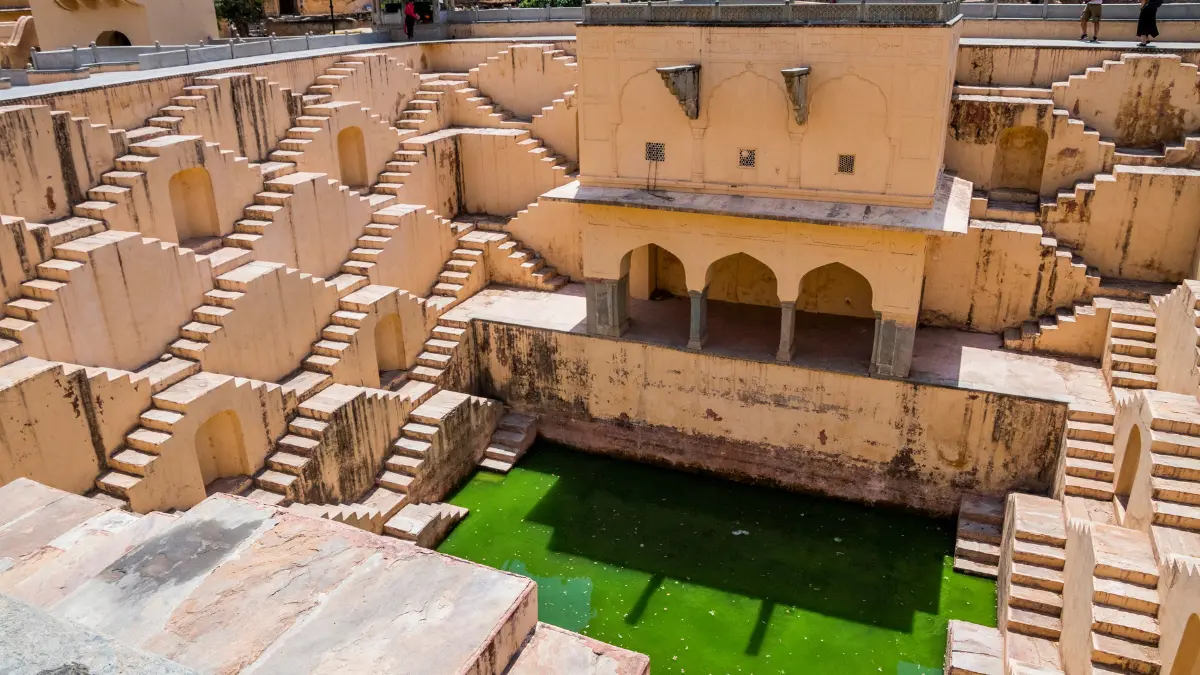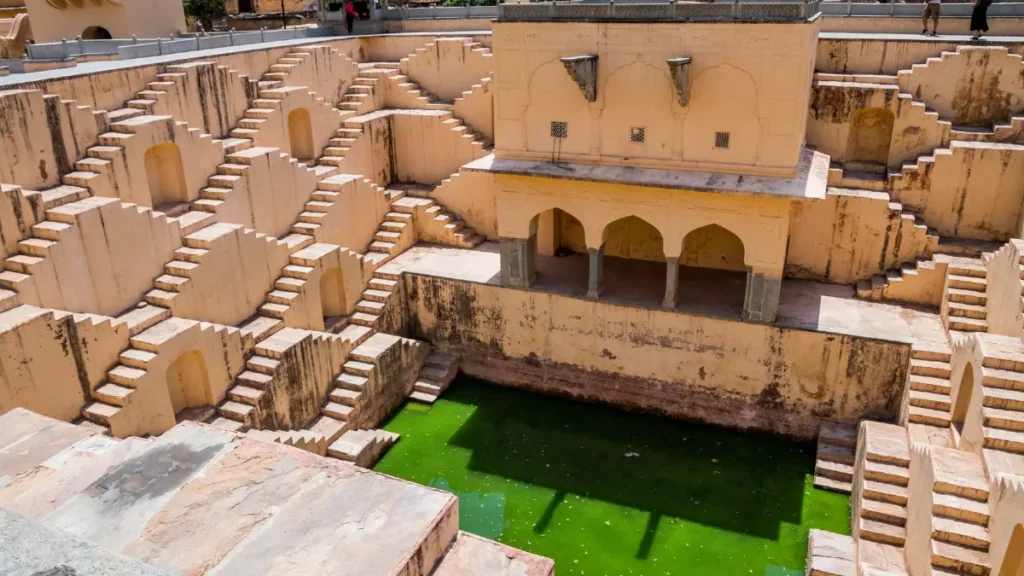 Panna Meena ka Kund is another stepwell located in Jaipur. It is part of the Amber region of Jaipur. The only completely operable stepwell repaired in Jaipur is Panna Meena ka Kund. It goes back to a time when there was no piped water. The Kund has long aided the nearby villages in getting access to potable water.
According to several residents, Panna Meena ka Kund was constructed so that Amer's inhabitants could gather water that they then utilised at numerous adjacent temples for rituals. Women also came here to fill water containers for consumption around the house. Aside from this, due to the much lower temperature within the stepwell, Panna Meena ka Kund served as a rest stop for several travellers, including business people and saints.
Timings: The Kund is open 24×7, but it is advised to go before the evening starts setting in
Entry Fees: The entry is free to Panna Meena ka Kund
15. World Trade Park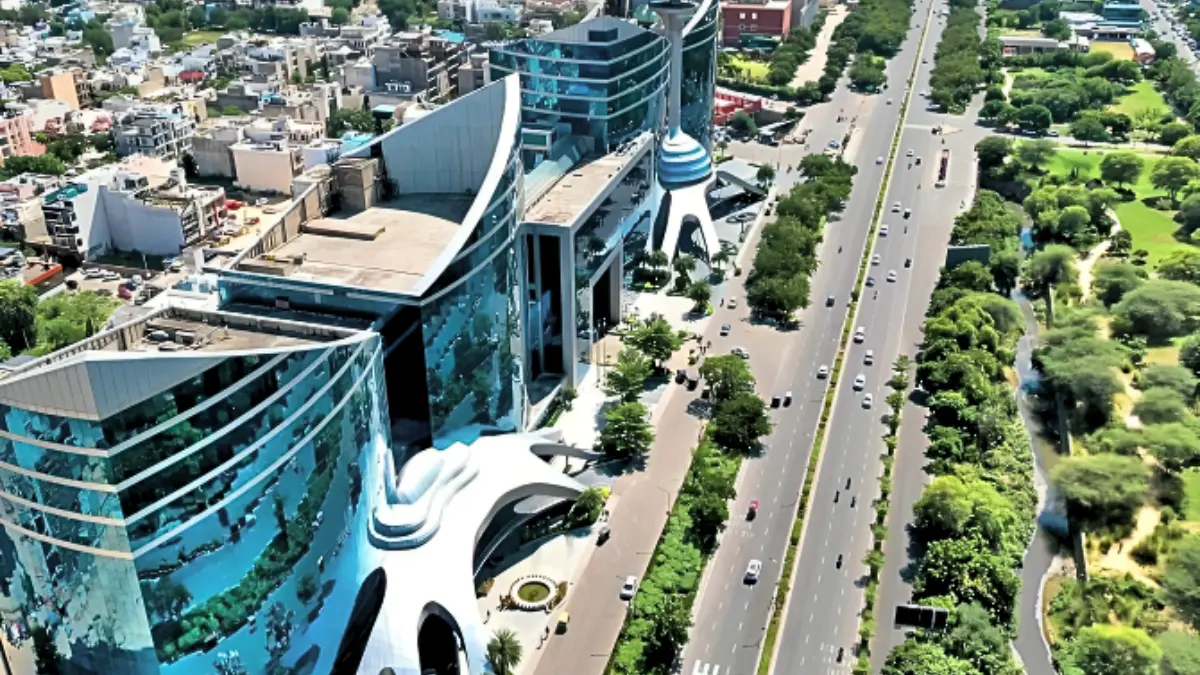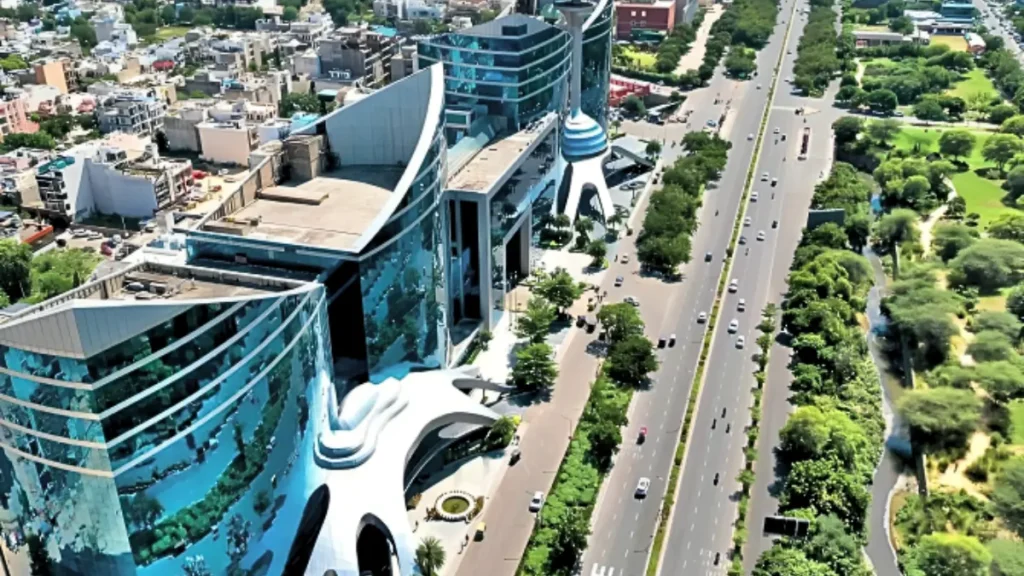 World Trade Park is a popular place among all for shopping and recreation. The mall is divided into two blocks on either side of the JLN Marg. The mall has over 500 shops, a food court, movie theatres, and other entertainment areas. The outside colour pattern of the 11-story building is blue and silver. The mall includes a selection of Western and ethnic apparel outlets for all. Many accessory shops, footwear stores, bag and luggage shops, jeweller brands, and athletic stores exist. Shopping here is one of the best things to do in Jaipur.
Fun fact: The mall was inaugurated by Bollywood actor Shahrukh Khan.
Timings: 11.00 A.M. to 10.00 P.M.
Entry Fees: The entry is free for visiting WTP
16. Sargasuli Tower/Isarlaat
To commemorate the triumph of Maharaja Sawai Ishwari Singh, the magnificent victory tower known as Sargasuli Tower has stood upright amid the pink city of Jaipur since 1749. The rivalry between the two brothers – Ishwari Singh and Madho Singh- is also interesting. The marriage of Sawai Jai Singh II to the Mewari princess Sisodia may have had a clause mandating that Maharani Chandra Kanwar's child become the King. However, Sawai Jai Singh I wanted Ishwari Singh to rule instead of him, something the Maharana of Mewar disapproved of. This disapproval led to a rivalry between the two brothers for the throne, leading to the Battle of Rajmahal. Sawai Ishwari Singh won and ordered the erection of this minaret in commemoration of his victory.
In contrast to the pink colour in the city's buildings and market areas, the tower is a seven-storeyed octagonal structure constructed using a combination of Mughal and Rajput architectural traditions. Visitors may see the breathtaking 360-degree panoramic view of Jaipur City from the top of this tower.
Timings: It is open from 09.30 A.M. to 04.00 P.M.
Entry Fees: INR 70 per person
 17. Jantar Mantar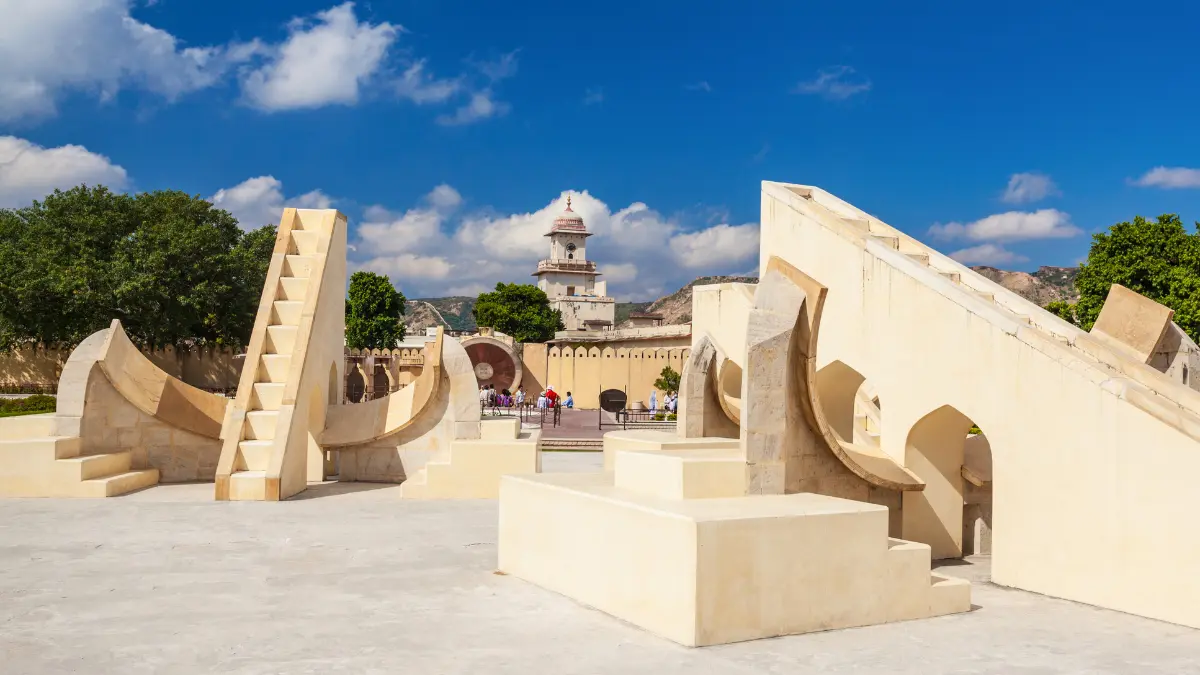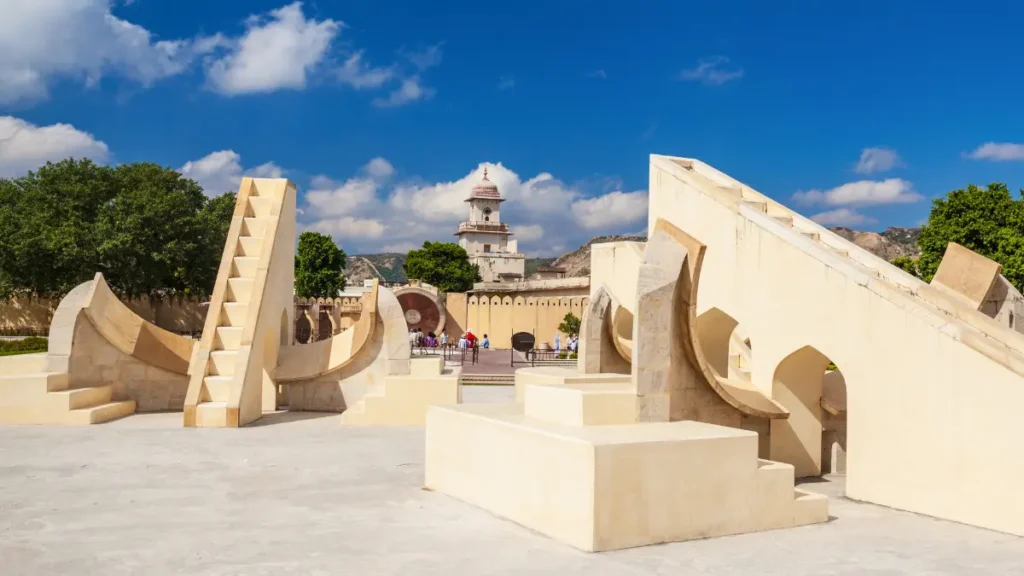 Over the years, Jaipur's Jantar Mantar has embodied the spirit of countless travellers' wanderlust. This open-air astronomical observatory is one of the best places to visit in Jaipur and worldwide. It is also a UNESCO-recognised World Heritage Site.
This observatory was far ahead of its time and displayed the traditional methods of reading stars and the sky, with an intriguing history that precedes modern civilisation.
Maharaja Sawai Jai Singh II built 5 such observatories all over India. Jaipur's Jantar Mantar has 19 instruments that serve specific purposes in astronomy. The 'Samrat Yantra' is the most popular as it is India's biggest sundial.
Timings: Jantar Mantar is open on all days from 09.00 A.M. to 05.00 P.M.
Entry Fees: INR 50 for Indians and INR 200 for foreigners
18. Birla Mandir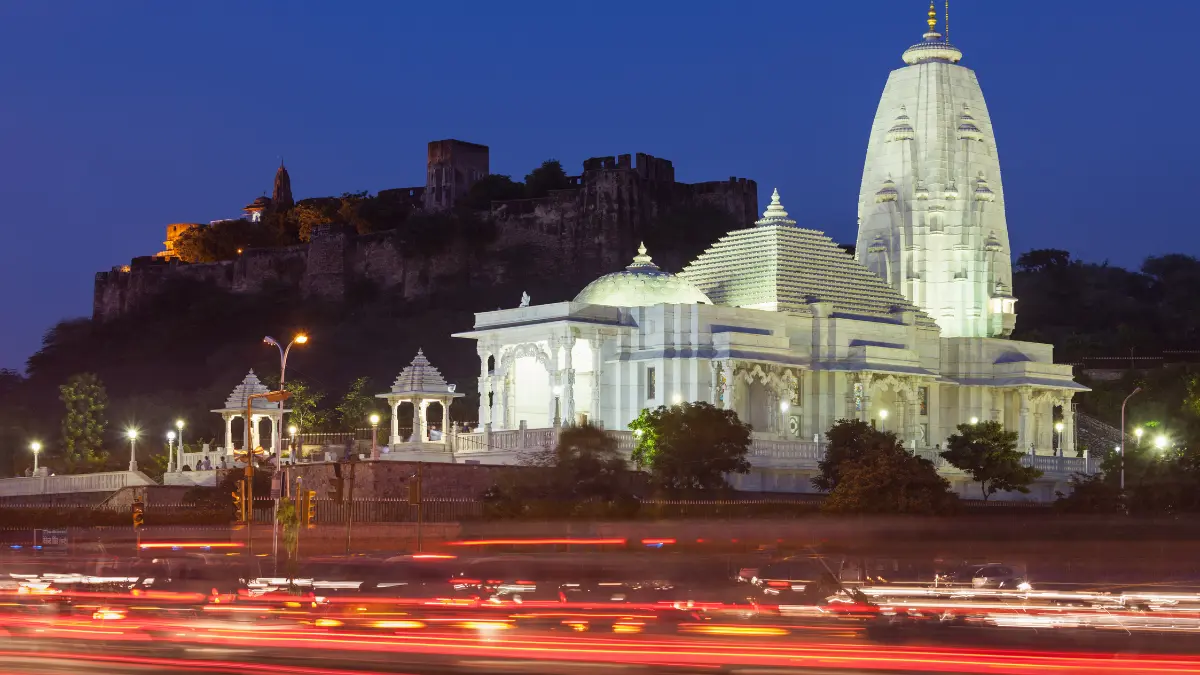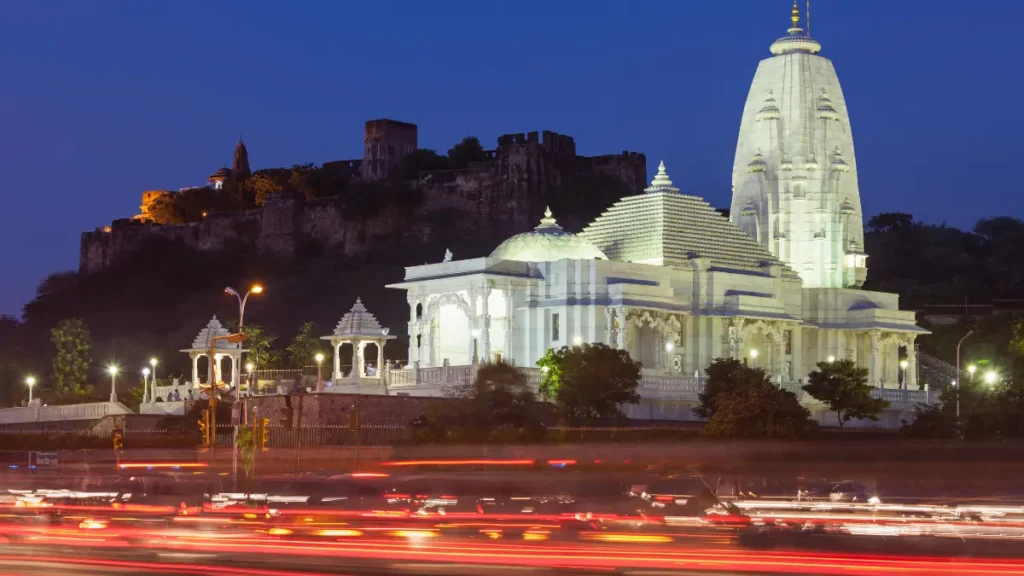 Birla Mandir is a holy and sacred temple for Hindus devoted to Lord Vishnu and Goddess Lakshmi. It is also called Laxmi Narayan Mandir. It embodies beauty in every aspect. Thousands of devotees arrive here in this marble-constructed temple daily to offer prayers. It is surrounded by verdant gardens of the most beautiful gardens on all sides and is decorated with exquisite carvings and designs. The domes of this temple are intended to symbolise the equality of all religions, which sets it apart from other temples.
The temple's walls are adorned with famous sayings and religious preaches by Buddha, Socrates, and Confucius. The three domes of the temple symbolise harmony and peace among all religions. The outer area of the temple houses glass stains with scenes from Hindu mythology.
Timings: The temple is open from 06.00 A.M. to 12.00 P.M. and 03.00 P.M. to 09.00 P.M.
Entry Fees: There is no entry fee.
19. Moti Doongri Temple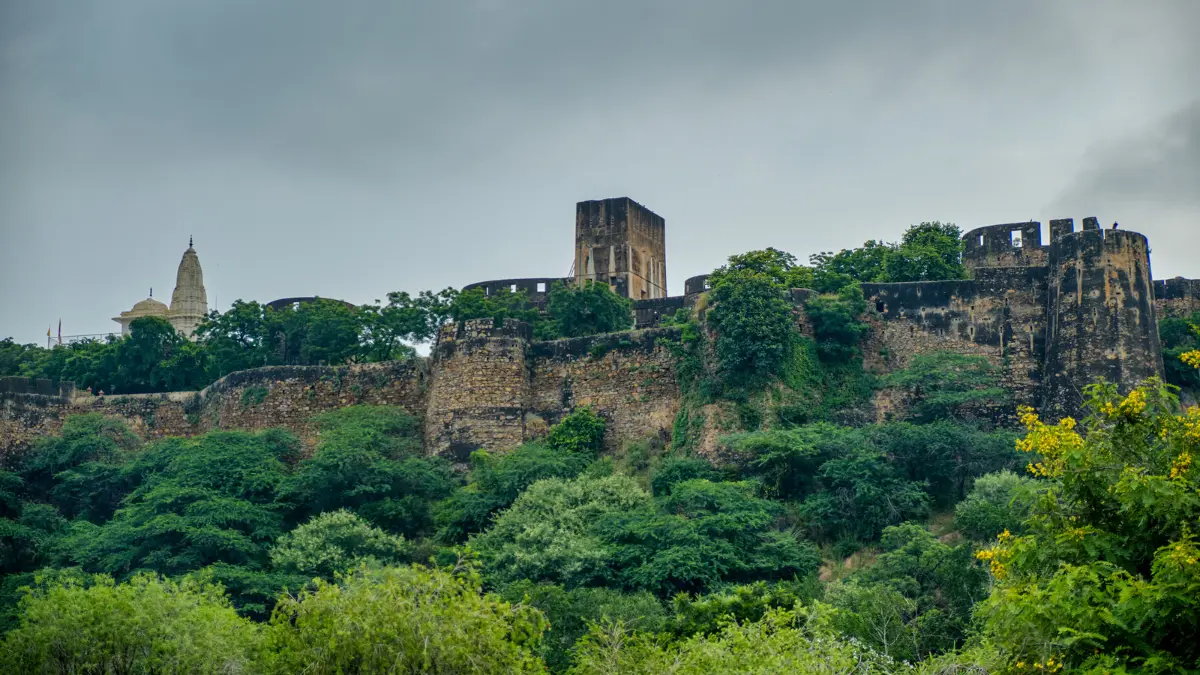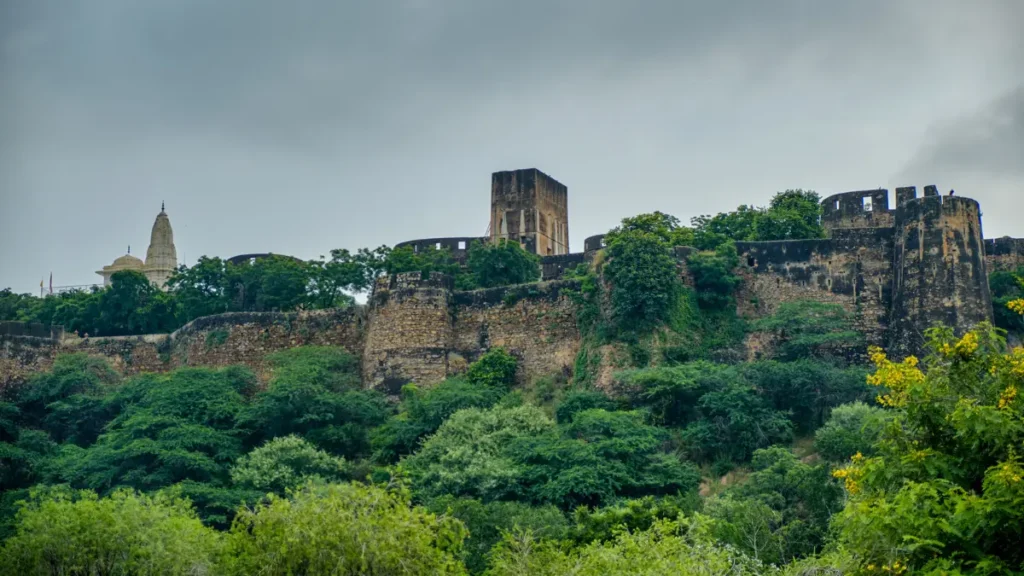 The Moti Doongri Temple near Birla Mandir is dedicated to Lord Ganesha. Thousands of devotees offer prayers here daily and commemorate the start of new chapters and beginnings in their lives. The temple's construction has a history dating back to the 17th century. It is said that when the King of Mewar returned with a Lord Ganesha sculpture in his bullock cart, he built a temple wherever the cart first halted. The cart halted at the foothill of Moti Doongri, where the King built the temple. There is also a castle next to the temple that belonged to Madho Singh's son. The castle is out of bounds for visitors as it is a private property.
Timings: The temple is open from 05.30 A.M. to 01.30 P.M. and 04.30 P.M. to 09.00 P.M.
Entry Fees: There is no entry fee.
20. B.M. Birla Auditorium
One of the biggest auditoriums in the nation, the B. M. Birla Auditorium in Jaipur, boasts of hosting some of India's greatest and biggest events. It is India's most well-known arena. It was constructed with international standards and satisfies all requirements to host prestigious international events. The auditorium hosts a variety of commercial, literary, artistic, and festival activities.
The auditorium also houses a planetarium, the second planetarium ever made in India. It hosts audio-visual shows daily in both Hindi and English to educate people about space and the solar system.
Timings: The auditorium is open from 10.00 A.M. to 07.00 P.M.
Entry Fees: INR 40 + INR 20 for the planetarium show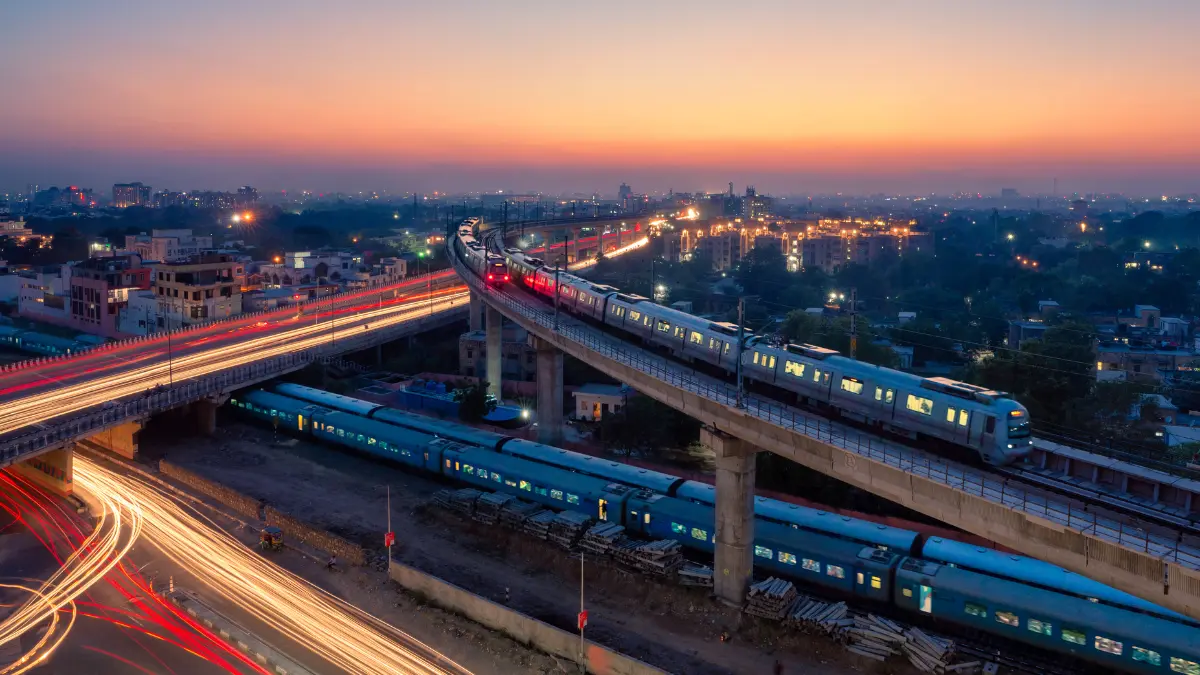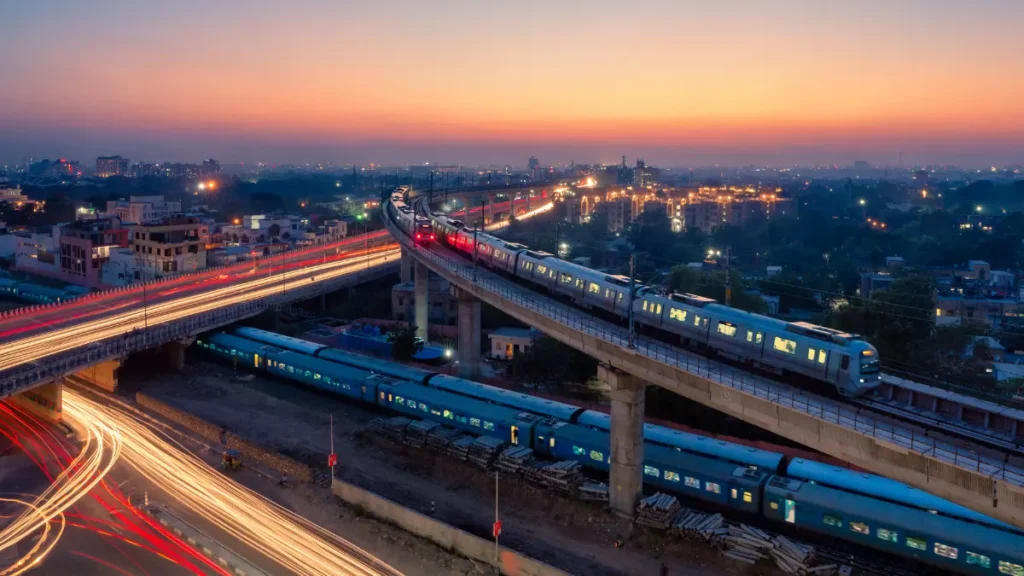 Best Time to Visit Jaipur
The best time to tour all the places to visit in Jaipur is in winter when there is no scorching heat and the weather is pleasant. You can visit here between October and March.
How to Reach Jaipur
Jaipur is a metro city accessible by road, rail, and air. Jaipur has its airport – the Jaipur International Airport (JAI). It has two railway stations – Jaipur Junction (JP) and Gandhinagar Railway Station (GADJ). All major cities in India are well-connected to Jaipur via national highways.
Conclusion
The Pink City of Jaipur has a lot to offer to everyone. Try the delicious and spicy food of Rajasthan while you immerse yourself in royalty at these best places to visit in Jaipur. We hope you have a great trip to this spectacular place!