Kedarnath-the most sacred temple and the holiest pilgrimage in India
This location is in the Garhwal Himalayan range in the district of Rudraprayag. Kedarnath is known as India's most sacred temple and the holiest pilgrimage. You can only reach the place from Gaurikund through a trek. The temple only remains open for six months, i.e., from April to November. It remains closed for the rest of the months due to heavy rainfall. 
In winter, the deity of Kedarnath temple is shifted to Ukhitmath and is worshipped there. Another name for Lord Shiva is Kedar, which means defender and destruction. It is believed that the whole journey of Kedarnath gives you peace, Moksha, or Salvation. Amid snow-capped mountains close to Chorabari Glacier, the shrine can be found. Also, the Mandakini River flows in front of it. Adi Shankaracharya rebuilt the present Kedarnath temple, and initially, Pandavas constructed it around thousands of years ago.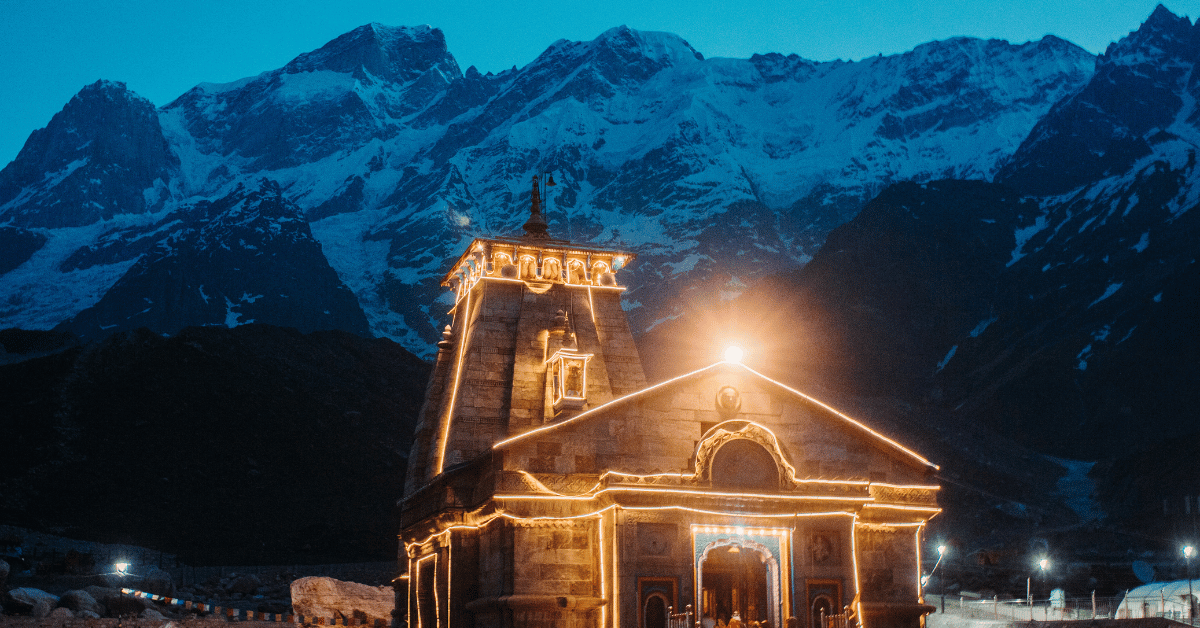 Best Time To Visit Kedarnath
Visit Kedarnath during May and June and September and October for the best weather. These times of year are good for outdoor activities like sightseeing because the weather and temperatures are pleasant. The summer months of May and June offer comfortable temperatures during the day, ranging from 15 to 25 degrees Celsius (59 to 77 degrees Fahrenheit). This time is also popular among pilgrims who visit the famous Kedarnath Temple.
Another good time to visit Kedarnath is in September and October, during autumn. The current temperature ranges between 10 and 20 degrees Celsius and 50 and 68 degrees Fahrenheit. The autumn months offer clear skies and stunning views of the surrounding Himalayan peaks.
It is important to note that Kedarnath experiences heavy snowfall and extremely cold temperatures during the winter months from November to April. The region is generally inaccessible during this time due to the harsh weather conditions.
Having a trouble-free and enjoyable vacation to Kedarnath is essential. Researching the weather and making travel arrangements based on that information is wise.
How to reach Kedarnath
You can reach the place only through a trek from Gaurikund, the last motorable road from Kedarnath. The closest railway station is about 216 kilometres from Kedarnath, in Rishikesh. In contrast, the nearest airport in Dehradun is situated 240 km away from Kedarnath. Gauikund is the base trek to reach Kedarnath; you can take a taxi to Garikund from these stations. Apart from this, Gaurikund is well connected with all major New Delhi and Uttarakhand roads.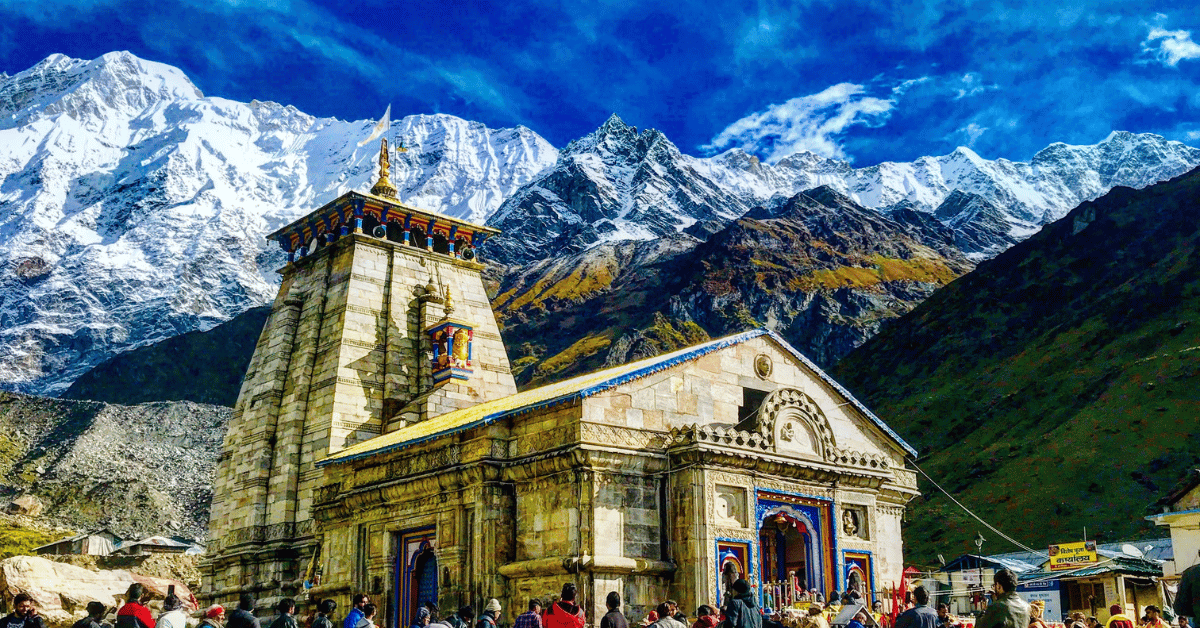 Kedarnath Temple Pooja and Rituals
Various types of morning and evening poojas are performed throughout the day in the temple. The devotees have to pay a specific amount to attend a particular aarti. In the temple, the morning Pooja starts at 4 A.M. and lasts till 7 A.M. This aarti include-Mahabhishek, Rudrabhishek, Laghurudrabhishek, and Shodasopacher Pooja. The evening aarti begins at 6 P.M. and lasts till 7:30 P.M. Aarti rituals are performed in the evening: Shiva Sahasranaman Paath and Shiva Mahimastotra Paath. Devotees have to pay particularly for aarti if they want to attend it. 
Festivals are celebrated in Kedarnath Temple.
Samadhi Pooja
A grand pooja is organized yearly on the Samadhi of great Sri Adi Shankaracharya. The event is held when Kedarnath temple is closed for six months.
Shravani Annakoot Mela
Shravani Annakoot Mela celebrated a day before Rakshabandhan. All Jyotirlinga is covered with cooked rice, later distributed among people as Prasaad. Apart from this, several poojas are performed on this prosperous day. 
Badri-Kedar Utsav
7 Badri-Kedar Utsav is celebrated in June for eight days. This festival brings numerous artists from all over Uttranchal to showcase their musical talent. It honours Lord Shiva and Lord Vishnu. 
The flash floods of 2013
Everyone is aware of the flash floods 2013 that havoc in the Kedarnath Valley and other Uttarakhand parts. The main reason for this flash flood tragedy was the vicious cloudbursts. Due to this havoc, damages many areas of affecting places, and also temple suffered unspeakable damage. Many fatalities were found-shops, and hotels in Kedarnath were washed away. Also, the death of hundreds of devotees near the temple. 
The holy temple itself did not suffer a major loss. Because many people said that a huge rock got stuck behind the temple and protected it from destructive floods. Therefore, the temple only suffered a small crack in one of its four walls. But the whole valley of Kedarnath suffered a huge loss of property and life. 
Top places to visit the nearby site at Kedarnath
Vasuki Tal
This lake is located at a height of 4135 metres and offers a fascinating view of the neighbouring peaks of Chaukhamba. Trekkers lovers find this place is more adorable to the ideal range for the climb up. The Vasuki glaciers and Chaturangi can also be found en route to this lake. 
Tungnath and Chandrashila Trek
Tugnath, an odd village in Uttarakhand, is well known as the famous starting point of the Chopta Chandrashila Trek. It is located at a height of 2680 m; an evergreen forest of deodar, pine, and rhododendron surrounds the town as it is a very easy trek and is also recommended for first-timer. Tungnath trek covers a wide territory, starting from Haridwar and ending at Chandrashila. It also covers the peaks of Panchchuli, Nanda Devi, Nilkanth, and Kedarnath are all covered during the trek.
Sonprayag
Sonprayag is located at an altitude of 1829 m and is the popular site where Lord Shiva and Goddess Parvati were married. Apart from this, it is the place where the river Mandakini meets River Basuki. Sonprayag offers alluring snow-capped peaks and the valley's natural beauty. So it attracts numerous tourists to the place. 
Kedarnath to Badrinath distance
Kedarnath to Badrinath Distance: The distance between Kedarnath and Badrinath is approximately 215 kilometres (134 miles) by road. The route takes you through breathtaking landscapes, offering panoramic views of the mountains and rivers. It's advisable to plan your journey accordingly, considering the terrain and weather conditions.
Kedarnath temple opening date 2023
Kedarnath Temple Opening Date 2023: The Kedarnath Temple is one of the shrines to Lord Shiva's holiest shrines in Hinduism. The temple remains closed each year during winter due to heavy snowfall. The administration is anticipated to release the opening day for the Kedarnath Temple in 2023 closer to the season. It's recommended to stay updated through official sources or local tour operators for accurate information.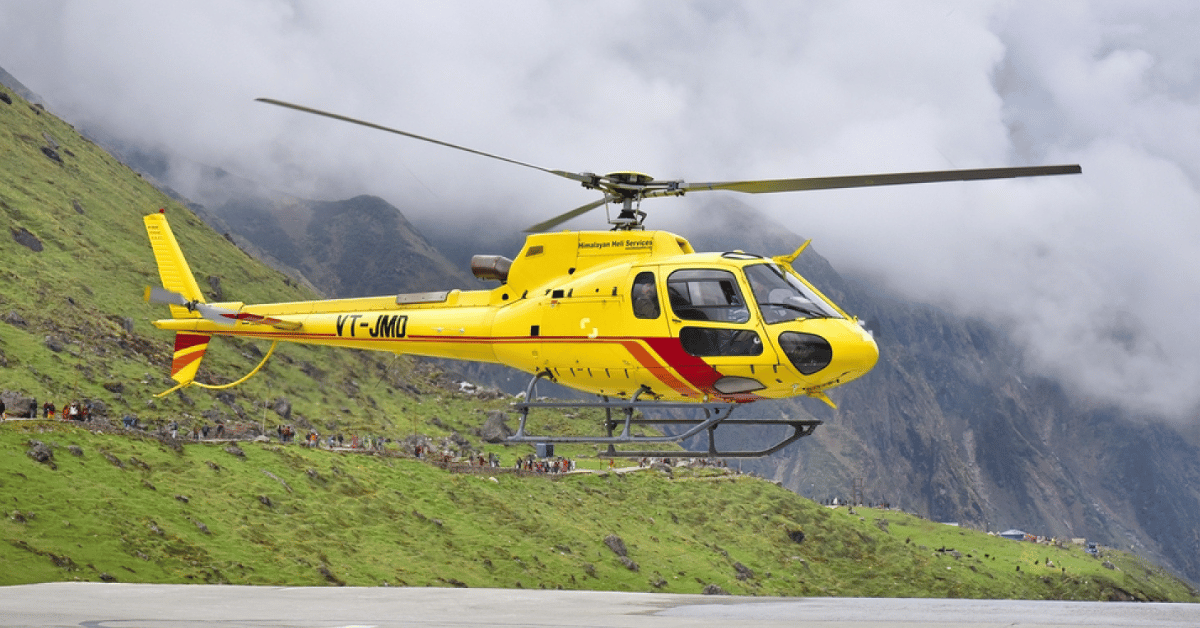 Kedarnath helicopter price
Kedarnath Helicopter Price: For those looking for a quicker and more convenient way to reach Kedarnath, helicopter services are available from several nearby locations. The price of helicopter tickets may vary depending on demand, availability, and the chosen route. It's advisable to book your tickets in advance and compare prices from different service providers to ensure a smooth and cost-effective journey.

Kedarnath Train: Currently, there is no direct train connectivity to Kedarnath. Rishikesh has the closest train station, which is well-connected to major cities in India. You can opt for road transport from Rishikesh or hire a taxi to reach Kedarnath. The journey from Rishikesh to Kedarnath offers scenic beauty and is an experience.
Tags
Rudraprayag
Rudraprayag lies at the river Mandakini, and Alaknanda is sacred and one of the most religious significance. The Hindu god Lord Shiva, who is supposed to have appeared there as Lord Rudra, is the source of the town's name. Many historic temples can be found at Rudraprayag; This also serves as a portal to Kedarnath and Badrinath pilgrimages, two of the most important. So it is offering its visitors a surrounding of serenity and tranquillity. Tourists get attracted by its dazzling beauty and its landscapes. Numerous pilgrims visit the place throughout the year. 
Gaurikund
Gaurikund has placed on the river Mandakini banks and is considered the pathway of salvation and spirituality. It offers breathtaking landscapes, infinite natural beauty, immense devotion, and many more. The place Gaurikund is named after the Goddess Parvati, the wife of Lord Shiva. According to popular myths and legends, Gaurikund is where Goddess Parvati did penance, which involved ascetic and yoga practices, to win over Lord Shiva. This religious place is also believed to be where Ganesha acquired the elephant's head. When Goddess Parvati was bathing in the kund, she fashioned Ganesha from the foam of soap on her body.  
Chandrashila trek
The Chandrashila trek route is a blessing for weary souls searching for peace and tranquillity. This beautiful trek takes one through verdant meadows, deodar forests, and the majestic Tungnath shrine. You can also enrapture in spirituality here by visiting the Chandrashila temple, where Lakshman, the younger brother of Lord Rama, meditated. It is the most popular trek among Indian trekking enthusiasts. The journey displays rare glimpses of the ancient culture of the Garhwal Himalaya, along with the natural hues.
Kedarnath
Kedarnath is well known as India's most sacred temple and the holiest pilgrimage. The most well-known 12 Jyotirlingas in India, devoted to Lord Shiva, include Kedarnath. You can only reach the place from Gaurikund through a trek. The temple only remains open for six months, i.e., from April to November. It remains closed for the rest of the months due to heavy rainfall. In winter, the deity of Kedarnath temple is shifted to Ukhitmath and is worshipped there. Lord Shiva, also known as Kedar, signifies both defender and destruction. It is believed that the whole journey of Kedarnath gives you peace, Moksha, or Salvation.