Delicious street food in Gujarat
It is one of the best states in India which is located in the western part of India link with the Arabian Sea. It is the state which is known for many things like business, Travelling like Gir National Park which is one of the very famous places for the tourist as well as the best place to watch Asian lion. Beautiful cities which make it more beautiful like Surat, Ahmedabad, Baroda, and many other places which make it more reliable for the people who wanted to visit Gujarat. Apart from its beauty, Gujarati is also known for its tasty food like Khakra, dhokla, and many other foods which are so delicious to eat. So today we are going to look at some best dishes of Gujarat would you will love to eat when you visit there.
More Read :- Delicious Street Food of Karnataka: 8 Must-Try Dishes for Food Lovers
Khakhra: – It is one of the most delicious of Gujarat and in Rajasthan. It is made from wheat flour salt, spices, oil, and many other things. As well as many spices are inserted in this to make it so delicious like chili powder, I'm chewed powder, chaat masala, methi leaves to add a new flavor and make it so delicious. It is the perfect breakfast for the Gujarati people and whenever you visit Gujarat you will see there are many places where you will find this dish. So, in the end, it is a must to eat a dish if you are visiting Gujarat.

Samosa pav: –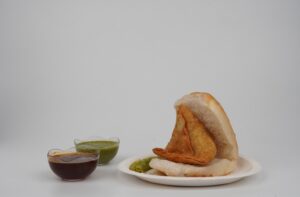 samosa is one of the best junk food which everyone loves to eat and when it become Samosa pav then it creates an amazing taste. It is one of the famous dishes which you cannot miss while visiting Gujarat. Samosa is made with concept snake which is stuffed with potato chickpeas and mixed vegetable and covered it by the sandwich which makes it more delicious while it. The complimentary is given like Chutney and tomato sauce which enhance its flavor while eating. If you want to enhance its taste more then you can go with the slice of cheese and many other things.

Dal vada: –
it is one of the famous dishes which is used to eat with the tea. It is made with the moong dal Which is solved in the water overnight. Then it is mixed with green chilies, ginger, garlic, and many other spices and a batter is made. Then it is deep-fried in the oil and the end, it is served with the tea as well as the Chutney like tomato sauce and Chutney. 

Fafda jalebi: –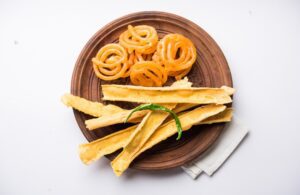 it is one of the most beautiful food in the architect which is made in the round shape. It is made with two is next item first is fafda and the second one is Jalebi in which I discovered with the green chilies and salad. People used to start their day with a mix of spices and sweets in their breakfast. Father is made with the gram flour and spices mix Dough which is fried Leica chips in the oil to make it a tasty snack. The Jalebi is also made with gram flour batter into a ring-shaped and then it is dipped in the sugar syrup to make it sweeter. It is one of the best combinations of sweet and spicy so you must have it.

Dhokla: –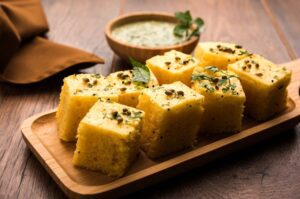 It is a kind of steamed fluffy chickpeas cake and without talking about this the traditional food of Gujarat is incomplete and that is why it is one of the most important dishes in our list which you must have whenever you visit Gujarat. It is made with chickpea flour, salt and sugar, and some amount of baking soda to make it fluffy Lega cake and software in texture. It is made both salty and sweet so as per the preference you can choose it. It is one of the healthier food as well so you can have it whenever you want.

Stuffed parantha: –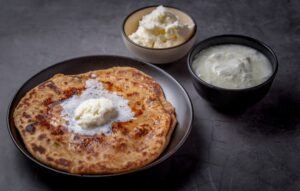 stuff Paratha is another variant of flatbread which is made with though of wheat flour. It is one of the best breakfasts which you will see in Gujarat in which there are many things are in stuff like potato masala, Paneer curry, fenugreek leaves, cauliflower stuffing, cheese stuffing and many other things which make it so beautiful and eatables. Some ghee is sprinkled on it to make it so delicious.

Crispy Pani Puri is one of the best street food which you will find in the streets of Gujarat. It is made with the Suji in a ping pong ball shape. The tangy water is filled in this which is a mixture of coriander, green leaves, salt, tamarind juice. So whenever you visit Gujarat you must have it.

Bhuna gosht: –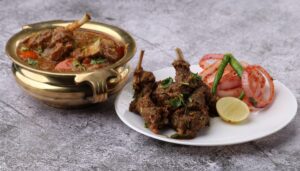 It is one of the most served non-veg food which is made with roasting the land into flame and many spices are added on it to make it delicious. There are many Accomplishments that are given like onion tomato salad as well as the juice of onion and tomato is mix in the mutton to make it juicy.

Bun Maska: –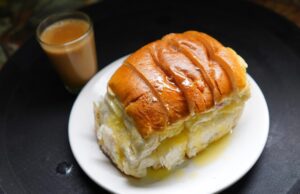 One which you will find in the states of Ahmedabad and it is simply prepared by adding water on fluffy pav at room temperature to make it delicious, as well as the chocolate, is spread it all over it to give a delicious taste. And as per your requirement, you can change it like cheese, bread cream, jam, ghee And many other things to make it delicious and it is a perfect combination with the tea and the best breakfast to eat.