Nainital, Uttarakhand- Lake District Of India

https://www.instagram.com/nainital.india/
In Uttarakhand, Nainital Tourism is the gem of it. Nainital is developed around the fetching Naini Lake after it the city is named. The aptitude of Nainital is around 1938 meters. In the Himalayas, Nainital is a stunning hill station that surrounds the Kumon Ranges' green foothills.  Apart from this, the place peak with sophisticated sociable structures that boosts the beauty of this place. Tourists can get experience many activities and the natural beauty of this place. Because the site offers you such pleasant weather and it's the major getaway for tourists. So, especially it is preferred by honeymooners and families. From the sea level, the height of this lake is measured at around 6837 feet.  
How to reach 
In Uttarakhand, Nainital is the famous leisure time from Delhi and its nearby places. The place has well connectivity of pathways such as by road, by train, and by bus. Tourists can reach Nainital in the most befitting way from the cities of northern India and Delhi. So from there, they can take an overnight bus and car. The place has good connectivity by train through Kathgodam Railway Station, situated around 35 km away. Nainital does not have flight connectivity.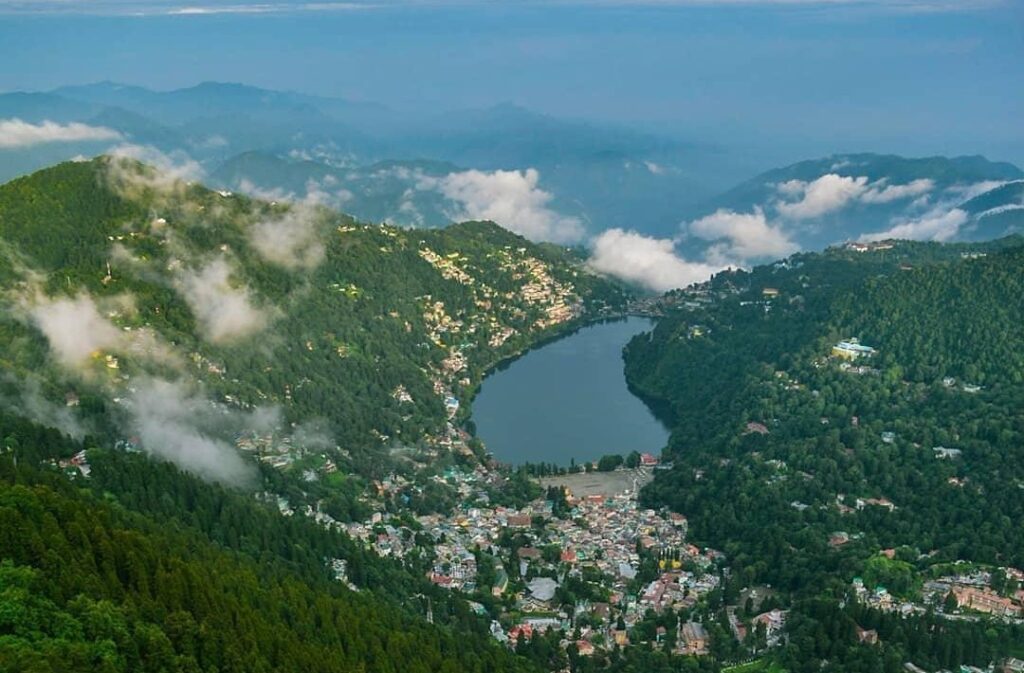 https://www.instagram.com/nainital.india/
Nainital: The City of Lakes
In Uttarakhand, Nainital is well known by the name "Lake District Of India." Nainital is popular for its lakes and scenic location. The place also offers summer retreats for those who want to flee the unbearable summers in North India. Apart from this, Nainital is not only a hotspot place for tourists. But also popular for education, like Birla Vidya Mandir, Sherwood college is famous for giving prominent education. 
Shopping in Nainital: a most-liked place for everyone
When the name comes to our mind- our reaction is like, "Woo shopping." As everyone likes to go shopping again and again. This one becomes the major point for Nainital as its mall road is famous for shopping and is usually crowded.  The place offers you brand clothes as well as local products too. Around Naini Lake, the street has a long chain of shops. Apart from this, the most famous thing to buy from Nainital is wax candles. Because in the 90s, it becomes the favorite chronicle thriving wax after the establishment the of industry.  
Paradise Places are a must-visit in Nainital
Naini Lake 
It is situated just 1 km away from the center of the city of Nainital. This lake is the most popular in Kumaon territory, and the lake has a curved shape. Naini lake offers an angelic sight, especially in the early morning and sunset from all four sides. From southwest to tiffin point, from northwest to Naini peak, and snow-capped from north hills. Also, you can go boating, for an evening walk on the lake. The lake is surrounded by many different mountains such as Alma, Cheena peak, and many more. The lake is also divided into two parts-northern a part called Mallital and southern territory called Tallital. Tourists can fall in love with this place as its enchanting beauty is enough to allure them. 
An enchanting view of Snow Point
In Nainital, this place is situated at a height of 2270 meters above sea level. Also, it is one of the most persuasive tourist spots in the town. Apart from this, as its name suggests, Snow point offers you the extensive sight of the peaks surround by white milky snow. You can see images of Ram, Laxman, Hanuman, and Sita with Durga and Shiva if you look closer. Tourists also can view the breathtaking view of peaks-Trishul, Nanda Devi and Nanda Kot together from the point. 
The home of various animals, the Eco Cave Garden of Nainital
Eco Cave Garden is situated in the Mallital area of Nainital. In the shape of a distinct animal, the garden has a set of six small caves. You can also feel the musical fountain with different musical effects in audio or video in the evening. This garden is set up in different caves for various animals like their home. So they can give a glimpse of the natural habitat of Himalayan Wildlife to tourists. Apart from this famous cave of the garden are Panther Cave, Bat cave, and many more. 
Food points at Nainital
For is a favorite topmost place for tourists as well, and it is also popular for its food. Nainital is like home for those who believe in food at first-sight perception. Here you can get a different variety of foods like Indian, Chinese, Italian and many more. It also offers you a bundle of joy in a box that fills with delicious food or cuisines. 
Best timing to visit Nainital Tourism
In Uttarakhand, the place Nainital has an enchanting sight as well its natural beauty amazed you once. It is surrounded by huge peaks from where you can watch the sunset view and the nearby places of Nainital. Apart from this, tourists can see The Himalayan peaks and ranges covered with milky snow, which astonished your inner soul. Tourists are advised to visit Nainital from March to June. So tourists can experience boating in Naini Lake and for its pleasant weather.  
For observing the snowfall in Nainital, the ideal time is from November to February in the winter season. In Nainital, due to high rainfall, the place experiences the least number of tourists. Because rainy seasons destroy the enjoyment of the site.