The breathtaking background paragliding in India offers is among its most alluring features. The nation has various locations, each with its allure and difficulty. This article will examine paragliding in India, emphasising the locations, what to anticipate, safety advice, and how to pick an instructor in India.
The Best Places to Paraglide in India
1. The Soaring Capital – Bir Billing, Himachal Pradesh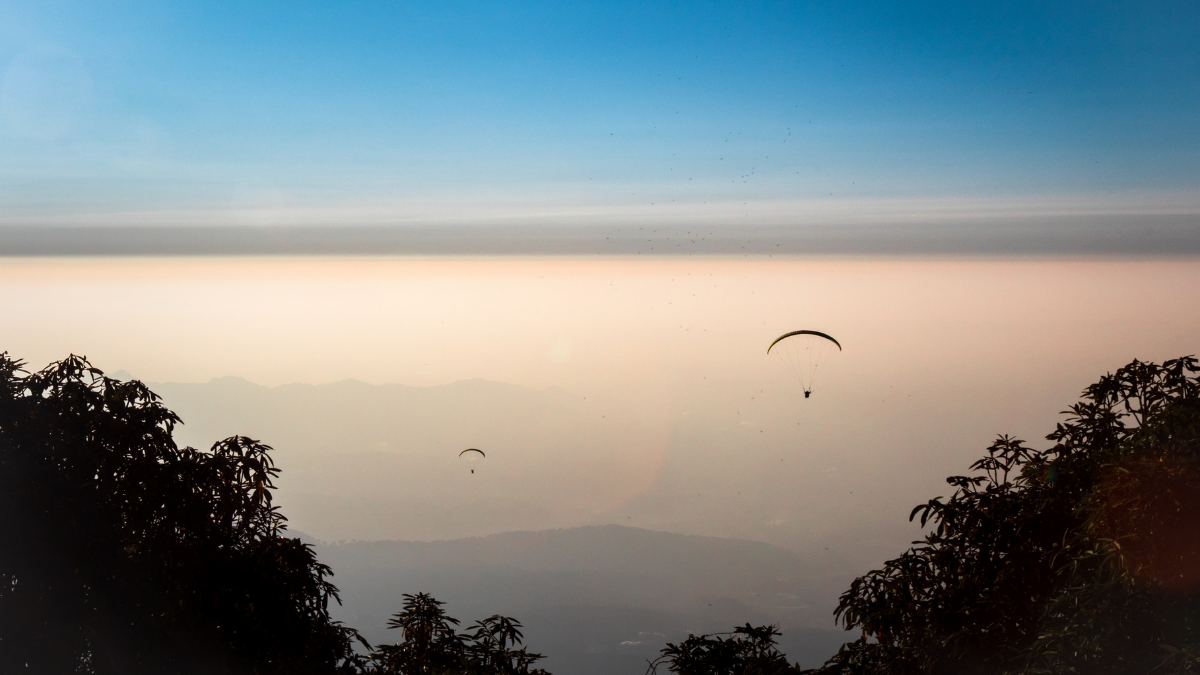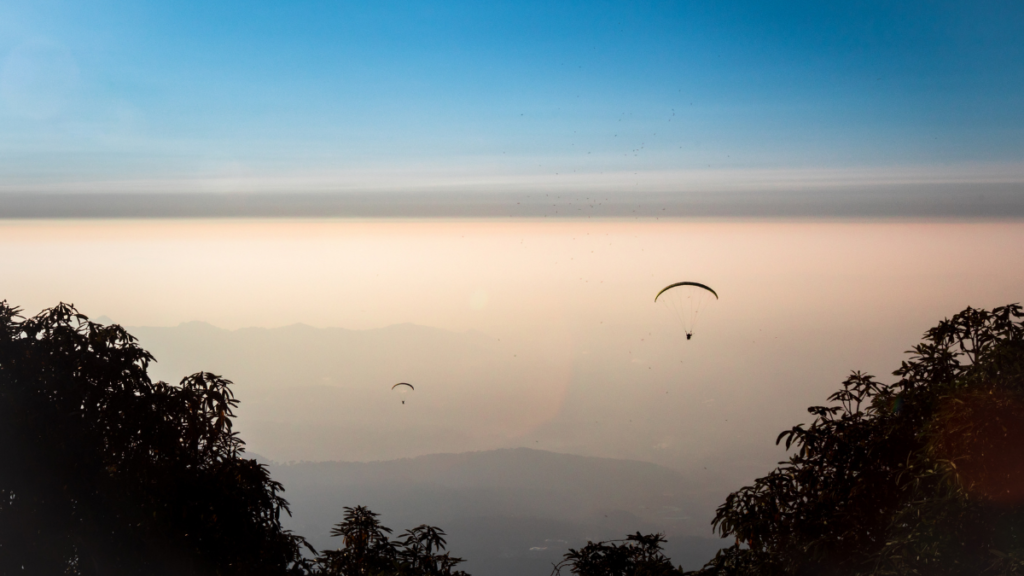 The Himachal Pradesh town of Bir is known as the Paragliding Capital of India and has beautiful mountains and lush surroundings. Both nature lovers and thrill seekers are drawn to it because it offers a balance of tranquillity and action. The departure location is Bir, while the landing place is Billing, which is 14 km distant. In 2015, this city hosted the Paragliding World Cup, solidifying its name on a national and international level.
Best Time: October-June
Cost: INR 1500-2500
2. Queen of the Hills – Mussoorie, Uttarakhand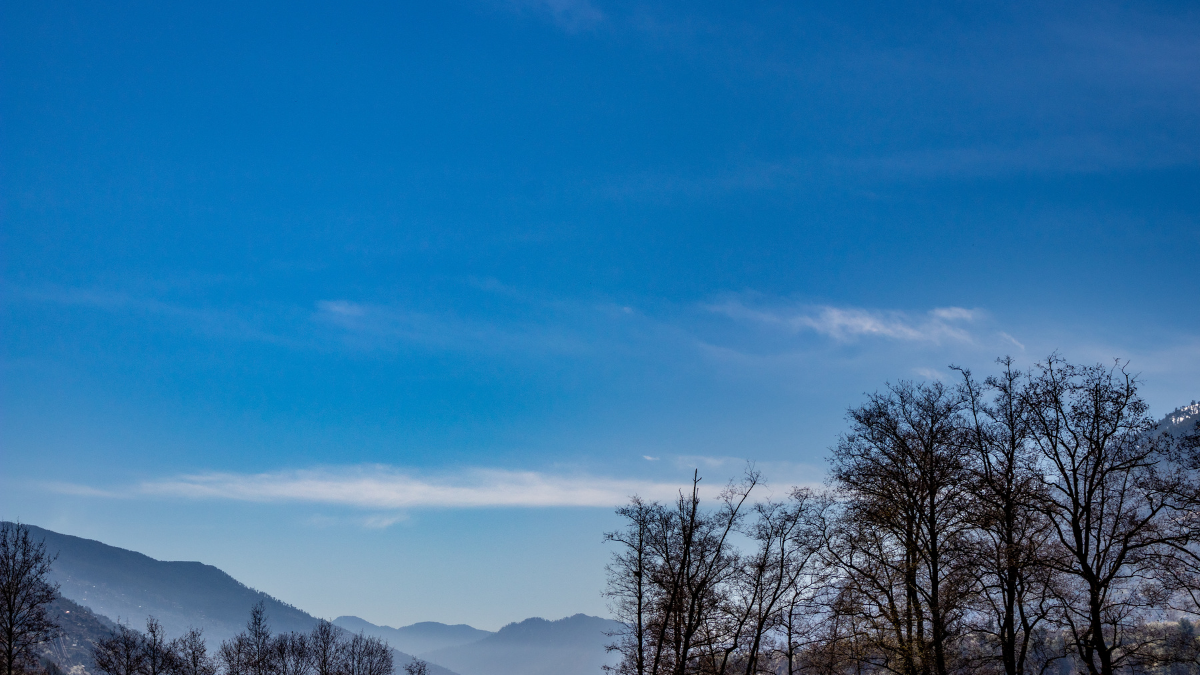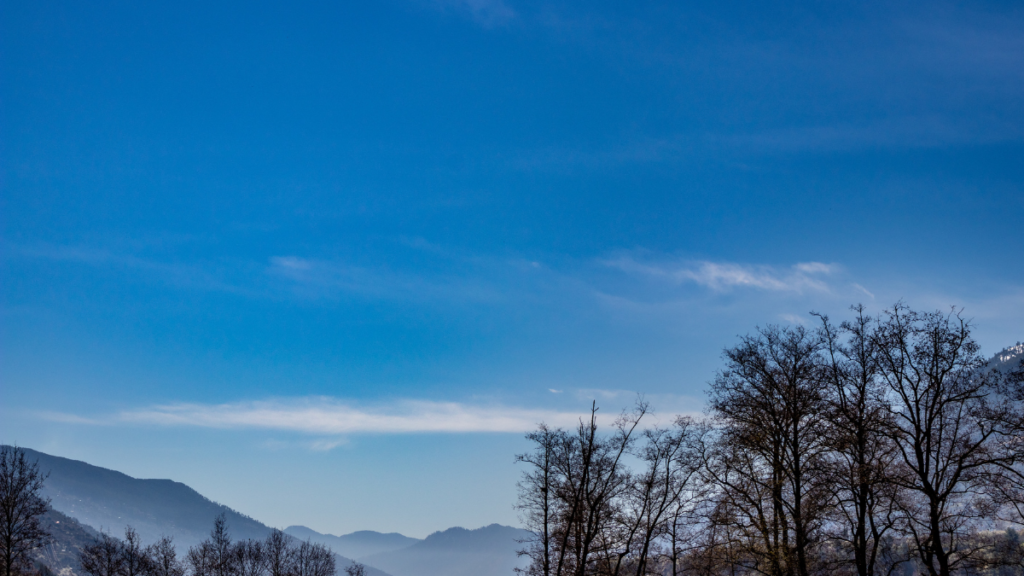 Mussoorie is a fantastic choice if you're seeking locations for paragliding in India. Like many other hill stations in India, Mussoorie is a popular tourist destination. One may take a lengthy trip up to 2300 metres above sea level and fly to Dehradun from the takeoff location near Mussoorie Lake.
Best Time: September-May
Cost: INR 2000
3. The Mesmerizing Vistas of Gangtok, Sikkim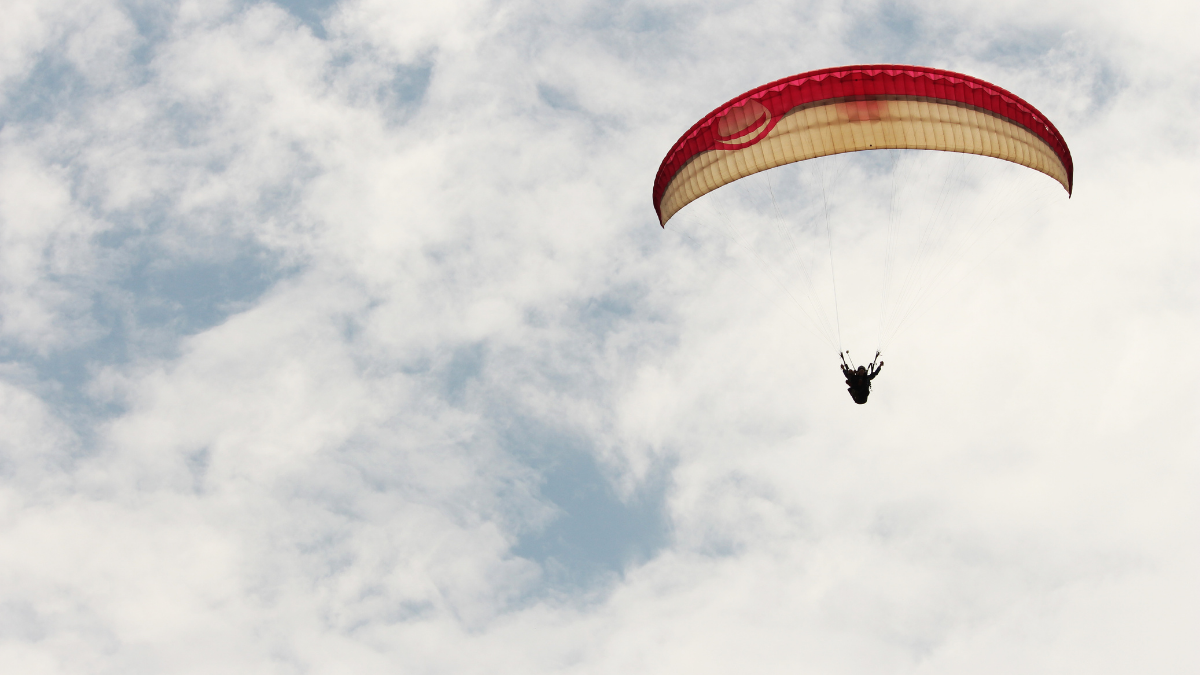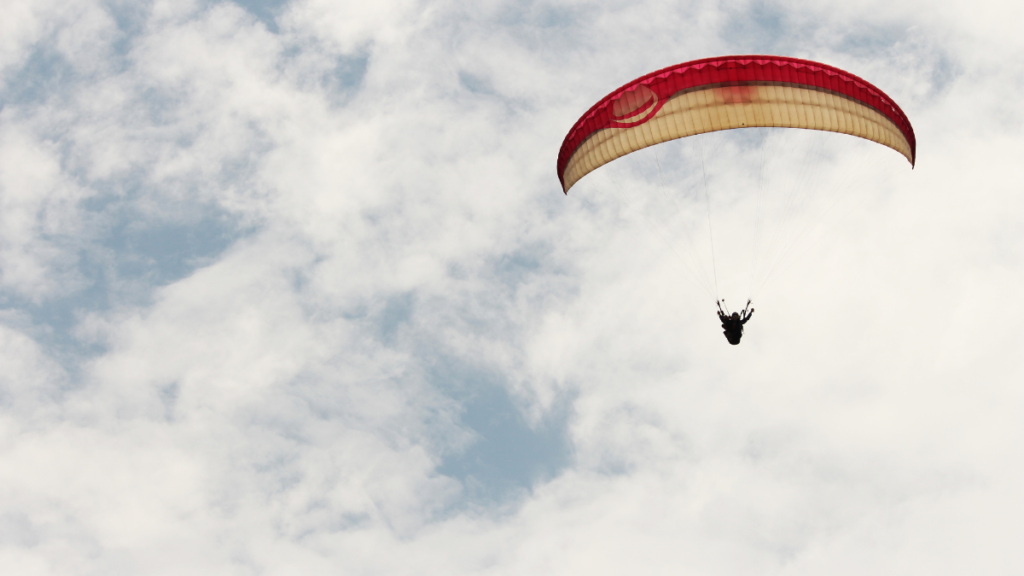 The joys of paragliding in Sikkim have long been known among travel-savvy backpackers visiting northeast India, but recently introduced aficionados have started to explore Gangtok as a gliding destination. While the greater range session lasts 20 to 30 minutes, the medium range session gives a 10-minute flying experience. It's breathtaking to see the communities tucked away in the vast Himalayas. On their expedition, adventurers often mix paragliding and rafting.
Best Time: October-April
Cost: INR 2500-4500
4. Look at Manali, Himachal Pradesh, from 6000 ft!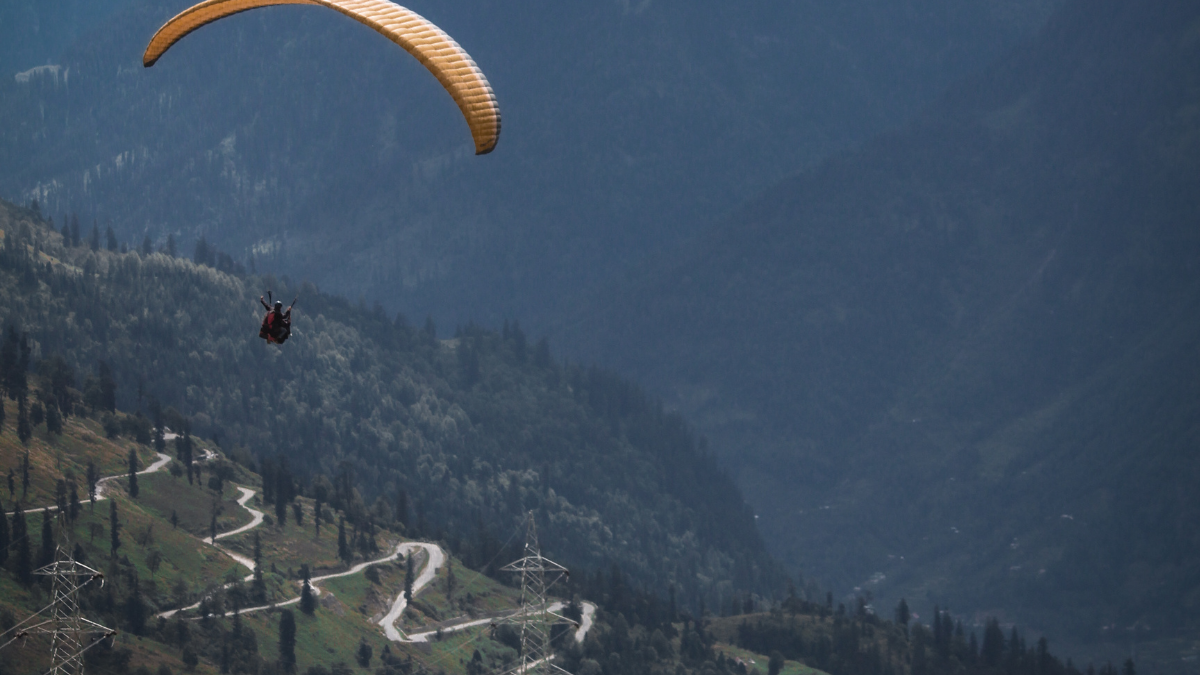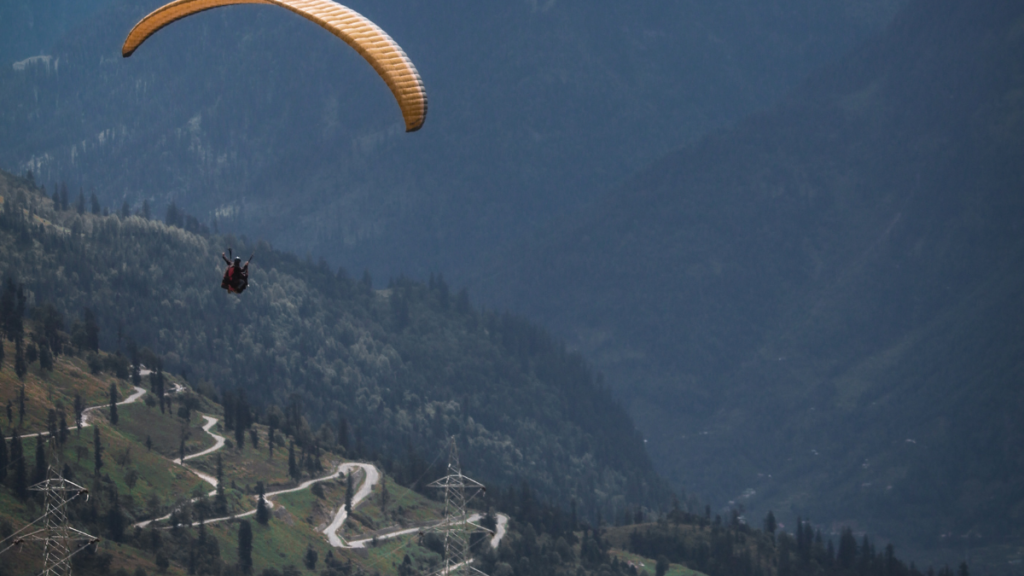 Manali, a stunning valley in the Himalayas, is one of Himachal Pradesh's top tourist destinations. The town is perfect for paragliding in India because it is between 5500 and 6000 feet above sea level. The exhilaration of gliding in the region adds to the already stunning scenery. Gliding is practised in the Solang Valley, Fatru Mountain, Gulaba, and Nagger Road regions. Except for the monsoon season, when this sport is prohibited, one may experience the feeling of the air from above during most of the year. It is the perfect escape for someone who enjoys adventure as much as stunning locations.
Best Time: October-May
Cost: INR 1800+
5. Quaintness of Panchgani, Maharashtra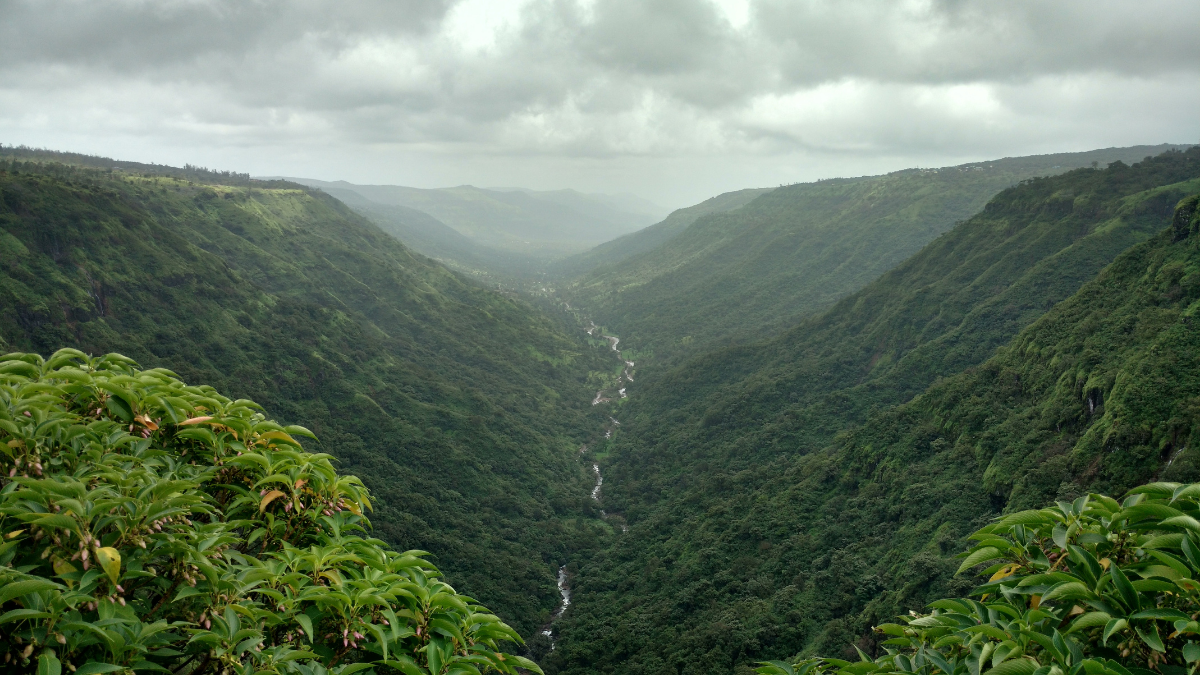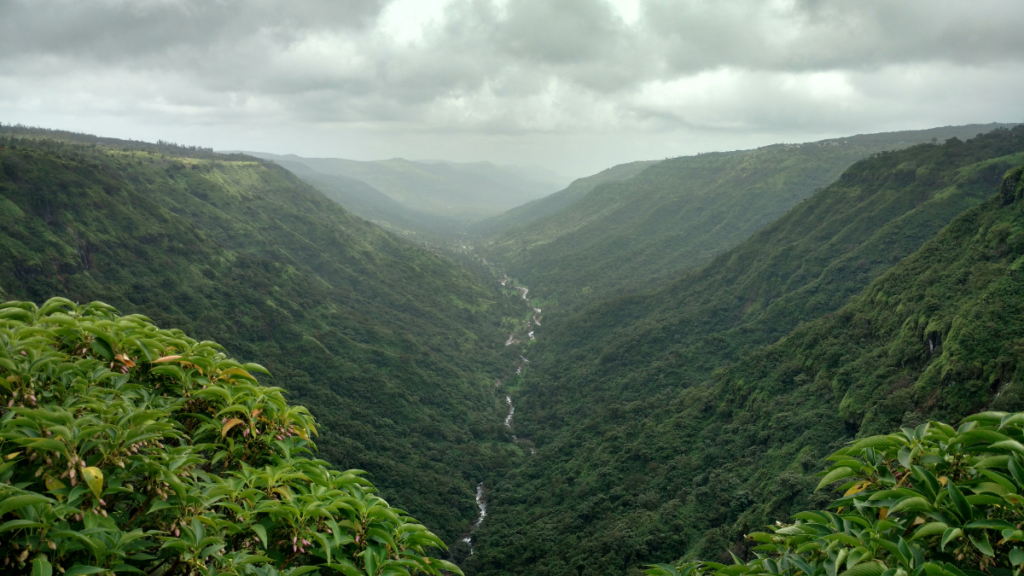 Panchgani, a well-known hill station in Maharashtra's Satara district, is among the nicest weekend getaways. The wonderful hill station, located at an altitude of around 1200 metres above sea level, offers a variety of adventure activities, with gliding being one of the most popular among visitors to the region. The fact that the weather is good all year round further adds to its splendour. It's also interesting to note that, after the Tibetan plateau, the plateau region of the hills around Panchgani is the second-largest in Asia. Panchgani has become one of the hotspots for paragliding in India due to several good conditions, including clear skies, ideal height, favourable winds, and beautiful weather all year.
Best Time: November-February
Cost: INR 1500+
6. The Religious Hub – Pavagadh, Gujarat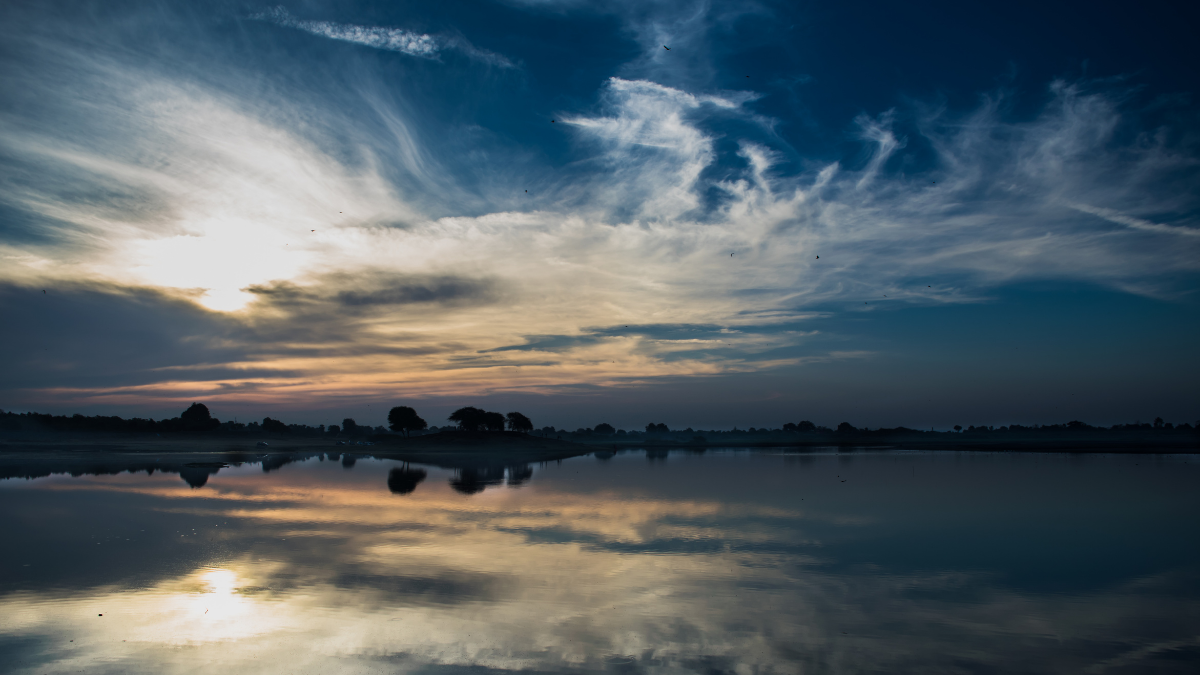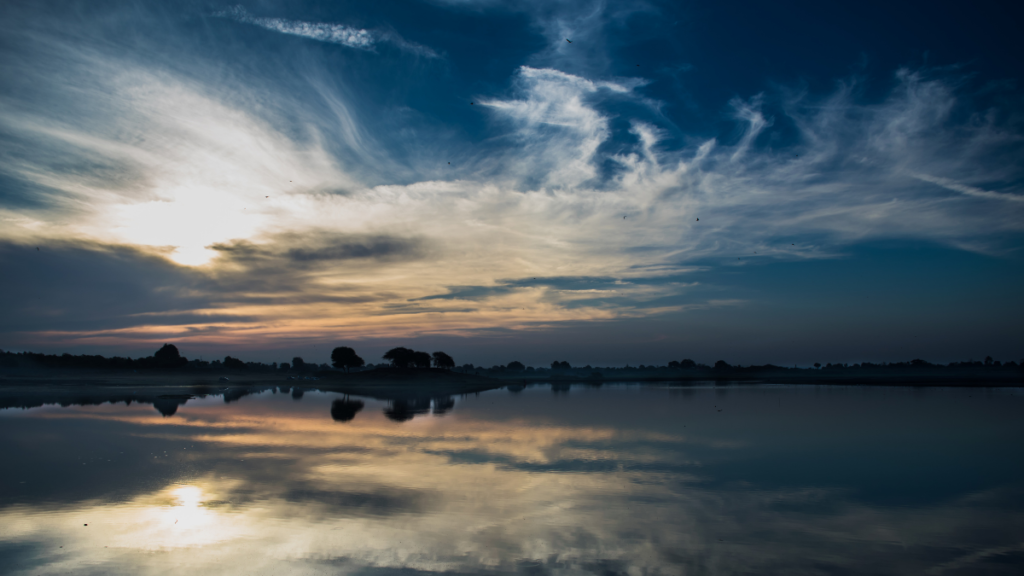 Gujarat's Panchmahal area is renowned for its exquisite beauty. Pavagadh slope lies tucked away in this area at 800 metres above the surrounding fields along the southern Aravalli Range slope. You'll feel the rush of excitement at this amazing gliding location in Gujarat! Additionally, it is among the most reasonably priced paragliding in India.
Best Time: November-May
Cost: INR 1300+
7. Home to Horses and Gliders – Matheran, Maharashtra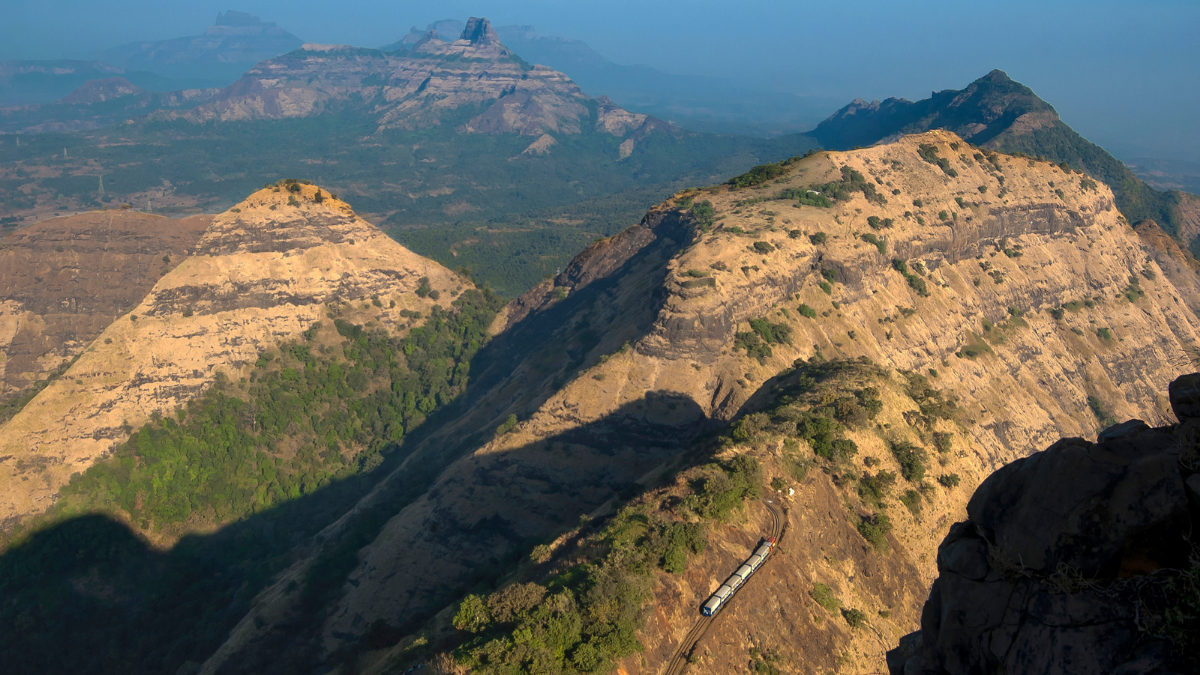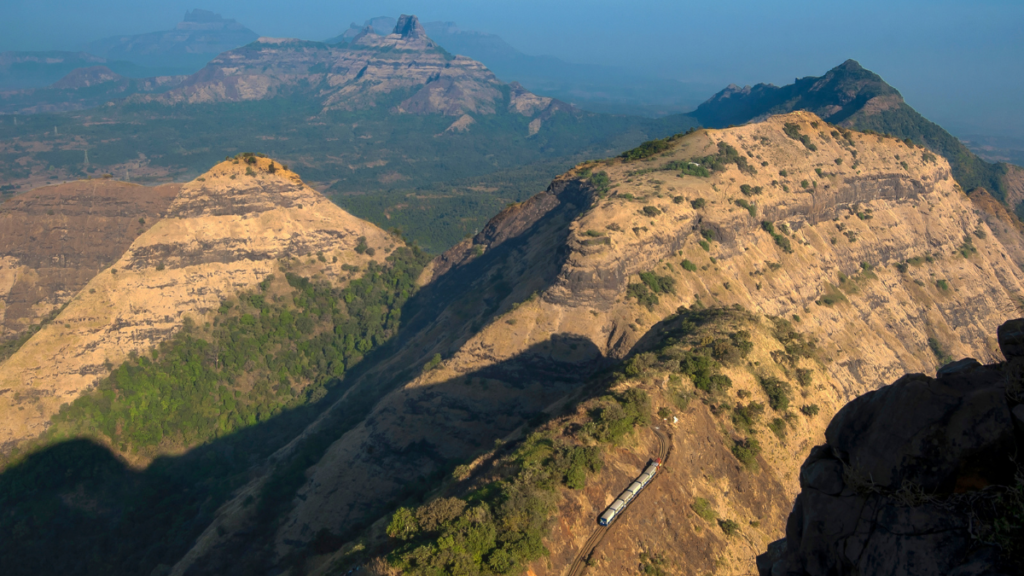 Matheran in Maharashtra is another great location for paragliding in India. A lovely green valley surrounds this alluring hill station. The best locations for soaring excursions are in Matheran because of its reputation for tranquilly and clean air.
Best Time: April-June
Cost: 1500+
8. Encircled in Clouds – Nandi Hills, Karnataka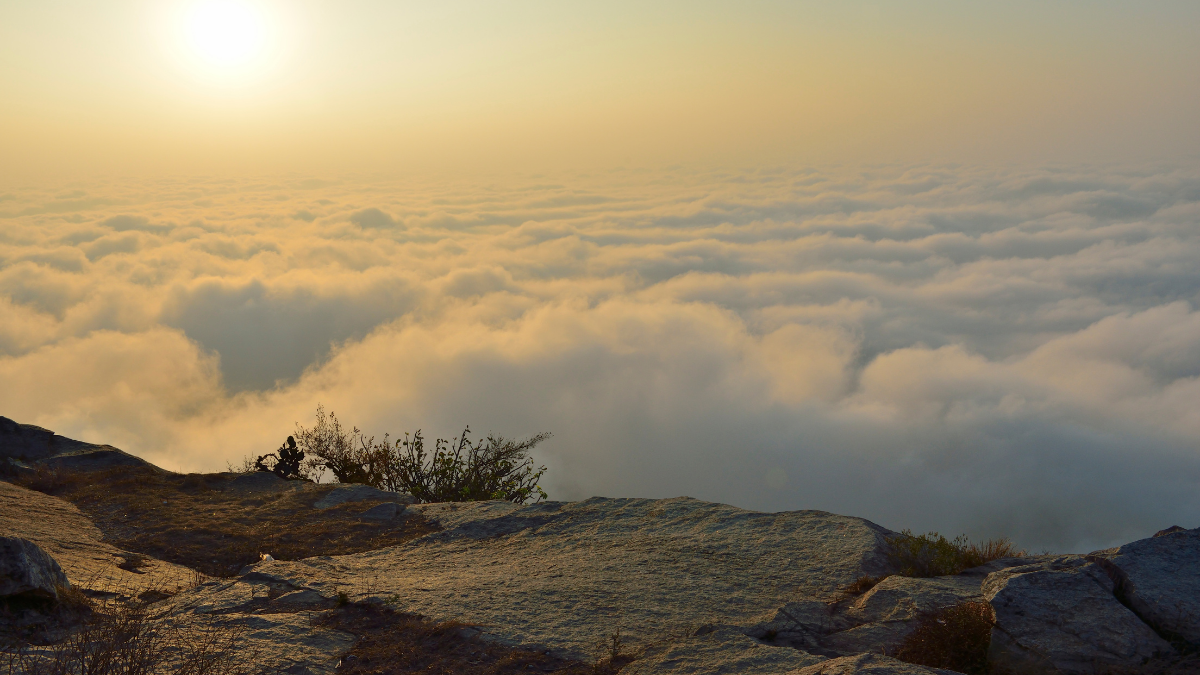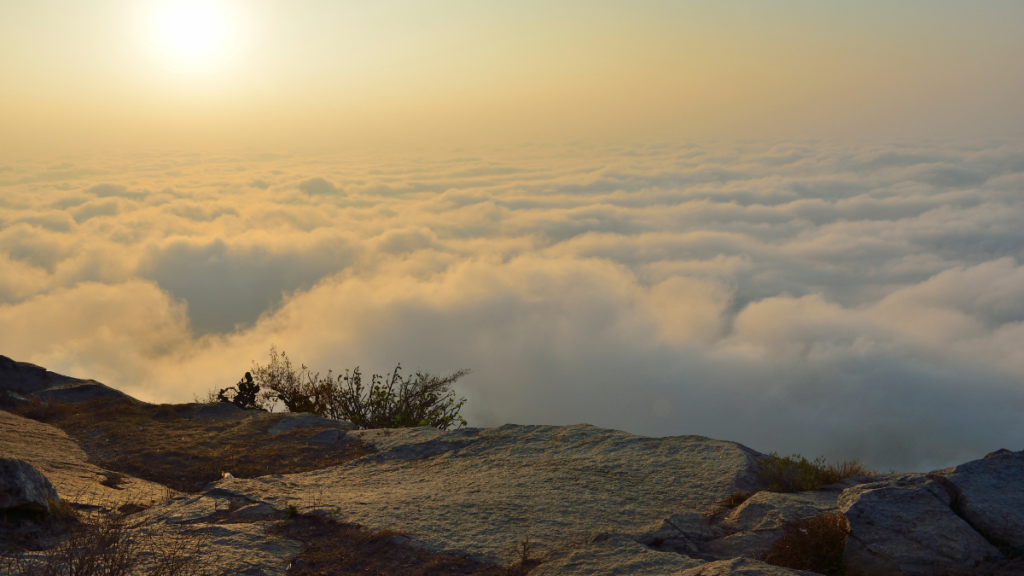 Nandi Hills is a tranquil hill village around 60 km south of Bangalore and a well-liked gliding location. Many experienced paragliders choose Nandi Hills for its ideal temperature and plateaued landscape with hill canopies while soaring at altitudes greater than 4500 feet.
For youthful adventure seekers from Bangalore and Hyderabad, Nandi Hills has grown in popularity as a gliding location. The greatest time to fly high here is all year, except for the rainy season, and the journey to the takeoff spots is scenic.
Best Time: All year long except monsoons
Cost: INR 1500+
9. Off-beat Gliding Destination – Saputara, Gujarat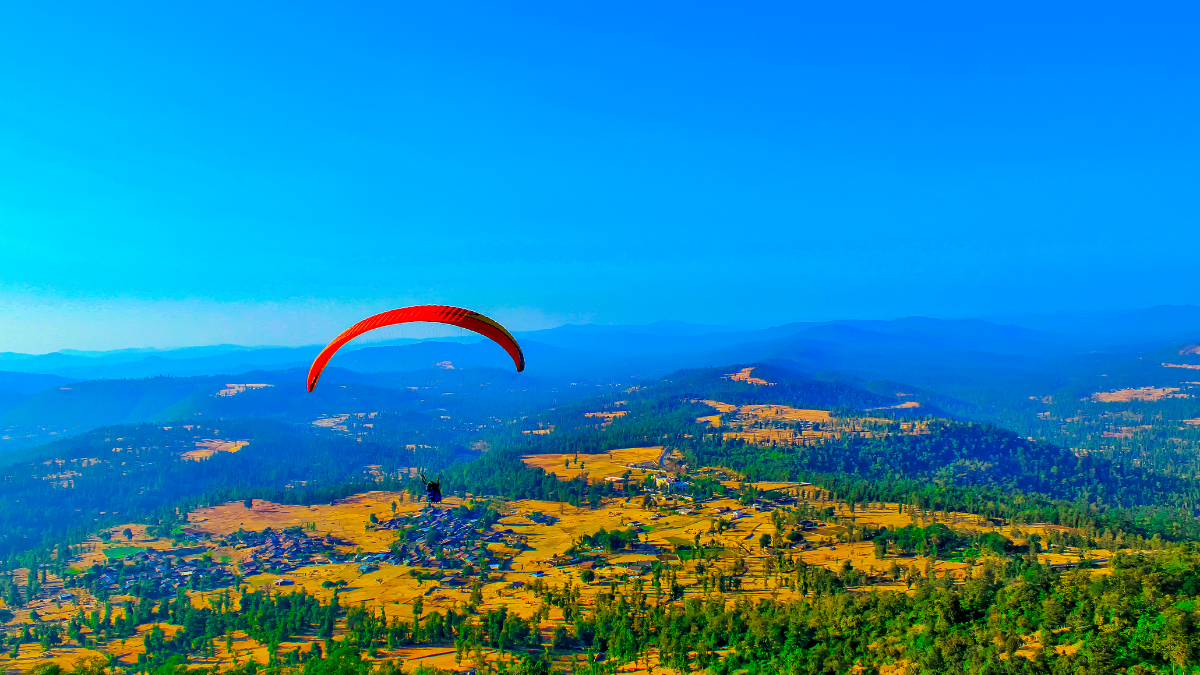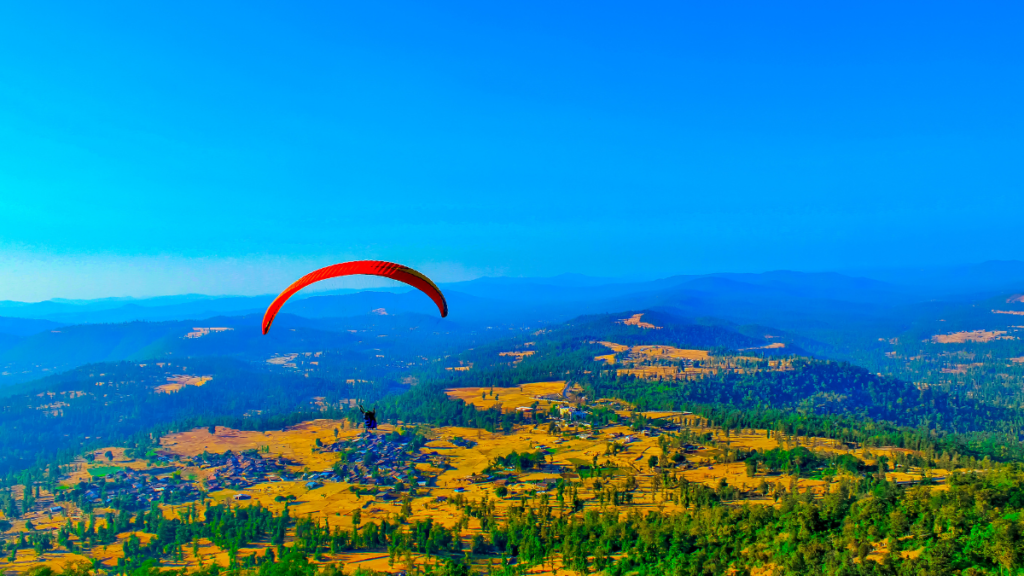 Saputara in Gujarat is becoming a well-known location for paragliding in India because of an annual event that draws fans of aerial sports. You may fly above the mediaeval city of Champaner, deep woods, rhyolite rocks, and a natural cave by taking off from Pavagadh Hill in the Panchmahal area. The nation's tallest mono cable ropeway is located here, which has a volcanic past.
Best Time: November-May
Cost: INR 3000-5000
10. Soar over a beach at Arambol, Goa!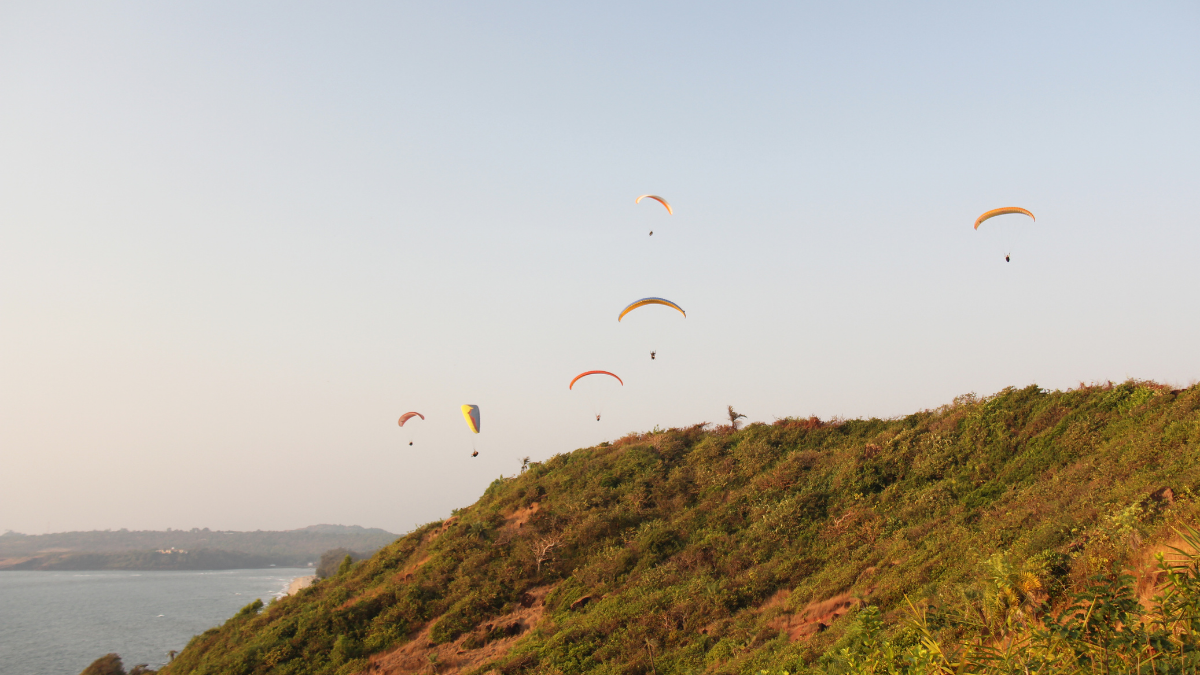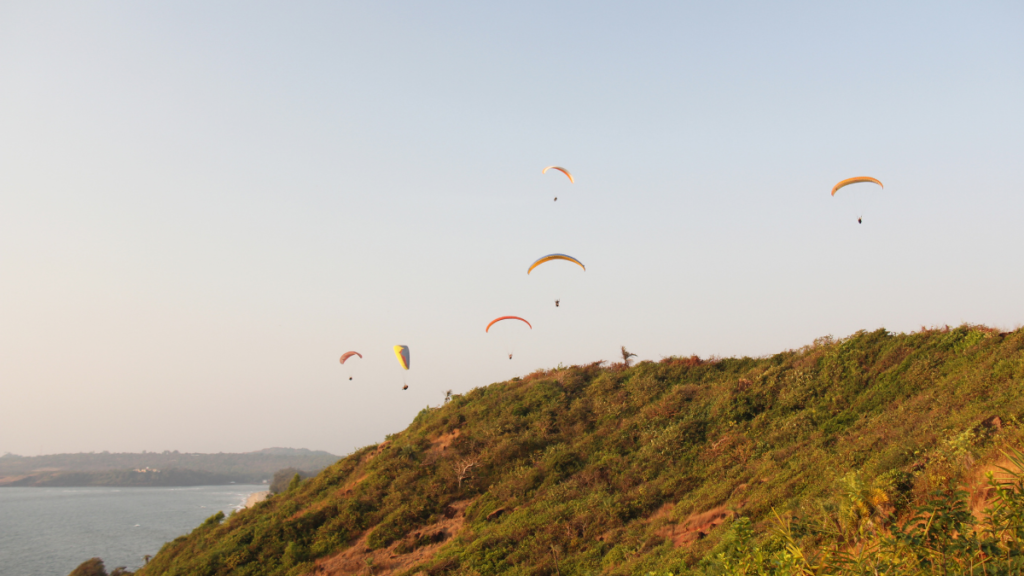 You would be mistaken to believe that gliding is exclusively appropriate for mountainous terrain. One of the coolest adventurous rides you'll ever go on is paragliding at Arambol Beach in Goa.
The journey, which may last 15 minutes to an hour, will let you take in the azure seas of Arambol Beach, flanked with palm palms. You'll get the impression that you're flying over an uncharted exotic island.
Best Time: September-May
Cost: INR 2000+
11. Tandem Flights over Yelagiri, Tamil Nadu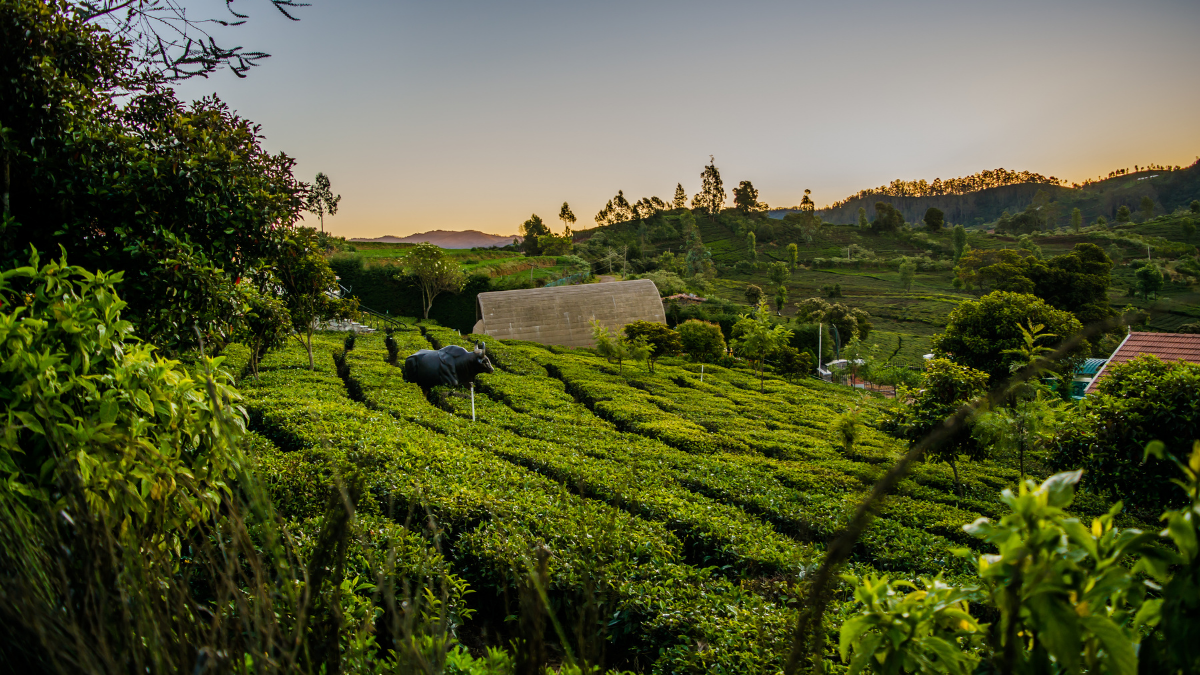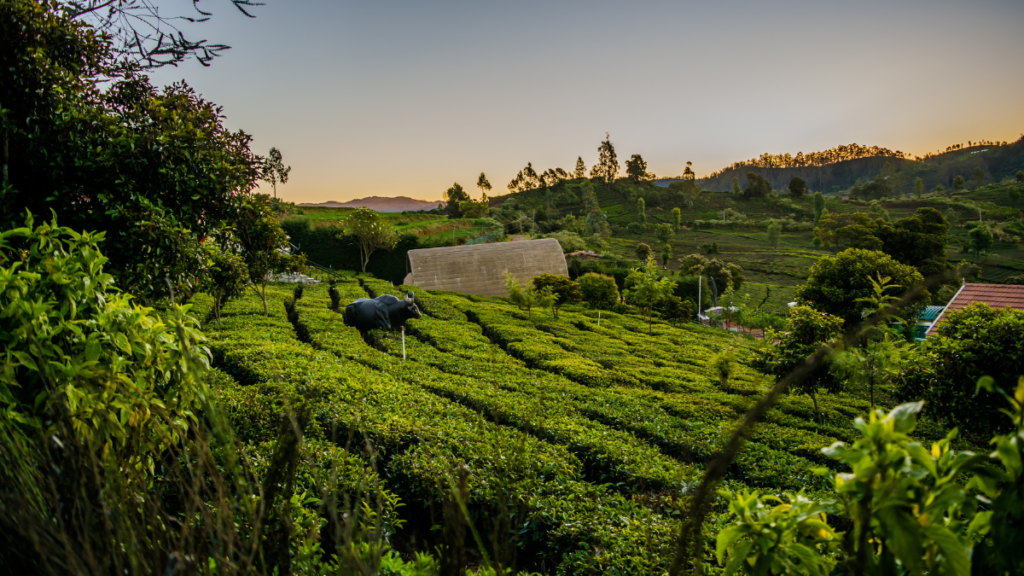 One of the greatest places for paragliding in India is in Yelagiri. The hill station of Yelagiri, roughly 3 hours from Chennai, the nation's capital, is a haven for tourists and adventurers. The hill station also boasts a paragliding club that offers tandem flights as well as equipment rentals for the same. The hill station's gorgeous green grass and elevation of roughly 2000 m are ideal for a spectacular soaring experience.
Best Time: September-February
Cost: INR 1000+
12. The Untrodden Path – Shillong, Meghalaya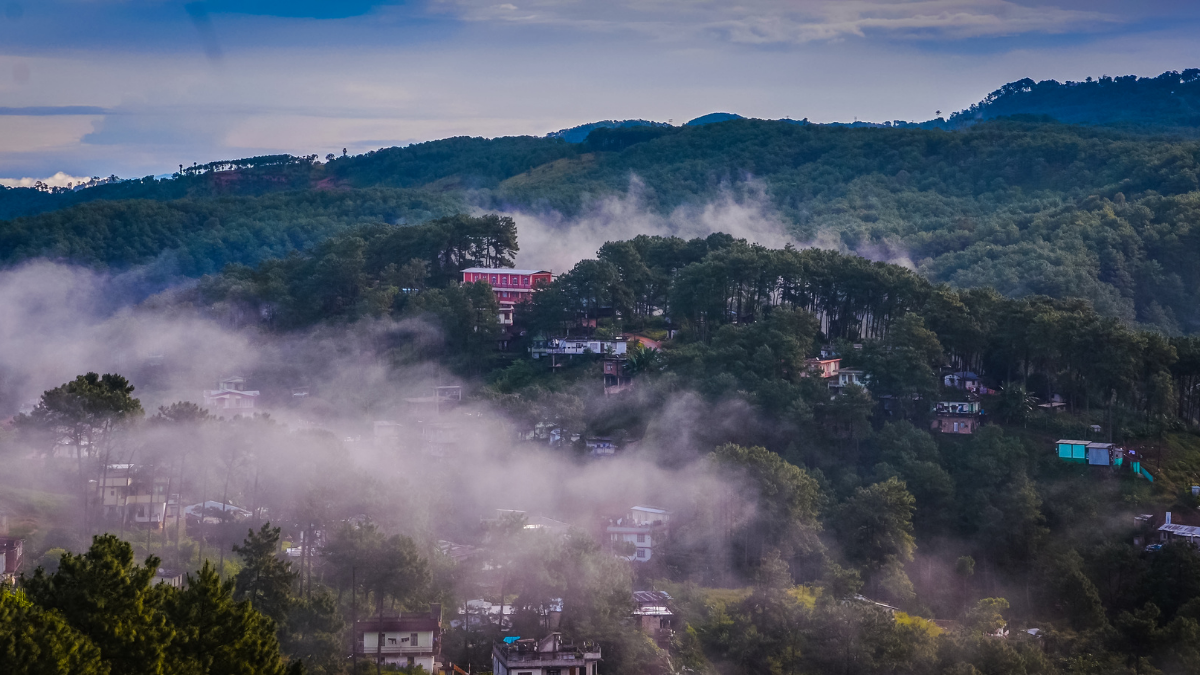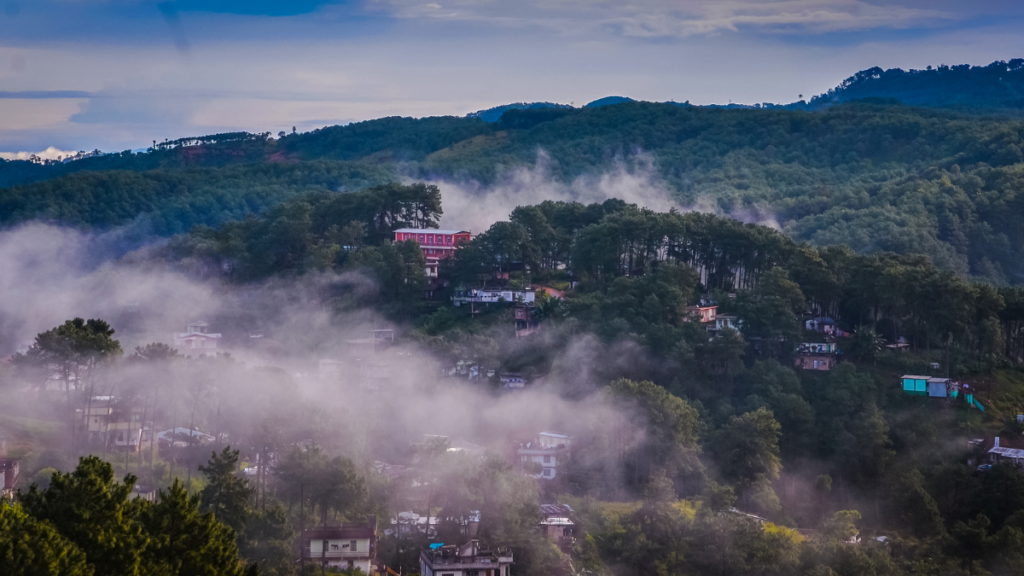 Shillong, often known as Scotland of the East, is one of the most picturesque tourist sites in the North East, with an average elevation of 1400 metres. One may now go gliding in addition to the already thrilling sites and breathtaking vegetation. The market for gliding is steadily growing in the adorable small town, drawing both travellers and adventure seekers. There are hydraulic payout winch facilities connected through radio, where flight supervisors direct the pilots. It is possible to reach heights of up to 700 metres.
Best Time: April-July
Cost: INR 2000+
13. Danger and Adventure at Bedni Bugyal, Uttarakhand
Beni Bugyal, situated in Uttarakhand, provides breathtaking views of the whole Chamoli area from the air. At a height of 3,354 metres, you will be gliding while admiring the breathtaking views of the Himalayan range. High fliers would love this trip to Uttarakhand, which is also one of the most dangerous places for paragliding in India.
Best Time: September-May
Cost: INR 2000+
14. Fly High or Low at Sanasar, Jammu and Kashmir – Your Choice!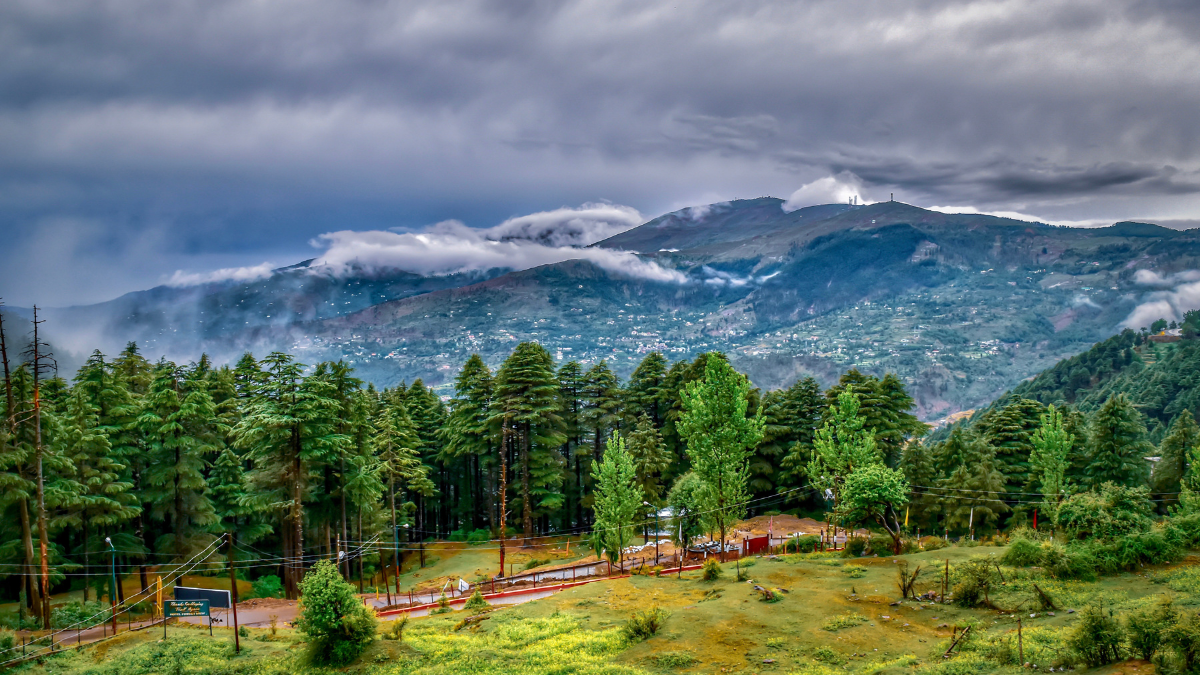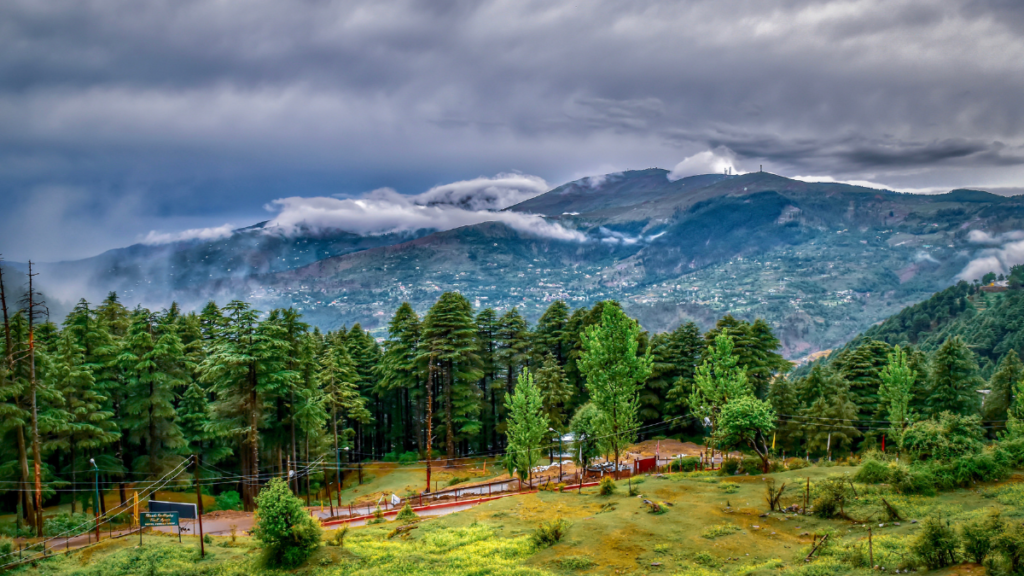 The experience of paragliding in Jammu and Kashmir is unmatched. The greatest locations in Kashmir for tandem jumps are Sanasar, Jammu, and Batote, which provide magnificent mountain vistas and qualified specialists. A high-flying trip will give you 20 minutes of pure joy in the Himalayas, while a low-flying journey will land you in lovely meadows.
Best Time: April-July
Cost: INR 1500+
15. Explore the Quaintness of Dharamshala, Himachal Pradesh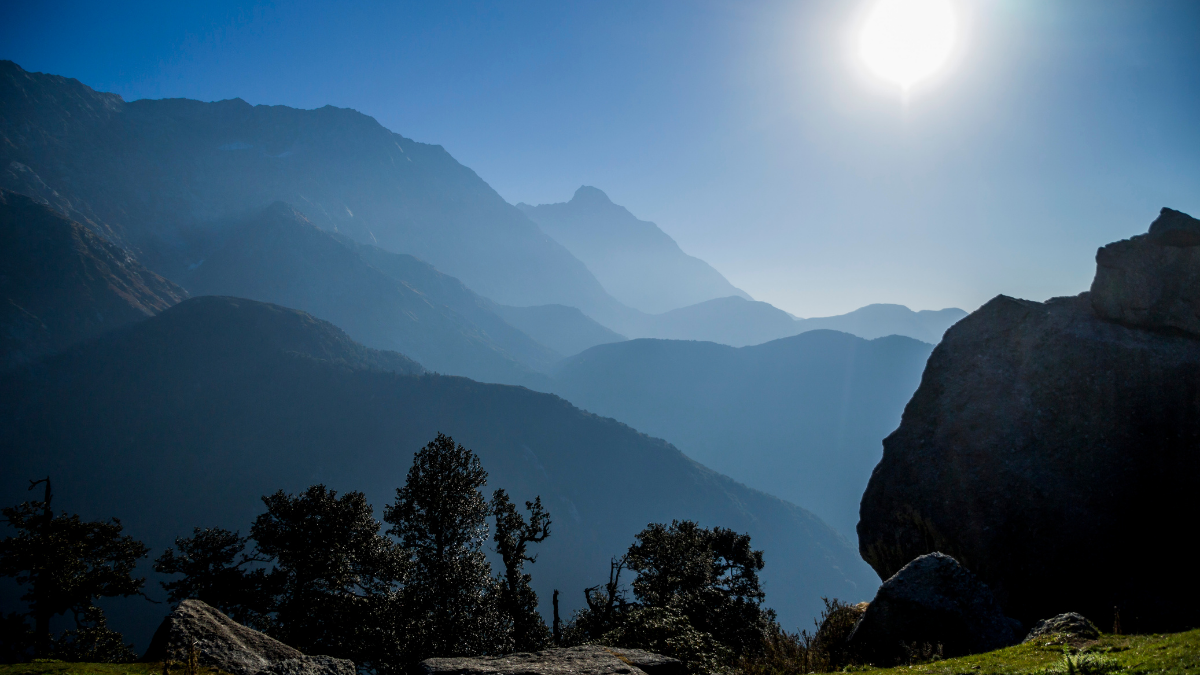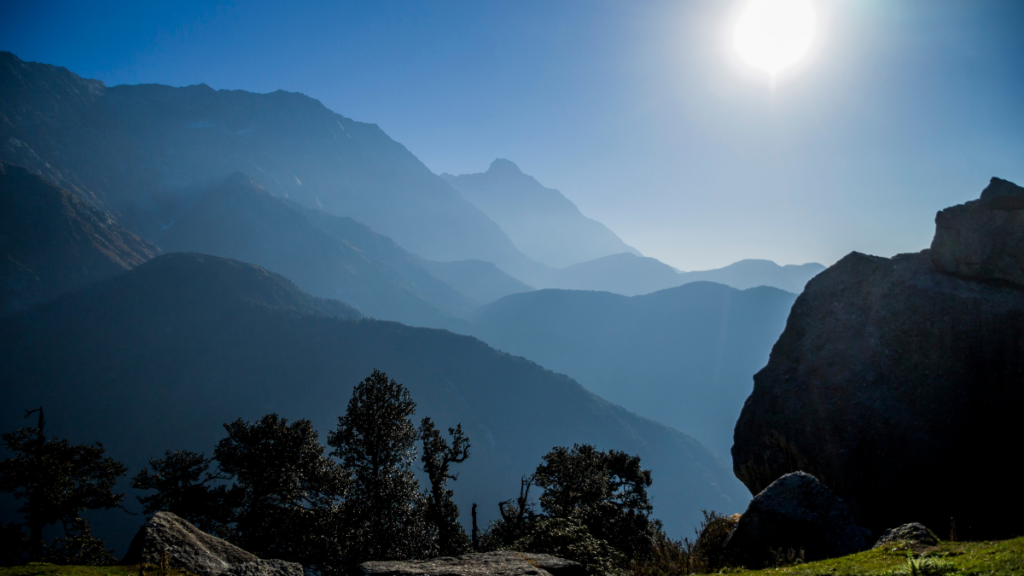 Paragliding in Dharamshala will allow you to soar above the lush green trees as you take in the sparkling views of the spectacular snow-capped mountains from above. One of the best things to do in Dharamshala is to paraglide at Indru Nag and experience free flight in this lovely hill region.
Best Time: March-June; September-November
Cost: INR 2500+
16. Sahyadri from a Bird's Eye – Kamshet, Maharashtra
Kamshet is one of the greatest locations for paragliding in India and is 100 kilometres from Mumbai and 50 kilometres from Pune. It is a well-liked weekend pastime for the urban middle class. Both solo and group flights are common here. Views of the Sahyadri Ranges below are beautiful from the air. Several regional schools and workshops now offer certified lessons and courses to visitors and enthusiasts.
Best Time: October-June
Cost: INR 2000+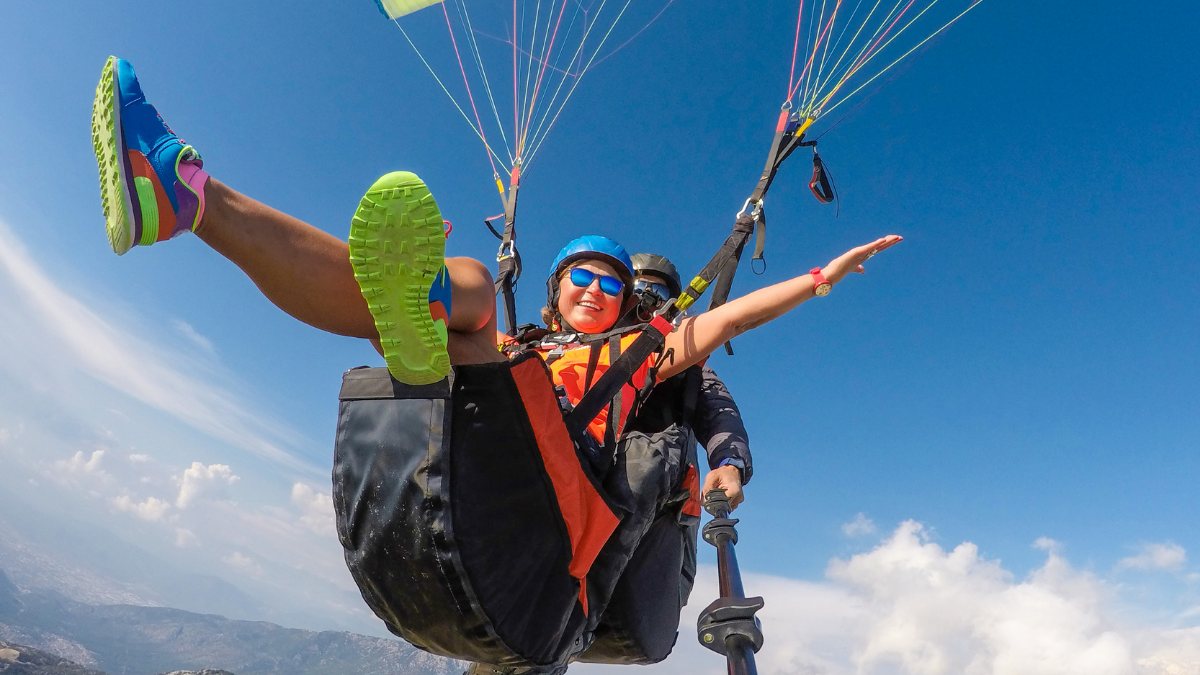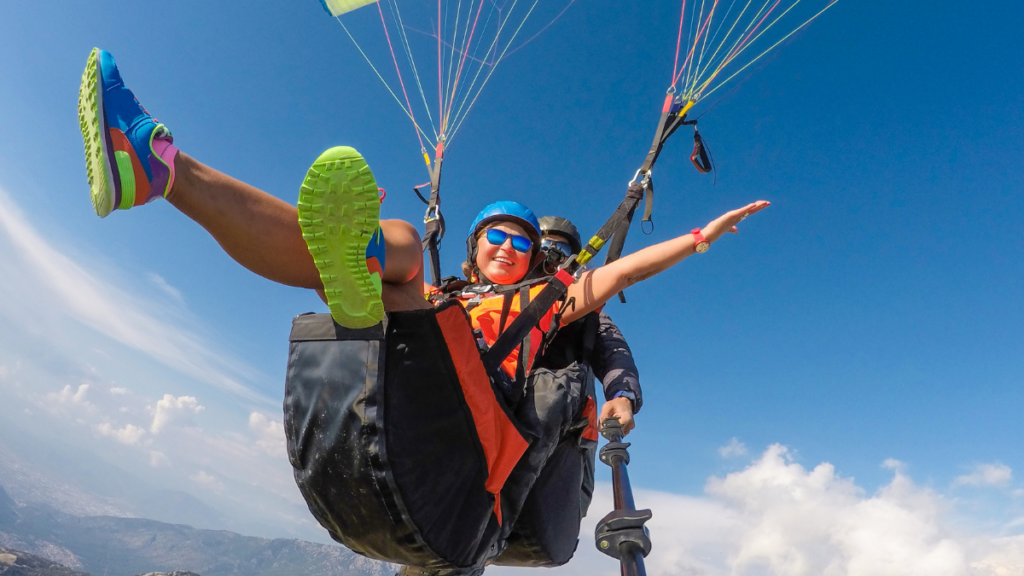 When to Go Paragliding in India
The perfect time to go paragliding in India depends on your chosen location. Each location differs in weather conditions for performing the sport.
What to Expect On a Paragliding Trip in India
If you're going tandem paragliding in India, here are a few things you can expect before, during, and after your flight.
Pre-flight briefing: Your instructor or the pilot will review the equipment you'll utilise, safety precautions, and the flight plan before you take off.
Setting up Safety Measures: You will assist in setting up the paraglider, which entails spreading the canopy and fastening it to the harness. You can request to secure the spare parachute as well.
Pre-flight inspections: To guarantee everything is in functioning condition, your instructor or pilot will do several inspections on the gear.
Taking Off: You will sit in a harness before the instructor while launching the paraglider. Until the paraglider is fully inflated and ready to take off, you must run quickly with it. When it is safe, the instructor or pilot will give you the go-ahead. Run as quickly as possible for those few steps; try not to think.
During the Flight: When flying the paraglider, you will be strapped into a harness and able to take in the scenery as the instructor controls the glider. You will fly by snagging thermals, rising air columns that raise the paraglider higher into the atmosphere.
Landing Safely: When it's time to land, your instructor or pilot will point you in the right direction and instruct you on how to approach and land the paraglider properly. Keep your legs straight in front of you to avoid injury.
Get the video and pictures: You may ask your instructor (if any) for the GoPro footage, and you can ask the photographers on the scene for the pictures (typically priced separately).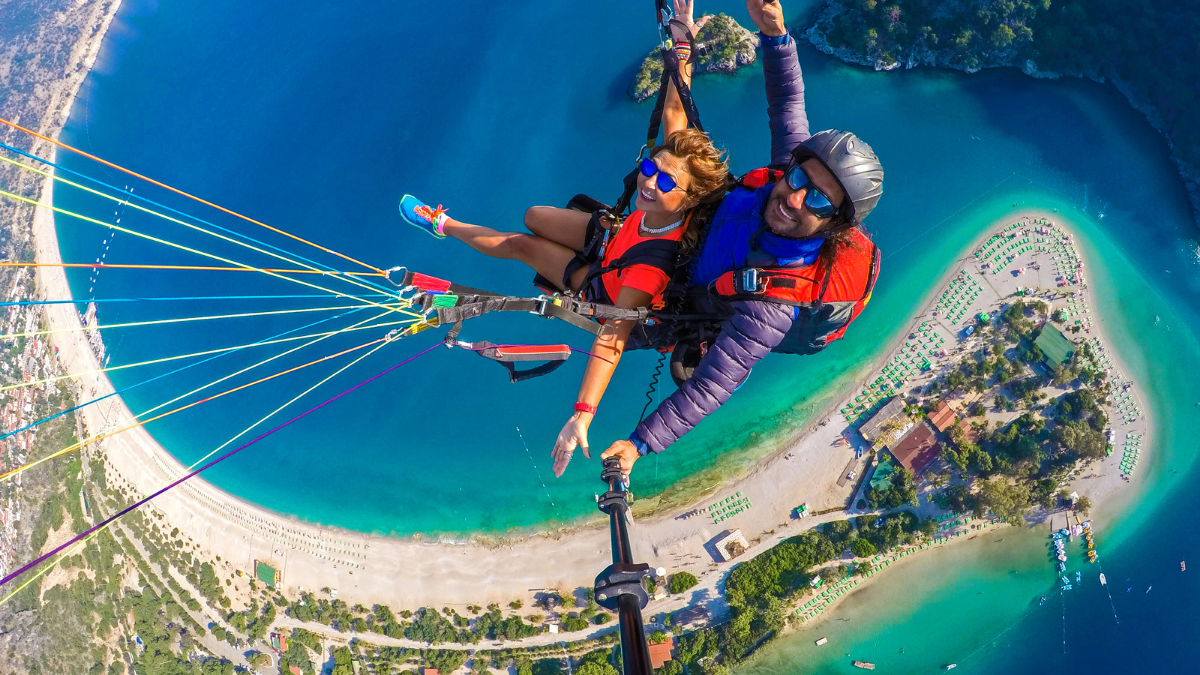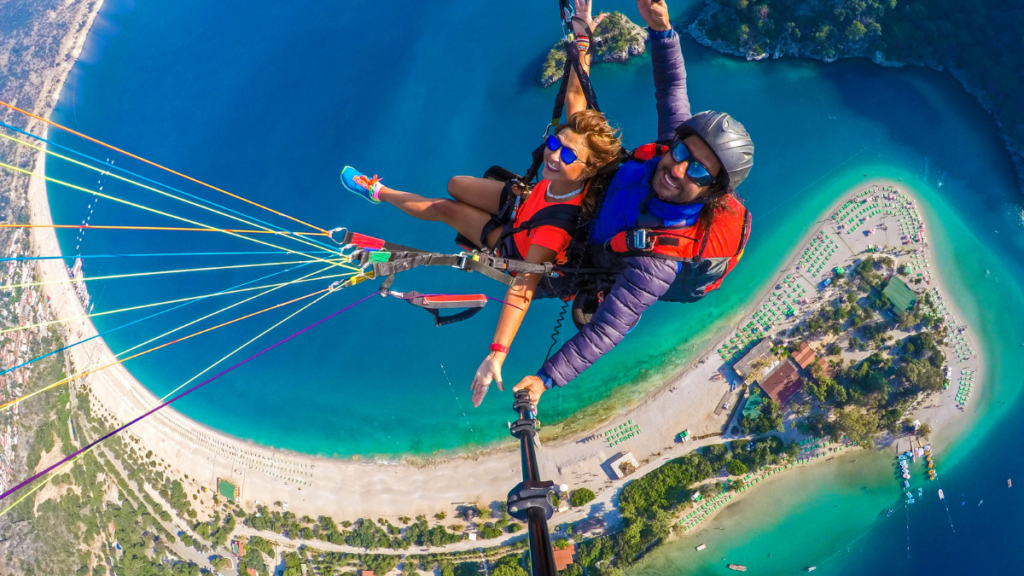 How to Choose a Paragliding Instructor in India
If you wish to enrol in a course for Paragliding in India, you must look for an instructor. Your teacher will lead you into the mystic realm of soaring high in the clouds. Look for schools with the greatest teachers passionate about teaching and the sport they teach. Consider instructors with various experiences (such as those participating in national or international competitions) since they bring various information and perspectives. You must also examine their flying experience.
Paragliding Safety Tips for India
Many precautions must be taken when planning to soar high among the clouds. Your safety should be your priority. When paragliding in India, keep these things in mind:
Climate: When the weather is poor, nobody wants to be in the sky. However, favourable meteorological conditions sometimes provide ambiguous circumstances. Additionally, even a slight shift in the weather carries much risk. Because wind speed and direction greatly influence the flow and motion of gliding, weather conditions play a key role that can directly affect your experience. Therefore, it is essential to consider the weather prediction while attempting to touch the sky.
Instructor's Experience: Your glider will determine how enjoyable the journey will be, and the wings should feel comfortable in all weather. To better understand the gliding equipment and make the most of your trip, you may do research or speak with paragliders who have previously had the journey. You may fly in comfort and pleasure with the aid of a solid glider. Before jumping off the slopes, remember to look at their track record.
Make Use of Top-Notch Equipment: There is no doubt that most mishaps are generally brought on by subpar flying apparatus. Therefore, find out the canopy's condition before picking any paragliding firm. A little issue with the harness, canopy lines, or backup parachute can readily cause accidents. Ensure the business employs top-notch safety gear and monitor the safety helmet's condition. Body armour, a full-face helmet, knee and elbow padding, ankle support boots, and a thoughtful form in hand are all very important items that lower the danger of injuries.
Verify the Company History: Although India has dozens of businesses that provide paragliding, not all are specialists or adhere to safety protocols. Therefore, perform a quick background check on any potential business before selecting it. Verify the firms' histories in gliding, their past aviation experience, and their involvement in accidents. Additionally, you may speak with friends and family members who have done this before, get their valuable input, and then pick the one firm with a track record. Your experience with paragliding in India will be more convenient if you choose a reputable firm with an experienced pilot.
Conclusion
Paragliding in India is a breathtaking opportunity you should take advantage of. There are many locations in the country where you can paraglide. Remember your budget and safety when planning for soaring high in the sky here!