Best water bodies and places to visit in Meghalaya
Explore Meghalaya's Stunning Lakes, Meghalaya is a wonderful place which is situated in the eastern part of India. This beautiful place has many different things which you may be going to love whenever you visit Meghalaya. The fact that thing about this is that Meghalaya is the wettest place in the world. And as per the record, an average of 12,000 mm rainfall happens in a year because 70% part of this state is covered with forest. In this forest, it contains many things in its biodiversity like mammoths, bird, plants, river, waterfall, lake and many other things. There are many crops are cultivated like potatoes, rice, message, pineapple, banana, papaya, spice, and many other things which make it so important for the rest of India. It is also rich in minerals but for the conservation of forest, there is no plant is established to take out the minerals. So today on this topic we are going to cover some amazing Meghalaya's Stunning Lakes.
Explore Meghalaya's Stunning Lakes: A List of Must-Visit Places where you must visit while traveling.
Double Decker Living Root bridge: –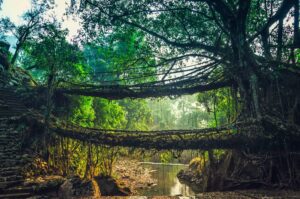 it is one of the most beautiful and most attractive things in Meghalaya. Because of its One of the best natural wonders, it is very famous everywhere in the world. This was made by the Khasi tribe from the naturally grown aerial roots of ficus Elastica Or in other words, it is a rubber tree. This place is made on the upper part of a small canal which has a height of 2400 feet and a length of 3 km. We have to undertake 6000 steps I am in the 6000 steps you will discover an amazing thing and you will definitely be going to love this.

Nahkalikai Falls: – it is a wonderful waterfall which falls from the height of 1115 ft and it is one of the highest what a fall in India. Two what is this wonderful waterfall gives you an amazing View and especially known for the sunset because of its beautiful landscape view. And this place is also known as a World Heritage site which was declared by UNESCO. Whenever you visit Meghalaya you must visit this place because it is amazing.

Wei saw doing waterfall: –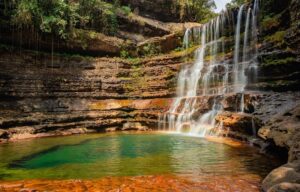 it is one of the beautiful waterfalls which is the three tired cascade and one of the most beautiful waterfall in India which look like in scenery. It is almost about 58 km away from the capital city three long and to reach till here you need to pass a bamboo bridge as well as you need to close the sleepy part to acquire this beautiful view. It is in the slippy area so if you are a physically fit person then you must visit this place and user a photography lover then it is the most recommended place to visit in Meghalaya. It is situated in a dense forest so here you can spend your beautiful moment in a peaceful environment. So you must visit here whenever you visit Meghalaya.

Umiam Lake: –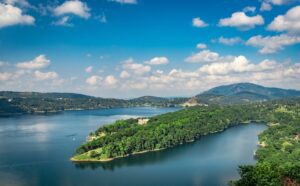 it is in a stunning man-made lakh which is about 15 km A ball from Shillong you are its north. It covers an area of two 21 m². It is coming to various use like for the confirmation of water and provides water to all the Siri as well as many locals depend upon this beautiful lake for food like fishing. Where you can do many activities like boating what is king kayaking is also available here and if you are a beauty lover then you can sit and feel the nature on the bank of this lake. It will remember you if You moments with you may spend it with Pangong Lake.

Dwaki river: –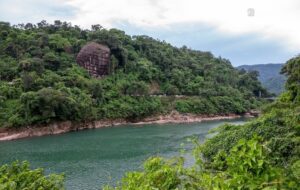 which is situated on the foothills of Jaintia hill. Is very famous because of its clarity and that is why this knowledge India's cleanest village. It is very famous what is clarity like who is still clear water, lush green Forest, and many other things. The fact you think about this river is that you can see how deep this river is and you can see that what are the things are in the river. So whenever you visit Meghalaya you must have a look at this beautiful lack where you can do many activities like boarding, cliff jumping as well as zip-lining.

Laitlum canyon: –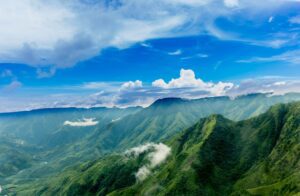 this is located in the East Khasi Hills district. It provides a panoramic view of the beautiful Meghalaya state and which will give you an amazing feeling when you will reach there. Visit it is a nice green and breathtaking valleys which will provide you a feeling of heaven. And that is why Meghalaya is also called the Adobe of clouds you can understand easily here.

Mawphlang sacred forest: –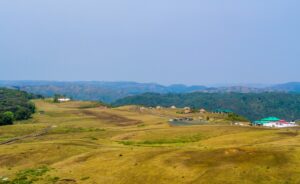 it is a wonderful forest which will provide you and different and amazing. And it is an ideal place for nature lovers because you can explore some rare trees, mushrooms, Ajit Kumar some rare butterflies, and many other things as well as you will get to know that why Kashi tribes are protecting this forest for many thousand years. It is one of the scary forests because it does not allow it to take anything away from this beautiful forest and if anyone Attempt to do such kind of things then Khasi tribes punish them and that may even lead to death as well so it is better that whenever you visit Meghalaya you must visit here but you need to be careful about these rules and as per suggestion you must ask the locals that what should be the better option to do.