Have you ever wanted to go to those flower-ridden valleys and lush green moors displayed in American movies? Well, you don't need to travel abroad for that! India has its valley of flowers in Sikkim – the Yumthang Valley – ridden with rhododendrons and green grass that transports you to one of the periodic Hollywood dramas!
Yumthang Valley: The Gift of Nature
Situated 140 kilometres north of Gangtok lies North Sikkim's well-known Yumthang Valley. This unique and fascinating place, known as the "Valley of Flowers," is home to yaks, rivers, hot springs, and verdant meadows. This gorgeous place, which is elevated to a height of 3564 metres, is a nature lover's heaven since it is home to the Shingba Rhododendron Sanctuary, which features over 24 types of rhododendron flowers—the state flower—that bloom from late February to mid-June.
It is inaccessible to travellers from December through March because of the area's high snowfall. It is home to a few hot springs that draw many tourists because of its reputation for miraculous healing properties. The location is filled with a lush green forest full of pine and silver fir trees, in addition to a fantastic green meadow. Along with a breathtaking view of the peaks with Pauhunri and Shundu Tsenpa, you may observe flowing waterfalls and streams as you go towards Yumthang Valley.
The Flora and Fauna of Yumthang Valley
Nuzzled in the Indian state of Sikkim, this place is a gorgeous and biodiverse haven known as the "Valley of Flowers." It is well known for having an amazing variety of plants and animals, which makes it a must-visit location for lovers of the natural world.
Regarding vegetation, the valley is well-known for its vivid rhododendron blossoms, which display a rainbow of hues from pink and red to white and yellow. In the spring, the place is blanketed in these rhododendrons, making for an amazing sight. In addition, several primula species, including Primula Denticulata and Primula Sikkimensis, adorn the grounds with their delicate, bell-shaped blooms. Meconopsis, sometimes known as the Blue Poppy, is an uncommon and visually arresting flower that grows in the area. Its vivid blue petals contrast sharply with the lush surroundings. Many orchid species, including the Dendrobium and Cymbidium orchids, may be found in Yumthang, which lends the valley a touch of elegance. A wide variety of alpine and subalpine plants, such as gentians, potentillas, and saxifrages, are supported by the area's chilly, damp environment.
In terms of wildlife, the place is home to a wide range of species. Despite their rarity, the secretive and threatened red panda remains a major attraction. The Himalayan Tahr is a powerful and agile ungulate that lives in numbers supported by the rough terrain surrounding the valley. The thick woods of the area are home to musk deer, which are prized for their fragrant glands. The secretive snow leopard roams the upper altitudes of the place's mountains, yet it is exceedingly unusual to observe one. With birds like the Himalayan Monal, Blood Pheasant, and other sparrow and eagle species, Yumthang is a birdwatcher's delight. Numerous butterfly species, such as the Bhutan Glory and the Yellow Gorgon, may be found in the valley.
Things to Do in Yumthang Valley
The place captivates one's heart not only with its mesmerising vistas but also with the wide range of activities it provides to those who visit. In a beautiful place like this one, you surely won't be bored!
1. Visit the Shingba Rhododendron Sanctuary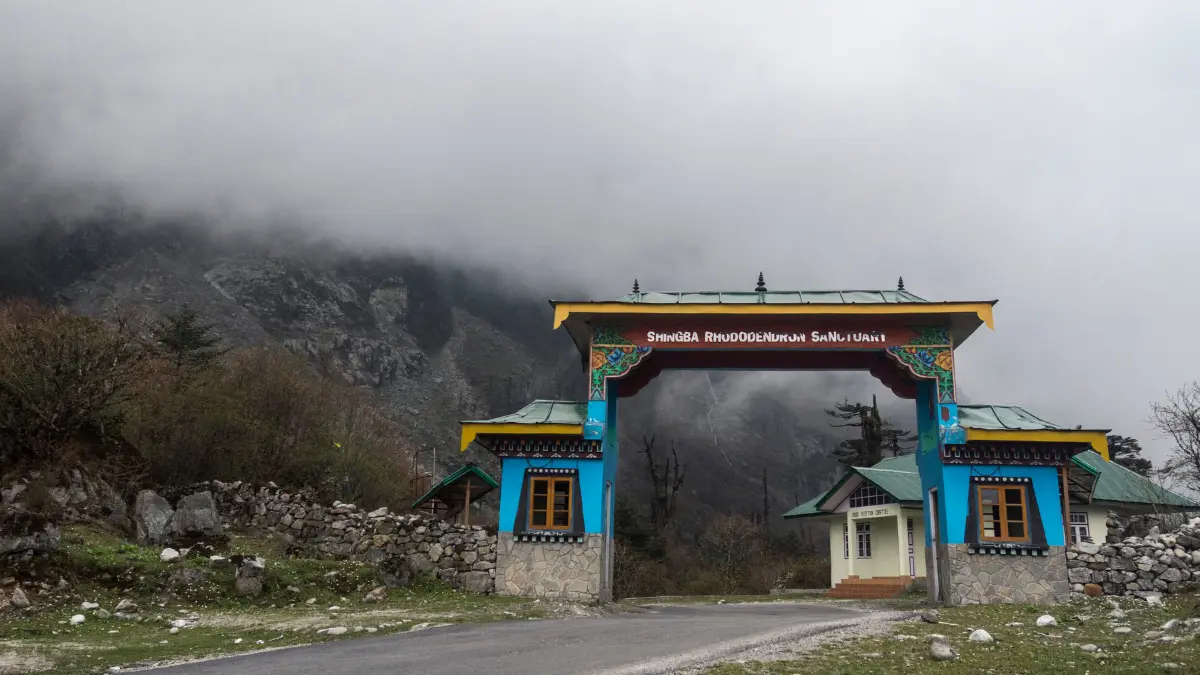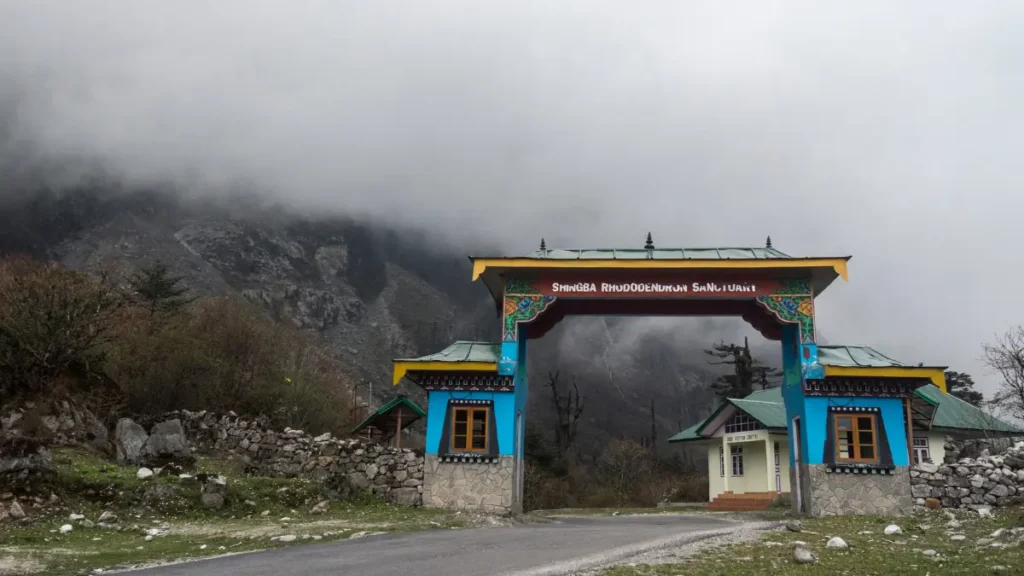 Numerous types of rhododendrons may be found at the Shingba Rhododendron Sanctuary, which is located in North Sikkim's Yumthang Valley. Chomzomei Tso and the Chuba-Sagochen mountain ranges encircle the 43 sq. km sanctuary. The Yumthang Chhu encircles the place and provides a lovely vista. When the rhododendrons are in full bloom from April to July, the nature reserve is most visited. With over 40 distinct varieties of rhododendrons and other trees, including potentillas, saxifrages, primulas, aconites, poppies, and gentians, the sanctuary is abundant in natural flora. The valley has lengthy winters, with January being the coldest month and November through February seeing a lot of snowfall.
2. Participate in Adventure Activities at Yumthang Valley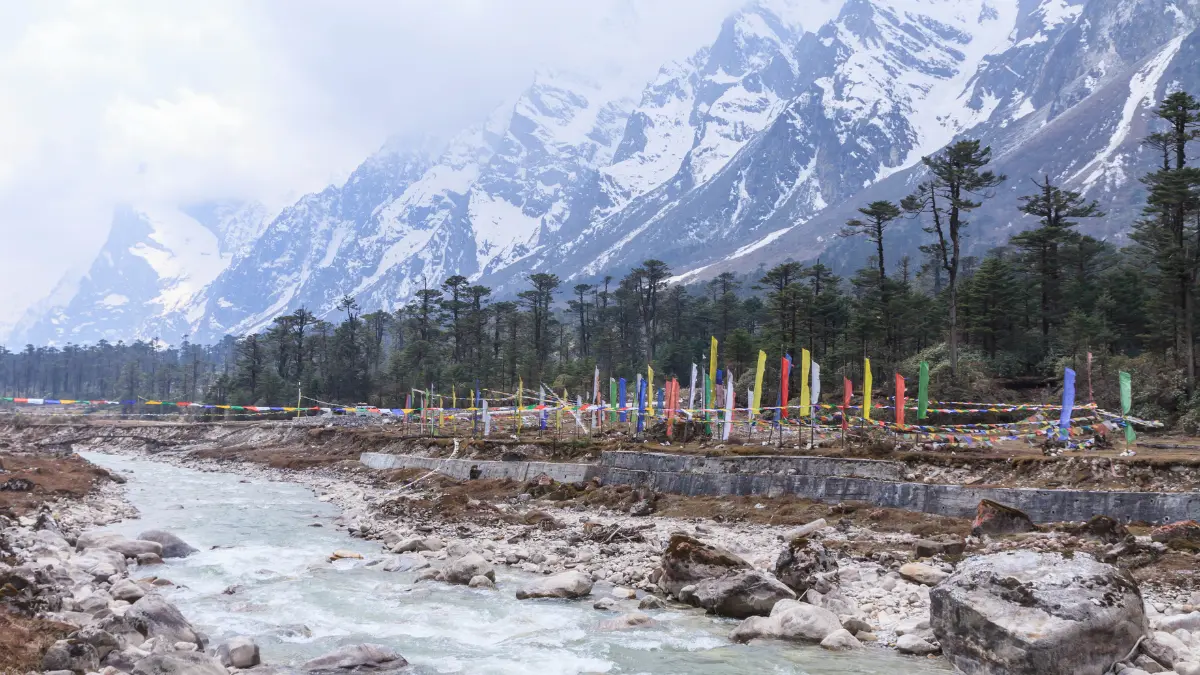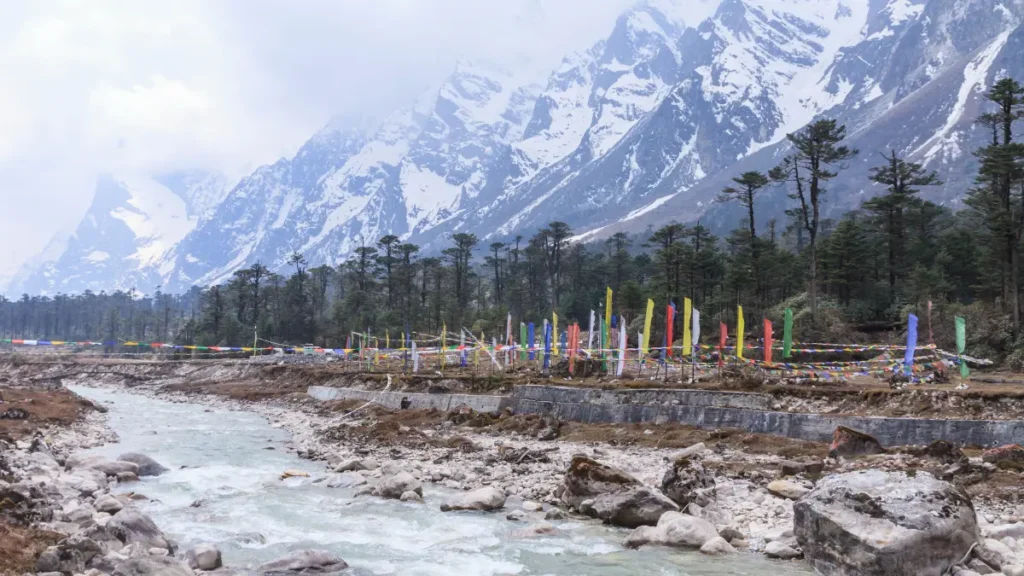 The place draws trekkers from all over the world. The treks here test your endurance and give you the thrill you need. The Yumthang Valley to Zero Point trek is the most popular one here. The route is filled with flowers and greenery and will refresh your mood as you walk through the Valley. There are many other treks and hikes here as well. Apart from that, you can camp here and engage in skiing and other sports as well.
3. Set Up Camp for a Night Under the Stars
Camping at Yumthang Valley is popular among youngsters. Many come here to sleep under the stars and spend a few nights among the flora and fauna of this amazing place. You get to see the beauty of the place up close and take in the breathtaking vistas all day and night. The stars shining in the sky and flowers blooming around you with their luscious aroma will make you want to stay there forever. The memories you make here will stay with you for long.
4. Get Your Camera Ready!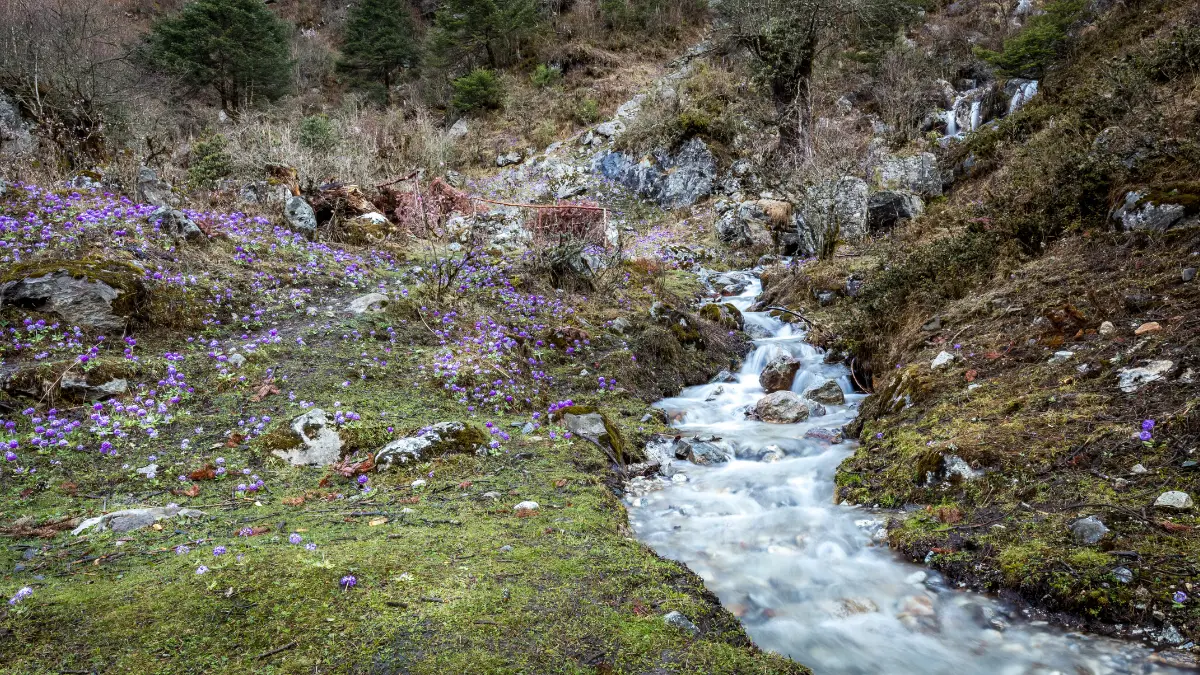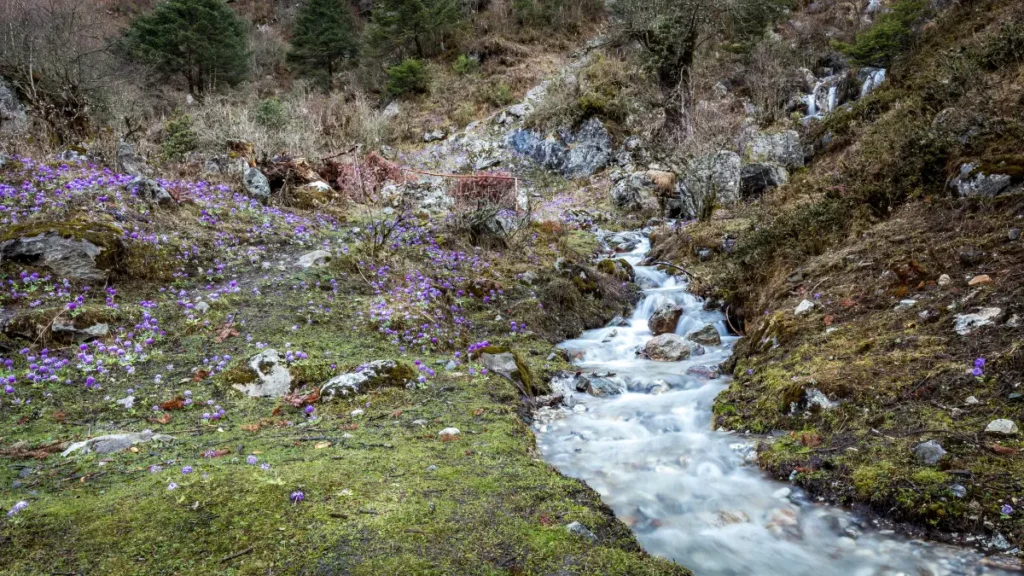 This Valley of Flowers will make you want to capture every petal in your camera. You will get the 'I can't get enough!' feeling of photography here as you unleash your inner cameraperson at this picturesque site. It is a photographer's dream for those looking for a less strenuous excursion. Photography opportunities abound due to the breathtaking scenery, vivid flora, and varied fauna of the area.
5. Dip Your Feet in the Cool Yumthang Chu
A popular attraction in the Yumthang Valley in Sikkim, Yumthang Chu is a must-see location. This gorgeous river is a sight to see with its glistening waves. Its soft, flowing design produces a tranquil atmosphere that greatly relaxes guests.
Yumthang Chu, a well-liked destination here, is a sight to see. With its glittering waves, this lovely river is a sight to see. Guests are deeply relaxed by the peaceful mood created by its gentle, flowing style. The river serves as a natural canvas for photographers. It's the perfect place to capture the beauty of the place because of the way the light plays with the surrounding greenery and the far-off mountains.
6. Visit India's Last Spot Right Before China Border – the Zero Point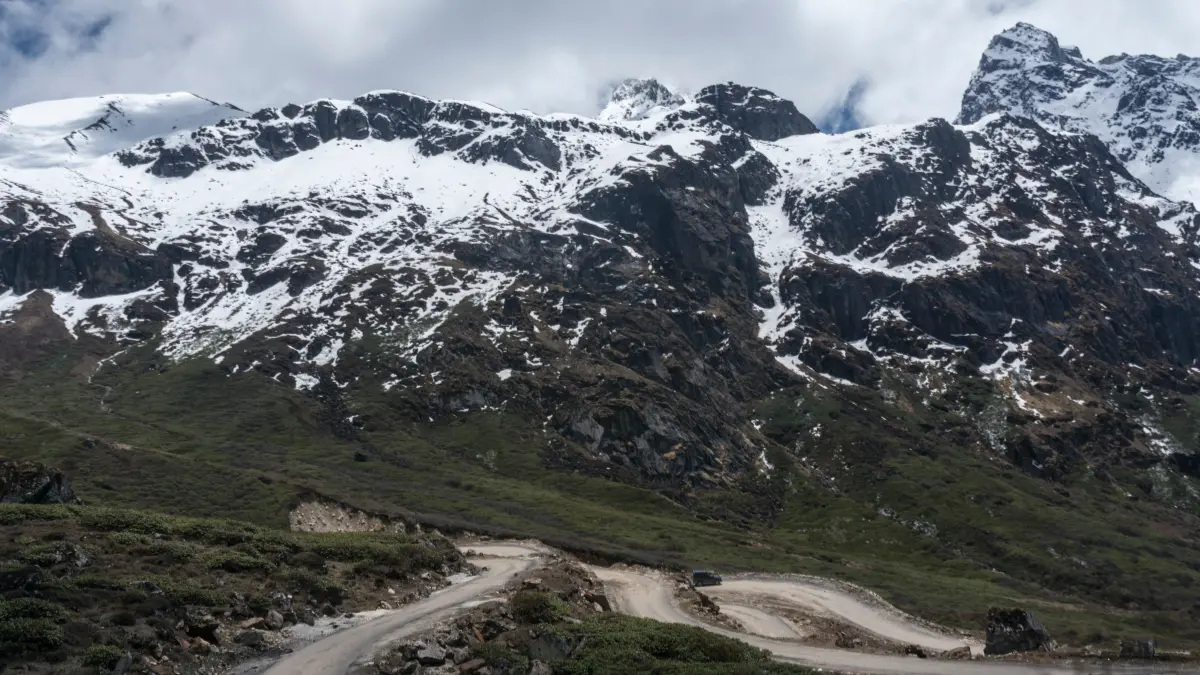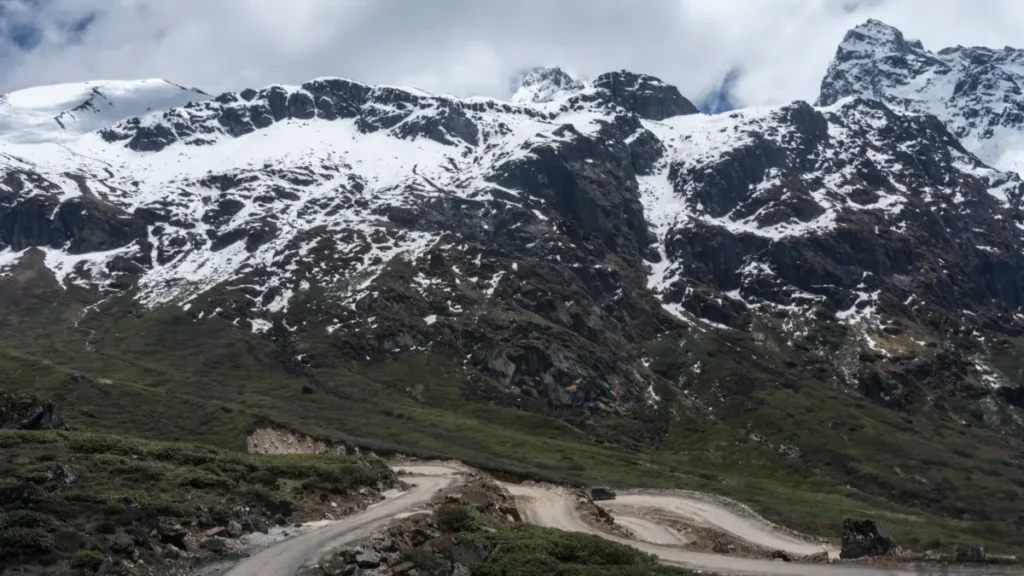 North Sikkim's Zero Point is a high-altitude resort known for its breathtaking scenery and distinct character. One of the highest motorable sites in the area, it is located at an elevation of approximately 15,300 feet (4,664 metres), marking the end of the road accessible to travellers. Travelling to Zero Point is an adventure in and of itself, as you will cross tough terrain and frequently be treated to stunning views of snow-capped mountains and pure alpine meadows.
When travellers arrive at Zero Point, they find themselves in a strange and seemingly unearthly environment. The region offers a pure and unspoiled natural setting as it is completely blanketed in snow and encircled by majestic mountains. One may feel on top of the world there. Beyond the breathtaking vistas, Zero Point provides a special chance to engage in winter activities like building snowmen and having snowball battles. To further improve the experience, guests may also enjoy hot drinks and locally made foods from food stands. Travellers should, however, be prepared for the possibility of altitude sickness owing to the high altitude and should acclimatise appropriately before beginning the trek. Despite these difficulties, adventure and environment lovers visiting Sikkim should not miss Zero Point because of its captivating beauty and sensation of being on the edge of the earth.
7. Soothe Your Body in the Yumthang Valley Hot Springs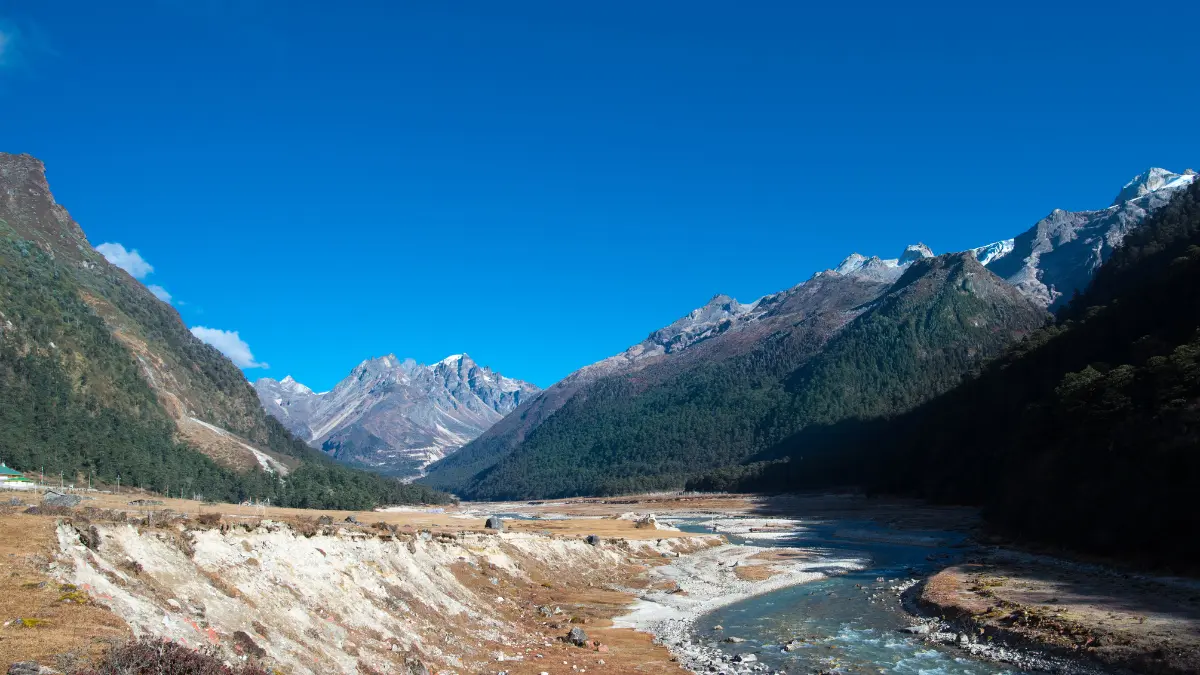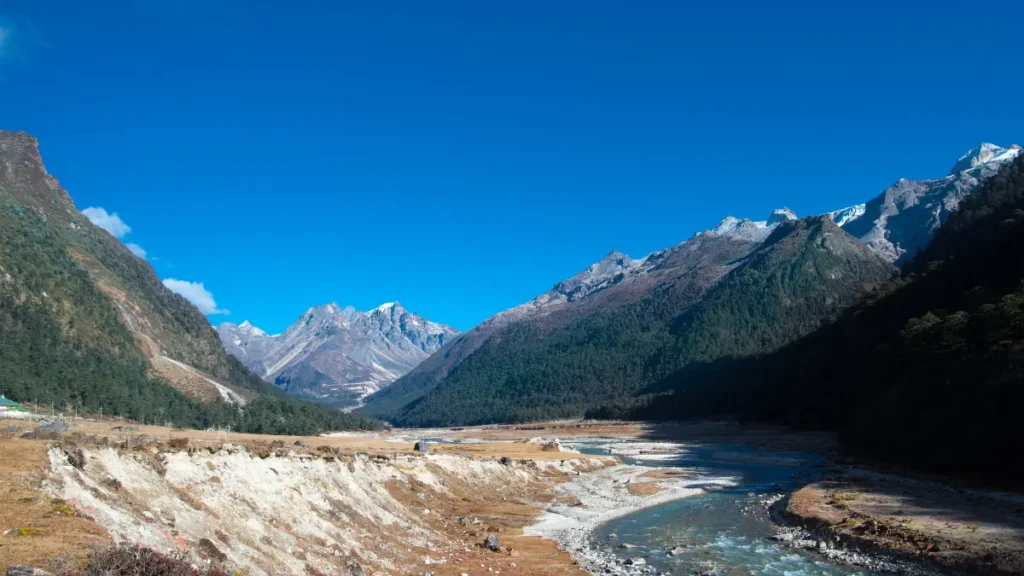 Yumthang Hot Springs is well recognised for its therapeutic qualities. The locals think the mineral-rich waters may treat various illnesses and relieve the discomfort of people who soak in them. After hiking or touring the valley's various sights, the springs are particularly enticing.
The hot springs, surrounded by verdant foliage and snow-capped peaks, provide a restorative bath for guests. The refreshing mountain air and the healing properties of the hot spring water combine to create a peaceful and revitalising environment.
Permits Required for Entering Yumthang Valley
As Sikkim is on the Indo-China border, you will require certain permits. The proximity to the China border makes Sikkim a Protected Area for which permits are required. There are certain places you're not allowed to travel to if you're an international traveller. Do check the guidelines before visiting Sikkim.
There are 3 major permits that you need to carry to enter Sikkim. These are available with travel agents, on the government website, and at the hotel you plan to stay at. They can be arranged by contacting your travel agent hotel staff or by directly registering for them online.
Inner Line Permit: To enter Sikkim, all non-Indian visitors—including foreign nationals—must get an Inner Line Permit (ILP).
Protected Area Permit: A Protected Area Permit (PAP) is required to enter any restricted or protected areas in Sikkim, including Yumthang Valley's location in North Sikkim. Usually, the relevant district authorities or the Government of Sikkim issue this permit.
Restricted Area Permit: A Restricted Area Permit (RAP) could be necessary in some parts of Sikkim, such as the areas bordering Tibet (China). Usually, the Indian government's Ministry of Home Affairs is responsible for issuing these permissions.
How to Reach Yumthang Valley
Yumthang Valley is only reachable from Gangtok. You can reach Gangtok first via air, rail, or public transport.
From Gangtok, you will have to take a sumo cab to reach here. Ensure that the Sikkim government authorises the sumo cab you book for travelling within the state. As Sikkim is a protected area, every public transport here needs authorisation to commute within the state. Check for the same with your cab driver.
Best Time to Visit Yumthang Valley
Yumthang Valley is best visited during the spring and summer when the rhododendrons bloom. The months from March to June are best suited to visit it. Monsoons here are soggy, while winter brings in heavy snowfall. During winter, the place is restricted to tourists as the whole area gets covered with dense snow.
Travel Tips for a Splendid Visit to Yumthang Valley
· Do not litter on the grounds. As sustainable travellers, we must protect the wildlife and earth by not littering. Sikkim also imposes heavy rules and penalties on those caught littering or drinking in public places.
· Ensure that the weather you travel in is perfect for all the activities you wish to do here.
· Ensure that the sumo taxi you book has valid papers and authorisation from the government to run a taxi service.
· Ensure you have all the required permits to enter the area.
· If you wish to camp, bring your tent or rent one from Gangtok. Bring or rent camping gear as well.
· Carry cash with you because Yumthang does not have any ATMs. It is advisable to carry cash throughout your Sikkim tour.
Conclusion
Sikkim is a beautiful state that houses the Yumthang Valley. It is the Valley of Flowers in the North-East of India. The verdant greenery, lush flora, and many activities will make you never want to leave this gorgeous place.
It is still an unexplored part of the country that you must visit at least once. Head out to this beautiful gem this spring and have the fun of your life here!