Did you know that the world's largest river island exists in India? Yes, you read it right! Majuli Island in Assam has been declared the largest river island in the world by the Guinness Book of World Records. This pristine place is also a UNESCO World Heritage Site. Read on if you're planning a trip here!
Majuli Island: The Largest River Island in the World
Majuli is Assam's hidden gem, situated smack in the middle of the Brahmaputra River. It is an isle naturally formed on the river that has attracted historians and scientists for ages. Interestingly, Majuli Island is the world's largest riverine island – but it is possible that in the coming 10-20 years, it won't exist! The increasing global warming and erosion have affected the lifespan of this isle on a huge scale.
A whole town has been established on the Majuli Island that operates like any other town in Assam, one of the seven sister states. People have inhabited this isle and call it home – the tourism industry has also fairly established its roots here, with many hotels and cottages offering accommodations to tourists. After the UNESCO accreditation, the isle started coming to the notice of many tourists. Tourists flock to this area, but not in many numbers – the isle is still a hidden jewel of the Indian subcontinent, and few know about its existence.
Majuli Island is the cultural capital of Assam. The isle is inhabited by tribals of the Mising, Deori, and Sonowal Kachari communities of Assam; hence, the display of indigenous culture is extremely rich here. Their art forms, such as mask creation and paintings, are popular worldwide. The food here also provides a unique taste to the palette. The traditions followed here are mainly from Hinduism, but they aren't the same as the ones in North India or other parts of the country. Satras had been introduced to the people of Majuli Island to promote education. There used to be more than 60 satras, but only 31 remain due to erosion. Each Satra has its quality and teaching – like music, art, and so on – and teaches that to its pupils.
The Cuisine and Culture of Majuli Island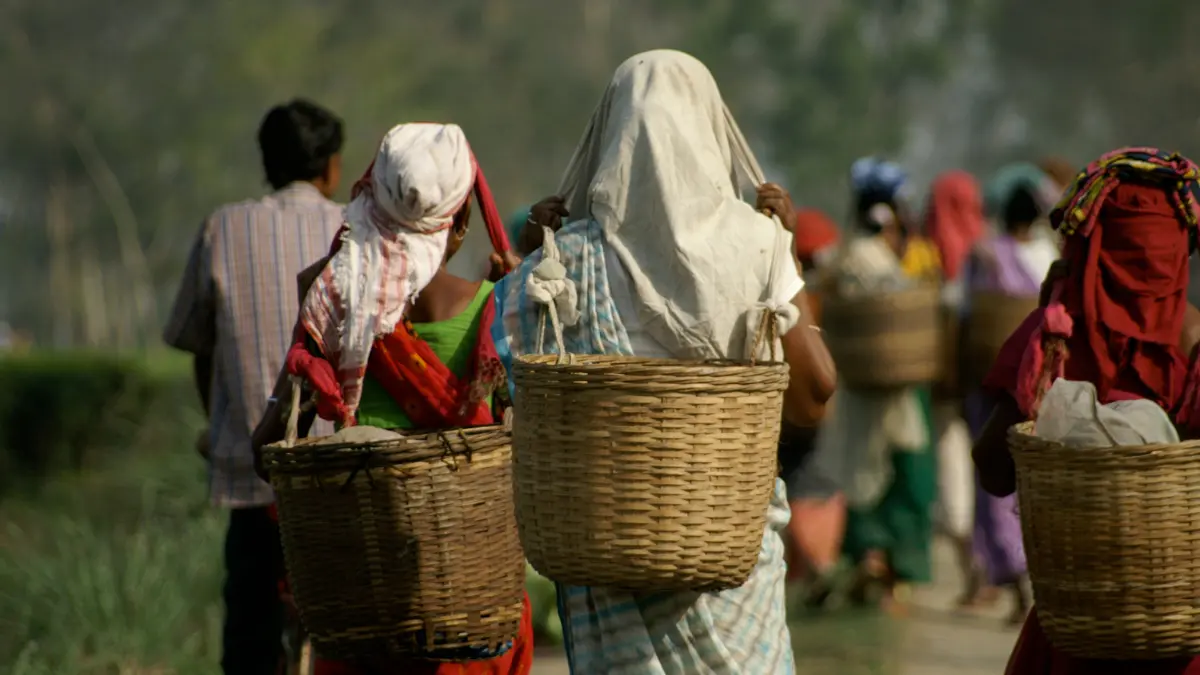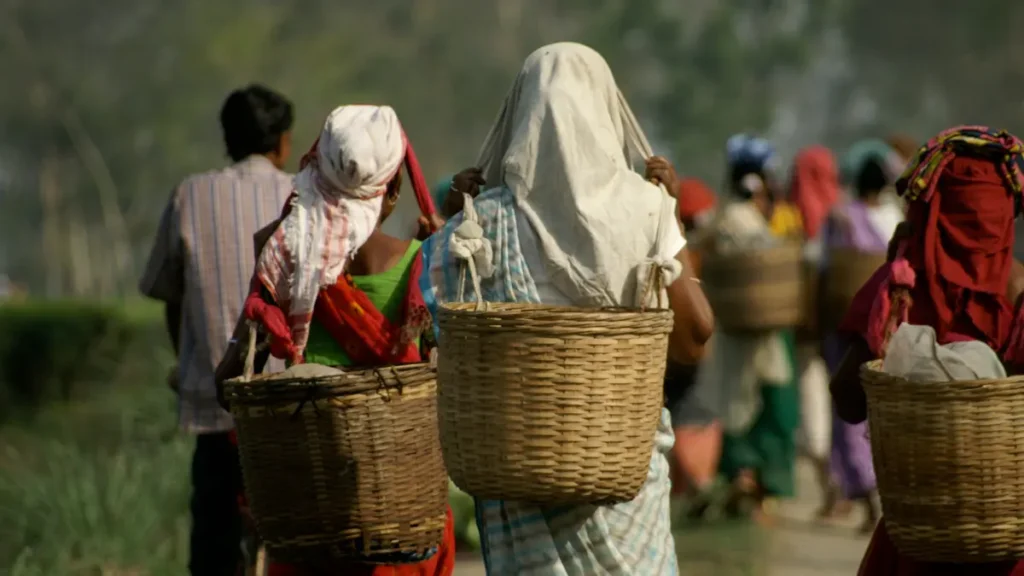 The cuisine, culture, and traditions are extremely revered by the people of the isle. The people here have an extensive cuisine full of delicious dishes and drinks. The most important drink here is rice beer, which is homemade from fermented rice and served during important occasions. The Majuli Thaali is also an important part of the Majulian cuisine, served with rice, dahi, pickles, desserts, and more. Both vegetarian and non-vegetarian options are available for the thaali.
The culture followed here is Neo-Vaishnavite. Saint Sankardev founded it with a rich cultural history, including a distinct dance form, a theatre style, a kind of prayer, and unique, heavenly music. Majuli Island is a singular chance to become acquainted with the Vaishnavite culture.
Saint Sankardev and his disciples established unique educational hubs known as Satras on the isle in the fifteenth century to propagate the Vaishnavite faith and culture. The Ahom monarchs eventually took over these monasteries, now serving as the main hub for disseminating knowledge and culture. There are currently thirty-one surviving Satras accessible on Majuli Island. However, because of the Brahmaputra River's erosion, some have disappeared, and some have moved to new locations.
Places to Visit in Majuli Island
Majuli is a magical location steeped in culture and history. The largest river island in the world, Sattriya culture has been instrumental in bringing the many ethnic groups in the region together since the 15th century by propagating Neo-Vaishnavism's theological doctrines and cultural customs. It has many places to visit.
Kamalabari Satra – For Literature and Art
Kamlabari Satra has been known for centuries as a leading hub of literature, art, and culture. Even though Kamlabari Satra is relatively new, it is difficult to overlook its stunning architecture when visiting this site. This well-known tourist destination on Majuli Island features exquisitely detailed murals on its walls and ceilings. The wonderful pictures of numerous deities eloquently portraying Assamese culture adorn the ceilings. A trip to Kamalabari is essential for anybody interested in learning about Assam's rich historical past, whether they are history buffs or not.
Nutan Chamaguri Satra – The World-Famous Mask Makers
This satra is popular worldwide for its traditional mask-making techniques. After being passed down through the generations for over 500 years, this satra most recently brought honour to the state of Assam by representing the state on a national platform. Mask-making has been passed down through the ages by the Vaishnavite institutional centres, or satras. Since the Bhaonas' characters are seen to have unique forms and colours, they may be separated from masks. All castes, creeds and social groups can join Assamese satras and practise their beliefs there. This incredible piece of art has attracted millions of viewers and was just acquired by the British Museum.
Dakhinpat Satra – For Culture, Traditions, and Festivals
Dakhinpat Satra, a historical landmark founded in 1584 by Vamsi Gopal, is another significant tourist destination on Majuli Island. This site is distinguished by its beautiful architecture, seen in the wall sculptures and paintings. Rasotsav, an important festival, is celebrated here. One of the best locations here to see Assamese culture and tradition in action is Dakhnipat Satra.
Tengapania: For Picnics and Birdwatching
Tengapania is a stunning location on the Brahmaputra River's banks in Majuli. The Disangmukh, Machkhoa, and Dhakuakhana surround this amazing location. It's also a popular spot for picnics, where you can enjoy time with loved ones amidst the beauty of nature. The river adds to Tengapania's charm by giving it a beautiful backdrop. This golden temple structure is an example of Ahom-style architecture. Observing the exquisite statues and pillars at this temple is intriguing. In addition to touring the several satras in Majuli, visitors may spend some time relaxing and having fun at this charming picnic spot.
Garmur: Get Closer to the Roots of Assamese Culture
One of the most important Vaishnavite religious centres is the sacred place of Garmur. The location has a large number of elaborate pillars that support the building's roof. In addition, some other books and objects are rooted in Vaishnavite tradition. If you're interested in learning about Assamese culture, Majuli Island offers some excellent resources.
Auniati Satra: A Museum of Sorts
Auniati Satra, established by Niranjan Pathakdeva, is renowned for containing various Assamese antiques, jewels, and kitchenware. Auniati Satra, like all the old buildings in Majuli, boasts beautiful architecture, with lion sculptures adorning each side of the entrance. The core of Assamese Satriaya culture and Vaishnavism is this Satra. Here are also performed songs and dances of the Satriyas.
Benegenaati Satra – An Important Satra
Murarideva, the grandson of Sankaradeva's stepmother, is the creator of the Benegenaati Satra. This Satra has the remains of a golden parasol and royal apparel. The Ahom King Swargadeo Godadhar Singh was the rightful owner of the golden umbrella. This Satra is well known for its intricate cultural customs.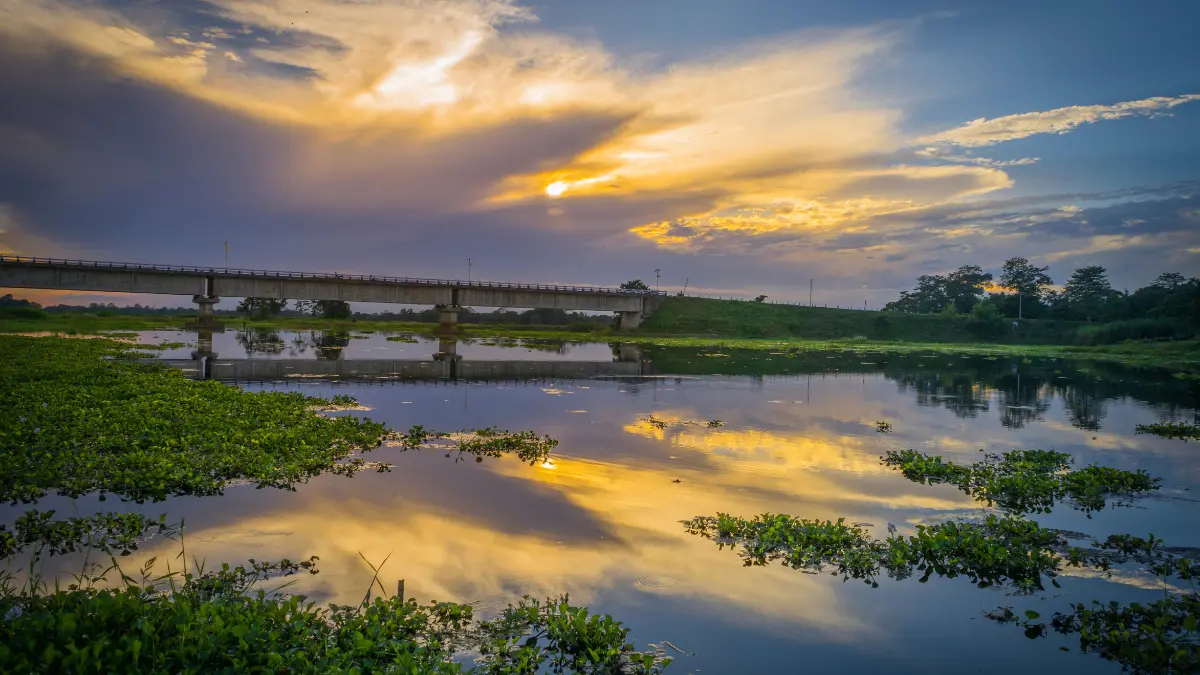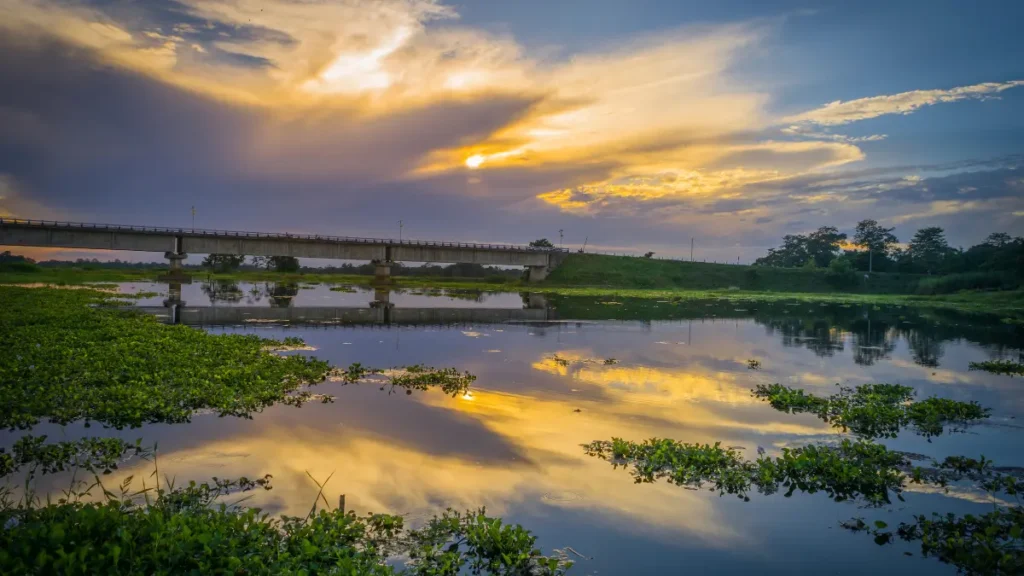 Things to Do in Majuli Island
Majuli Island offers its guests many activities to engage in around the place. From birdwatching to adventure, there is so much to do here!
Drink the Traditional Rice Beer
The Majulian Mising tribe makes rice beer. This distinctive drink is prepared by letting rice ferment daily to produce home-brewed rice alcohol. All guests to the houses of the Mising tribes are given a welcome drink – the rice beer.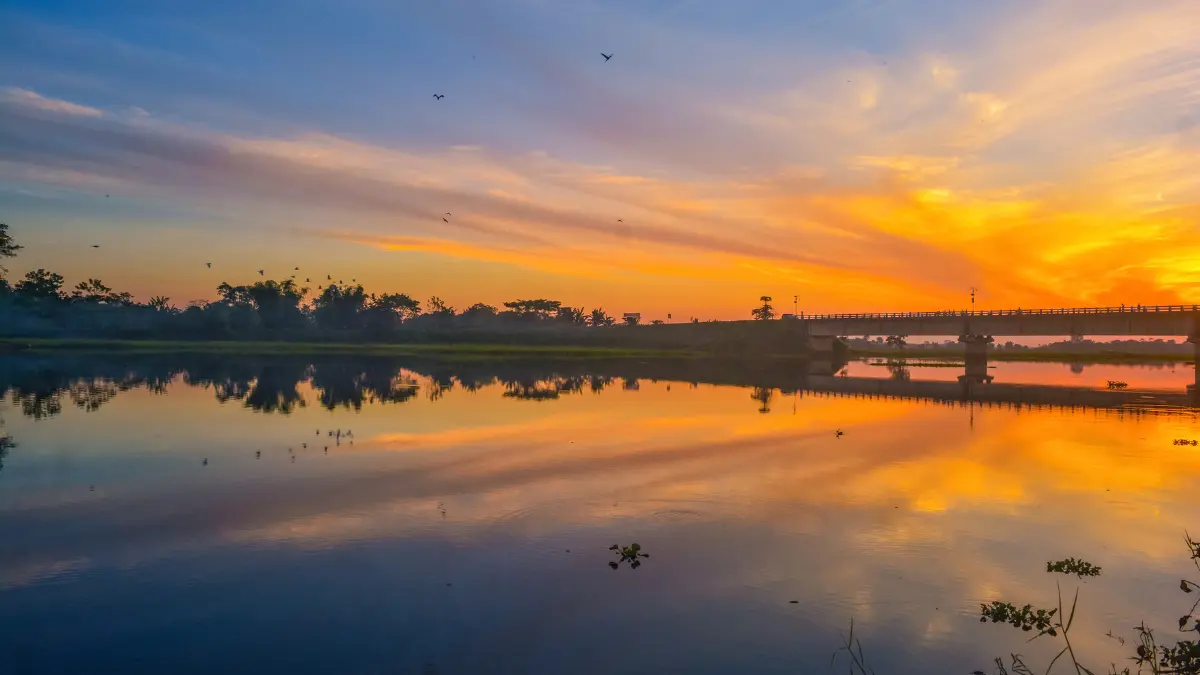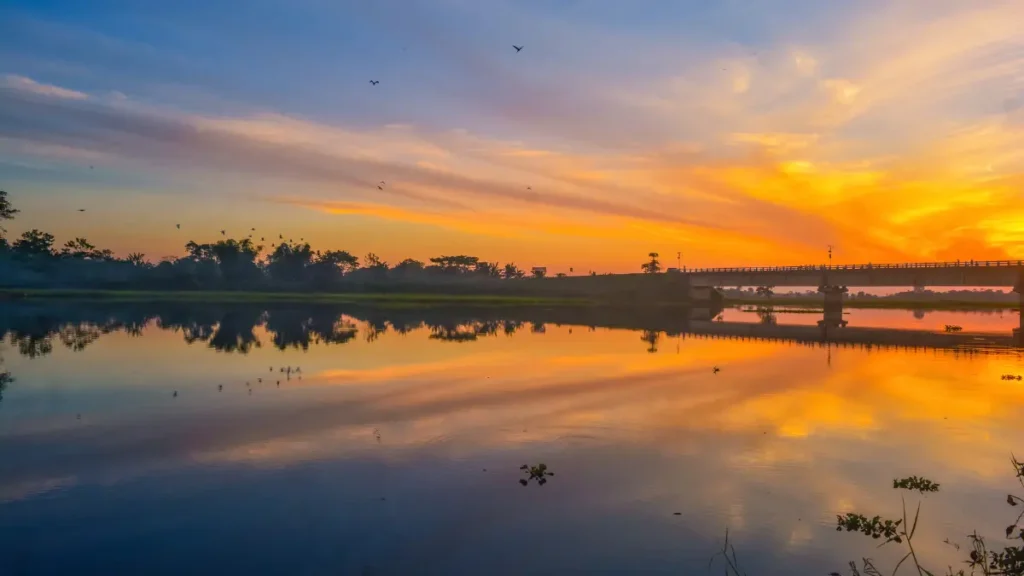 Watch the Sun Go Down into the River
The cherry on top is the vista of Majuli from the upper deck of the boat. Try to get on the last ferry from Kamalabari, which leaves at 3:00 PM. You will be astounded to see the most breathtaking sunset views as they pass over the enormous Brahmaputra. The ultimate experience will make your Majuli holiday memorable and something you will always treasure.
Feast on the Majuli Thaali
For those who truly love cuisine, Majuli Island is the ideal place to be! The all-you-can-eat menu on this isle will surely please you, and the vegetarian and vegan thalis are especially delicious. The thalis, which include rice, dal, little steamed jacket potatoes, one vegetable, papad, a hot chutney prepared in the Assami area, and rice kheer for dessert, are cheaply priced. The non-vegetarian thali is prepared with chicken or river fish.
Watch Art of Mask Making
Majuli Island is home to some of the stunning traditional mask-making methods used on the isle since its founding. The artist here crafts masks of many Gods, goddesses, and other mediaeval idols from religious books. Due to the great demand for these masks in theatre and street performances, none of the masks on display are for sale. They are created exclusively upon request and delivered right to the intended location. If you see any of these artists, stop by and show your support for their hard work!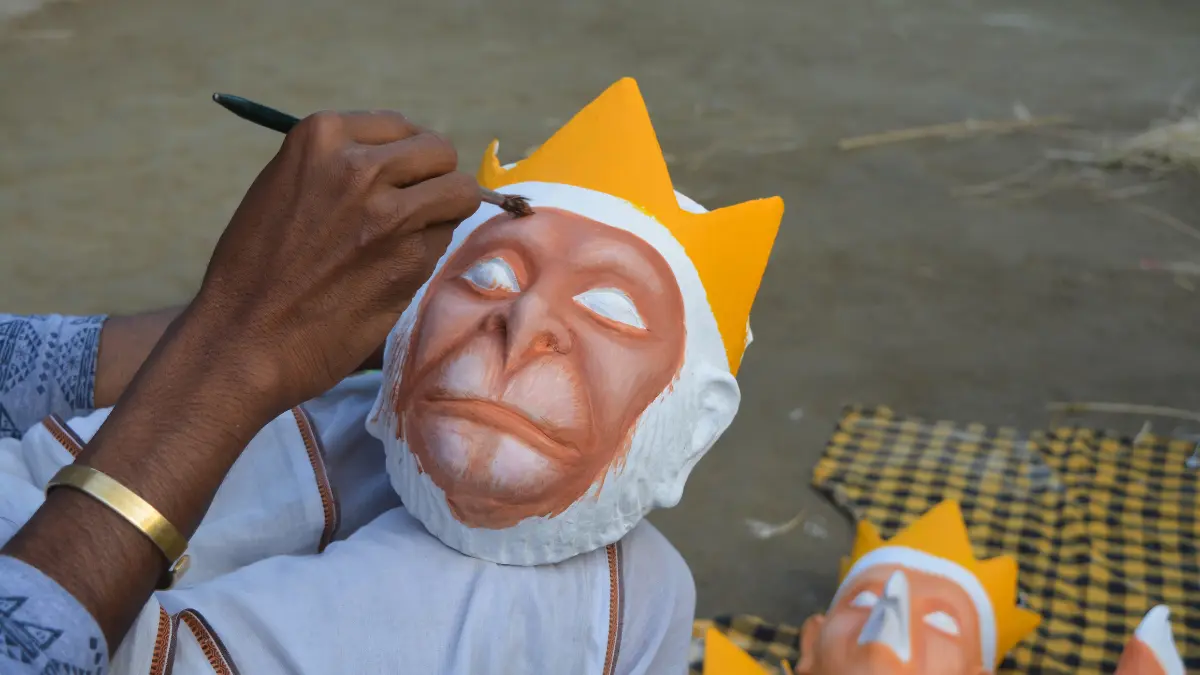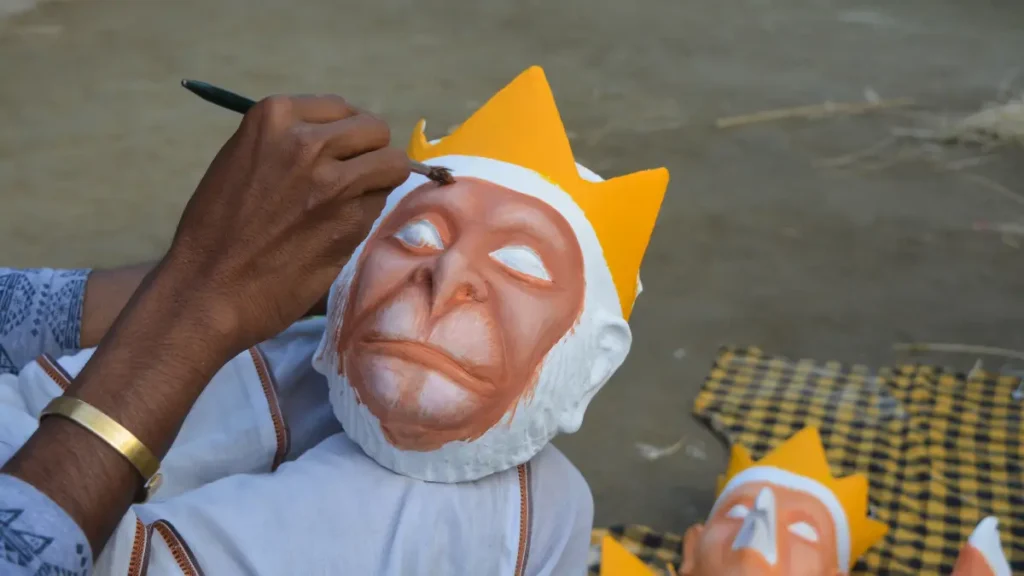 Embark on a River Cruise
Seeing animals, taking walks through towns, seeing tea gardens, riding rickshaws through rural villages, hosting barbecues on deserted river islands, attending dance performances, and visiting artisan workshops are just a few of the visits and activities offered by Brahmaputra cruises. Named after the Assam Despatch service, a daily postal and passenger service that used to run from Kolkata up the Brahmaputra to Dibrugarh, cruises are available from October to April. It is possible to create itineraries with up to 14 nights by combining numerous voyages. When scheduling a cruise excursion, you can investigate the many services offered by the cruise lines.
Birdwatching and Photography
Majuli Island is a popular place to go bird-watching. The wetlands are home to migrating birds during the winter, and November to March is a popular time for bird viewing. Birds that may be seen in this region include whistling teals, storks, pelicans, and Siberian cranes. Many wild ducks and geese stray from the roads and wetlands. The three main spots on the isle for bird viewing are the southeast, southwest, and northern tip: Beel Sakuli, close to Kamalabari Verki Beel, next to Kamalabari, and Magurmari Beel in Dakhinpat Satra.
It is a photographer's paradise due to the pristine location with water flowing all around it and the many birds found here. Get your camera ready!
Tour the World Famous Satras
Many tourists visit Majuli Island to go on a pilgrimage and cultural tour. There are 31 Satras on the isle, all exquisitely capturing Assamese customs and culture. You can look into some of these if not all of them. Satras are institutional Vaishnavite centres where plays are presented, prayers are offered, and teachings are given. The isle has some very old satras that go back to the seventeenth century. One well-known Satra in Majuli Island that you could want to visit is Chamaguir. You can observe individuals creating ancient masks based on Ramayana and Mahabharata figures here.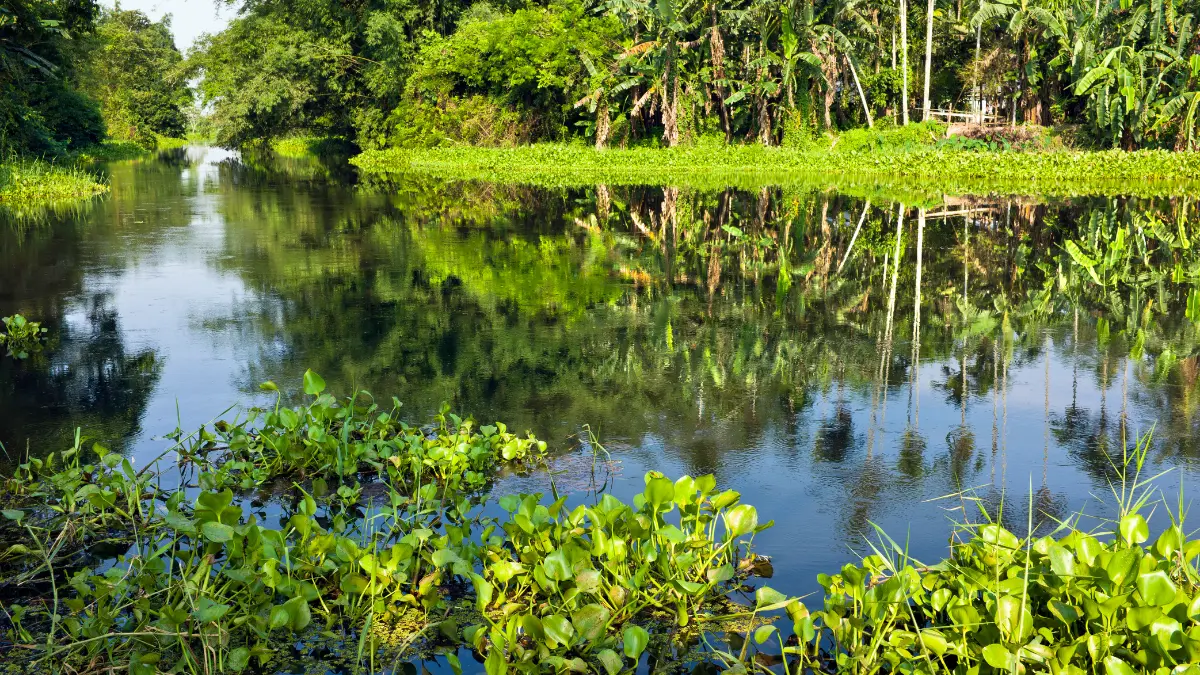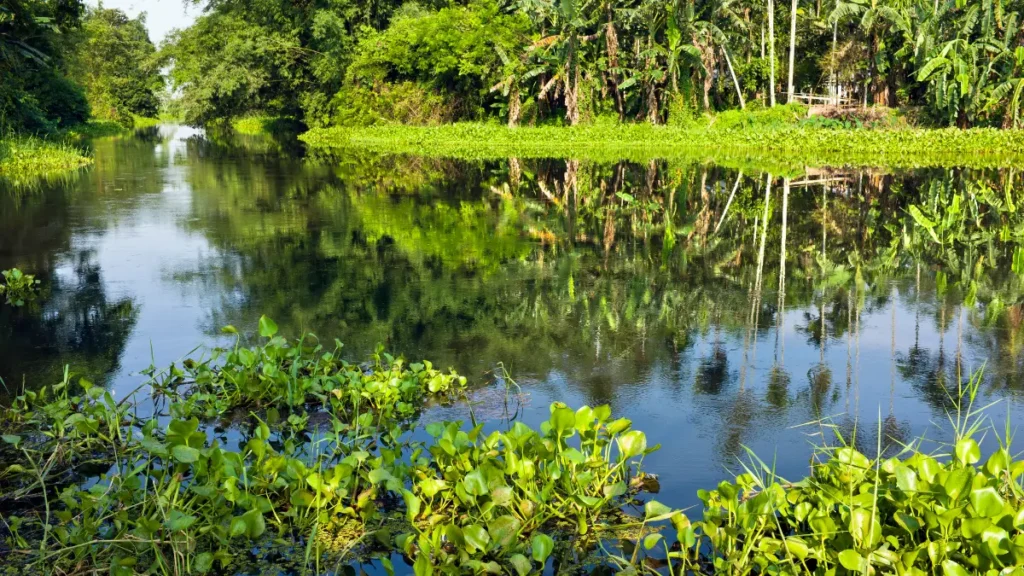 Best Time to Visit Majuli Island
The best time to visit Majuli Island is during the winters – from October to March when the season is dry, and there is no risk of erosion and flooding. The rest of the months see heavy flooding, and it is very risky to travel to this beautiful location. Remember to check for weather conditions and reports before heading to this location. 
Important Things to Note About Majuli Island
Plan your visit in non-rainy months when there is no risk of flooding and erosion
Travel here while you can, as it won't exist in the coming 10-20 years due to excessive erosion
Travel sustainably – it is a gem of the country, and we must play a part in saving it as much as we can 
How to Reach Majuli Island
The only way to reach Majuli Island is by a ferry you take from Jorhat. The ferry takes 1-2 hours to drop off people at the isle from Jorhat, and the charges are as little as Rs. 15 per person!
Renting cycles is the best option to commute within the isle. It is sustainable and cost-effective and is also very popular among tourists here. 
Conclusion
Majuli Island is a unique place all over the globe as it is the largest river island in the world. It would be best to visit here and bask in the Assamese culture. The indigenous tribal and Neo-Vaishnavite culture is a treat for the soul. If you're a spirituality seeker, an adventure lover, or someone just looking for peace, Majuli Island is the perfect place for you.