Are you planning to do the Chandratal Lake trek? You have come to the right place! The India Explorer is here to provide the perfect guide to this beautiful moon lake trek. Read on!
Chandratal Lake: The Beautiful Moon Lake
Beautiful Chandratal, often called Moon Lake, is a high-altitude lake in Himachal Pradesh, India's Himalayas. At 4,300 metres (14,100 ft), the lake is encircled by verdant meadows and towering snow-capped hills. Because of its moon-like crescent form, it is called "Chandra Taal" and is very important in local legend.
Travellers will have an adventure in and of itself as they make their way to Chandratal, passing through difficult rocky terrain and twisting roads that provide stunning vistas of the Spiti Valley. Trekkers and nature lovers frequent the lake as it is reachable from Kunzum Pass, a high mountain pass that connects the Lahaul and Spiti Valleys.
The ever-changing colours of the surrounding terrain are reflected in the sparkling waters of Chandratal Lake, producing a captivating scene. The lake's appeal is increased because it is fed by glaciers and stays frozen throughout the winter. It's an amazing experience to camp on Chandratal Lake's coastlines, where guests may see the starry sky during the peaceful Himalayan night.
In addition to being a work of art, Chandratal Lake has cultural importance. This lake is considered a resting point for travellers on the historic trade route that connected Spiti Valley and Ladakh. Buddhist stupas dot the landscape, lending a spiritual element to the otherwise tranquil setting.
Adventurers and nature enthusiasts looking for a distinct and unspoiled Himalayan experience continue to be drawn to Chandratal Lake despite its isolated position and difficult accessibility. When someone travels to this Himalayan jewel, they are left with a lasting impression due to its unspoiled beauty and sense of seclusion.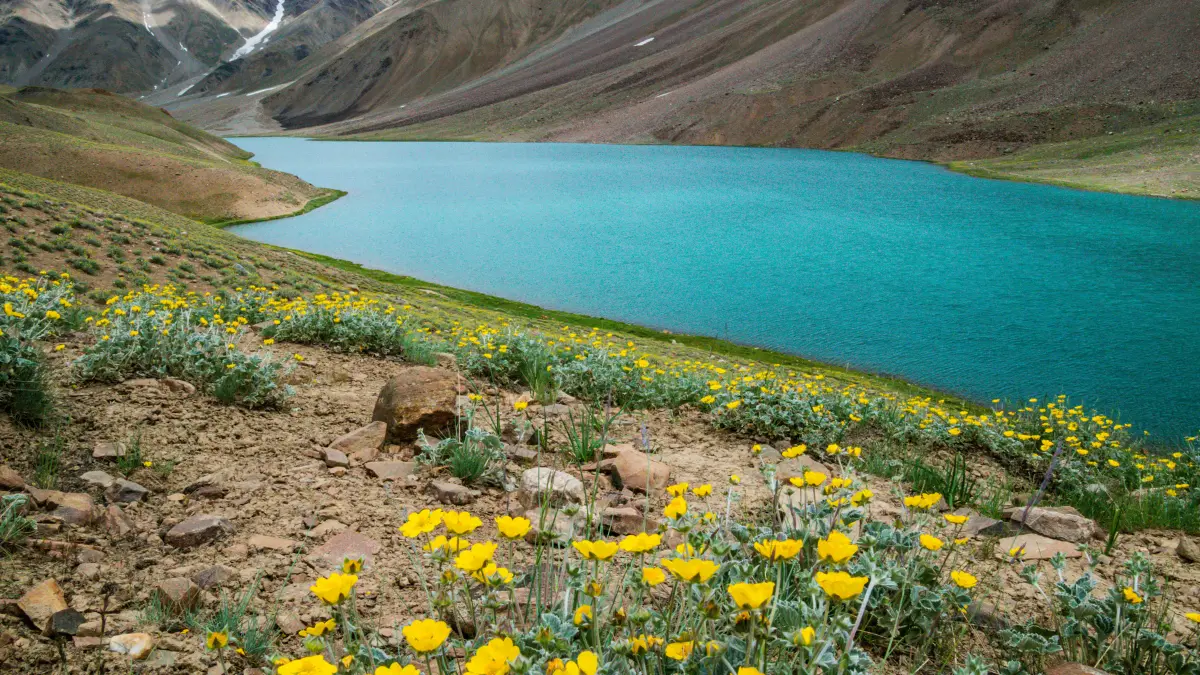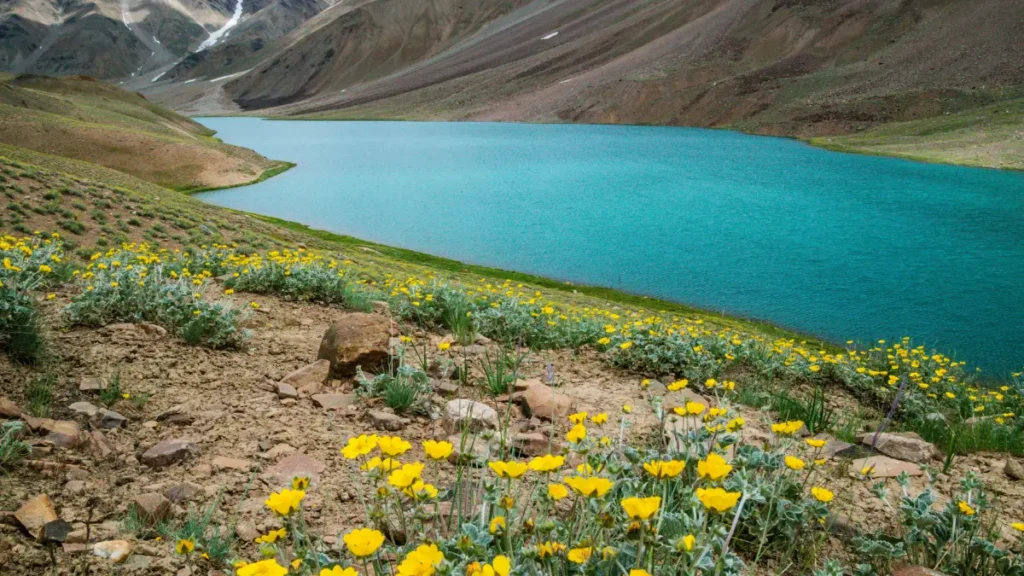 Chandratal Lake to Manali Distance
The motorable distance between Chandratal Lake and Manali is 111 kilometres, and it takes about 4 hours to reach if you're driving. The trail for the Chandratal Lake trek begins at Kunzum and has a distance of 21 kilometres between them.
How to Reach Chandratal Lake
To reach Chandratal Lake, you must reach Kunzum first and then trek to the lake.
First, reach Manali via air, train, or road. From Manali, drive to Rohtang Pass. Rohtang Pass will take you to Batal, a tiny hamlet in Spiti Valley. From Batal, you will find many taxis to Chandratal Lake at a minimal price. You can either go by taxi or trek to the lake.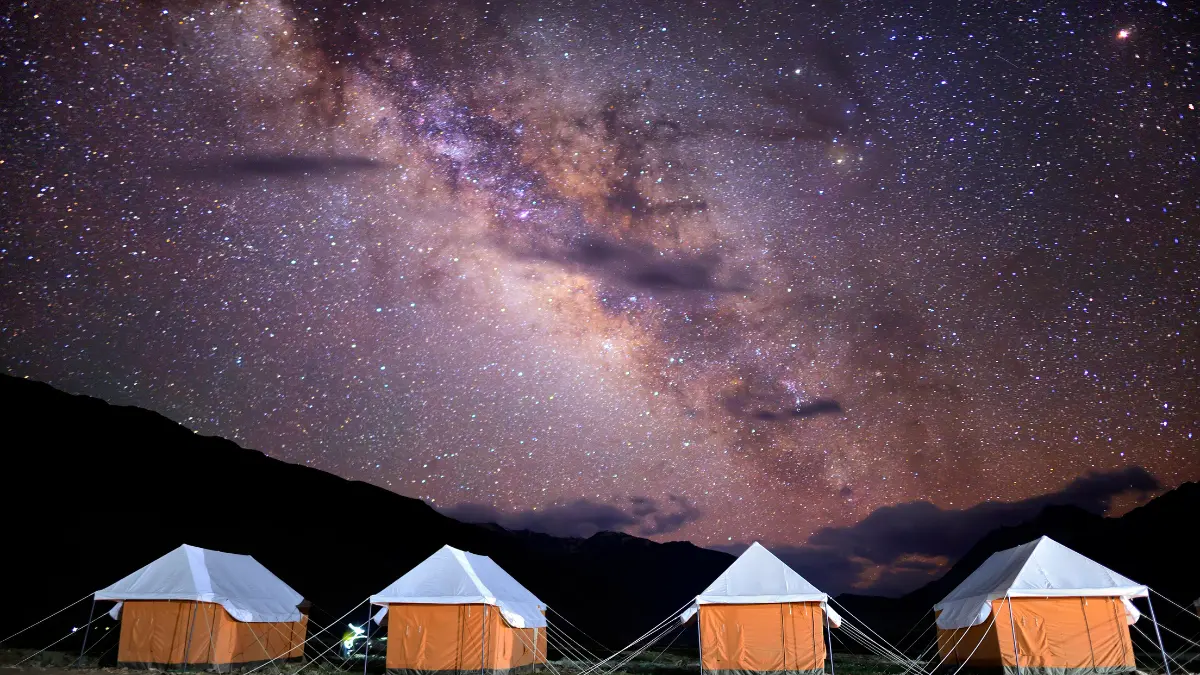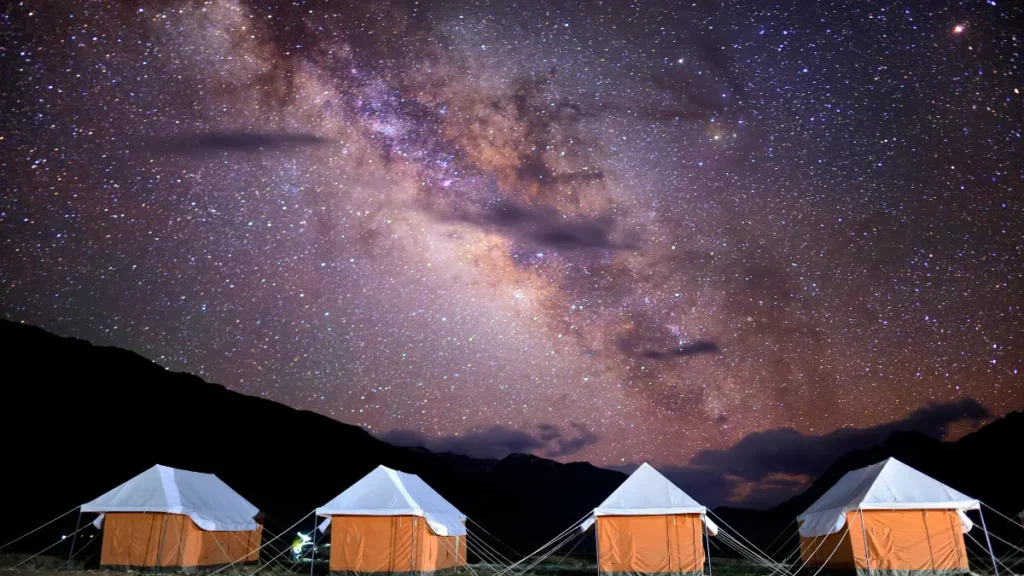 Chandratal Lake Camping
Camping at Chandratal Lake is another sought-after activity by travellers second to trekking. Chandratal Lake has several approved camping areas. Basic amenities like tents, sleeping bags, and food are available at these locations. Popular places to camp include meadows close to Samudri Tapu that offer a clear view of the lake.
You can also opt for a Chandratal Lake camping package by any operator online or in Manali. Meals, camping supplies, and knowledgeable guides are frequently included in these packages. Packages are a convenient choice if you would rather go on an excursion with a guide.
You can bring your camping equipment for a more self-sufficient camping experience. Ensure you have enough food supplies, a strong tent, and a comfortable sleeping bag for cold weather. Since open flames are often forbidden due to environmental concerns, portable burners are handy for cooking.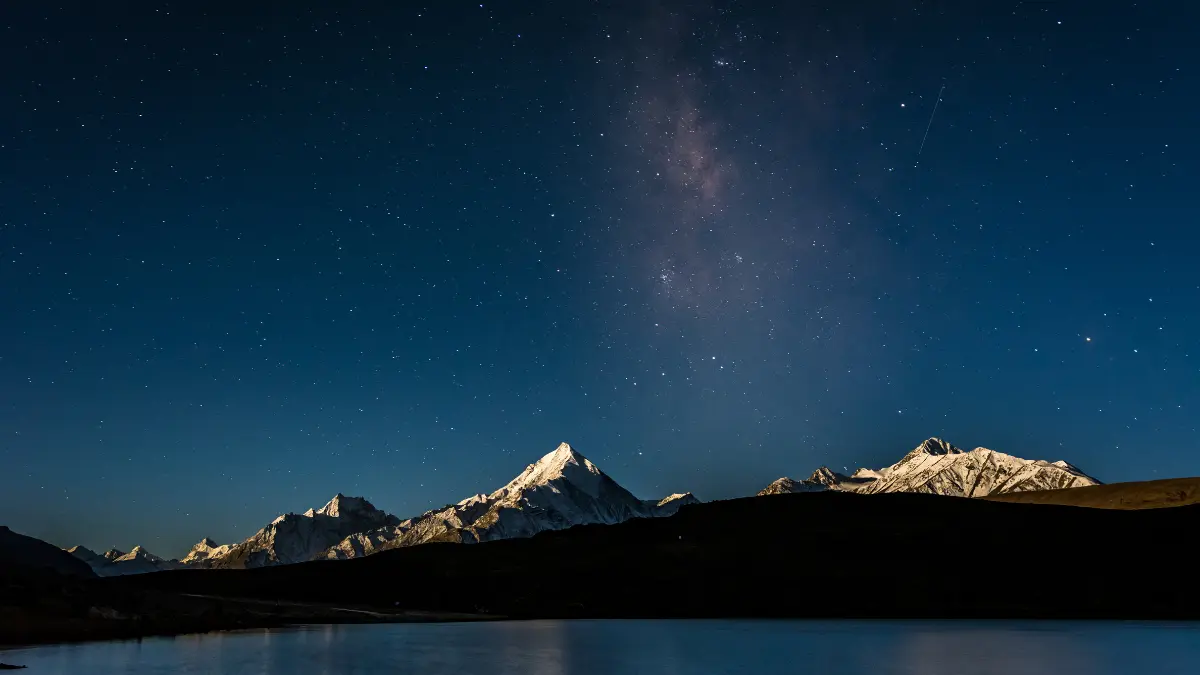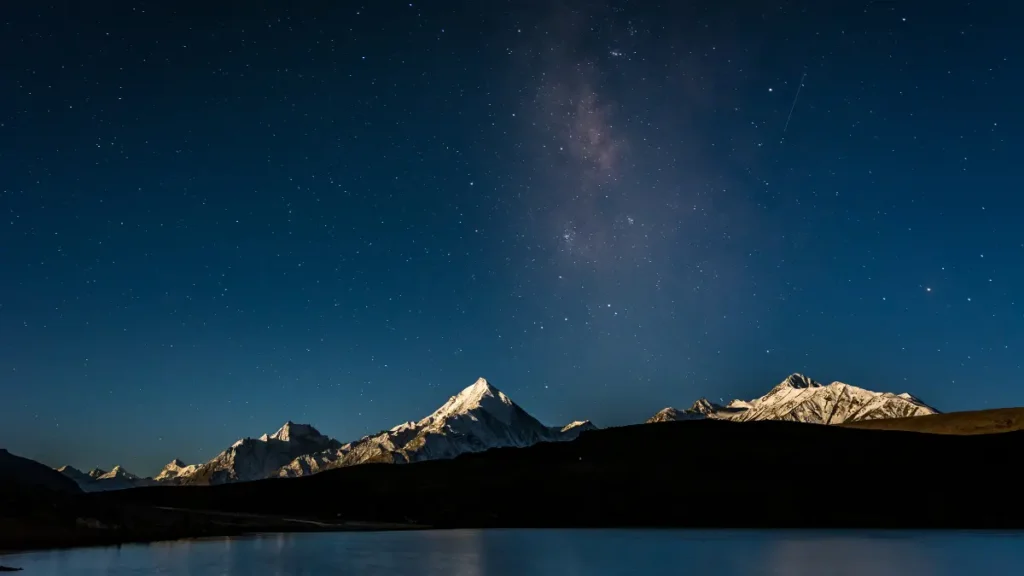 Chandratal Lake Trek: Hike to the Moon Lake
Trekkers looking for a mix of rugged terrain and scenic beauty find themselves drawn to the Himalayan region by the allure of the Chandratal Lake trip. This 14-kilometer hike, which is located in the Himachal Pradesh Spiti Valley, offers an enthralling path that changes with every step. It takes hardly 3 days to finish this trek.
Chandratal Lake Trek Itinerary
Day 1: Delhi to Manali
A long drive over the NH1 awaits you, with an evening arrival in Manali likely after 12–14 hours, depending on your speed and rest periods. It is recommended to start early, ideally from Delhi around 4 a.m. Obtaining permits for Rohtang Pass is essential if you plan to drive; you may do this online or via a Manali hotel, where you can pay an additional price to guarantee that your permit will be ready for your delayed arrival on Day 1.
· If you are a bus traveller, consider making the trip a day excursion. Depart from Delhi early in the morning and arrive in Manali by evening to provide time to change to take the next bus to Kaza. Night buses might make this link vulnerable. Make early departures a priority for a smooth transition; your Kaza trip will go faster if you can get to Manali by 5 a.m.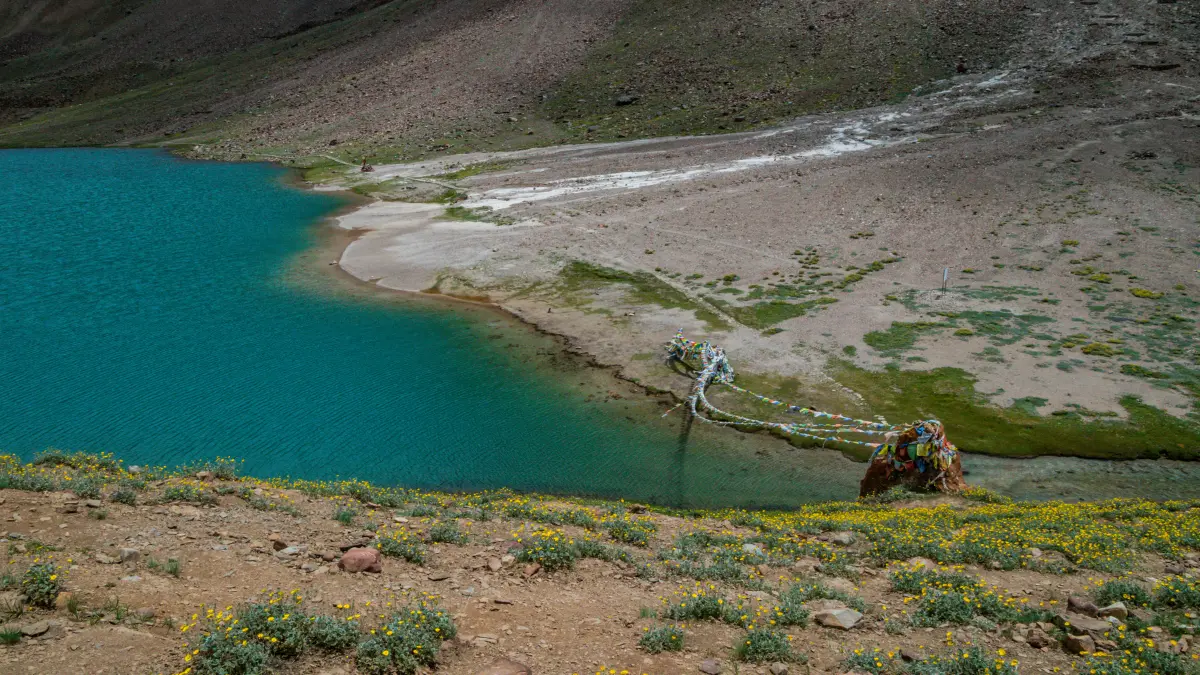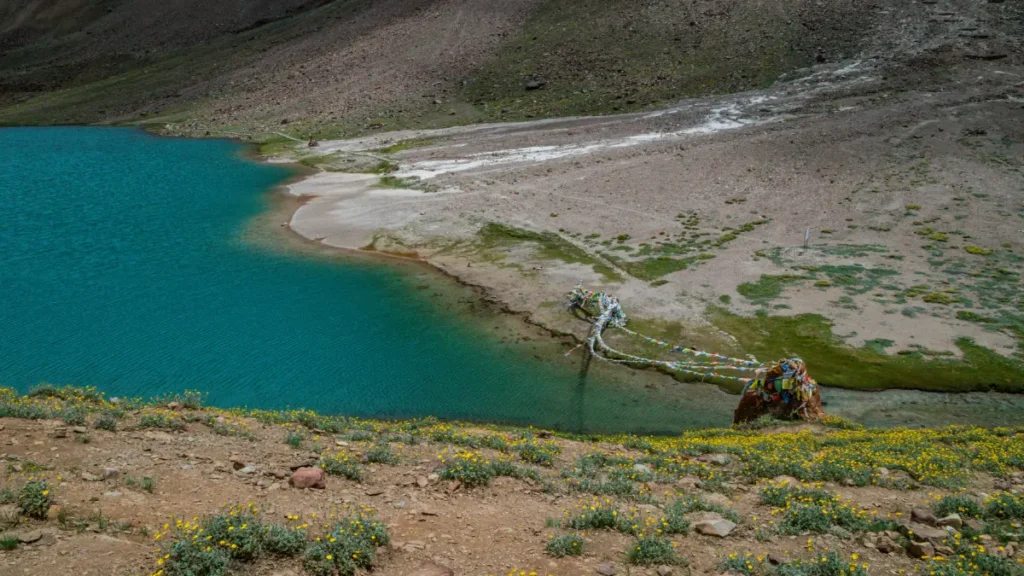 Day 2: Manali to Chandratal Lake
Start your travel early to avoid traffic jams at Rohtang Top. At the Gulaba checkpoint, expect a long queue with potentially hour-long waits.
· Even though it seems like a short drive from Manali to Chandratal Lake, the difficult roads significantly reduce speed; hence, the total trip time increases. Pass across Rohtang La and, as you descend, bear right onto what can only be characterised as the most difficult route in the world, towards Spiti Valley, which is close to Gramphu. This segment offers an exciting challenge with its water streams, slush, loose stones, sharp boulders, and narrow dirt roads.
· Once you get to Batal, keep going towards Kunzum Pass. After a short while, you'll see the 14-kilometre route that leads to Chandratal. It is a one-car-only pathway, thus going at a slow speed. Watch for approaching cars, select a larger area to cross, and wait if needed. 
Day 3: Enjoy the Scenic Views of the Chandratal Lake
You will see several campsites about 4 or 5 km from the lake. Since camping is prohibited in Chandratal by law, every campsite is at least three km away. Examine the camps and register for the one that appeals to you.
· Following the camps, the road goes on for two more km until stopping at a parking lot. It would help if you walked the final km to reach the lake from this point.
Day 4: Chandratal Lake to Manali
Set out to return, following the same route that brought you to Chandratal. Stroll around the lake before leaving for Manali at 8 or 9 a.m. If you travel from Chandratal to Manali, you do not need permission to cross Rohtang, which allays your worries.
· On this day, planning is crucial if you travel to Chandratal by bus. Make sure you get to the Kunzum Pass Chandratal diversion before 8 a.m. Early in the morning, a bus from Kaza to Manali leaves around 6 a.m. and reaches Kunzum Pass/Batal by 8:30 a.m. Please arrive at the destination before the bus arrives and board it to return directly to Manali. The bus offers a practical and picturesque route, enabling you to enjoy the captivating scenery while returning from the amazing trip.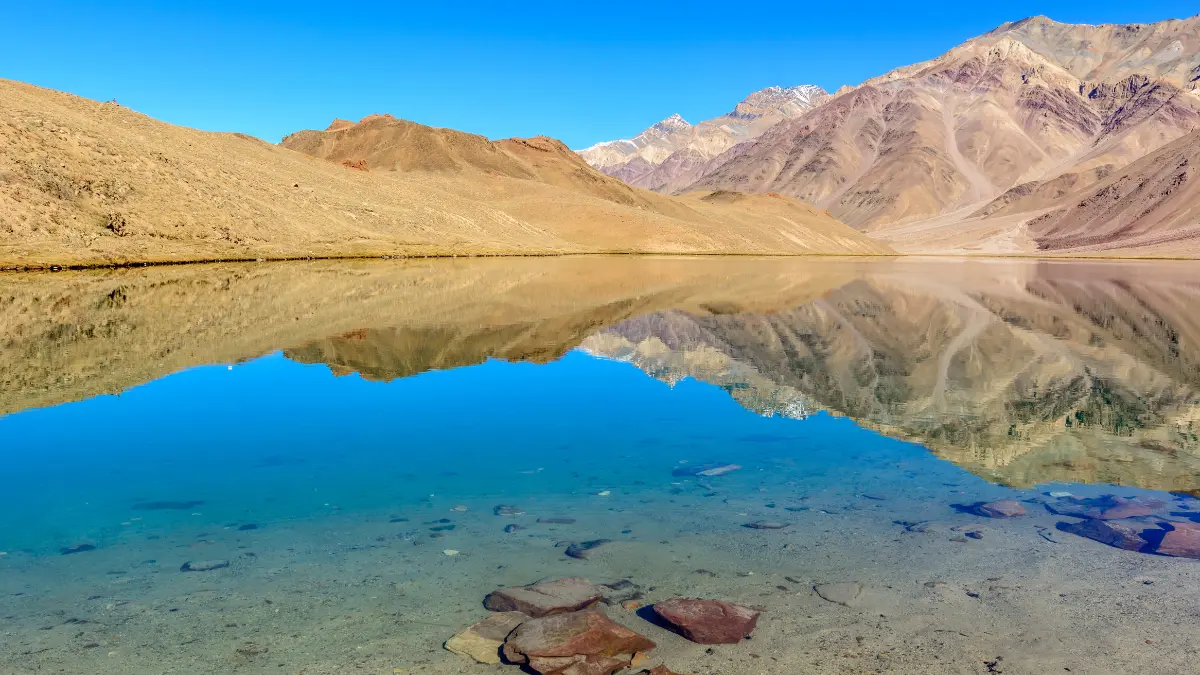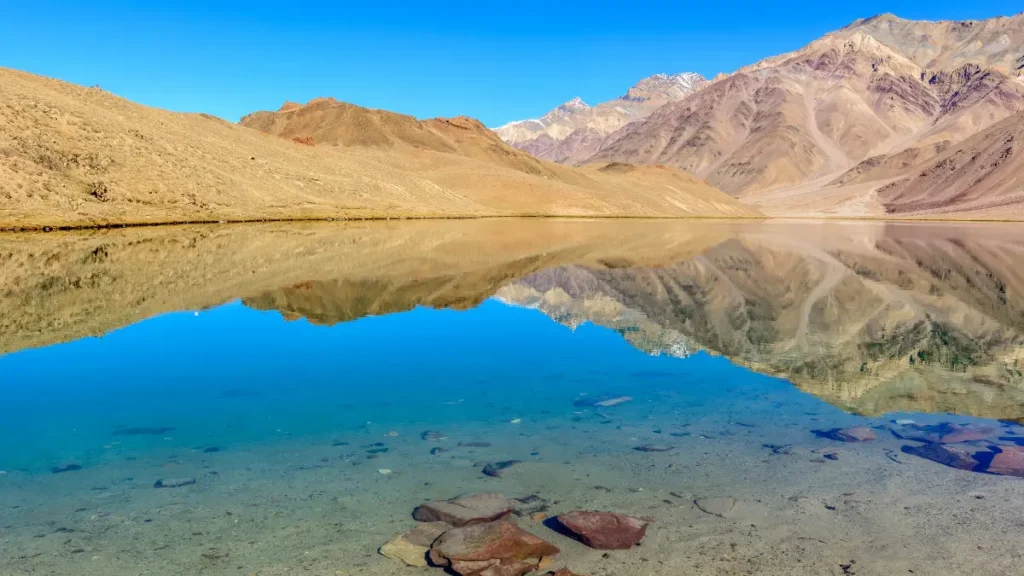 Best Time for Chandratal Lake Trek:
The best time to start the Chandratal Trek is between mid-June and mid-October when a wide range of experiences are available. Beautiful snowscapes are common in the early season, starting in mid-June, and they are progressively less as August progresses. Anticipate a change from snow-covered scenery to the rain-drenched Kullu Manali Valley, interspersed with sunny patches in the Spiti Valley.
Expect bright, pleasant days between June and August, with highs of 12 to 20°C. At the highest campground, nighttime lows are between 2 and 6°C. The trail's snowpack melts as the season continues until September and mid-October, bringing pleasant weather. The days are still bright, but October is approaching, which increases the likelihood of snowfall. Temperatures during the day range from 12 to 18°C, while those at night range from -6 to 4°C.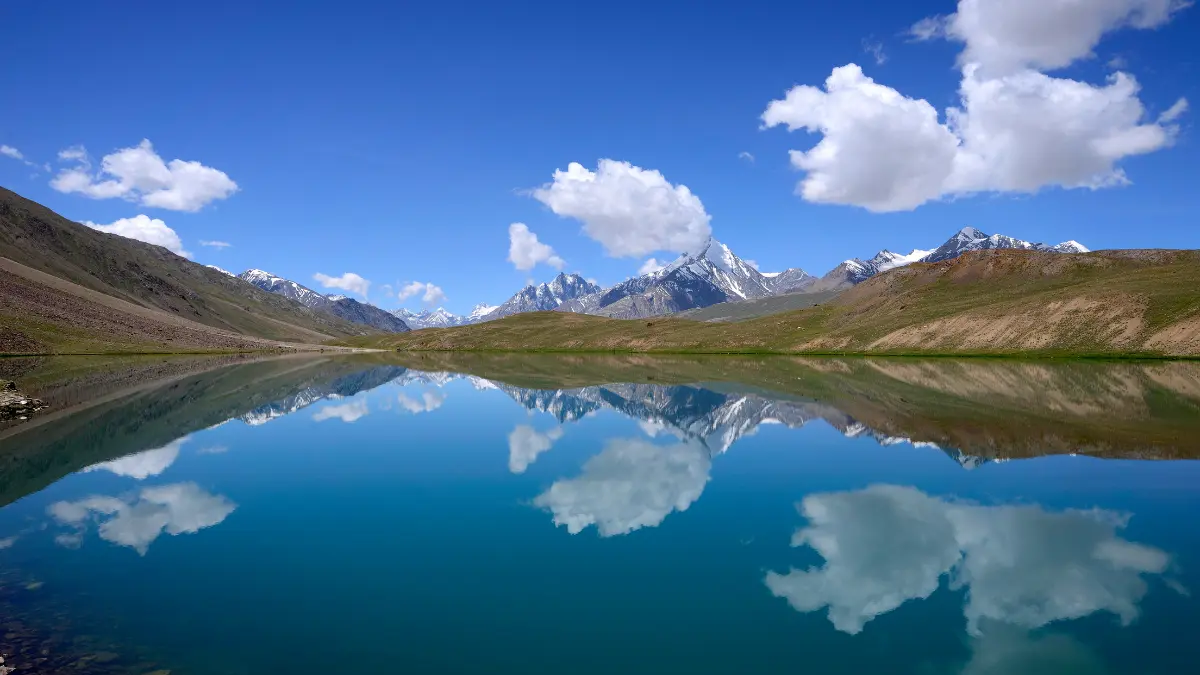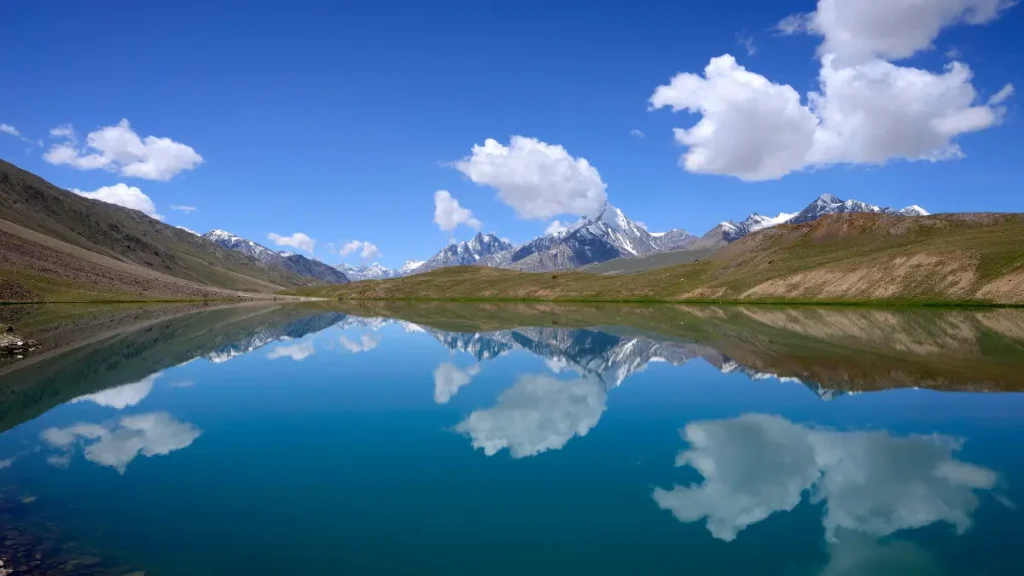 Tips for Chandratal Lake Trek:
Before the trip, spend a day or two in Manali or another high-altitude area to give your body time to acclimate to lower oxygen levels at higher elevations. That lessens the possibility of altitude sickness, including weariness, nausea, and headaches.
· Selecting the appropriate season is essential. You may enjoy the trip in a variety of weather situations from the mid-June to mid-October season. You may see snow early in the season, and then later on in Spiti, you may have bright weather and showers in the lower valleys.
· If you plan to drive, get your Rohtang Pass permits in advance. That guarantees a trip without interruptions because of permissions. If you are lodging in a Manali hotel, you might want to ask them to handle getting the permissions.
· Given the rough terrain, starting the journey early, at approximately 4 a.m., is advised to avoid traffic congestion at Rohtang Pass and make the most of daylight hours.
· Bring several layers of clothes, especially a waterproof jacket, in case the weather changes unexpectedly. You can respond to changing temperatures throughout the day by wearing layers of clothing.
· Invest in well-gripped, comfortable, and durable hiking shoes. The terrain ranges from rocky trails to slushy snow, so appropriate footwear is necessary for a safe and enjoyable walk.
· It is recommended to carry a reusable water bottle to stay hydrated throughout the day. Refill it regularly and avoid disposable plastic bottles to help reduce waste. Carry energy-boosting foods with you on the hike, such as fruits, almonds, and energy bars, to help you stay strong.
· When camping, ensure you have a good, weatherproof tent, a cosy sleeping mat, and a warm sleeping bag for chilly weather. Lightweight camping equipment facilitates a more tolerable walk.
· Respect the Leave No Trace philosophy. To reduce your influence on the environment, dispose of rubbish properly, remain on authorised routes, and don't disturb wildlife.
· If you are not familiar with the area, you might choose to join a trekking group or hire a local guide. Local guides can guarantee a safer hiking experience and offer insightful information about the area and culture.
· The walk passes across difficult terrain and a range of elevations. Before the trip, regular cardiovascular exercise improves your endurance and prepares your body for the strenuous physical demands of the adventure.
· Bring along a high-quality camera to capture the breathtaking views. To capture the stunning surroundings effectively, ensure your electrical gadgets are well charged and bring additional batteries.
· Keep a basic first aid kit with you at all times, filled with necessities like bandages, painkillers, and any prescription drugs you may need. Ensure you have an easy-to-access trekking route map and emergency contact details.
· Before taking pictures of locals, get their permission to show respect for their culture. Respectfully interact with the community, taking an interest in and learning about their way of life.
Conclusion
The climb to Chandratal Lake, which offers daring adventurers an unmatched adventure over various sceneries and difficult terrains, is a monument to the unadulterated magnificence of the Himalayas. Every step of this journey reveals a new aspect of the wonders of nature, from the untamed pathways of Batal to the expansive views of Rohtang Pass.
Nestled at a high height, the Chandratal Lake emerges as the expedition's gem in the crown. Its glistening waters provide a calm and alluring scene as they reflect the snow-capped hills. The journey is more than just a strenuous physical ascent—it's a ballet with the weather as you make your way through slush, tiny dirt roads, and streams of water.
Trekkers who travel into this distant area of Himachal Pradesh are left with unforgettable memories of the starry sky above the Himalayas, creating an ethereal aura as they camp by the beaches of Chandratal. The hike to Chandratal Lake is more than just a physical accomplishment; it's an invitation for travellers to contemplate, explore, and get in touch with the wild spirit of the highlands. This walk becomes more than just an adventure when you embrace the difficulties and treasure the moments; it becomes a meaningful experience of the magnificent powers of nature.
Set off on the Himalayan journey of Chandratal Lake Trek, which runs from mid-June to mid-October. Encourage others to visit this magnificent location by sharing your experiences in the comments below. Regardless of your experience level, Chandratal is waiting for you, extending an invitation to join a group of people who share a passion for exploring at high altitudes.