The Waste to Wonder Park Delhi is a theme park dedicated to the replicas of the "Seven Wonders of the World", namely the Eiffel Tower, Taj Mahal, Leaning Tower of Pisa, Pyramids of Giza, The Colosseum of Rome, Statue of Liberty, and Christ the Redeemer. The special thing about these is that they are all made of recycled industrial waste materials like automobile parts and other metal scraps.The attraction is situated in Rajiv Gandhi Smriti Van, close to Sarai Kale Khan and spans an area of more than 7 acres. It cost Rs 7.5 crore and took 6 months to construct the South Delhi Municipal Corporation (SDMC). The creation of this Park was intended to support the government's "Swachh Bharat Abhiyan" while also promoting the tourism industry.The concept for the location was influenced by Kota's Seven Wonder Park, which became well-known after being featured in the movie "Badrinath Ki Dulhania".The landmark's creation required 150 tonnes of scrap, 70 welders, and aid from 70 artists and supporting artists. Three windmills worth one kilowatt each, three solar trees worth five kilowatts each, and a 10-kilowatt rooftop panel were built by SDMC to make the place self-sufficient in renewable energy.
10 Amazing Places to Visit in Delhi in 2023 | Things to Do, Timing
: Waste to Wonder Park Delhi: Location, Timing, Ticket Price
The 7 Waste to Wonder Park Replicas
1. Taj Mahal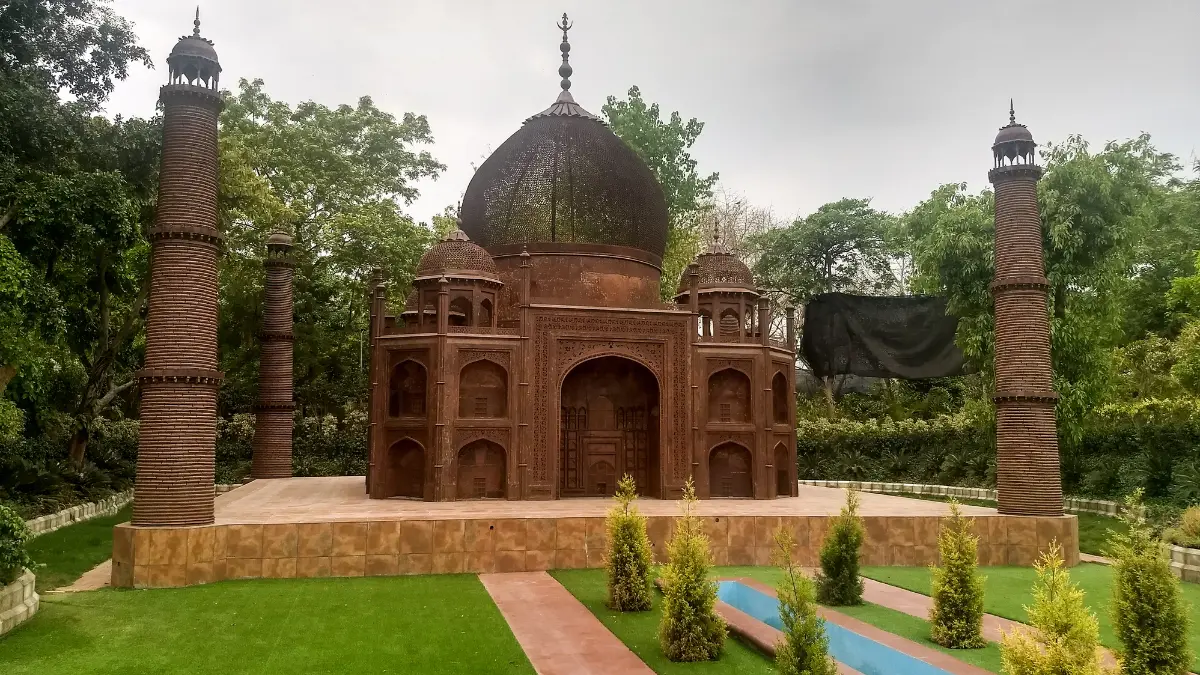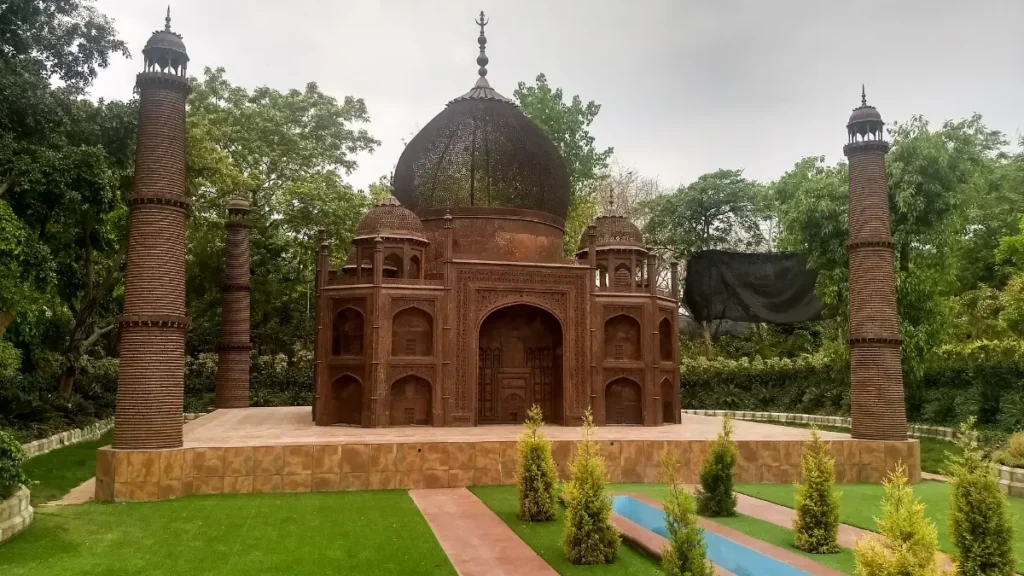 The Taj Mahal of Agra, India, is a UNESCO World Heritage Site created by Mughal Emperor Shah Jahaan for his deceased wife, Mumtaz Mahal. It has been re-created in the Waste to Wonder Park with a 20-foot height. 24 employees and 30 tonnes of garbage were used in its construction, which took five and a half months. In addition, there is a Fountain in the replica's rectangular pond in front of the Monument.
Truck sheets, pipes for domes, benches for door and window frames, benches, electric pole pipes, angles, swings, and truck springs are just a few of the recycled materials used in this project. Other materials include old pans and 1,600 cycle chains for the pillars.
2. Statue of Liberty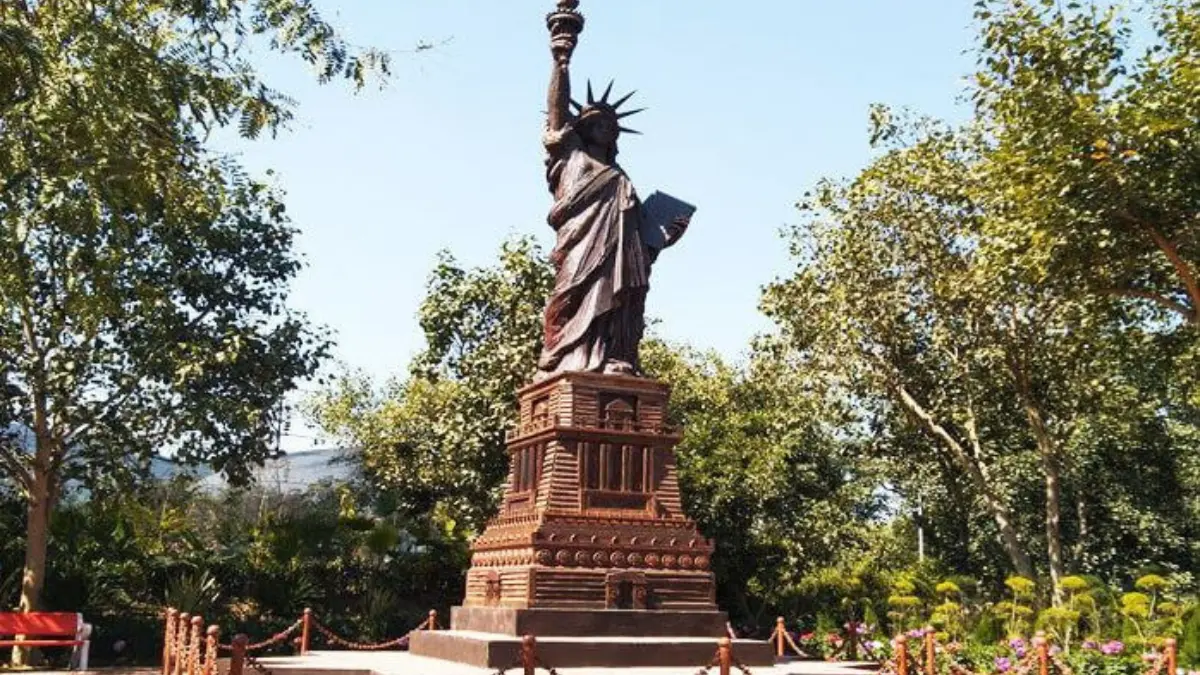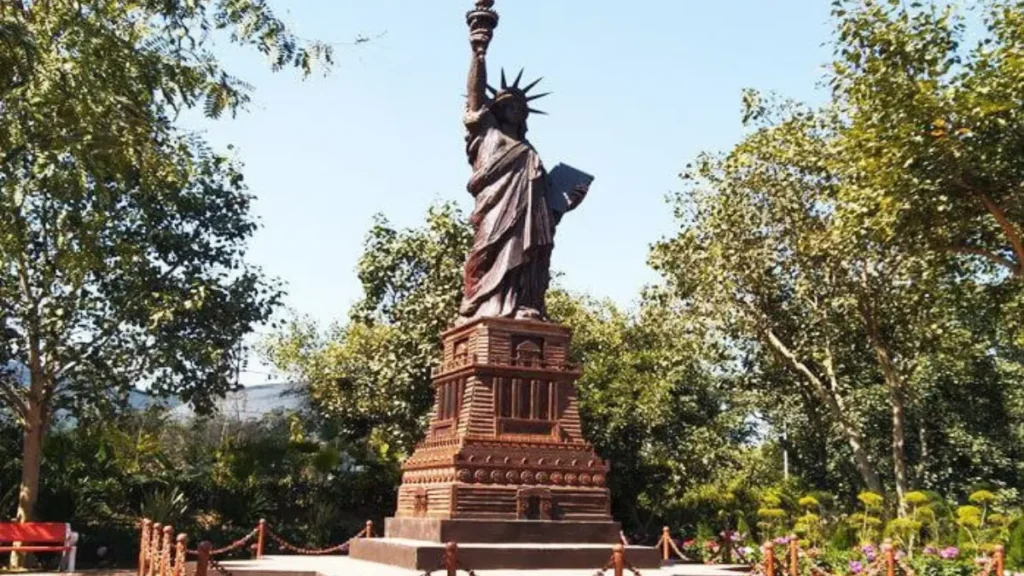 America and France collaborated on the Statue of Liberty, and it was decided that the Americans would build the pedestal and the French would be in charge of the Monument and its assembly in the United States. It depicts Libertas, a robed Roman goddess of liberty. Her left-hand holds a tabula ansata with the U.S. Independence Day date, while her right hand holds a torch above her head.
The little Statue of Liberty here is 35 feet tall and weighs around 8 tonnes of trash. The statue, created by Delhi resident Zakir, is breathtaking. Metal sheets from tea shops and a seat that belonged to the Municipal Corporation of Delhi were used to create the tablet that Lady Liberty is holding. The pedestal has a brick-like look thanks to angles, metal railings, and leftover pipes. The rings on the pedestal were made from car rims. Old bike components were used to construct the torch that Lady Liberty is holding. Her hair is made of cycle chains.
3. The Great Pyramid of Giza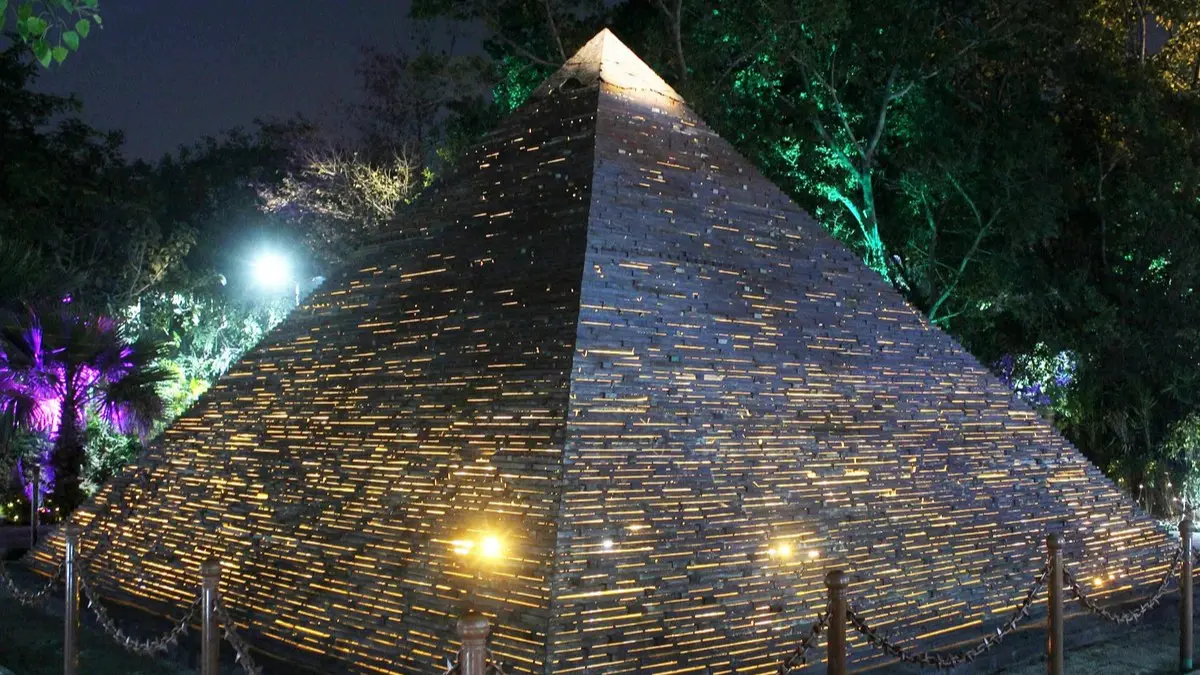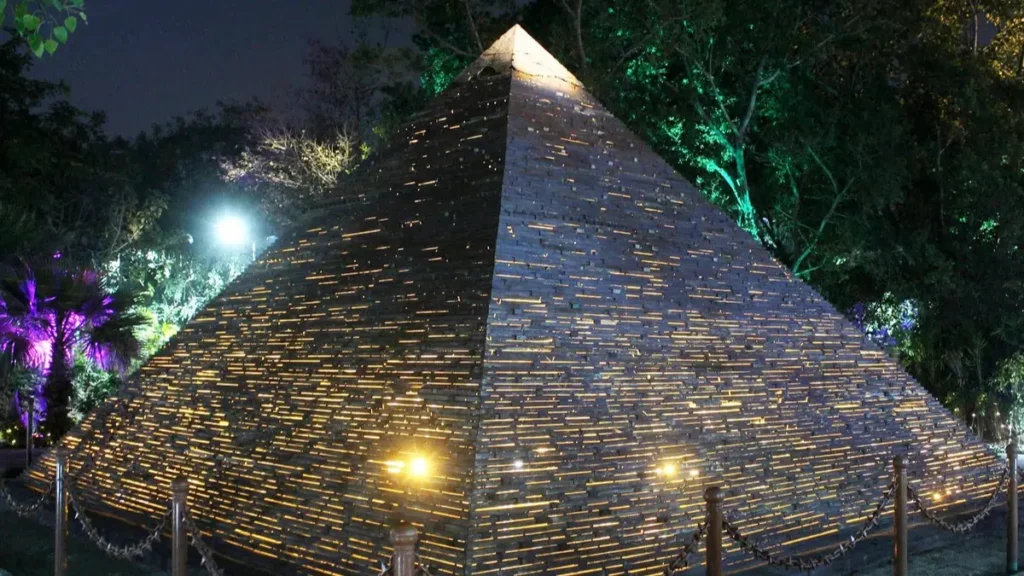 Giza's Great Pyramid is the oldest and only one of the Seven Wonders of the Ancient World that has fully survived.
A 110-layer replica of this pyramid standing 18 feet tall may be seen in the Waste to Wonder Park. This copy of Egypt's ancient pyramid was designed by architect Pijush Patra of Vadodara, Gujarat, and is constructed entirely out of scrap angles, measuring 10,800 feet and weighing over 12 tonnes.
4. Christ the Redeemer of Rio: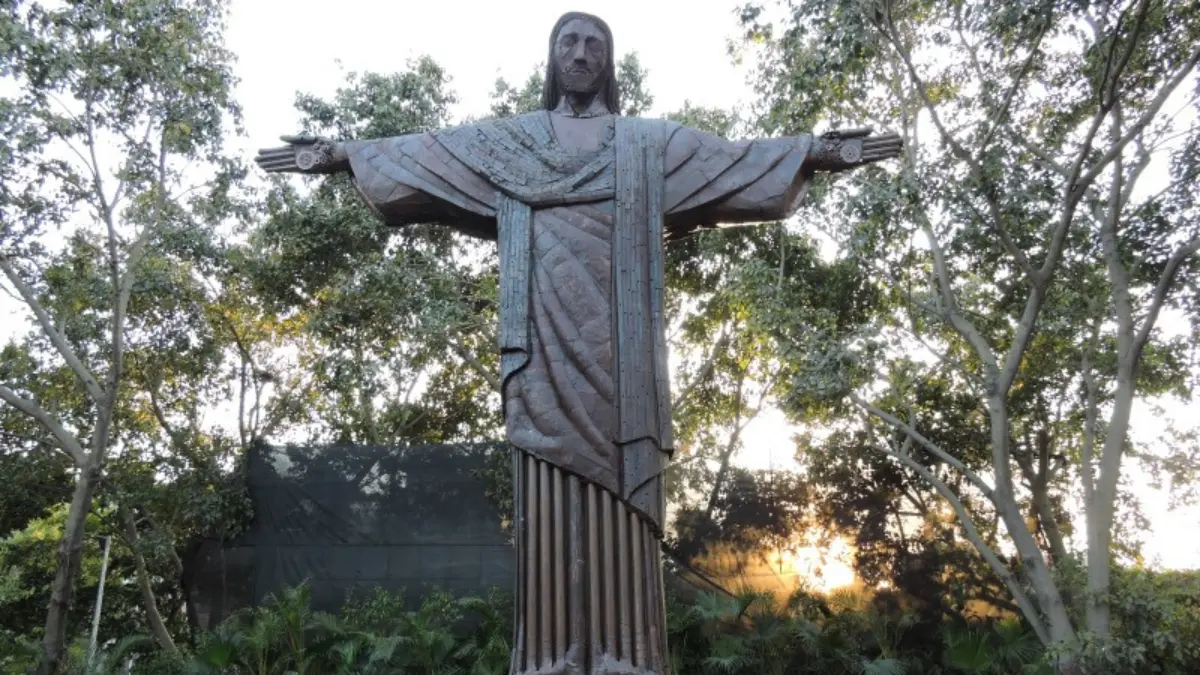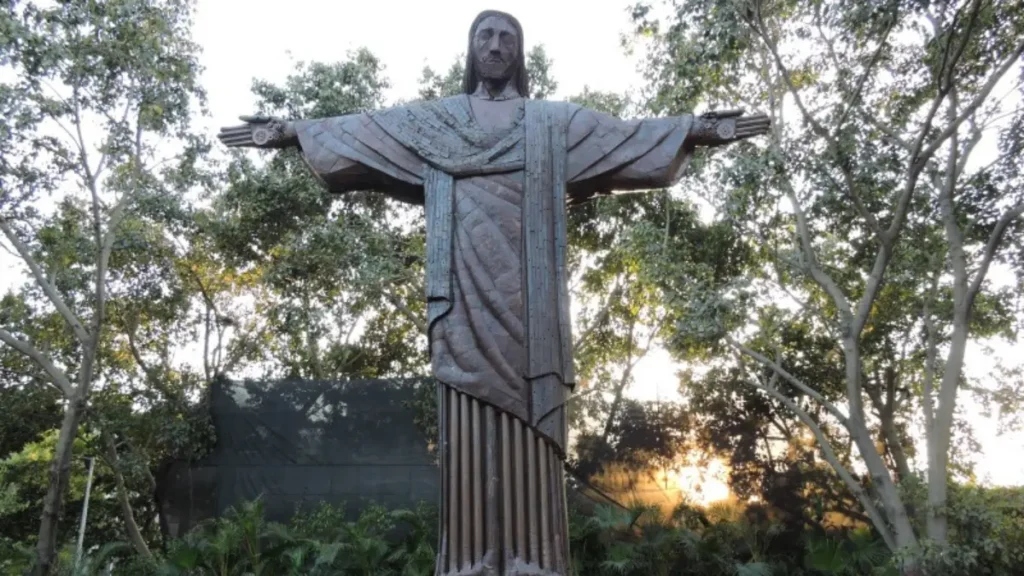 At the Peak of Corcovado Mountain stands the Rio Redeemer statue, the most significant memorial to the Catholic pilgrims.The themed Waste to Wonder Park contains a 25-foot-tall replica of Christ the Redeemer from Rio de Janeiro. The Vadodara-based artist Shubham constructed it in less than five months. It was constructed with scraps, including bike chains, engine components, old benches, and electric poles.
5. The Colosseum of Rome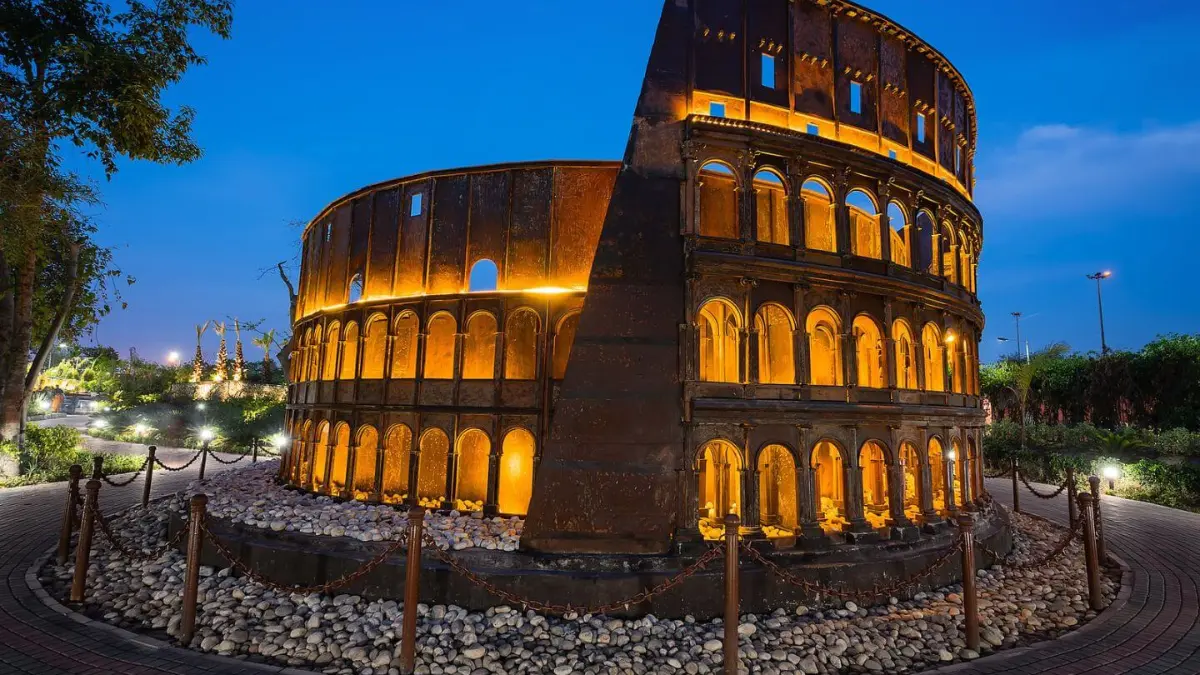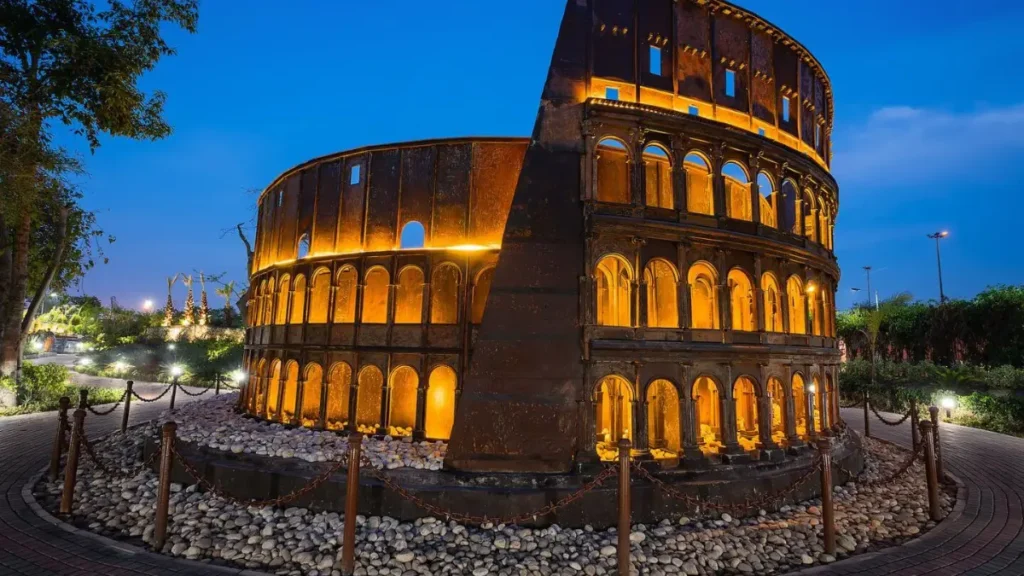 Rome's Colosseum is located in the city's core. Emperor Vespasian commissioned the Flavian Amphitheatre, its original name, in AD 72. The Colosseum, one of the New Seven Wonders of the World, is a famous representation of Imperial Rome despite being significantly damaged by earthquakes, thieves, and stone robbers.
A monument similar to it, which stands 16 feet 6 inches tall, was built in Delhi. The garbage, produced using 11 tonnes of scrap materials, consists of 410 vehicle wheels for the arches, electric poles, car components, seats, and metal railings.
6. Leaning Tower of Pisa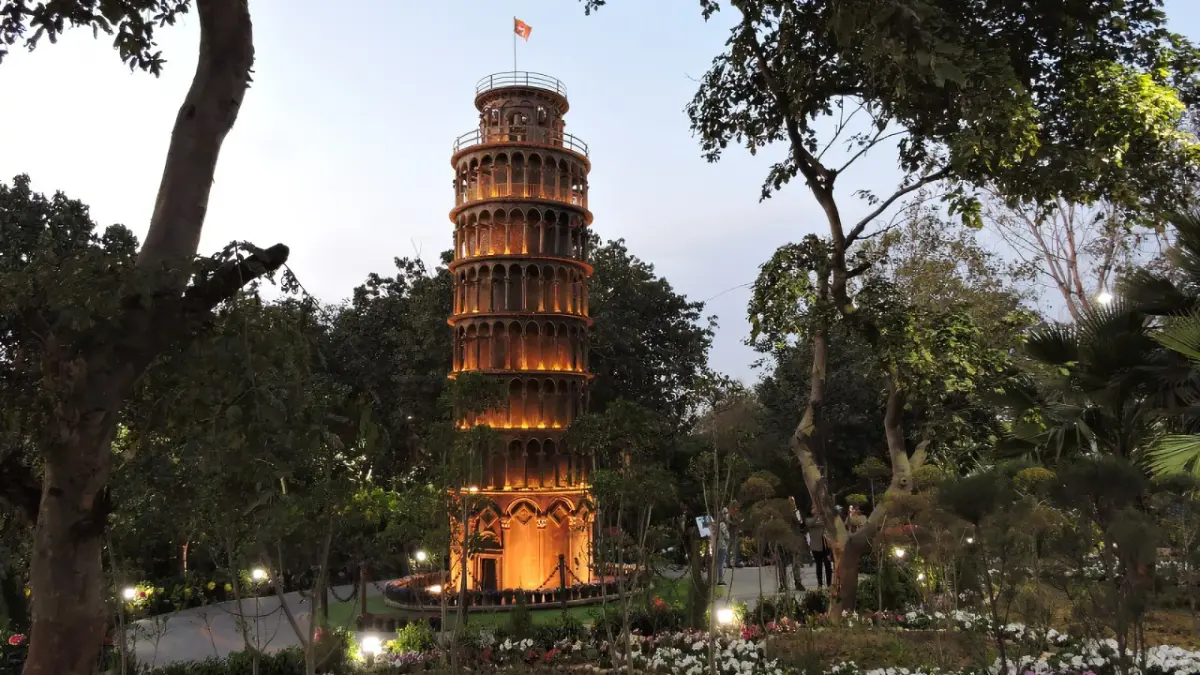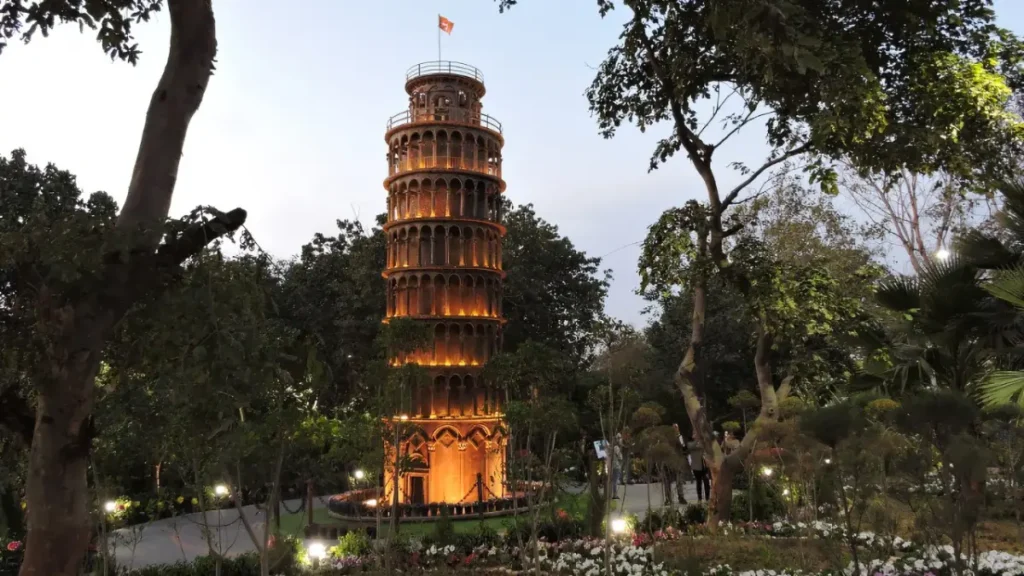 One of the most notable buildings from mediaeval Europe is the Leaning Tower of Pisa, a tilted tower.This 80-degree tilt on the 25-foot-tall replica of the Leaning Tower of Pisa makes it an excellent location for photos at Delhi's Waste to Wonder Park. Metal sheets, old pipes, benches, lawn cutters, springs, bicycle rims, and typewriter keys were used to build the edifice.
7. Eiffel Tower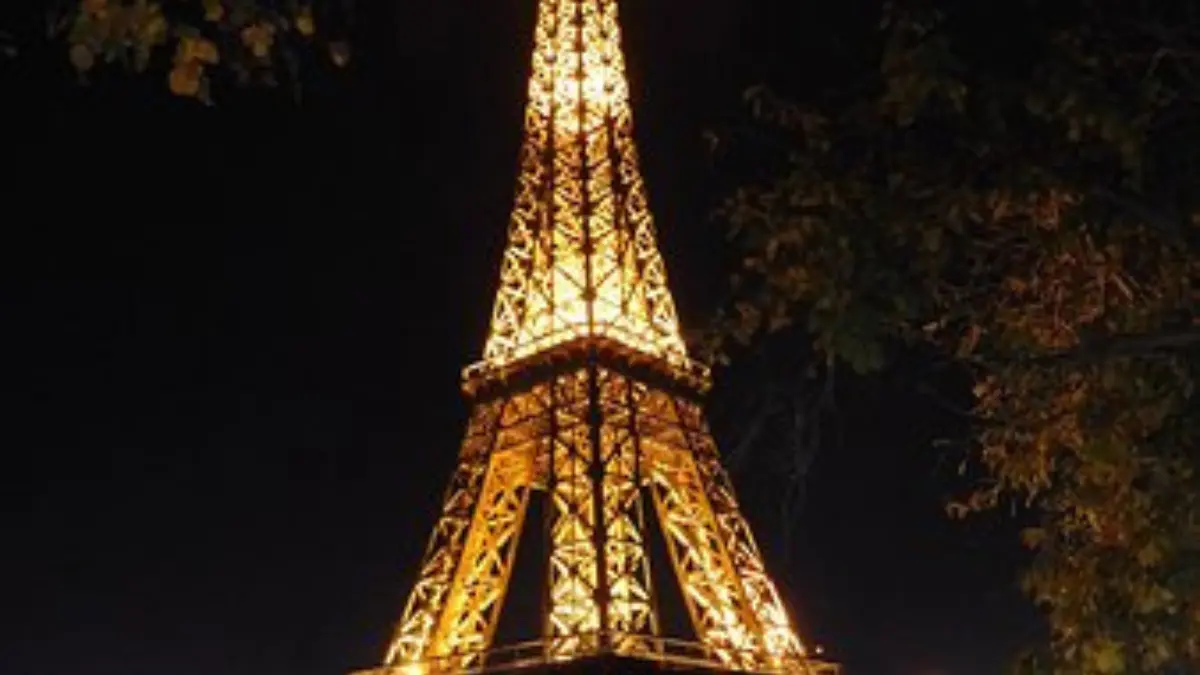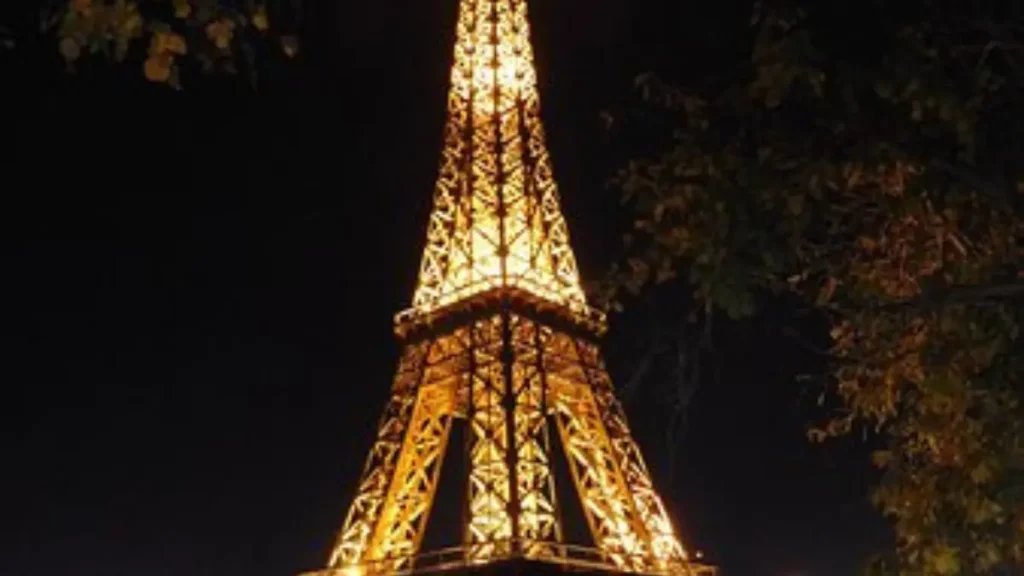 The most impressive structure in the world, the Eiffel Tower, was constructed in the late 1880s for the Paris International Exposition.
The small Eiffel Tower, which stands 60 feet tall, is this landmark's highest attraction. This Parisian classic was constructed with 40 tonnes of vehicle debris. The Eiffel Tower's three floors had to be built separately before an industrial crane could stack them on top of one another. Sandip Pisalkar is the creator of this piece of artwork. This building used scrap materials, including angles, C-channels, clutch plates, and truck diesel tanks.
Waste to Wonder Park Timings
The place is open on all days except Mondays from 11.00 A.M. to 11.00 P.M.
Waste to Wonder Park Location
The Park is situated in Delhi at the following address:
Near Hazrat Nizamuddin Metro Station, Block A, Ganga Vihar, Sarai Kale Khan, New Delhi
Places to Visit near Waste to Wonder Park
One of the most intriguing cities to visit is New Delhi. If this is your first time going, you will be astounded by the city's abundance of historical sites. When you're done touring Waste to Wonder Park, go to these places nearby:
1. Humayun's Tomb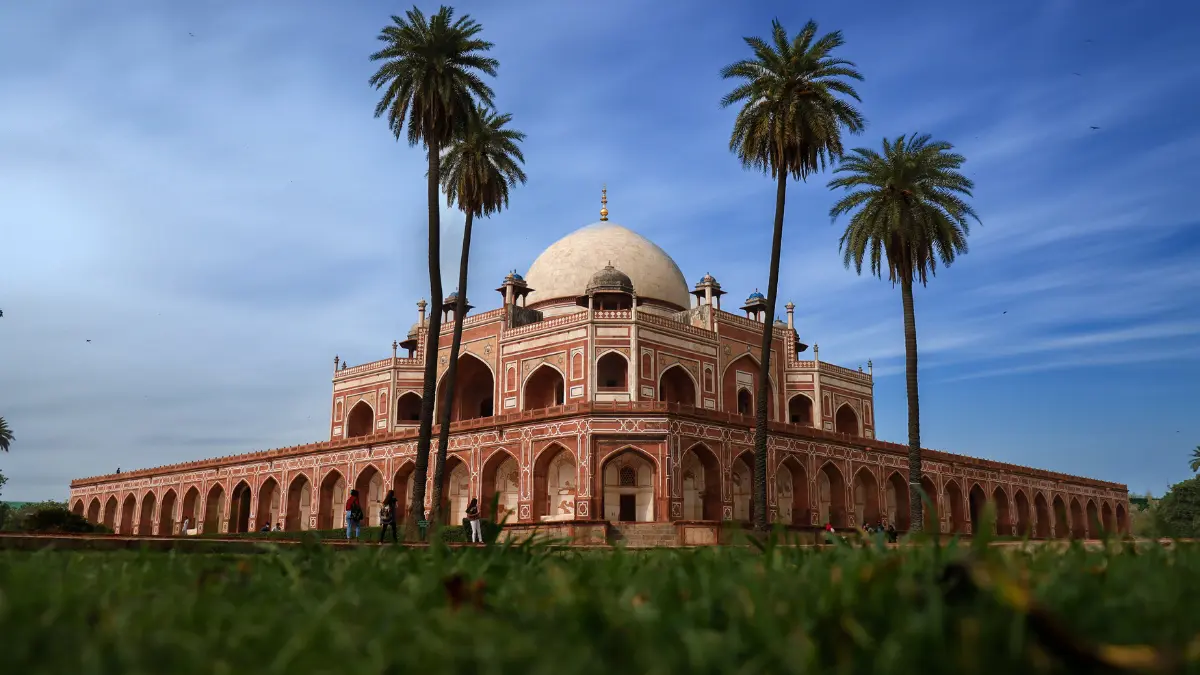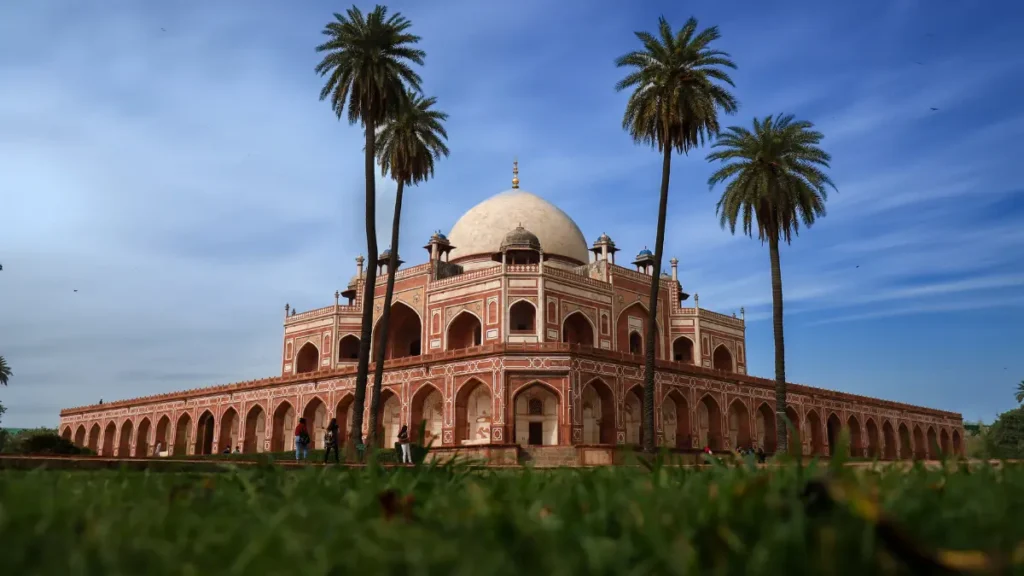 "Humayun's Tomb" is the mausoleum of Mughal Emperor Humayun and the first tomb ever built with a garden in India. The tomb is symmetrical and grand, and visitors from all over the world come here to pay respect to the deceased Emperor. The Chaar Bagh garden surrounding the tomb can soothe a troubled mind.
2. Hazrat Nizamuddin Aulia Dargah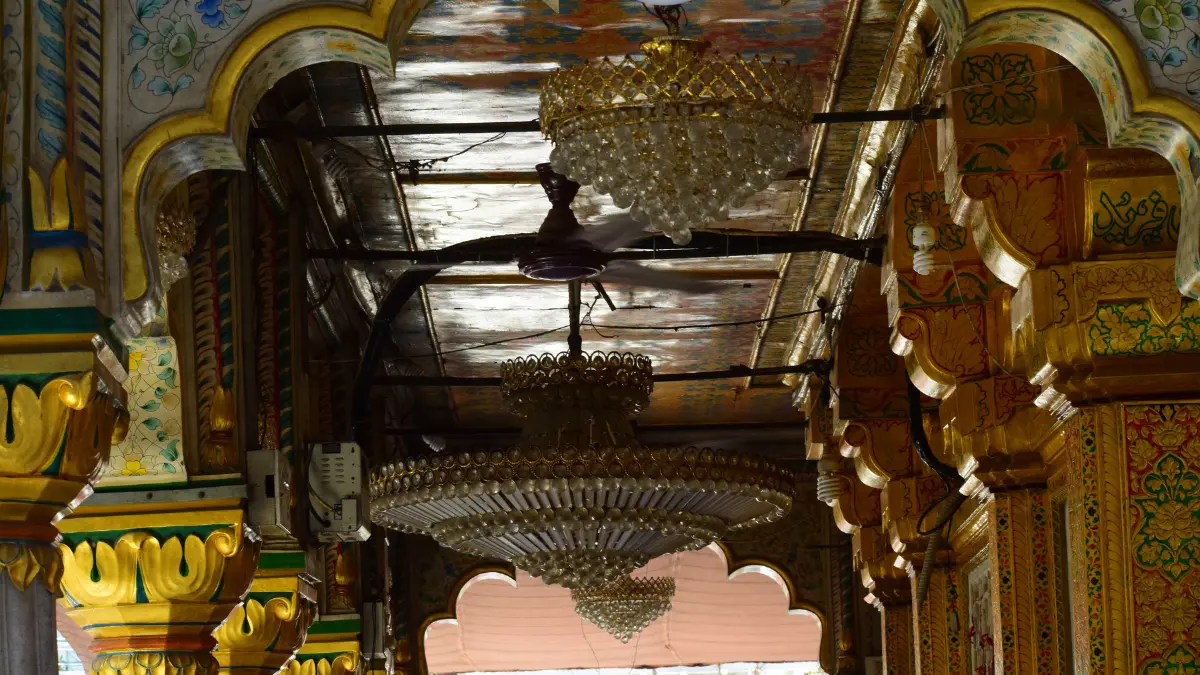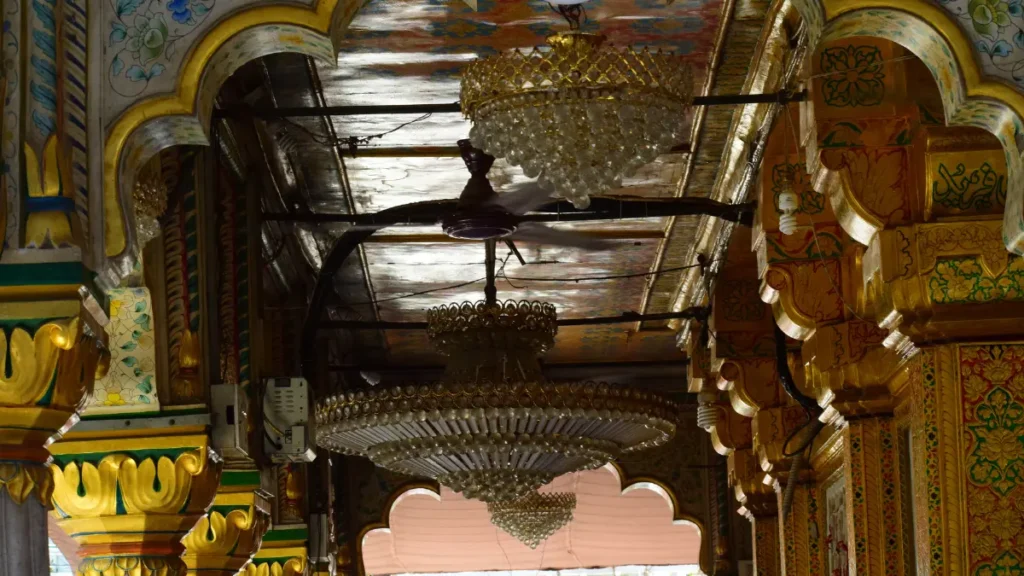 The revered Chishti order Sufi saint Hazrat Nizamuddin Auliya is remembered at the grave and shrine known as the Hazrat Nizamuddin Dargah. It is well known for its Sufi music and spiritual atmosphere. One of the transcendental sensations for which the Dargah is renowned may be had here when engrossed in a spiritual experience and listening to Qawwalis in the night. Along with Humayun's Tomb are bustling marketplaces close to the Dargah.
3. India Gate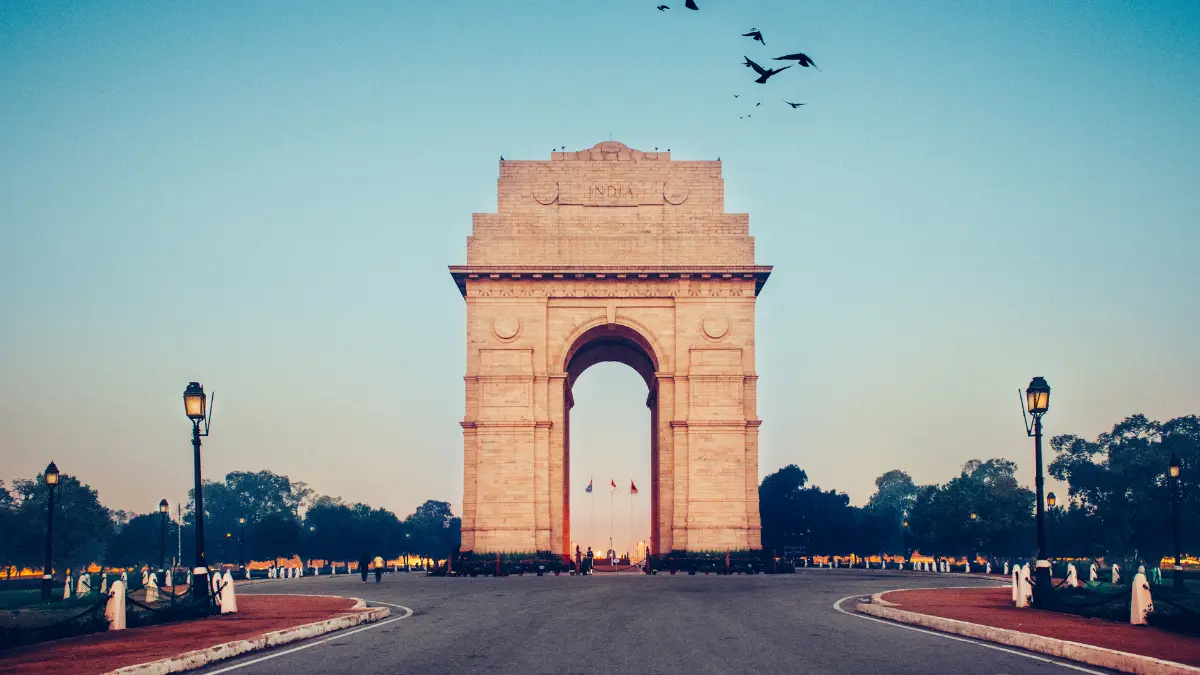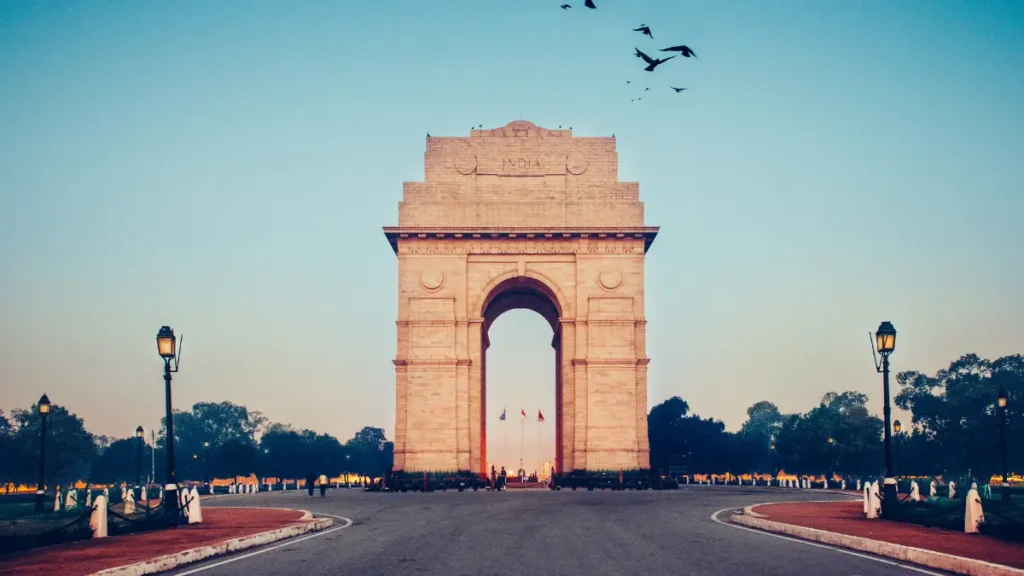 The majestic India Gate serves as a war memorial to honour the members of the British Indian Army who lost their lives in both the Afghan and World War I conflicts. India Gate is one of the most well-liked destinations in Delhi at night. The location is significant in terms of patriotism and encourages the concept of Unity in Diversity; under the arch of India Gate, a perpetual flame known as Amar Jawan Jyoti burns in memory of the fallen warriors.
4. National Zoological Park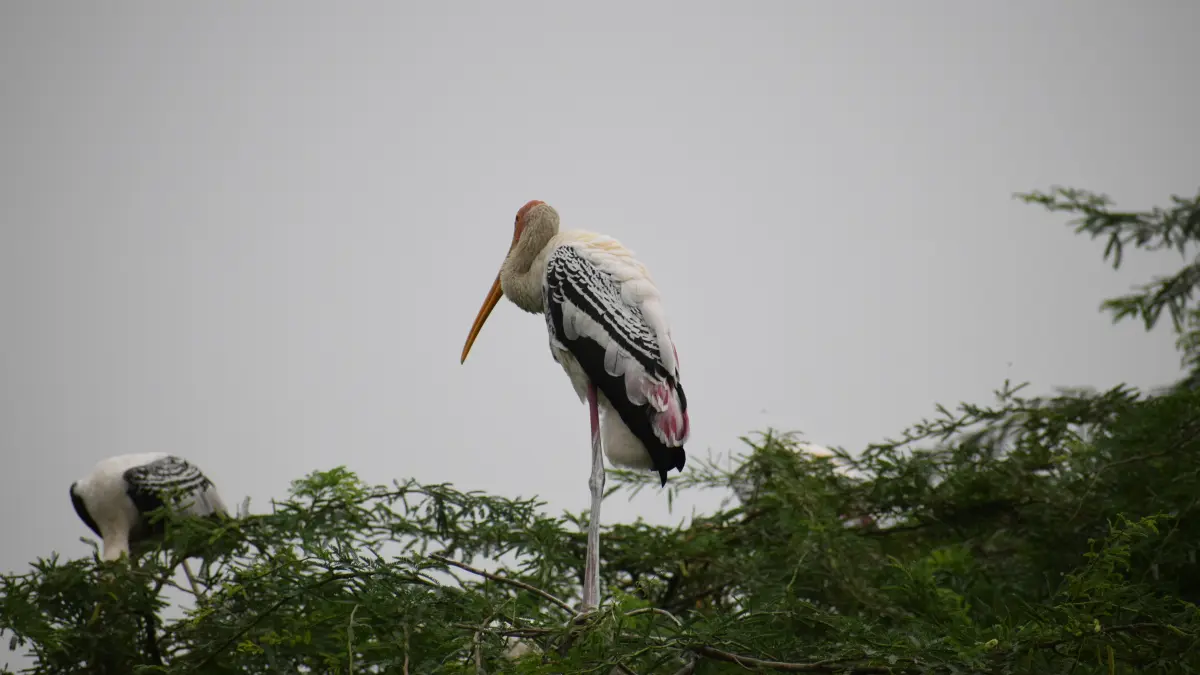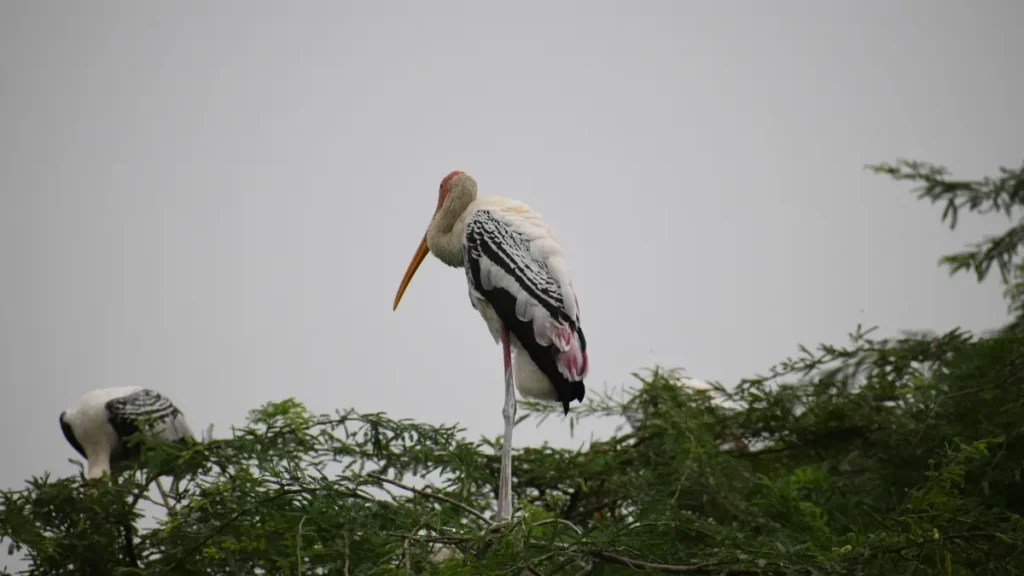 One of India's biggest zoos, the National Zoological Park in Delhi, is a well-liked destination for families, especially those with young children. The 176-acre Delhi Zoo is in the city's heart, close to the Old Fort.
About 1,000 animals and birds are here, representing more than 130 species. All of them, including the Indian Rhinoceros, Asiatic Lion, and Red Jungle Fowl, are kept at the Delhi Zoo.
5. Jantar Mantar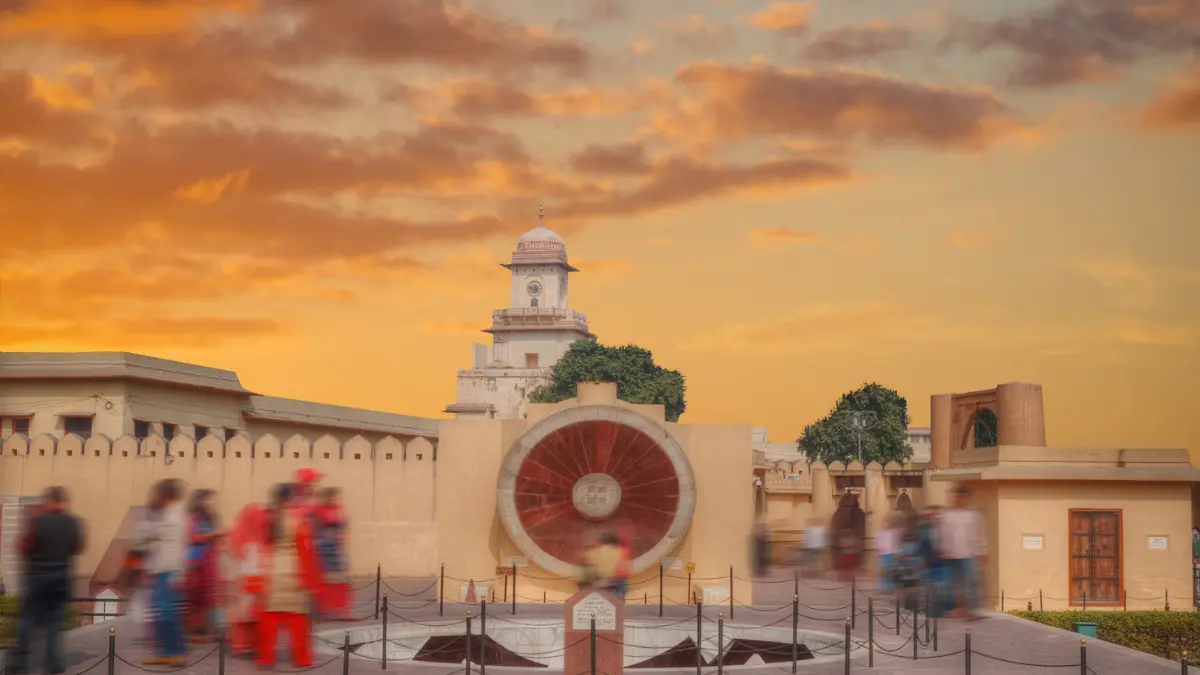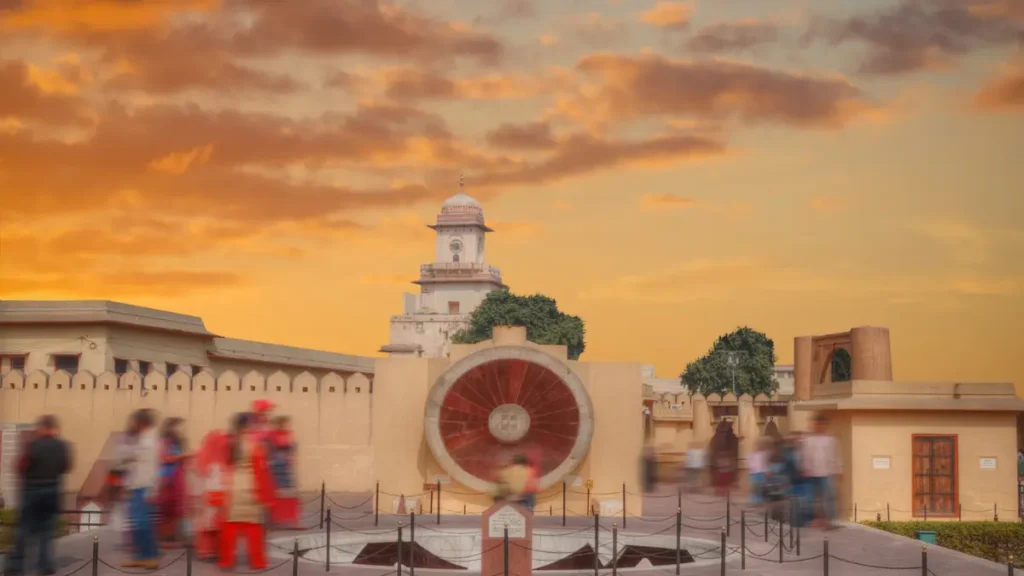 Astronomical observatory Jantar Mantar is a UNESCO World Heritage Site. Five Jantar Mantars were built around the nation by Maharaja Jai Singh of Jaipur, one of which is in Delhi. It is a sundial that accurately delivers astronomical information and measures time using the sun's position and shadows. Visitors can test out 13 astronomy instruments that are on site.
Interesting Things about the Waste to Wonder Park
1. The site has solar panels on its roof and a port-a-potty constructed of an old shipping container. Bright hues were used to paint the façade to emphasise the Seven Wonders of the World motif.
2. As you reach Delhi's Waste to Wonder Park, you'll see that even the entrance gate is constructed from an old lawnmower and a section of an old bench. The entry arch is made of typewriter components and springs. Ram Kumar, a designer from Tamil Nadu, was the one who came up with this idea.
3. The place is energy-positive Since it produces 28 kilowatts of energy in total while only using 15 to 25 kilowatts. To generate more cash for the SDMC, the extra energy is exported to the city's electrical system.
4. New Delhi's dumps provided the majority of the scrap materials.
5. It is fascinating to note that Dr. Punnet Goel, the commissioner for South Delhi, had the idea after watching the Bollywood film "Badrinath ki Dulhaniya," filmed at Kota's Seven Wonders Park.
6. Despite being formed of junk, the buildings don't rust since anti-rust enamel has been applied on all of their surfaces.
7. Each Waste to Wonder Park monument is encompassed by a lot of green space, and most of the attraction is accessible to anybody who wants to have a picnic. There aren't any cafés on the property so you must buy food and drinks from outside. People cannot bring their own food, but they may purchase it from one of the neighbouring vendors.
8. this site may be available for rent for filming, pre-wedding picture sessions, and other such events.
9. 31 two-wheelers and 66 four-wheelers can be parked in the parking area. If you want to avoid bringing your car, stop here while touring New Delhi's other major attractions on the HoHo bus.
10. this tourist destination's landmarks were made from materials from 24 municipal businesses. Defunct sewer lines, fans, motorbike components, rods, bicycle parts, bolts, nuts, iron sheets, and other still-in-use appliances are some of this vintage equipment.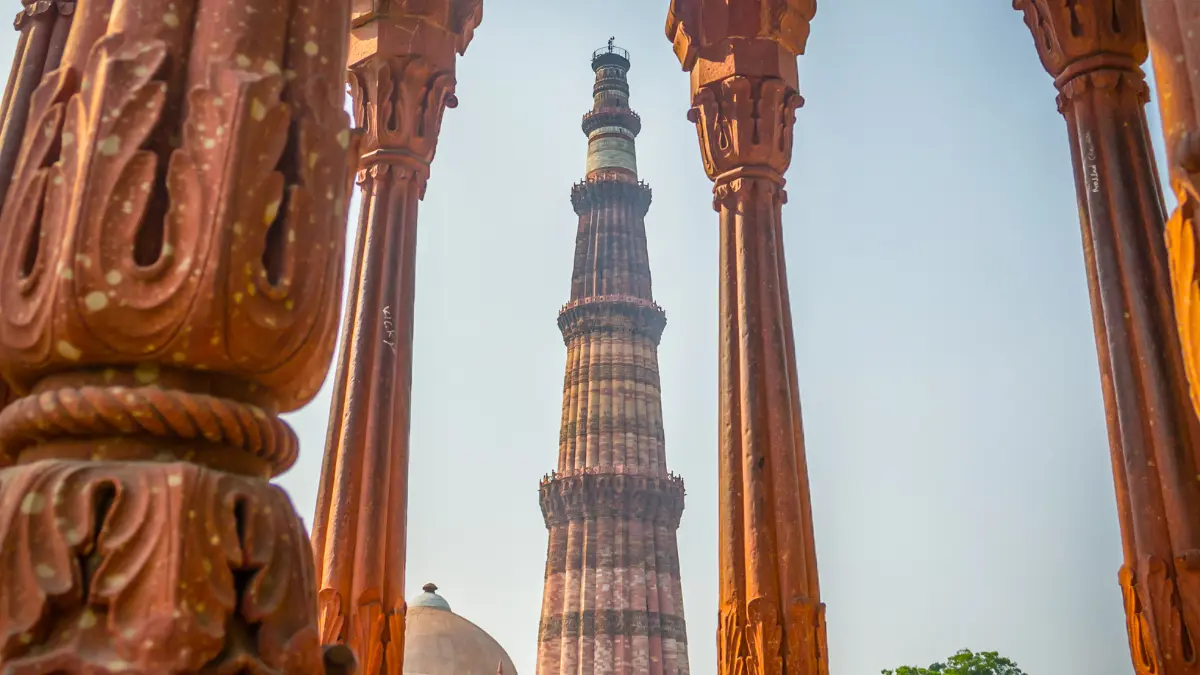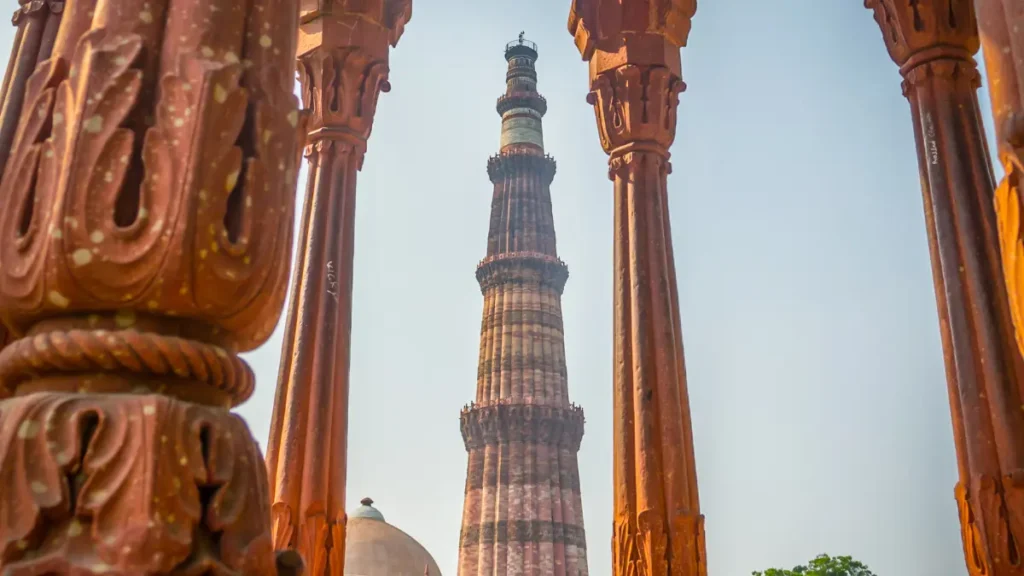 Best Time to Visit the Waste to Wonder Park 
The Park is worth visiting all year long. You must visit the Waste to Wonder Park in the evening as the monuments brighten with colourful lights.
Waste to Wonder Park Entry Fee
| | |
| --- | --- |
| Persons | Fee (INR) |
| Adults | 50 |
| Children (3 to 12 Years) | 25 |
| Children Below 3 | Free |
| Senior Citizens (65+ Years) | Free |
| Municipality School Students | Free |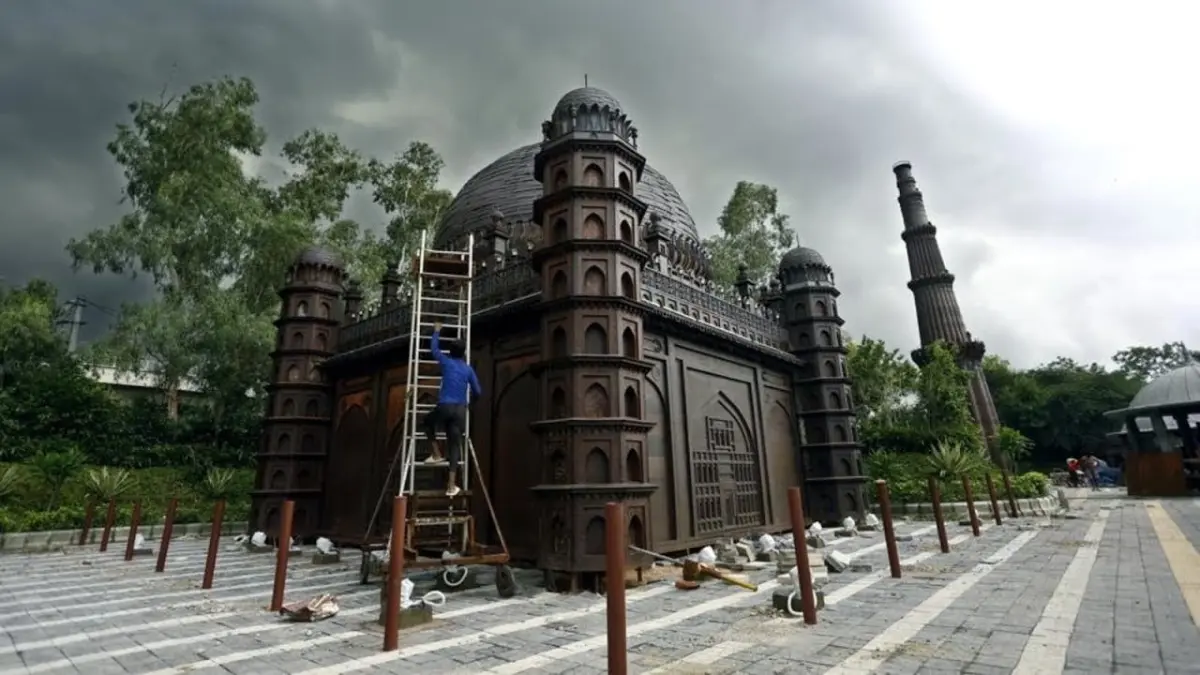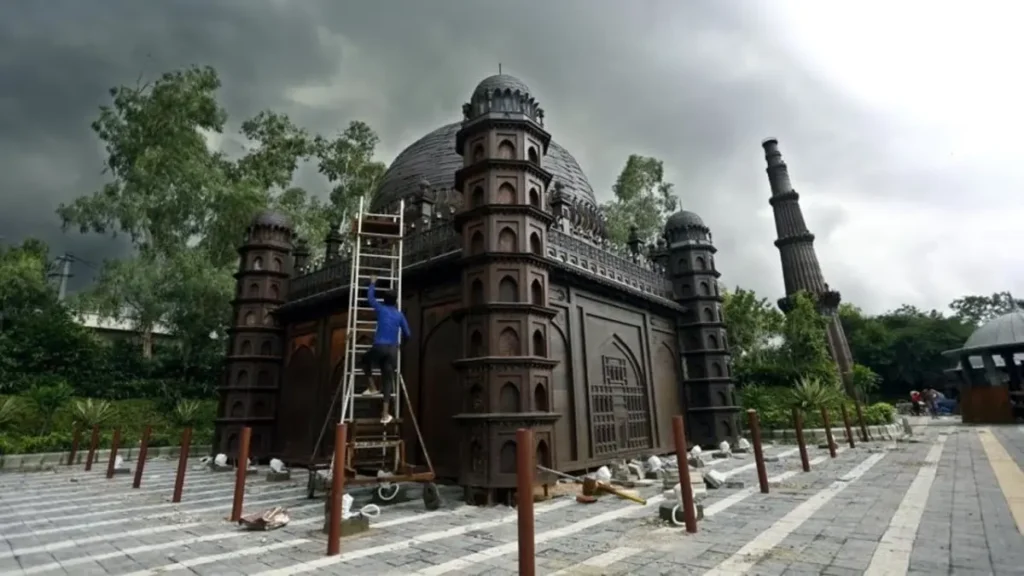 Waste to Wonder Park Online Ticket
The spot still needs an online ticket booking system. You will have to buy the tickets from the venue as of now.
How to Reach Waste to Wonder Park Delhi
Waste to Wonder Park Delhi's nearest Metro Station: The nearest station is the Hazrat Nizamuddin Metro Station
Bus: Sarai Kale Khan is the closest bus station to the Waste to Wonder Park.
Taxis: Taxis are easy to book and will help you reach here.
HoHo Bus: The HoHo Buses are an excellent way to travel to the Park.
You can also travel by your own vehicle here.
Conclusion
Spending time with loved ones in Delhi's Waste to Wonder Park is a pleasure. This themed attraction, situated in Ganga Vihar close to Hazrat Nizamuddin Metro Station, has magnificent reproductions of the Seven Wonders of the World. The constructions are unique because they are all constructed from industrial and other waste materials, including iron sheets, rods, fans, and vehicle components. This location became a well-known tourist destination for people worldwide due to its distinctive qualities. Take advantage of visiting this wonder of New Delhi during your trip to Delhi.
Which is the Waste to Wonder Park's nearest metro station?
Hazrat Nizamuddin Metro Station is the nearest subway.
How do you buy Waste to Wonder Park tickets?
You can buy tickets from the venue.
Is there a Waste to Wonder Park Chandigarh?
There is no Waste to Wonder Park in Chandigarh. However, the Rock Garden in Chandigarh is made on a similar concept to this park.