The toy trains in India offer a unique outlook into the bygone British Era and emanate a nostalgic appeal to those who traverse them. They transport people back in time to experience the colonial splendour and picturesque scenery. In this blog, we will explore these scenic transportation beauties. Let's embark on a beautiful journey through time!
Toy Trains in India
Toy trains in India are a mesmerising expression of the country's tradition, natural beauty, and nostalgia. These little trains travel through some of the most beautiful locations on earth, giving passengers a close-up view of India's breathtaking natural beauty. Each ride is a visual feast for the senses, whether you're climbing the high grades of the Darjeeling Himalayan Railway with its green tea estates and breath-taking Himalayan panoramas or meandering through the lush, wooded hills of the Nilgiri Mountain Railway. As you travel past flowing waterfalls, mist-shrouded valleys, and picturesque villages tucked among rolling hills, the subtle rhythmic clatter of wheels against narrow tracks and the delicate sway of carriages further enhance the experience.
These model trains take travellers to a bygone period of colonial grandeur, traditional steam power, and stunning scenery. The tradition and history connected to these trains give the voyage a special dimension of fascination. The stations generate nostalgia and a sense of connection to India's past since they are frequently decorated with Victorian-era architecture. You can't help but become engrossed in the rich tapestry of the country's history as the trains make their way down old tracks, enjoying the gentle sway of the carriages and the far-off whistle of the locomotive.
India's toy trains celebrate a leisurely pace of life that provides a welcome respite from the busyness of the contemporary world. This leisurely trip through picture-perfect vistas and charming towns offers the chance for introspection, relaxation, and a profound appreciation of the beauty all around you. It's a voyage that cuts across time, encouraging you to appreciate the present and engage with India's cultural and natural treasures.
List of Toy Trains in India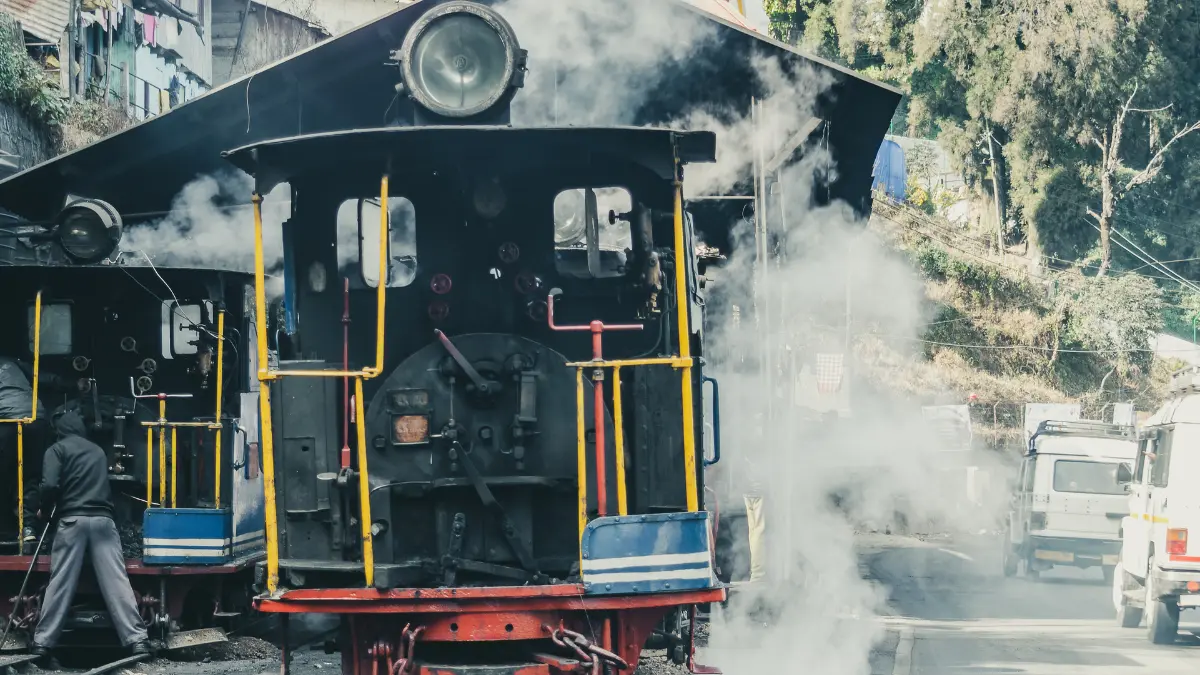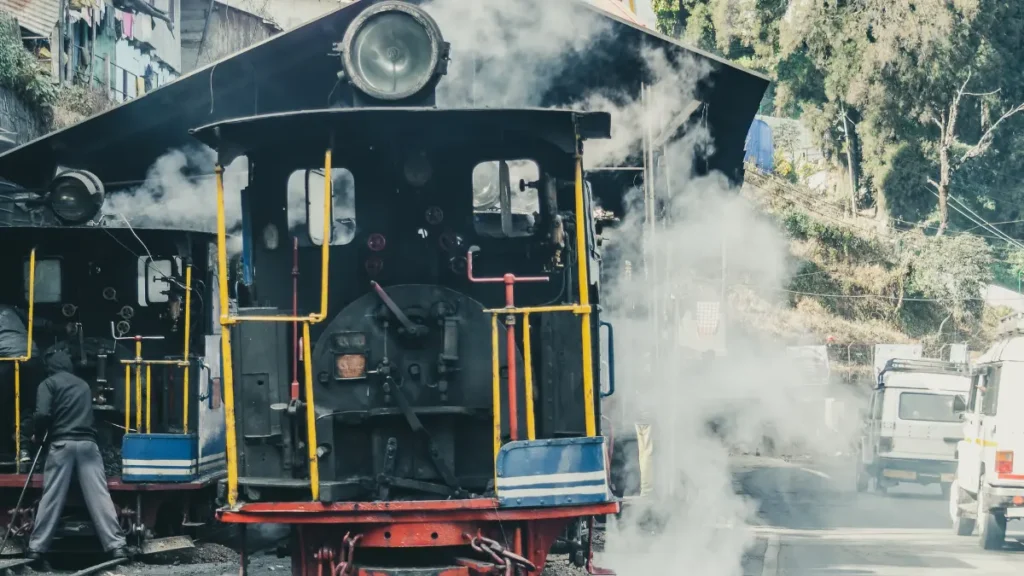 1. Darjeeling Toy Train – The Most Famous of all Toy Trains in India
The "Darjeeling Toy Train" runs between New Jalpaiguri and Darjeeling in West Bengal, India, using a 2-foot narrow gauge track. Since its construction between 1879 and 1881, this 88-kilometer-long railway route has been a popular destination for travellers. The Darjeeling Toy Train goes through quaint mountain communities with happy kids waving at the passengers, travels through stunning mountain landscapes, and provides amazing views of Darjeeling's surroundings and the breathtaking tea farms.
The breathtaking panorama of the third-highest peak in the world, Kanchenjunga, lighted by the rising sun, is the first sight one witnesses at this UNESCO World Heritage Site. It's understandable why the rail's journey is sometimes called the "Toy Train to the Clouds", given this stunning view, which is a true moment of awe. The trip continues through verdant woodlands, passing patches of rhubarb and vivid rhododendrons while the steam engine's evocative whistles and puffs reverberate through the valleys. The rail travels through several loops and switchbacks, a tribute to earlier technical wonders, and over viaducts and bridges defying gravity, exciting the otherwise serene voyage.
Passengers can get off at Ghum, the highest railway station in India, and visit the Ghum Monastery, where a tranquil Buddha statue is awaiting them and is encircled by fluttering prayer flags. A small museum that explores the history of the Darjeeling Himalayan Railway is also located in the Ghum station. Different sights are available on the return trip to Darjeeling, and the journey is just as magical. This remarkable tour of the Darjeeling Himalayan Railway is a symphony of the natural world's beauty, human history, and awe that endures long after the voyage.
Darjeeling Toy Train Route: Darjeeling – Ghum – Batasia Loop – Darjeeling
Darjeeling Toy Train Timings: The two-hour rides start at 07.40 A.M. daily, with the last ride starting at 04.20 P.M.
NJP to Darjeeling Distance: It covers 88 kilomteres each way.
2. Kalka Shimla Toy Train – A Ride through the Himalayas with a Hint of Horror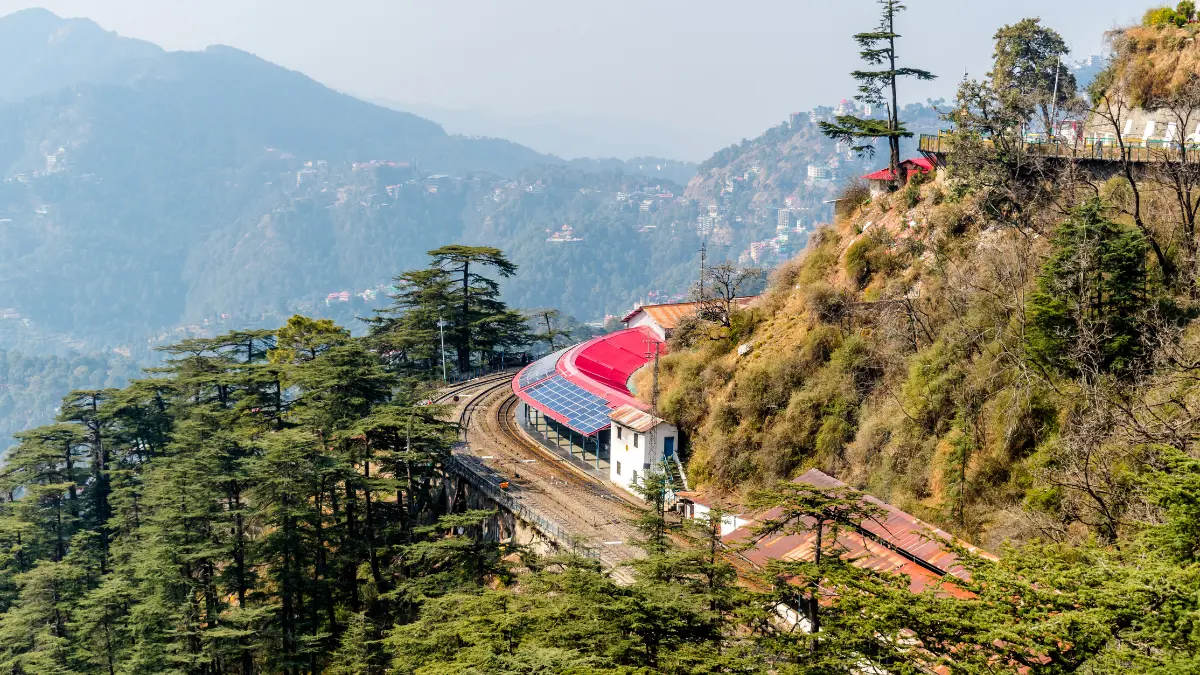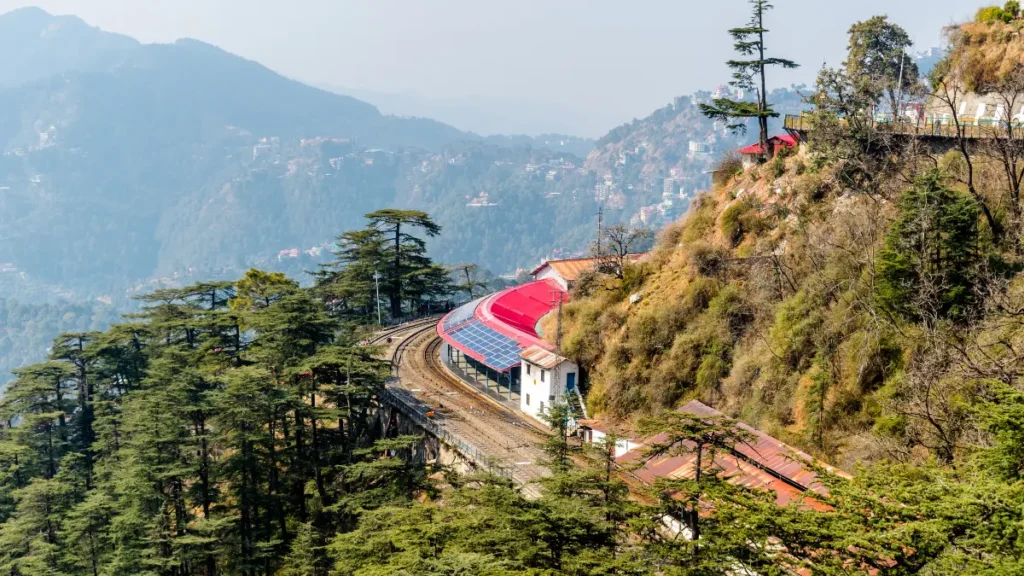 Prepare to ride the Kalka Shimla Toy Train for one of your life's most breathtaking rail excursions. It is an essential component of every Shimla vacation. The Kalka Shimla Railway encourages travellers to experience the natural splendour of Himachal Pradesh by providing a delightful view of the lush green valleys, craggy mountains, waterfalls, and pine-covered woods. Three services run on this route:
Shivalik Deluxe Express
A comfortable trip from Kalka to Shimla and back is provided by the Shivalik Deluxe Express luxury toy train, which is furnished with a carpet, big glass windows, soft cushions, updated restrooms, and calming music. In addition to having wall-to-wall carpeting, drapes, and pictures, it is exquisitely decorated with all wooden furniture. A pleasant seating layout and a total capacity of 120 people are more features. You may flip the chairs around or set your belongings on the folding side table to make the most of your travel.
Rail Motor Car
The Rail Motor Car is a single coach train that travels from Kalka to Shimla and back, offering one of India's most popular rail rides. It features a clear glass rooftop with padded chairs, an LCD, and air conditioning, and it is tastefully furnished with lovely tube light fixtures. The chairs also contain two plug ports for charging devices like computers, cell phones, and other electronics.
Himalayan Queen
First and second-class coaches are available on the Kalka Shimla Himalayan Queen Rail. The rail only has one chair carriage and offers conventional car seats to ensure that the passengers have a comfortable ride. You could experience several difficulties when riding second-class coach in the Himalayan Queen Toy Train, such as filthy restrooms, hard bench seats, and insufficient room for your stuff.
Kalka Shimla Toy Train Route: Kalka – Taksal – Gumman – Koti – Sonwara – Dharampur – Kumarhatti – Barog – Solan – Salogra – Kandaghat – Kanoh – Kathleeghat – Shoghi – Taradevi – Jutoh – Summer Hill – Shimla
Kalka Shimla Toy Train Timings: It is a 4-5 hour journey.
Rail Motor Car – 05.10 A.M. from Kalka and 04.25 P.M. from Shimla
Shivalik Deluxe Express – 05.20 A.M. from Kalka and 05.50 P.M. from Shimla
Himalayan Queen – 12.10 P.M. from Kalka and 10.40 A.M. from Shimla
Kalka to Shimla Distance by Toy Train: The rail covers 96 kilometres.
3. Matheran Toy Train – Journey to an Offbeat Town!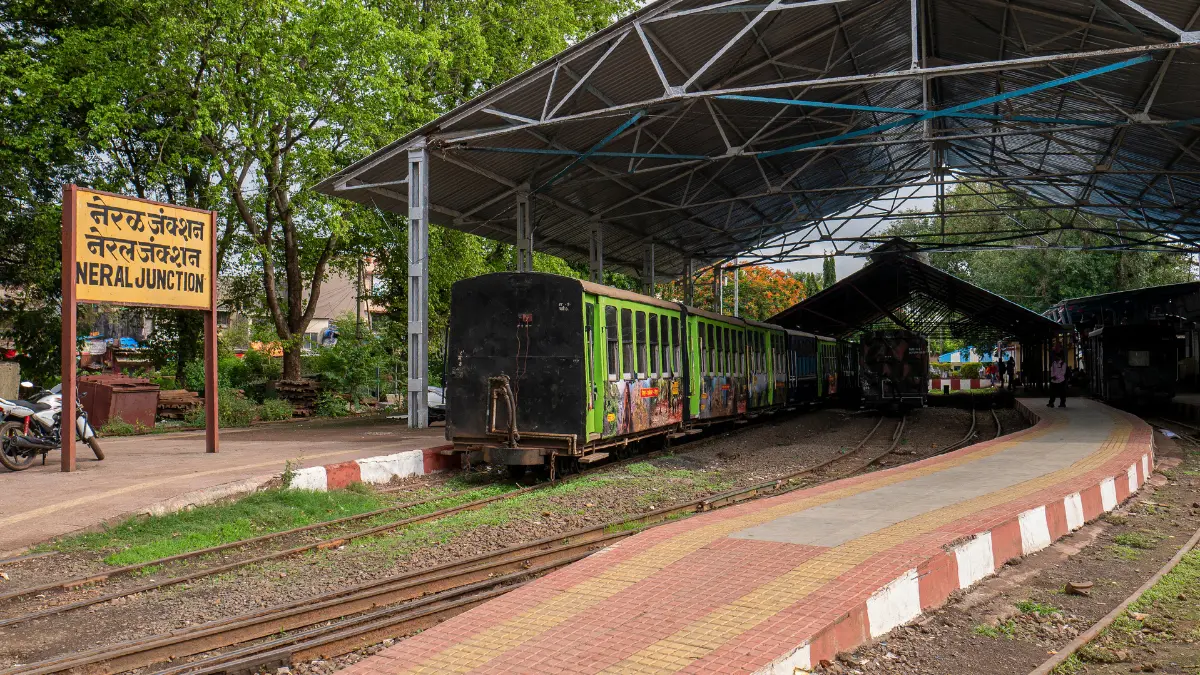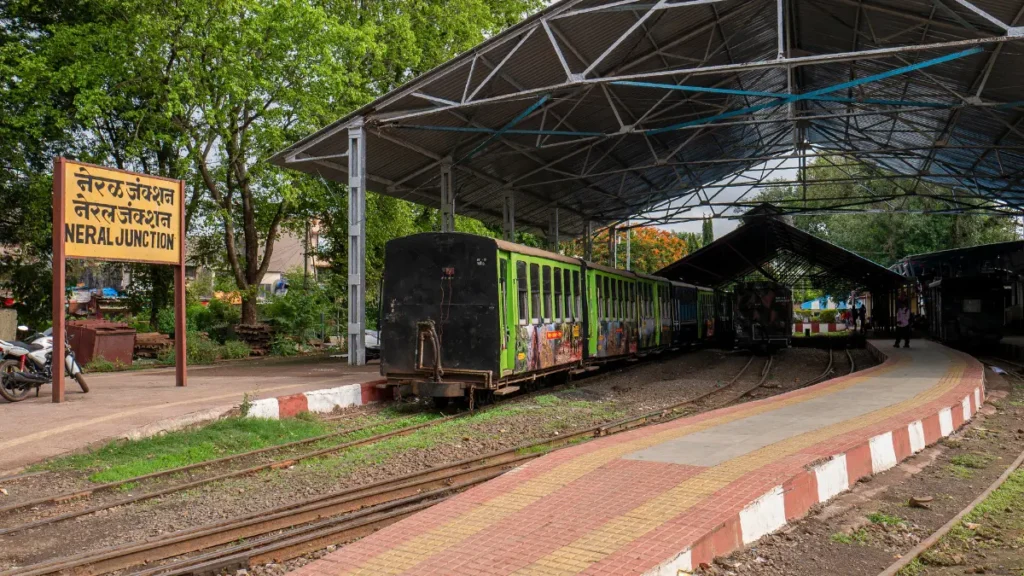 The Neral to Matheran narrow gauge railway, which has a 2-foot track width, was built in 1907 under the direction of Lord Elphinstone, the former Governor of Mumbai under the British Raj. Today, Matheran Toy Train is a UNESCO World Heritage monument that both Indians and international visitors fervently visit each year in great numbers.
At an elevation of 800 metres, Matheran Hill Station features a scenery of lush valleys, cliffs, and waterfalls. The agreeable temperature enhances the cosy atmosphere. On the Mumbai-Pune rail line, this picturesque hill town is located 110 kilometres from Mumbai. Tourists are treated to a breathtaking panorama as the narrow gauge rail travels towards the mountains from Neral. The plateau summit of Matheran can only be reached by this rail.
The route is full of ditches and trenches, unlike the other toy trains in India that provide views of magnificent mountains. The thrill one gets from the view of the deep trenches the rail passes over them is amazing.
Matheran Toy Train Route: Neral – Waterpoint – Aman Lodge – Matheran
Matheran Toy Train Timings: The rail departs from Neral at 07.30 A.M. and from Matheran at 07.00 P.M.
Neral to Matheran Distance: 20 Kilometres each way
4. Ooty Toy Train – Travel on the Nilgiri Mountain Railway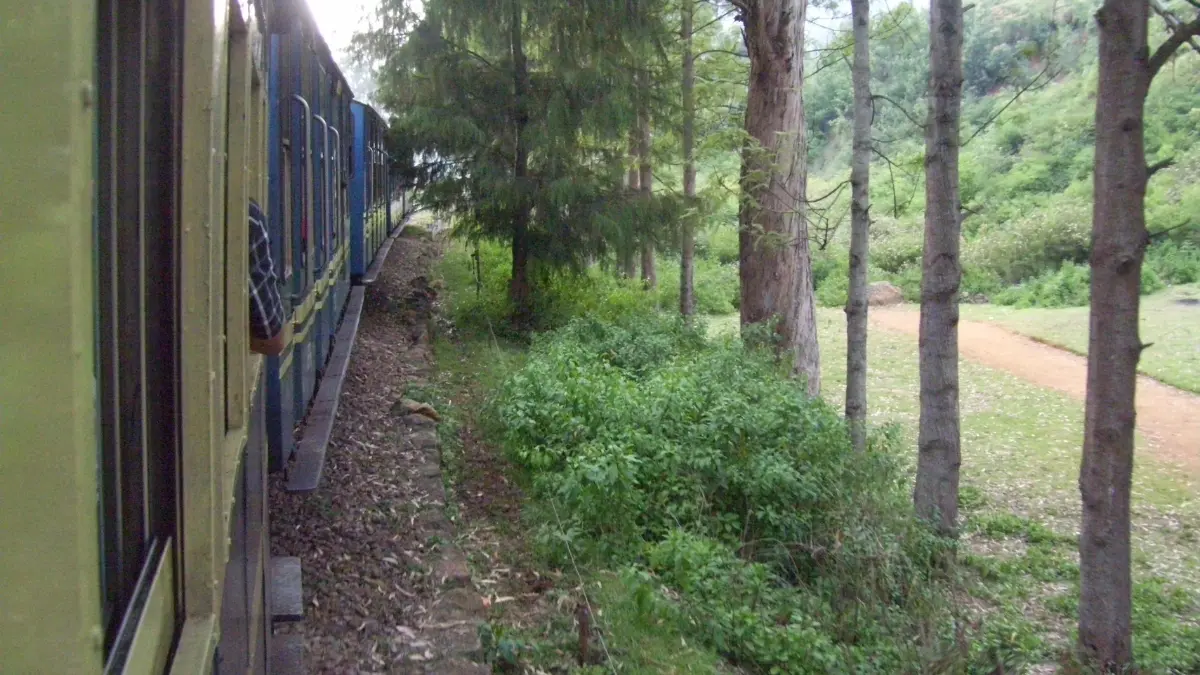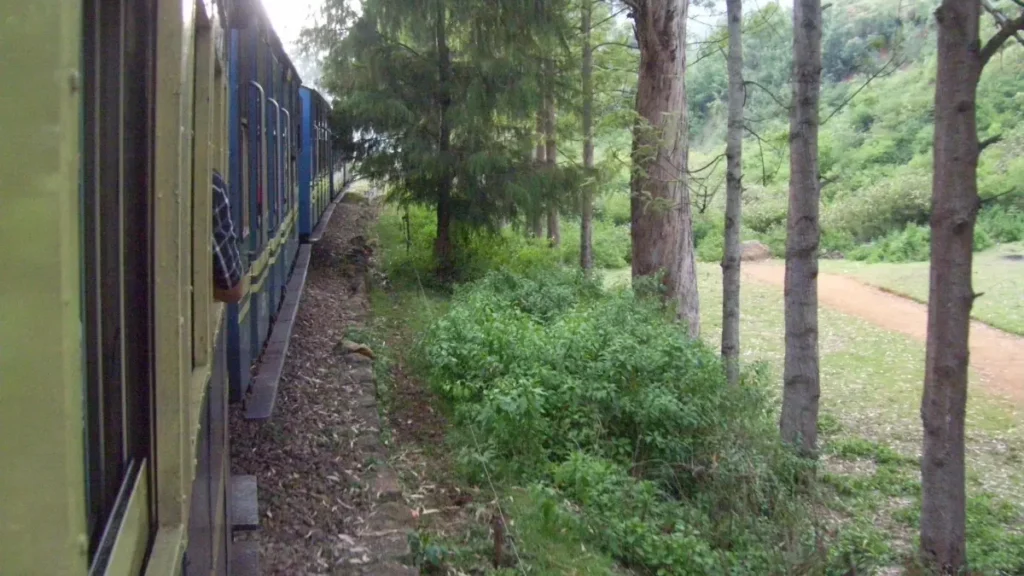 The Nilgiri Mountain Railway, another Indian UNESCO World Heritage Site, begins a mesmerising trip across the Southern Indian region's lush and foggy Nilgiri Hills. This narrow-gauge rail travels through the stunning landscapes after departing from the busy town of Mettupalayam, providing visitors with a genuinely distinctive sightseeing experience. The charming old-world elegance of the steam locomotive quickly takes you to a bygone period as you board the charming blue-and-cream carriages. The ascent through the Nilgiri Hills is a visual symphony of lovely towns that seem to cling to the slope, lush woods, and emerald-green tea plantations. When the rail reaches Coonoor, you may visit Sim's Park, a well-maintained botanical park brimming with rare plants. Passengers are rewarded with breathtaking vistas of the Nilgiri Hills, sweeping valleys, and eucalyptus-covered landscapes that form a tranquil and attractive backdrop as they continue to Ooty, the Queen of Hill Stations.
The voyage on the Ooty toy train is more than simply an exciting sightseeing excursion; it's a soul-stirring adventure that lets you fully immerse yourself in the serenity of the hills. This train ride is a wonderful and peaceful retreat into the heart of South India's natural splendour thanks to the leisurely pace of the rail, the rhythmic chug of the locomotive, and the continuously changing panorama.
Ooty Toy Train Distance: The rail travels 46 kilometres each way and takes 5 hours to reach one destination from the other.
Ooty Toy Train Timings: The rail starts at 07.10 A.M. from Mettupalayam and from 02.00 P.M. from Ooty.
Ooty Toy Train Route: Mettupalayam – Kellar – Coonoor – Wellington – Lovedale – Ootacamund – Ooty
5. Kangra Valley Railway – One of the Lesser-Known Toy Trains in India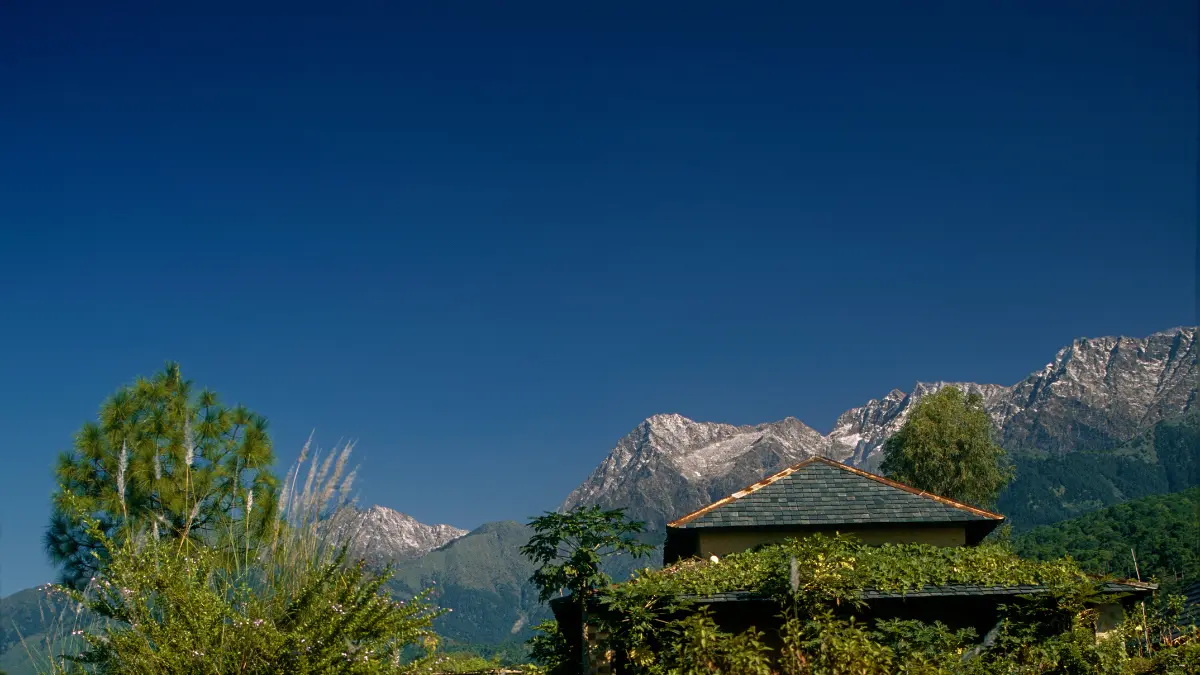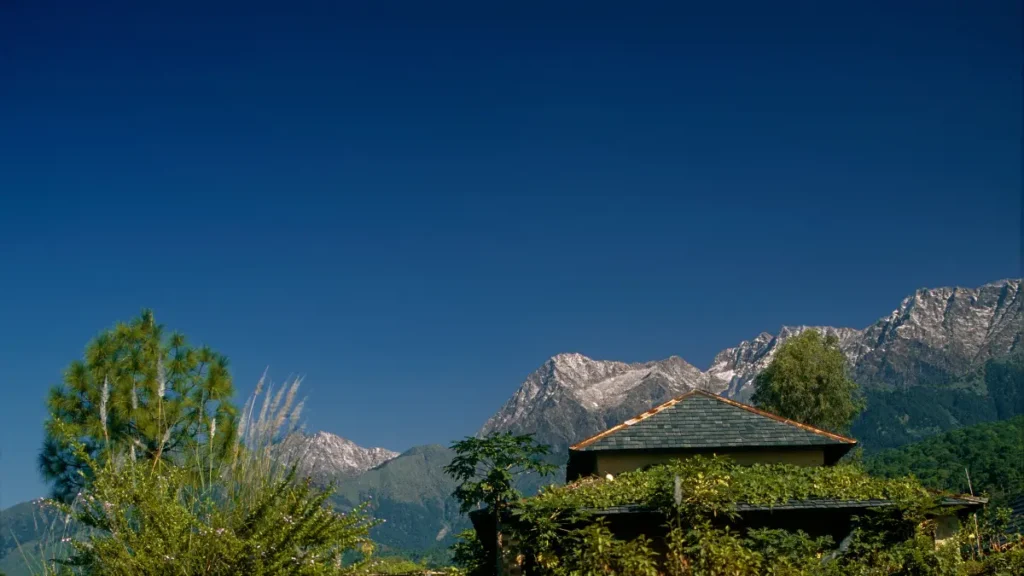 The Kangra Valley Railway in Himachal Pradesh, located in the shadow of the beautiful Dhauladhar range, promises a magical ride through breathtaking scenery, cultural riches, and a dash of adventure. Join this journey to discover the special charm of this UNESCO World Heritage Site. The Kangra Valley Railway matches the most famous railroad tracks in the world for its scenic splendour. You'll be treated to breathtaking vistas of snow-capped peaks, luscious tea plantations, and lovely villages as the rail weaves through lush green valleys. A world of undulating hills, terraced crops, and gushing rivers is revealed throughout the route, all against the backdrop of the Dhauladhar Himalayas. Your camera will always be ready along this scenic path since photo opportunities are at every bend.
Beyond the natural splendour, the Kangra Valley Railway lets you fully experience Himachal Pradesh's rich cultural heritage. You may see charming train stations along the journey that are architectural treasures, each with a unique tale to tell. Additionally, you'll meet people from the neighbourhood, eat local food, and take in some cultural customs.
The Kangra Valley Railway guarantees an exhilarating journey in addition to breathtaking views. The rail travels across the mountainous terrain on a difficult route full of bends and curves. The old-fashioned beauty of the train stations and the historic carriages take you back in time to a period when using the rail was a lavish experience. By riding this antique train, experience the thrill of a slower, more thoughtful journey, far distant from the fast-paced modern world.
Uncover some of Himachal Pradesh's hidden gems through the Kangra Valley Railway. This voyage brings you to less travelled locations, giving you a real and unadulterated experience outside the well-known tourist spots. You'll unearth hidden gems and acquire a greater understanding of the distinctive character of the Kangra Valley, whether you want to visit the quiet Tashijong Monastery, renowned for its peaceful vibes, or learn the stories of the tenacious communities who call this region home.
Kangra Valley Railway Route: Pathankot – Jwalamukhi Road – Kangra – Nagrota – Palampur – Baijnath – Jogindernagar
Kangra Valley Railway Timings: The rail departs from Pathankot at 02.15 A.M. and from Jogindernagar at 08.00 A.M.
Kangra Valley Railway Distance: The train covers a distance of 164 kilometres in total.
Conclusion
Toy trains in India provide a singular kind of travel that blends adventure, nostalgia, natural beauty, historical relevance, and cultural immersion. These tiny trains provide a journey that is as educational as it is enthralling, whether you're a history enthusiast, a nature lover, or just someone searching for a special and unhurried way to experience India. Riding in the toy trains in India is more than just a means of transportation—it's a window into the heart and soul of this fascinating and diverse country. It's an adventure that forever changes the traveller and leaves behind lifelong memories. You can travel through the scenic beauty of India through many of the 5 UNESCO World Heritage Sites – Kangra Valley Railway, Darjeeling Himalayan Railway, Nilgiri Mountain Railway, Matheran Toy Train, and the Kalka-Shimla Toy Train.