Himachal Pradesh's Kasol is a charming tiny town located on the banks of the Parvati River. This blog will explore the best time to visit Kasol, things to do there, and accommodation options for your backpacking trip to "Kasol Himachal Pradesh". We will also dive into a 3-day itinerary for this beautiful town.
Exploring the Beauty of Kasol Himachal Pradesh
The "Amsterdam of India" is how some people refer to Kasol, a popular tourist destination that is fast establishing itself as a major hub for trekkers, backpackers, and nature enthusiasts. The Parvati Valley is one of the greatest spots in the nation to sit back and relax while taking in the scenery of snow-covered mountains, pine trees, and a tranquil river. It is within a short distance from the holy town of Manikaran and 23 kilometres from Bhuntar.
As seen by the profusion of Israeli cuisine and the Hebrew street signs, Kasol is home to a substantial Israeli community. The lunch is made much more enjoyable by dining amidst the gorgeous mountains and lush, verdant forests. The valley is home to several pavement cafés that provide delicious food.
On your way home, stop at the flea market that sells various products, including trinkets, mementoes, necklaces, and even semi-precious stones!
Click Here for the Best Places to Visit in Kasol for a Wholesome Trip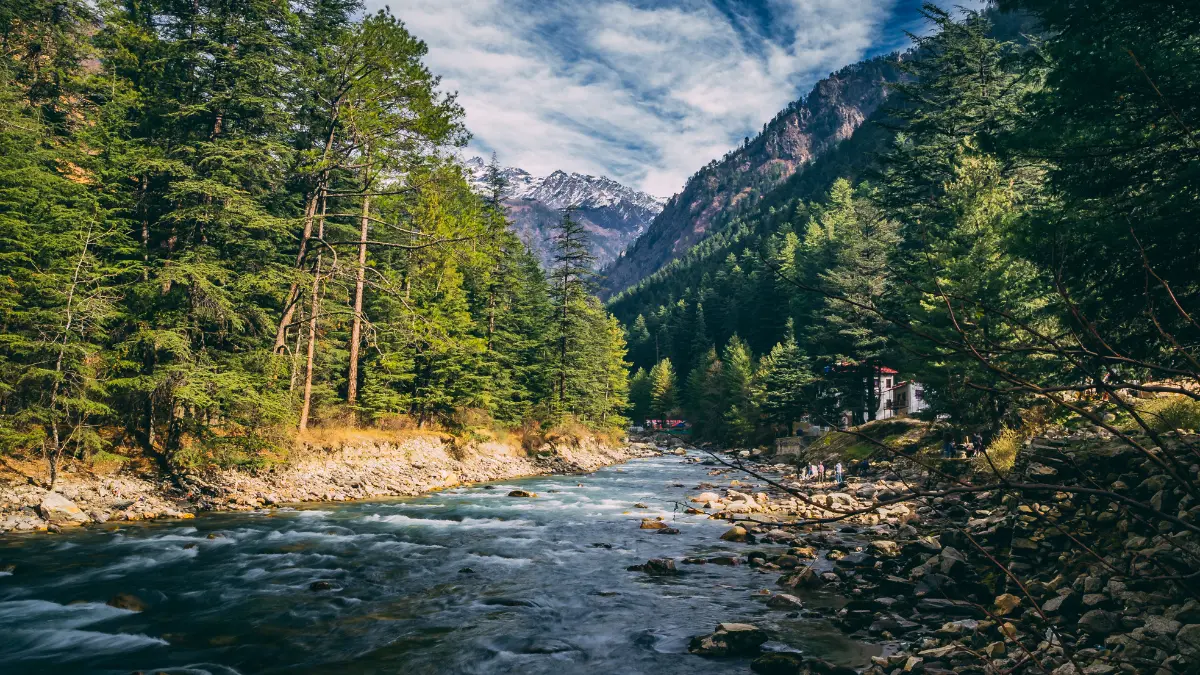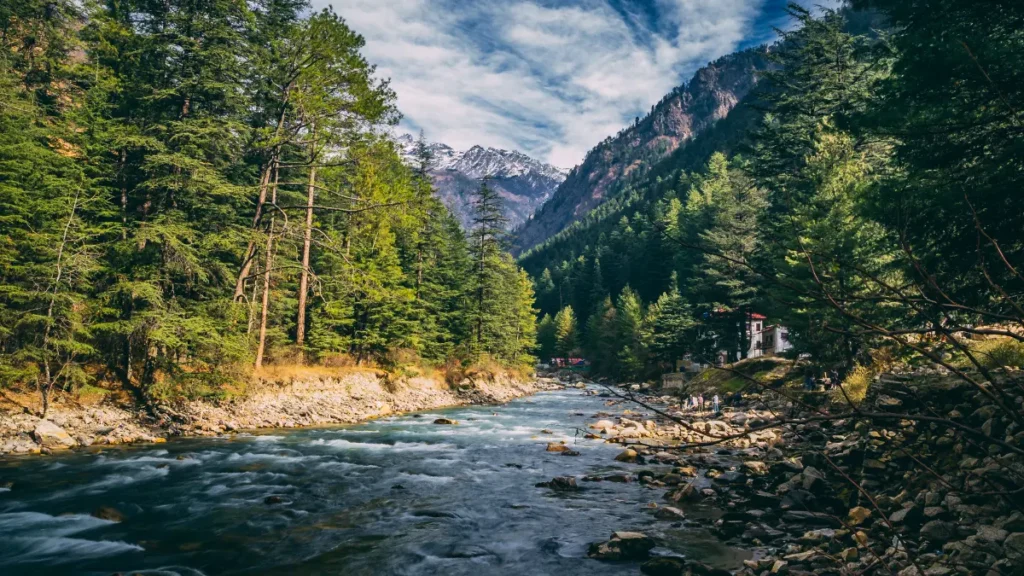 Kasol Trip Itinerary
Travel from Delhi to Kasol by bus overnight. It takes about 9 hours to reach the hill station.
Day 1: Entry into Kasol
Check into your lodging, which may be a hotel, a charming cottage by the river, or a guesthouse. Have lunch at the lodging or a nearby café like Jim Morrison and then freshen up.
Take a stroll around the town in the evening. Discover the stores, cafés, and markets in the area. In one of the cafés, try some Israeli falafel or hummus, which Kasol is well-known for. You can look out for Riverside Café, Moon Dance Café, or Little Italy Café.
Look out for stores selling authentic handicraft items you can buy as mementoes for the trip.
Enjoy the tranquil Parvati River and the stunning surroundings if your stay is near the gushing waters.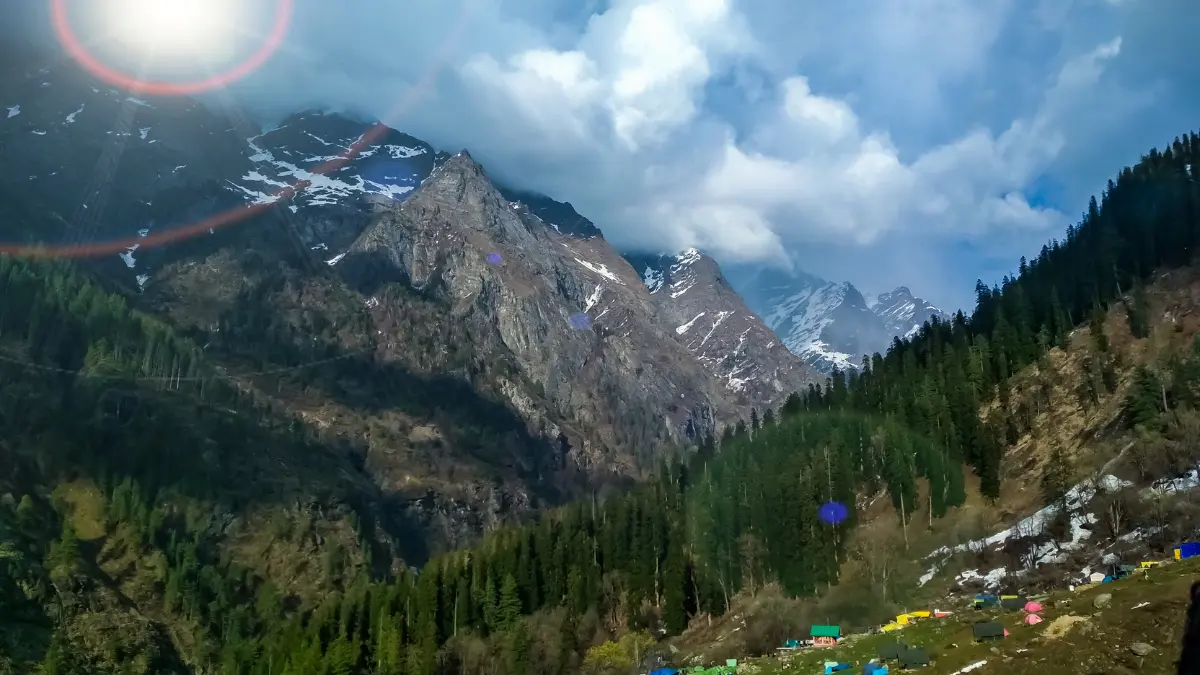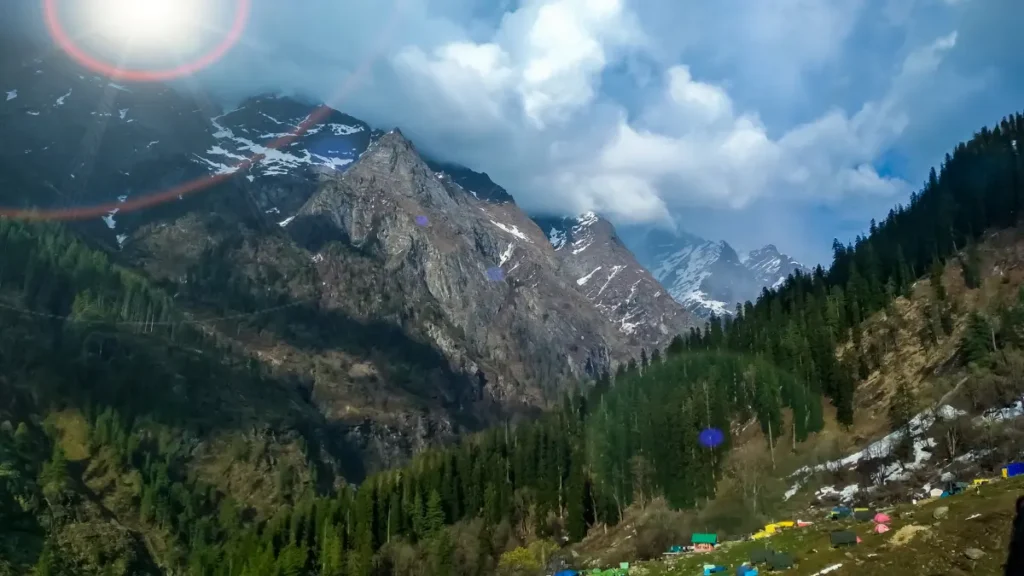 Day 2: Kheerganga Trek
Early in the morning, depart for a walk to Kheerganga after breakfast at the hotel or a café. It is a well-liked hiking location famous for its hot springs and breathtaking vistas. The distance is around 12–14 km, and the total travel time is 5–6 hours.
Arrive at Kheerganga in the afternoon to relieve your tense muscles by dipping into the natural hot springs. Enjoy the sensational views of the peaks around. You can dip in the waterfall and relax there.
Eat dinner at a neighbourhood cafe or dhaba in Kheerganga before setting up a tent beneath a starry sky. You can also set up a bonfire for fun. Make sure to camp on a safe land.
It may become chilly at night, so bring warm clothes and a nice sleeping bag. Also, ensure to put on mosquito repellents.
You can also return to your accommodation after completing the trek and have a hearty dinner in the town before sleeping in.
Day 3: Explore Kasol Himachal Pradesh
You may spend the day seeing more about Kasol by going to areas like the neighbouring towns of Chalal and Tosh or Gurudwara Manikaran Sahib, which is well-known for its natural hot springs.
Start with a trek to Malana and Tosh in the early morning. The route is the same one as the Kheerganga trek. This trek will take your whole day to complete. You can enjoy the town's fields and communicate with the locals.
You can visit Manikaran Sahib for a dip in the hot water spring there. Lunch can be had at the community langar held there every day.
In the evening, have dinner at a café or restaurant to make the most of your final night in Kasol. You may also relax along the river's edge while meditating or taking in the scenery.
Day 4: Checkout and Head Back
Check out in the morning and head to the bus station. Take the bus to Delhi.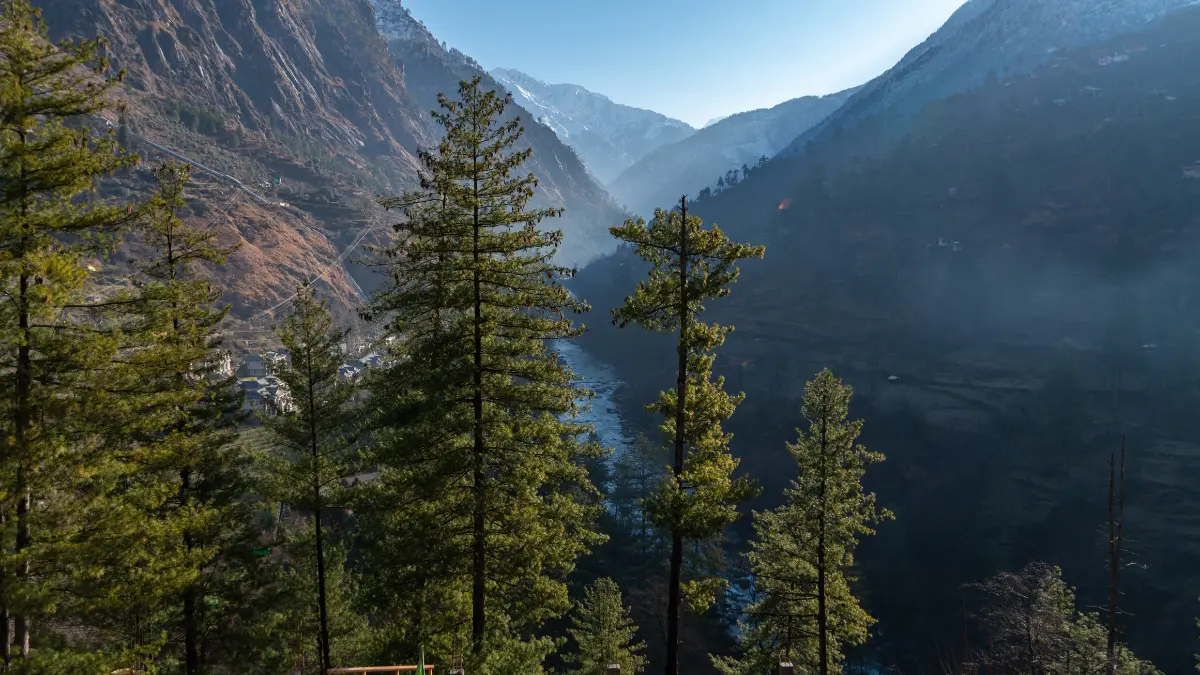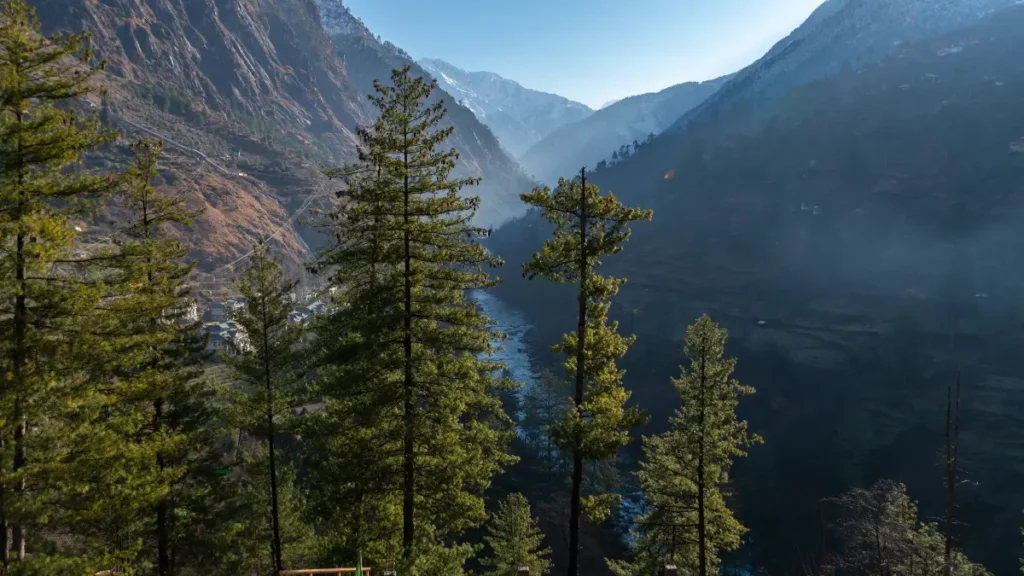 Best Time to Visit Kasol Himachal Pradesh
When visiting Kasol, avoiding the monsoon season from July to September is recommended. During this time, there is a lot of rain, which increases the risk of landslides and flash floods, making outdoor activities dangerous. Planning your trip during the dry months will make it safer and more pleasurable for you to experience Kasol's natural beauty and tranquillity fully.
The ideal time to visit Kasol is between March and June during the spring and summer. The weather is good throughout this time, with daily highs between 10°C and 30°C. The area is in full bloom, and the scenery is lush and green, making it perfect for outdoor pursuits like hiking, camping, and nature excursions. It is the optimum time to take advantage of the famed Kheerganga walk and neighbouring village excursions. However, this is the busiest travel period, so be ready for bigger crowds.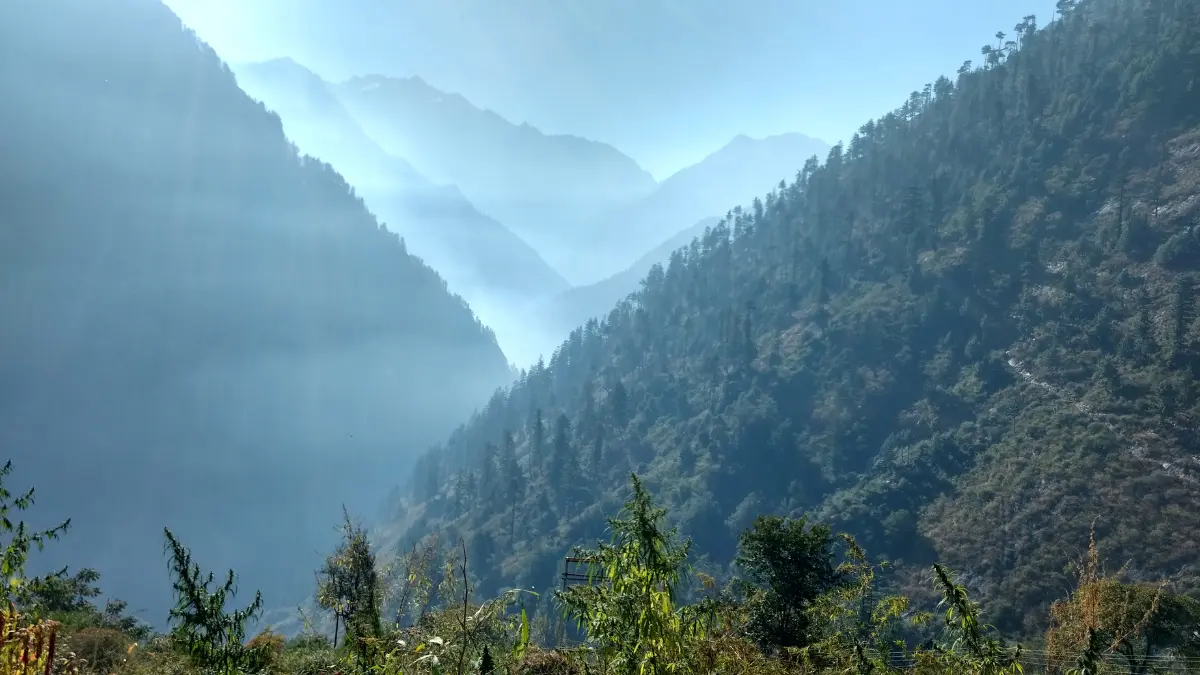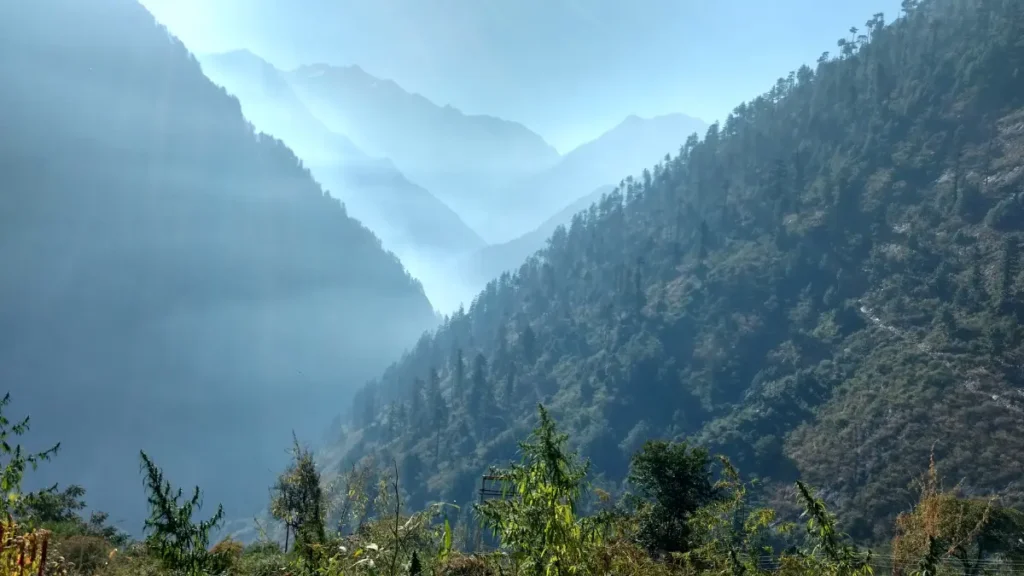 Things to Do in Kasol Himachal Pradesh
Bath in a Hot Spring at Gurudwara Manikaran Sahib
Kasol is dotted with many little hot springs to take a healing bath. Many of them are flocked by tourists, while many are yet to be noticed by the tourist eye. A famous hot spring is in Manikaran Sahib, a gurudwara, where you can dip in the hot water and relax. You can also have some food at the langar there.
Trek to Kheerganga
The Kheerganga trek is one of the longest and most important treks of Himachal Pradesh. This hike gives a scenic view of the Kheerganga Waterfalls, and you can also camp here for the night.
Try Israeli Food at the Cafes
Kasol Himachal Pradesh has recently turned into an Israeli hub, and almost all cafes and restaurants here offer Israeli cuisine that includes lip-smacking food like hummus and pita bread, guacamole, and falafel.
Try the Local Alcohol
Two major alcoholic drinks are made here that are popular among locals, and you won't find them anywhere else in the country – Chang and Lugri. Both are created using rice or barley and are must-try drinks for tourists.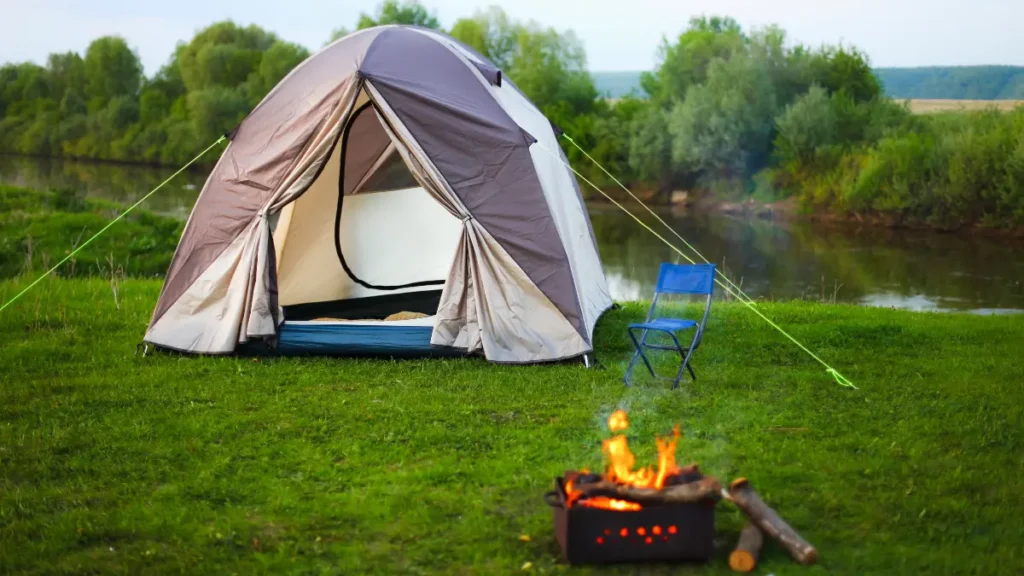 Camping Under the Stars
As Kasol is a backpacker's favourite, there are many places where you can set up tents and camp the night along with bonfires. Many accommodations also offer their guests tents to set up. Setting up camp at Kheerganga is a popular activity among tourists.
Shop for Quaint Souvenirs
Kasol offers a quirky collection of handicraft items you can buy as souvenirs for your trip. Many items, such as peculiarly decorated bongs and lighters, handmade woollens, dreamcatchers, and psychedelic art, are available for tourists.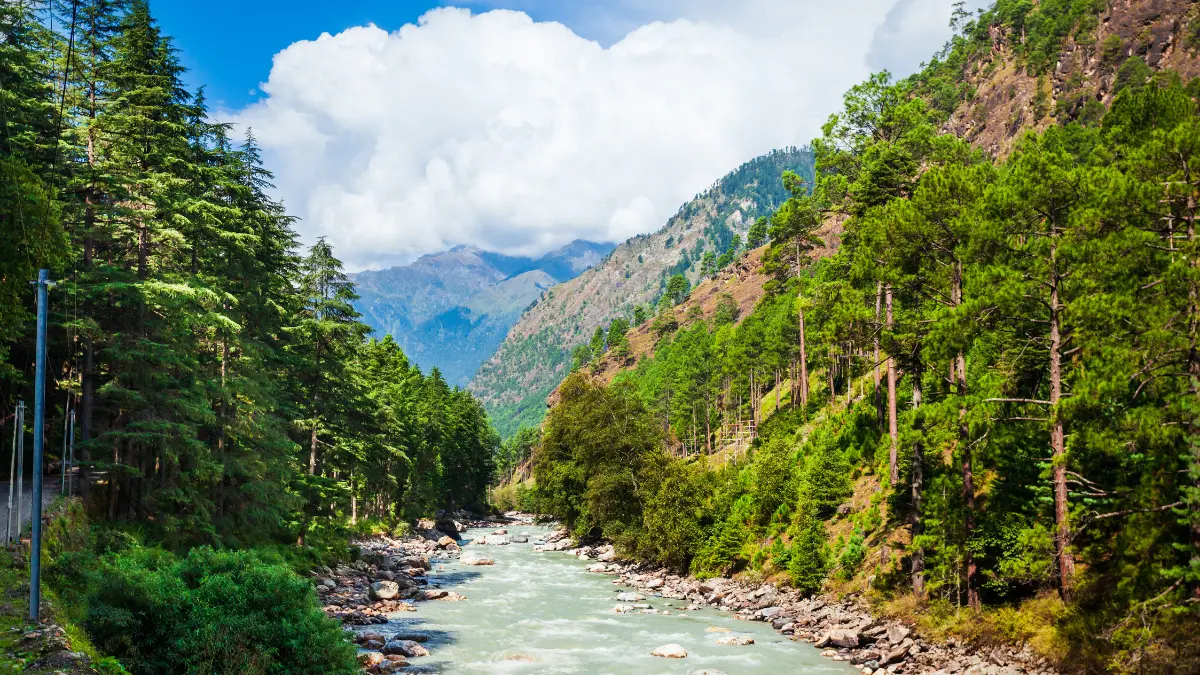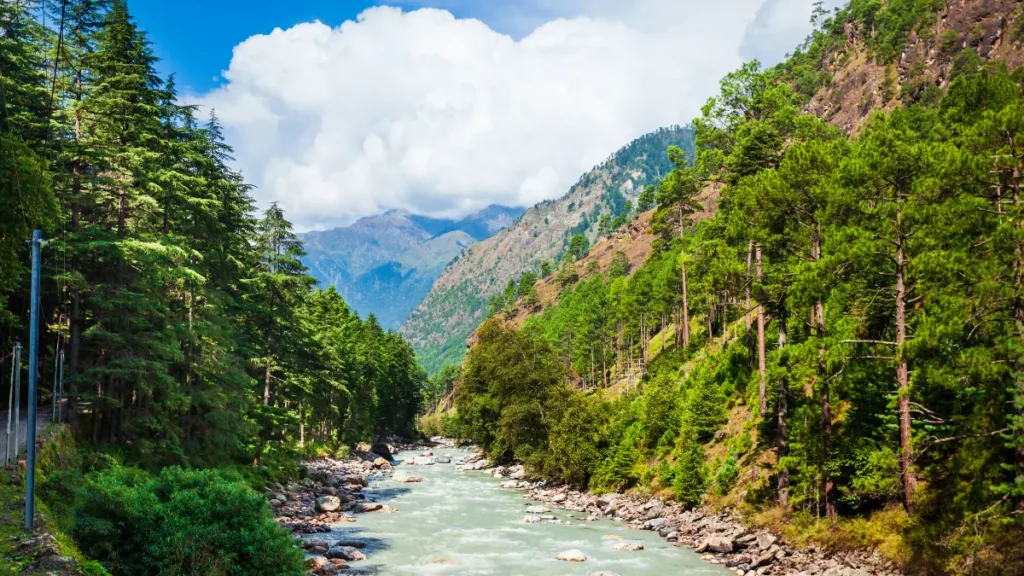 Relax and Unwind in the Parvati Valley
The Parvati Valley provides a great opportunity for peace lovers to relax and unwind. You can meditate on the banks of the river or even participate in yoga.
Trek to Malana and Tosh
The Malana and Tosh treks are extremely popular among tourists. The two towns are quaint, and the communities there are secluded. Their peace and lush greenery are sought out by everyone who comes to travel here. You can talk to the locals there as well. Both of them are a 30-minute walk from Kasol.
Places to Visit in Kasol Himachal Pradesh
Parvati River
The banks of the Parvati River are a delight for those finding peace and relaxation. The gushing water soothes your soul.
Rasol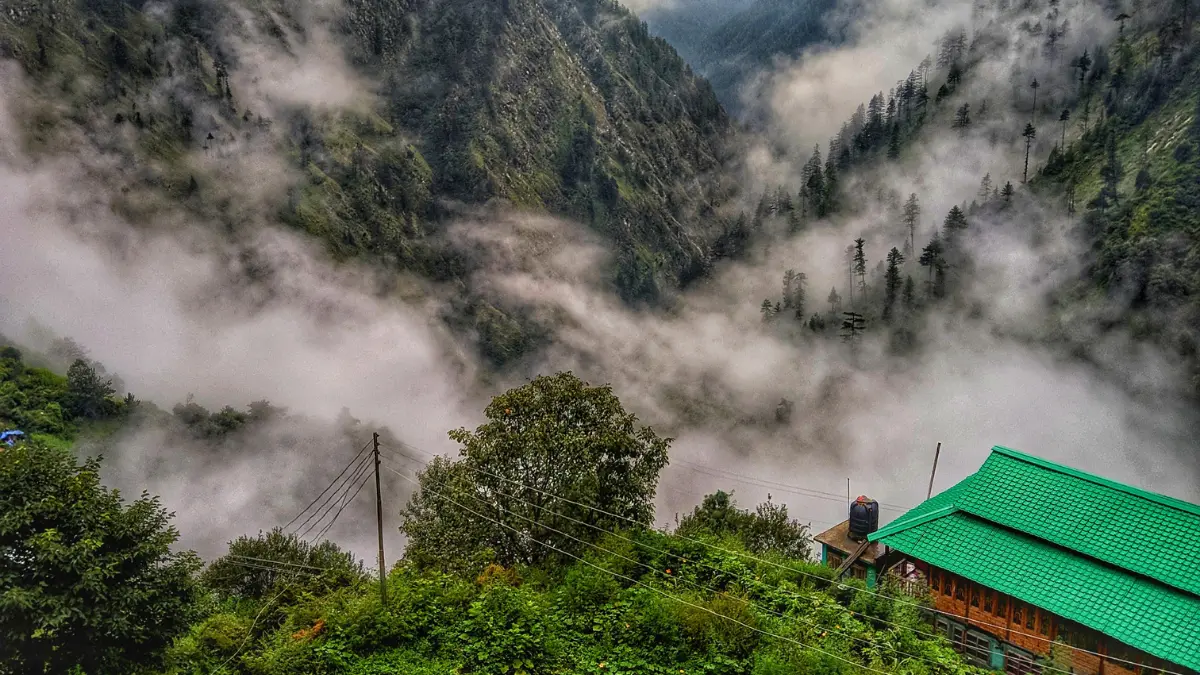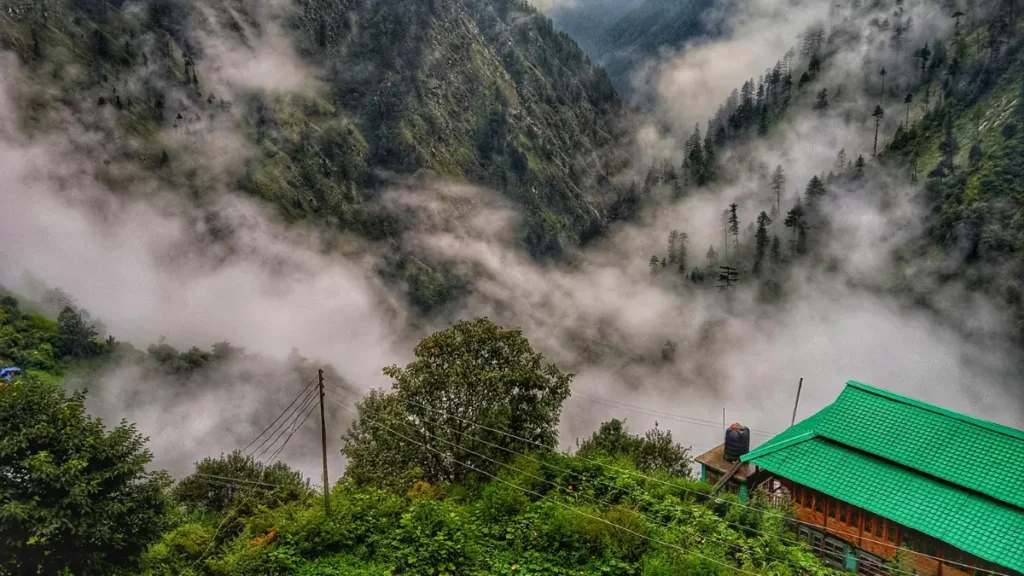 Rasol is a small town next to Kasol with historic and charming buildings and monasteries that you can marvel at. The route is the same as the Kheerganga trek, and you can stop by on your way to and fro Kheerganga waterfalls.
Jim Morrison Café
The Jim Morrison Café is one of the town's oldest and most popular cafes. You can play indoor games like chess, table tennis, and more here. The café serves delicious Israeli dishes and bakery items to fill your soul.
Moon Dance Café
The Moon Dance Café is a small, beautiful coffee shop and bakery popular for its baked goods. The interior and ambience are the best out of all cafes in this town. You can try their delicious waffles here.
Tirthan Valley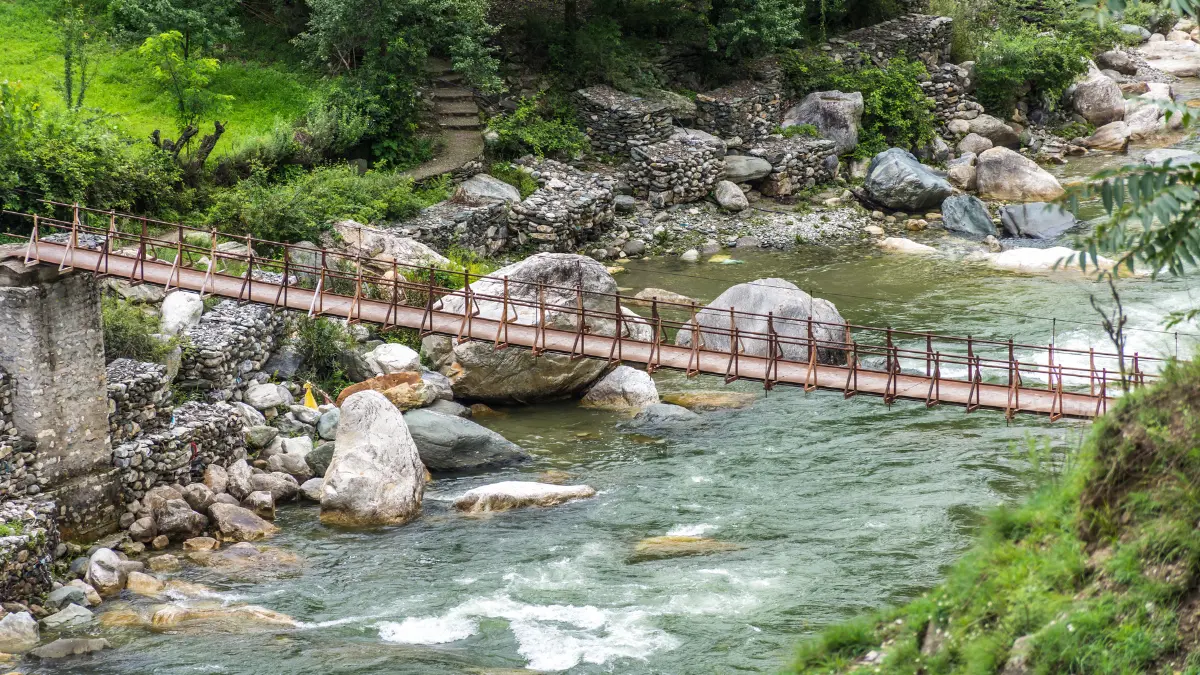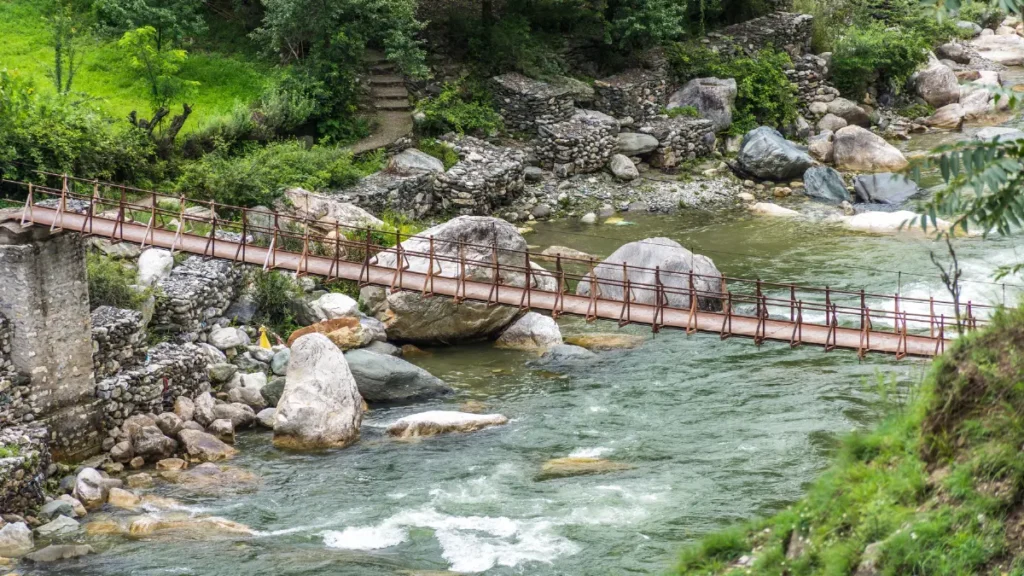 Like the Parvati Valley, the Tirthan Valley is also a part of Kasol. You can sit and relax by the Tirthan River here while engaging in adventurous activities like trout fishing. The Parasar and Serolsar Lakes are also near this river.
Great Himalayan National Park
The Great Himalayan National Park is home to many Himalayan flora and fauna you can marvel at. It is a bird watcher's paradise, and animal and wildlife photography lovers will also love this place.
Bhuntar
Bhuntar is a small village of religious significance that falls on the way to Kasol and is the closest destination to the hill station that a bus can reach. You can walk through the village to soak in the peaceful environment and view the hills and lush greenery.
Hostels in Kasol Himachal Pradesh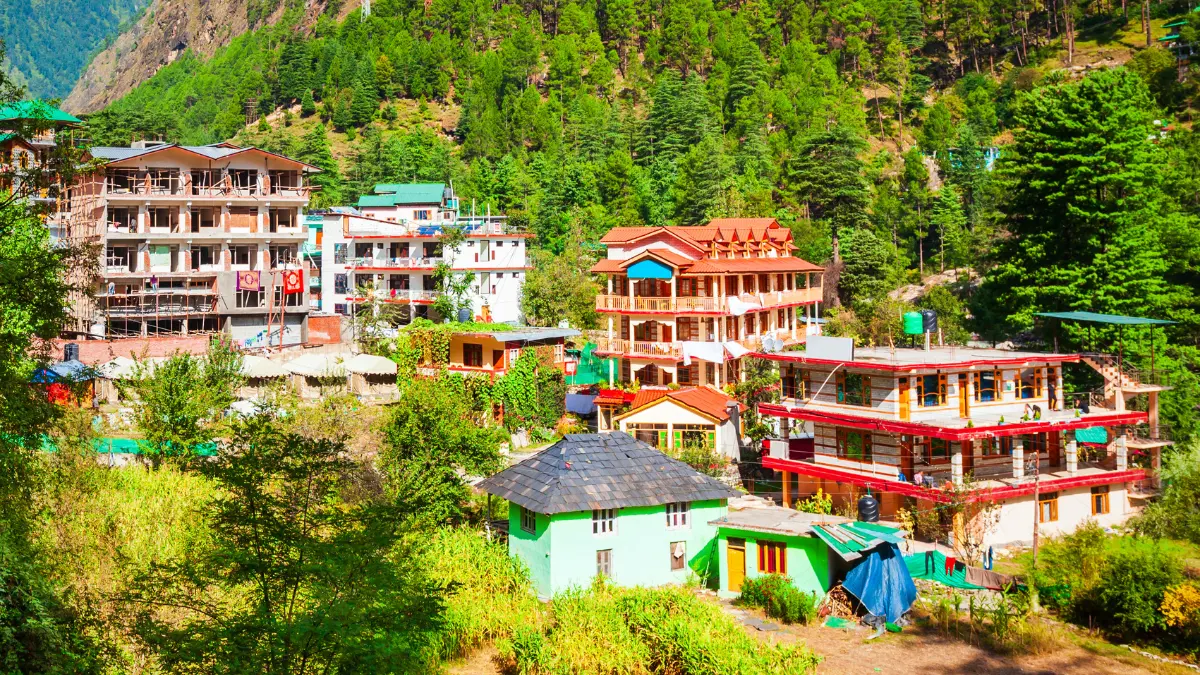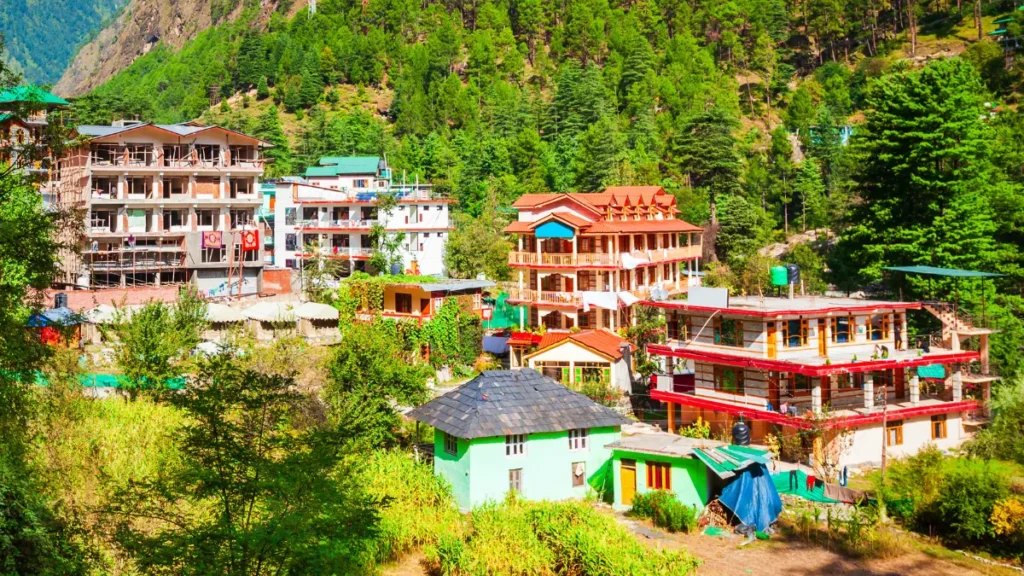 As Kasol is a popular destination for solo travellers and backpackers, the popular culture of dorm hostels has moved in here. At these hostels, you can rent a bed for the night in a dormitory with luxurious amenities. They also provide Swiss Tents, cottages, and private rooms if you wish to take them. Some of the most beautiful, popular and affordable hostels in Kasol are:
The Hosteller Kasol Riverside
Nomads Hostel
The Soul Kitchen Café and Beds
Wabi Sabi Riverside Hostel
Whoopers Hostel
Jungle Hostel by Whoopers
goSTOPS Kasol
Whoopers Hostel Tosh
Conclusion
Kasol Himachal Pradesh is a beautiful town nestled in the Parvati Valley. It has become extremely popular among backpackers and solo trippers looking for peace. Kasol offers visitors various activities, from trekking to camping, hot water springs, and more. While you are here, you should try the indigenous cuisine of this beautiful hill town and get coloured in Kasol's spirit. You can make Kasol your summer home for a few days and lodge at hostels or in camps and tents.
 Pack your backpacks, wear your trekking shoes, and immediately head to the "Amsterdam of India"!
Kasol Himachal Pradesh – FAQs
How to Reach Kasol From Kolkata?
You can board a train or a flight to Delhi and then take a bus from Delhi to Kasol.
How to Reach Kasol From Bangalore?
Take a bus, train or flight from Bangalore Airport to Delhi airport. From there, take a bus or flight to Kullu or Manali. You can take a cab or bus to Bhuntar and Kasol from there.
Why Kasol Is Famous?
Kasol is famous for its serene and peaceful nature, Parvati Valley, Israeli culture, and hot water springs.
How to Reach Kasol From Delhi By Bus?
Take a bus to Bhuntar or Kullu/Manali. From there, take a taxi or bus to Kasol. You can also take a direct flight to Kullu Airport.
How to Reach Kasol From Lucknow?
Take a bus, train or flight from Lucknow to Delhi. From there, take a bus or flight to Kullu or Manali. You can take a cab or bus to Bhuntar and Kasol from there.
How to Reach Kasol From Jaipur?
Take a bus, train or flight from Jaipur to Delhi. From there, take a bus or flight to Kullu or Manali. You can take a cab or bus to Bhuntar and Kasol from there.
Where is Kasol Parvati Valley?
Parvati Valley is nestled between the Himalayas of Himachal Pradesh, and Kasol is one of the towns on its banks.
How Much Does A Kasol Trip Cost?
A 3-day trip to Kasol will cost you Rs. 5000, including accommodation, travel within the town, food and more.
Which Is The Best Month To Go To Kasol?
When the weather is ideal, you can visit Kasol anytime between March and June.