If you haven't seen the Durga Puja pandals in Kolkata, you have missed out on a lot! The pandals are uniquely themed each year and compel devotees with their magnificence.
Durga Puja 2023
Durga Puja is a significant Hindu festival largely observed in West Bengal, India, and among Bengali populations worldwide. The Goddess Durga is worshipped during this opulent and dramatic ritual because she symbolises the victory of good over evil. The event lasts four to five days during Navratri and is distinguished by customs, ornaments, cultural displays, and social gatherings.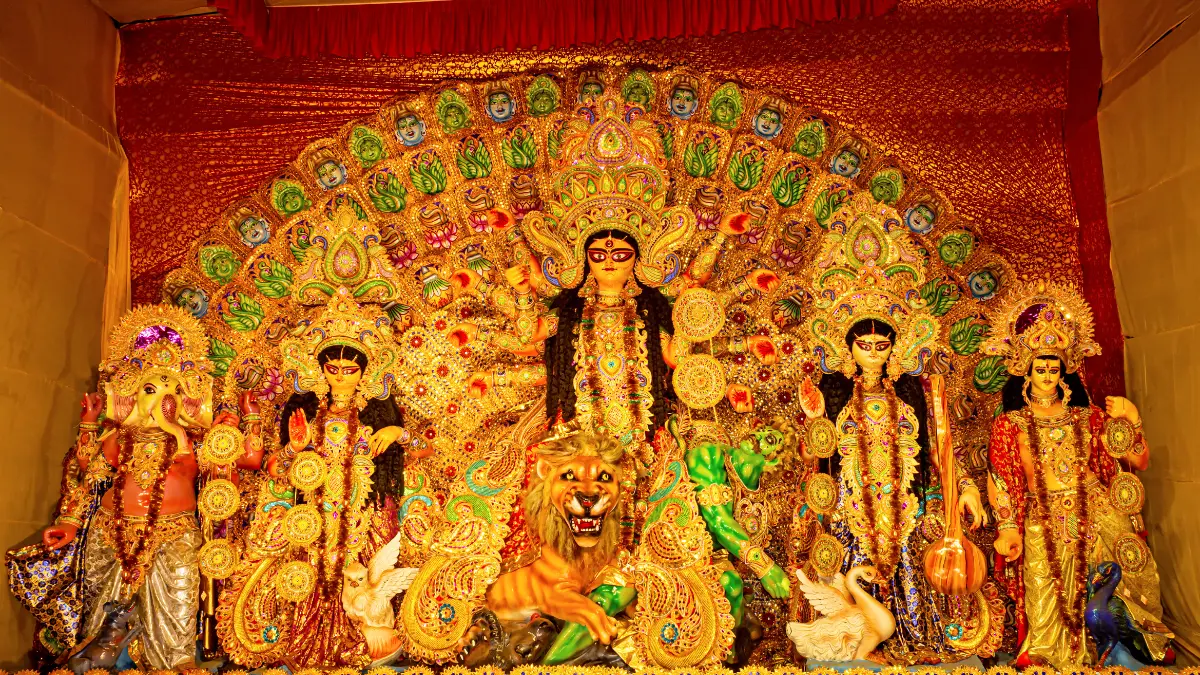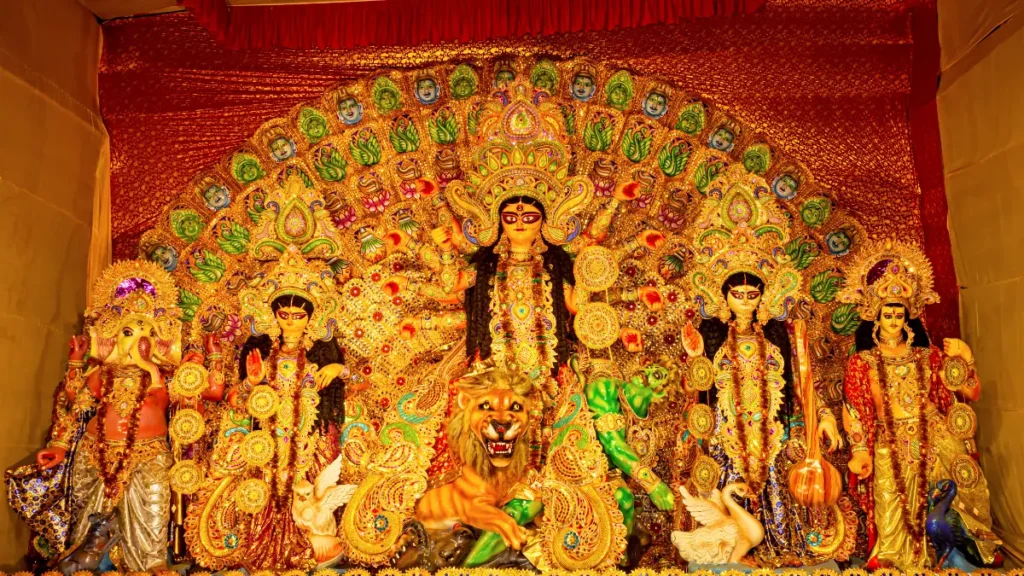 Durga Puja Pandals
The themes highlight creativity, artistry, and cultural expression. Every year, pandal organisers choose original and creative themes beyond simple décor and frequently communicate poignant messages or narratives. These pandals are a hub for the whole neighbourhood, attracting residents and tourists. The subjects covered might range from ancient and legendary stories to societal challenges. In addition to being venues for artistic expression, they promote cultural awareness and introspection.
These pandals result from a labour-intensive team effort comprising experienced artists and volunteers who diligently plan and build them. The pandals transform into immersive artworks that take guests to other realms and inspire amazement and wonder. They allow people to participate in the celebration on various levels, honouring both the holy and the artistic, and are more than simply physical constructions; they are a tribute to the deeply ingrained cultural and creative ethos of Durga Puja. The celebration is a wonderful and fascinating experience for everyone who participates because of the confluence of religious devotion and creative expression demonstrated by the themes of the Durga Puja pandals in Kolkata.
Durga Puja Dates 2023
Durga Puja festivities will be observed during Navratri 2023 from 20th October to 24th October, the last five days of Navratri.
Top 10 Durga Puja Pandals in Kolkata 2023 – and their Themes!
1. Tarapukur Ghospara – Banaras Ganga Ghat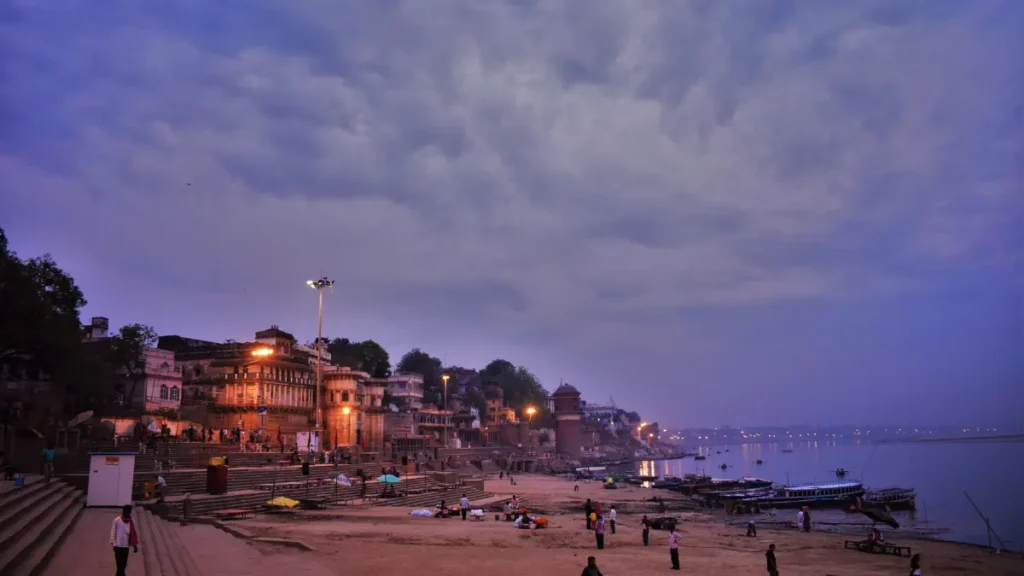 Have you ever wanted to visit Varanasi and join the auspicious Ganga Aarti? Well, the pandal at Tarapukur Ghospara is bringing the Banaras Ganga Ghat to Kolkata for you! Tarapukur Ghoshpara's Agarpara pandal in Kolkata has recreated Banaras Ganga Ghat for this year's festivities. The pandal committee is coming up with something amazing this year, including a 75-foot-tall Kashi Vishwanath Mandir, Ratneshwar Mahadev Mandir, Manikarnika Ghat, Munshi Ghat, and more.
2. Sodepur Nabodoy Sangha Durgaotsab – Hogwarts
Hogwarts, Hogwarts, Hoggy-warty Hogwarts! The Sodepur Nabodoy Sangha Durgaotsab is bringing you the magic of the Harry Potter world in 2023 with their Hogwarts-themed pandal! The pandal and its decorations are quite beautiful. In this pandal, the aesthetics of the Hogwarts Houses and the castle peaks are very dazzling.
3. Sreebhumi Sporting Club – Disneyland of Paris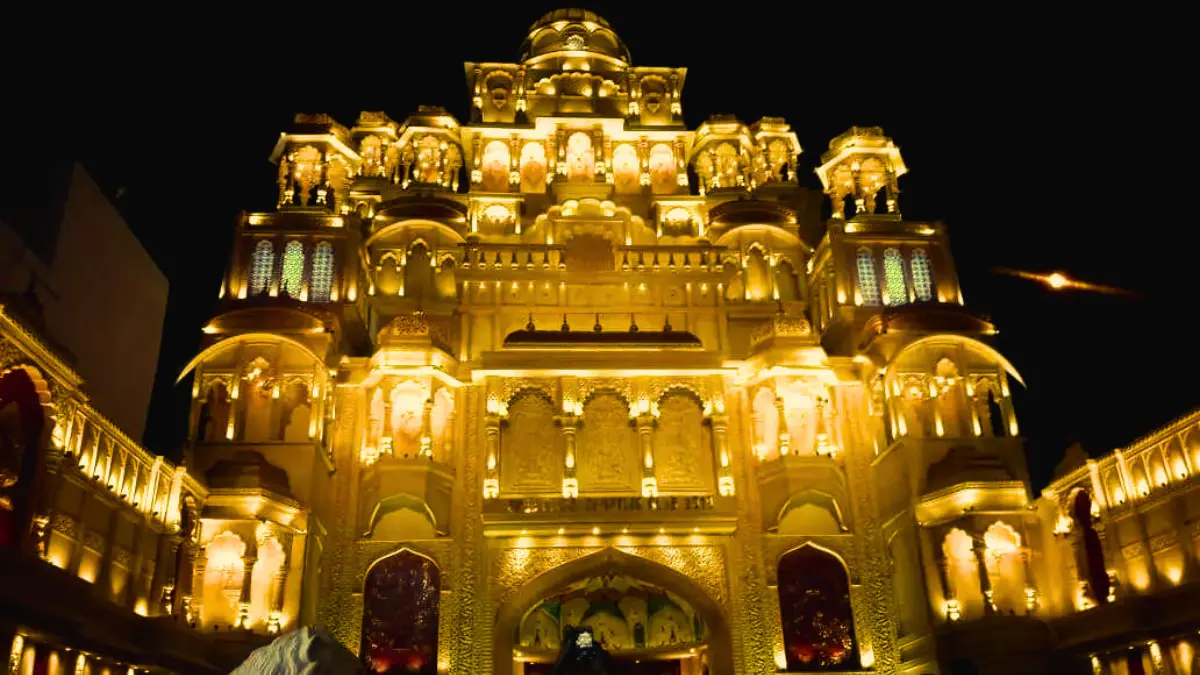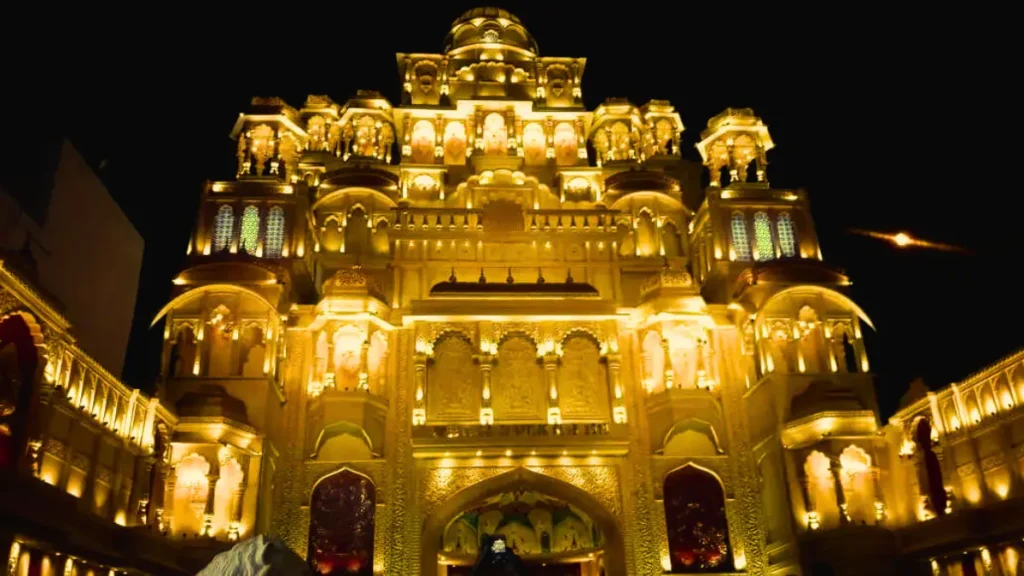 Fulfil your dream of visiting Paris Disneyland at this Durga Puja pandal in Kolkata. South Dum Dum's Sreebhumi Sports Club is one of the most well-known pujas in Kolkata, and every year, something unique is prepared. It was Vatican City the previous year. Sreebhumi has taken on the enormous challenge of bringing to life Paris Disneyland among the bustle of North Kolkata this year.
4. Singhi Park – Rajasthani Puppet Dance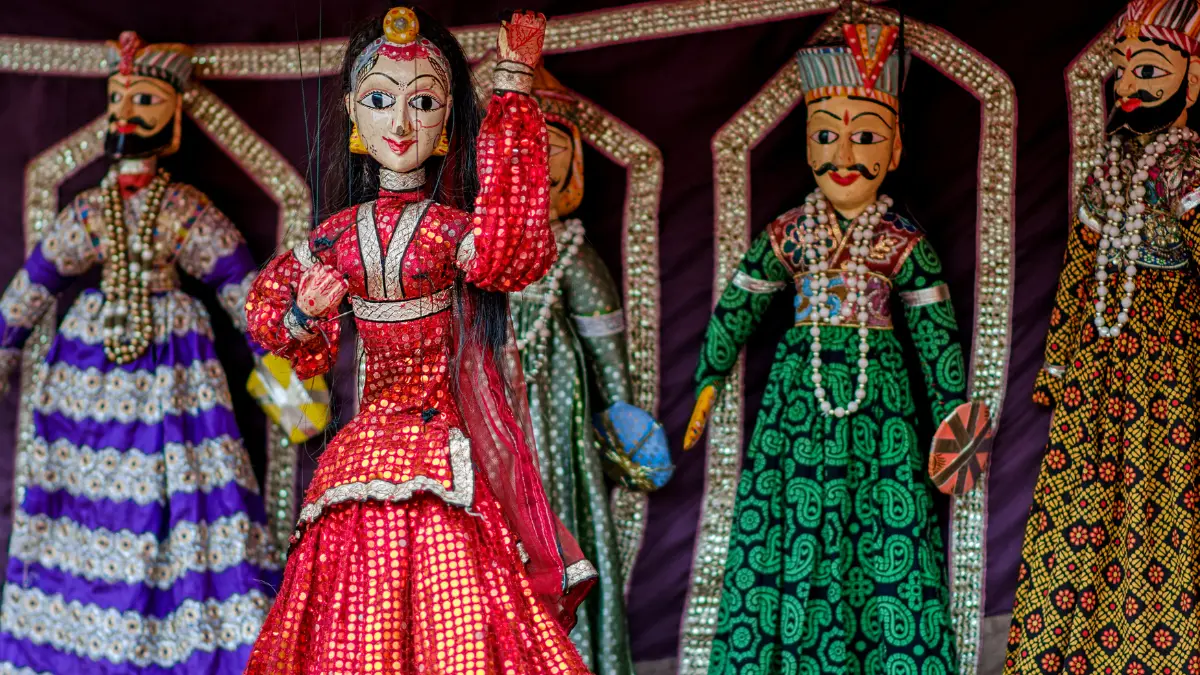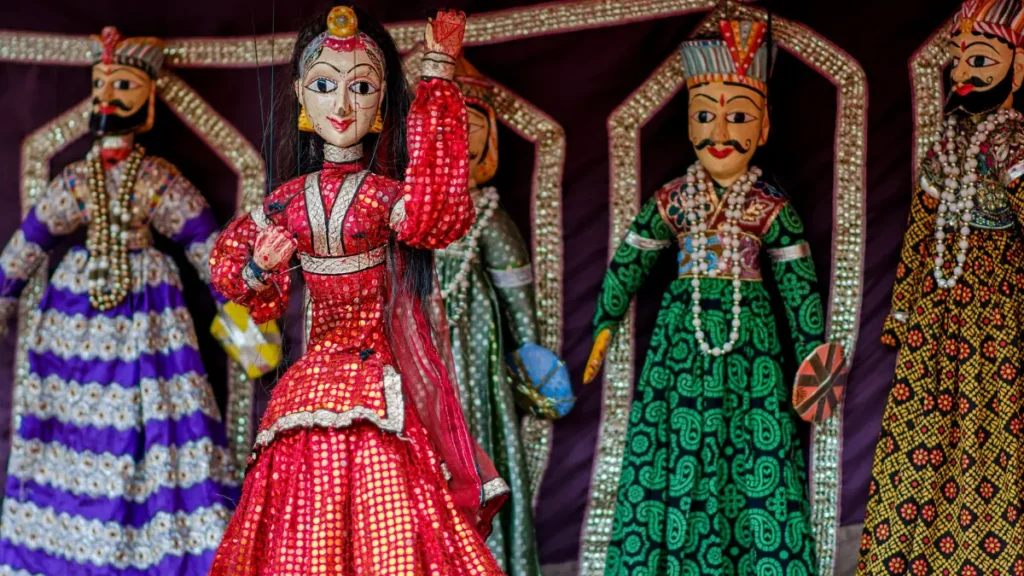 With a concept based on the well-known puppet dance of Rajasthan, Singhi Park, the centrepiece of Gariahat, is ready to provide Kolkatans with a taste of the western state. On social media, the event's producers revealed that viewers may see the puppet dance "live" but "electromechanically" this year inside their pandal. You must attend this Durga Puja pandal in Kolkata this year to understand what it is all about.
5. Pallir Jubak Brinda Club – Chandrayaan 3
Up to this point, 2023 has been a fantastic year for India's accomplishments on international stages. This year, India saw amazing accomplishments in various fields, from athletics to grandiose missions. We are all pleased with what ISRO accomplished with Chandrayaan-3. To commemorate and acknowledge this significant triumph, the Pallir Jubak Brinda Club in North Kolkata is constructing a pandal, a sizable duplicate of the Vikram Lander. Maa Durga will be seated on the lander, which is being built on the ground to resemble a landing on the surface of the Moon.
6. Youth Association of Muhammad Ali Park – Kedarnath Temple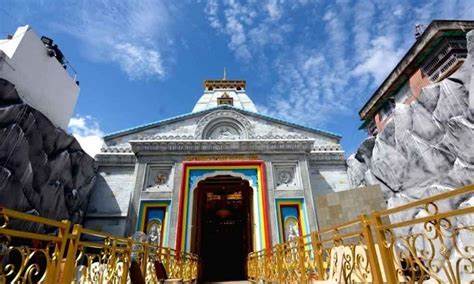 The Kedarnath Temple is the theme chosen by the Youth Association of Mohammad Ali Park for the 55th anniversary of Durgatsob. The tranquil setting of the sacred temple's renovation is welcoming Maa Durga and her company. As Baba Kedarnath will be visiting the City of Joy for darshan, you do not need to travel to Uttarakhand at this time. This year, devotees will see the sacred site with stunning views.
7. Hazra Park Durgaotsab – Auto-Rickshaws
Every year, the Hazra Park Durgotsab in South Kolkata comes up with a creative concept. The theme for the 81st pujo festival is "Teen Chakar Golpo" (A Tale of Three Wheels). The fascinating motif and its idea are related to an autorickshaw driver. The Hazra Park Durgotsav committee chose the story of auto-rickshaw drivers as its theme for this year. Something big will happen, from establishing an auto stand to sharing their life tales.
8. Ahiritola Sarbojanin Durgaotsab – Somnath Temple
The Ahiritola puja, another incredibly well-known brand, is preparing to replicate the stunning Somnath temple of Gujarat in North Kolkata's Beniatola. The theme's official name is "Avinaswar" (Eternal), a fitting moniker for a tune based on a temple that underwent 17 attempts at destruction before being restored. This pujo, the 30-foot-tall pandal, promises to be a delight.
9. Belgharia 17 Pally – Egyptian Pyramids
Belgharia 17 Pally uses Egyptian pyramid replicas to build a magnificent Durga Puja pandal in Kolkata. The pandal will seem breathtakingly magnificent, with a 66-foot-tall pyramid and white sand scattered over the area.
10. College Square Sarbojanin – Mysore Palace
This year, a new attraction will be at the renowned College Square puja in Central Kolkata, most known for its lights. The magnificent Mysore Palace in the city centre will be replicated there! It is an amazing sight, as evidenced by the several photos of the magnificent pandal being constructed that delighted Kolkatans have already put online and the College Square lights reflected in the pool! Remember to visit College Square.
Beyond Durga Puja Pandals in Kolkata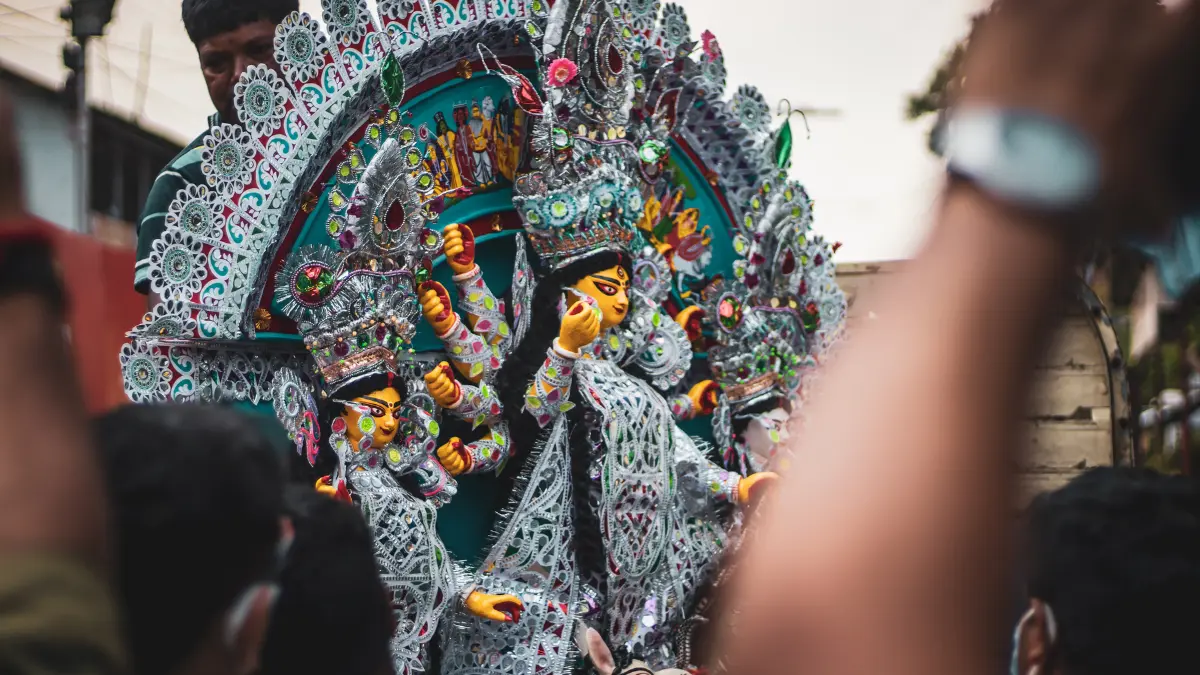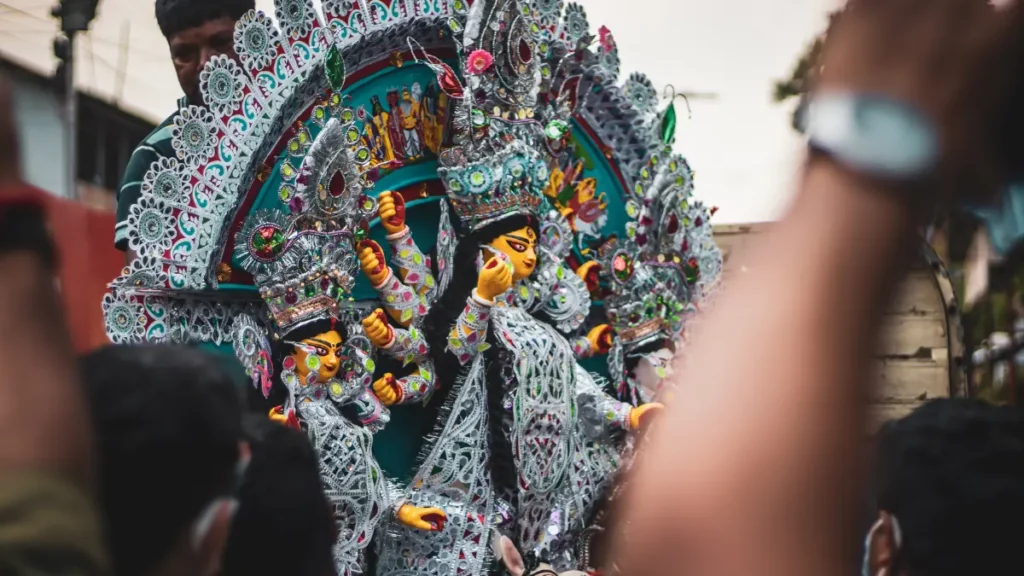 You can thoroughly experience the 'behind-the-scenes' of the Durga Puja pandals in Kolkata and things you can do to enjoy the festivities like a local.
· Dress Up: Nothing captures the importance of dressing traditionally for pujo more than a saree for ladies and a dhoti-kurta for men. White sarees with gorgeous crimson borders are a must-have for Ashtami, and men may choose from a wide array of vibrant kurtas. Men may shop in Kimbadanti or even the Dakshinapan Shopping Complex to stock up on traditional attire for this auspicious occasion, while women can check out outlets like RMGC Basak and Traders Assembly at Gariahat market.
· Try Delicious Festival Food: During pujo, thousands of large and small restaurants open up on pavements and street corners, serving a wide range of mouthwatering treats. Other dishes include fish fry, noodles, chicken/egg chops, jalebis, ghugni, shingara, and many more; egg rolls are popular among locals. Try Kasturi, Bhojohori Manna, or 6 Ballygunge Place for your fill of traditional Bengali food.
· Witness the Creation of the Idols: The exquisitely made statues of Goddess Durga are gorgeous. However, if you understand the work that goes into manufacturing them, you'll value them much more. Fortunately, accomplishing this is simple. A 30-minute drive from the city centre, near Kumartuli in north Kolkata, is where most of them are made. You may witness the sculptures' eyes being painted on during the fortunate Chokkhu Daan ceremony if you visit during Mahalaya, which falls approximately a week before pujo begins.
· Behold the Rituals: Witness the numerous pujo rites and celebrations held in significant puja pandals. On Ashtami, it is customary for people to give anjali (prayers) to the Goddess, while on Dashami, ladies are said to rub scarlet vermilion on each other in a show of affection known as sindur-khela. Be mesmerised by the dhak, aartis, and unstoppable dhunuchi naach, which should make for some fantastic photos!
·        Immersion Ceremony: The Immersion Ceremony, during which neighbourhoods congregate and sing and dance until the Goddess is submerged in the Ganges' sacred waters, marks the conclusion of Durga Puja. It is called bhasan, and during it, people typically have a great time dancing to popular music while throwing paint at one other in the streets. The immersion rites performed at important ghats like Babughat are a sight. You may undoubtedly experience the city's utter enchantment on this particular date. This festival is the greatest time to see Kolkata in all its beauty.
Places to Visit beyond a Durga Puja Pandal in Kolkata
There is much more to see than the Durga Puja pandals in Kolkata. If you're visiting this City of Joy during this auspicious festival, you'll love to add the following places to your list of places to visit in Kolkata: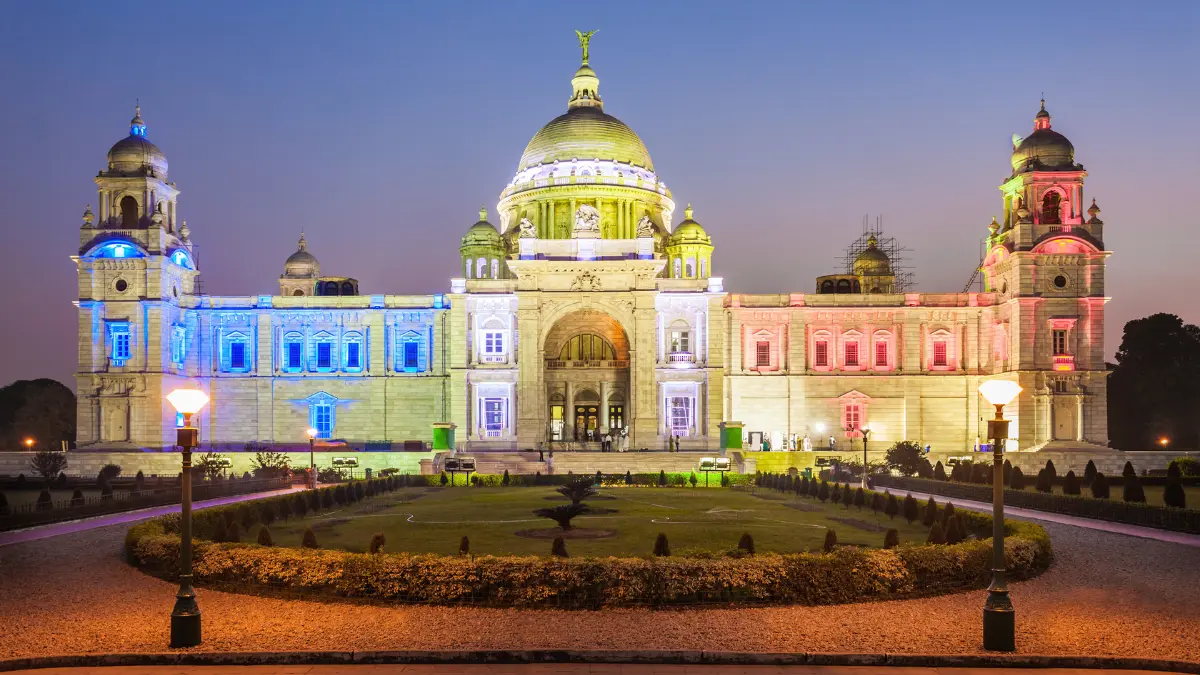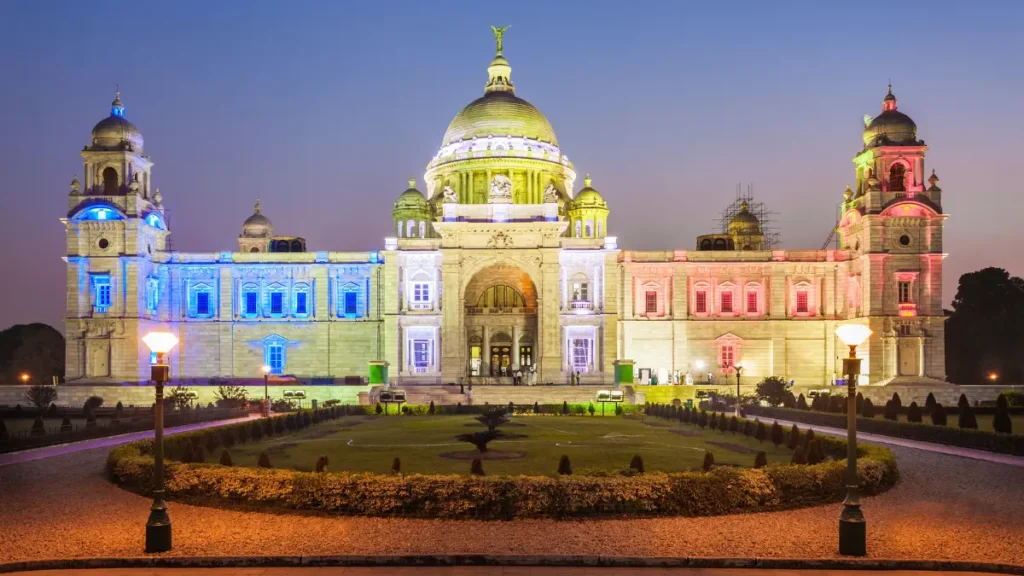 · Victoria Memorial: One of Kolkata's most well-liked tourist destinations is the massive, white Victoria Memorial, and for good reason. It has Queen Victoria's name and is now a museum that history buffs will love. If you ever want to stroll through history and reflect on how far India has come from its colonial past, go to this spot.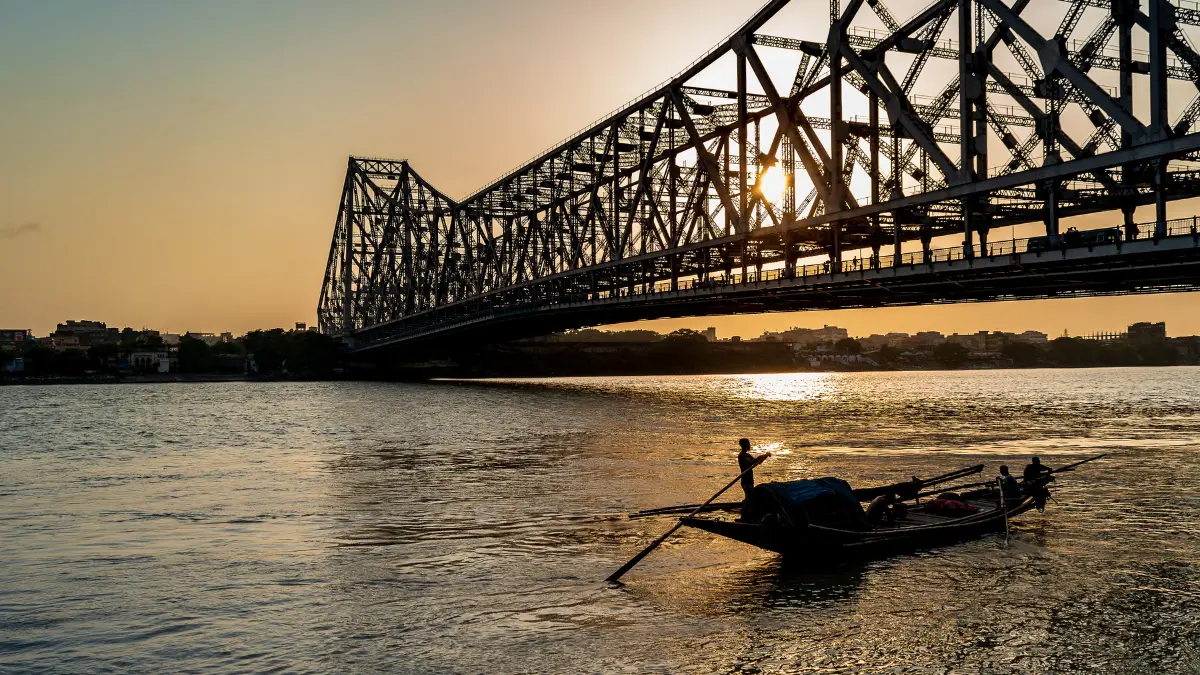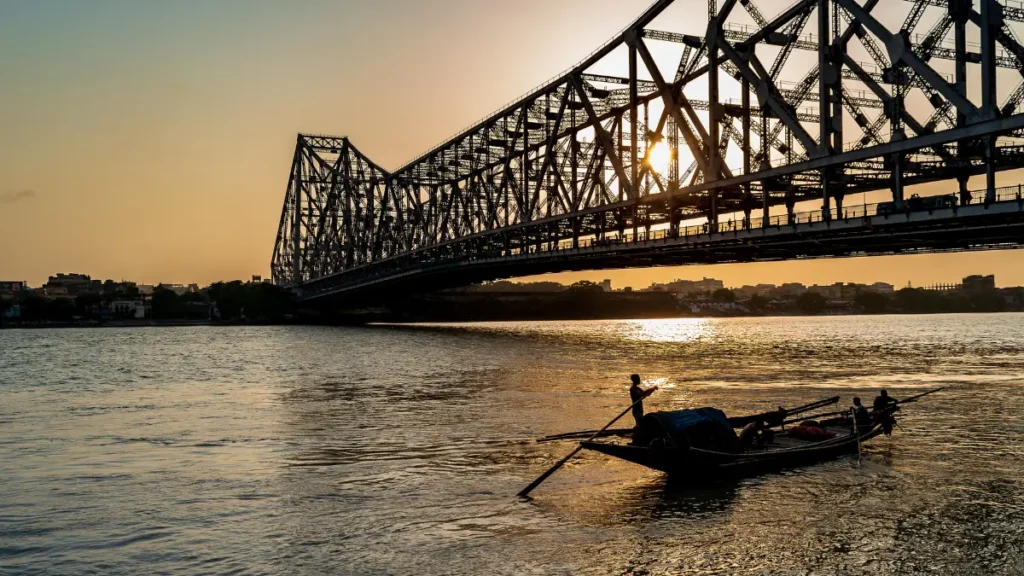 · Howrah Bridge: If you want to spend some time alone with nothing but the ocean in front of you, Howrah Bridge, an unofficial icon of the city, is worth a visit. You may sit here at dawn and sunset to meditate or observe the fisherman at work.
· Park Street: The restaurants and cafes in this region are the most picturesque! Now, people gather on Park Street in the evenings to unwind. Famous clubs, bars, and great restaurants may all be found in this region. It is the best place to visit, away from the traditional Durga Puja pandals in Kolkata.
·        College Street: College Street is the best place in Kolkata to purchase books. One of the greatest places for young people in Kolkata is College Street, similar to Daryaganj in Delhi but open seven days a week.
· Old Chinatown: This area, which is the sole Chinatown in all of India, is a refuge for tourists who wish to sample the cuisine of this Asian nation. Chinese traders who came to work on the ports resided here, and the area developed. While some booths still provide traditional Chinese appetisers, the area may have lost some authenticity.
· Eden Gardens: You cannot miss the Eden Gardens if you love cricket. It is a well-liked tourist destination in Kolkata. When cricket fans enter the building, they have very happy recollections of matches they have played and won. The second-largest cricket stadium in the world is located here.
·        National Library: The National Library, the biggest library in India, is a significant attraction in Kolkata. It is located on the Belvedere Estate in Alipore and spans 30 acres. The Department of Culture, Ministry of Tourism & Culture, Government of India, is presently in charge of running this library. Its extensive library includes literature in practically every important national language, including Telugu, Sindhi, Punjabi, Hindi, Urdu, and many more. The library also features a section specifically for kids.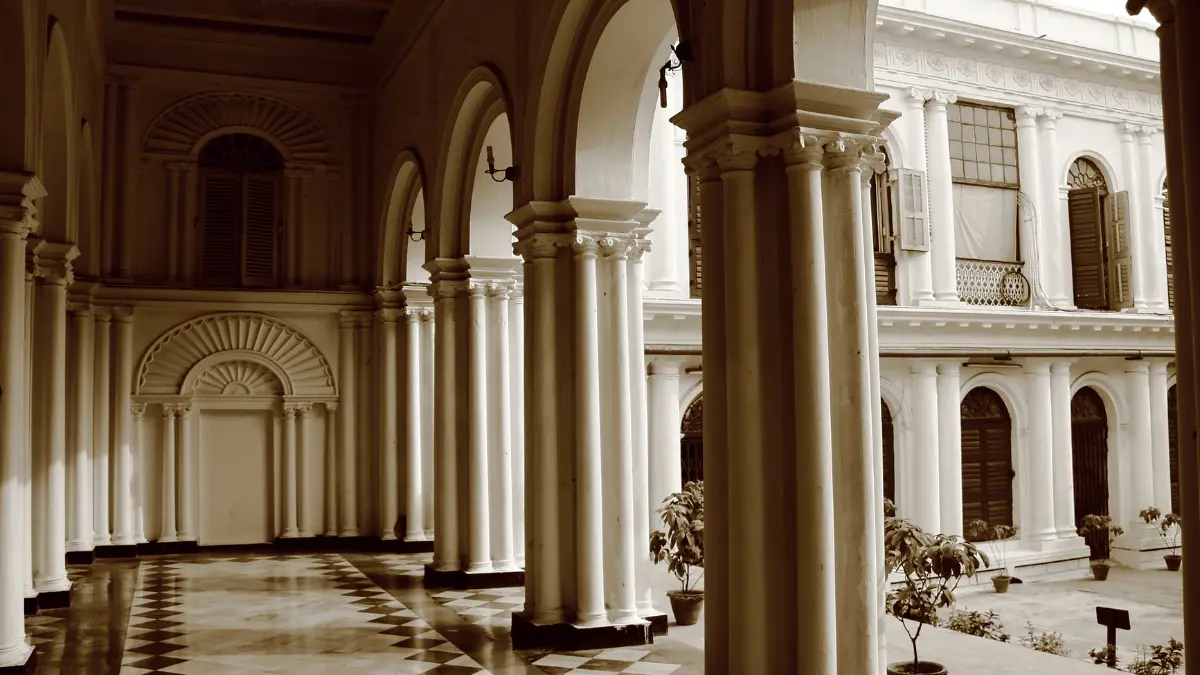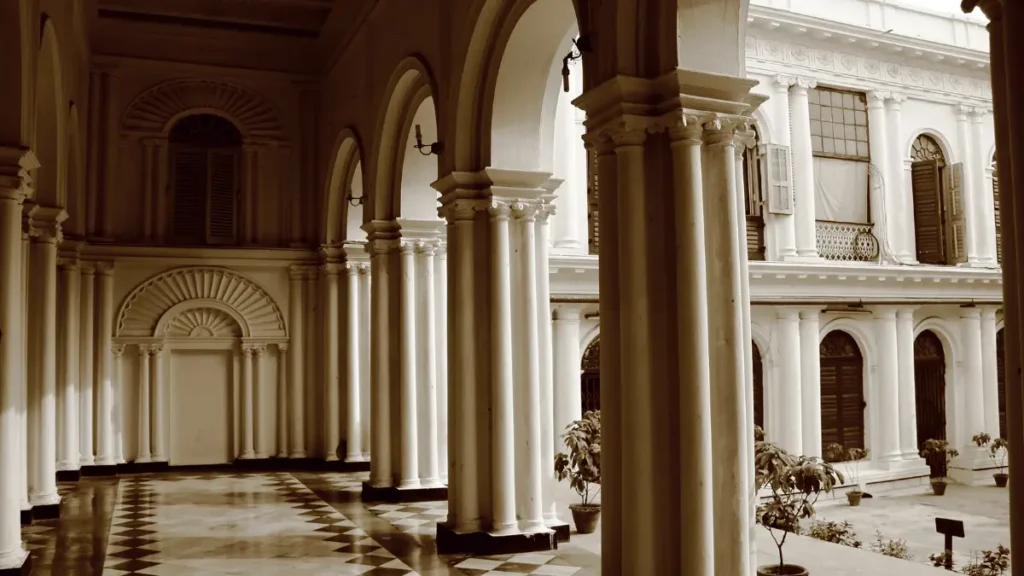 ·        Jorasanko Thakurbari: A visit to Kolkata wouldn't be complete without seeing the ancestral home of one of the city's most adored citizens—who also happens to be the first-ever Asian to win the renowned Nobel Prize. When in Kolkata, visit Jorasanko Thakur Bari, the poet and artist Rabindranath Tagore's family home.
Conclusion
The City of Joy – Kolkata – has a lot to offer everyone. From the Durga Puja pandals in Kolkata to the magnificent trams, there is so much to see and experience that you won't be bored visiting this amazing city during Durga Puja 2023. Pack your bags and go pandal hopping in Kolkata this Navratri!