Have you ever wondered, "Are there any restaurants in Jaipur near me where I can experience dining royally?" Well then, this article is for you! Jaipur is the city of royals and the capital state of the State of Kings – Rajasthan. Here, you can experience the beauty of fine dining like a royal without burning a hole in your pocket! There is not one but many eateries in Jaipur that offer one the taste of royalty. In this article, we'll explore the best restaurants – their timings, location, what to eat there, and cost for two (Please note: Cost may change over time).
14 Best Restaurants in Jaipur
1. Bar Palladio
Bar Palladio brings Italy to Jaipur with an Indian touch. The interior resembles the Hagia Sophia Mosque and the Sistine Chapel, with indigo and white intricacies painted all over the edifice. It is a colour-coded restaurant with the complete colour palette being blue and white – from the walls to the cushion covers and decorations. The concoction of Jaipuri block prints and the Italian style of architecture is something to marvel at. Bar Palladio Jaipur is perfect for a romantic evening with your partner.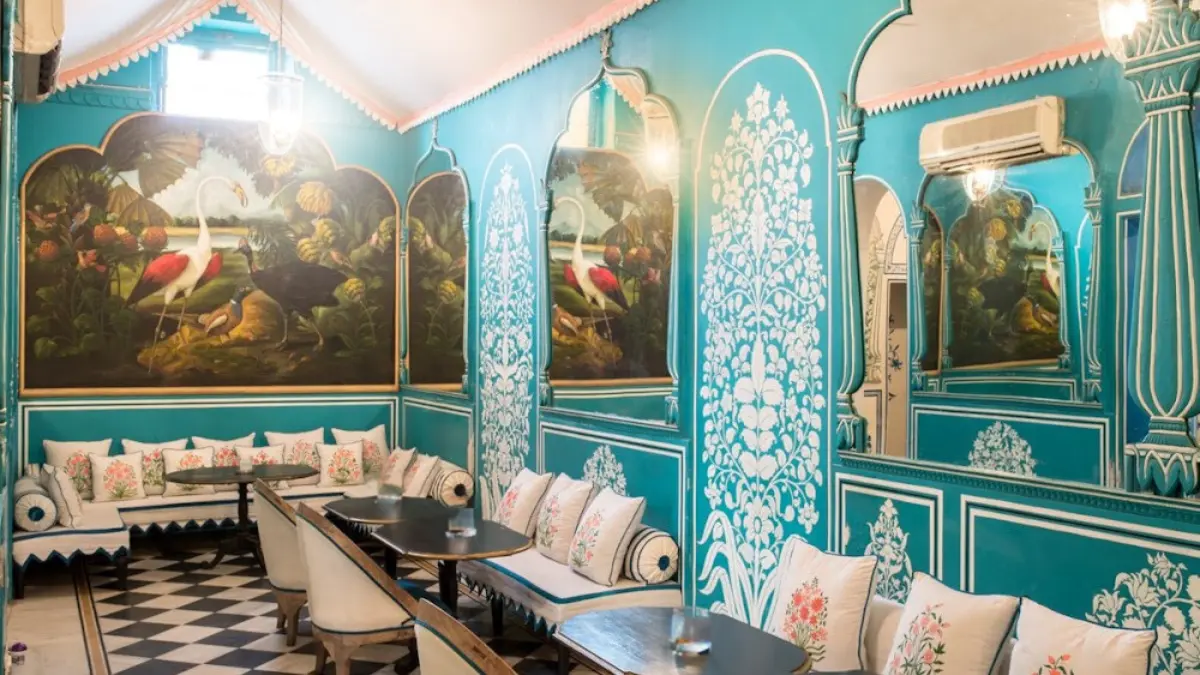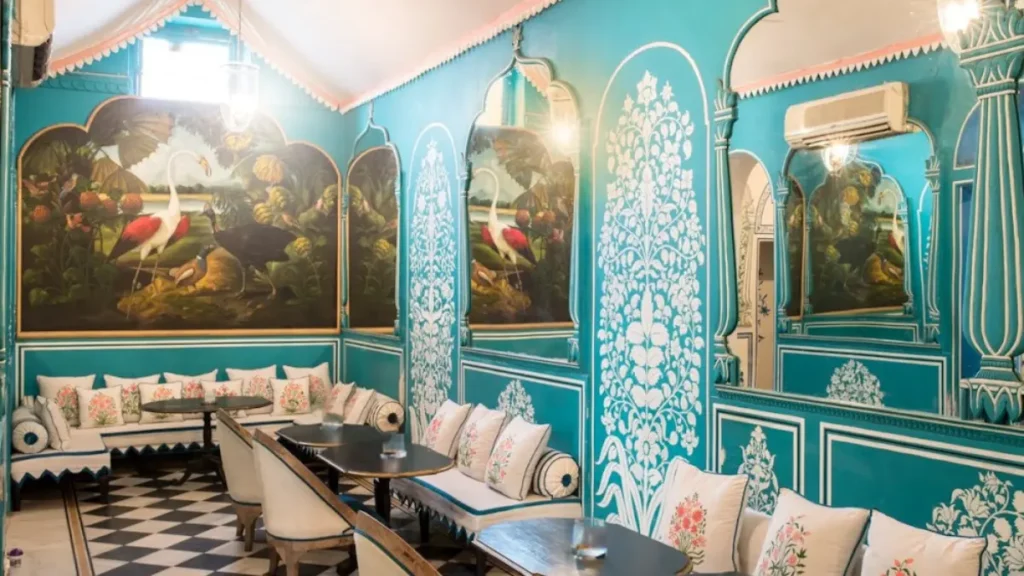 Considered one of the best luxury restaurants in Jaipur, Bar Palladio has an extensive menu of Italian and Indian dishes, Indo-Italian fusion dishes, lip-smacking cocktails and mocktails, and desserts. Situated inside the historic Narain Niwas Palace, it offers pure sophistication and a relaxing escape from the humidity and hustle of the daily grind.
What to Eat: Gnocchi, Spaghetti, Tiramisu
Timings: Monday-Saturday: 04.00 P.M.to Midnight
Sunday: 11.00 A.M. to 11.00 P.M.
Cost for Two: INR 2500 for two
Location: Narayan Singh Circle
2. Chokhi Dhani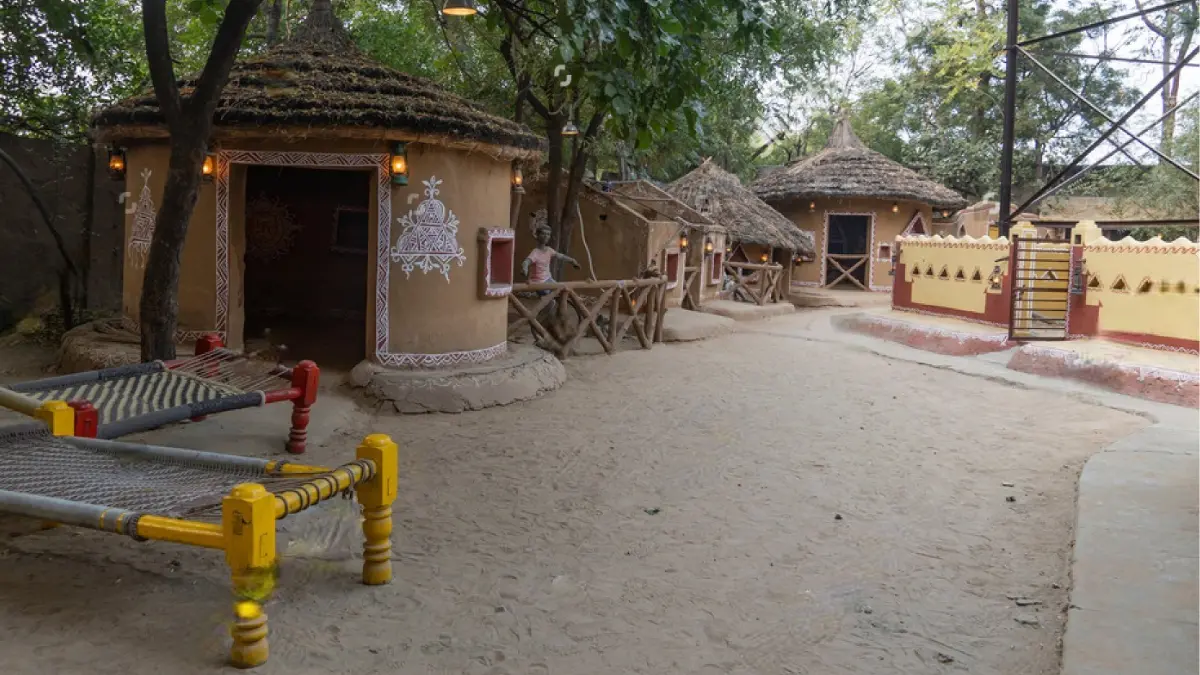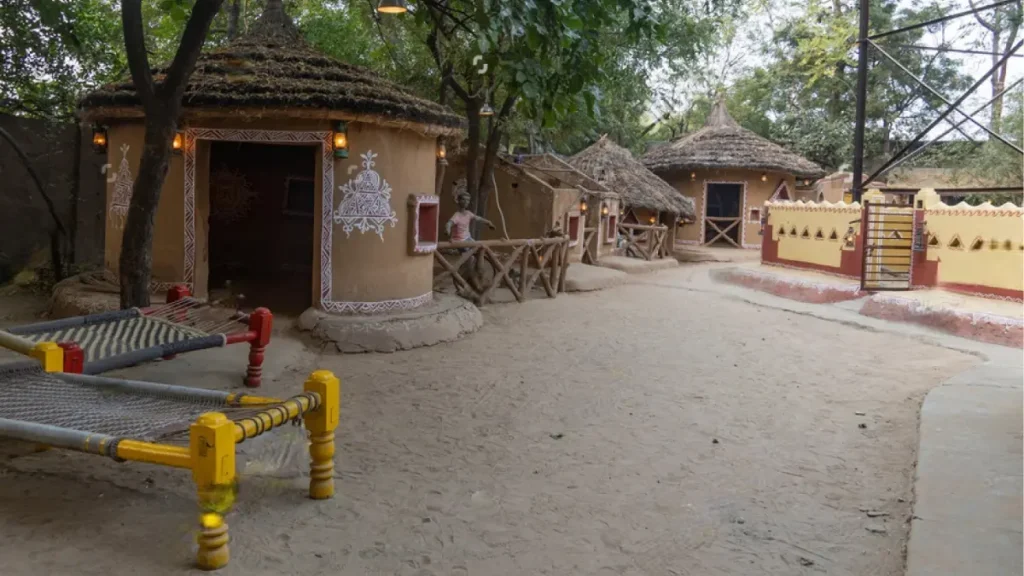 Chokhi Dhani is a classic Rajasthani village-themed restaurant that offers its visitors packages for food and stays. Here, you can try the delicacies of Rajasthan, like daal baati churma and kadhi. This place is one of the best thali restaurants in Jaipur, with extensive thalis offering a huge variety of local dishes. At Chokhi Dhani, you can also try out fun activities and shopping. You can also wear the Rajasthani attire and watch Rajasthani dance forms being performed.
What to Eat: Rajasthani Thali
Timings: 04.00 P.M. onwards
Cost: Dining here costs INR 900 per adult and 550 per child
Location: 12 Miles Tonk Road
3. R.J. 14
If you've lived in Jaipur for quite some time, you have heard and been to R.J. 14. R.J. 14 is a luxurious restaurant in Jaipur that has been serving delicious food since its opening. There is indoor and outdoor seating, with another area dedicated to dhaba-style seating arrangements. The outdoor seating has canopies over the couches and tables, giving the place a royal outlook. The dhaba-style area is ridden with chairs and tables made of bamboo.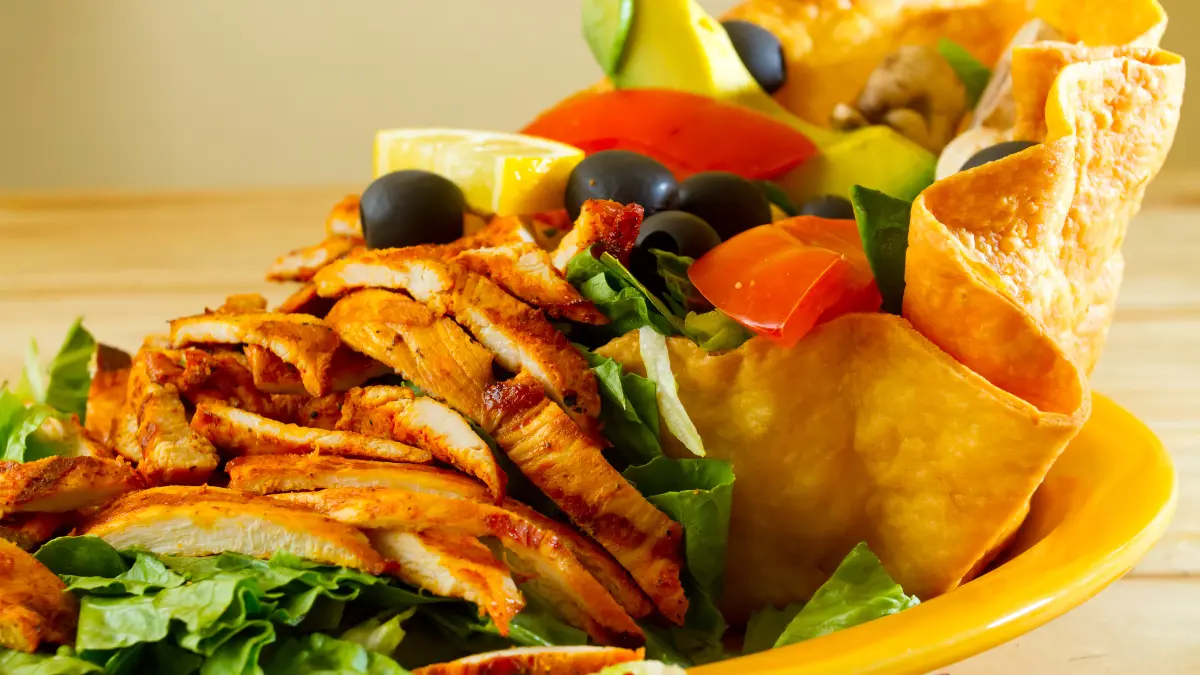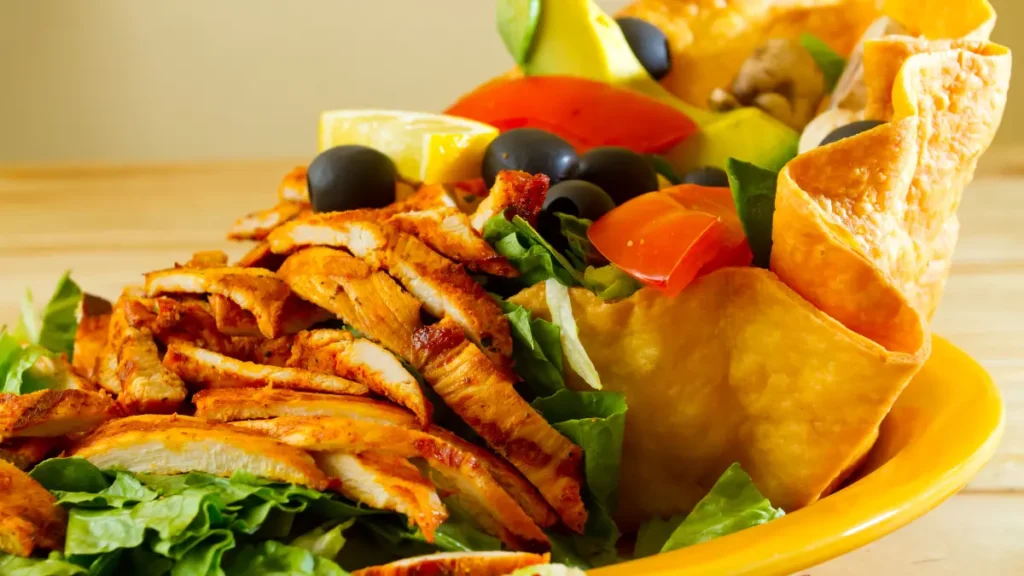 Their menu is extensive – you will find everything here, including North Indian, South Indian, chaat, desserts, hot and cold drinks, and more. Their gol gappe are also quite famous as they come in 5 different flavours.
What to Eat: Gol Gappe, Pav Bhaji, Rabri Malpua, Paneer Lababdar
Timings: Noon to 11.00 P.M.
Cost for Two: 1600 for two
Location: Ajmer Road
4. Om Revolving Restaurant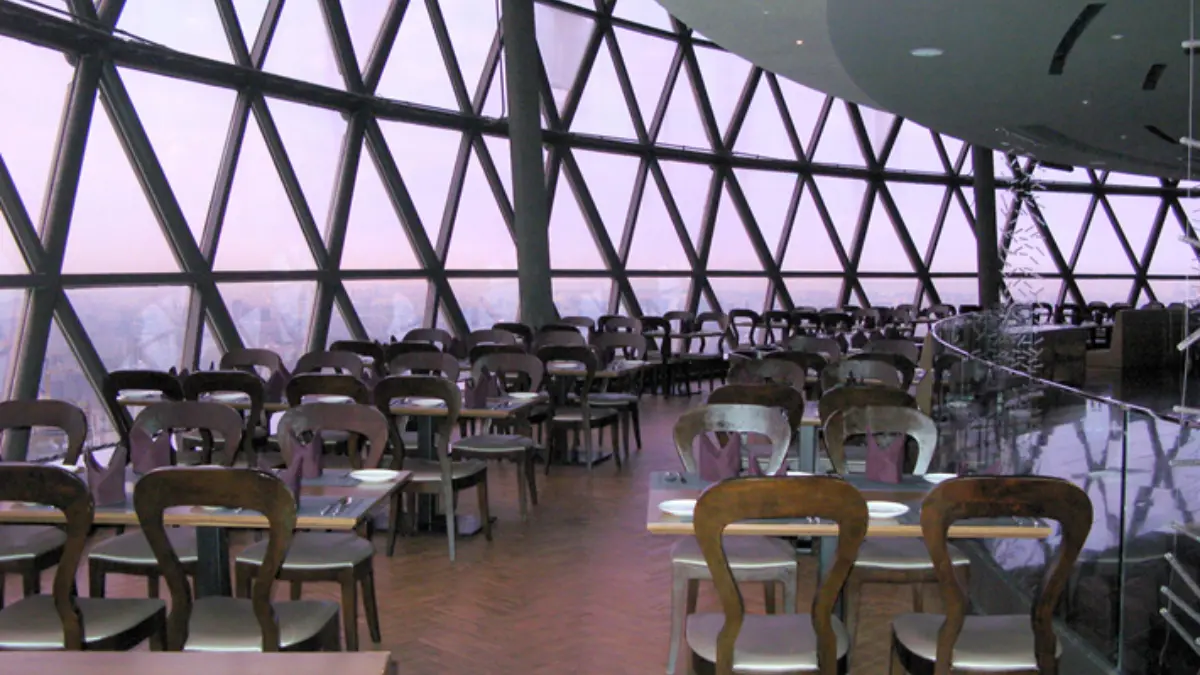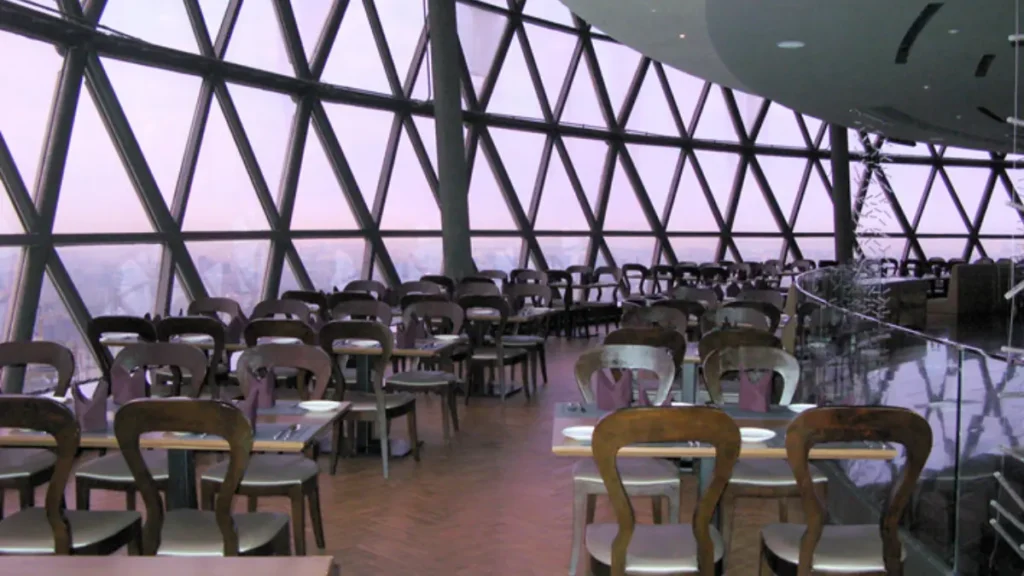 Om Revolving Restaurant is a one-of-its-kind restaurant in Jaipur that provides a 360-degree view of Jaipur from 200 feet above the ground. The building completes a 360-degree rotation every 45 minutes. The views of the Pink City are always mesmerizing to behold from here. The day shows you the regal splendour of the city, while the night shows you the glistening nightlife of Jaipur. They provide an extensive menu with Indian and Continental food and drinks that you can enjoy while marvelling at the bird's-eye view of the city. They also have occasional live music.
What to Eat: North Indian and Rajasthani dishes
Timings: 10.00 A.M. to 10.30 P.M.
Cost for Two: INR 1500 for two
Location: Hotel Om Tower, MI Road
Top 20 Places to Visit in Jaipur: Timing, Entry Fees
: 14 Best Restaurants in Jaipur: Timings, Cost, Location
5. 1135 A.D.
1135 A.D. is a royal restaurant inside the Amer Fort and will give you the perfect royal dining experience. The ambience boats luxurious tables and chairs with lush velvet and huge chandeliers that will take you back to the Mughal Era. The walls are adorned with rich and intricate Mughal designs with a touch of Rajasthani art.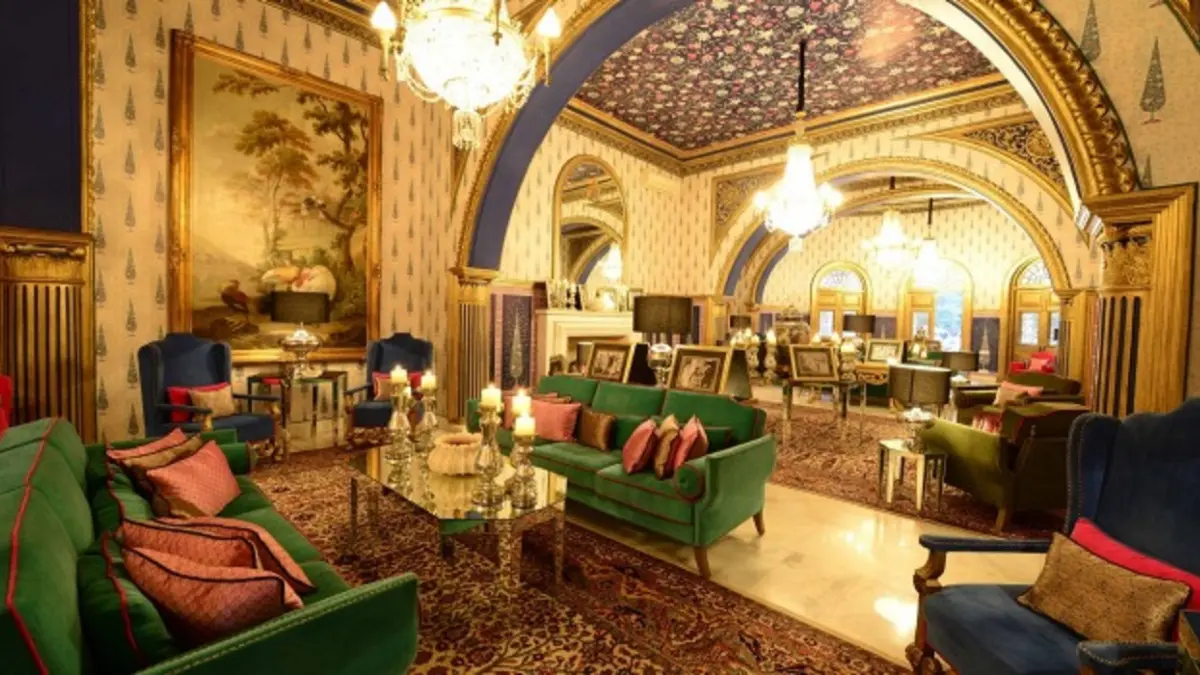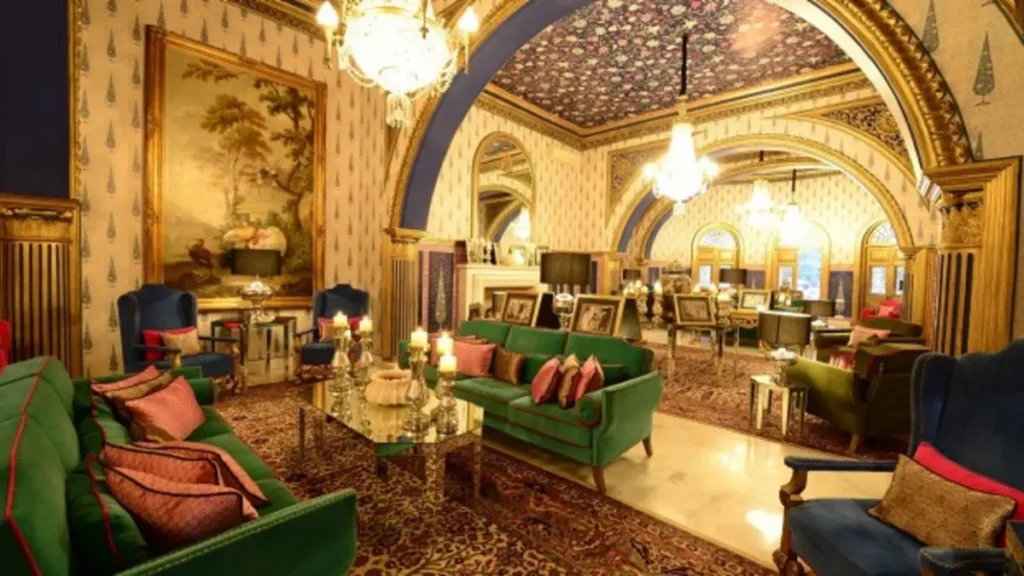 They have a North Indian menu that includes both vegetarian and non-vegetarian options.
What to Eat: Kebabs, Thalis, Starters
Timings: 11.00 A.M. to 10.30 P.M.
Price for Two: INR 3000 for two
Location: Amer Palace
6. Villa Palladio
Villa Palladio is a restaurant and a hotel that is straight from a Wes Anderson movie. Its colour-coded hues of red, green, white, and black give the whole place a royal look that Indian style with Italian. Checkered Italian marble lines the floors while the walls are blood red, adorned with intricate lighting and floral designs, making it one of the best luxury restaurants in Jaipur.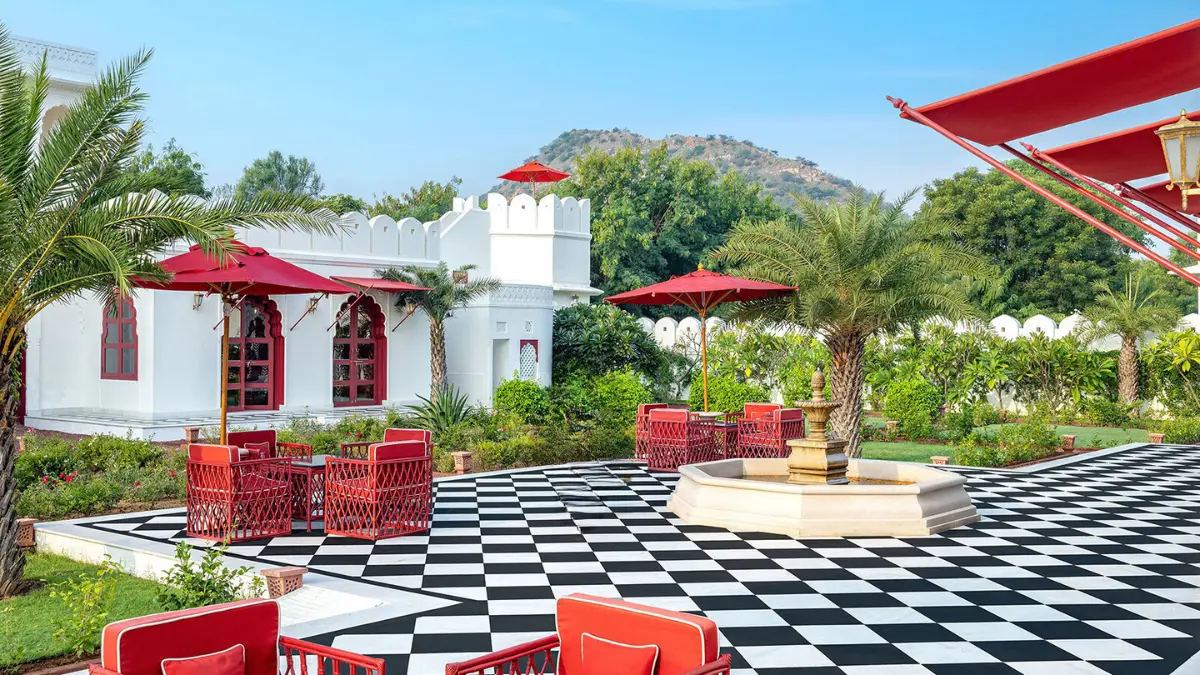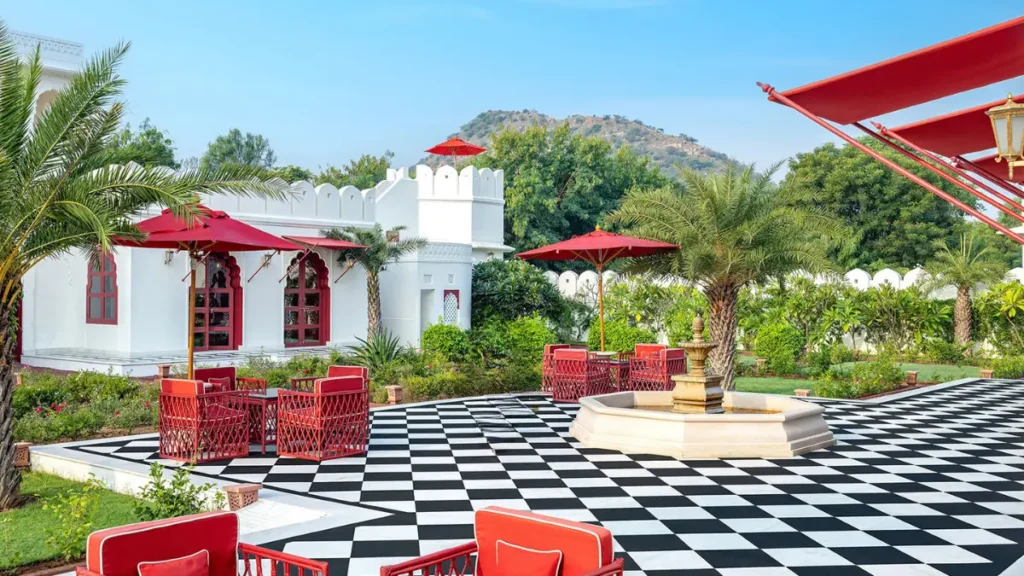 The Old World culinary customs are reflected in the menu of Villa Palladio, which offers enticing, noble food with a foundation in the region's natural beauty and the fundamental simplicity of a good recipe. The menu consists of traditional meals motivated by the logic and alchemy of Italian cuisine.
What to Eat: Rajasthani Thali
Location: Near Kanota Dam
7. Suvarna Mahal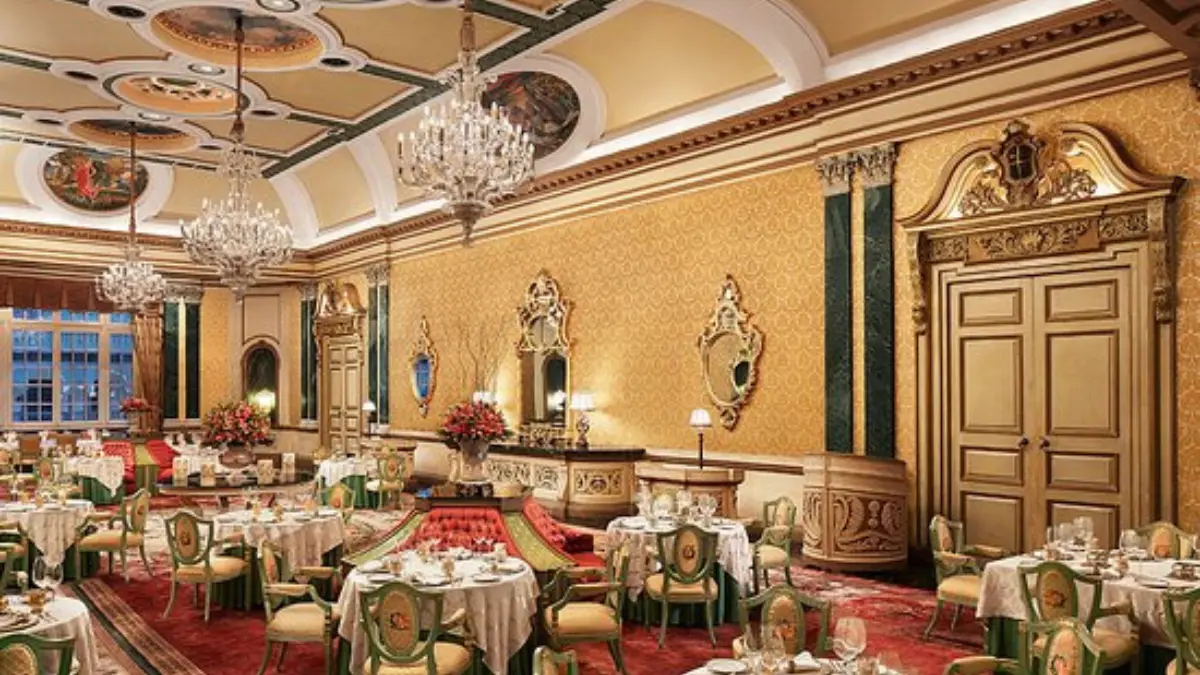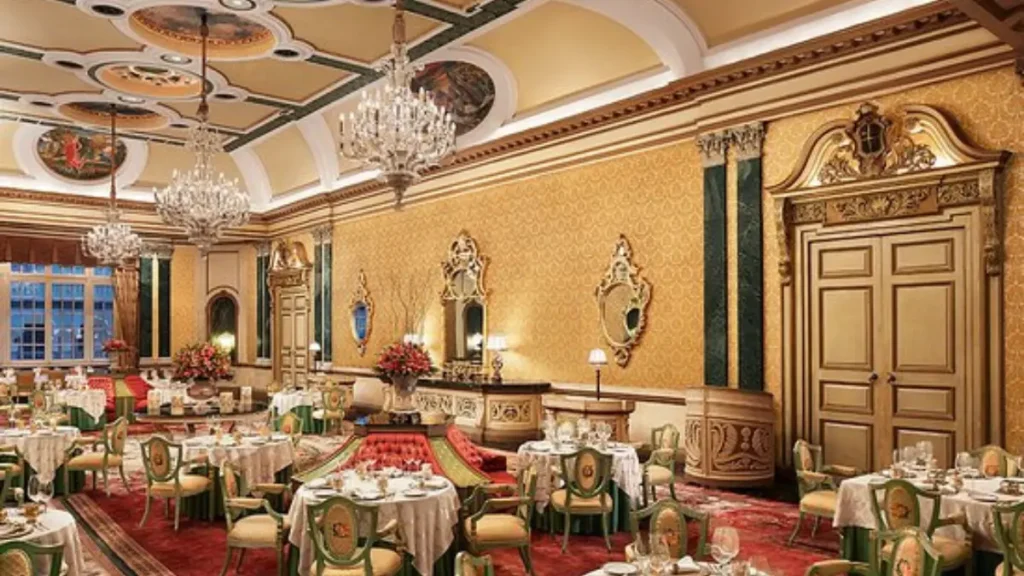 The entire setting reverberates with the rich history of the Pink City thanks to its overpowering ambience, lofty ceilings, and gilded mirrors. Food lovers may pick between sitting at the private jharokha and the marble arches at the Baradari at this restaurant, which is renowned for its best thalis. Suvarna Mahal's ambience, which is warmly lighted by candles and enclosed by a lovely green garden, is perfect for an unforgettable romantic dinner date.
What to Eat: Laal Maas, Ker Sangri, barbecued lamb
Timings: 07.00 P.M. to 09.30 P.M.
Cost for Two: INR 9000 for two
Location: Rambagh Palace, C Scheme
8. Steam
Steam is another eatery situated inside the Rambagh Palace. It is a concept restaurant with a steam engine and a Victorian-Era-style railway station for seating. Seating on the recreated station and inside the restored steam engine is available. You can visit this place for a delicate fine dining experience and a unique concept that will give you Instagram-worthy photos.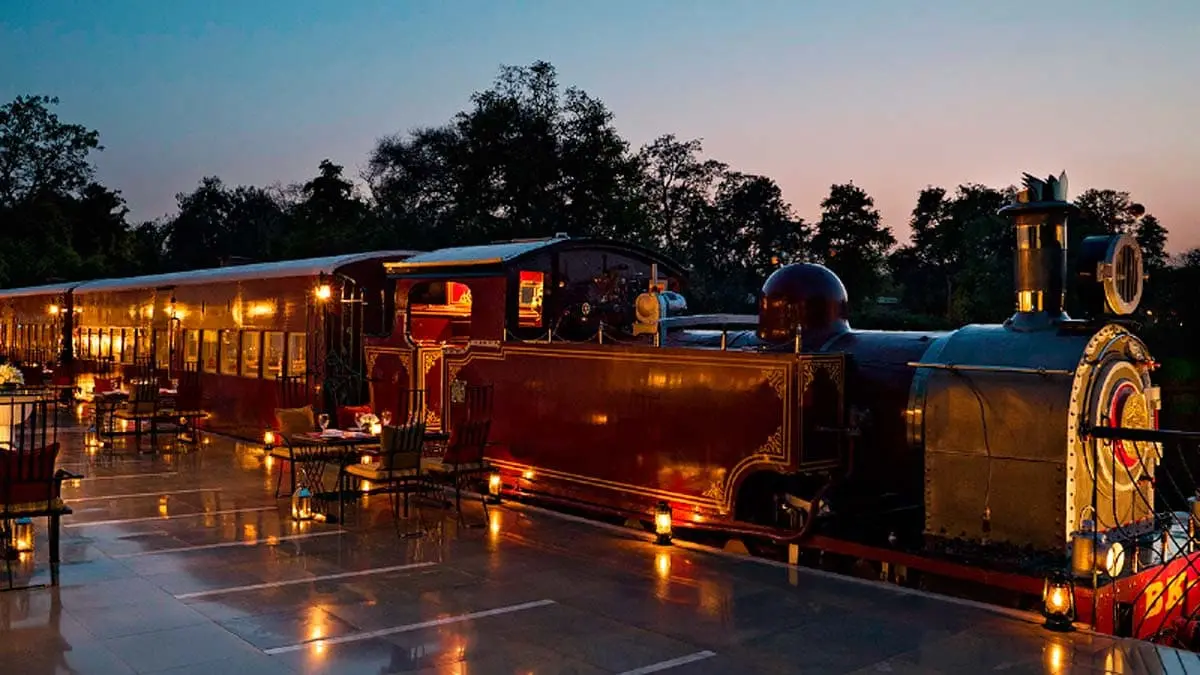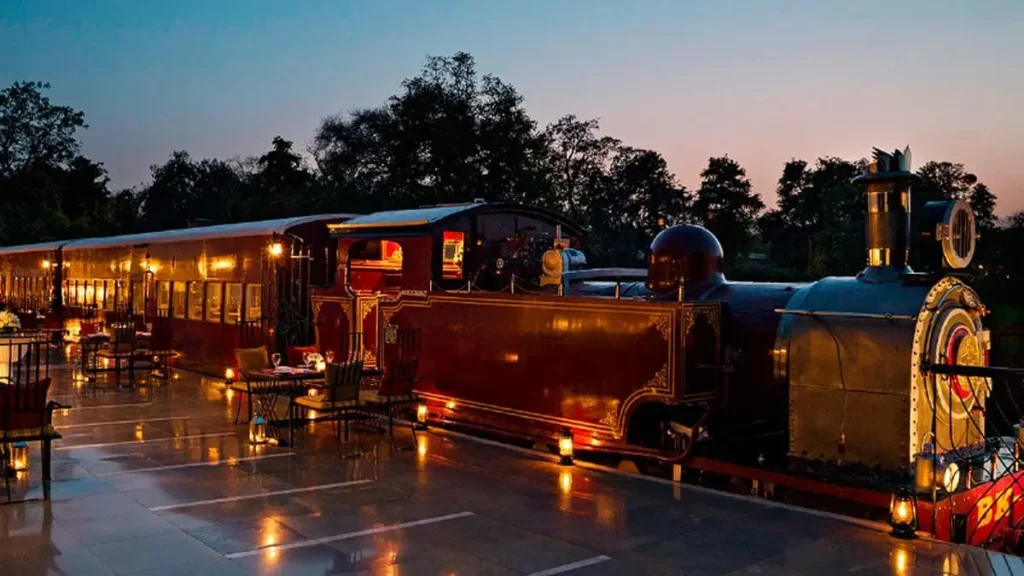 What to Eat: Falafel, Cocktails, Pizzas
Timings: 06.00 P.M. to 09.30 P.M.
Cost for Two: INR 6000 for two
Location: Rambagh Palace, C Scheme
Top 15 Resorts in Jaipur – (with prices & Photos)
: 14 Best Restaurants in Jaipur: Timings, Cost, Location
9. Fort
Fort is a fort created of stones that houses three restaurants within its campus – Zoya, Chowk, and Sultanat. These three offer lip-smacking delicacies you must try with your family and loved ones. Fort is the perfect place for dinner and lunch. The beautiful campus is made completely of stones that give it a vintage and rustic look. Indoor seating is available here at all the three sub-eateries. Their North Indian cuisine is extremely scrumptious. Their service is also commendable.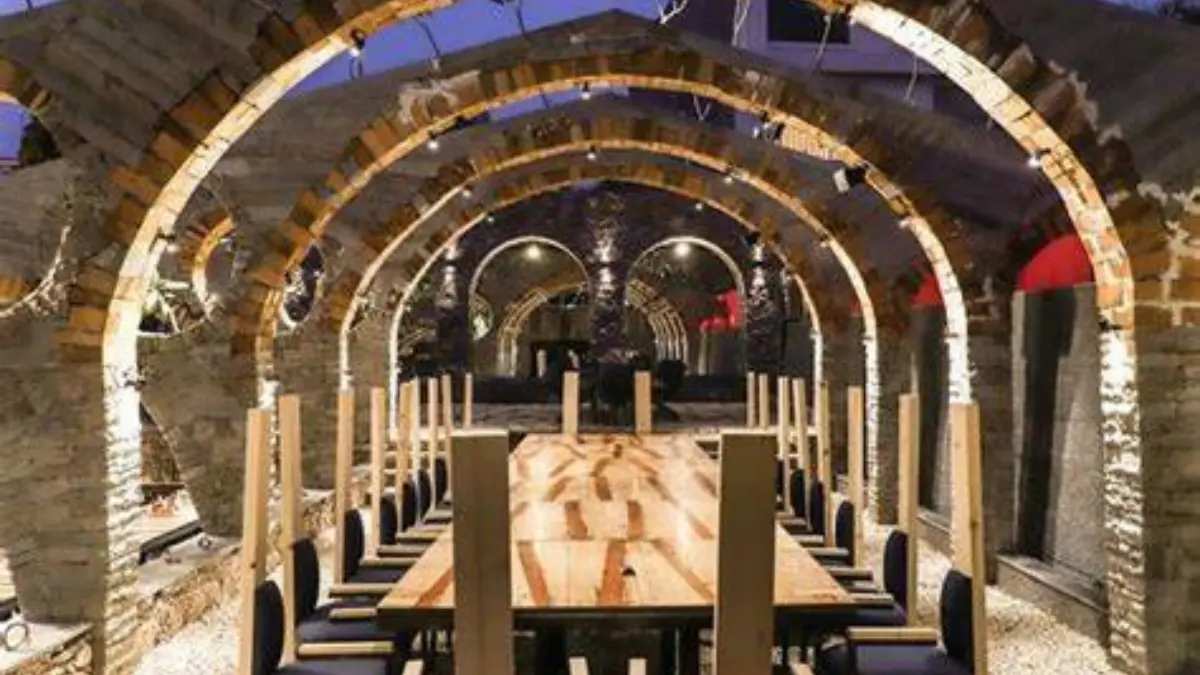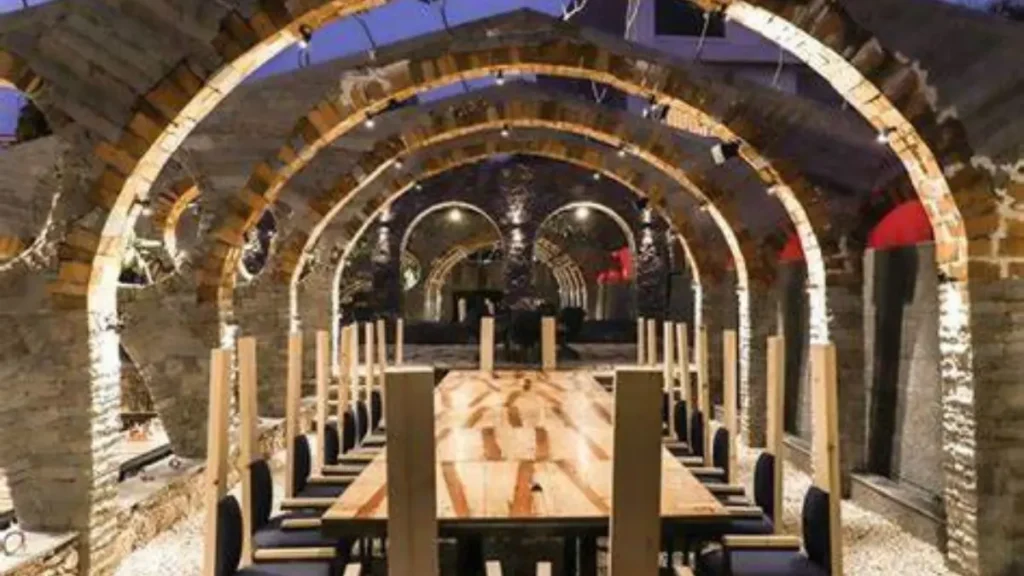 What to Eat: Paneer Tikka Masala, Starters, Pasta
Timings: 11.00 A.M. to 11.00 P.M.
Cost for Two: 1800 for two
Location: Malviya Nagar
10. Samode Haveli
Samode Haveli was once a residence of kings and queens. The Janani Mahal (queen's residence) has become a beautiful fine dining restaurant. Both indoor and outdoor seating is available with a bonfire during winter. It is one of the most beautiful restaurants in Jaipur, adorned with flowers and arches that feel royal.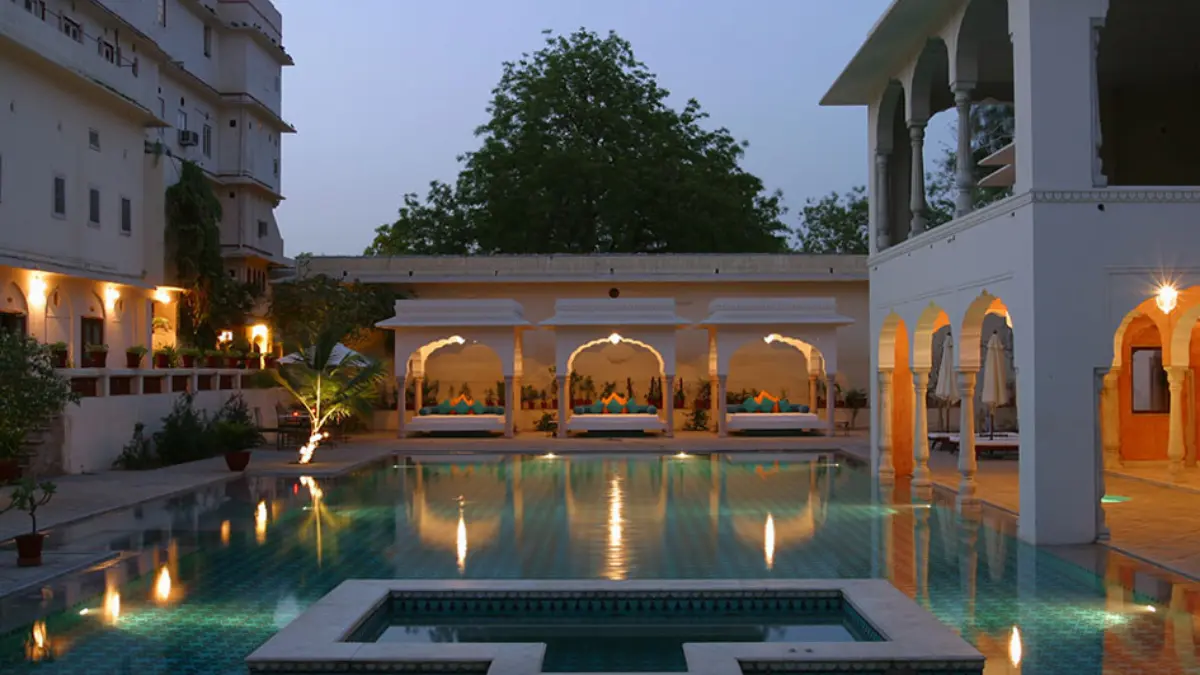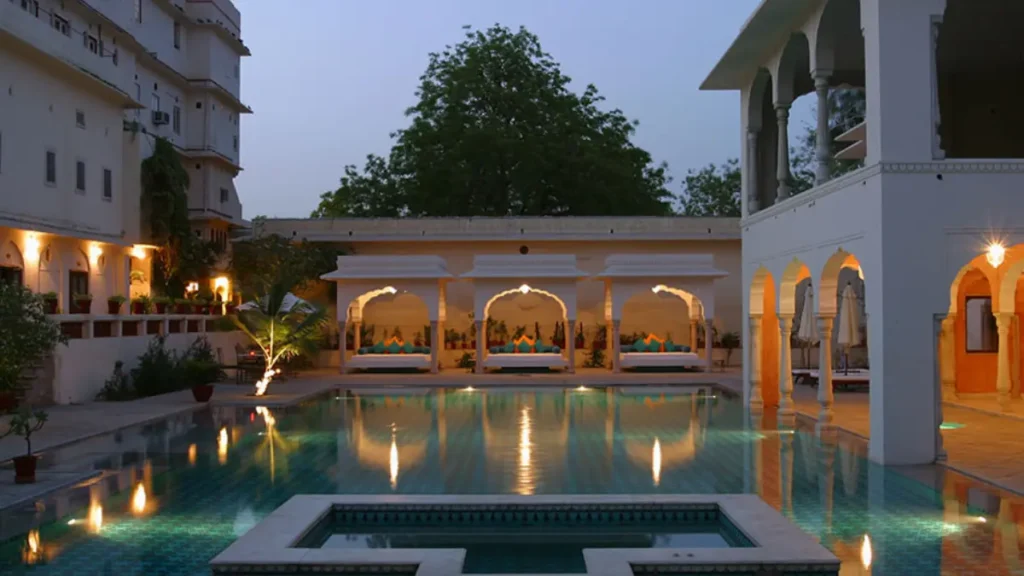 The magnificent restaurant's dining room is decorated with vibrant hand-painted murals. These frescoed rooms provide both traditional Rajasthani food and cuisines worldwide. You may unwind and observe the peaceful world while enjoying afternoon tea in the opulent veranda lounge. Enjoying a dinner or a cocktail by the lavish pool while relaxing on plush salas or daybeds covered in opulent bolsters is a luxury treat.
This classic Indo-Saracenic home, which the royal family of Samode converted into a luxury hotel, is rich in history and the centuries-old customs of excellent hospitality.
What to Eat: Laal Maas, Dal Makhani
Timings: 11.00 A.M. to 11.00 P.M.
Cost for Two: INR 4000 for two
Location: Amer Road
11. The Rajput Room
The Rajput Room is part of the Taj dining experience and is also located inside the Rambagh Palace, like the Suvarna Mahal and Steam. It looms over the front lawns of the magnificent palace. The Rajput Room is the ideal location whether you want a classic dal bati churma for supper or a cup of French press coffee in the morning. This restaurant serves breakfast all day, and you can have it while gazing out over Rambagh Palace's verdant gardens.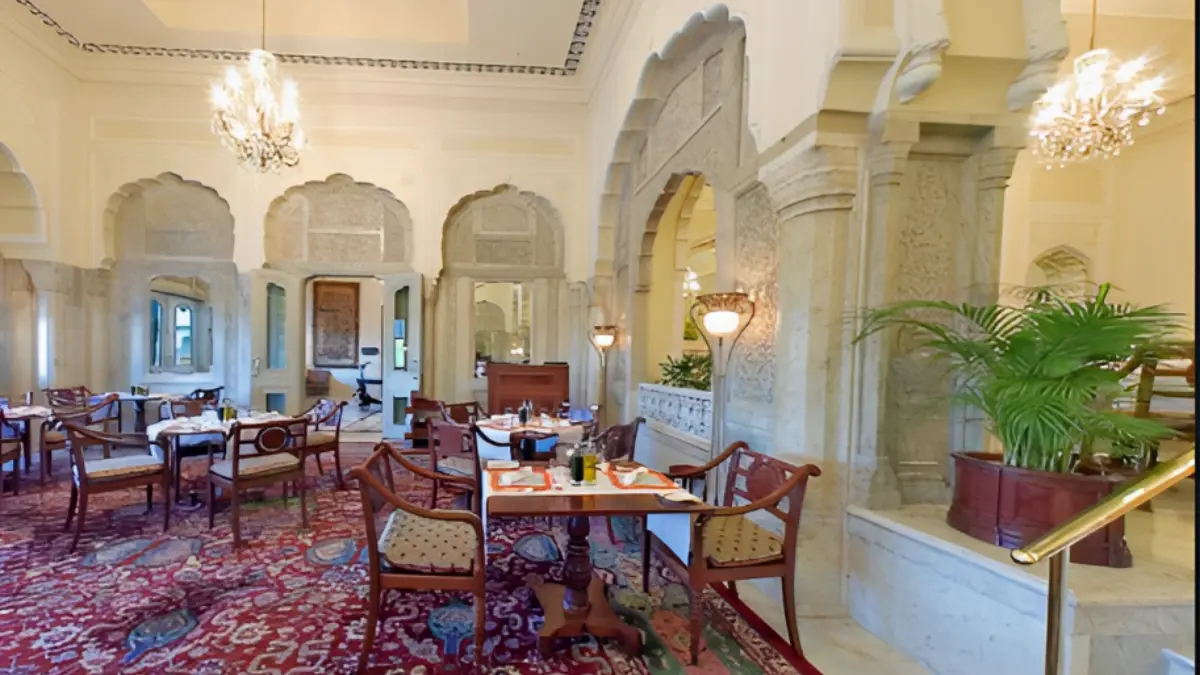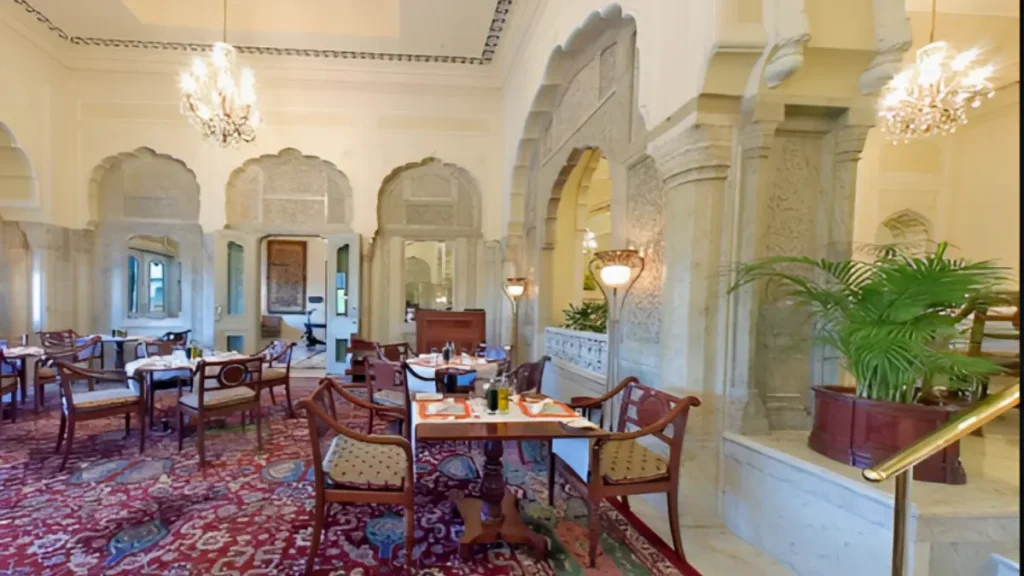 What to Eat: Murg Pulaao, Rambagh Kebab Sampler, Rajma Raseela
Timings: 06.00 A.M. to 09.30 P.M.
Cost for Two: INR 5000 for two
Location: Rambagh, C Scheme
12. Baradari
Baradari is one of the best luxury restaurants in Jaipur, situated within the premises of the stupendous City Palace. If you want to feel the royal vibes of the city, Baradari is the perfect place for you. The restaurant's design is that of an Indo-Saracenic pavilion with 12 pillars (baraah dwar), a bar and a dining area. Reserve a special dining experience in advance at Baradari. They will guarantee an unforgettable evening, complete with a flower table and illuminated by candles in antique holders to contrast the walls decorated with thikri mirror work, Mughal patterns, and royal family portraits. The menu includes a few favourites that the royals commonly order from the in-house restaurant, and the dishes at the table feature the palace seal to further enhance your feeling of royalty.
What to Eat: Rajasthani Thali, Laal Maas, Mozzarella kachori with potato chaat
Timings: 10.00 A.M. to 10.00 P.M.
Cost for Two: INR 2500 for two
Location: City Palace
13. The Colonnade
The Colonnade is one of the prettiest restaurants in Jaipur, with cream and turquoise interiors and intricate Mughal art and architecture. The Colonnade, part of the RAAS Rajmahal Palace, is a sight. The eatery screams Instagram-worthy like no other with its blue and white design. This restaurant, which opens into the magnificent grounds, provides a breathtaking view of the royal lawns where you may have high tea or a special supper with your significant other.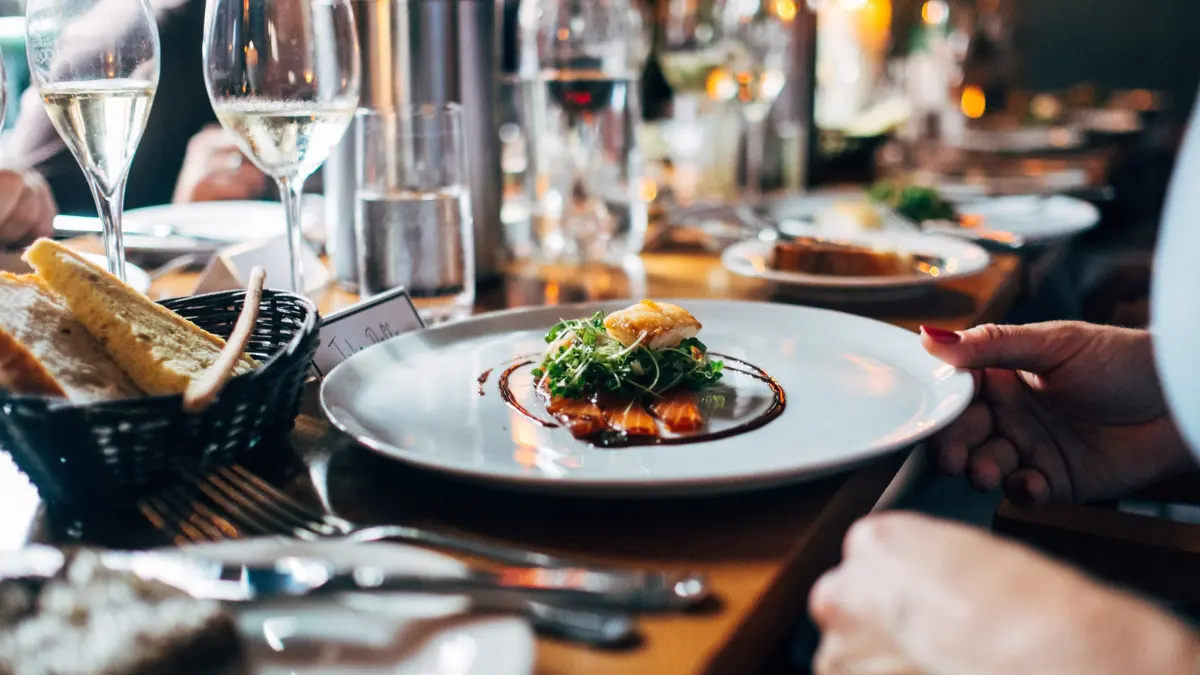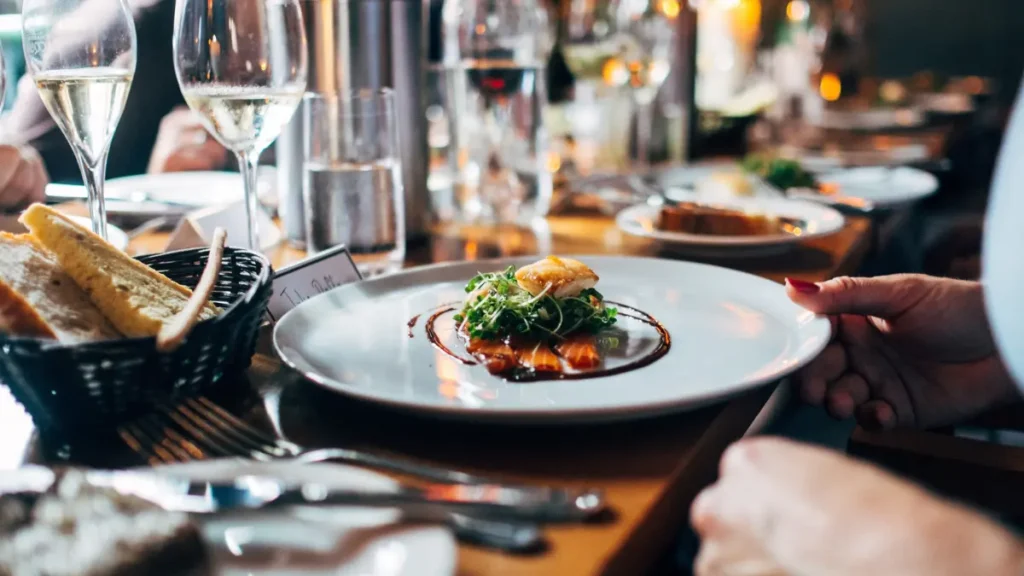 What to Eat: Rajwadi Daal, Mushroom Risotto, Thalis
Timings: 07.00 A.M. to 11.00 P.M.
Cost for Two: INR 3500 for two
Location: Rajmahal Palace, C Scheme
14. Zoya Fairmont
Fairmont is a luxury hotel outside Jaipur that you can visit for dinner or lunch with your soulmate or family. The name Zoya, which translates to "sunshine," was carefully chosen for an all-day eating establishment that offers five different dining experiences in opulent surroundings with a cosy atmosphere. While dining in the magnificent Mughal tent-style dining areas, visitors are greeted with gleaming cutlery, beautiful china and goblets in regal colours.
On the ground floor, this vibrant restaurant has a global menu highlighting the best regional food honed through several trips and encounters with Rajasthani household chefs and royal chefs. In the mornings, when live stations light up for a regal breakfast feast, Zoya is a treat because of its expansive views of the Aravalli highlands.
What to Eat: Rose Kulfi, Biryani, Pizza
Timings: 07.00 A.M. to 11.00 P.M.
Price for Two: 4000 for two
Location: Fairmont Jaipur, Kukas
Conclusion
Jaipur is a beautiful city where you can experience a royal dining experience at your convenience and budget. Bar Palladio, RJ 14, Suvarna Mahal, Baradari, and Steam are some of the best restaurants in Jaipur for a royal dining experience. What are you waiting for? Go on a romantic date with your partner here or a dinner with your family and friends.
Restaurants in Jaipur: FAQs
What are the best restaurants in Jaipur for dinner?
The best restaurants in Jaipur for dinner include Revolving Restaurant, Suvarna Mahal, Chokhi Dhani and Steam.
What are the best restaurants in Jaipur for couples?
You can go on a romantic date to Bar Palladio, Villa Palladio, Steam, Baradari and Zoya Fairmont.
What are some restaurants in Jaipur, Malviya Nagar?
Fort is the best restaurant in Malviya Nagar.
What are the best luxury restaurants in Jaipur?
Luxury restaurants in Jaipur include Steam, Rajput Room, Samode Haveli, Baradari, Zoya Fairmont, 1135 A.D., and Suvarana Mahal.