Table of Contents
The Rann of Kutch festival of Gujarat is a flamboyant celebration of the Kutchi culture along the Great White Rann. It is a four-month-long festival rich in culture, adventure, cuisine, music, and entertainment in the form of luxury. In the middle of the stunning and varied environment, it brims with the vitality, hospitality, vigour, and traditional flavour of the wonderful Kutch. The yearly celebration provides the chance to travel to the vast white desert that straddles the Pakistan-India border.
Select the perfect Rann Utsav package available online out of many to have a smooth stay in this amazing man-made city. The experiences are perfectly curated for tourists, along with a luxurious stay in tents and royal rooms. This place is perfect for glamping – glamorous camping with luxurious facilities and hospitality. This article will explore every nook and corner of this colourful festival – places to visit, things to do, permits for entry, accommodation rates and more.
The Ebb and Flow of the Gujarat Rann of Kutch Festival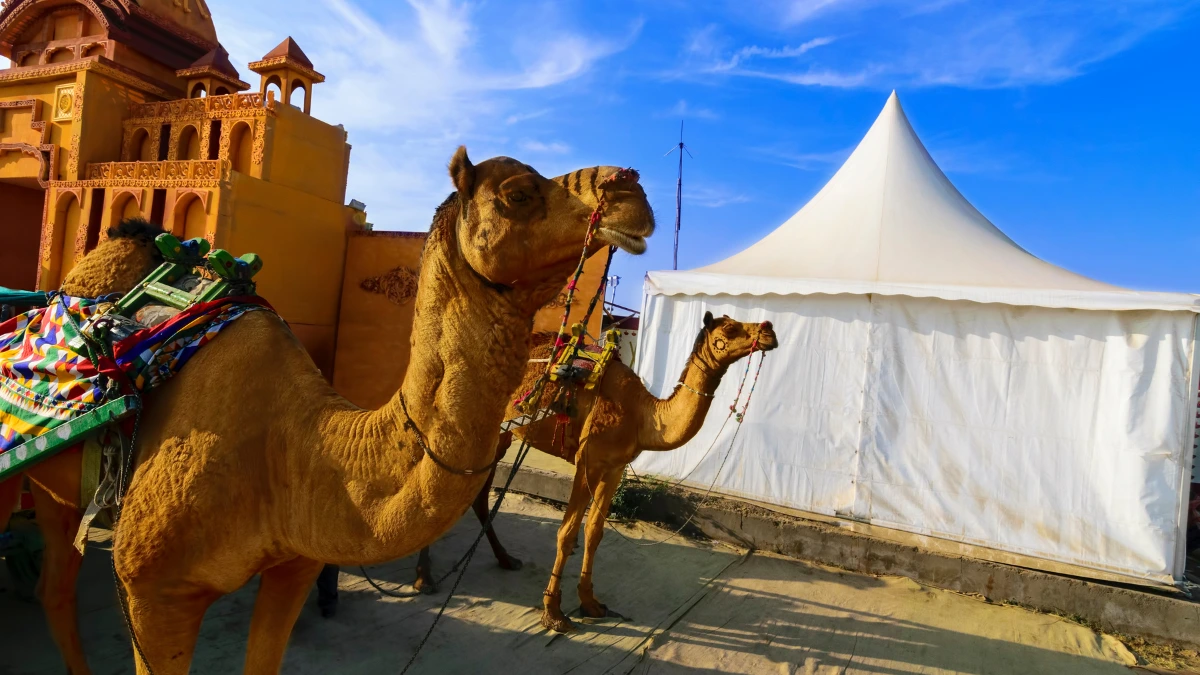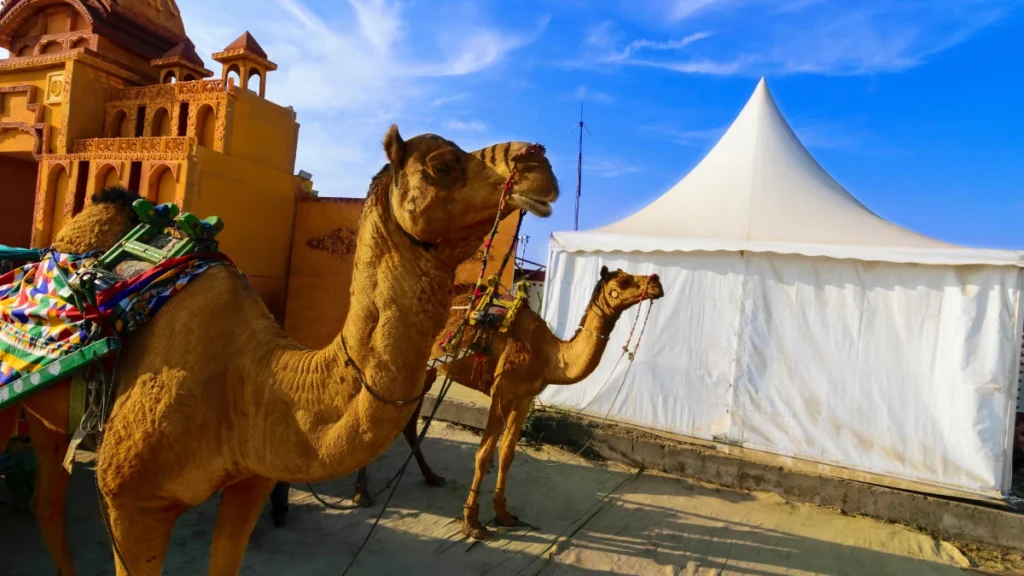 The Kutchi heritage is displayed at its best in this Tent City of Rann Utsav that, open from November to February every year. The festival has pulled more than 5,00,000 tourists from more than twenty countries; the tourists stop by here for days to experience the heritage of Kutch in this beautiful and only white desert of India. This desert funfair is the ideal vacation spot because of the heart-stirring beauty of nature, the peaceful and serene surroundings, the rich Kutchi culture, the array of handicrafts, and the outdoor activities. Numerous exhilarating activities, including cultural act performances, concerts, camel safaris, parasailing, and segway, enrich the various hues of the celebration with the help of traditional dance styles and music.
As the district is on the Indo-Pak Border, Kutch is diverse in ethnicity and is a mix of major religions and tribes like Hindus, Muslims, Rabari tribe, Siddi tribe, Garasia tribe and more. The festival celebrates the amalgamation of all these different ethnicities with great fervour. It offers a unique chance to experience the creativity of the artisans, the diverse range of folk music and performances, the diversified representation of civilisations and communities, and a wide range of ecological variety. These things and many more characterise Kutch and its inhabitants.
How Did Rann Utsav Start?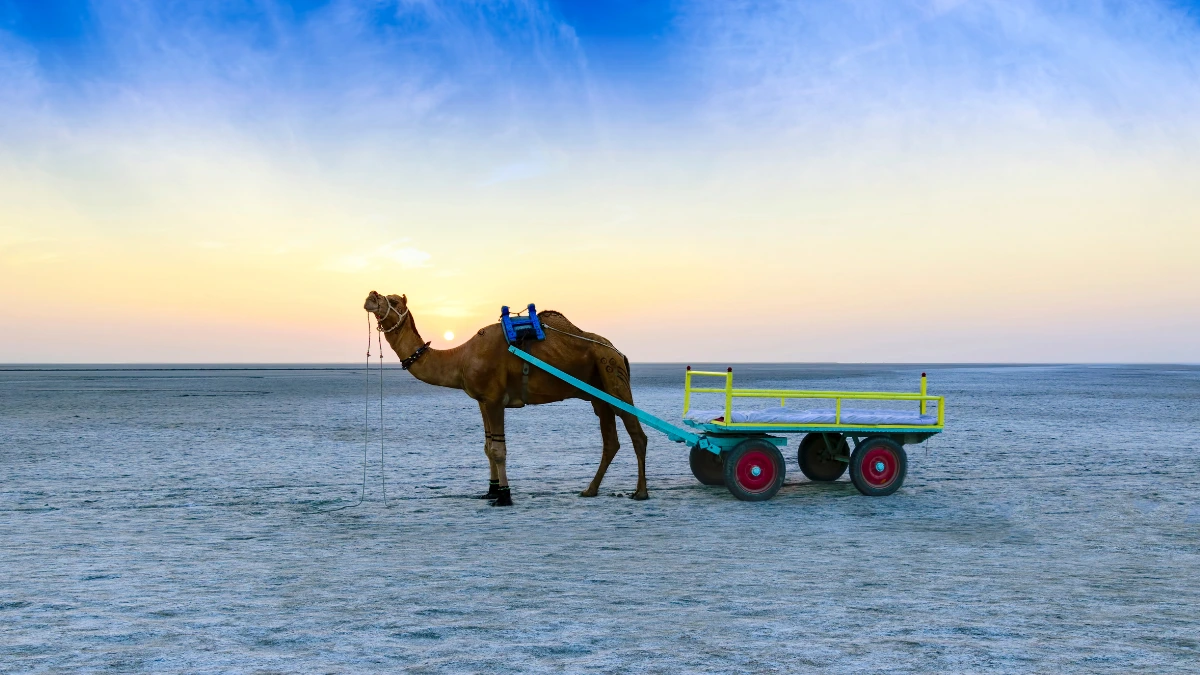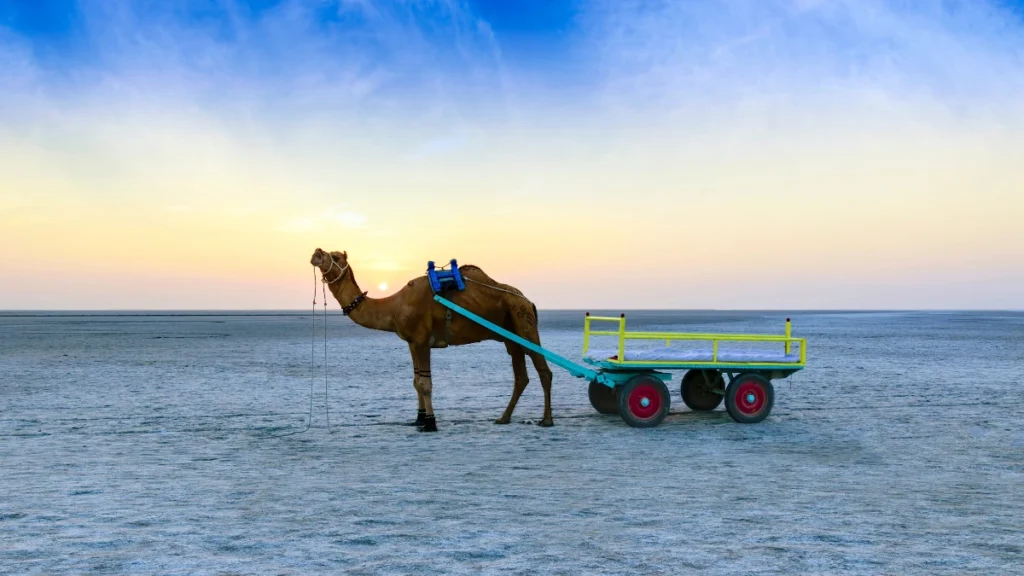 This four-month-long festival started in 2005 as part of the Gujarat Tourism campaign. The campaign took the 'White Rann Experience' to the next level by building a whole city of tents for explorers wishing to relish Kutch and Gujarat's beauty.
It began as a three-day festival in a nearby village of Dhordo that was gradually celebrated for four months! After the popularity of the initial festivities, the Tourism Corporation of Gujarat decided to expand it by creating a 'Tent City' near Dhordo for tourists to stay, enjoy, and explore.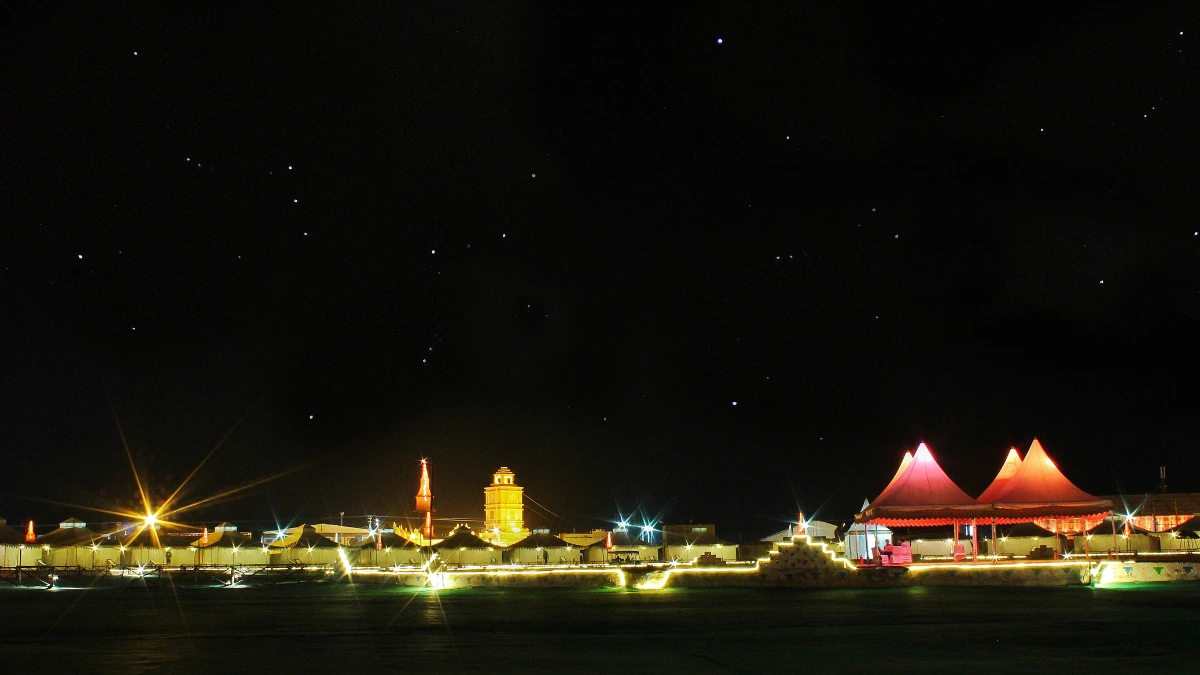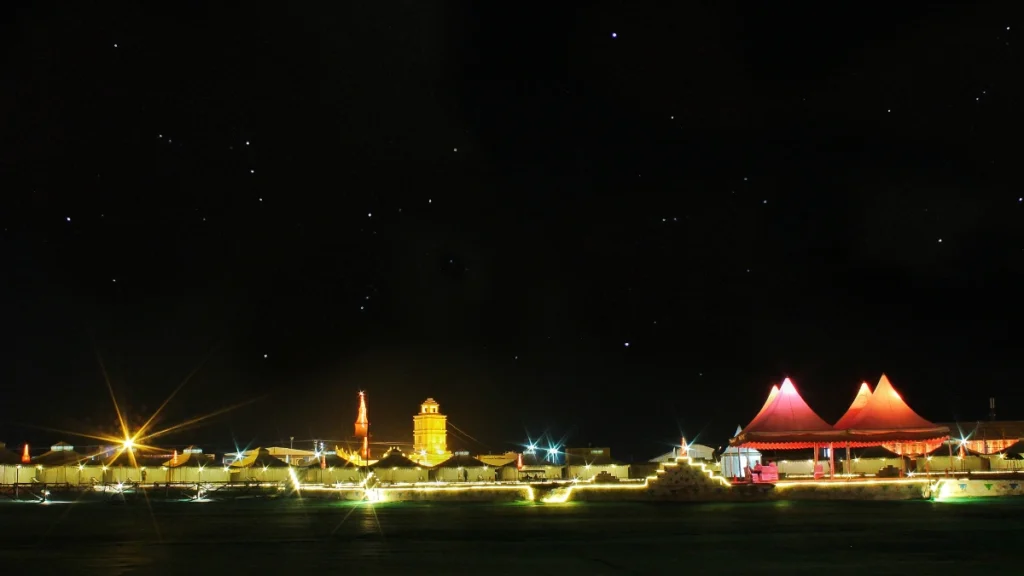 Rann Utsav Start Date
The Rann of Kutch festival will start from 1st November 2023 until 25th February 2024.
Rann Utsav 2023 Dates for Special Events
Special events take place at this luxurious and lucrative festival, like celebrations of Christmas, New Year, Diwali, and more. The white sand and salt of the desert are breathtaking to view on full moon nights – every full moon night is also celebrated here for its beauty.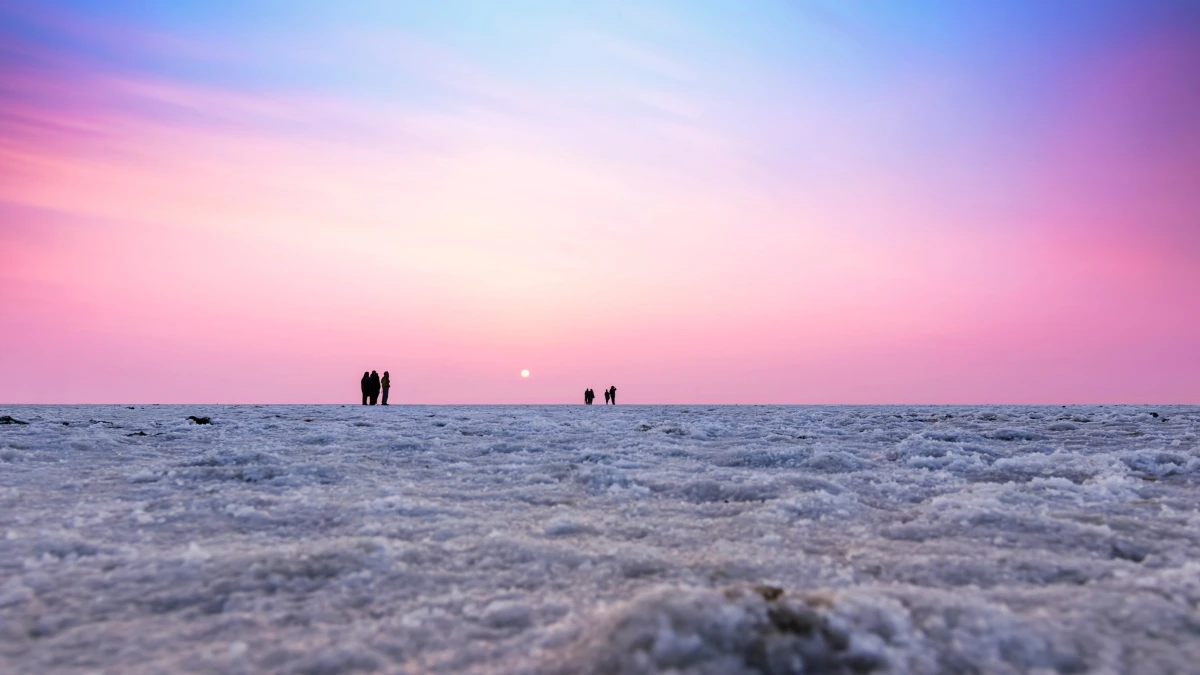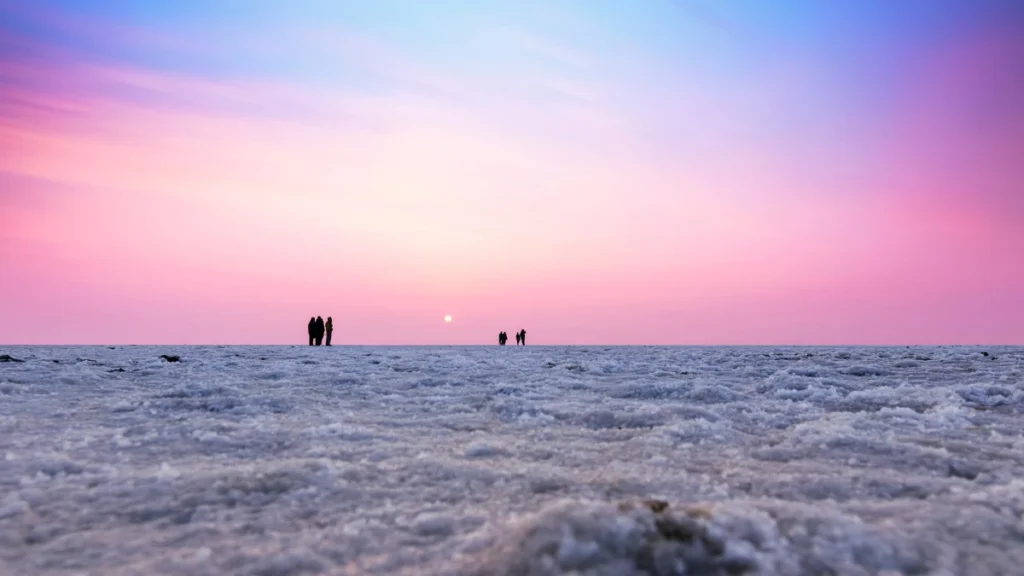 Places to Visit in and around Kutch
The Rann Utsav offers many sightseeing tours for its visitors. You can go to many places while staying in this tent city.
1. The White Desert: 
The huge white desert of Kutch is a natural marvel of white mud and salt that stretches wide in the district. During monsoon, the desert looks like an island and marvellous sight.
2. Kaalo Dungar: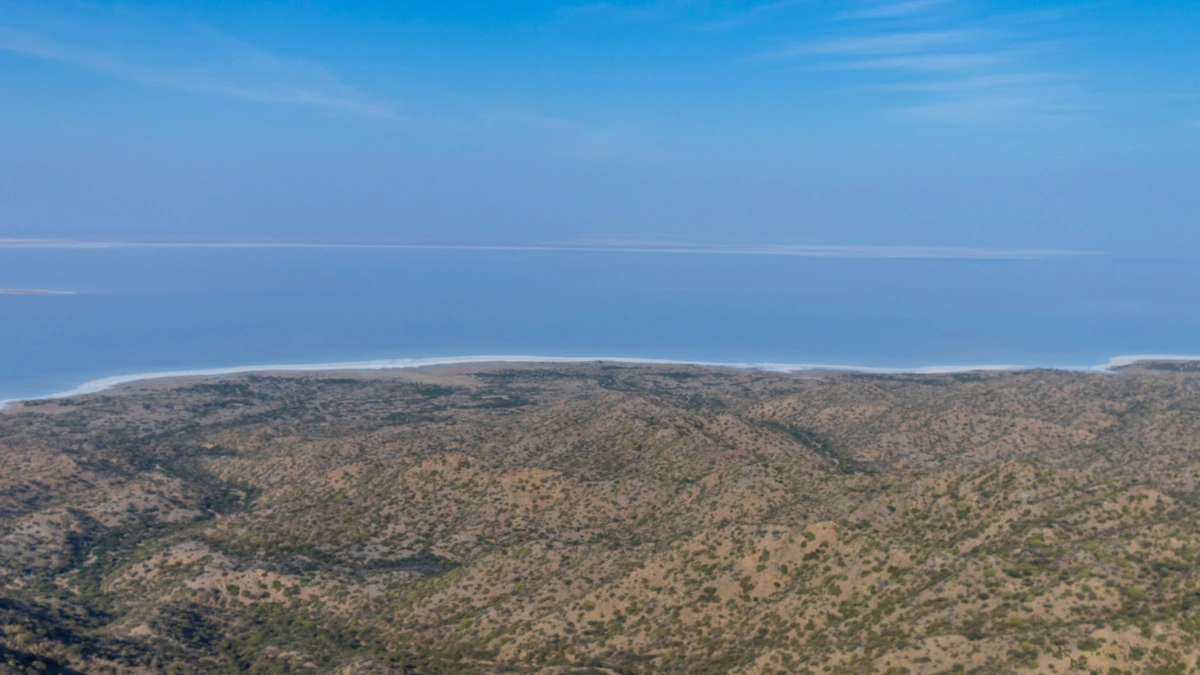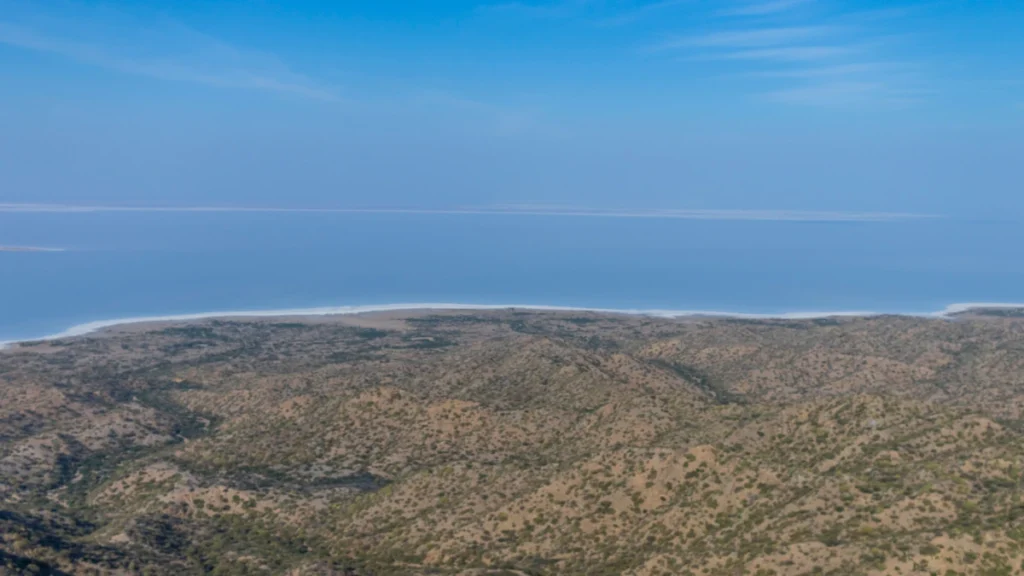 The black hill of Kaalo Dungar provides a picturesque panoramic view of the entire White Rann. The hill is also recognised for the 400-year-old Dattatreya Mandir.
3. Vijay Vilas Palace: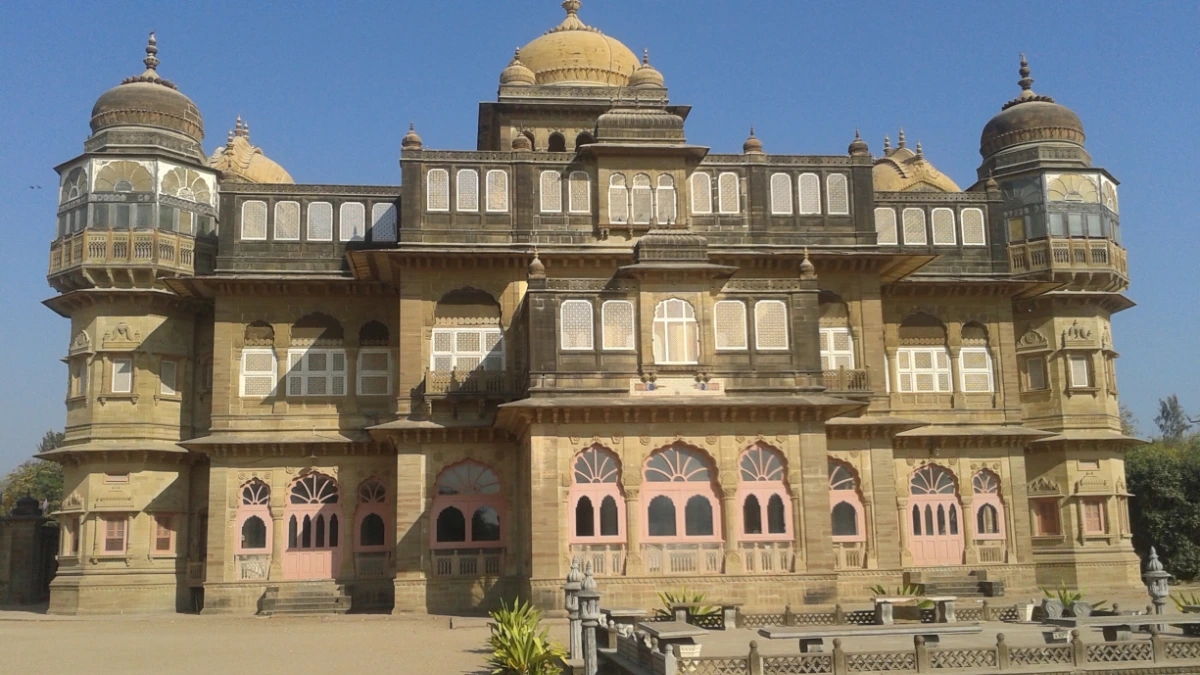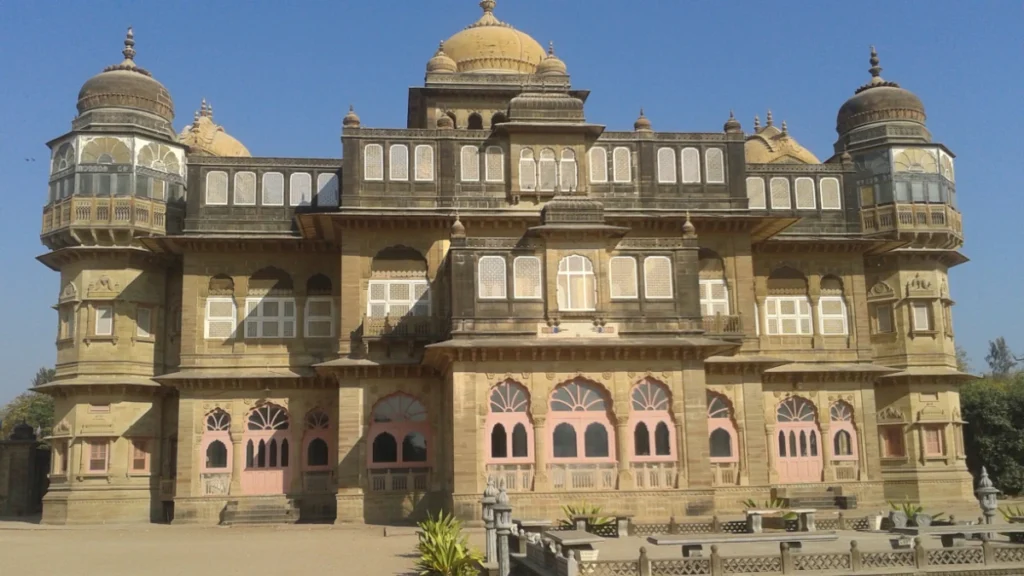 The palace has been featured in numerous Bollywood movies and is an architectural marvel with domes and intricate windows.
4. Bhujodi Village:
This small village is home to the many artisans and craftsmen who weave and embroider traditional textiles in the Kutchi style. You can buy these hand-embroidered textiles from here as well.
5. Mandvi Beach:
Mandvi Beach is a magnificent seashore with coconut-laden palm trees. It is the most sought-after tourist place in Kutch.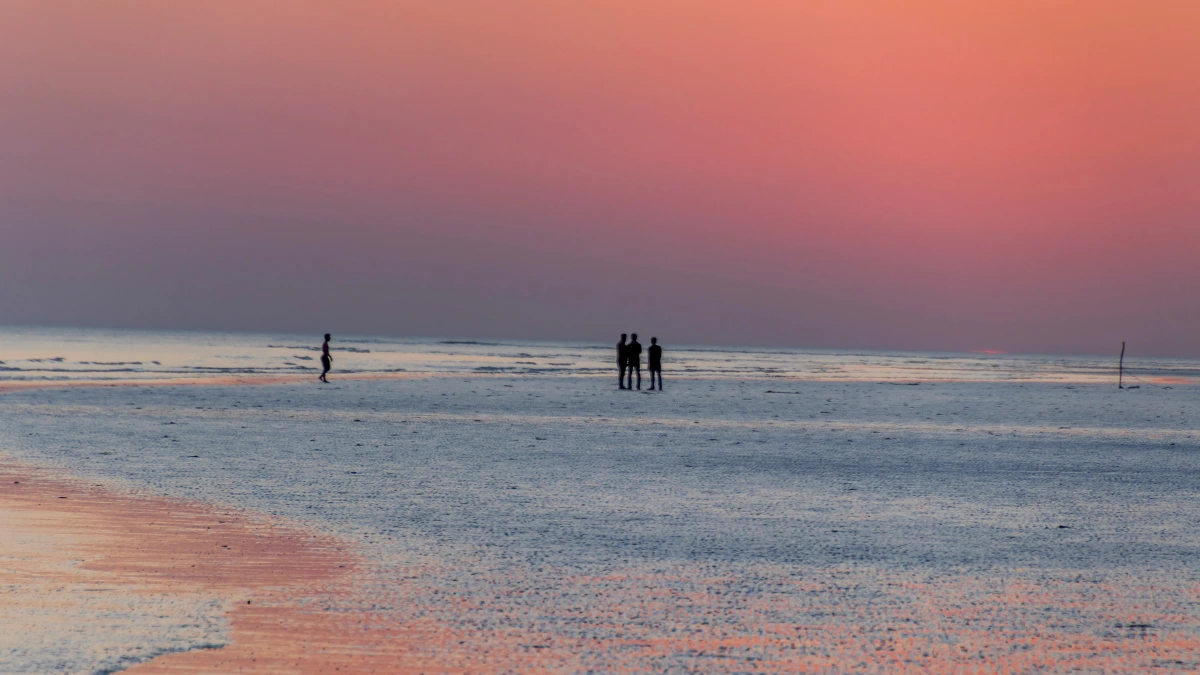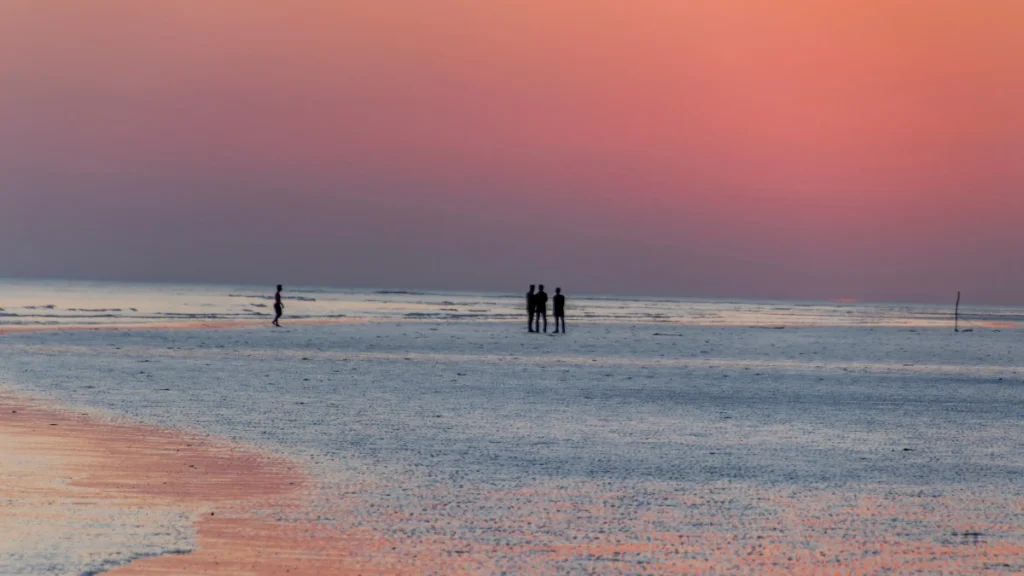 6. Nirona Village:
Nirona Village is home to the Rogan art of textile printing. This 400-year-old skill has been kept alive in this village for a long time by just one family – in the world!
7. Dholavira: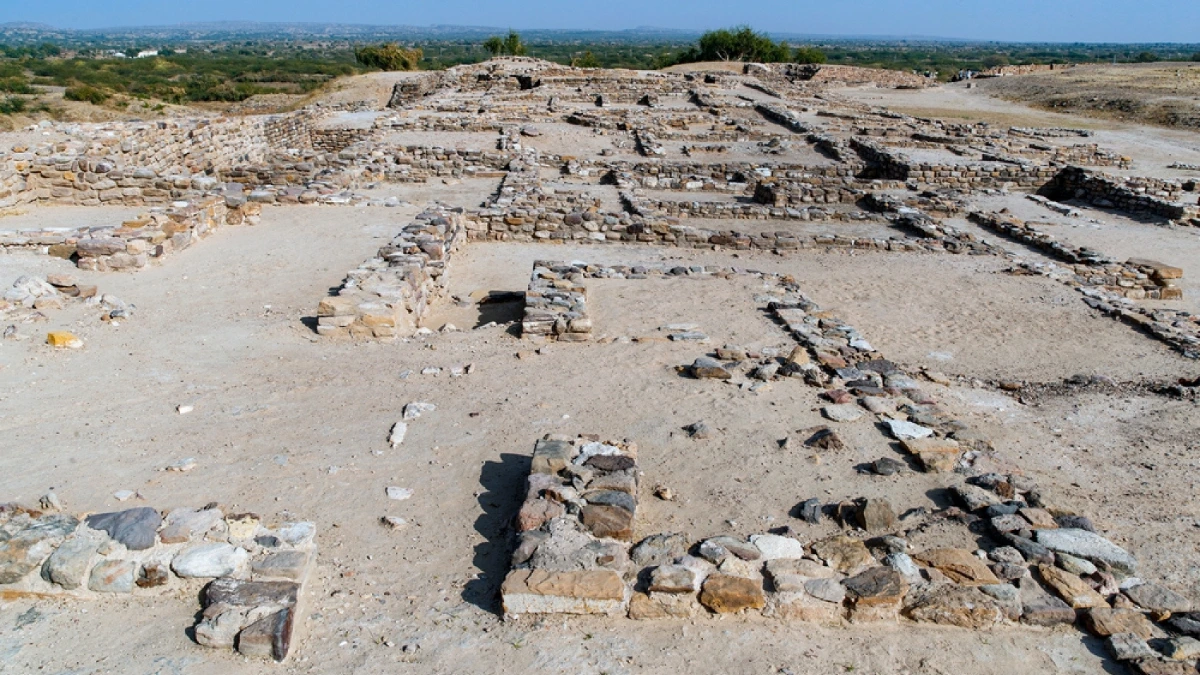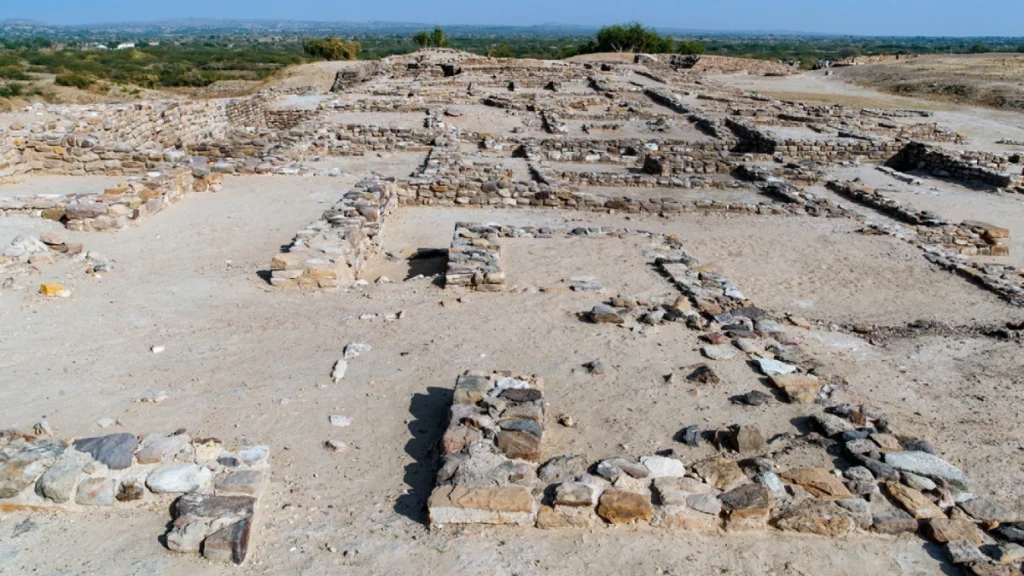 Dholavira is a UNESCO World Heritage Site dating back to the Harappan Civilization. It is a planned city, the wonders of which are perfect for those who love architecture, archaeology, and history.
Things to Do in Rann Utsav
The Rann of Kutch festival has a thousand activities you can participate in, from camel rides and adventure sports to shopping.
1. Adventure Sports:
You can indulge in adventure sports such as archery, parasailing, ATV rides, paintballing, segway rides and cycling. These activities offer up close and aerial views and experiences of the Kutchi culture.
2. Bicycling:
At the Rann Utsav, bicycles are up for rent for touring India's first 'Bicycle Fun Park' inside the tent city. You can also opt for renting bicycles to tour around the white desert. It is a very romantic experience to have with your partner.
3. Indoor Gaming: 
The Rann of Kutch festival offers both adventurous and outdoor activities and indoor ones! At the Club House situated in the premises of this city, engage in a relaxing time playing carrom, table tennis, foosball, snooker, and more! There is also a fish spa and karaoke here for you to enjoy.
4. Spa Center:
This luxurious glamping experience offers a rejuvenating Spa Center on a chargeable basis for those wishing to acquaint themselves with a relaxing time after the thrilling experiences at the festival.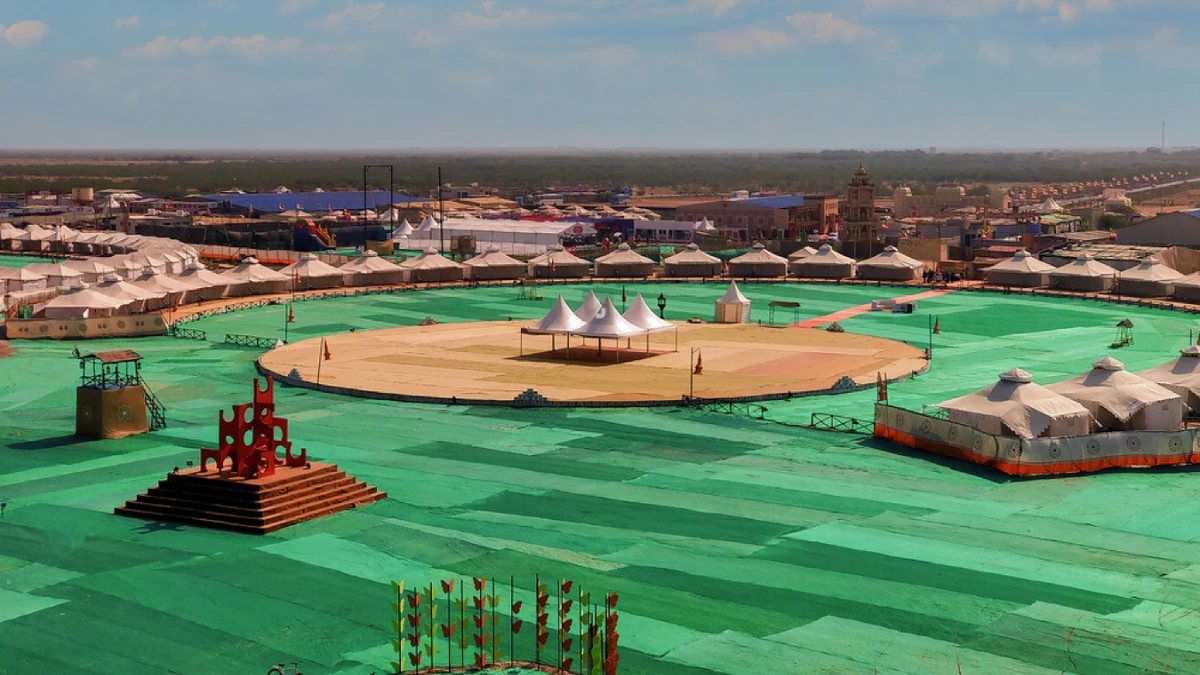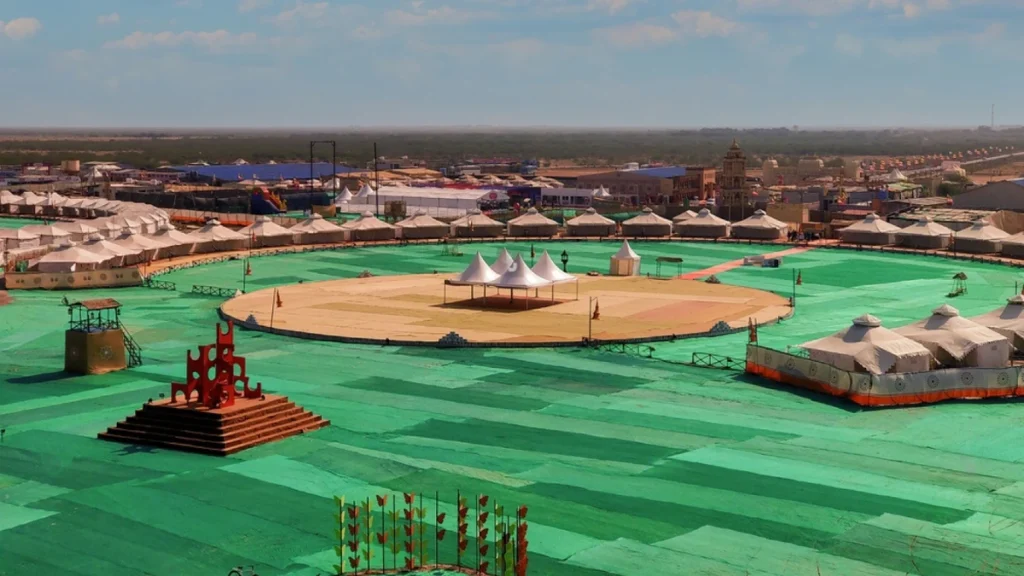 5. Watch a Cultural Performance: 
The diverse ethnicity of Kutch is displayed here with varied dance forms and in musical concerts performed by local tribes like the Siddi tribe. You can watch Garba or the Siddi Dhamaal more closely to experience the indigenous culture.
6. DJ Parties
Regular DJ parties are held at the Rann of Kutch Festival for those who want to groove all night.
7. Puppet Shows:
You can witness the traditional art of puppeteering at the Rann Utsav. Those who love storytelling are sure to fall in love.
8. Smritivan: 
Smritivan is India's first and biggest earthquake memorial. It is a tribute to those who lost their lives during the 2001 Gujarat earthquake. There is also a museum here documenting the redevelopment of Kutch after the earthquake. Spread over 8 acres, it offers various experiences like a 360-degree simulation, sculpture galleries, holograms and more. The memorial also houses the world's largest Miyawaki forest.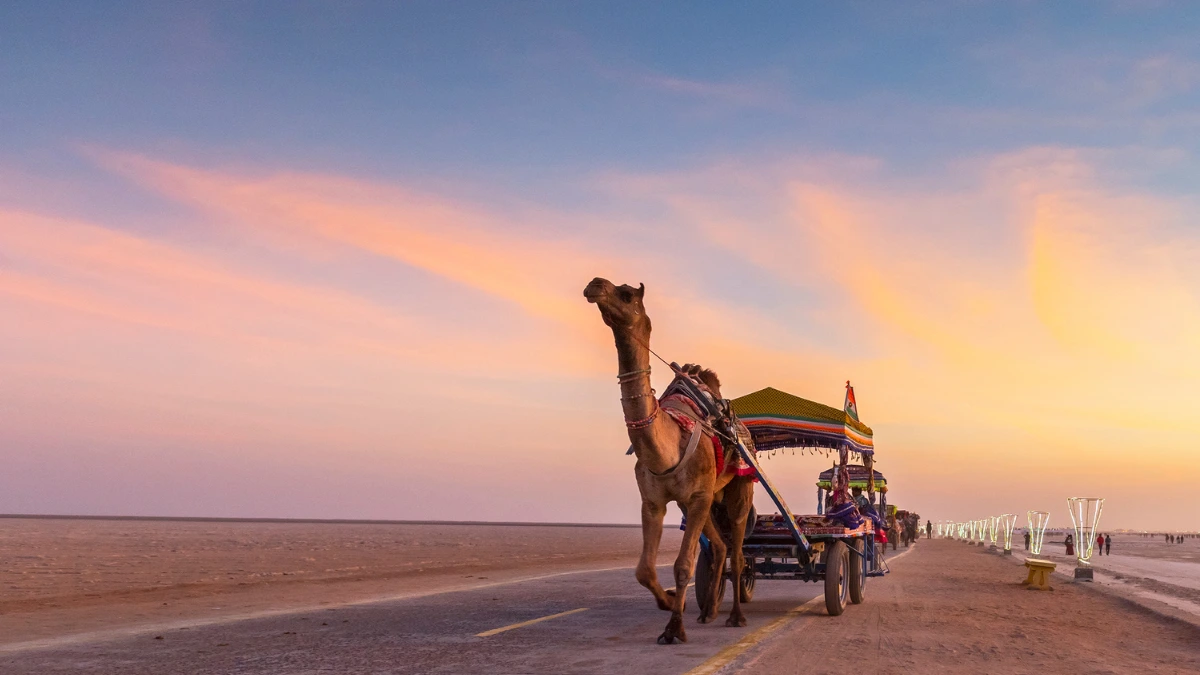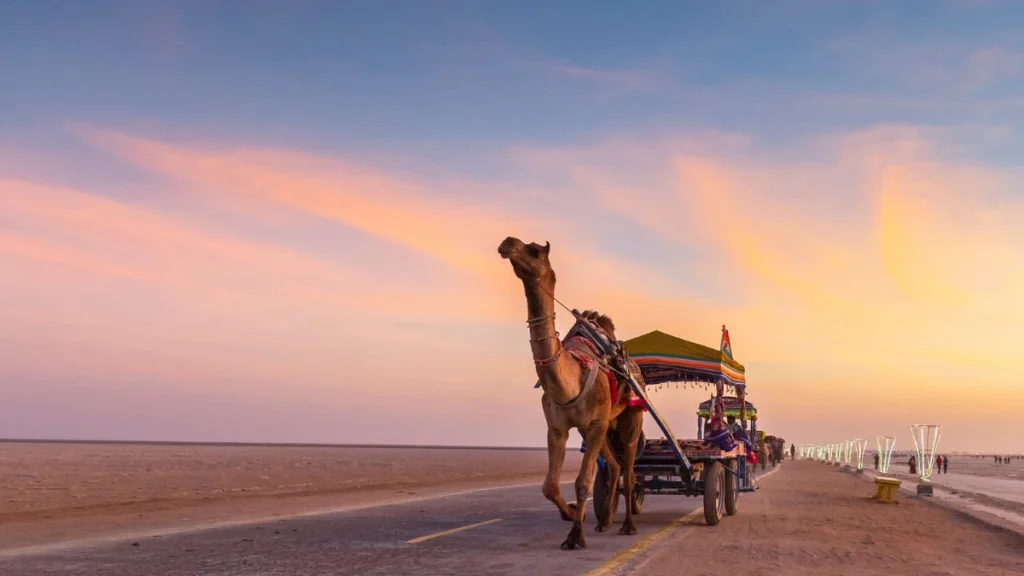 9. Camel Cart Rides
You can take camel rides through the white desert to experience its beauty.
10. Shopping:
Shopping at the Rann of Kutch festival is a treat. The intricate handicraft works like printed and embroidered textiles and hanging decorations are phenomenal. Toys made out of mollusc shells are also very popular among tourists. When a mollusc – snail, tortoise, oyster, and more – dries up, their shells are removed, and toys and other home décor items are created by painting them and applying motifs. Shopping here is a rich experience one must take advantage of.
The Kutchi Culture in Rann of Kutch Utsav
The Kutchi culture displayed at Rann Utsav is a small glimpse at the huge cultural traditions around the Kutch district.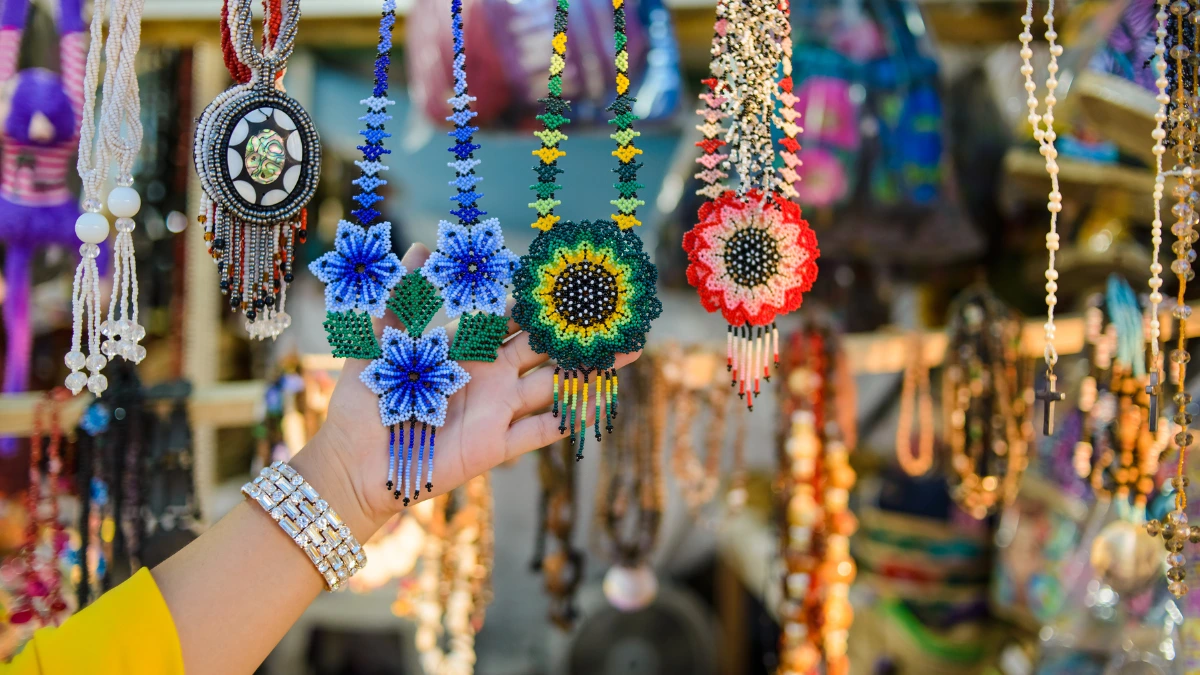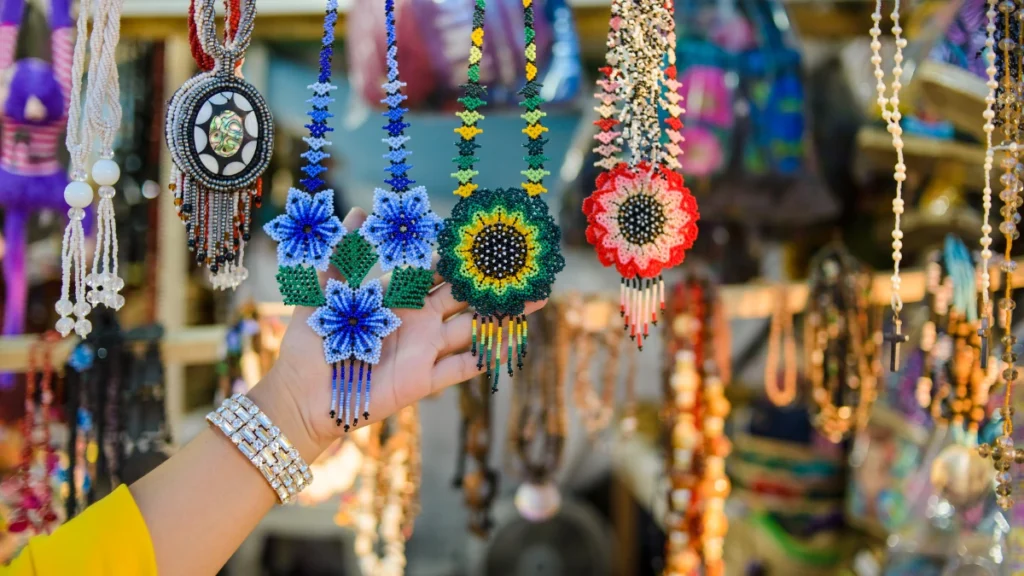 Handicrafts
Handicrafts are an integral part of the culture here; most people's income comes from them. Patchwork, terracotta, pen knives, nutcrackers, and embroidery are the major handicraft styles here. Mirror embroidery of Kutch is a well-known textile style. Clothes, purses, and home décor items are hand-embroidered here to give them a Kutchi touch that looks absolutely beautiful.
Ajrakh and Batik are other popular textile printing styles that you can learn more about at the Rann of Kutch festival and buy some fabric or readymade clothes and accessories.
Wood carving and silver work are prominent styles that have made Kutch their home. Wood-carved frames, folding screens, trays, crockery and more are available at the Rann Utsav. Silver work consists of intricate carvings on items made of silver, like jewellery and teapots, also available at the festival's bazaars.
Women of the Banni area create paintings of their dreams on walls using a mixture of mud and camel dung as paint. The traditional paintings are beautiful and a great souvenir to take home.Seashell toys and iron bells with copper coatings are another popular handicraft here. The iron bells are used as toran or hanging decorations on door frames and walls of Gujarat's houses. Those bells that are created for shepherds' flocks are of a unique kind. Women create these bells and pair them with other handicraft works like embroidery – they work as indicators of the shepherds' herd, making it easier to locate one's own herd from that of another. The bells are also created so that each bundle of similar bells makes a different sound than the other – the sound of bells also helps locate the cattle and distinguish one flock from another.
Folk and Cuisine
The Kutchi culture is rich in folk music, dance, and cuisine. You can revel in these art forms and food at the Rann Utsav. The Kutchi music consists of instruments like manjira, flute, dholak, damru, nagaada, tabla, khanjari, and more. The concoction of these instruments and the soulful voices of the people here create a wholesome musical sensation to hear. Unique to the Kutch region include Jodia Pawa (set of two flutes played at once by one person) and bhorindo, an egg-like set of two wind instruments. You can immerse yourself in this music at Rann Utsav.
The Kutchi style of folk dance is getting quite popular around Gujarat. Their dance forms include garba, garbi, hinch, titudo, dandiya raas, ghoriya raas, and more. Combined with the soulful music of the region, the dance forms come alive to create a never-before-experienced feast for the eyes and ears. Regular dance and rock concerts are held at the Rann of Kutch festival to introduce tourists to the melody and groove of the tribal people.
The staple food of Kutch is simple yet mouth-watering. The cooking style and flavour of the dishes are equally revered here to create the perfect recipe that makes mouths water. Kadhi-Khichdi is a popular dish; a sweet buttermilk curry is served with cooked and spiced rice. Bajra no rotlo is another popular staple: a thick chapaati made of pearl millet. It is generally served with a brinjal dish, garlic chutney, and milk or buttermilk.
Dabeli has turned into everyone's favourite street food nationwide. But did you know that this tasty snack was invented in Kutch? Yes, a man called Kesha Malam created dabelis in the 1960s. The dabeli masala made here is thought to be the most authentic one. All these delicious food items, Jain items and other vegetarian dishes can be devoured at the Rann of Kutch festival.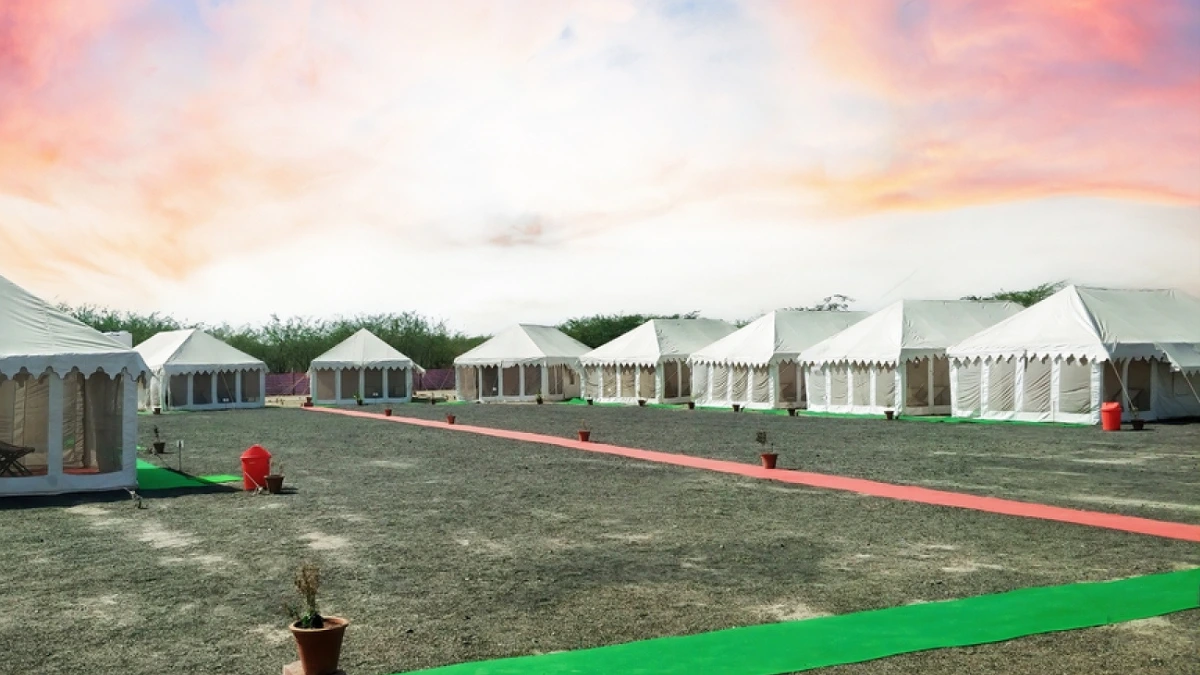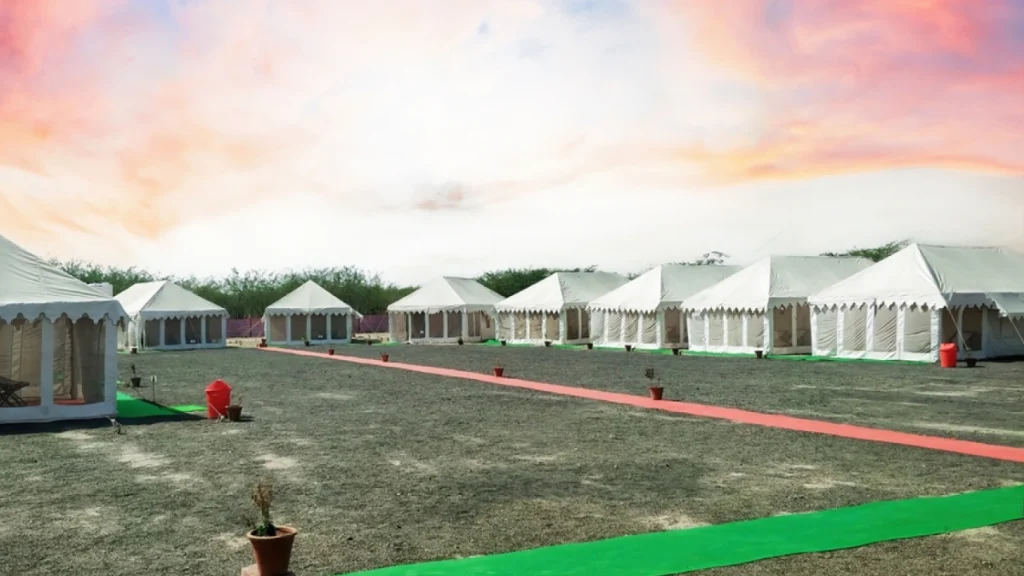 Staying at Rann Utsav – Rooms and Prices
The Rann of Kutch festival offers a luxurious glamping experience with tents and suites. Those who do not wish to stay in suites can opt for tents or cottages. There are 6 types of accommodations available at this huge festival. The prices for the tents and cottages vary according to peak timings – full moon nights and festive celebrations. Buying a Rann Utsav tour package based on 1 to 4 nights will make all the accommodation options cheaper.
1. Darbari Rooms
These rooms are two that connect to each other and are enough for 4 to 6 people. They offer all the luxuries like AC, a non-alcoholic mini bar, separate dining and changing rooms, royal sofas, and more. The tariff rates start from INR 55,000 per night.
2. Rajwadi Rooms: 
These rooms are smaller than the Darbari rooms and house 2 to 4 people at max. They have all the facilities of the Darbari rooms. The tariff rates start at INR 30,000 per night.
3. Super Premium Tent: 
These tents have most suites' amenities except for minibars, dressing rooms and sofa sets. Instead, they have coffee tables and a spacious front porch. Those looking for a glamorous camping experience should stay at the super premium tent. The rates start at INR 9,600 per person.
4. Premium Tent:
The Premium Tent is a budget option for those who wish to experience luxury but do not wish to empty their pockets. These tents have all the facilities of a super premium tent – the only exception is that the Rann Utsav is not that easily accessible from here. Tariff rates start from INR 8,700 per person.
5. Deluxe AC Swiss Cottage:
These AC luxury cottages are for those who do not like living in tents. The cottages are smaller than the tents and have twin beds. They have all the facilities of the premium tent as well. Tariff rates start from INR 7,100 per person.
6. Non-AC Swiss Cottage: 
These cottages are the cheapest accommodation option at the Rann Utsav. They have all the luxurious amenities of the AC Swiss Cottage except for a tea and coffee maker and an air conditioner. It has a fan instead. The tariff rates start from INR 5,500 per person.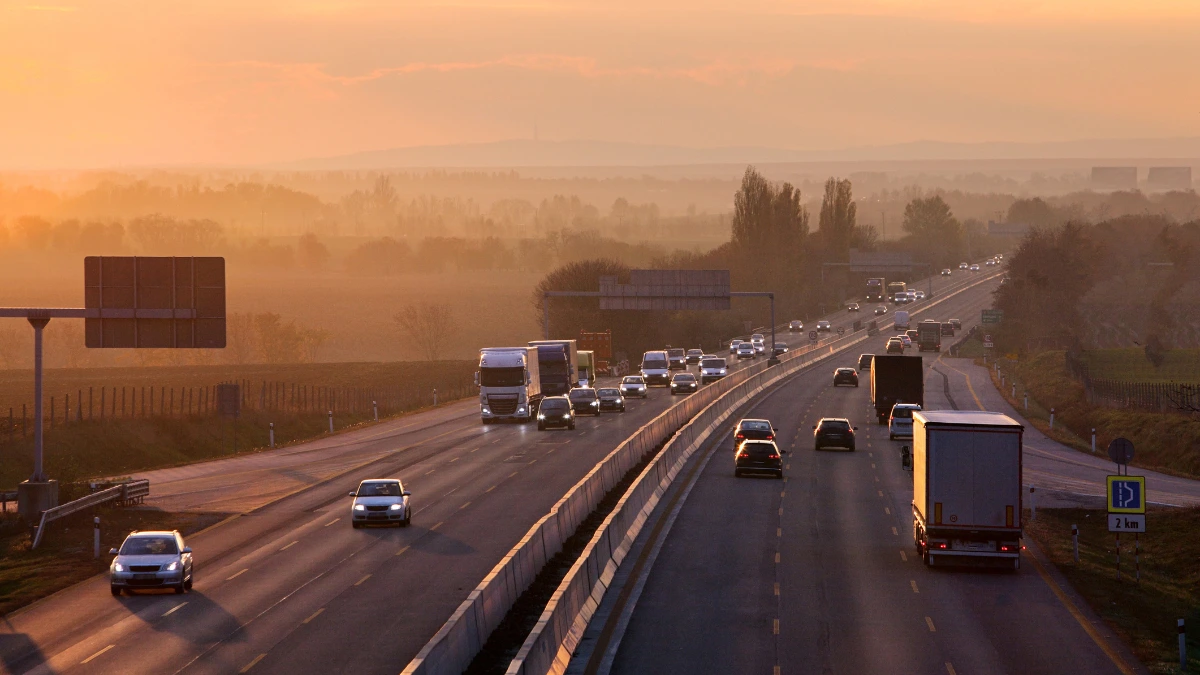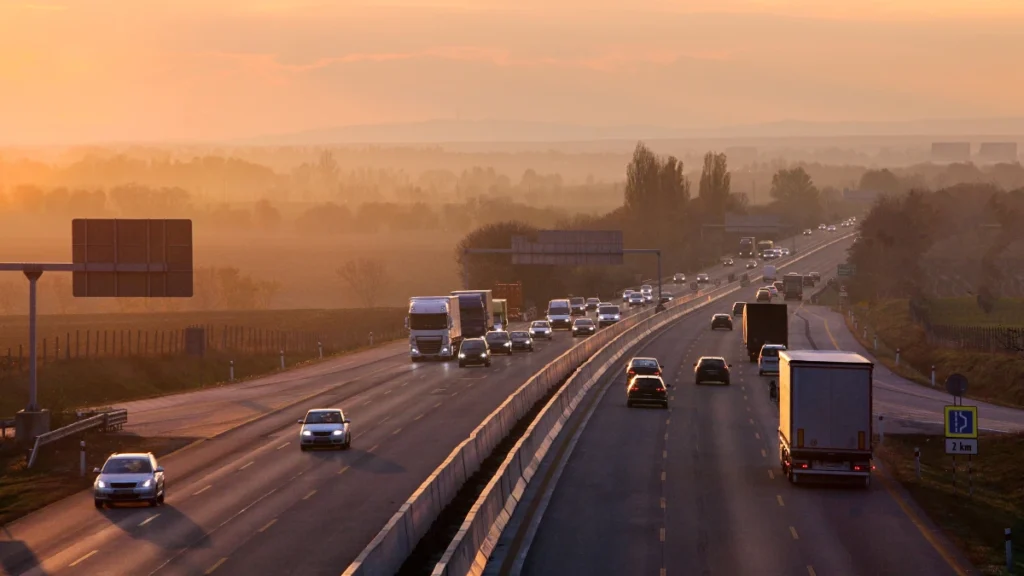 How to Reach the Rann of Kutch Festival
The festival is easily accessible via all modes of transport. The nearest airport is in Bhuj, 80 kilometres from the festival. The nearest bus station is in Hodka, which is also fairly connected to the major bus stations of Ahmedabad and is 12 kilometres from the Rann of Kutch. Bhuj also has a railway station that is well-connected to Ahmedabad and Mumbai.
Permits
You will need permits to enter the Rann of Kutch as it is a sensitive area due to its proximity to the national border that joins India and Pakistan. The permits are provided by the Gujarat government and are easily available online. You will have to upload valid identity proof to obtain them. Your local travel agent can also help you apply for the same offline.
The permits cost INR 50 for children between 6 and 12. People above 12 years pay INR 100 each. The entry for children below 5 is free. If you bring a vehicle, they will also require permits to enter the area. The charges are INR 25 for a two-wheeler and INR 50 for a four-wheeler.
Conclusion
The Rann of Kutch festival is a beautiful celebration of life in Kutch that one must visit at least once. There are many places to see, like the beautiful Mandvi Beach and the intricate Vijay Vilas Palace. Rann Utsav offers countless options when it comes to activities there. The most popular ones include camel rides, parasailing, and bicycle tours. Accommodation at the festival is not cheap, but it is worth a shot to live a life of luxury while checking out the amazing Kutchi culture. Book your places at the Rann of Kutch Festival 2023-24 to enjoy this world-famous experience of the tent city.
Rann of Kutch Festival: FAQs
1. Why is Rann Utsav celebrated?
The Rann of Kutch festival celebrates the beauty of the White Rann and the Kutchi heritage and culture. The Tourism Corporation of Gujarat Ltd. started this festival to increase awareness of the tribal people and their culture among other people.
2. Is Rann Utsav worth visiting?
Yes, the Rann Utsav is worth a visit. It has everything you can ask for – adventure sports, entertainment, sightseeing, shopping, luxurious accommodations and more.
3. What is Rann of Kutch festival?
The Rann of Kutch festival is a festival celebrated in Kutch, Gujarat. A whole Tent City has been created for the festival, offering accommodation, entertainment, adventure, and everything else you can think about.
4. Rann Utsav History
The Rann Utsav started in 2005. When the White Rann was written off as a lifeless land with nothing to offer, the Tourism Corporation of Gujarat Ltd. Took the opportunity to show the world that it is more than a white stretch of land – the culture, heritage, and beauty of the desert on full moon nights are worth experiencing. It started as a three-day festival celebrating the indigenous culture of Kutch in Dhordo, a nearby village. It became so popular that now it is a four-month-long festival for which a different tent city has been created!