With so many holidays and long weekends coming, we are all looking for places to visit in India in September. Who wouldn't? Long weekends and public holidays are a great way to spend quality time with your partners, families, friends, or yourself. India is rich in culture, customs, food, and tourist destinations. In this blog, we'll explore the best Indian places to visit in September.
Places to Visit in India in September
1. Tarkarli, Maharashtra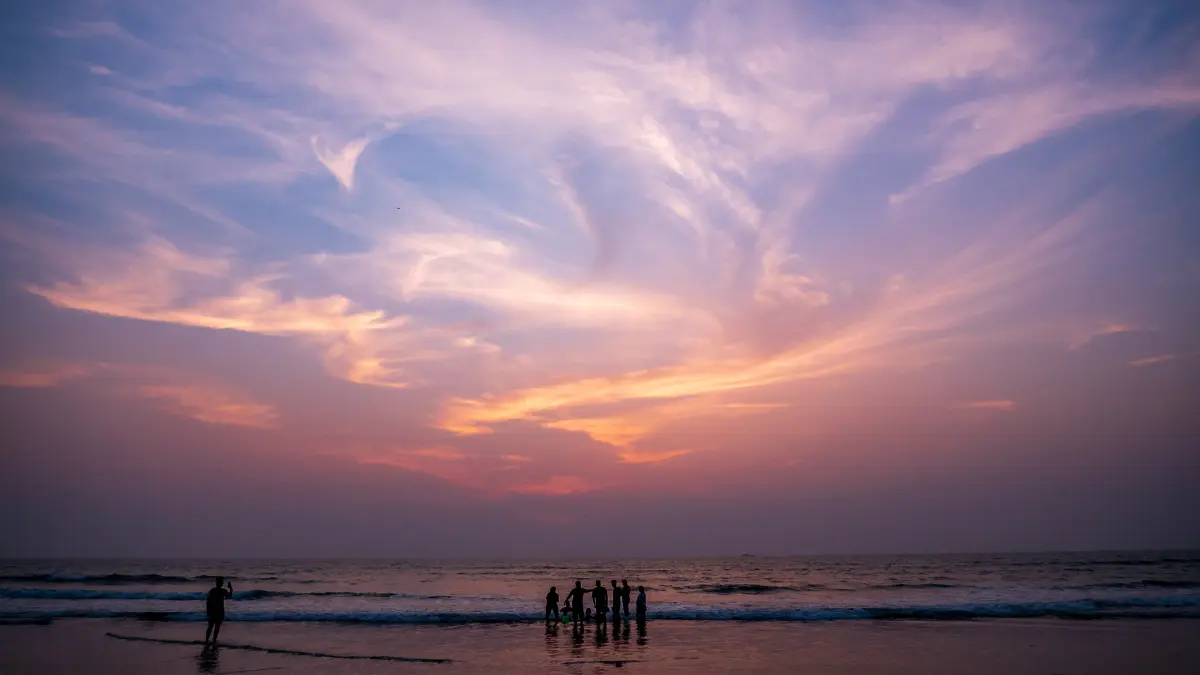 In the Maharashtrian district of Sindhudurg, Tarkarli is well-known for its white sand beach and water sports. Undoubtedly, Tarkarli Beach is one of the Konkan region's most stunning beaches. The beach is stunning because of the white sand, the crystal-clear sea, and the casurina trees. On a sunny day, the sea at Tarkarli is exceptionally clear, allowing visitors to view the seafloor up to a depth of at least 15 feet.
The only location in Maharashtra where people can scuba dive is Tarkarli. Although the reefs in the area of the Sindhudurg fort are not exactly elite, it is a good idea to give it a go, as the waters here are quite clear. A lesser-known destination, Tarkarli is the best place to visit in September.
Things to Do in Tarkarli
Engage in water sports like scuba diving, parasailing, banana boating and more.
Houseboat riding is a one-of-its-kind experience here that will make you feel like you're riding shikaras in Kashmir.
Nearby Attractions
Tourist places near Tarkarli include Malvan, Padmagarh Fort, and Tsunami Island.
How to Reach Tarkarli from Mumbai
The Mumbai-Goa Highway – NH66 – is well-connected to Tarkarli
The nearest airports from the place are the Dabolim Airport in Goa and Chipi Airport in Sindhudurg
The nearest railway stations are in Sindhudurg, Sawantwadi, and Kankavali.
2. Goa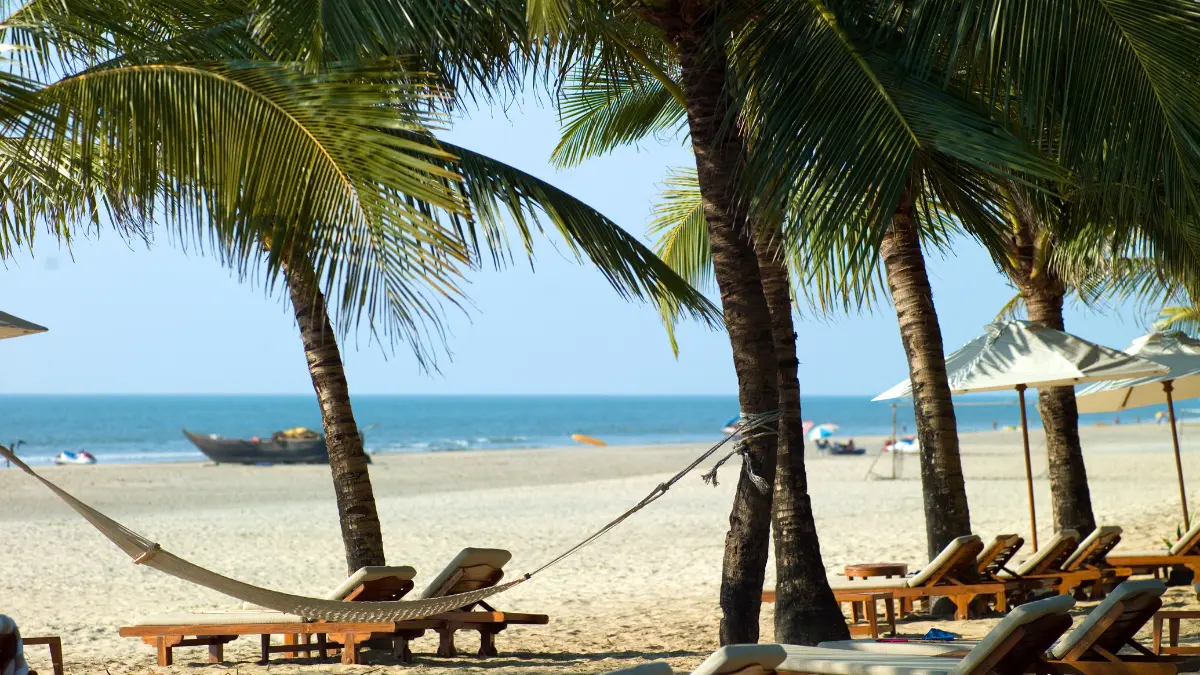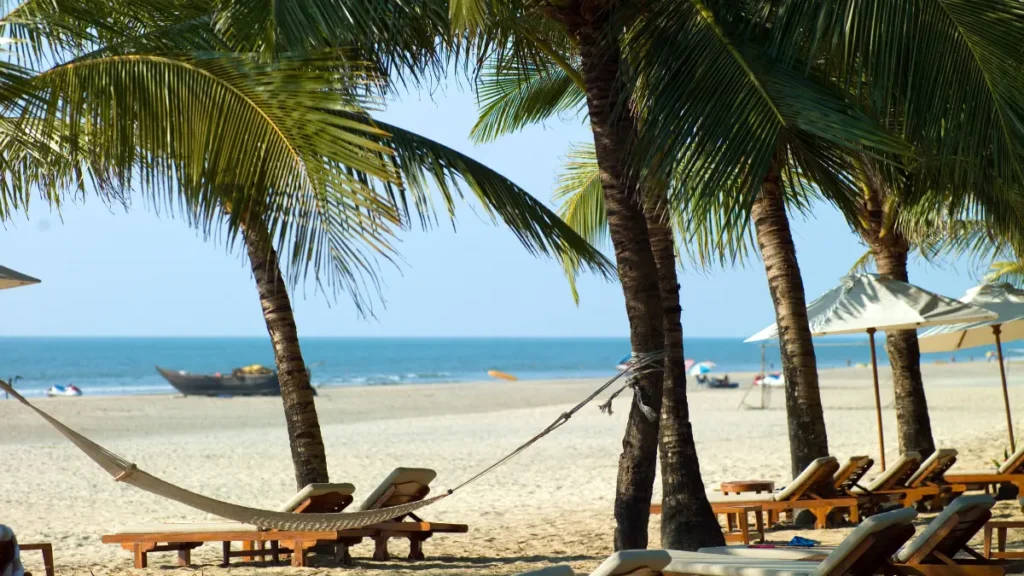 The smallest state in India is Goa, the "land of beaches," and yet it is undoubtedly the most popular travel destination in the nation. Goa is almost always at the top of everyone's list. Everyone is entranced by the beaches, markets, parties, and natural beauty of this magnificent location on India's west coast. In the 1970s, Goa joined the hippie path. However, Goa has evolved over time to become more hipster than hippy. Goa's distinct history, which combines Portuguese and Indian elements, makes it much more than just a destination for beaches and parties. The Calangute and Baga beaches are the best tourist spots to visit on their trip to Goa.
You will be in awe of Old Goa's stunning churches as you go from the beaches into the interior. You may travel back in time by visiting the Basilica de Bom Jesus and the Church of St. Francis of Assisi. Goa is on top of everyone's list of places to visit in India in September.
Things to Do in Goa
Visit the plentitude of clubs to experience the nightlife in Goa.
Water sports such as parasailing, jet-skiing, scuba diving and more can be enjoyed here.
Nearby Attractions
Tourist places near Goa include Panchgani, Malvan, Tarkarli, Jog Falls, and Gokarna.
How to Reach Goa from Mumbai
Goa has an airport that is well-linked to all major airports in India, including Mumbai Airport.
Buses also ply on the Mumbai-Goa route.
South Goa also has a railway station in Madgaon, which has good connectivity to Mumbai's railway stations.
3. Udaipur, Rajasthan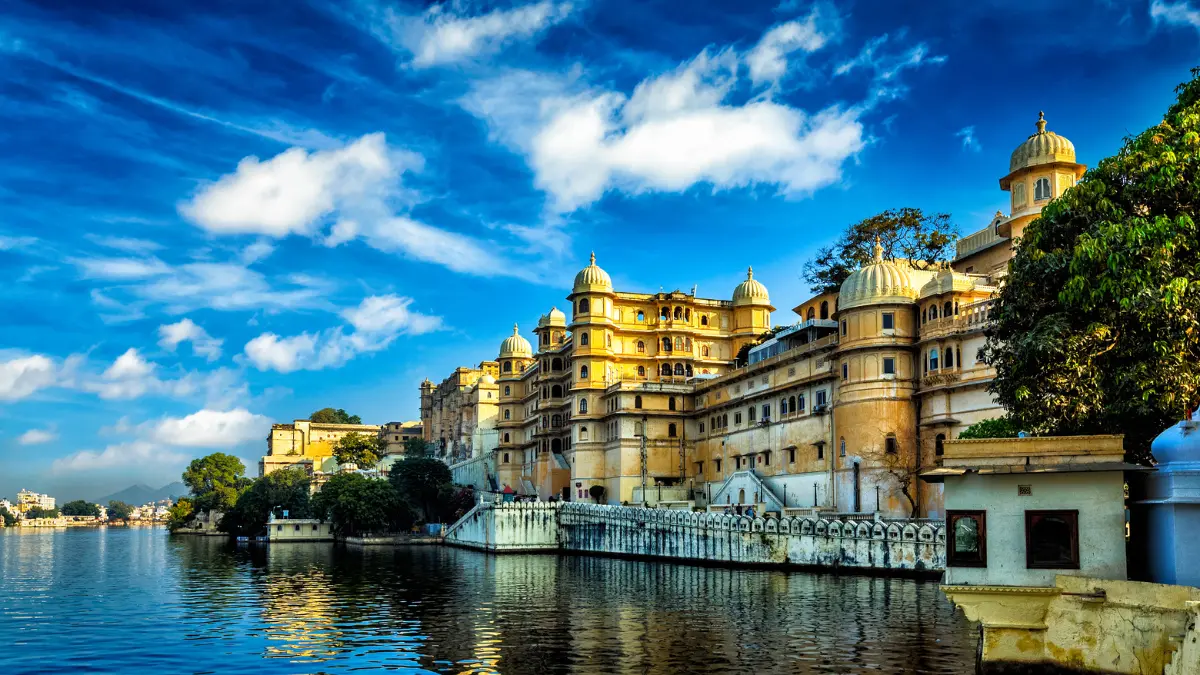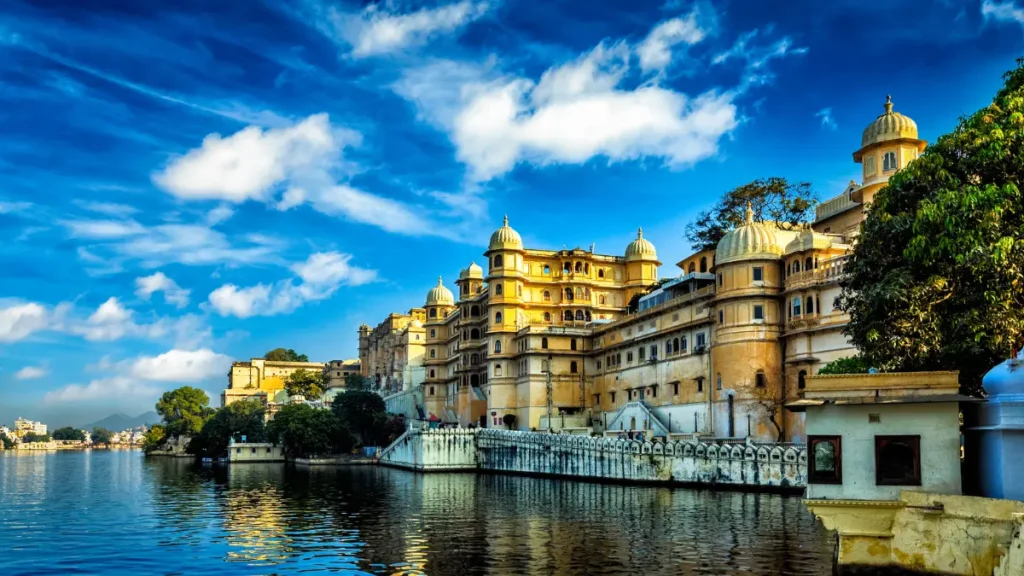 Udaipur, popularly known as the 'City of Lakes', is a beautiful destination in Rajasthan dotted with Mughal and Rajputi architecture-style buildings. A regal and romantic city, Udaipur is the most coveted city for honeymoons and destination weddings. Few locations in Rajasthan can captivate tourists as Udaipur does. The picturesque setting of the Aravallis, historic havelis, and glistening lakes capture the spirit of Udaipur. The city is renowned for its unrivalled beauty and atmosphere, which include shimmering lakes, charming forts, vibrant bazaars, classic streets, and magnificent countryside.
While groups of friends and families might arrange a great trip to Udaipur, couples will most likely enjoy this town's romantic atmosphere.
The five lakes, City Palace, Saheliyo Ki Bari, Bagore ki Haveli, Jag Mandir Palace, and Vintage Car Museum, are just a few of the tourist attractions in Udaipur that you may visit. Visit the 'Venice of the East' and experience its old-world charm while riding a horse up the picturesque rural slopes.
Shopping addicts will love touring Udaipur's historic and vibrant bazaars. Shop for handcrafted goods, paintings, and other traditional Rajasthani souvenirs to immerse yourself in the culture.
Things to Do in Udaipur
You can ride motorboats on Lake Pichola and other ones like paddle boats.
Udaipur offers many hiking paths for tourists to take in the scenic beauty of the Aravalli Hills.
Nearby Attractions
Kumbhalgarh is a fort near Udaipur (about 80 kilometres) that offers a splendid Swiss tent experience.
Mount Abu is Rajasthan's only hill station, about 150 kilometres from the City of Lakes, that you can visit during your trip.
Chittorgarh Fort (110 kilometres) is a picturesque place with history where many Bollywood movies have been shot.
How to Reach Udaipur from Delhi [Delhi to Udaipur distance – 690 kilometres]
Udaipur's Maharana Pratap Airport is well—connected to Delhi's Airport.
Udaipur also has two railway stations that offer direct trains to and from Delhi.
NH 58 and NH 48 make Udaipur accessible via Delhi.
4. Lachen, Sikkim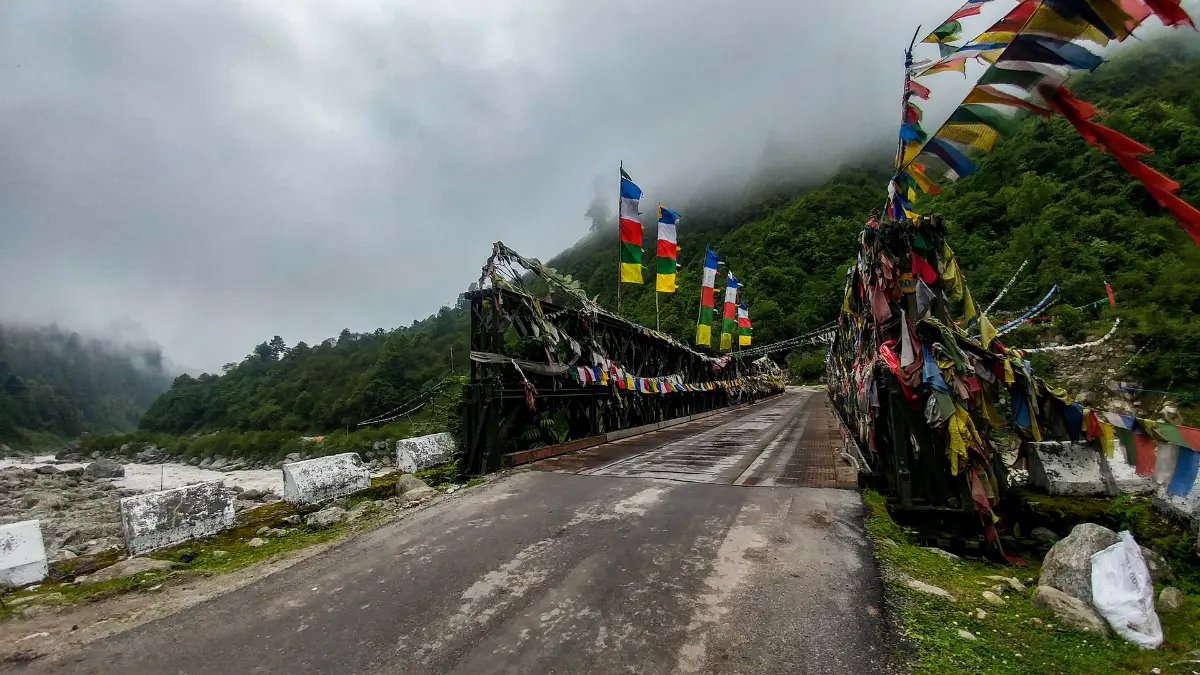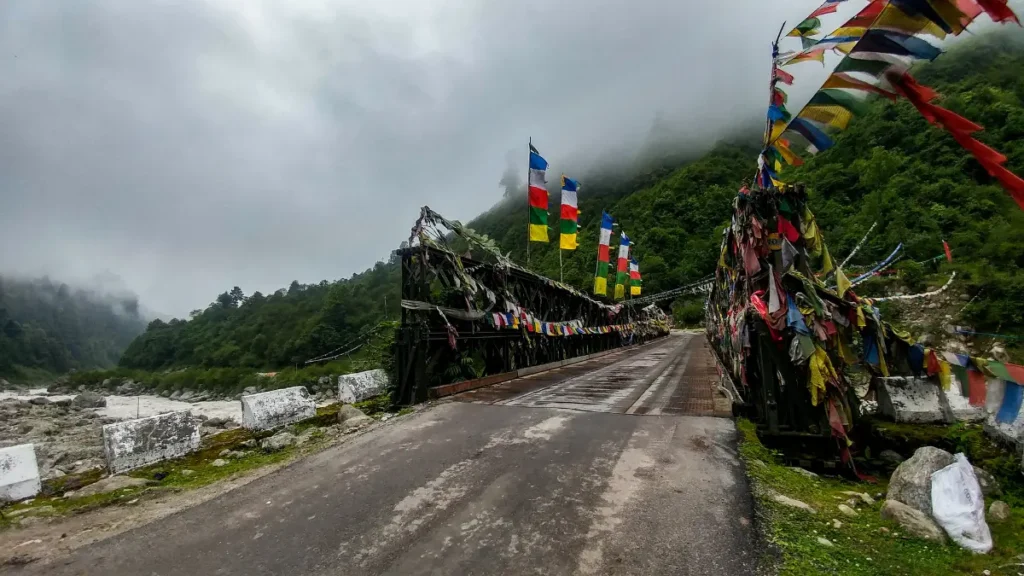 Lachen, located in Sikkim's northern region, is a paradisical town and a popular travel destination known for the Lachung monastery. It is said to be one of the most significant and well-liked locations for Buddhist pilgrims and visitors because of its tranquil greenery and natural beauty. The famed Gurudongmar and Tso Lhamu lakes are accessible from Lachen's picturesque, less-frequented holiday destination.
The neighbourhood has all the charm of a little hill town with its wooden homes, meandering alleyways, and gorgeous vistas of the hills. More concrete and brick residences have been constructed in the suburb due to the rising number of tourists, although the area's historic charm is still there. For those who prefer taking in the sights of the past, the town's lovely ambience is a visual delight. The fact that Lachen is still hidden from major tourism makes it one of the perfect places to visit in India in September.
Things to Do in Lachen
Go for strolls or hike through valleys in this little town to take in its scenic beauty.
Relax and unwind in the picturesque hamlet.
Try out the lip-smacking Sikkimese dishes.
Nearby Attractions
Tourist places near Lachen include Gurudongmar Lake, Gangtok, Kanchenjunga National Park, and Lake Tsomgo.
How to Reach Lachen from Delhi
You can take a flight from Delhi to Bagdogra's airport and then take cabs to Lachen.
New Jalpaiguri is the neighbouring railway station to Lachen and is well-connected to Delhi.
When travelling by road, you must reach Gangtok, easily accessible from Delhi. From Gangtok, buses and other vehicles ply to Lachen.
5. Varanasi, Uttar Pradesh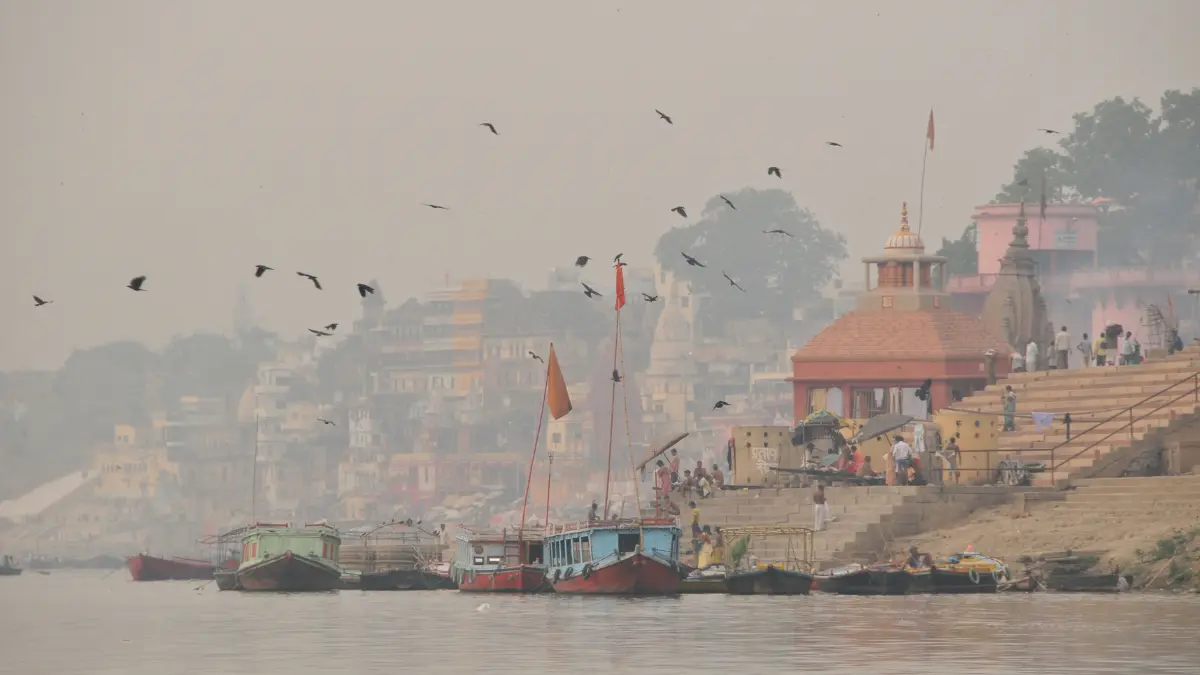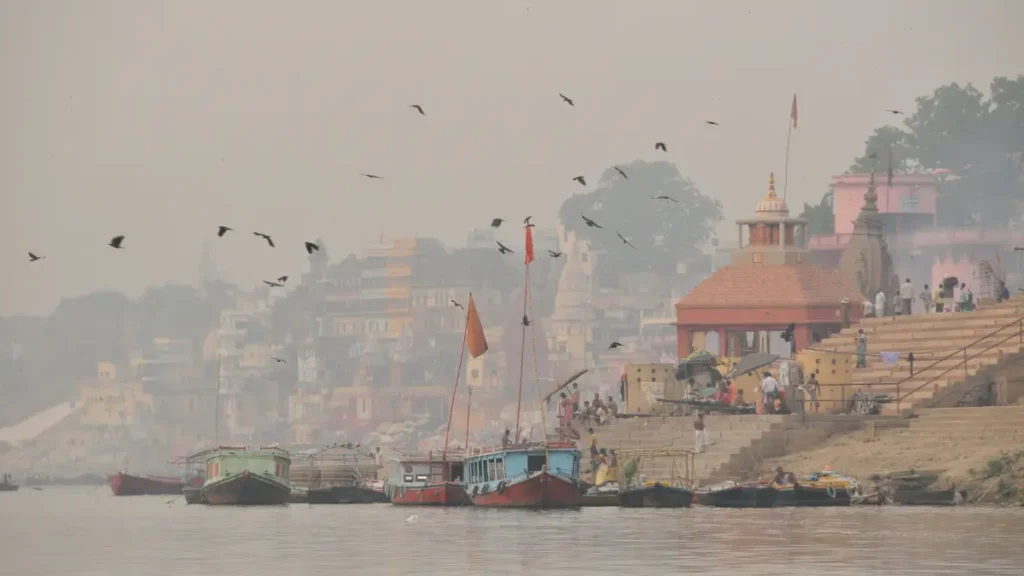 India's holiest city, Varanasi, is sometimes called Kashi and Banaras. Hindus have long considered Kashi the city of Moksha, which is famous for its high-quality silks and "paan". Varanasi is one of India's seven holiest towns and one of the Shakti Peethas and twelve Jyotir Linga locations. Hinduism holds that people who pass away and are cremated at this location receive an immediate passage to freedom from the cycle of births and rebirths. If you're looking for something religious, Varanasi is the go-to place to visit in September.
The most frequented pilgrimage site in Varanasi is the Ganga Ghat, which also serves as a centre for music and education. The Panchkoshi Parikrama, a fifty-mile road with a five-mile radius covering 108 temples along the way, with Panchakoshi Temple as its major shrine, is the most revered Yatra in the holy city of Kashi. Varanasi has long been a renowned centre of learning. The sacred city has produced renowned saints and figures like Guatama Buddha, Kabir, Shankaracharya, Ramanuja, and Patanjali, who have been symbols of spiritualism, philosophy, and mysticism for thousands of years.
Things to Do in Varanasi
Buy Banarasi silk sarees of the highest quality here.
Take a holy bath in the Ganges.
Do the Nagara Pradakshina
Nearby Attractions
Popular tourist attractions near Varanasi include Allahabad, Ayodhya, and Bodh Gaya.
How to Reach Varanasi from Delhi
Varanasi Airport has direct flights to and from Delhi.
Direct trains are also available.
NH 30 is a highway one can use to drive to Delhi.
6. Saputara, Gujarat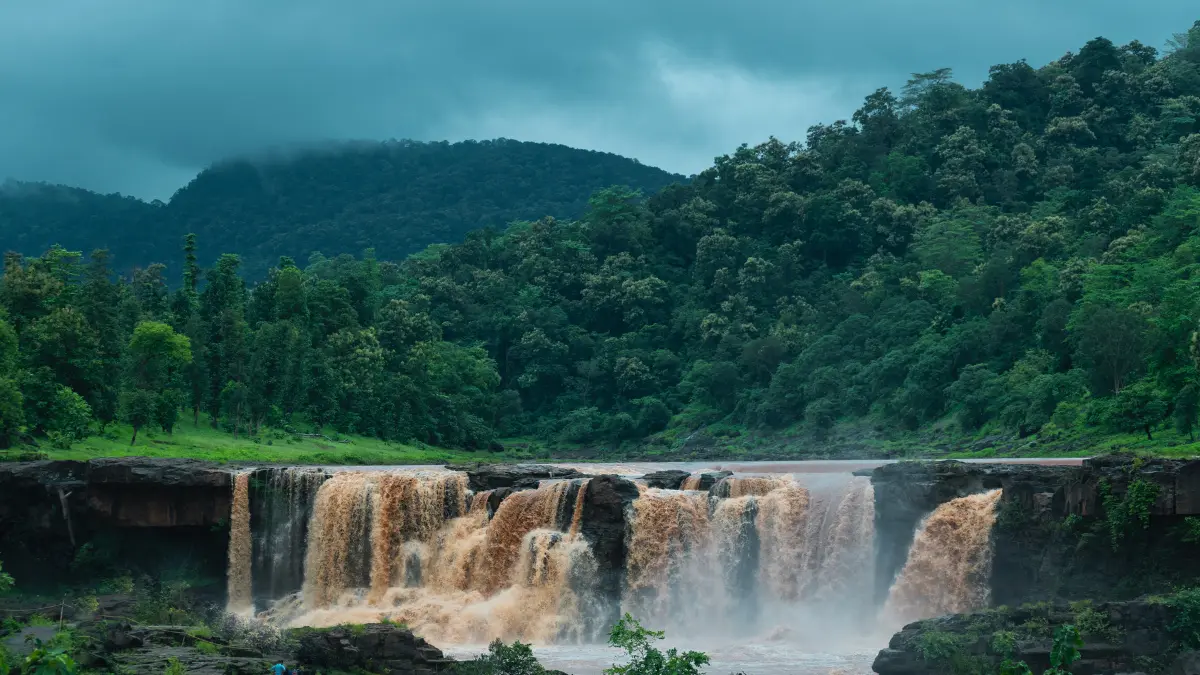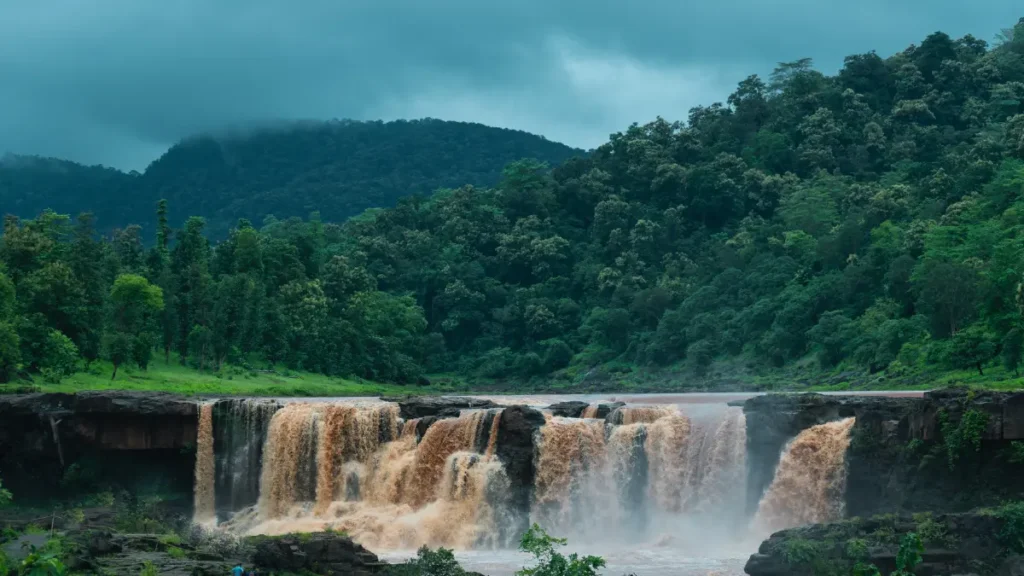 On the border of Gujarat and Maharashtra, Saputara is located at a height of roughly 1000 metres. Saputara, rich in biodiversity and natural beauty, has a cool temperature all year and a lot to offer in the way of parks, gardens, and sanctuaries. Saputara is a fantastic tourist destination for your family because it is barely commercialised and remains pristine. Trekking aficionados will find the hills and forests here the perfect setting. There are many well-known trekking routes to Rajat Pratap and Tridhara nearby. The village is also known as the "Abode of Serpents," on the banks of the Sarpaganga River, there is a temple dedicated to the snake deity.
The Nageshwar Mahadev temple, which stands as a symbol of Saputara, Shabari Dham, where Lord Ram first met the elderly tribal woman Shabari, and the tribal hamlets make a trip to the little hill station a wonderful one. The monsoon here makes Saputara one of the most blissful places to visit in India in September.
Things to Do in Saputara
Hiking through trails is an activity everyone enjoys here at Saputara.
Get a panoramic view of the hill station from the Pushpak Ropeway.
Create Warli paintings at the Artist Village.
Nearby Attractions
Some tourist places near Saputara include Nashik and Purna Wildlife Sanctuary.
How to Reach Saputara from Mumbai
The Nashik airport is nearest Saputara, where you can take buses and taxis.
Bilimora Railway Station is 111 kilometres from Saputara.
By road, one can travel easily from all major cities of India to Saputara.
7. Dharamshala, Himachal Pradesh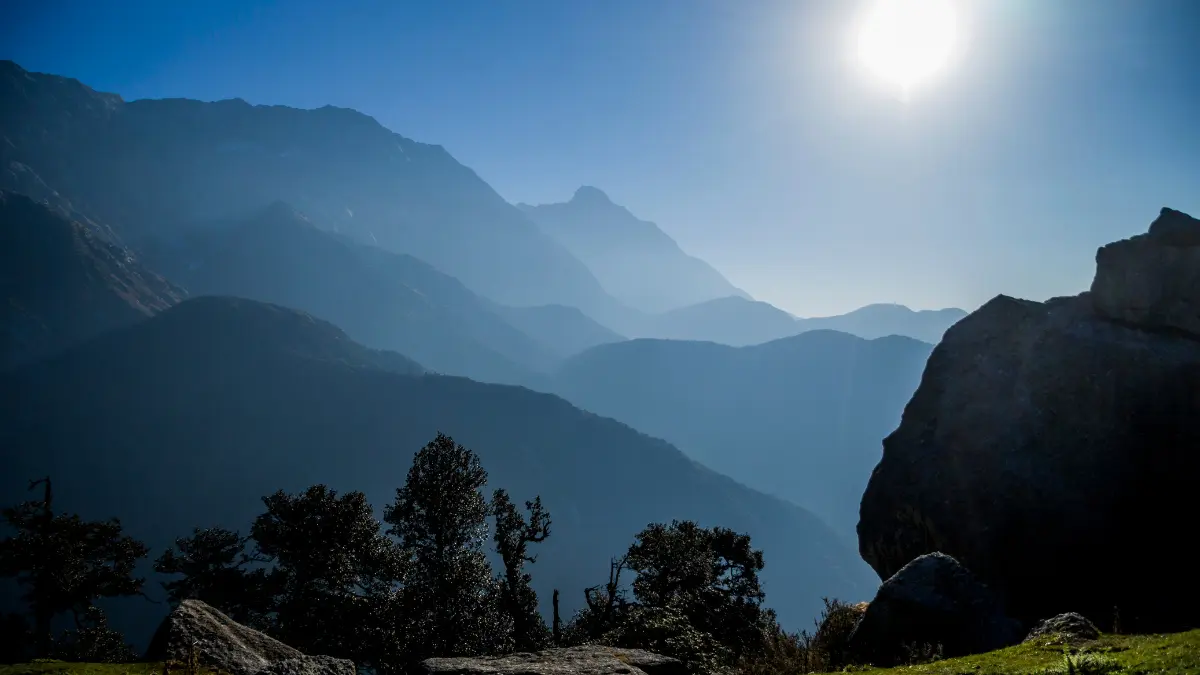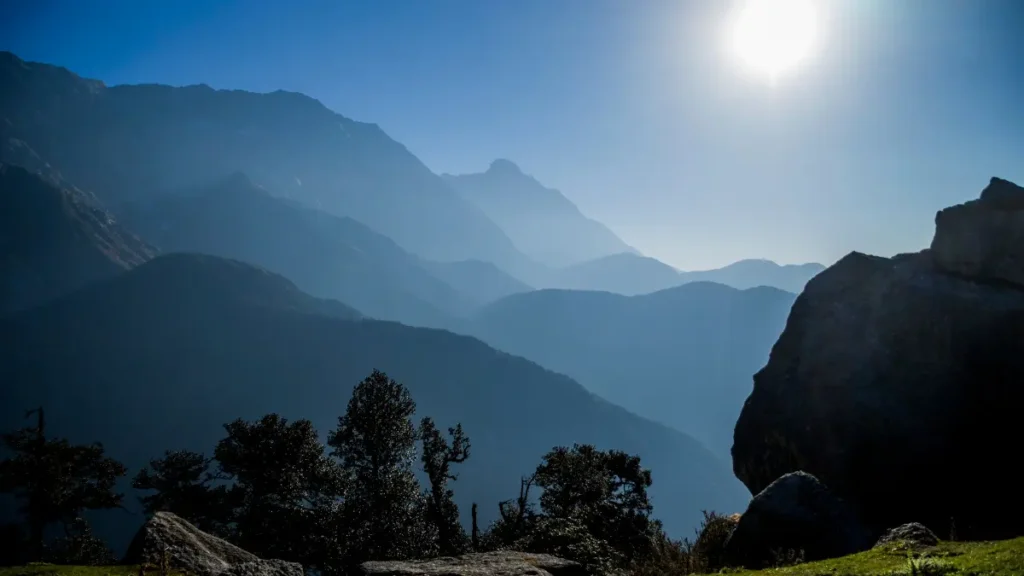 In Himachal Pradesh, Dharamshala is a scenic hill station surrounded by greenery and snow. A visual pleasure is provided by the immaculate surroundings and rich green vegetation made up of Deodar and Pine trees. The place is divided into two different areas – Upper Dharamshala and Lower Dharamshala. The Lower area consists of schools, offices and such, and the Upper area is home to the Dalai Lama and a prominent destination for Buddhists and Tibetans.
The Dharamshala Cricket Stadium is a one-of-its-kind cricket ground in the country with colourful seats set amidst the cloudy mist of the hill station. St. John's Church in the Wilderness is a beautiful church from colonial times secluded in the roads between Dharamshala and McLeodganj. If you desire a little solace from city life, Dharamshala is the perfect place.
Things to Do in Dharamshala
Try the amazing momos, thupka, and Tibetan cuisine.
Bhagsunath Falls Trek is an easy hike for those who love nature and adventure.
Triund Hill is the most popular and difficult trek, with the most amazing view of the Kangra Valley.
Nearby Attractions
McLeodganj, also called Upper Dharamshala, is a less crowded and serene hill station nearby.
Khajjiar is also near Dharamshala and is popular for paragliding.
The Dalhousie hill station is about 120 kilometres from Dharamshala and is another popular tourist place in Himachal Pradesh.
How to Reach Dharamshala from Delhi
Kangra Airport is the closest airport to Dharamshala and is connected to Delhi's Indira Gandhi International Airport
A bus is the cheapest way to travel to Dharamshala from Delhi and takes about 9 hours.
You can also take a train to Pathankot and then take a taxi or bus to this pretty hilltop.
8. Ooty, Tamil Nadu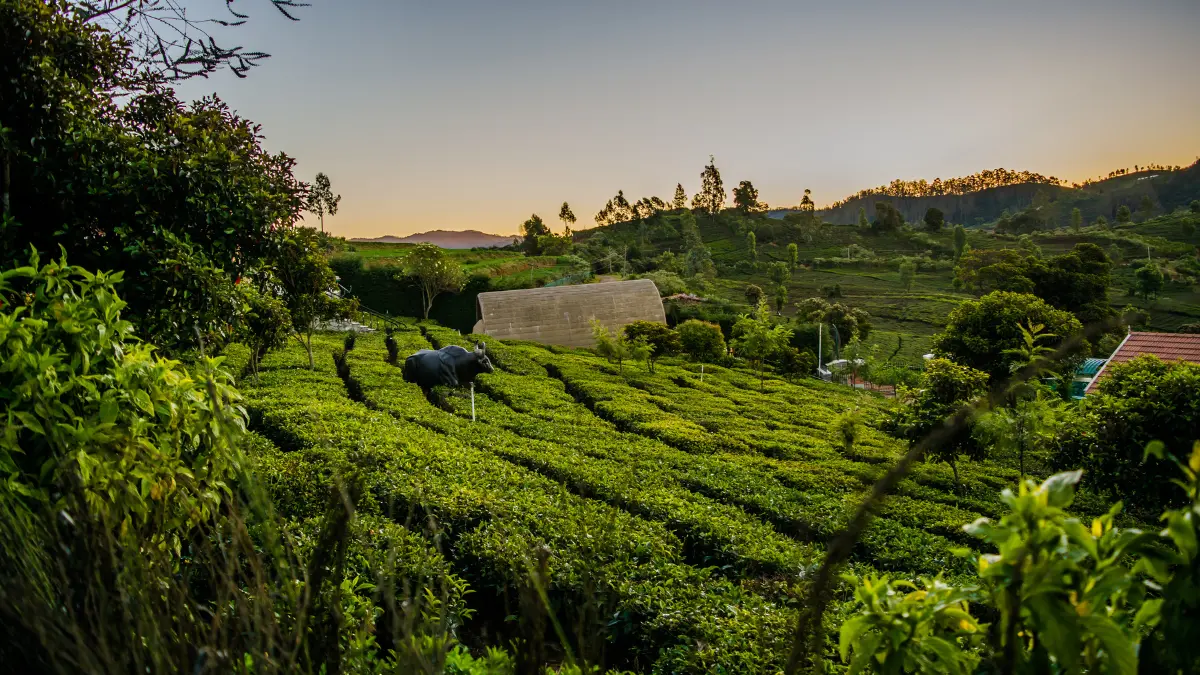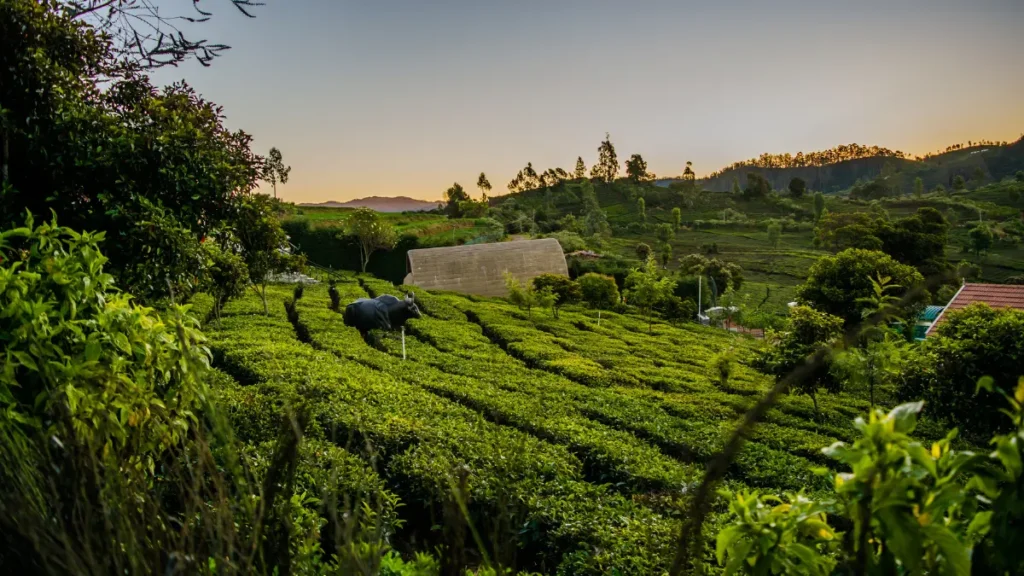 Ooty is deemed the Queen of Hill Stations, and rightly so. The marvellous meadows, tea gardens, and mild weather will take you by surprise and make you want to stay as long as possible. Nestled among the Nilgiri Mountains, Ooty has an enchanting architecture sustained from the British Raj Era. Ooty has something to offer everyone – from families and couples to friends and solo travellers. The town is full of many tea gardens, lakes and rose gardens – the abundance of flora this place has is charming. You will feel at home here in the lap of nature. The Doddabetta Peak is a popular and alluring attraction that draws visitors from all over the country. Ooty Lake, Deer Park, and the Ooty Toy Train are captivating sojourns. The weather makes Ooty the best place to visit in India in September.
Things to Do in Ooty
Take the Toy Train ride that offers captivating views of lush gardens, lakes, and mountains.
Try out the delicious tea at one of the many tea gardens in the town.
Some lakes here offer boating rides that you can indulge in for minimal fees.
Nearby Attractions
Tourist places near Ooty include Coorg, Wayanad, Munnar, Coonoor, Coimbatore and Mysore.
How to Reach Ooty from Delhi
Coimbatore Airport is nearest to Ooty, from where buses and taxis ply for Ooty.
You can take a train to Chennai and travel to Ooty from there.
There is no direct road connectivity from Delhi to Ooty.
9. Leh, Ladakh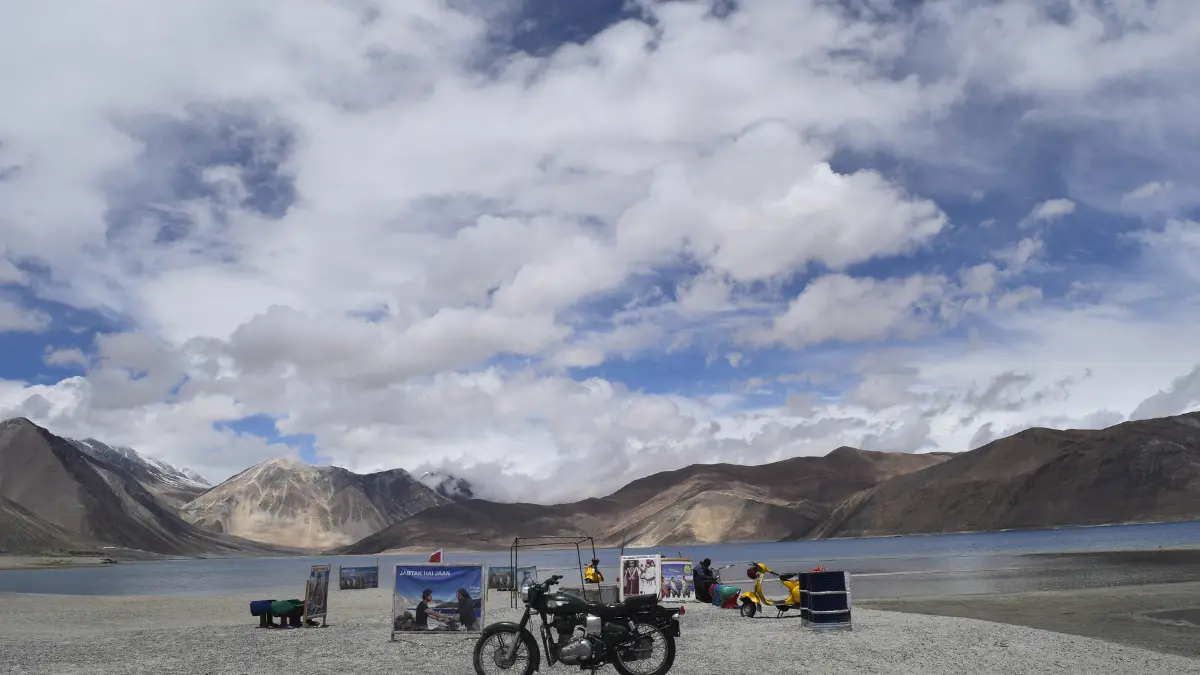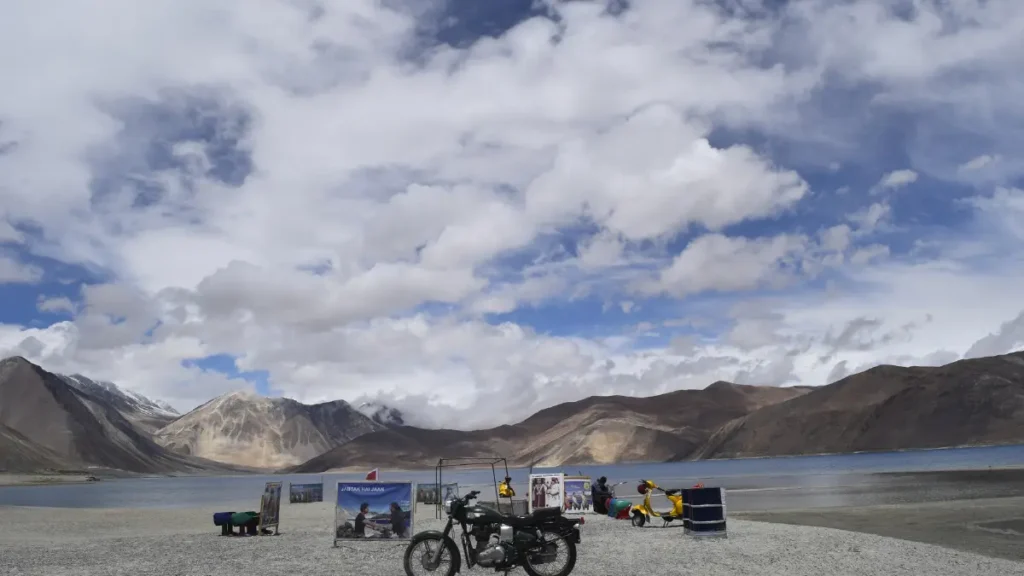 For young people, Leh-Ladakh is one of India's most well-liked tourist spots. Young people looking for adventure and thrills flock here to ride their motorcycles through the valley's incredibly motorable passes. Ladakh is a special place from the Siachen Glacier to the Great Himalayas. Ladakh is the world's coldest desert and is famous for its spectacular scenery.
Beautiful Gompas (Tibetan Buddhist temples), whirling prayer flags, whitewashed stupas, ornate paintings, and more may all be seen there. The people of Ladakh are kind and extraordinarily welcoming.
Ladakh is divided into two distinct districts – Leh and Kargil. Because of the stunning monasteries surrounding the Shanti Stupa, the cafes, and the Leh Bazaar, which wonderfully captures the local way of life, Leh is a well-liked tourist attraction. Famous rafting and high-altitude trekking spots include Ladakh. Remember that Leh Ladakh is not accessible by vehicle outside of the summer. Only air travel is possible from October to May when the roads are blocked. This destination is on everyone's bucket list, making it one of the most popular places to visit in India in September.
Things to Do in Leh
Trekking and motorcycle expeditions are popular things to do in Leh.
Nature and wildlife photography is also a great activity to pursue at this place.
River rafting is a popular sport here.
Nearby Attractions
Other places near Leh include Zanskar Valley, Pangong Tso Lake, and Kargil.
How to Reach Leh from Delhi
You can take a flight to the Leh Airport
The neighbouring railway station is in Jammu, where you can travel by taxi or flight.
You will have to travel through Manali to get to Leh by road.
10. Munnar, Kerala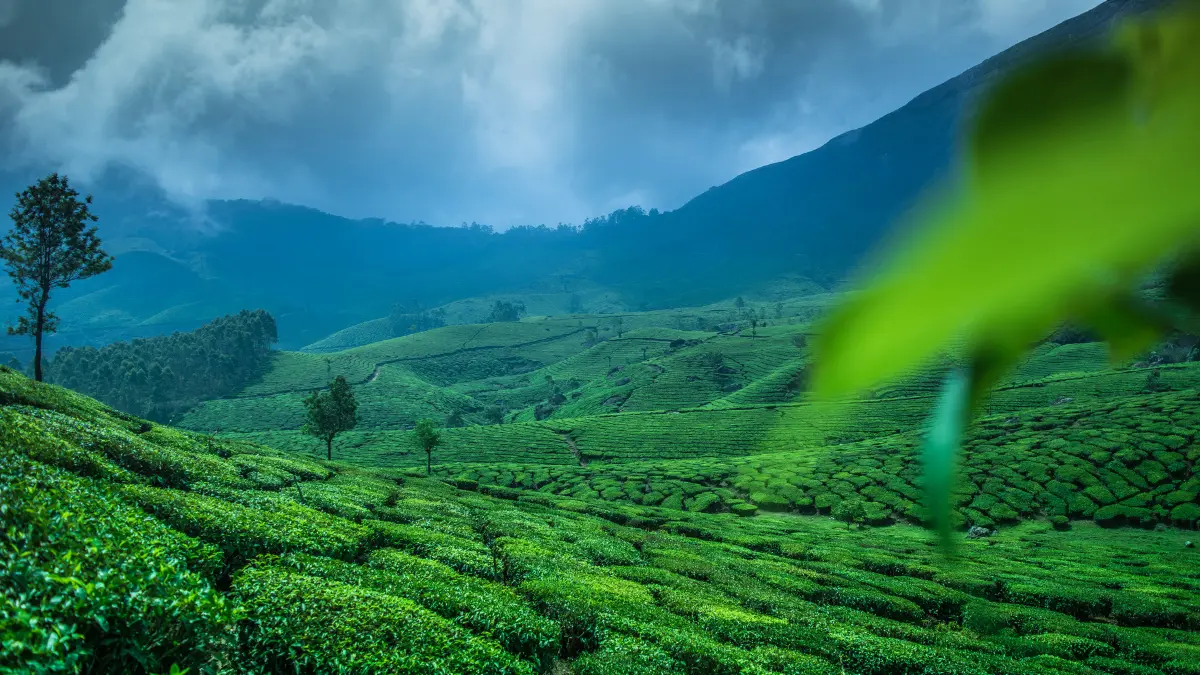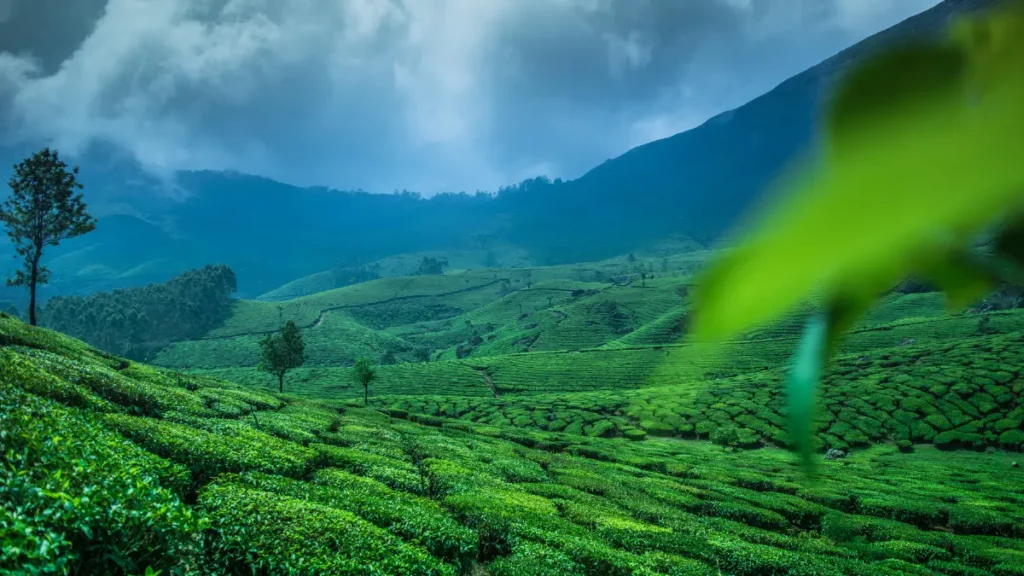 Munnar – God's own country – is a beautiful hill station perched at about 1,600 metres in Kerala. Munnar, formerly a summer retreat for the British, is renowned for its mild weather and unspoiled beauty. You will fall in love with this location when you see the mist-covered undulating hills, the dark emerald plantation and the few lone dwellings scattered around. Munnar is a very well-liked honeymoon location. It is also the perfect location for those who enjoy the outdoors and adventure.
The neelakurinji flowers bloom here every 12 years and are quite a sight to watch. Attukad waterfalls, "Munnar Top Station", Kundala Lake, and Blossom Hydel Park are some of Munnar's most sought-after tourist attractions. Munnar stands out from the other well-known hill towns in the nation because it enjoys pleasant weather year-round despite its location in Kerala's hottest region. This means you can pack your bags and travel to Munnar – one of the most dream-like places to visit in India in September – whenever you want to escape the routine of the 9 to 5 life.
Things to Do in Munnar
Boating, hiking, and paragliding are all amazing activities in Munnar.
Try out the amazing tea from the tea gardens.
Nearby Attractions
Popular tourist attractions near Munnar include Kodaikanal, Thekkady, Idukki, and Alleppey.
How to Reach Munnar from Delhi
You can take a flight to the Cochin International Airport.
The Aluva Railway Station is a rail mode for those looking to visit Munnar. From there, you can take taxis and buses to Munnar.
You can also rent cars from Delhi to visit this place.
Conclusion
India is a fusion of fascinating cultures. A person looking for places to visit in India in September has a lot of options available to him, from the heights of Kashmir to the depths of Goan beaches. Do plan a trip with your loved ones this September!
Which place is suitable to visit in September in India?
You can visit many places, including Sikkim, Goa, Udaipur, and Saputara
Which place is cold in September in India?
Leh-Ladakh and other hill stations like Dharamshala and Lachen are cold in September in India.
What are the best places to visit in September in South India?
Goa, Ooty, and Munnar are the best South-side places to visit in India in September.