Arunachal Pradesh is a part of the beautiful Seven Sisters States of India and is often called the 'Land of Dawn-Lit Mountains'. The sun's rays touch the land of Arunachal first in the morning and then move towards the rest of the country. The state has a rich history, and geography will engulf you when you visit this beauty that shares a border with China, Bhutan, and Myanmar. The indigenous culture it has due to being on the country's border is worth experiencing at least once in a lifetime.
There is an abundance of places to visit in Arunachal Pradesh due to the wide variety of flora, fauna, and history this place has seen. There are many archaeological wonders that history has left for people to admire. Not only history but Indian mythology also plays a significant part here. It is said that Lord Krishna married Rukmini in this very state.
Let's explore this gorgeous state that is still lesser known to many. The charm and peace of it have still been preserved. In this blog, we'll explore the places of tourist interest in Arunachal Pradesh, things to do there, dos and don'ts, and permits you'll require to enter the state as it is a protected area.
Top 7 Valleys In Arunachal Pradesh
: 12 Best Places to Visit in Arunachal Pradesh 2023
Arunachal Pradesh Tourist Places
1. Circuit 1: Tezpur-Bhalukpong-Bomdila – Tawang
This circuit is a very popular tourist attraction due to the presence of places like Bhalukpong, Bomdila, and Tawang.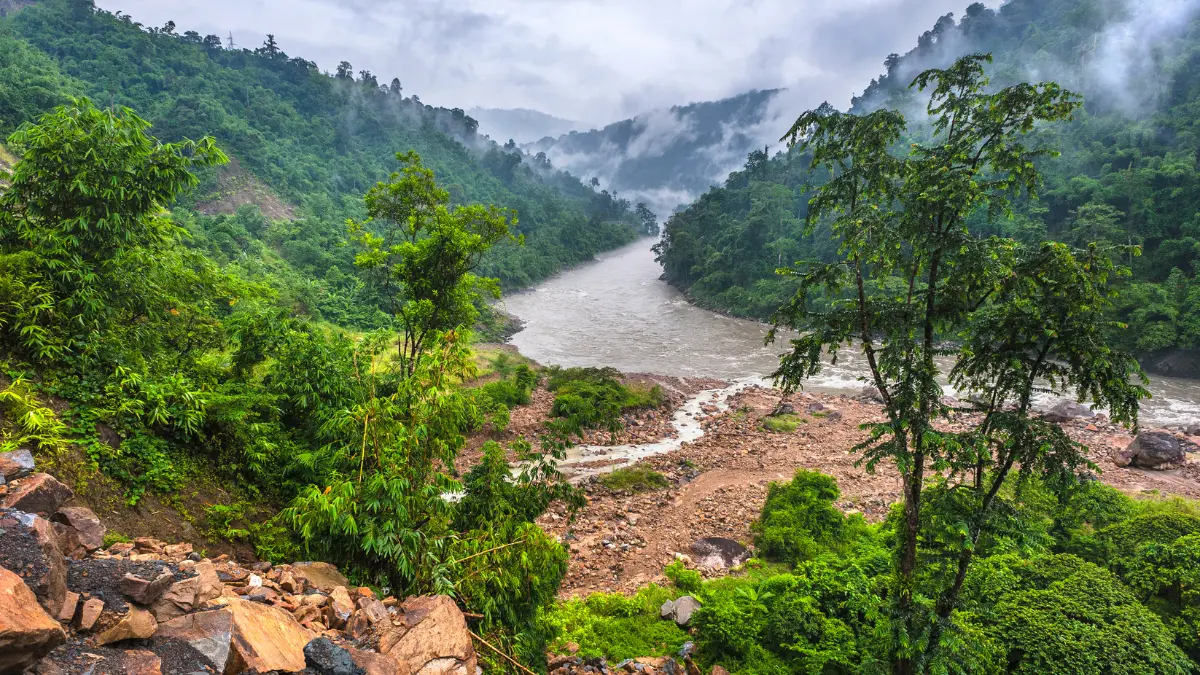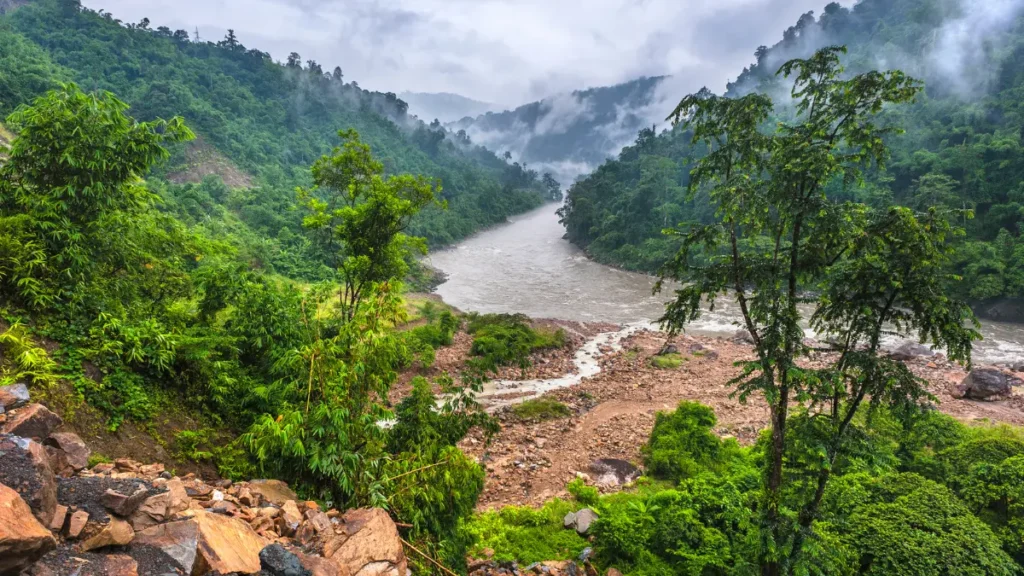 Bhalukpong:
Tezpur is considered the start of this tourist circuit – it also has an airport you can use to travel to the state. From there, you can visit Bhalukpong, beautified by the Kameng River. Here, you will find the Tipi Orchidarium, which displays over 2600 orchids of 80 species. It is also a popular space for picnicking among locals. The Bhalukpong Fort is a major historical attraction on the banks of the Bharali River. The fort is currently in ruins, but the major rooms are still preserved from the reign of King Bhaluka. The remains of the King of Bana mentioned in the Mahabharata are also found here.
Bhalukpong is rich in the Aka culture. The Aka tribe is famous for its basket-weaving and wood-carving techniques, and the tribe is known to create intricate Chinese designs of the Jana flower, which is significant in their culture. A tribal festival, Nyethidow, is also celebrated by the members of the Aka tribe in January.
Bomdila:
Bomdila is surrounded by the Gorichen and Kangto Peaks, providing a breathtaking view of the state's highest mountains. The panoramic views of the snow-capped mountains make Bomdila a photographer's delight. There are many tourist attractions in Bomdila as well. The Gontse Gaden Rabgyel Ling Monastery is a popular monastery among followers of Mahayana Buddhism. It is a beautiful place built in the Tibetan architectural style and resembles the Tsona Gontse Monastery in Tibet.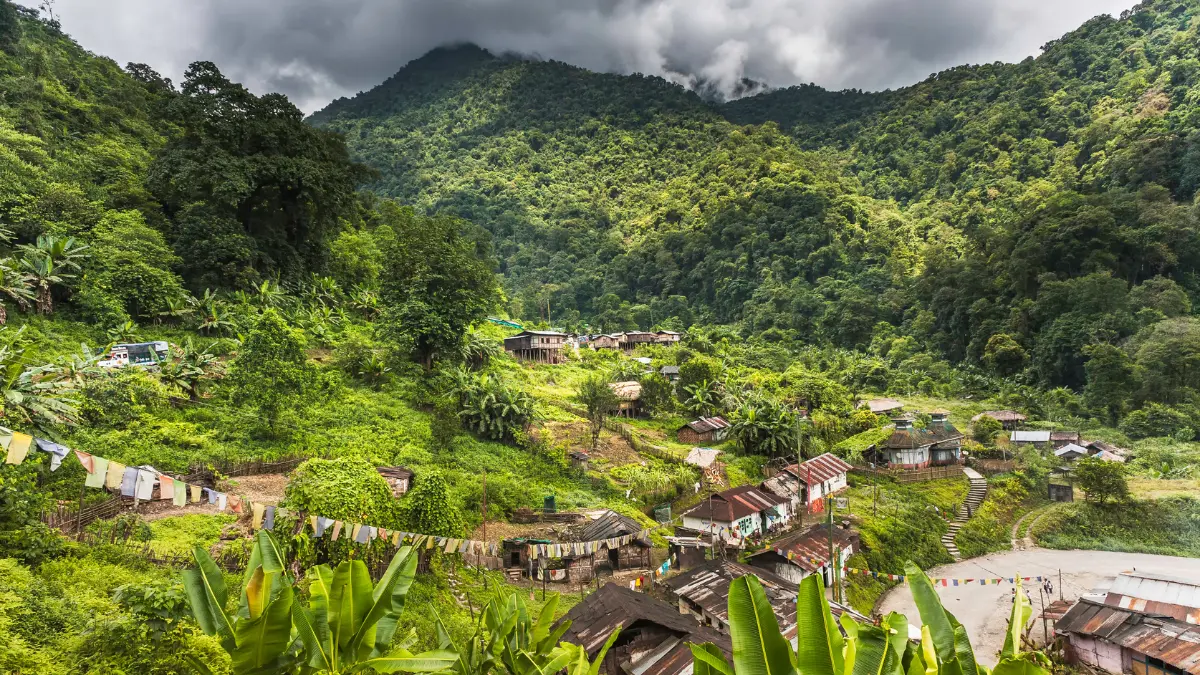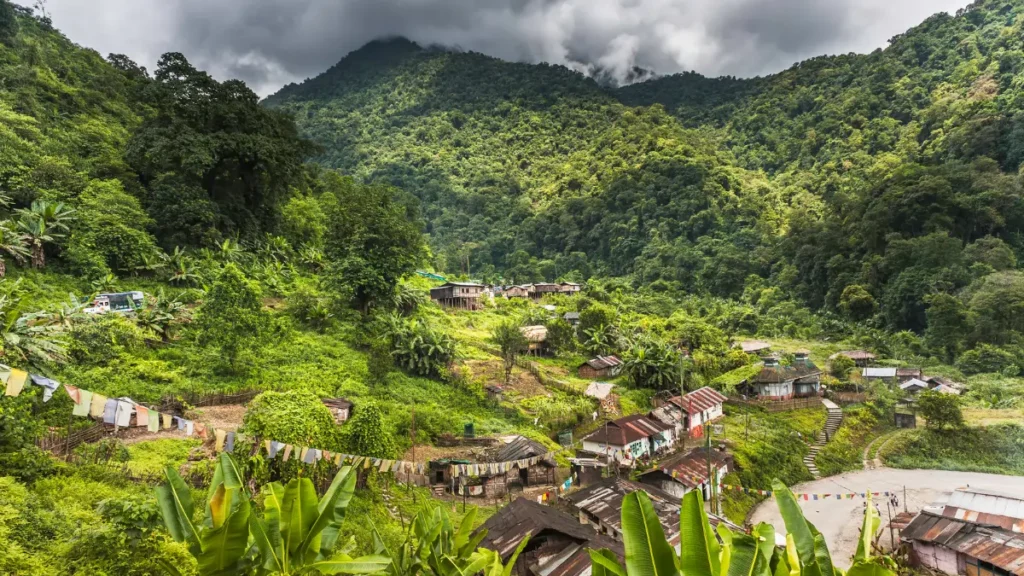 The Craft Centre at Bomdila is another popular destination. It is perfect for those looking to immerse themselves in the indigenous culture of Bomdila and take souvenirs from here. The Craft Centre produces various carpets, masks, and Buddhist-style wall hangings. The carpets with designs of dragons are popular souvenirs.
Bomdila is the best of all the places to visit in Arunachal Pradesh in December when the apple orchards bloom with thousands of fruits. It is a feast for your eyes and stomach to look at and taste the sweet flavours of apples at exceptionally low prices. Bomdila also has a viewpoint that provides a magnificent view of the West Kameng Valley and the Nechipu Pass. R.R. Hill is another such viewpoint and the highest point of Bomdila that provides a great view of the Indo-Bhutan border. Another popular attraction is Thembang, a quaint village 55 kilometres from Bomdila. It is a popular place for camping (Munna Camp). Being one of this circuit's oldest villages, Thembang has witnessed countless wars, rises, and falls of many kingdoms. There is also a fort called Dzong that you can visit during your trip to Arunachal Pradesh tourist places. It is a beautiful village that should be on your list with many historical and spiritual experiences. 
Tawang: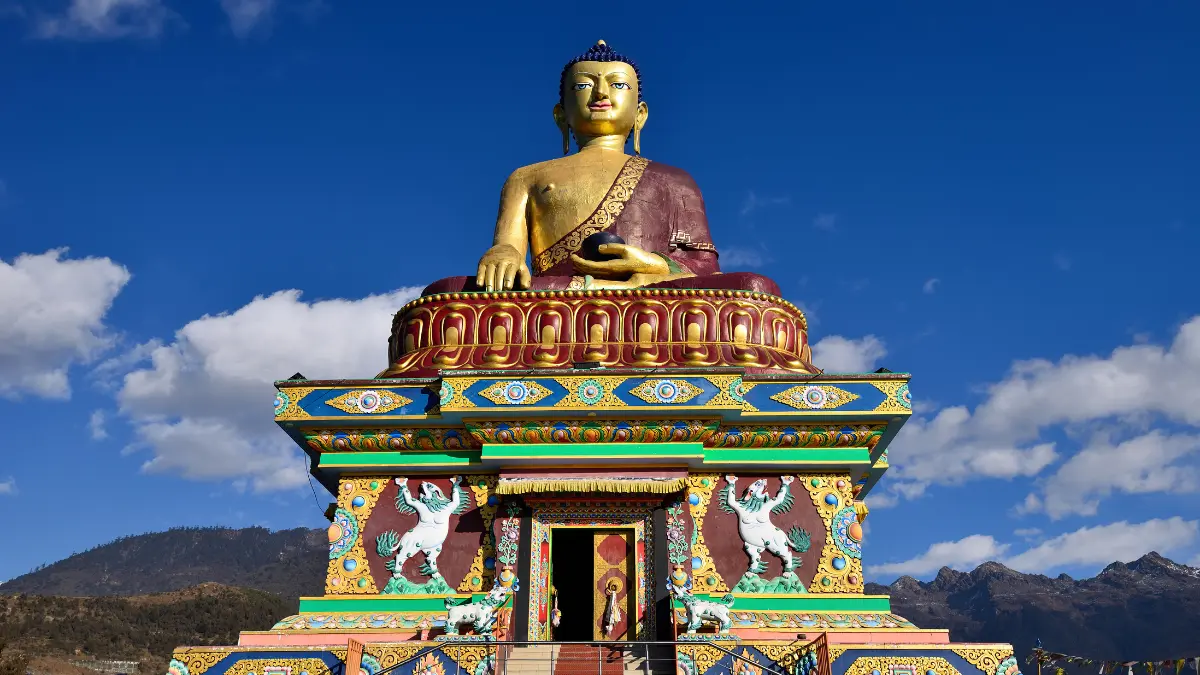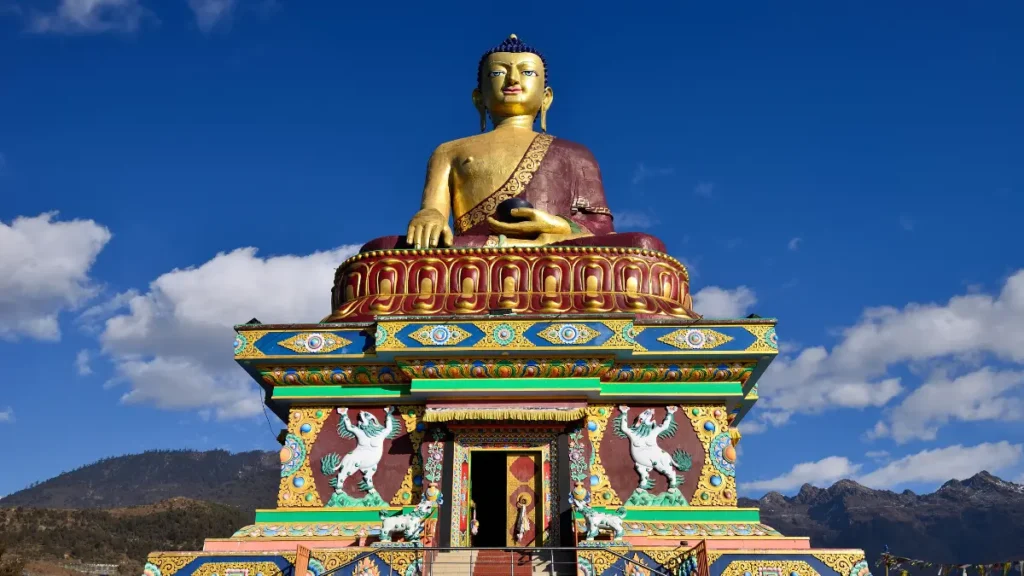 Tawang is an extremely popular location among travellers. The Tawang Chu River, Tawang Valley, Chong-Chugmi Range and Gudpi Range are all stupendous. Countless monasteries, waterfalls, hot springs, and lakes dot this mesmerising district. You can take part in the Torgya and Losar festivals that take place at the Tawang Monastery annually and are a representation of the Monpa tribe. 
The Sela Pass and Sela Lake are popular tourist attractions.
2. Circuit 2: Itanagar-Ziro-Daporijo – Aalo – Pasighat
Itanagar:
Itanagar is the capital city and one of the perfect places to visit in Arunachal Pradesh. Its name means "City of Bricks". The Itafort is a major tourist location made of bricks from the 14th and 15th centuries.
There are parks and zoos here that one can visit to take in the city's natural splendour. If you wish to relish the history of the place, the Jawaharlal Nehru Museum is for you. Those looking for a peaceful day out can visit the Ganga Lake called Geykar Sinyik. You can also buy souvenirs like wall paintings, traditional clothes, and bamboo products from the craft centre here.
Ziro
Ziro is a hauntingly beautiful hill station dominated by the Apatani culture. The region has impressive scenery with lovely, thick forests, rivulets, and high spots. It is well known for its rice cultivation. The region has terraced paddy fields, where the locals use a special polyculture and water management method to produce rice.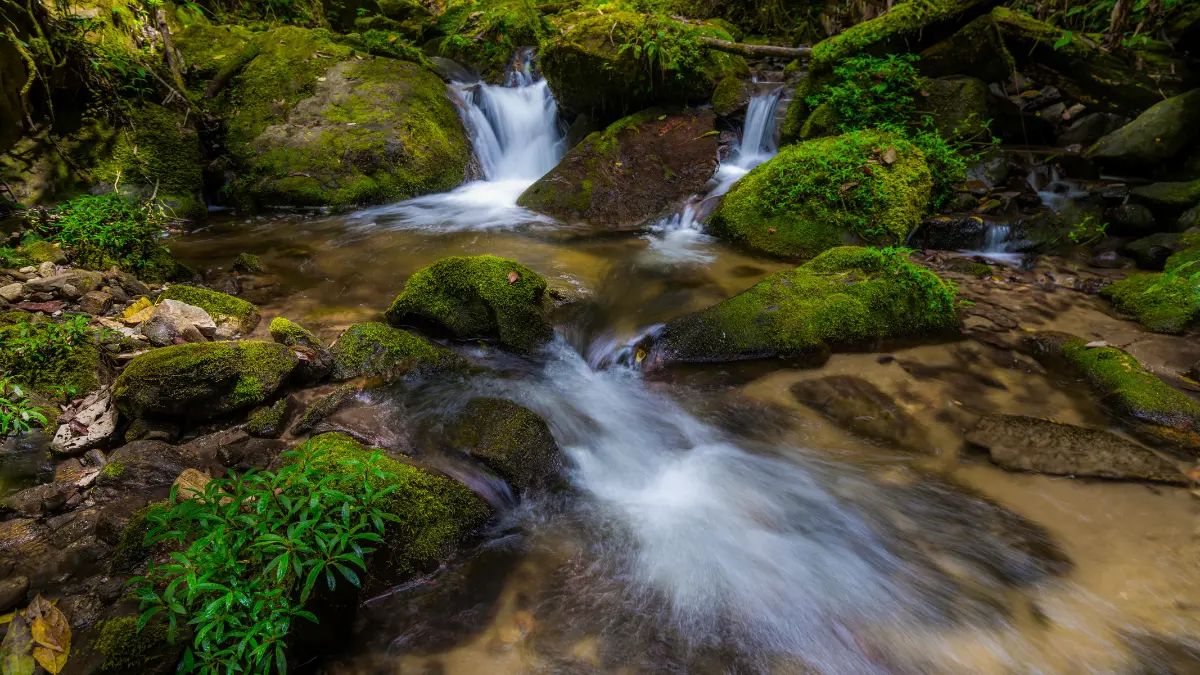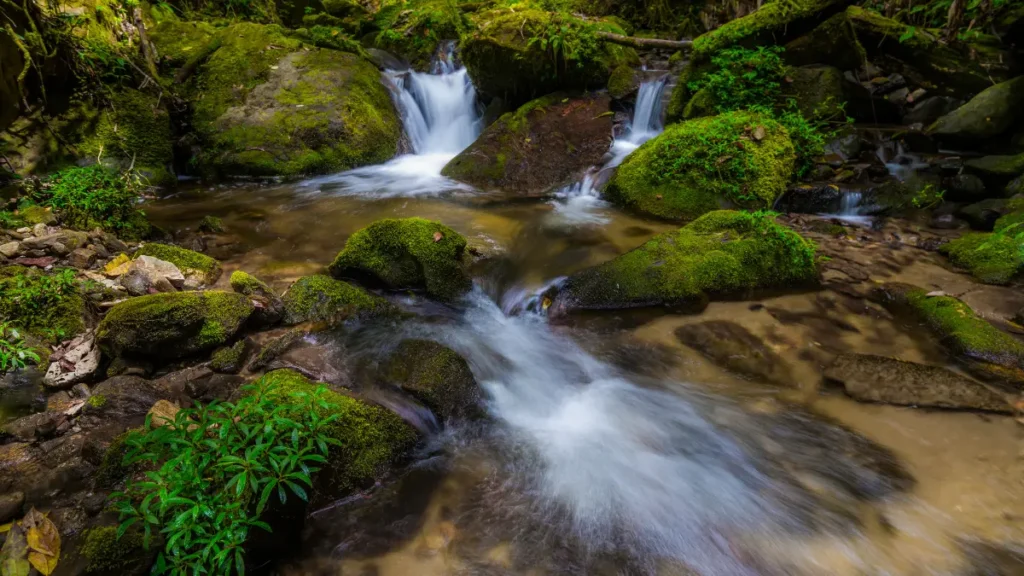 The Talley Valley Wildlife Sanctuary is alluring for animal lovers and birdwatchers. Ziro Putu is another popular attraction for picturesque views of the whole Ziro Valley.
Daporijo
Daporijo is a quaint little town on the banks of the Subansiri River. Here, one can marvel at the suspension bridges made with bamboo and cane by the local tribes over the river. There are also two forest reserves for those interested in observing avifauna: Kamala Forest Reserve and Sigem-Daporijo Forest Reserve.
Pasighat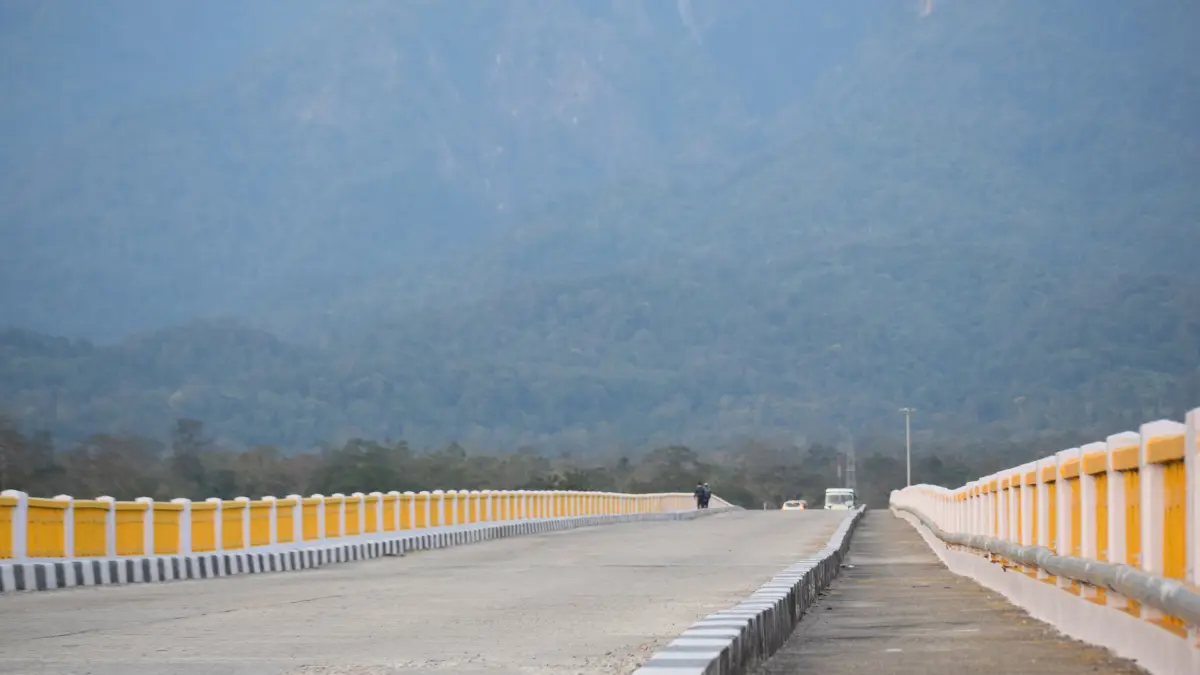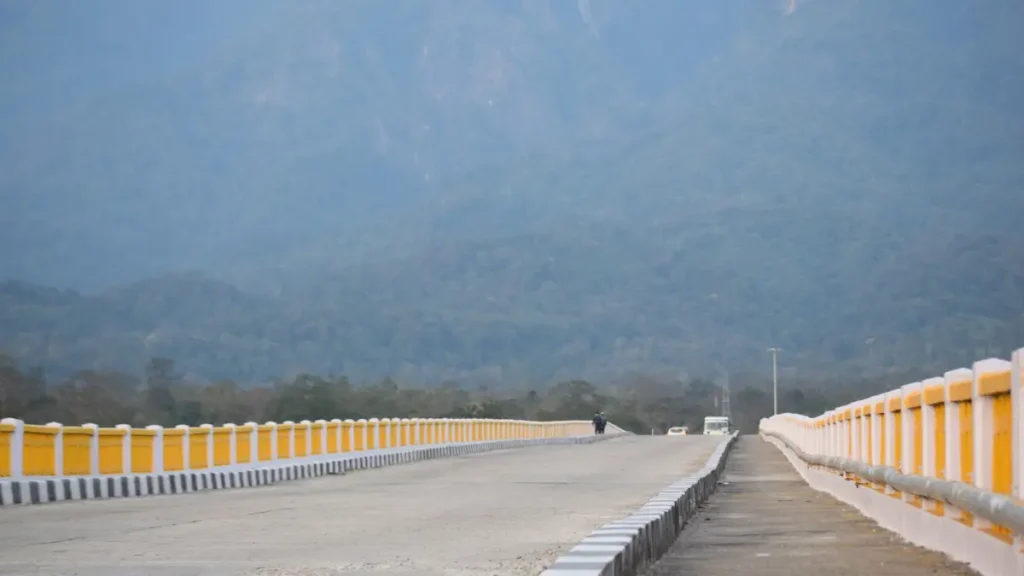 Pasighat belongs to the Siang district of Arunachal Pradesh. It is a picturesque town full of natural beauty. It offers numerous waterfalls, riversides, and hanging bridges to marvel at. The Siang River, the main tributary of the Brahmaputra River, is a sight to behold.
Other attractions in this circuit include Shivalinga and Malinithan.
3. Circuit 3: Pasighat – Jengging – Yingkiong – Tuting
Dominated by natural beauty, this circuit includes attractions like Daying Ering Wildlife Sanctuary, Kekar Monying Black Rock, Dehang, and more.
Daying Ering Wildlife Sanctuary:
This sanctuary in the Siang district is home to many wildlife animals, birds, and flora. The fauna here includes hog deer, wild buffalo, hispid hare, Sambars and more. The avifauna includes many migratory birds from Mongolia and Siberia, like waterfowls, wild ducks, and storks.
Kekar Monying Black Rock:
Kekar Monying Black Rock is a historical mountain cliff in East Siang. Here, the Adi tribe put up a strong war against the British in 1911. The British had started the war in response to the murder of Noel Williamson, a British police officer, by a native, Matmur Jamoh. An epitaph bearing Williamson's name can also be found here.
The recent archaeological findings date back to the early medieval age as well. There is a canal inside which a mound has been unearthed.
Dehang: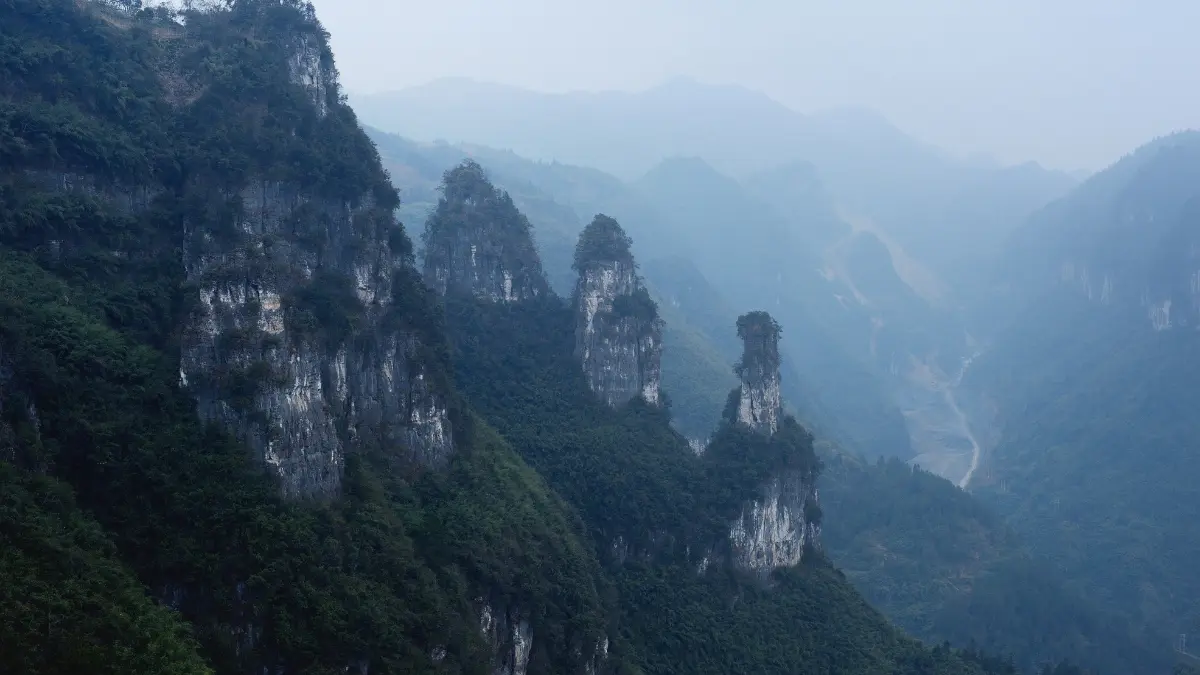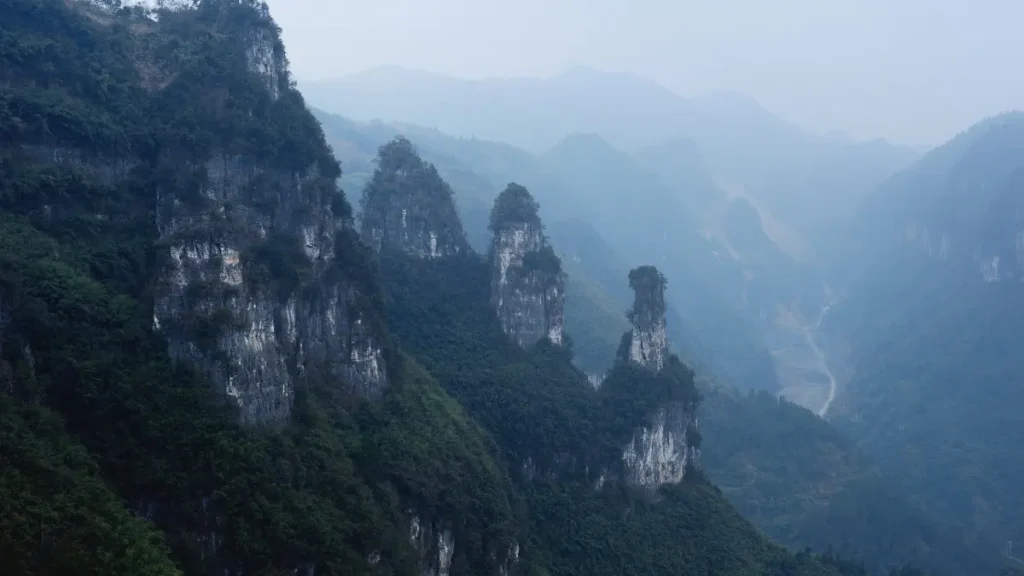 Dehang is a reserve that covers the Jengging and Tuting areas. It is home to eight types of forest ranging from sub-tropical pine to bamboo groves and is a nature lover's paradise. It is one of the nation's designated "hot spots" for biodiversity. The Gelling-Tuting-Singa triangle here has the "Pemako Zone" in Tibetan Buddhism, where lamas live in tiny hamlets amidst a tranquil natural setting. Golden Buddha sculptures, antiquated manuscripts, and other traditional Tibetan Buddhist artefacts may be seen at the Gompas and Buddhist sanctuaries.
Yingkiong:
Yingkiong is rich in culture, with four tribes living here: Adi, Mishmi, Khamba, and Memba. Their tradition is prolific in the Arunachal Pradesh traditional dance forms like Roja, Ponung, and Broh.
Yingkiong is popular among hikers, trekkers, and those who love adventure sports.
4. Circuit 4: Tinsukia – Tezu – Hayuliang
This region begins from Tinsukia in Assam to Hayuliang in Arunachal Pradesh. Attractions here include Tezu, Dong Valley, Parasuram Kund, and more.
Tezu:
In Tezu live the people of the Mishmi tribe. According to Hindu mythology, Rukmini, the first wife of Lord Krishna, was a Mishmi. The tribe's traditions also date back to the times of the Mahabharata. A festival to celebrate the main God of the Mishmis, Ringyajabmalu, is held here every year on 15th February; everyone can join. 
Dong Valley: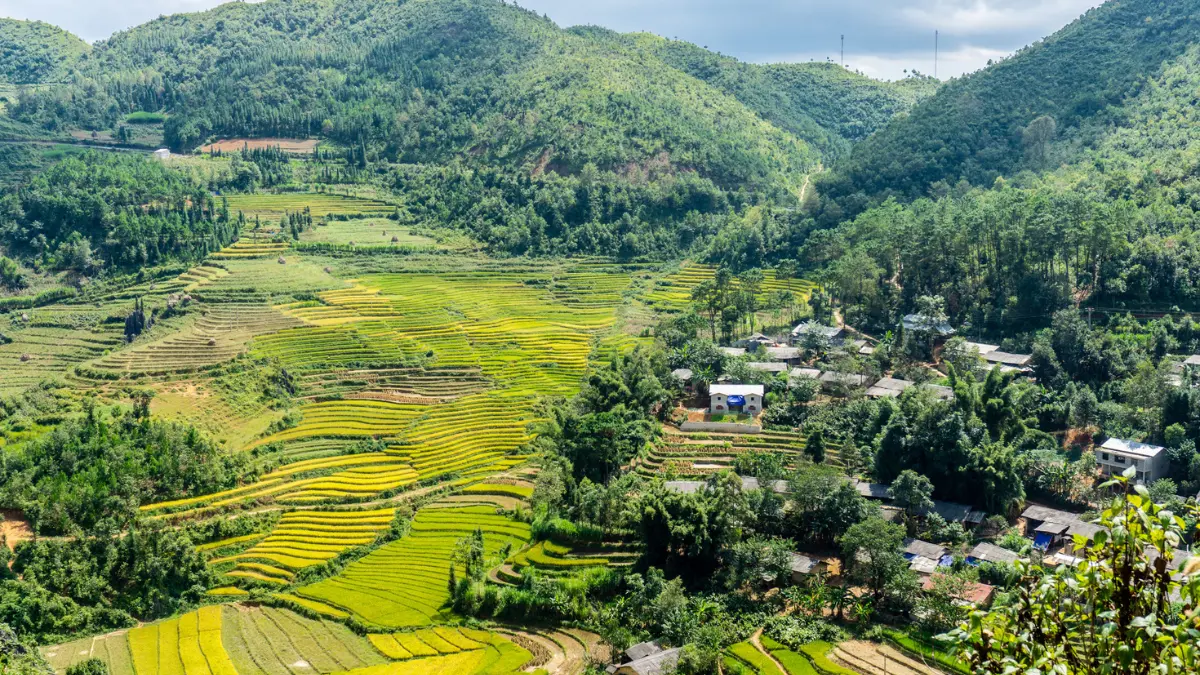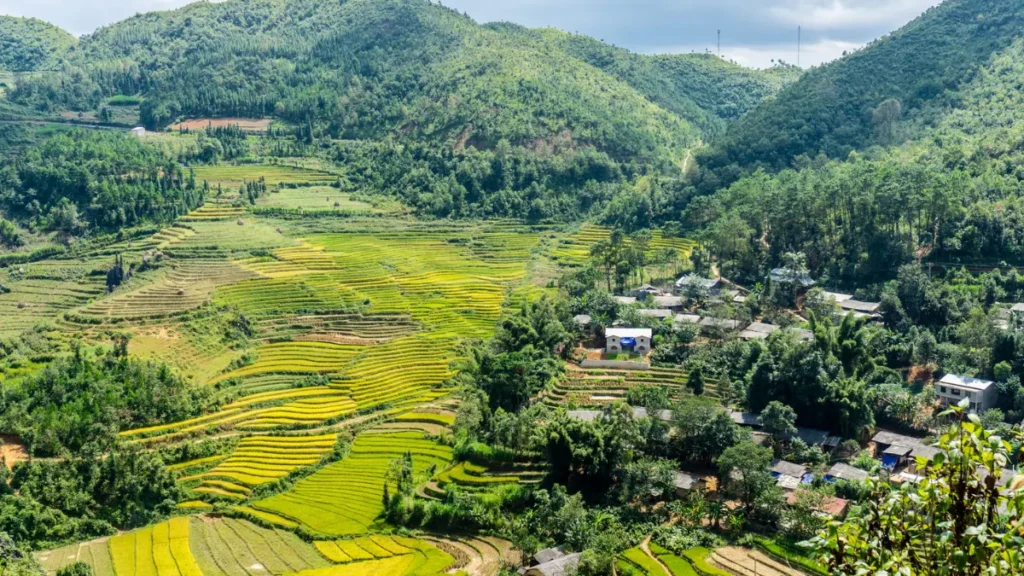 Dong is from where you can witness the earliest sunrise. In history, many people nationwide came to witness the millennium sunrise on 1st January 2000. You can witness the same by trekking to Drong Krong – the sun rises here by 04.30 A.M.!
Dong is a serene and peaceful hill station on the banks of the Lohit River. If you trek along the river's route, you can also find a hot water spring here.
Kibithu is an underdeveloped village approximately 18 kilometres from Dong. From here, you can look across the border at Chinese Army bunkers. 
Parasuram Kund: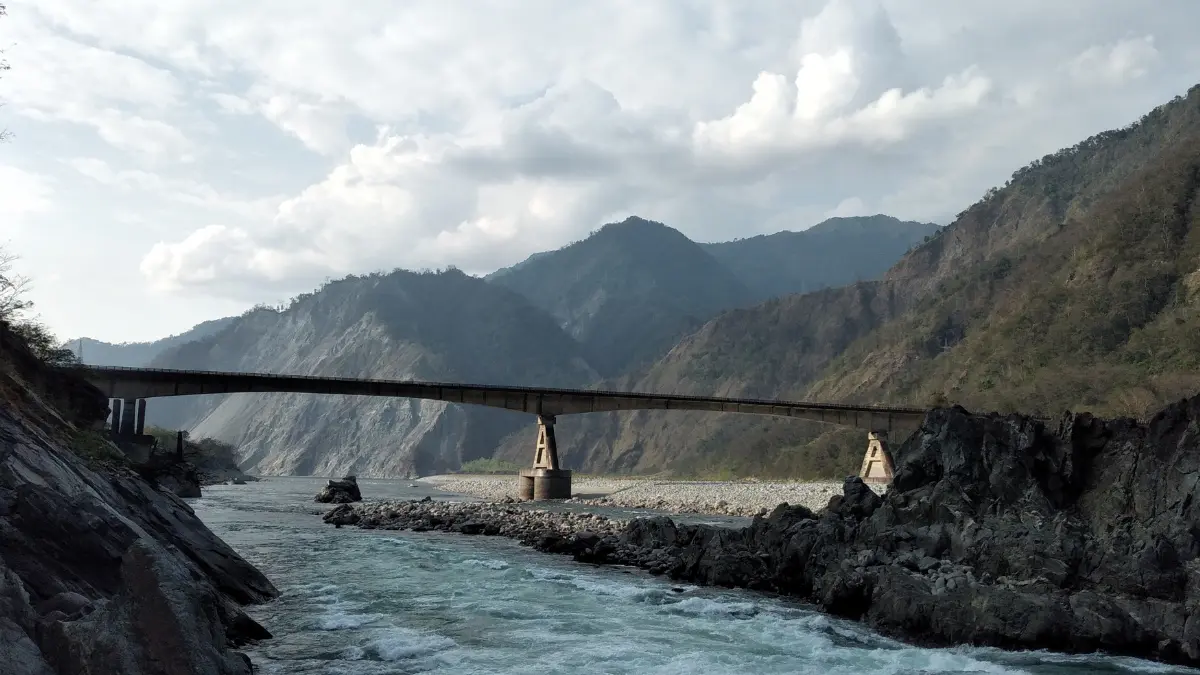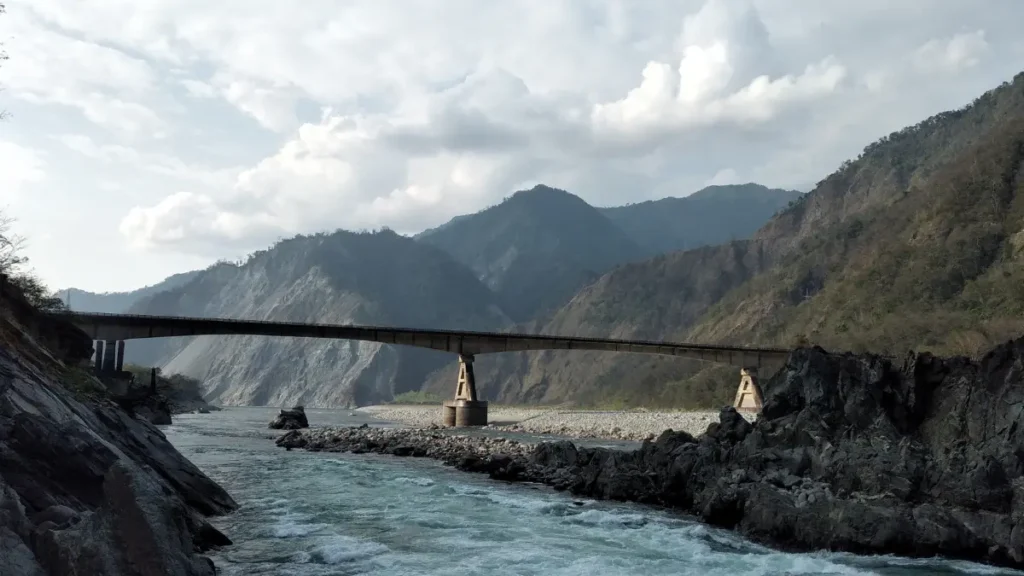 Numerous Hindu pilgrims go from all across India and adjacent nations to the Holy Parshuram Kund to partake in a sacred plunge and wash away the sins of millions of births. Every January, a fair associated with this takes place at Tezu. According to legend, Rishi Parsurama washed away his sins in the Lohit River.
Other attractions in this circuit include Wakro and Namsai.
5. Circuit 5: Margherita – Miao – Namdhapa – Vijoynagar
This circuit has two major places to visit in Arunachal Pradesh – Namdhapa National Park and Miao.
Namdhapa National Park:
The Namdhapa National Park is a tiger reserve and the only national park to house four different felines – leopard, tiger, snow leopard, and clouded leopard. There is a wide variety of snakes here as well. The aquatic life here is also bountiful thanks to the Noa-Dihing River that passes through this park. The flora here is rare, like medicinal plants and over 150 timber species.
Miao:
The "Mini Zoo" is one of the top tourist destinations, and youngsters will undoubtedly have a fantastic time there. Travellers might set off on a journey to the towns if they're interested in taking a sightseeing tour while on vacation in Miao.
The "Miao Town Baptist Church," "Miao Buddhist Temple," "Tibetan Refugee Camp," and "Forest Museum" are well-known tourist destinations. A trip to Miao is only considered complete with going shopping. Handmade woollen carpets and shawls manufactured by Tibetan refugees are among the must-buy products since they are not only stunning but also a fantastic bargain.
6. Circuit 6: Dibrugarh – Deomali – Hakanjuri – Khonsa
With its rushing rivers, bright flowers, and pure air that calm the mind, Tirap district never fails to fascinate its visitors. The tribal ethnicity of this location, as well as its festivals, fairs, and immaculate artworks produced with unwavering devotion, are another amazing feature.
The major tribes here – Nocte, Tutsa, and Ollo Nocte – celebrate regular festivals. As they are head-hunting tribes, they have on display the skulls of their enemies from long ago in the villages of Lapnan and Kheti. Tattooing is also a popular cultural tradition; men get tattooed after a successful headhunt, while girls must get tattooed when they reach adolescence.
The tribes' unique cuisine is flavourful, consisting mainly of rice, millet, and vegetables. When visiting Arunachal Pradesh tourist places, you should try the Jumin here, an alcoholic drink made from millet, tapioca pearls, or red rice.
Bamboo rafting is still prominent here and is one of the best things to do when visiting this circuit.
Tirap's headquarters town is Khonsa, a small hill station nestled among the mountains of the Patkai Range. Tourists may take in the surrounding vistas of thick forests flanked by hills and regard Khonsa as a beautiful location. The streams, deep gorges, verdant forests, and snow-capped summits add to the region's magnificent beauty.
7. Circuit 7: Dibrugarh – Kanubari – Longding
Kanubari:
Kanubari provides spectacular views of the surrounding area. For those who enjoy the outdoors and photographers, the area's natural beauty, with its thick woods, undulating hills, and clear rivers, may be a pleasure. It is renowned for its historical importance as well. It originally served as the North East Frontier Agency (NEFA)'s administrative Craft Centre, a key component of the Indian independence struggle.
Longding:
The Wancho people, who specialise in producing guns, wood carving, and beads, have historically lived in Longding. Every year in March or April, just following the sowing of paddy in the jhoom plots, the Wancho tribe of Tirap district celebrates Oriah, its biggest celebration.
8. Circuit 8: Ziro – Palin – Nyapin – Sangram – Koloriang
Koloriang:
The largest tribe of Arunachal Pradesh, the Nyishi tribe, lives in Koloriang. You can enjoy their culture here and try their food, dominated by rice, maise, cucumber, millet, and pumpkin. Surprisingly, their attire consists of hunted hornbill heads. Recently, hornbill heads made of fibre have become the popular head attire as the population of hornbills in the area started to go extinct.
Sangram:
Sangram is a rural place in this circuit. Here, you can marvel at the natural landscapes and views of the River Paging that winds down through this village.
9. Circuit 9: Doimukh – Sagalee – Pake Kessang – Seppa
The prominent Arunachal tourist places in this region are Seppa and Pake Kessang.
Seppa:
Seppa is a small, picturesque town on the banks of the East Kameng River. It is a peaceful place you can visit to relax and unwind away from the hustle of a hectic life. There is a museum and a Craft Centre from where you can buy traditional handicraft items from the tribals.
Pake Kessang:
Pake Kessang or Pakke Kessang is a district in Arunachal Pradesh. It has three valleys – Pakke Valley, Passa Valley, and Pappu Valley. The winding rivers down these valleys add to their charm. Passa Valley is renowned for winter migratory birds and is one of the best places to visit in Arunachal Pradesh in December. Accommodation options are limited, and one can stay at the Inspector Bungalows during a trip to the Land of the Rising Sun.
The Pakhui Wildlife Sanctuary is also near Pake Kessang. Bameng and Chayangtajo are nearby hill stations that one can visit in Pake Kessang. Fishing and angling are popular sports you can take up here, especially during winter; locals may also teach you how to perform them. 
10. Circuit 10: Aalo – Mechuka
Aalo:
At the meeting of the Sipu and Siyom Rivers is the lovely valley of Aalo. It is another one of the fascinating places to visit in Arunachal Pradesh, surrounded by hills and lovely orange orchards. There are attractions like the Ramakrishna Mission Campus, Patum Bridge, Bagra Village, Donyi Polo Temple, and more for sightseeing or nature hikes. 25 km away from Aalo, and a stunning location to visit is the Kamki Hydropower Dam. The Siyom Hanging Bridge is a 70 m-long bridge made of bamboo and cane. If you have the enthusiasm, try river rafting beneath this bridge.
For the following 60 km upstream, the valley serves as a picnic area. The Yomgo or Siyom River is nearby. The rivers "Yom" and "Go" merge upstream to form this river. Aalo is a little town with lovely villages surrounded by abundant natural beauty. It is the best spot to spend the sweltering summer months. Aalo is one of India's ideal resorts, thanks to its gorgeous surroundings and spectacular plantations. The Mithun and Jersey Cross Breeding Farm, located in Kamki, 25 km from Aalo, are the destinations that may be visited.
You can learn more about the inhabitants here – the Galo Tribe – by staying with them.
Mechuka: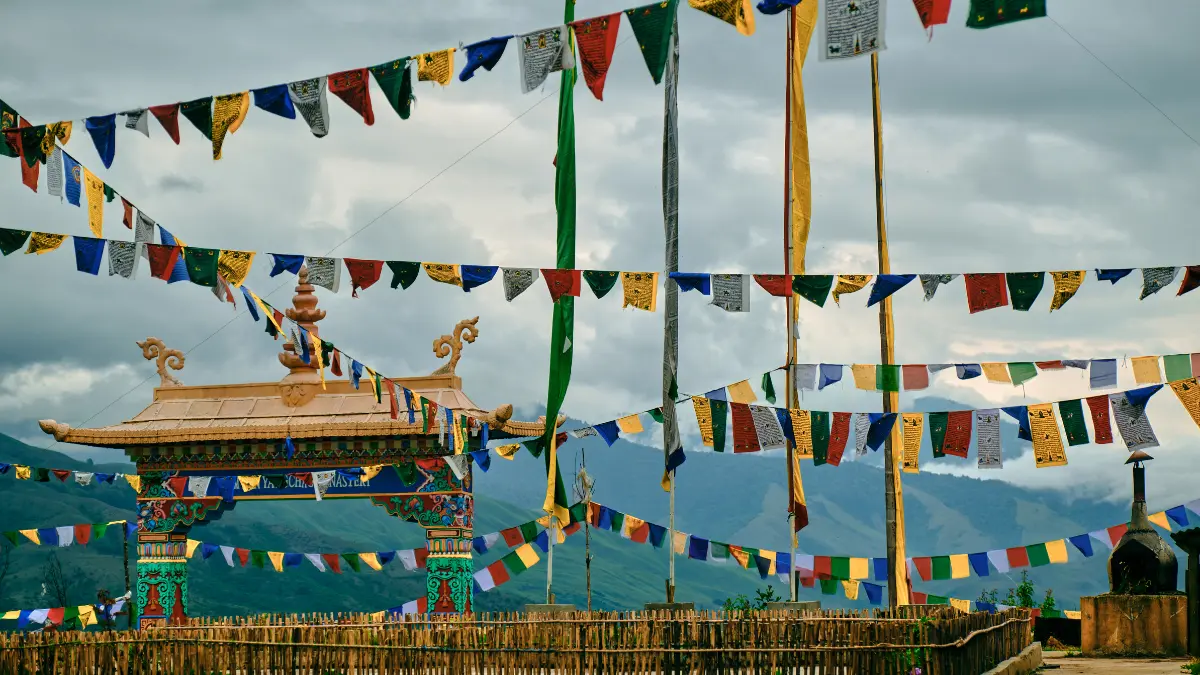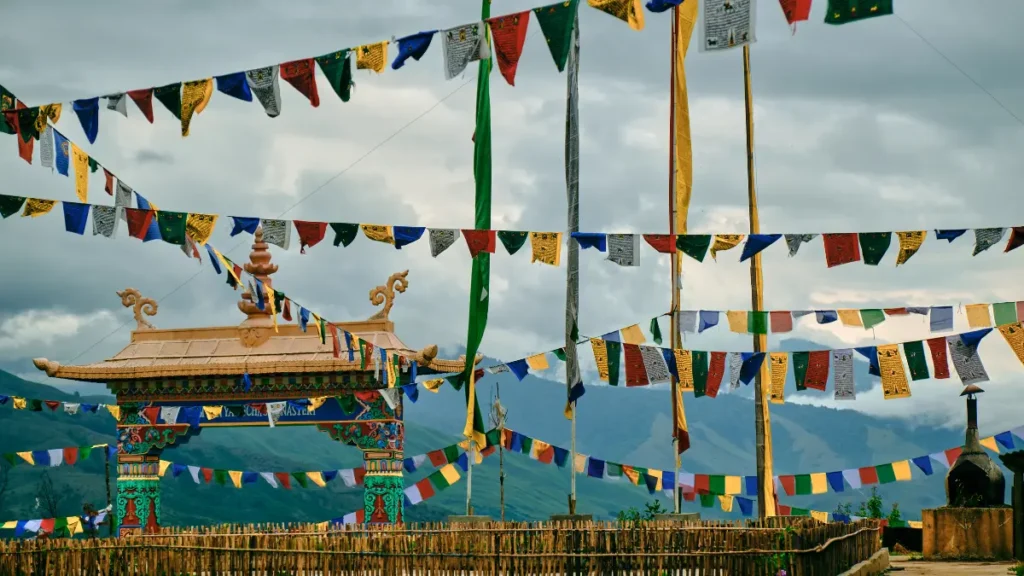 In the Mechuka Valley, at an elevation of 6,000 feet above sea level, there lies a little village called Mechuka. The border between India and Tibet is only 29 km away. This region of Arunachal Pradesh is well-known for its historical and religious significance.
The area is filled with unspoiled natural splendours, like heaven on earth. This area of Arunachal Pradesh is gaining popularity as a tourist destination because of its captivating scenery, diverse tribes, naturally stunning lake, snow-capped mountains, and Siyom River (also known as Yargyap Chu in the local language). The Siyom River, which runs through Mechuka, provides a breathtaking perspective of the valley. The Memba, Ramo, Bokar, and Libo tribes make up the majority of the population in the Mechuka Valley.
On the Yomgo River is where you'll find the Patum Bridge. It is a cable bridge that allows for easy commuting for people and the transit of vehicles. The bridge is stunning at night because of its sparkling lights. A captivating view of the snow-covered mountains is pleasant to the eyes from behind the bridge.
11. Circuit 11: Daporijo – Taliha – Siyum – Nacho
The three Taliha, Siyum, and Nacho locations are on the hillside beside the Subansiri River. Driving down the Subansiri River from Daporijo to Nacho is incredibly enjoyable for thrill enthusiasts. The ideal environments for whitewater sports and other adventurous pursuits are those found here.
12. Jairampur-Manmao-Nampong – Pangsau Pass
In this circuit, you can witness the history of the World War II.
Jairampur: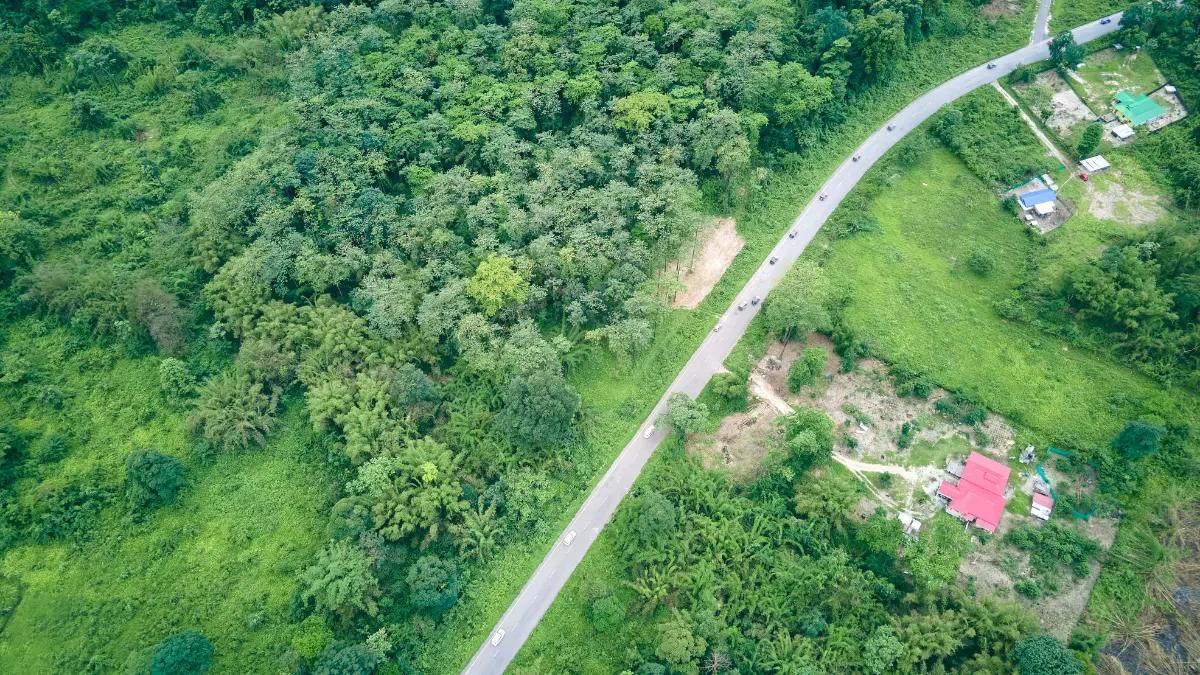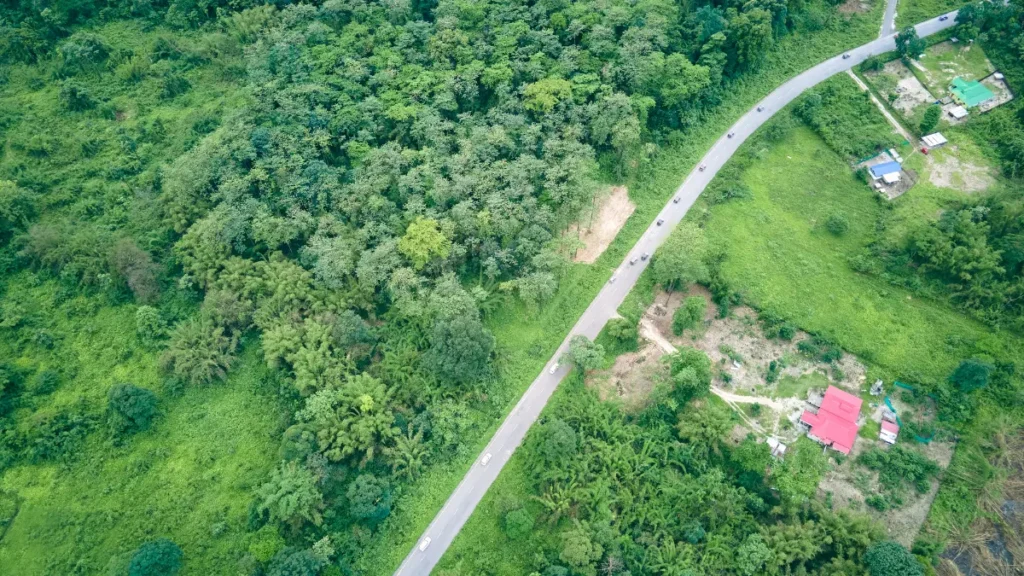 It serves as the Jairampur Subdivision's headquarters. This little settlement is on the renowned Stilwell Road, which connects Ledo (Assam) with Kunming (Yunnan Province, China) via Burma. A World War II cemetery with over 1,000 Allied Soldiers burials is situated on the Nampong road, 6 km from Jairampur.
Manmao:
Manmao is a picturesque village home to the Tangsa tribe. It is a nature lover's paradise.
Nampong: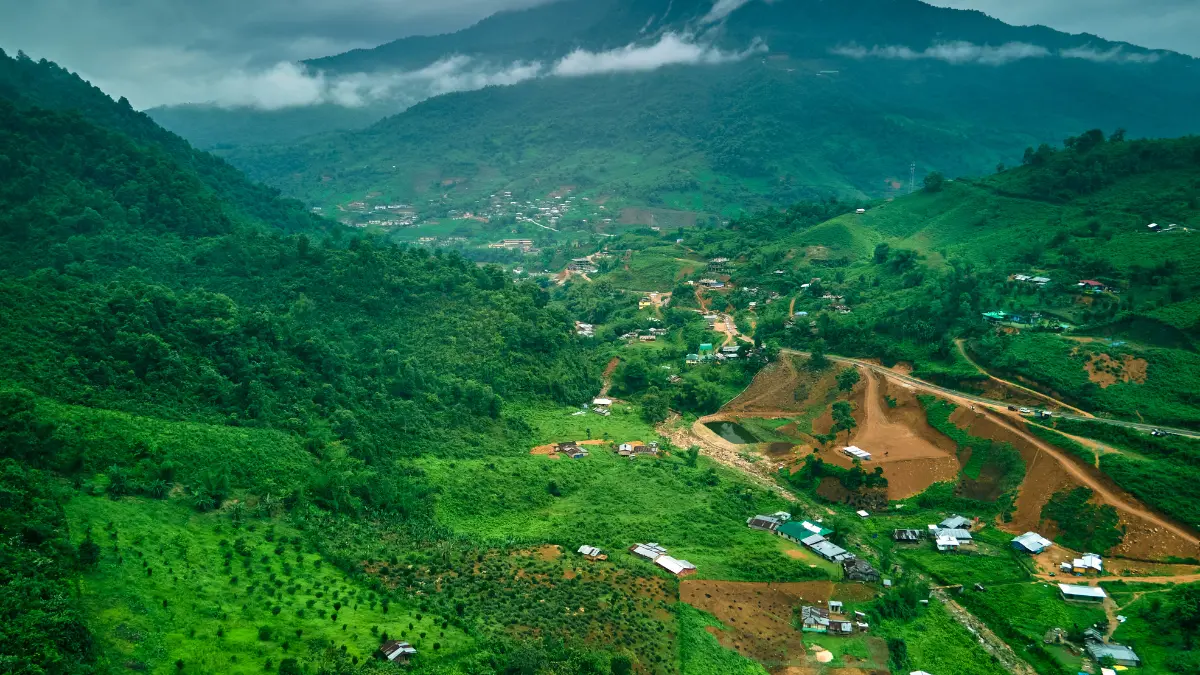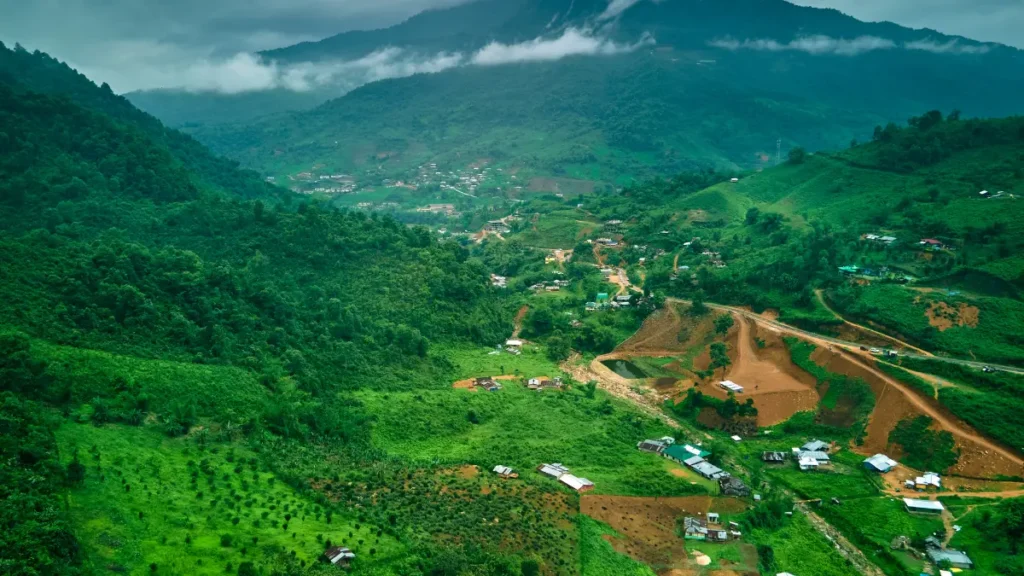 Nampong is a little town located in a beautiful valley. From Jairampur to Nampong, one may take in the scenery and see the lovely terraced tea gardens the entire route. The town's proximity to the Burma border makes it extremely critical and significant. Every 10 days each month, Nampong's Border Trading Markets are open as Bazar Days for Indian and Myanmarese citizens to sell and buy items. People are permitted to cross the border at Pangsau Pass during these three days with the necessary authorisation from the relevant government.
Pangsau Pass:
Just 12 km from Nampong is the Pangsau Pass, which forms the boundary between India and Myanmar. Visitors may see Nampong's renowned Lake of No Return from the Pass. Due to their challenging terrain in the Indo-Burma Patkai mountain range, Nampong and Pangsau Pass were called "Hell Gate" or "Hell Pass." During World War II, crossing these areas in the direction of Burma was seen as being as risky and perilous.
Every year in Nampong, a festival known as the Pangsau Pass Winter Festival is held.
Things to Do in Arunachal Pradesh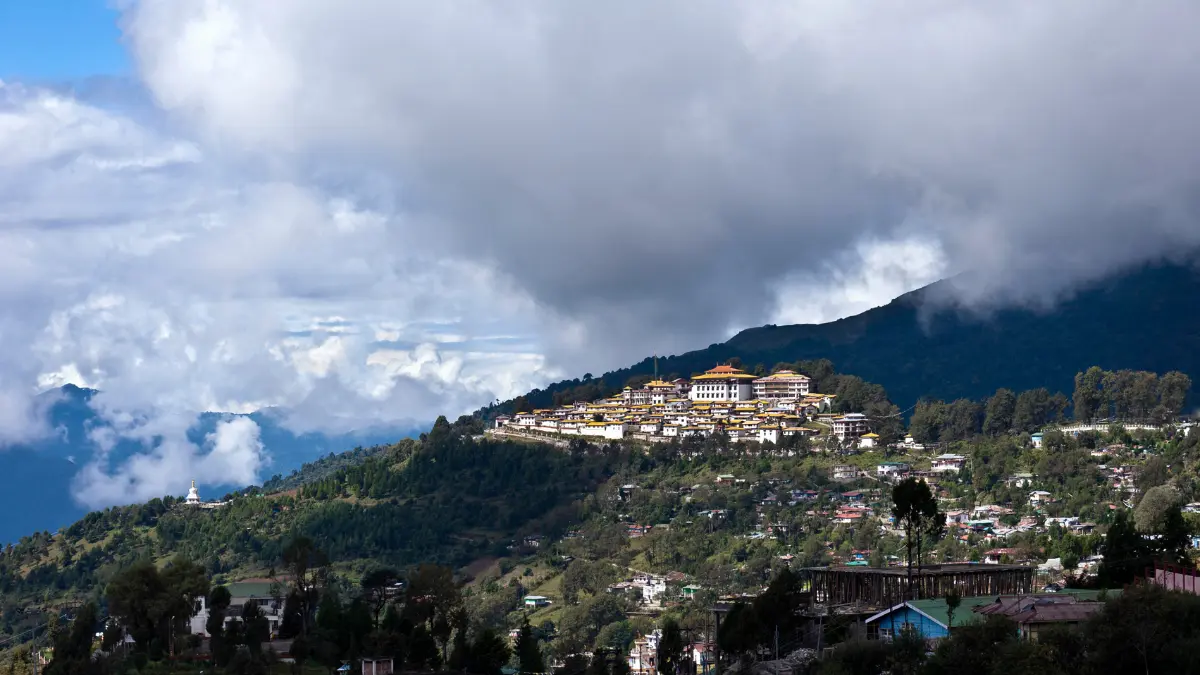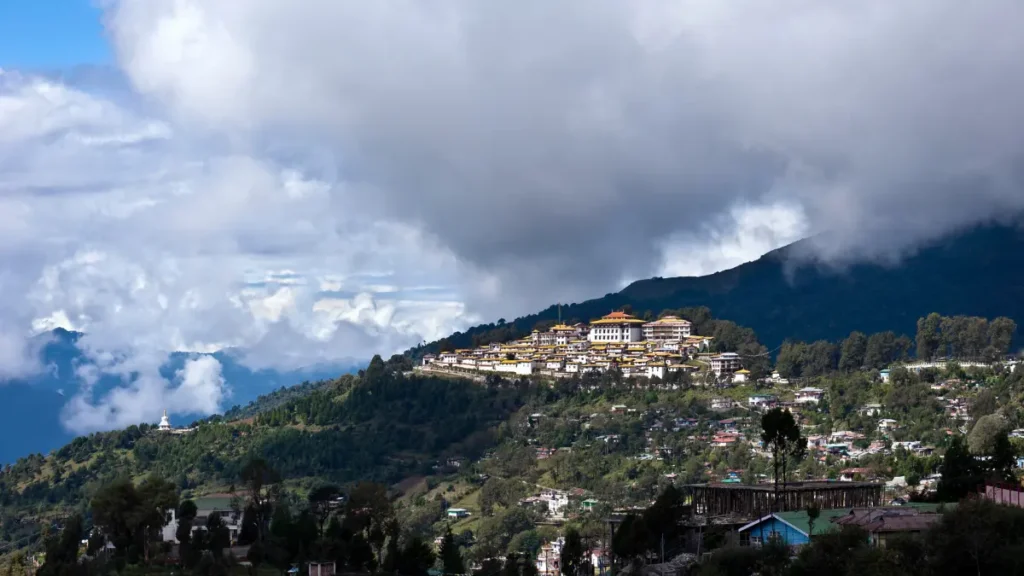 There are a ton of activities to do in Arunachal Pradesh tourist places. If adventure is your thing, there are plenty of heart-pounding things to choose from. Alternatively, if you're looking for a relaxed vacation, hot springs, wineries, and cultural attractions will keep you occupied.
1. Angling and Fishing: As the state is abundant with rivers, fishing and angling are your go-to sports. You can try to catch the Mahseer fish here, which are extremely difficult to capture and rare to find.
2. Culture: You can get to know the indigenous culture of Arunachal Pradesh from up close by staying with the tribal people here. The 26 tribes in the state have unique communication styles, traditions, music, food, attire, and more.
3. Paragliding: The verdant valleys and mountains of the Land of the Rising Sun offer a great opportunity for adventure lovers to paraglide and take in breathtaking aerial views.
4. Trekking: Trekking is popular in all Arunachal tourist places. You can hike and trek to various spots here.
5. Spirituality: If you are looking for peace, the Tibetan monasteries here are for you. You can meditate and learn more about spirituality and the Buddhist culture of monks here.
6. White Water Rafting: River Rafting is a fun adventure sport not for the faint-hearted. The many rivers here offer tourists great opportunities to raft through the strong waves and get an adrenaline rush.
7. Heritage: Arunachal Pradesh tourist places rich in cultural, mythological, and historical heritage. The artistry of tribal people will put you under a spell, and you won't be able to resist taking home souvenirs. Here, you can also get to know more about the times of Mahabharata. Being on the Indo-China Border, the state saw major commotion during World War II, the echoes of which can still be seen today.
8. Wildlife: As it is engulfed in nature, the state boasts a wide range of wildlife, from animals to avifauna, that are rare to find. You can visit many of the zoos, sanctuaries, and national parks at your disposal to get closer to nature.
Permits:
Arunachal Pradesh is protected as it lies on the border of China, Bhutan, and Myanmar. To enter, you will need permits that the government authorises.
If you are an Indian tourist, you will need the Inner Line Permit. Your travel agent can fetch it, or you can apply online for it. It is called the eLP and is valid for only 14 days. The fee ranges from INR 300 to INR 500. Those who wish to stay longer must apply for a provisional ILP. Children below the age of 14 do not require a permit but are required to be accompanied by an adult.
If you are a foreign tourist, you must apply for a Protected Area Permit. It can be applied online and only available for groups of foreign tourists (2 or more than 2) for 30 days.
Conclusion:
The Land of the Dawn-it Mountains is a beautiful and unique destination that will satiate your desire to travel in the lap of nature. Go to the places to visit in Arunachal Pradesh as soon as possible because it offers everything you can imagine – adventure, peace, uniqueness, nature, and more.