'Devbhumi' Uttarakhand is home to the pious Panch Kedar dedicated to the most revered God – Lord Shiva. This holy yatra shouldn't be missed by anyone travelling here. It consists of five temples – Kedarnath Mandir, Kalpeshwar Mandir, Madmaheshwar Mandir, Rudranath Mandir, and Tungnath Mandir.
According to legends, when Pandavas won their home war against their own family – the Kauravas – they were full of guilt and wanted penance. They came to Uttarakhand looking for Lord Shiva for the atonement of their sins, but Shiva was angry with them, knowing their sins, and hid in the form of a bull. When He finally reappeared in the human form, each body part of the bull was said to be found at each location. The hump was at Kedarnath, arms at Tungnath, navel at Madmaheshwar, face at Rudranath, and hair appeared at Kalpeshwar. Thus, the Pandavas created the five temples dedicated to the Lord in the Garhwal Himalayas.
Panch Kedar Names: A Complete List of the Five Kedar
The five temples are Kedarnath, Tungnath, Kalpeshwar, Madmaheshwar, and Rudranath.
1. Kedarnath Temple
The Kedarnath Mandir is also a significant 'chaar dhams' and one of the twelve Jyotirlingas. At 3,584 metres above sea level, the Kedarnath Mahadev Mandir is surrounded by breathtaking snow-capped mountains and dense woods. It is located in the Rudraprayag area of Uttarakhand and is the most well-known Panch Kedar temple. A Shiva lingam in a triangular form is kept at the shrine. Adi Shankaracharya is credited with founding the current temple, constructed of grey stone slabs, in the eighth or ninth century.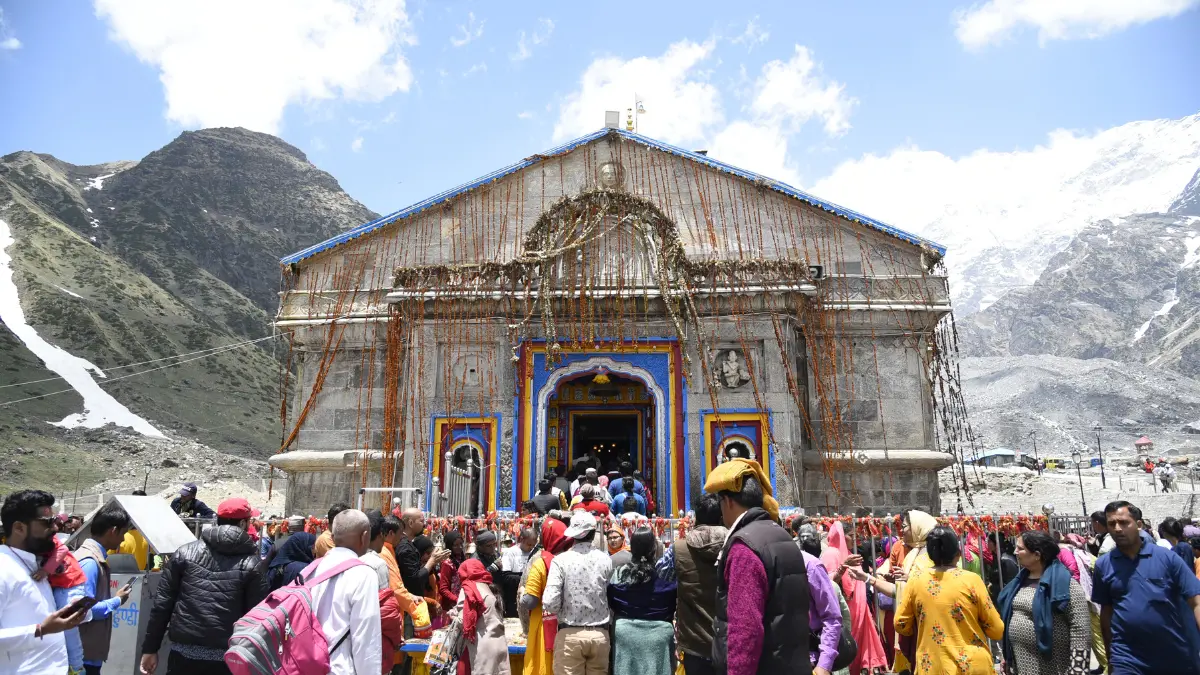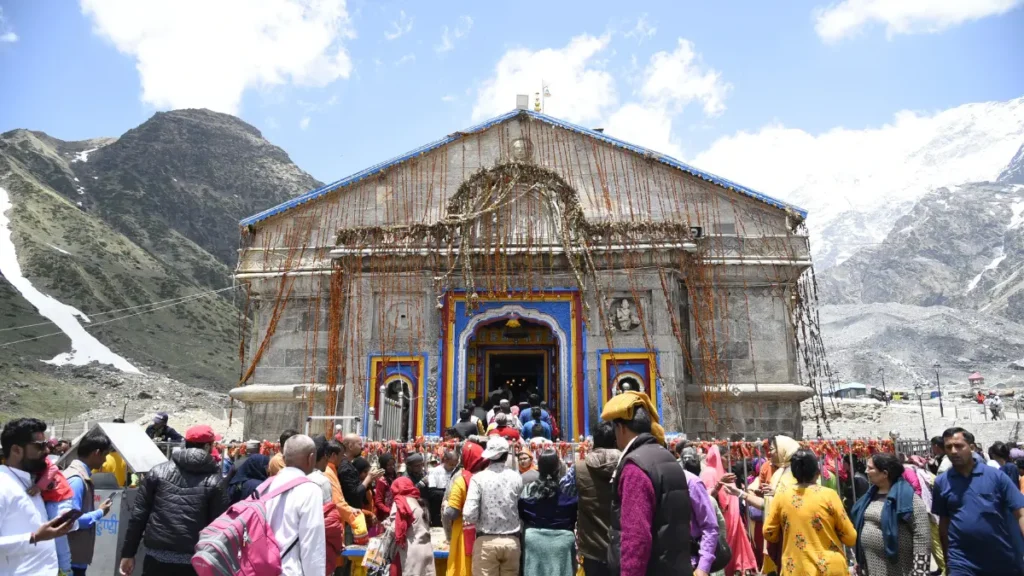 Kedarnath Trek is a popular pilgrimage trek in India that starts at Gaurikund and is 14 kilometres long. The trek is considered moderate in difficulty. The path is beautifully laden with the views of snow-capped mountains, towering trees, and the Mandakini River.
Options for staying here are limited. Government-operated tents, cottages, and rooms are available to those pilgrims who visit Kedarnath. You can also camp here in the mountains or nearby towns. Food is also basic, like Maggi, tea, roti, dal, and rice. With the altitude being high, prepare for your journey accordingly.
If you wish to avoid trek, the helicopter service here is a great option. You can reach Kedarnath by air and come back on the same day. Helicopter services to Kedarnath are available from Gaurikund, Sitapur, Sonprayag, Guptkashi, and many more places.
How to Reach Kedarnath
You can take a bus to Rudraprayag from Rishikesh and then to Sonprayag. From Sonprayag, you can travel to Gaurikund and start your trek there.
2. Tungnath Temple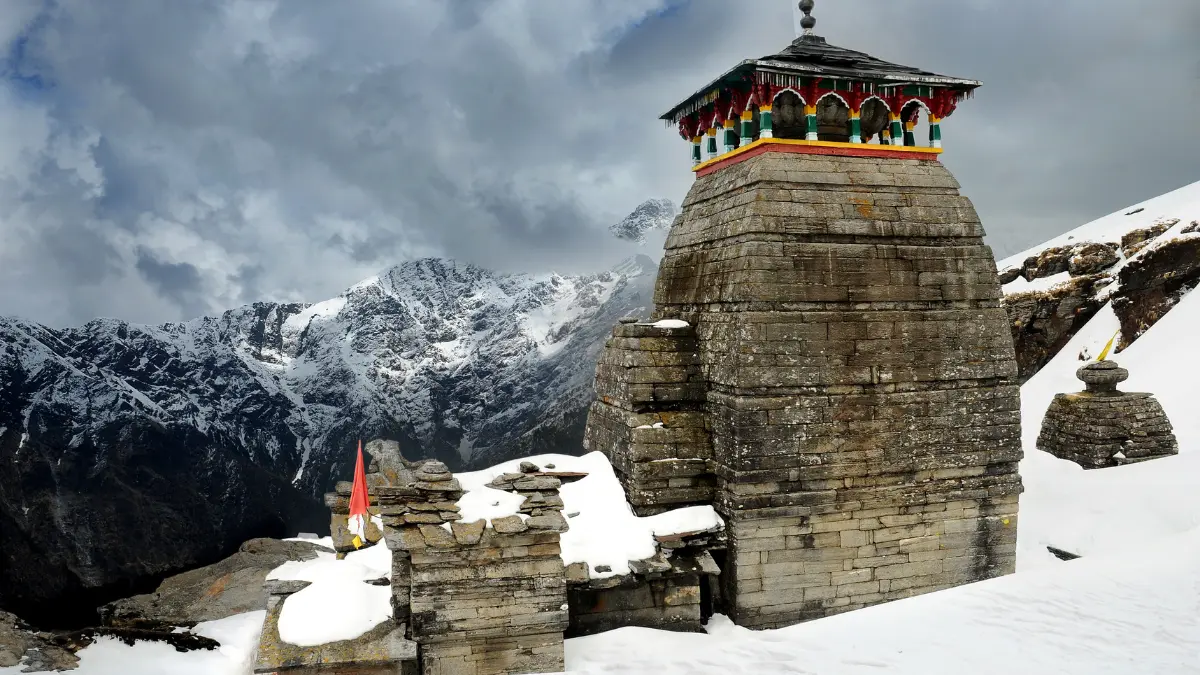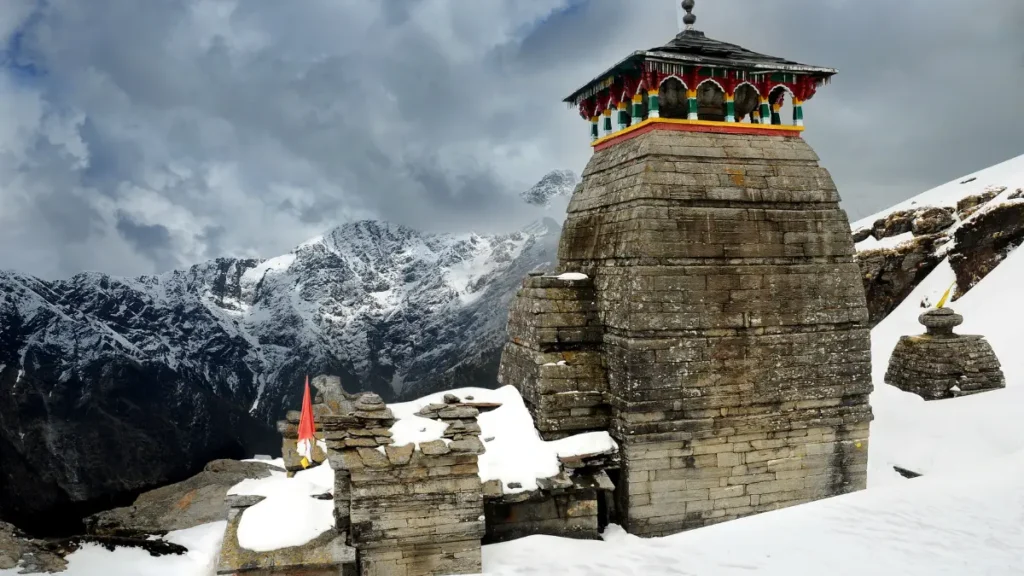 Tungnath temple dedicated to Lord Shiva may be found in Uttarakhand, India, hidden in the majestic Garhwal Himalayan range. It is sometimes called the "Highest Shiva Temple in the World" due to its lofty location at around 3,680 metres (12,073 feet) above sea level. This revered mandir of Lord Shiva is a vital stop for pilgrims and hikers since it is a crucial element of the Panch Kedar yatra.
The charming village of Chopta sometimes called the "Mini Switzerland of India" for its breathtaking natural splendour, is where the walk to Tungnath begins and lasts 3.5 kilometres. The walk offers hikers breathtaking views of the Himalayan peaks, such as Nanda Devi, Trishul, and Chaukhamba, as it passes through thick alpine forests, lush meadows, and pristine landscapes. Despite being difficult owing to the altitude, the trip gives a magical experience as you immerse yourself in the tranquil surroundings.
The actual Tungnath Mandir is a small stone shrine with a unique architectural appeal. It has great religious importance since it is thought to be where Lord Shiva's arms, or bahu, first emerged. According to legend, Lord Shiva appeared at this location in response to the Pandavas' devotion, making Tungnath an important place of worship for the god's followers. The temple is open year-round from May to October and draws adventurers and spiritual seekers looking for inspiration and tranquillity in the holy presence and spectacular mountain vistas.
How to Reach Tungnath
Take a bus or hire a taxi from Rishikesh to Ukhimath or Rudraprayag. From there, hire a taxi or bus to Chopta and start your trek.
3. Madmaheshwar Temple
It is believed that Lord Shiva's centre or navel portion emerged at Madhmaheshwar, located at a height of roughly 3,289 metres. The temple, situated in the charming town of Mansoona in the Garhwal Himalayas, is encircled by spectacular snow-capped peaks, including Kedarnath, Chaukhamba, and Neelkantha.
Uniana, located around 18 km from Ukhimath, is where the walk to Madhyamaheswar begins. The walk offers mesmerising views of the surrounding Himalayan peaks, leading you through thick forests, alpine meadows, and pristine landscapes. Trekkers get the chance to connect with nature and their spiritual side on this difficult yet rewarding journey.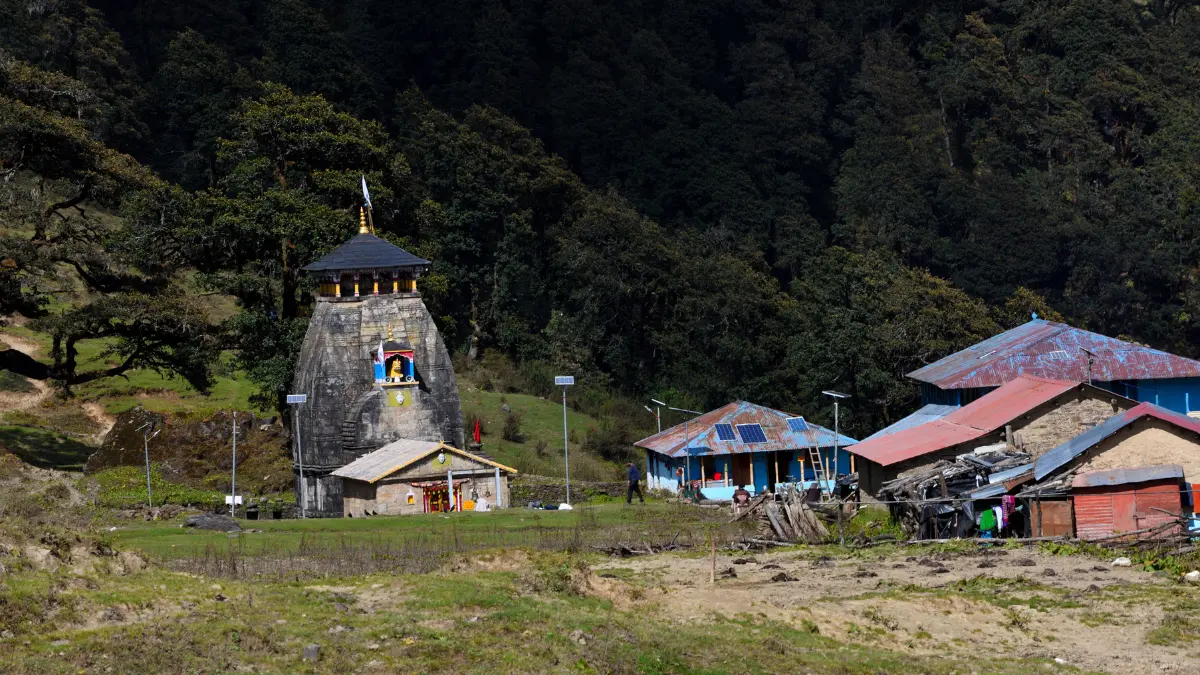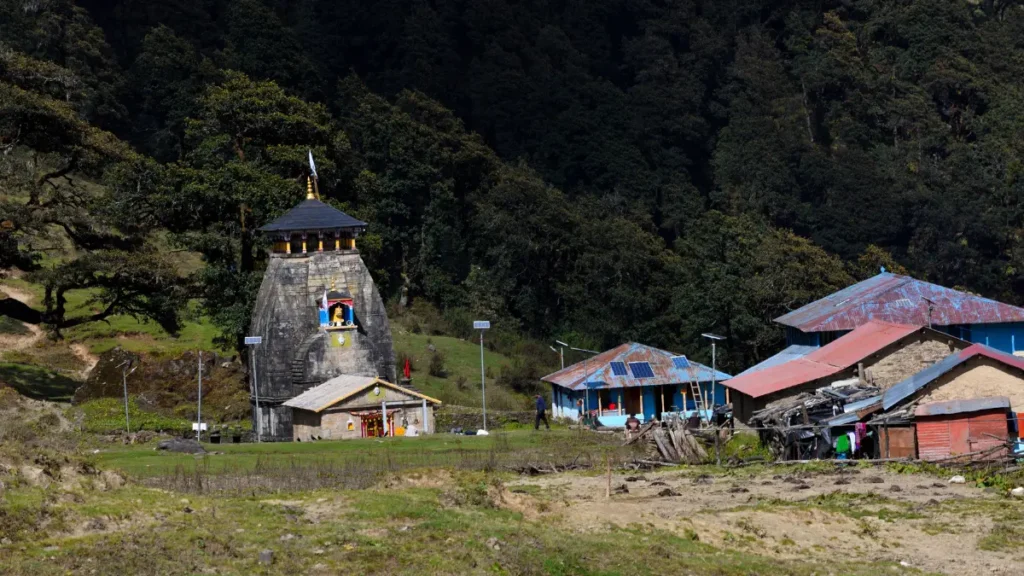 As a representation of the celestial union of Lord Shiva and Goddess Parvati, it is dedicated to Lord Shiva in the form of Uma-Maheshwar. The tranquil setting of the surrounding towering mountains enhances the temple's magical appeal. During the pilgrimage season, typically from May to October, devotees travel to this mandir to seek blessings and spiritual enlightenment while taking in the breathtaking Himalayas.
How to Reach Madmaheshwar
From Rishikesh, reach Ukhimath, and from there, reach Ransi, the beginning point/base for the Madmaheshwar trek.
4. Rudranath Temple
At a height of around 3,600 metres (11,811 feet) above sea level, Rudranath Temple is a Panch Kedar temple for spiritual and adventure seekers. A bronze Nandi (the celestial bull) and a Shiva lingam, representing Lord Shiva, are housed in the mandir's inner sanctuary.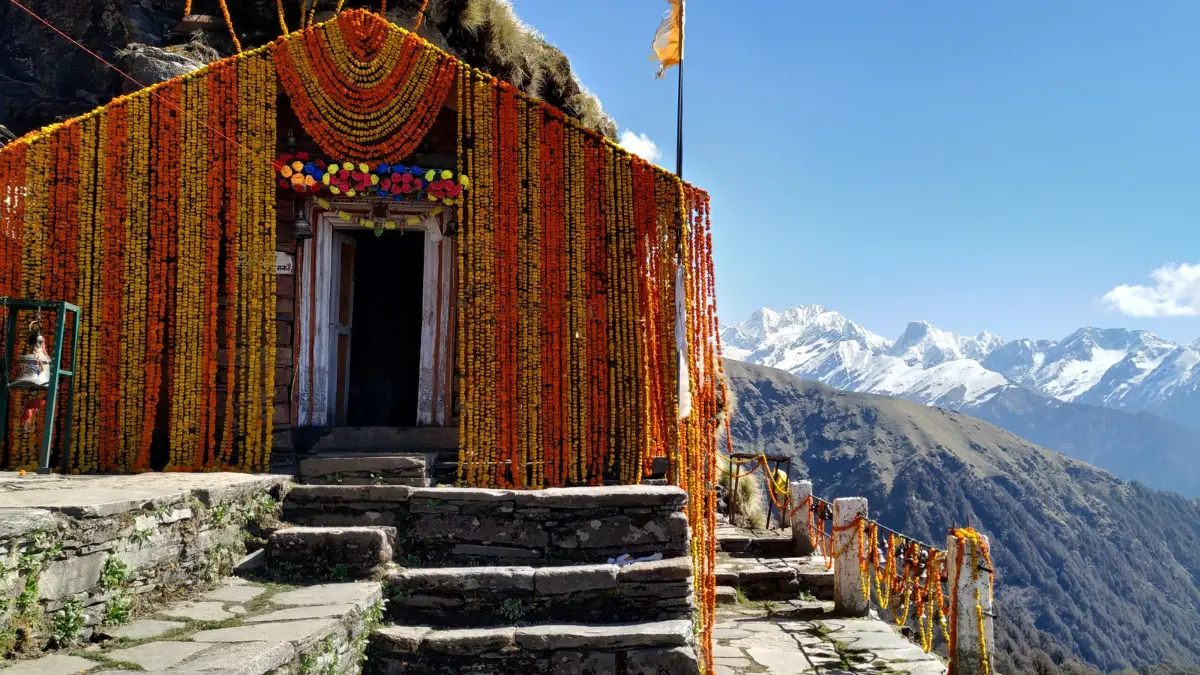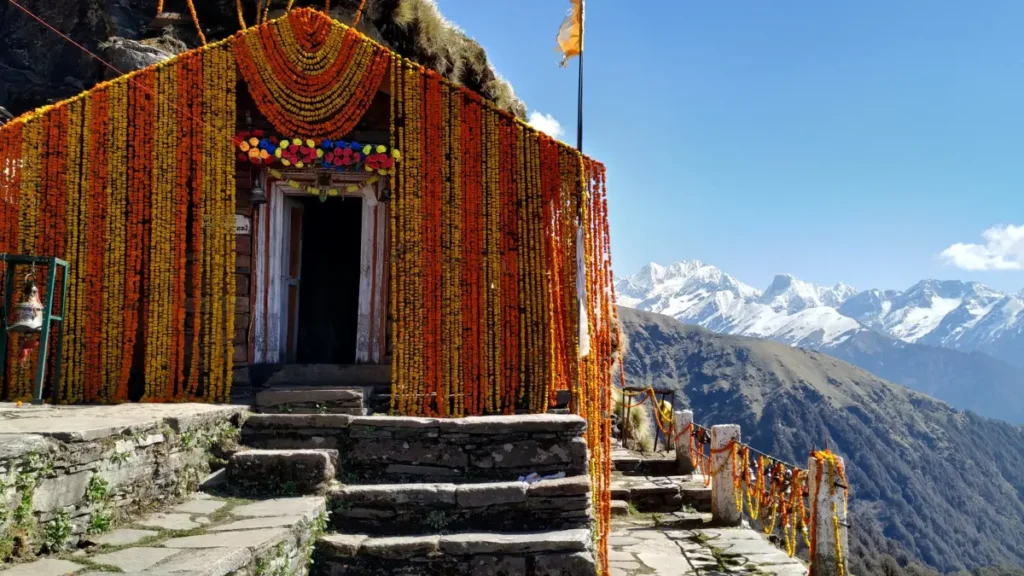 Trekkers and pilgrims may fully immerse themselves in the breathtaking natural splendour of the Himalayas on the route to Rudranath Mandir. The town of Sagar, which serves as the pilgrimage's base camp, is where the walk officially starts. From there, hikers pass through thick forests, green meadows, and difficult terrain while encircling snow-capped mountains and the Vaitarini River. Although the route to Rudranath is difficult and not for the faint of heart, the scenic rewards and spiritual experience make the journey worthwhile. You can trek from three different places – Sagar, Urgam, and Mandal to reach Rudranath.
Options for staying here are limited. A few homestays are available, but if you want comfort and quality, consider staying in nearby towns like Sagar, Urgam, and Panar.
How to Reach Rudranath
Buses from Rishikesh to Sagar are easily available. From there, walk to the holy shrine.
5. Kalpeshwarnath Temple
In the Panch Kedar pilgrimage circuit, it is the fifth and last temple. It is open all year round in contrast to the others. The shrine honours Lord Shiva's matted hair. In the Chamoli district of Uttarakhand, Kalpeshwar Mandir is about 2,200 metres (7,217 feet) above sea level. It is renowned for its peaceful location amidst verdant trees and stunning mountain vistas.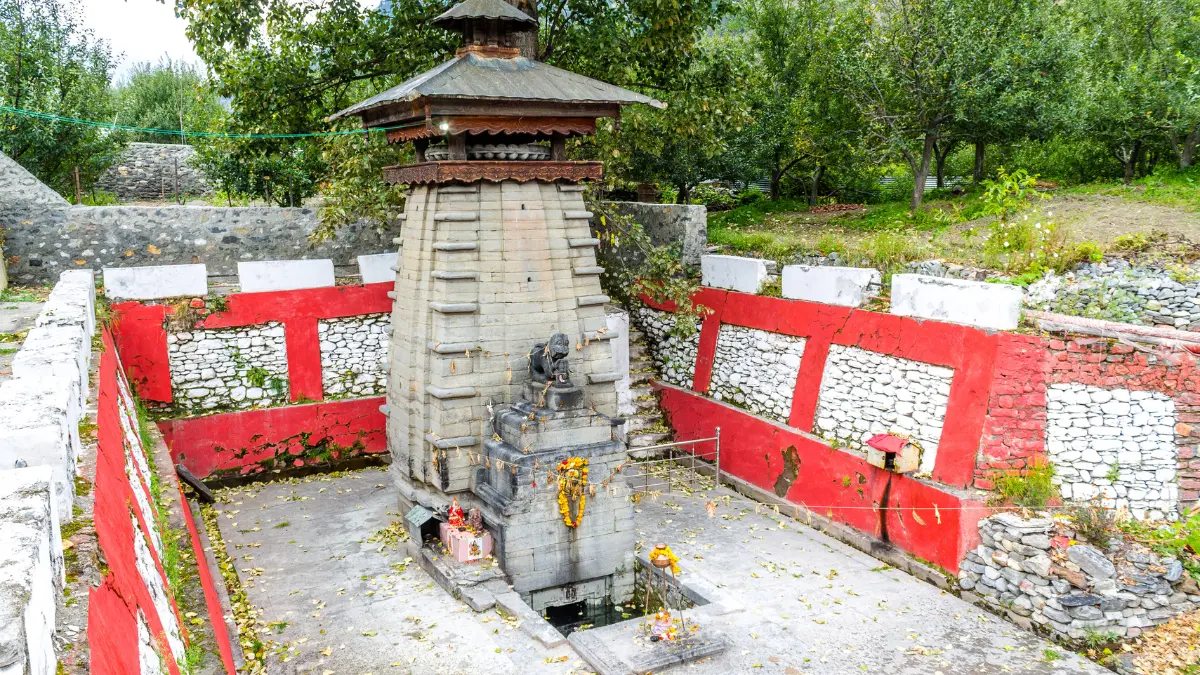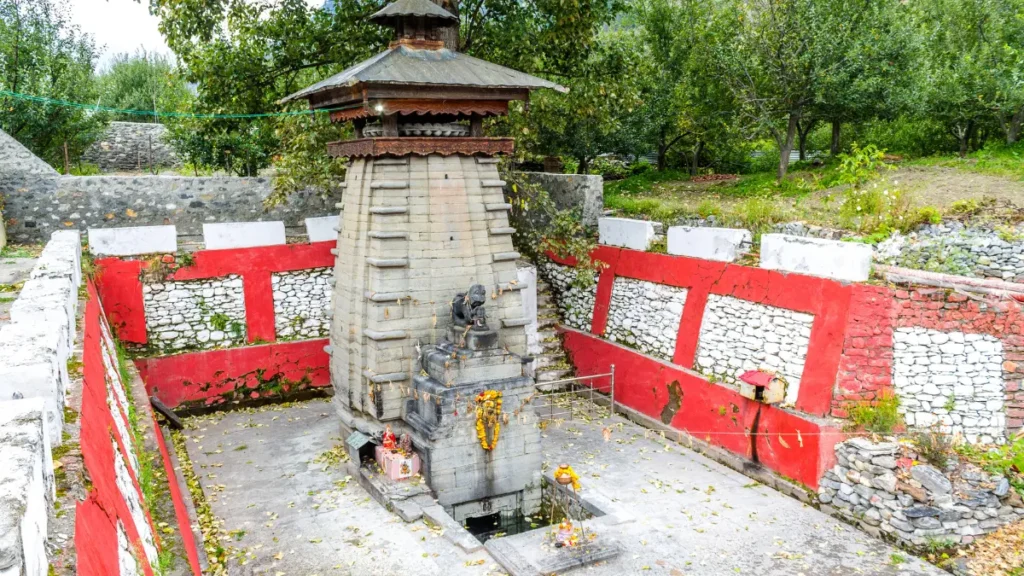 The temple is devoted to Lord Shiva, especially to his manifestation as "Jata" or "matted hair," or "matted hair." The term "Kalpeshwar," which means "the Lord who fulfils all desires," comes from the idea that Lord Shiva, in this manifestation, conducted penance and fulfilled the requests of devoted seekers. Visitors to this shrine come in search of blessings and wish fulfilment.
Kalpeshwarnath Temple may be reached quickly by car, unlike other Panch Kedar temples requiring challenging hiking. Due to its accessibility, it is a well-liked vacation spot for tourists, travellers, and devotees who may not be able to perform difficult and lengthy hikes.
Visitors may have a serene and enlightening experience at Kalpeshwarnath Mandir. It is a tranquil Himalayan location where devotees may find refuge to contemplate and establish a connection with the holy. Kalpeshwarnath Temple is a special and treasured site for individuals on a spiritual quest or merely examining the cultural and natural legacy of the Garhwal region due to its accessibility, natural beauty, and religious significance.
How to Reach Kalpeshwarnath
Taxis and buses are available from Rishikesh to Urgam, where the mandir is situated.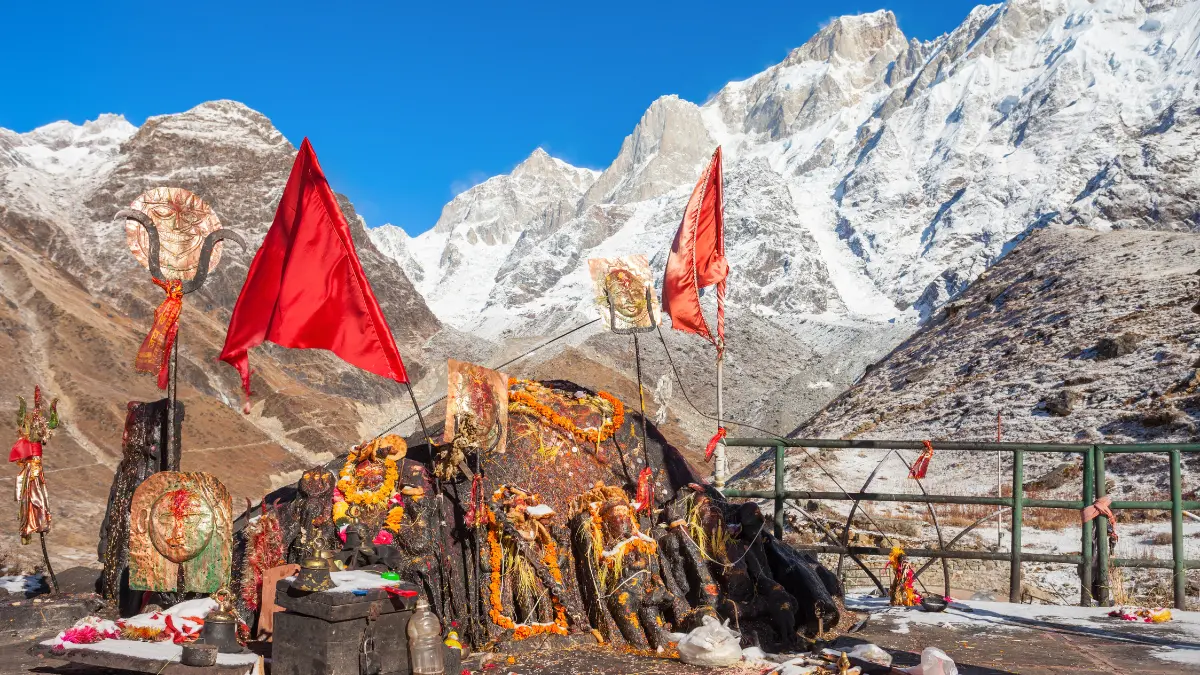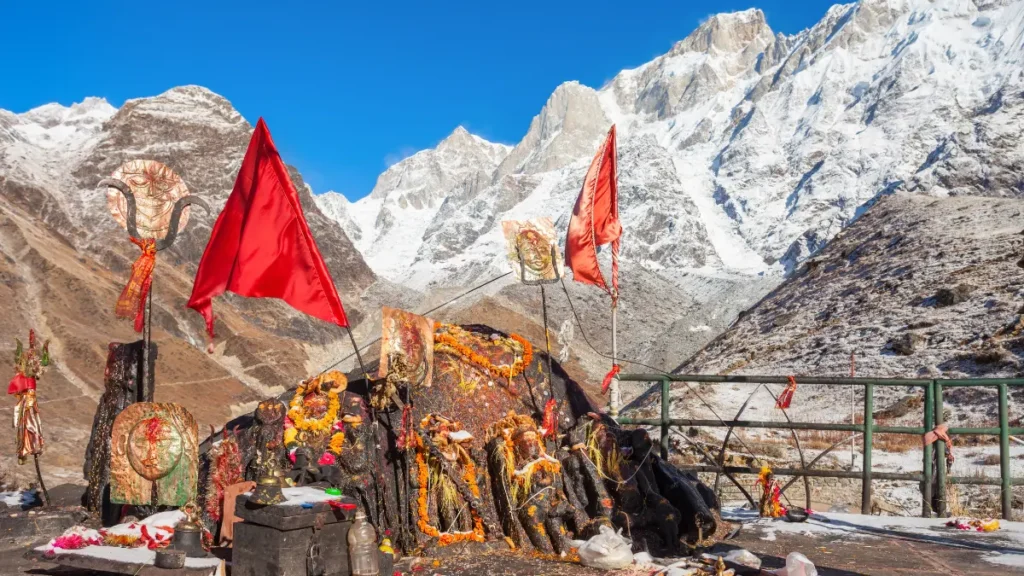 Panch Kedar Opening Date 2023
Kedarnath – 25 April 2023 (closes on 14 November 2023)
Madmaheshwar – 22 May 2023 (closes on 22 November 2023)
Tungnath – 26 April 2023 (closes on 5 November 2023)
Rudranath – 9 May 2023 (closes on 17 October 2023)
Kalpeshwarnath – Open throughout the year
Conclusion
Uttarakhand, the land of serenity and spirituality, is home to many pilgrimages and of Northern India. Uttarakhand is the epitome of Hindu spirituality; hence, the state is also known as 'Devbhumi'. This Devbhumi has the most revered of Shiva temples – the Panch Kedar. These five temples are said to have been created by the Pandavas in honour of Lord Shiva and as an apology. They are a holy pilgrimage circuit in Uttarakhand that spirituality and adventure seekers should visit at least once.