Have you ever wondered, "Is there a bioluminescent beachfront near me?" Well, there is not only one bioluminescent beach in India but many! If you need to find peace looking at natural wonders, the glow-in-the-dark beaches in India will surely captivate your heart.
Bioluminescence is naturally occurring in many insects, flora, and beaches. On beaches, the phytoplanktons play a major role in the glow that looks like stars swimming in a sea. It is caused by algae that glow at night when water crashes at the shores. Jellyfish, comb jellies, other fishes and crustaceans also create this baffling effect on beaches.
Looking at the crashing waves that glow bright blue is absolutely magical. The peaceful and rhythmic crashing of waves on the shore that glow up with every crash is an enchanting sight to behold. If you wish to feast your eyes on this beauty, it is advisable to go on dark nights when there is no moon in the sky.
Let's explore India's most magnificent beaches that glow up at night!
Bioluminescent Beach in India: Everything You Need to Know
1. Juhu Beach, Mumbai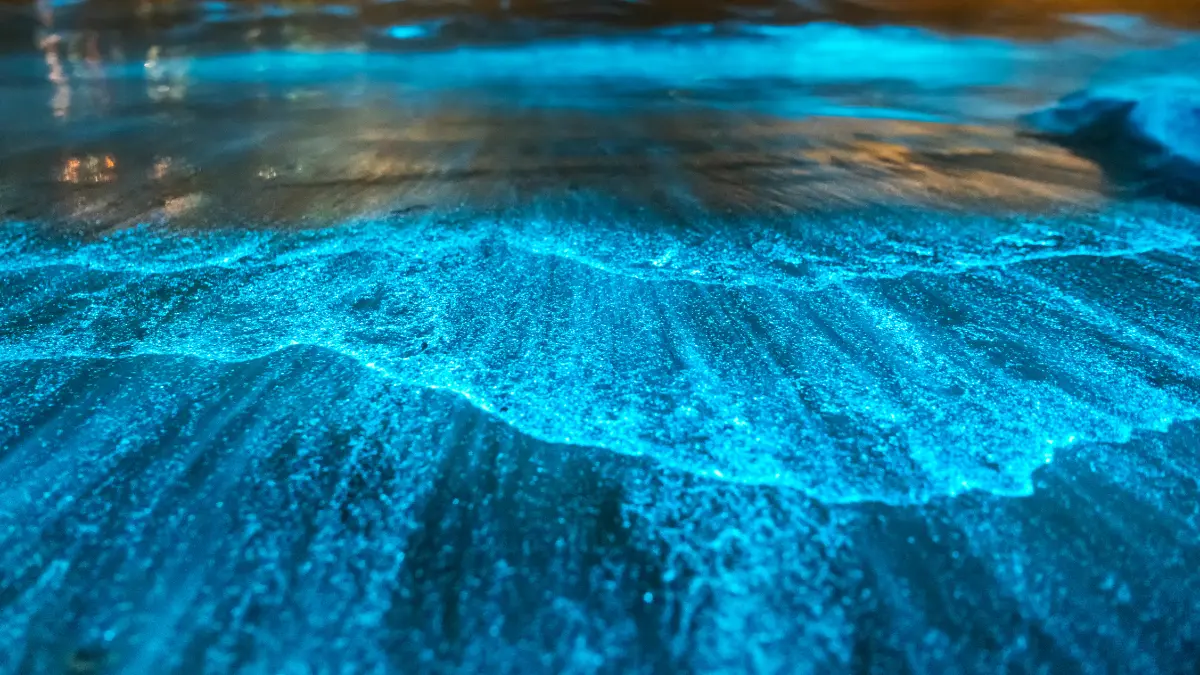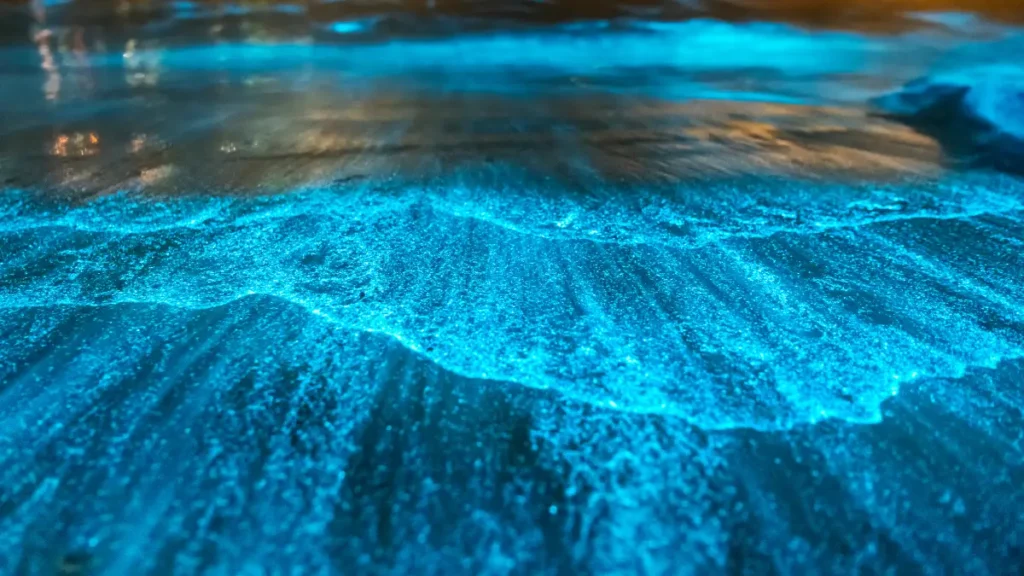 The Juhu waterfront is one of Mumbai's most frequented tourist places, but it is lesser known that the seaside glows in the dark. A type of phytoplankton called dinoflagellates causes the water to light neon blue on dark nights. The Juhu seaside was recently discovered to be full of marine life's lightning creatures and has been a mystifying destination.
A cement jetty on the Juhu coast provides the best view of this beautiful phenomenon. You can view this bioluminescent beach in Maharashtra after 09.30 P.M. The bioluminescence is only visible from November to January and sometimes in March. So, plan your trip accordingly to take advantage of this mesmerising beauty.
2. Paradise Beach, Gokarna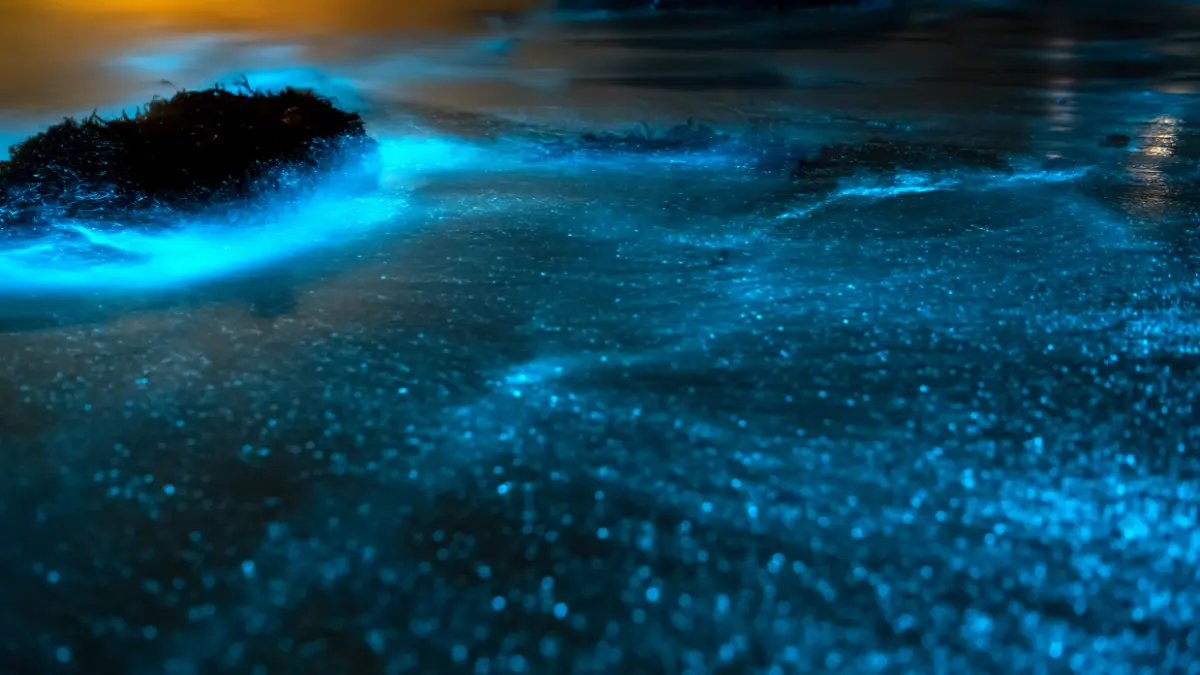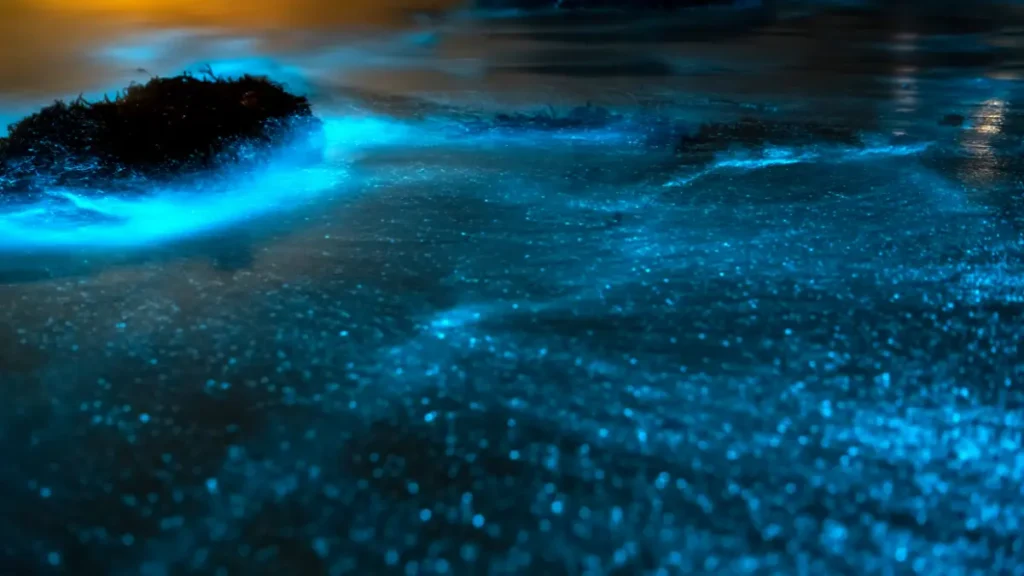 This bioluminescent beach in Gokarna is a paradise for sea lovers and nyctophiles. The Paradise seaside is a hidden gem that emanates peaceful and relaxing vibes. In the night, it starts to glow like stars in water. Those looking for a hippie culture can visit this secluded seaside.
A nearby hostel organises night treks for a minimal charge of INR 300 for those wishing to watch the shore light up in the dark. You can take this trek and feel the serenity and beauty of the place in the darkness.
3. Bangaram Island, Lakshadweep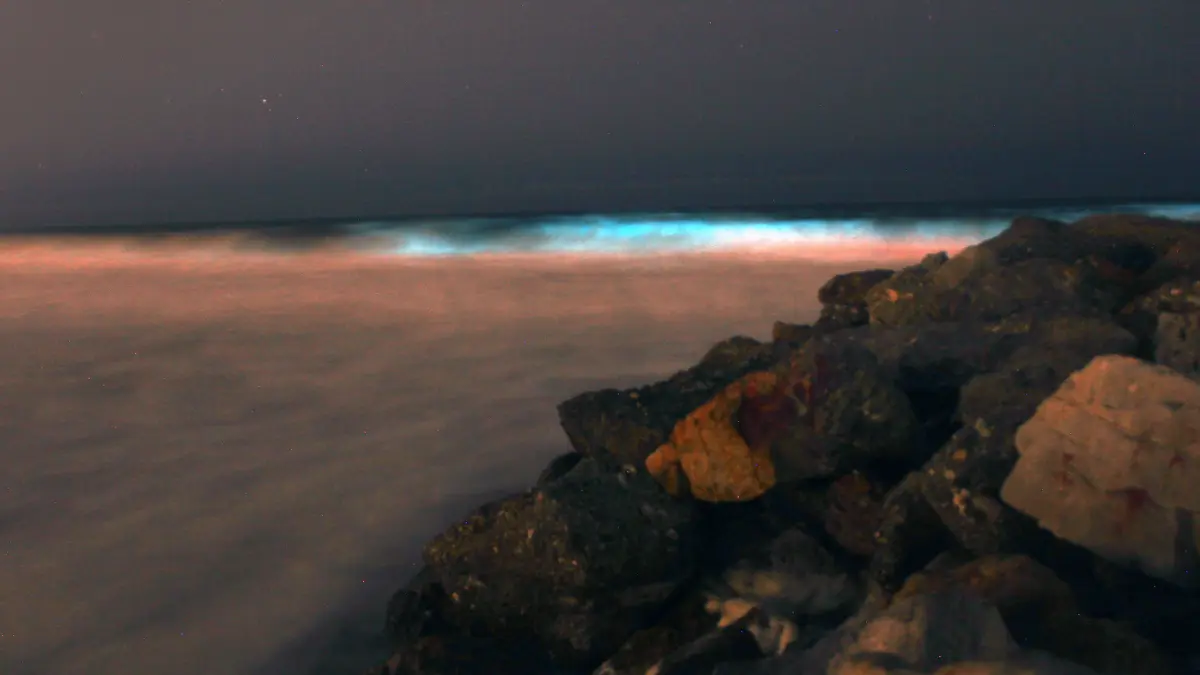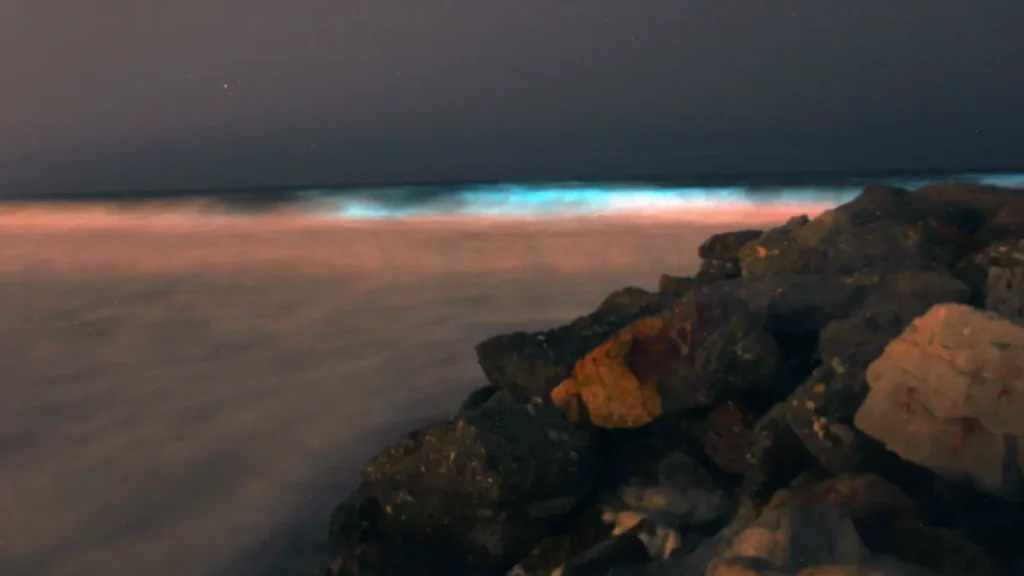 The Bangaram Island possesses a beautiful glow-in-the-dark bioluminescent beach in India that will take your breath away during your trip to this amazing island. Bangaram is a small island that is lesser-known yet; hence, it is not crowded and provides a peaceful retreat to all. Its coasts look stunning with lined-up palm trees that reach the sky.
The seaside here is home to many phytoplanktons and algae that cause it to radiate neon blue lights in the middle of the night. The beaches glow brilliantly here from September to November. The rest of the year, this bioluminescent beach in Lakshadweep emanates only a faint glow due to the lack of light-producing marine life during the months.
If you're planning a long trip, Bangaram's waterfront is preferred over Maldives' bioluminescent ones due to the scenic beauty and smaller crowds.
4. Marari Beach, Kerala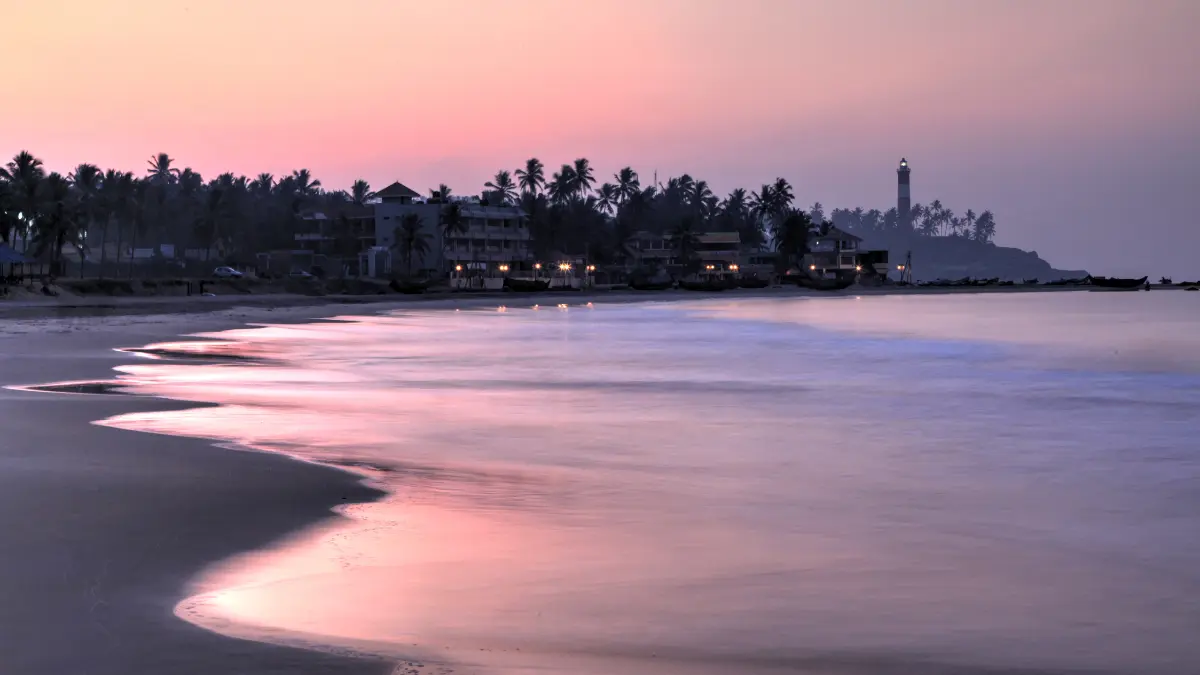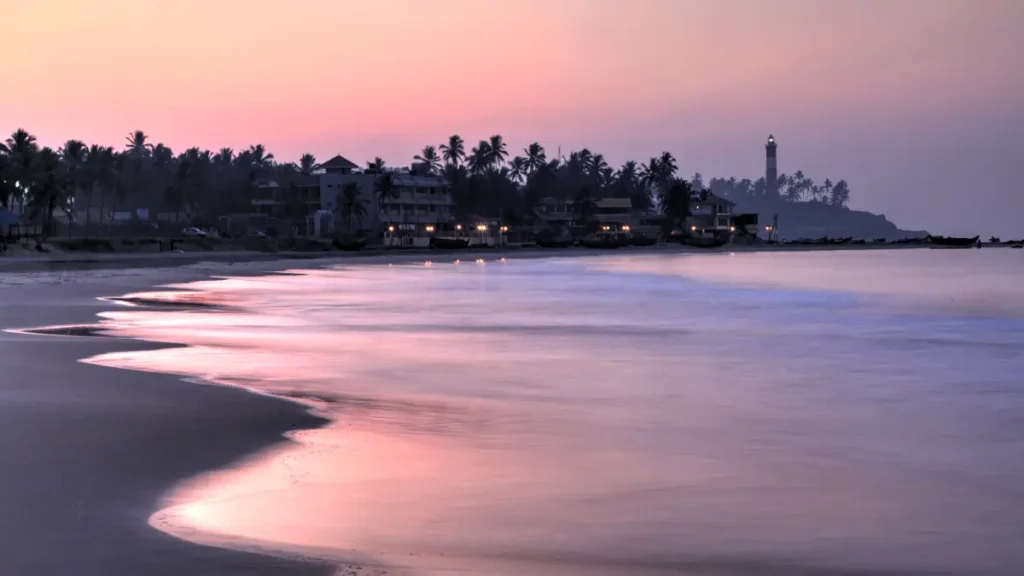 Kerala, 'God's Own Country', is full of magnificent beaches popular among tourists and crowded most times of the year. Marari is the perfect destination if you are on a trip to the state and wish to escape from the hustle of the tourist life.
As night falls over the seaside, the waves come to life with a bright brilliance, enveloping the area in a wonderful spell. Visitors are motivated to fully engross themselves in the moment's magic by this surreal atmosphere created by this symphony of light and water. It is a dazzling bioluminescent beach in India.
5. Neil Island, Andaman and Nicobar Islands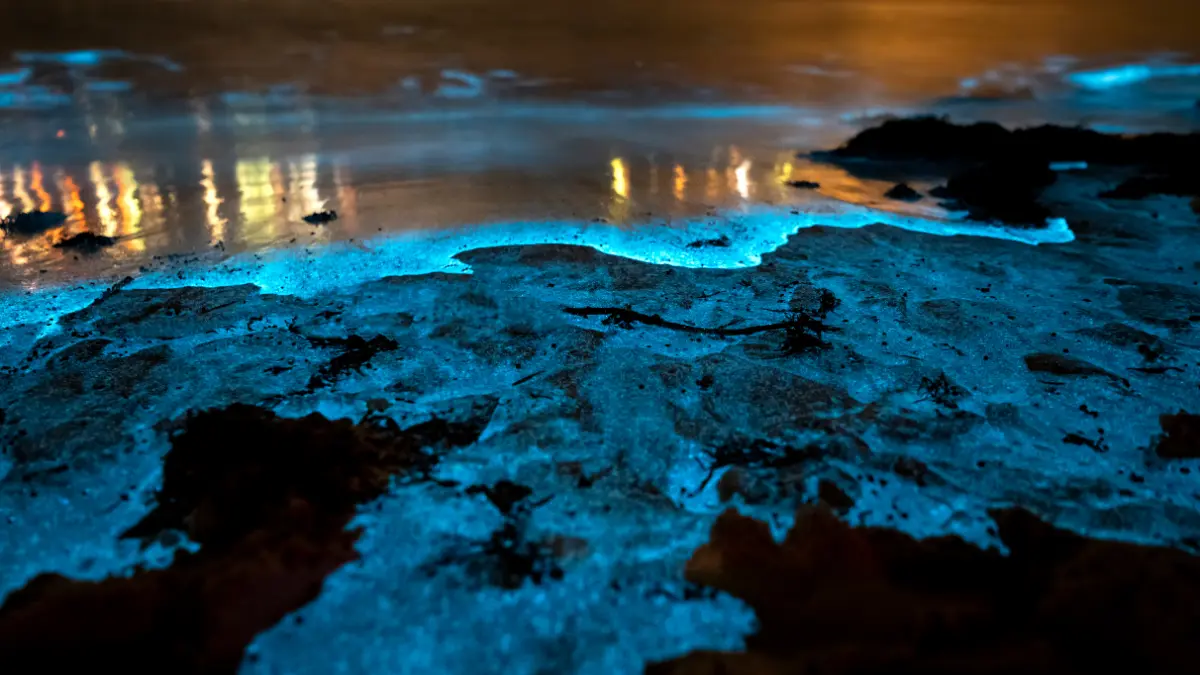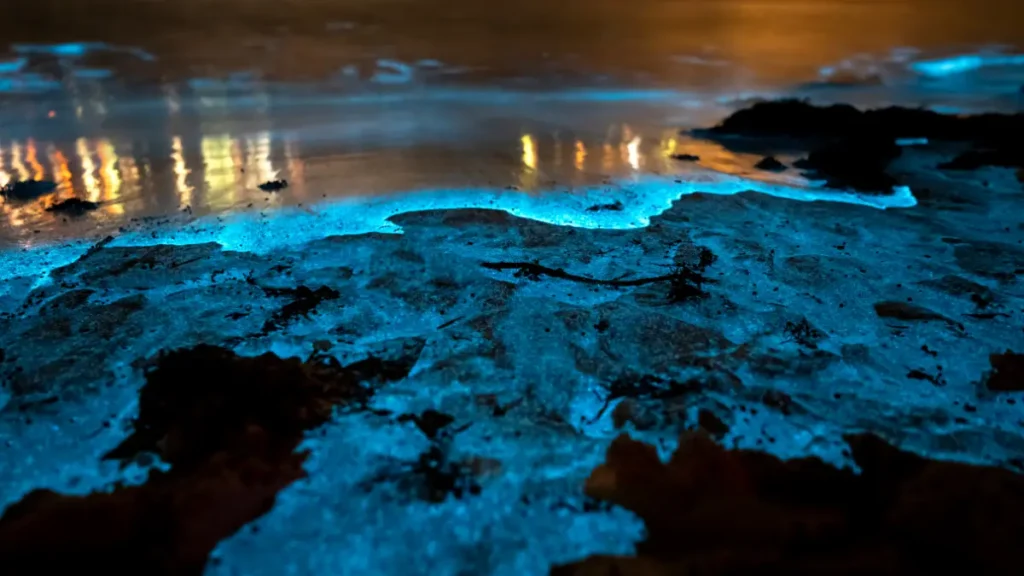 Neil Island is one of the islands of the Andaman and Nicobar and is also called Shaheed Dweep. The island harbours many glow-in-the-dark beaches and is a peaceful place. The pristine beauty of the palm-lined beaches here is something to marvel at. If you visit at the right time, you will experience this beautiful phenomenon that turns the beaches iridescent blue.
Your wish to see a starry sea can be fulfilled from November to February on dark and moonless nights. Although the beaches don't emanate a considerable glow (it is mostly faint), the glimmer is not something you should miss out on. Contact travel agents about this bioluminescent beach in India to plan your trip accordingly.
6. Nirvana Beach, Gokarna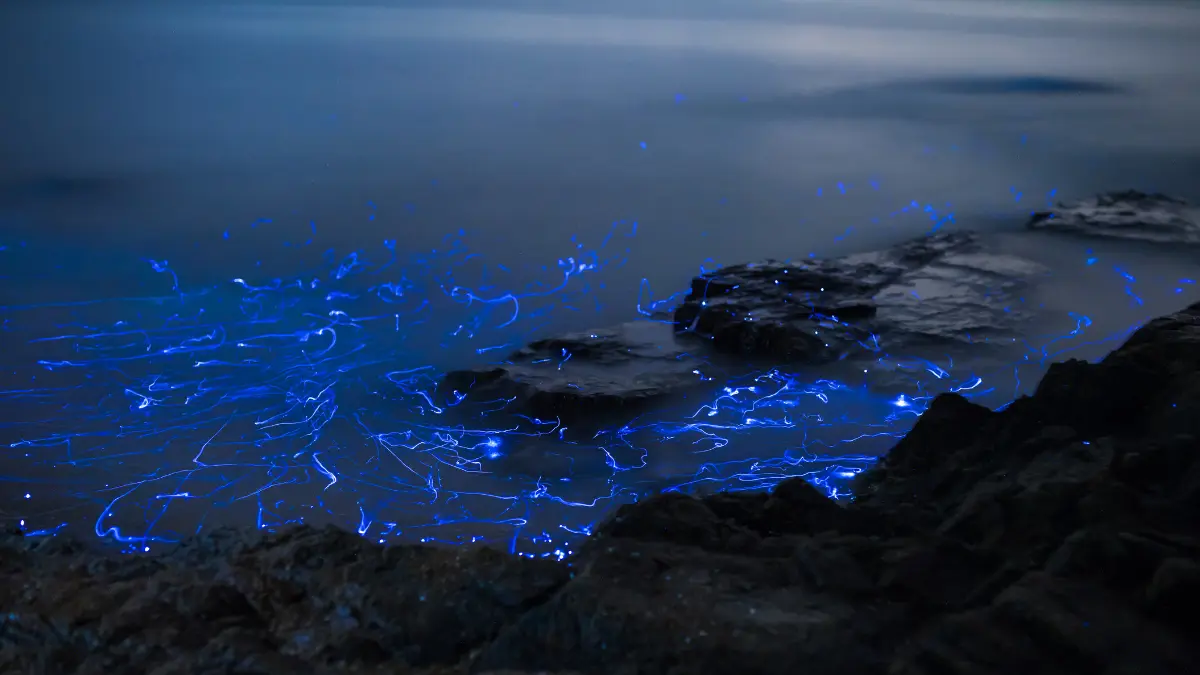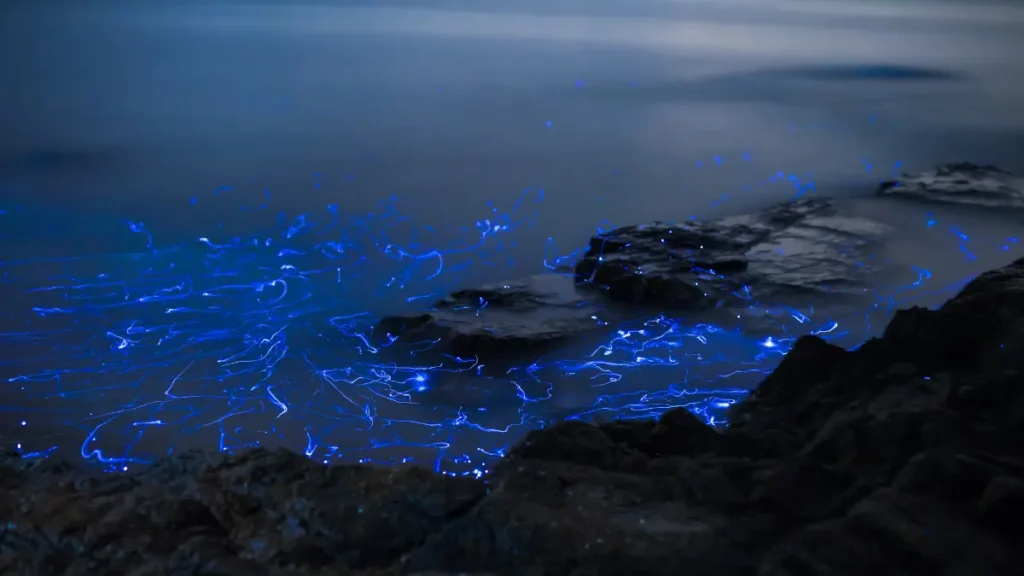 The Nirvana coast is another bioluminescent beach in Gokarna that one must visit when travelling. For those who love nature and its magic, Nirvana justifies its name as attaining peace and happiness. You can stroll along this beauty's glow on dark nights.
The electric blue lights are sure to mesmerise you for days to come.
7. Radhanagar Beach, Andaman and Nicobar Islands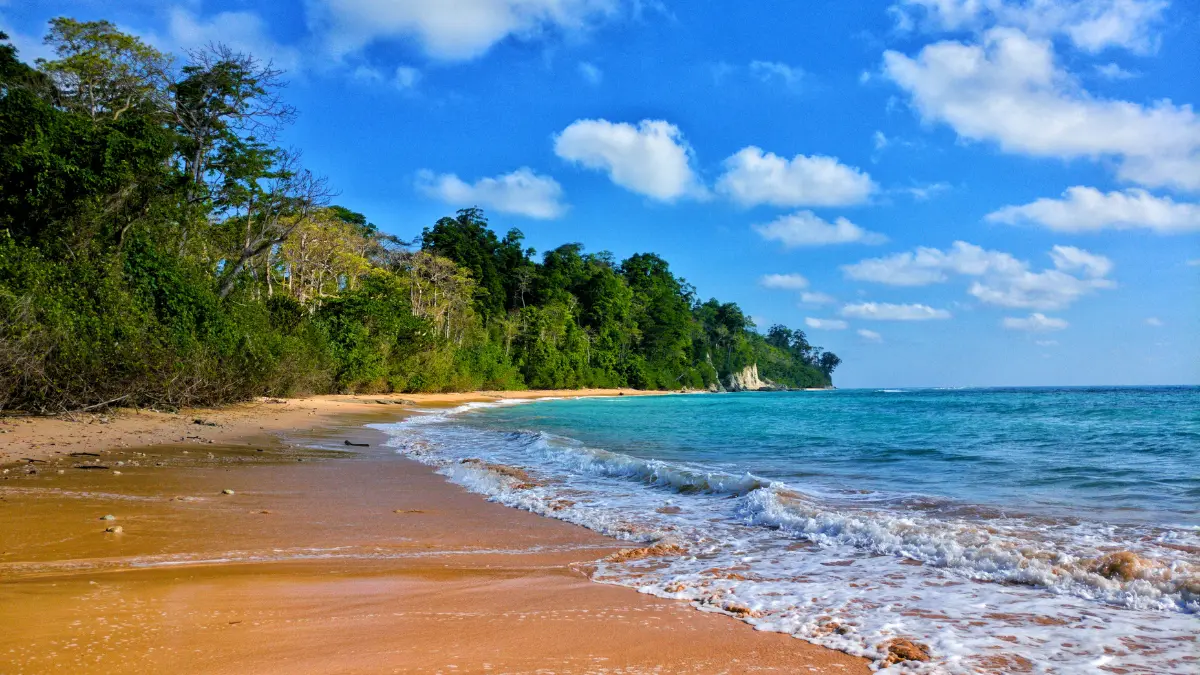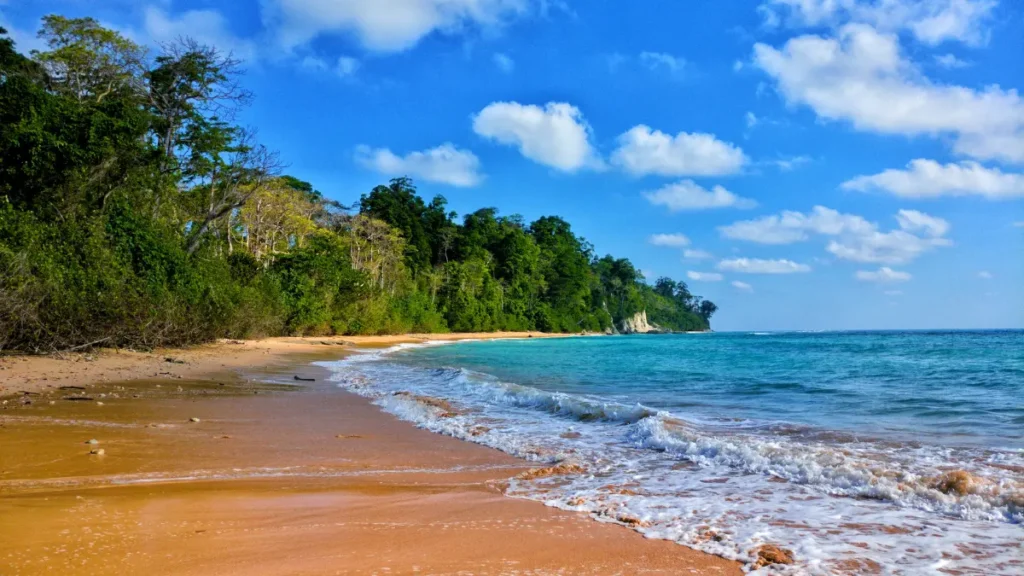 The Radhanagar Beach is a bioluminescent beach in Andaman, located on the Havelock Island. Local tour operators here arrange tours on moonless nights for visitors to enjoy the amazing glow-in-the-dark phenomenon. The shore is a popular destination for those looking to enjoy sunsets. You can stay here for sunset and later into the night to experience the joy of a starry night-like coast. The Radhanagar seaside is also a honeymooner's favourite place, and you can visit this beauty with your partner for a romantic date night to make the experience more enchanting.
8. Mattu Beach, Karnataka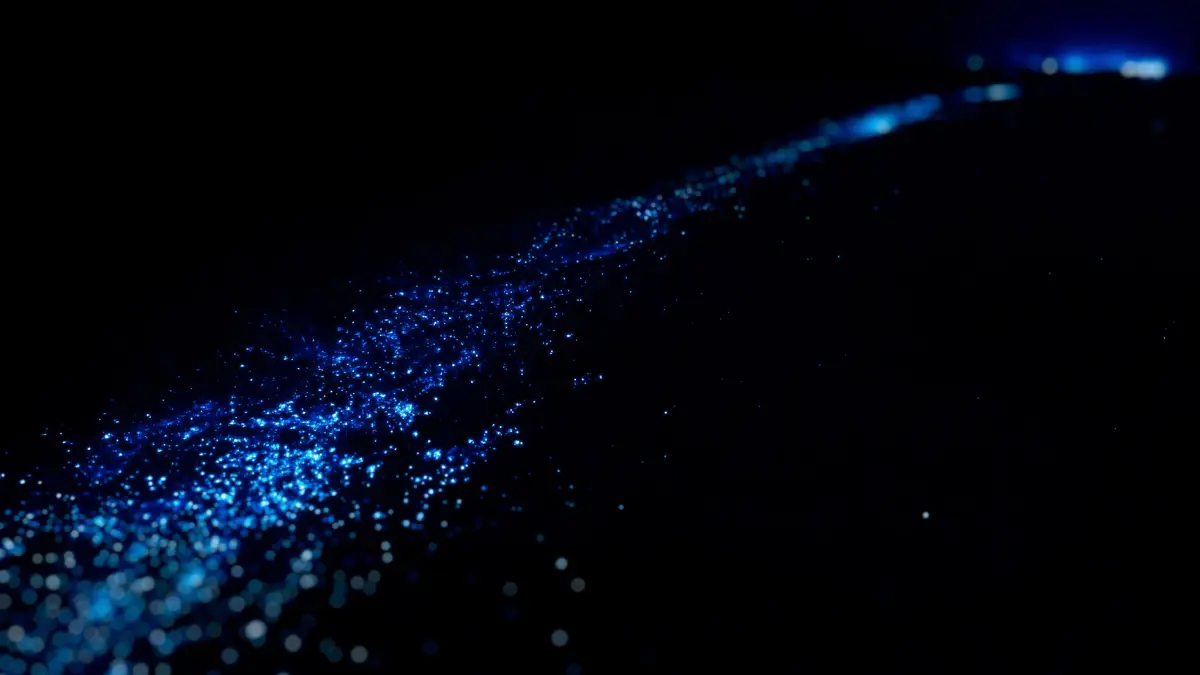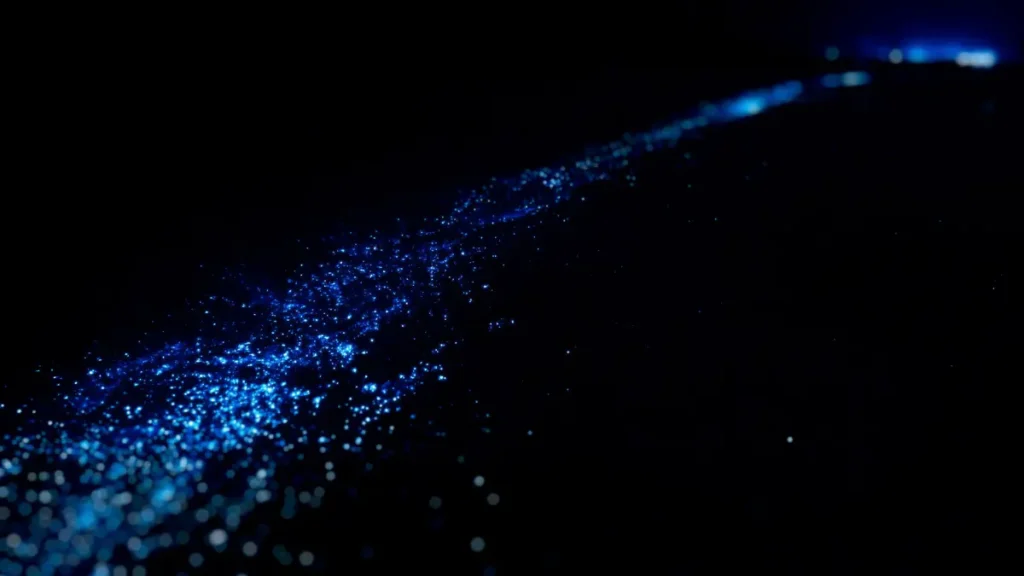 The Mattu Beach is 10 kilometres from Udupi and easily accessible. A surreal bioluminescent beach in Karnataka will have chills running down your body when you look at the lit-up neon shorelines. Here, the bioluminescence is created by sea sparkles aquatic microorganisms like the dinoflagellates. The Mattu beachfront is lesser known among tourists and is open at night. You can also enjoy a wonderful time with your family and partners at this bioluminescent beach in India.
The Mattu waterfront is one of the best places in Karnataka for a seaside vacation, which provides everything you need for a stress-free experience. The stunning sunsets and unmatched natural beauty of the ocean are well recognised. This little, enigmatic waterfront is worthy of admiration.
9. Betalbatim Beach, Goa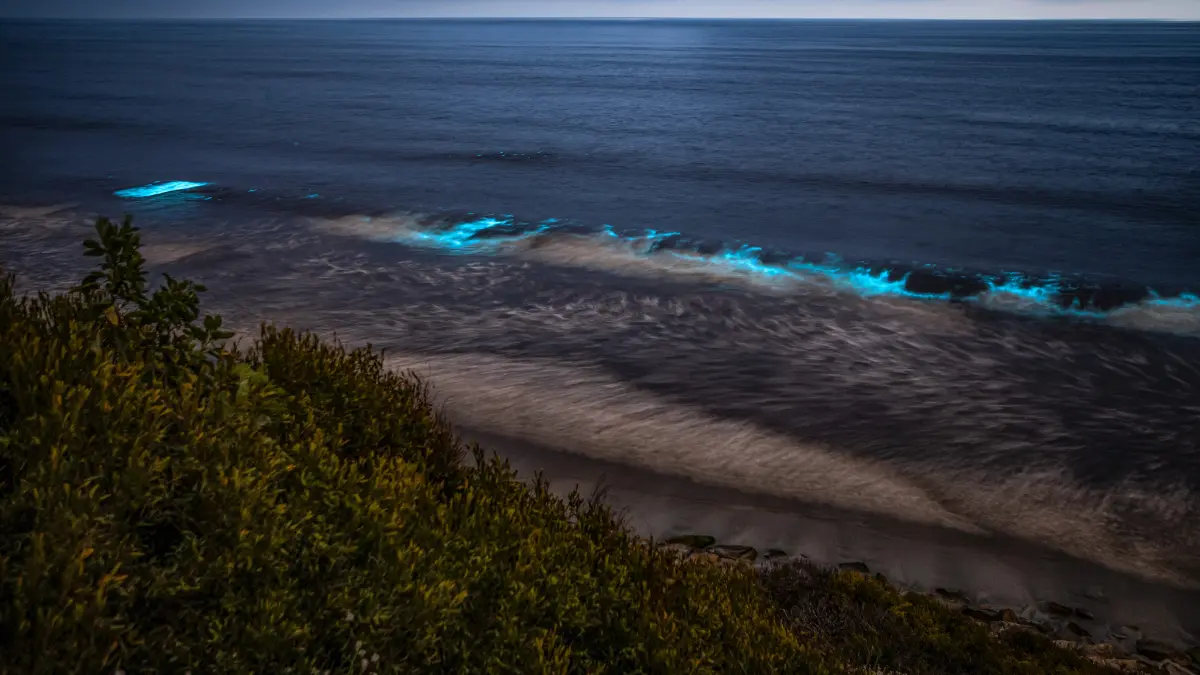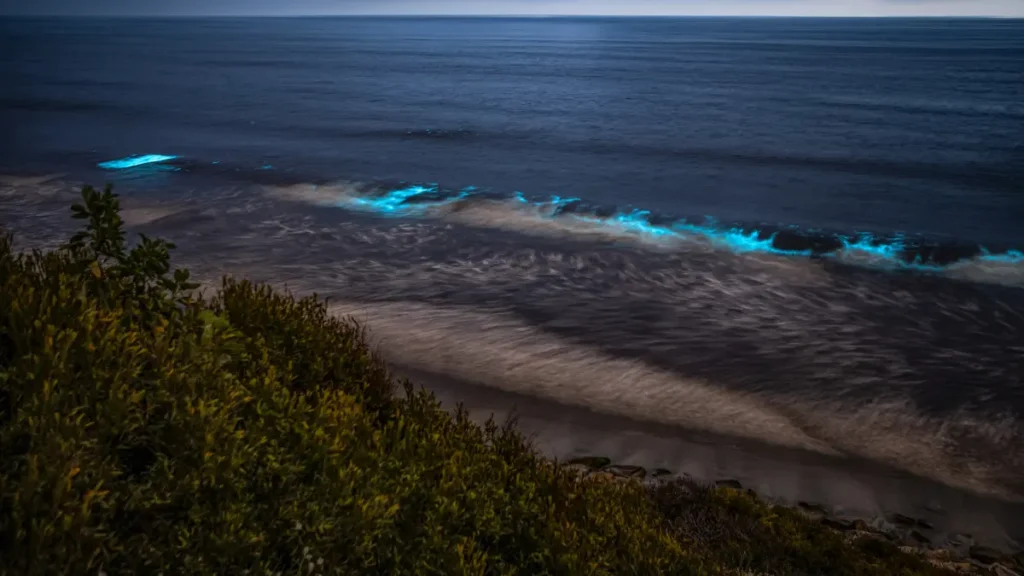 A wonderful location with golden sand all along the shoreline is the Betalbatim seaside in Goa. It is well situated halfway between Majorda and Colva beaches. Due to the presence of phytoplankton algae in its waters, the coastline is illuminated at night.
Another excellent attraction is the dolphins that may be found in the waters around this waterfront. If you're lucky, you can witness these happy marine creatures by asking local fishermen to direct you to them.
The flow of the tides is disturbed as they reach shore, and the algae release a pigment that emits light, making it a rare bioluminescent beach in India.
Like the Aurora in the United States, the tides emit a hazy green light in addition to blue. This is one of the most incredible natural occurrences that anyone may observe in their lives. They are first dark and murky, but the lights illuminate the seaside as the tides rise and reach the shore. The lovely sight of the sea and sky lighted by natural, fluorescent lights on a full moon night will make you fall in love with nature's beauty.
10. Thiruvanmiyur Beach, Chennai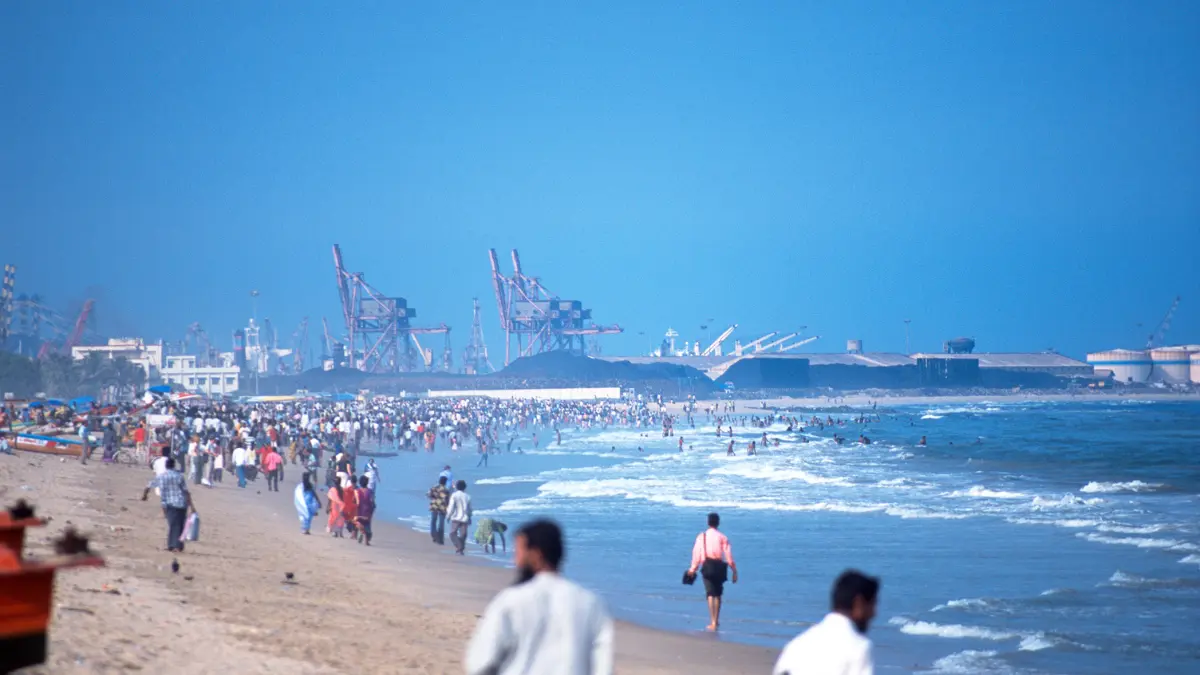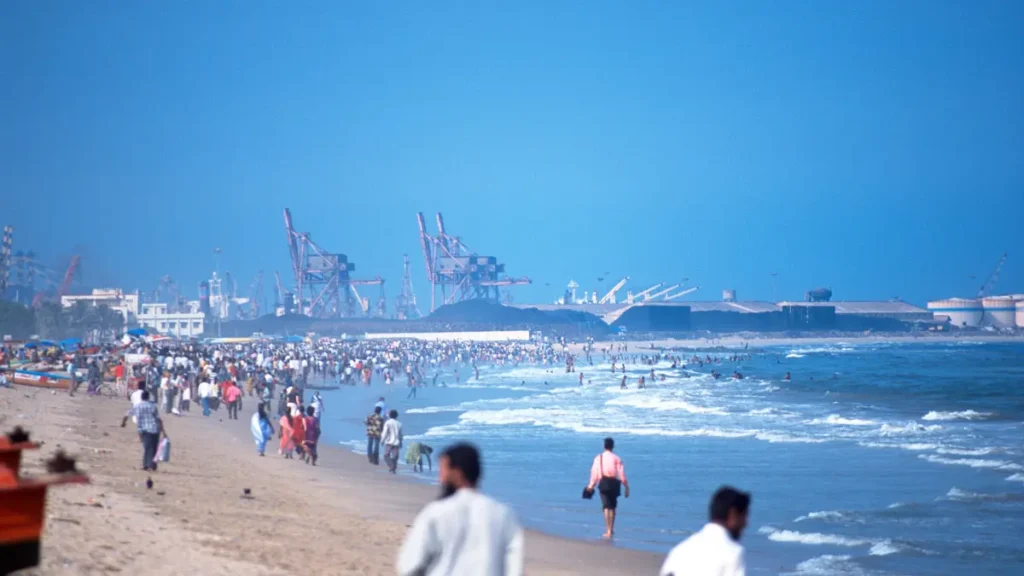 The glow-in-the-dark effect is a rare sight at the Thiruvanmiyur seaside in Chennai. It is so rare that locals discovered this beautiful phenomenon only recently in 2019. Although rare, the view is spectacular when the waves light up. Here, it is brought on by Noctiluca scintillans, a species of phytoplankton that, when washed ashore, transforms its chemical energy into light energy. It is the most recently discovered bioluminescent beach in India
Conclusion
The existence of a bioluminescent beach in India is a phenomenon that is rarely encountered by people. Most beaches of this kind are found in the Maldives and Puerto Rico, but who knew one did not have to burn a hole in their pockets to see this marvel? Well, the beaches in India that glow in the dark are rarely known to tourists, making them secluded and uncrowded at all times. If you wish to unwind and relax without sacrificing peace, head to one of these beaches and enjoy their natural beauty.
How many bioluminescent beaches are there in South Goa?
There are 8 of these beaches in South India: Goa, Gokarna, Chennai, Karnataka, Kerala Andaman and Nicobar Islands.