If you are looking for places to visit in Munnar in one day, you have come to the right place!  In the hills of Kerala, God's own country resides Munnar – a town full of tranquillity and peace.
Munnar sits at a height of 1600 metres above sea level and is a treat to explore for couples, youngsters, and families. It has been getting popular among tourists, especially during the monsoon (June-September) period, due to the magical clouds that descend when it rains. For a person who is short on time and is visiting this alluring place for just a day, Munnar has a lot to offer. There are many things to do and places to visit in Munnar in one day. Let's explore them!
Exploring Best Places to Visit in Munnar
1. Munnar Top Station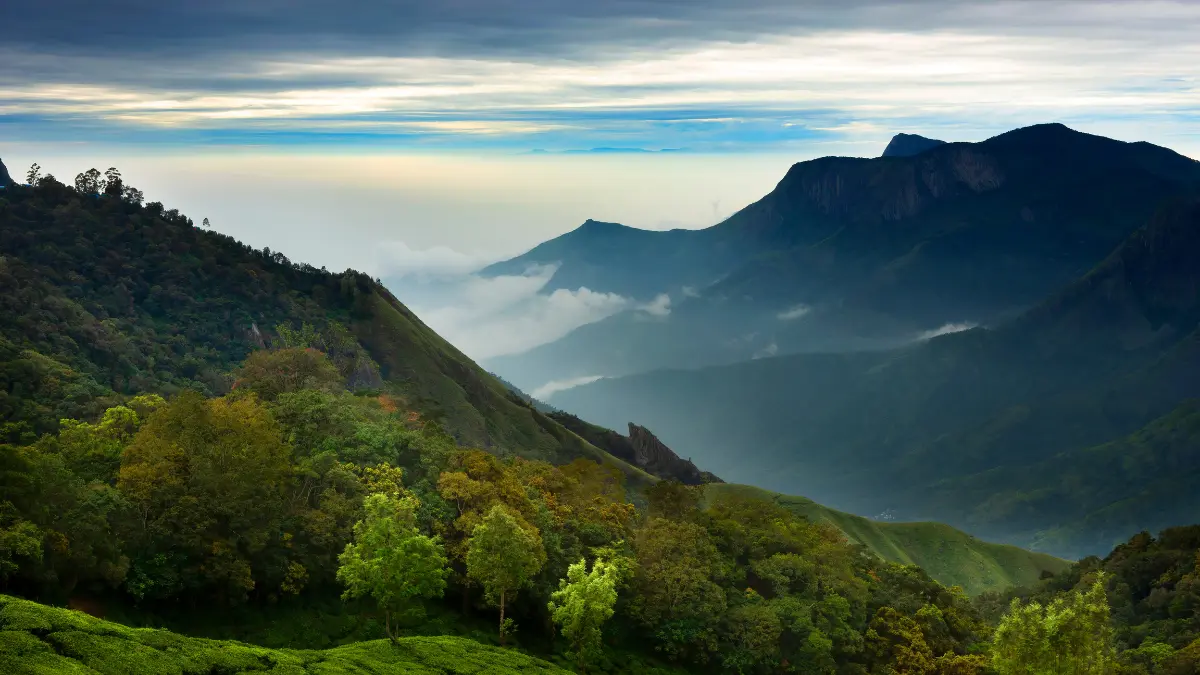 Munnar Top Station is the topmost point of Munnar, situated 5500 ft above sea level. It gives a bird's-eye view of the magnificent tea and coffee plantations housed in the town. The eyes are also comforted by the rare sight of the purple neelakurinji flowers here that only bloom once in twelve years. While on the way to Munnar Top Station, one can also stop to visit the Palani Hills Wildlife Sanctuary to explore the wildlife.
The foggy magic this place gives in the early mornings is worth watching, with a cup of coffee easily available at this beautiful location. It is one of the best places to visit in Munnar in one day.
Timings: 6.00 A.M. to 6.00 P.M. – Monday to Sunday
There is no entry fee.
2. Mattupetty Dam, Kundala Lake, and Echo Point
All three of these destinations are situated along the route to Munnar Top Station and provide tourists with ample activities like boating and hiking. They top everyone's list of the top ten places to visit in Munnar in one day.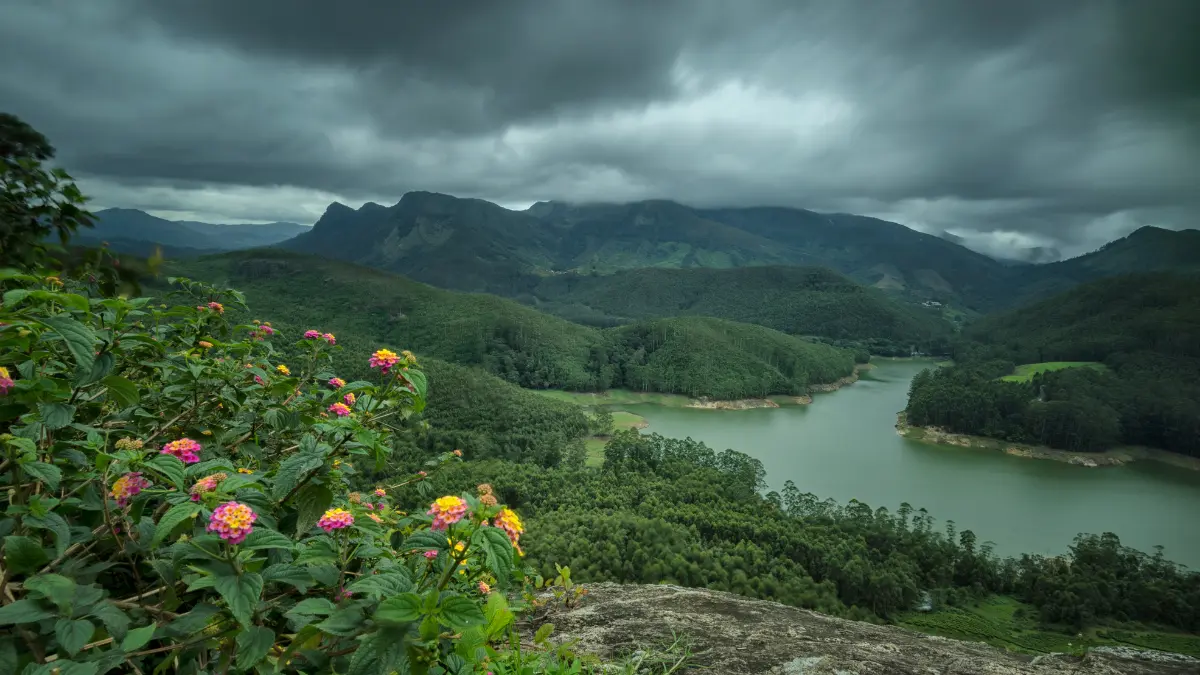 Mattupetty Dam is popular for hiking and marvelling at its scenic beauty. One can also walk across the dam for a minimal fee of INR 10 to take in the glorious view of the adjacent lake. Paddle-boating, row-boating, and speed-boating are also available to be enjoyed. 
Timings: There are no timings to visit Mattupetty Dam. It is open 24×7. However, one should visit the dam from 9.30 A.M. to 5.30 P.M. if one wishes to engage in boating.
The entry fee is INR 10 for walking across the dam.
Kundala Lake


Kundala Lake

 
Surrounded by tall eucalyptus trees and thriving flora and fauna, Kundala Lake is a tourist favourite when looking for places to visit in Munnar in one day. It offers a relaxing retreat enhanced by many waterfowls and cherry gardens. One can also horse-ride and boat here.
Timings: There are no fixed entry and exit timings to visit Kundala Lake. It is open 24×7.
There is no entry fee.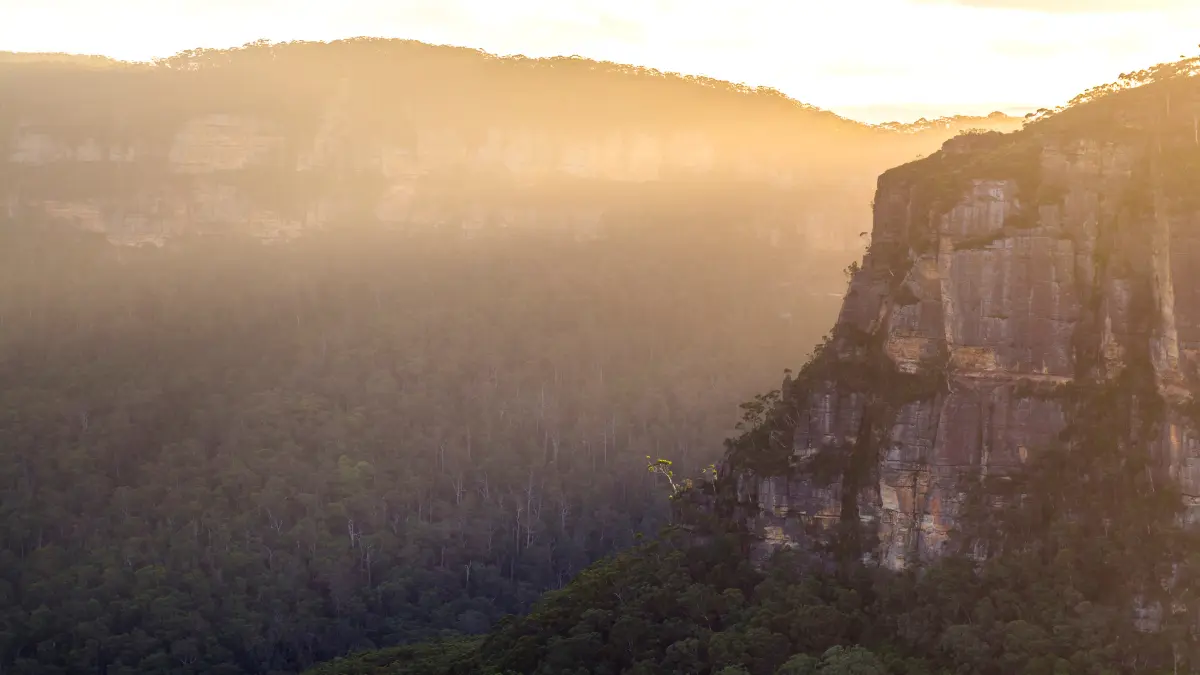 As implied in its name, Echo Point is known for its eeriness of echoing. When you shout your name at this location, your voice echoes back to you. It is a popular attraction for hiking as well as camping.
Timings: 7.00 A.M. to 6.00 P.M. – Monday to Sunday
The entry fee is INR 30 for adults and INR 15 for children.
3. C.S.I. Christ Church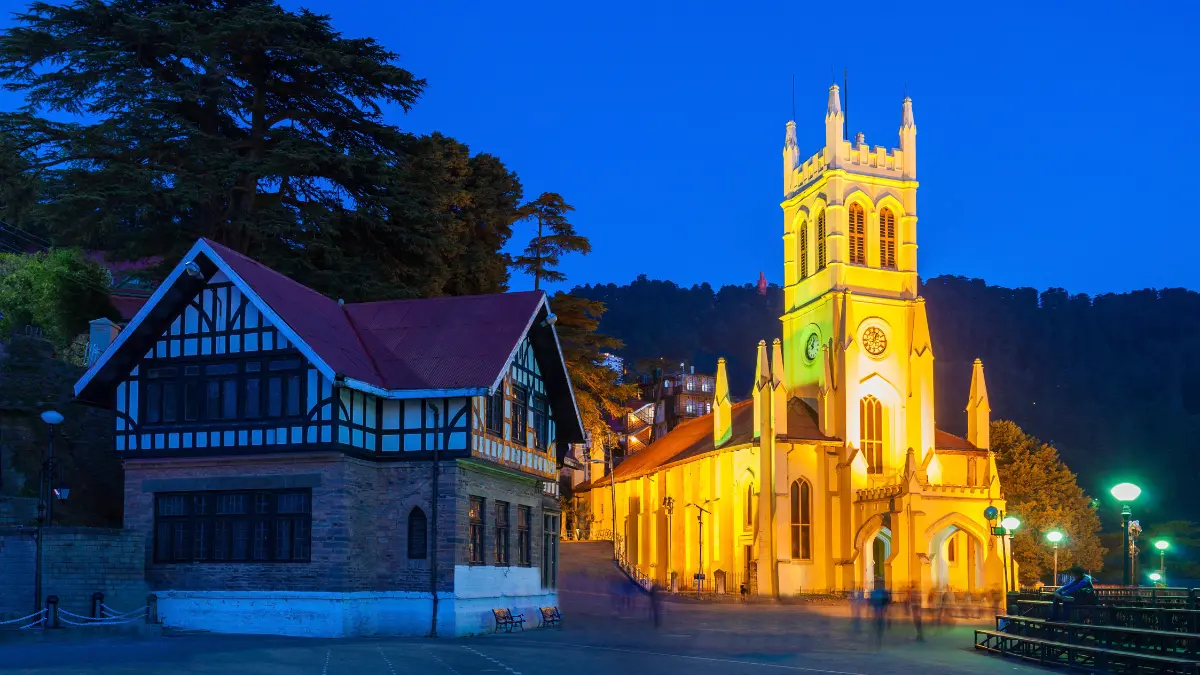 Built in the post-Independence Era of India by the British, it is also known as the 'Taj Mahal of Munnar'. This church provides a beautiful view of Munnar from its height. 
C.S.I. Christ Church also has a tomb dedicated to Eleanor Isabel May, wife of Henry Knight, who created the church in remembrance of his wife, who died of cholera at the young age of 24. When visiting the church, people also pay homage to Eleanor. 
Timings: 9.00 A.M. to 5.00 P.M. – Monday to Sunday
There is no entry fee.
4. Blossom Hydel Park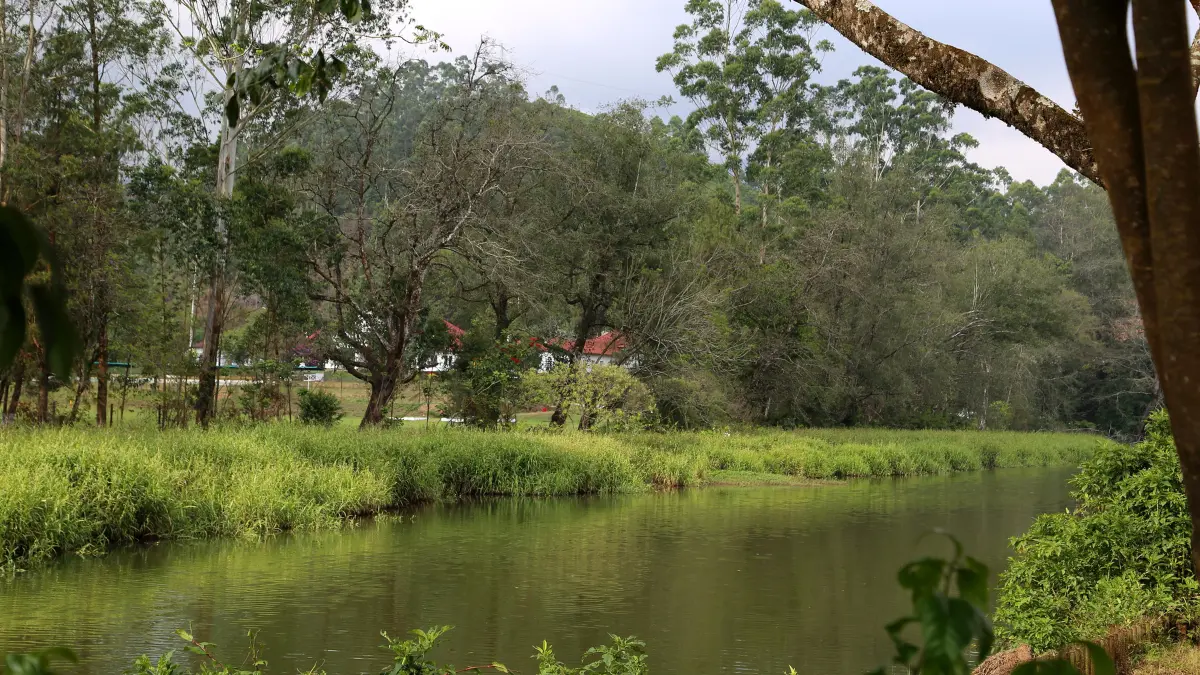 It is one the most budget-friendly places to visit in Munnar in one day, with tickets costing only INR 10 for adults and INR 2 for kids. The park is a gorgeous treat for nature lovers' eyes and souls. One can sit back, relax, and relish the scenic beauty of this park. 
The Blossom Hydel Park also offers a wide range of activities for everyone to engage in. One can engage in boating, roller-skating, zorbing, cycling at the park, bird watching, and visiting the aquarium or the fish spa.
Timings: 9.00 A.M. to 7.00 P.M. – Monday to Sunday
The entry fee is INR 10 for adults and INR 2 for children 
5. Attukad Waterfalls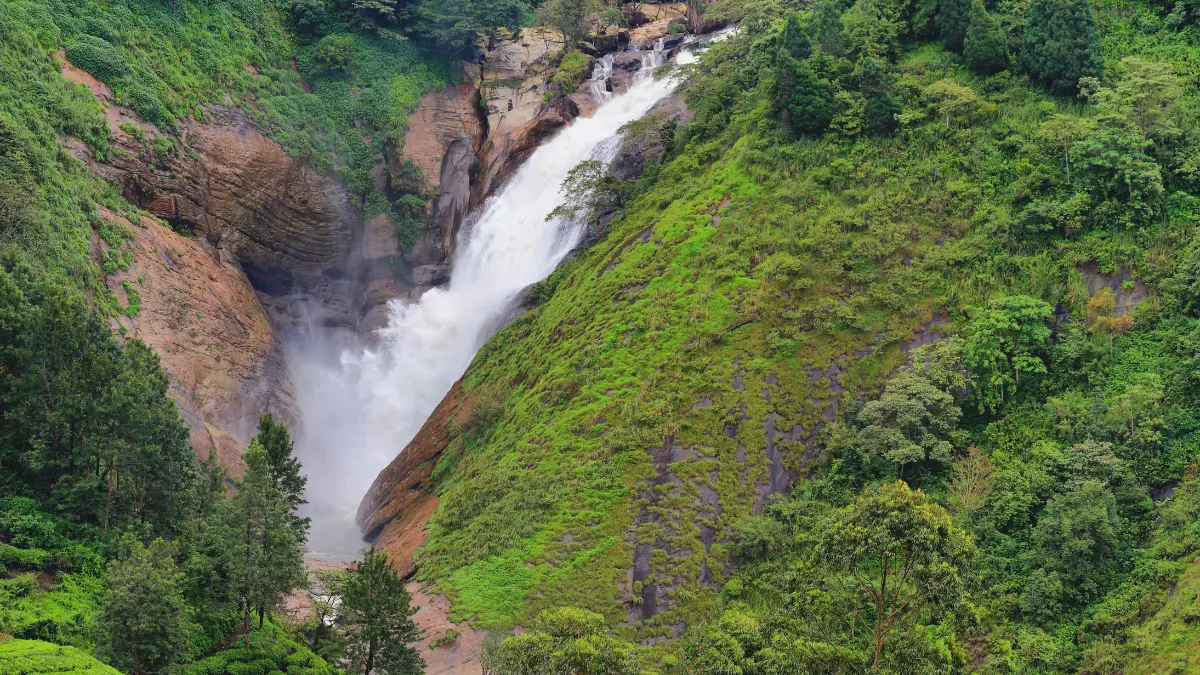 Attukad Waterfalls is an ideal trekking and hiking destination and a relaxing retreat for all. Surrounded by multiple trails and mini waterfalls all along the way, it will surely put one in a tranquil mood for days to come. Residing in the Western Ghats, Attukad Waterfalls boast of its thrilling experience for hikers and nature lovers alike due to the peace it offers and its eye-catching scenery. 
Trekking here is a great option for those who love an adrenaline rush. Those who do not wish to engage in trekking can enjoy a picnic here and watch birds. One can also shower in the pool formed by the waterfall at the base.
Timings: There are no entry and exit timings. 7.00 A.M. to 7.00 P.M. is generally recommended.
There is no entry fee.
6. Eravikulam National Park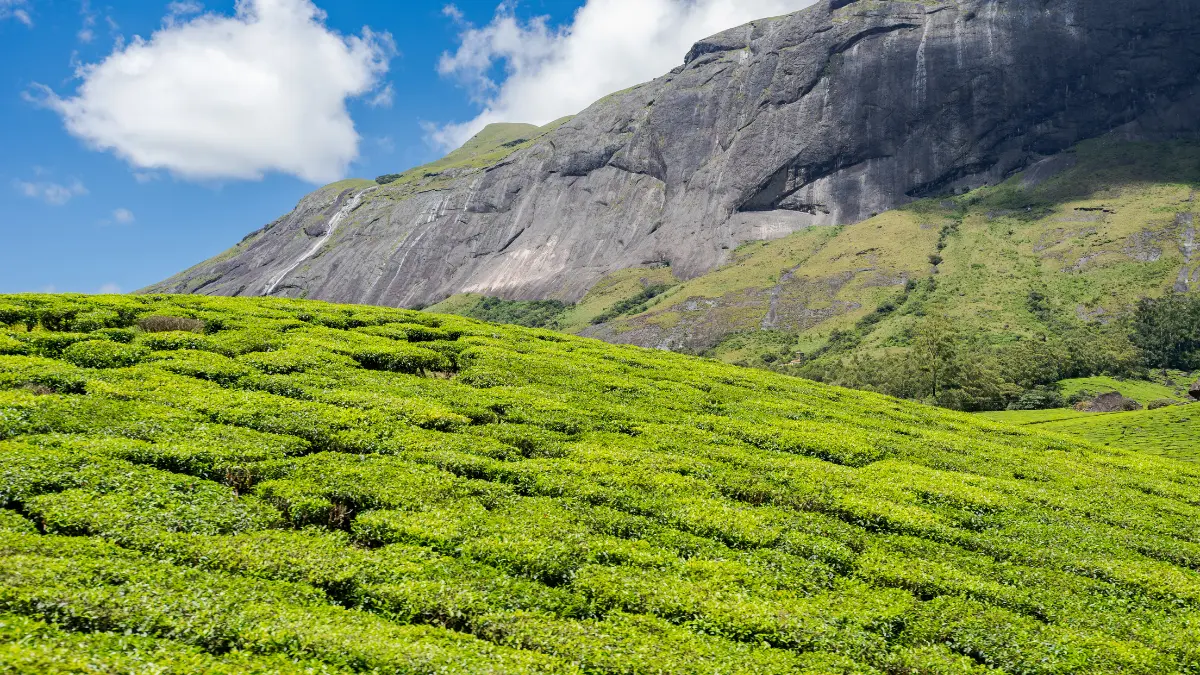 Also called Rajamalai National Park, it is a National Park that will give you a full day of joy with its abundant wildlife and flora and fauna. One is sure to feel closer to nature here, and for the same reason, it tops the list of the places to visit in Munnar in one day. Tickets are easily affordable, and the way from the ticket counter to the park is also paradise-like, with mountains and deep moats surrounding it.
The park is a habitat for many wild animals and birds, especially the rare goat and state animal of Tamil Nadu, the Nilgiri Tahr. The rare neelakurinji flowers also grow here every twelve years. Rajamalai National Park is home to 132 species of birds and is heaven for those with a bird-watching hobby.
Timings: 7.00 A.M. to 4.00 P.M. – Monday to Sunday
The entry fee is INR 125 for Indian adults and INR 95 for Indian Children. For overseas visitors, the entry fee is INR 420.
Where to Stay?
A beautiful trip requires a beautiful stay. Munnar is a plethora of amazing places to visit and amazing places to stay in while you visit. Two of the best places to stay in Munnar are Elysium Gardens Hills Resort and Tea Village Resort Hotel. Both the resorts are budget-friendly; one can stay with their family, partners, friends, or even solo, and they go easy on the pocket. 
Elysium Gardens Hills Resort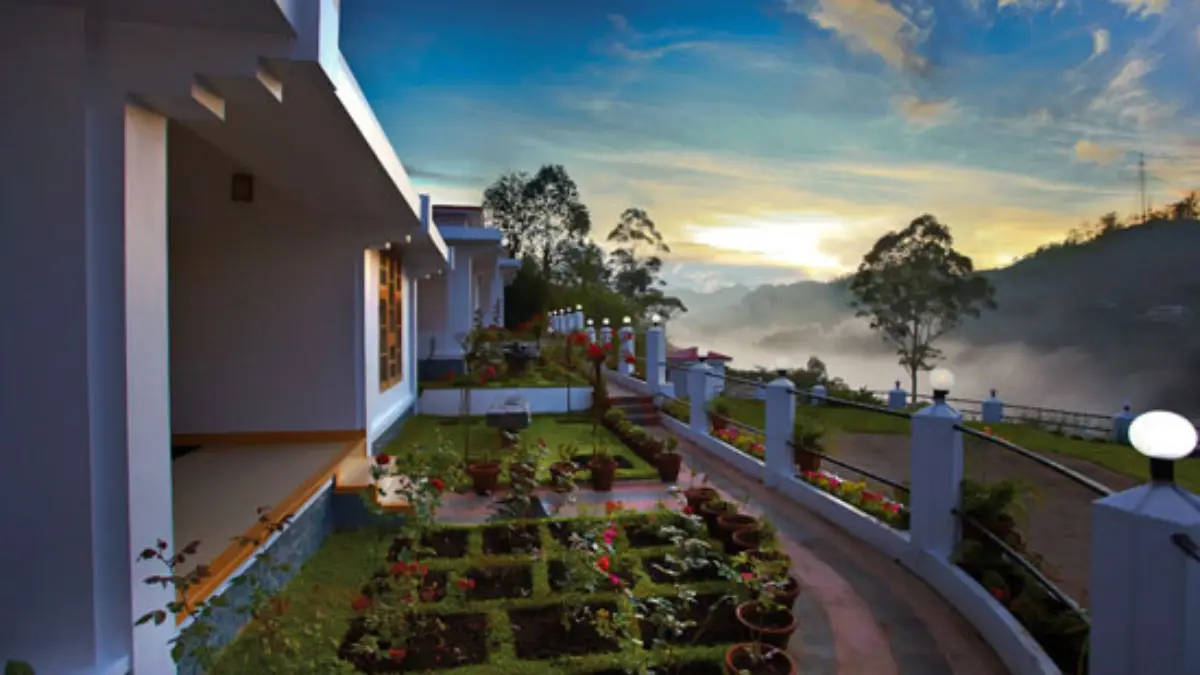 Nestled among the mountains of Munnar, Elysium Gardens Hills Resort provides an excellent view of the hills on a budget. One can easily stay here for INR 3000 to INR 5000 per night and relish in the magnificent hues of Munnar. Located at the centre of the town, all tourist attractions are easily accessible from here.
Tea Village Resort Hotel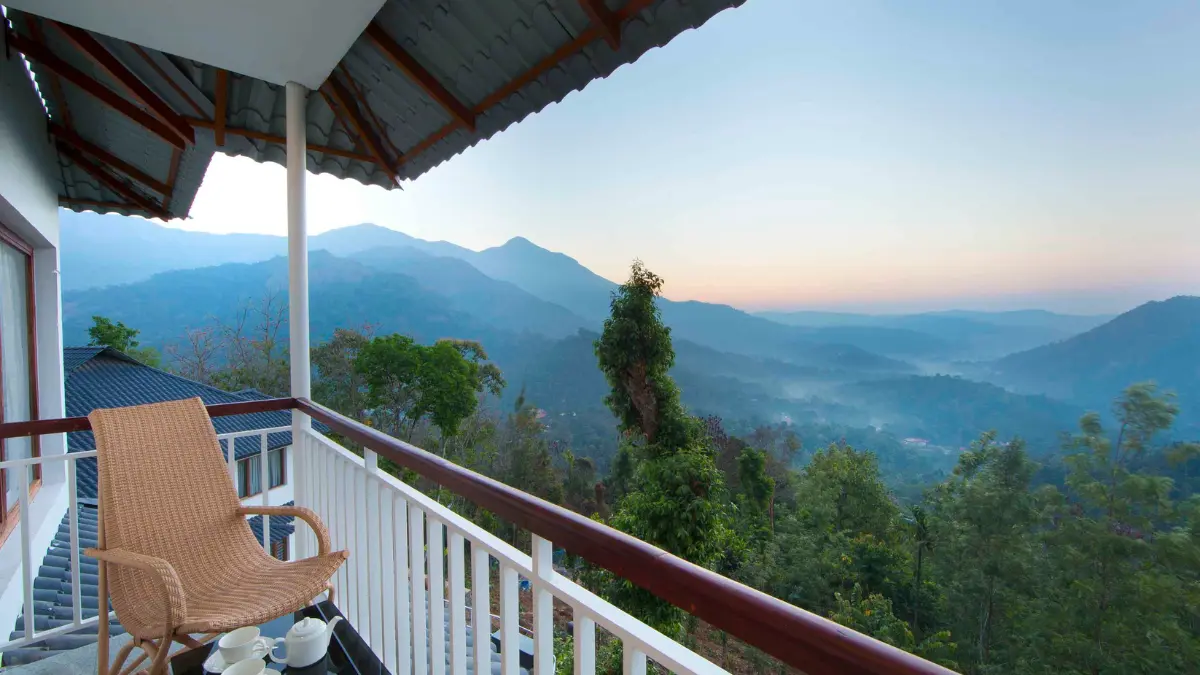 Tea Village Resort Hotel comes with a mystical view of Munnar. Starting from INR 4000 per night, this budget resort provides value for money in this breathtaking town. Located in Chithirapuram, it is a dreamy place to stay during your visit to Munnar. 
How to Reach Munnar?
Munnar, being one of the topmost tourist attractions, is easily accessible via flight, trains, as well as road.
Flight
Cochin International Airport (C.O.K.) is the nearest airport, located 125 kilometres from Munnar. Taxi and cab services to Munnar are easily available from the airport, starting at INR 2000.
Railway
Kochi Railway Station is one the closest railway stations to Munnar and extremely well-connected to major cities of India like Mumbai and Delhi. Aluva Railway Station, with a distance of 108 kilometres, is the nearest railway station to Munnar. Cabs and taxis are also available from the same to Munnar.
Road
One can easily reach Munnar by hiring a cab from their location. The Kerala State Road Transport Corporation also provides bus services, tickets for which one can book through their website. Aluva Railway Station also provides bus tickets to Munnar.
For commuting within Munnar, one can opt for cabs or taxis, and local buses also ply. Auto rickshaws and bikes on rent are also available throughout the town.
Conclusion
Munnar is a tourist attraction that pleases the mind and the senses alike with its natural beauty. If one is looking for places to visit in Munnar in one day, it is advised that they visit Munnar Top Station, Kundala Lake, Mattupetty Dam, Echo Point, C.S.I. Christ Church, Blossom Hydel Park, Eravikulam/Rajamalai National Park, and Attukad Waterfalls. Munnar is easily accessible by air, road, as well as rail.
Visiting such a mystical place is a once-in-a-lifetime experience, and one should take advantage of it.