Religious Places in Ajmer: the city of Belief 
Do you love to spend your time at Religious places in Ajmer?  Which area do you love to visit most? Visiting holy sites is an amazing experience because it gives you the positive energy to motivate yourself to explore something new and interesting. The ancient sacred books show that this world has a supreme power that runs the world, and we depend on that power. It is just an assumption that God is present and there is no surety that they are somewhere, but even after we used to do worship, it is proven that we feel positive whenever we visit places like Amaranth and Sharif Dargah.
There are several sacred locations in India, and people visit them daily to show dedication towards God. In all those places today, we are taking Ajmer City, situated in the western part of Rajasthan. Ajmer has many holy businesses. As well as this, the city has many historical stories that tell many things about this city. Ajmer has places like Ajmer Sharif Dargah of Saint Muin-ud-din Chishti and nearby Pushkar. Let us know more about both businesses and the history of these places. 
Why is Ajmer famous for his holy place?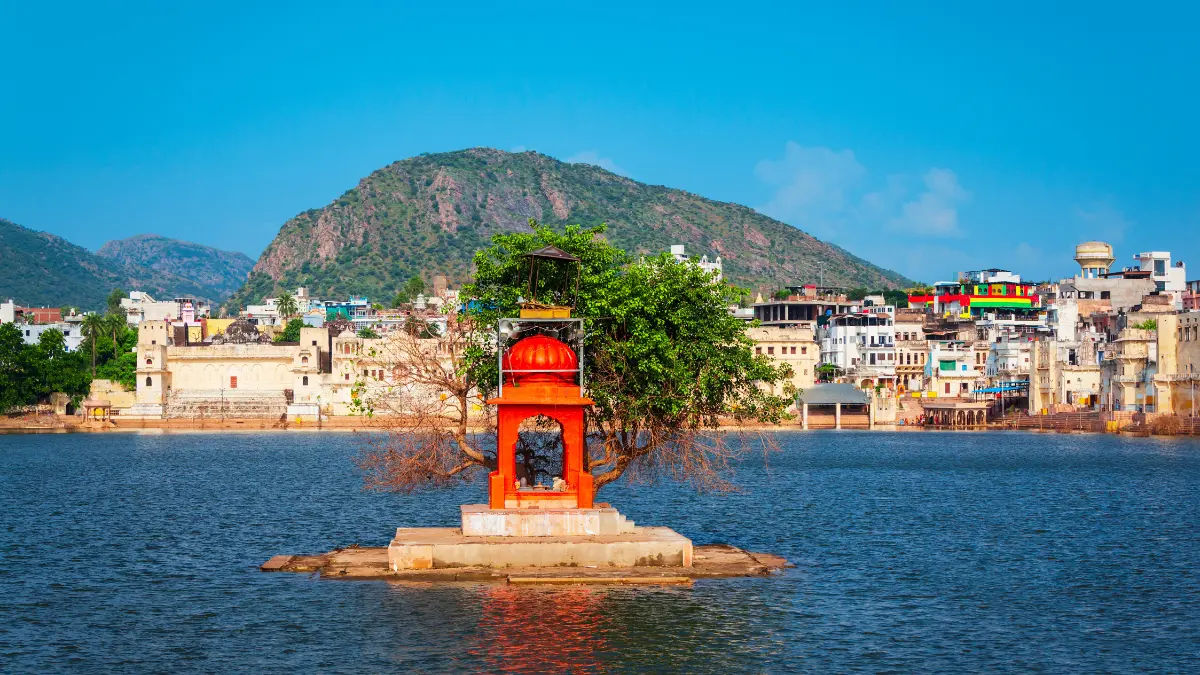 Ajmer is a place situated nearby the hills of the great Aravali Hills. That is 140 km from Jaipur. It is a perfect example of tradition and culture. You can see many architectural places in Ajmer as well as Ajmer Sharif Dargah of Saint Muin-ud-din Chishti and great Ruler Prithvi Raj Chauhan's fort, and that is why now Ajmer is part of heritage cities and selected for the HCDAY (Heritage City Development and Augmentation Yojana) scheme of the Government of India. Ajmer has many sacred spots like Jains because of Golden Jain Temple. During the festival of Urs, it is remembered as the death anniversary of Saint Moinuddin Chishti, believers from across the world in Ajmer city.
Holy places in Ajmer
Many places are famous worldwide in Ajmer, and thousands of people visit them today.
• Ajmer Sharif Dargah: –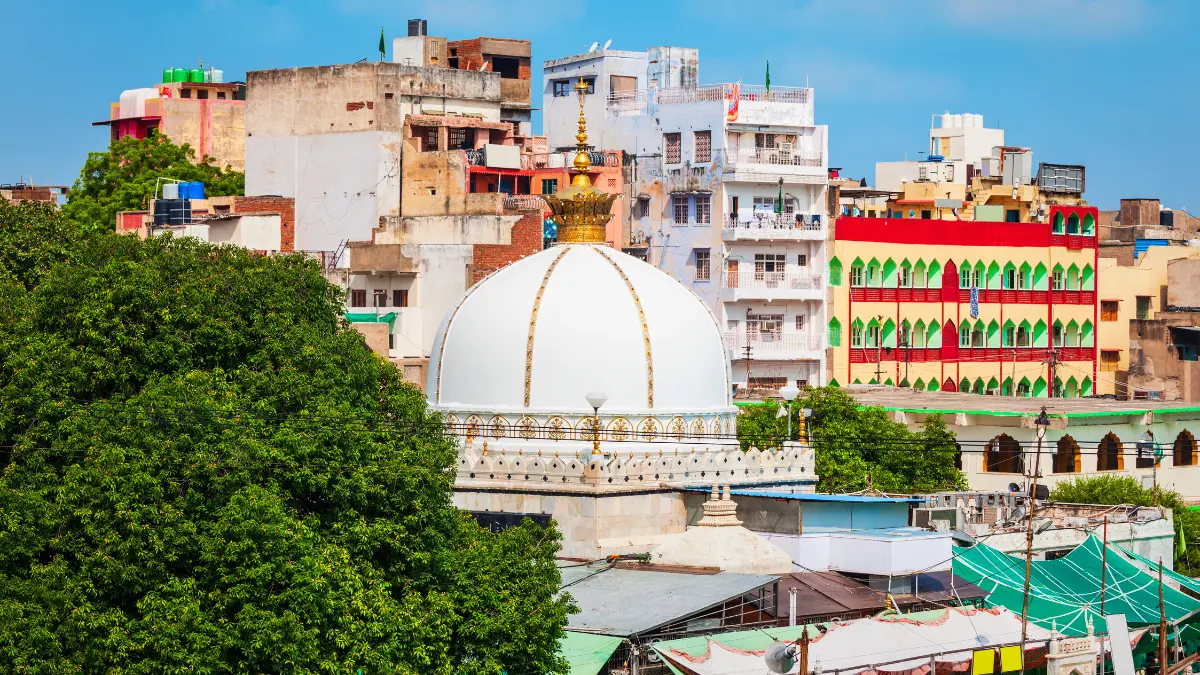 it is the holy place made to remember Saint Moinuddin Chishti. Saint Moinuddin Chishti has devoted his entire life to uplifting and helping people experiencing poverty, which is why today, thousands of people visit here to show faith. The Mughal Emperor Humayun built Ajmer Sharif.
 It is the best piece of architecture made during the Mughal emperor Nizam Gate, Buland Darwaza, Jama Masjid, Aulia Masjid, Dargah Shrine, and Mehfilkhana dozen other prominent establishments. Now not only Muslim religions even other religions' people come here who love the work Saint Moinuddin Chishti did. 
• Nareli Jain Temple: –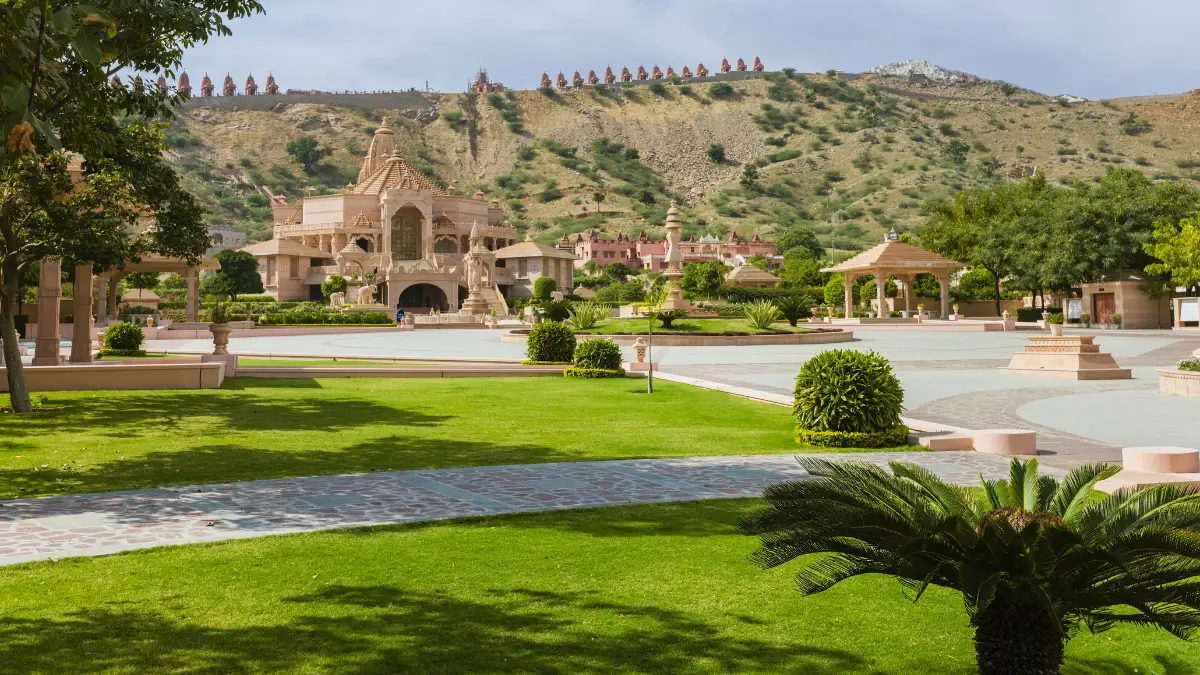 It is located 7 km away from Ajmer city. It is an amazing piece of architecture that is made from beautiful marble. It is situated on the Aravali hills, which makes it more attractive. 
• Pushkar: –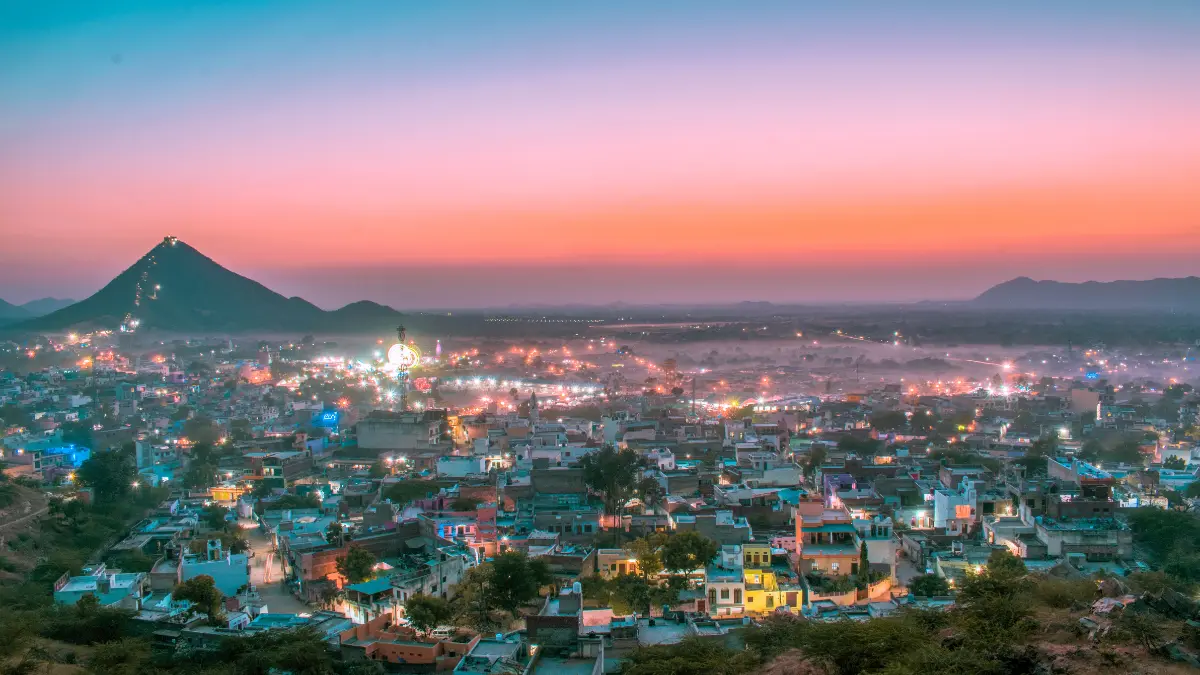 it is 15 km away from Ajmer city in Rajasthan. You can see many temples that are very famous in the world, like Varaha Temple, one of the ancient temples in India dedicated to Lord Vishnu. 
• Brahma temple: –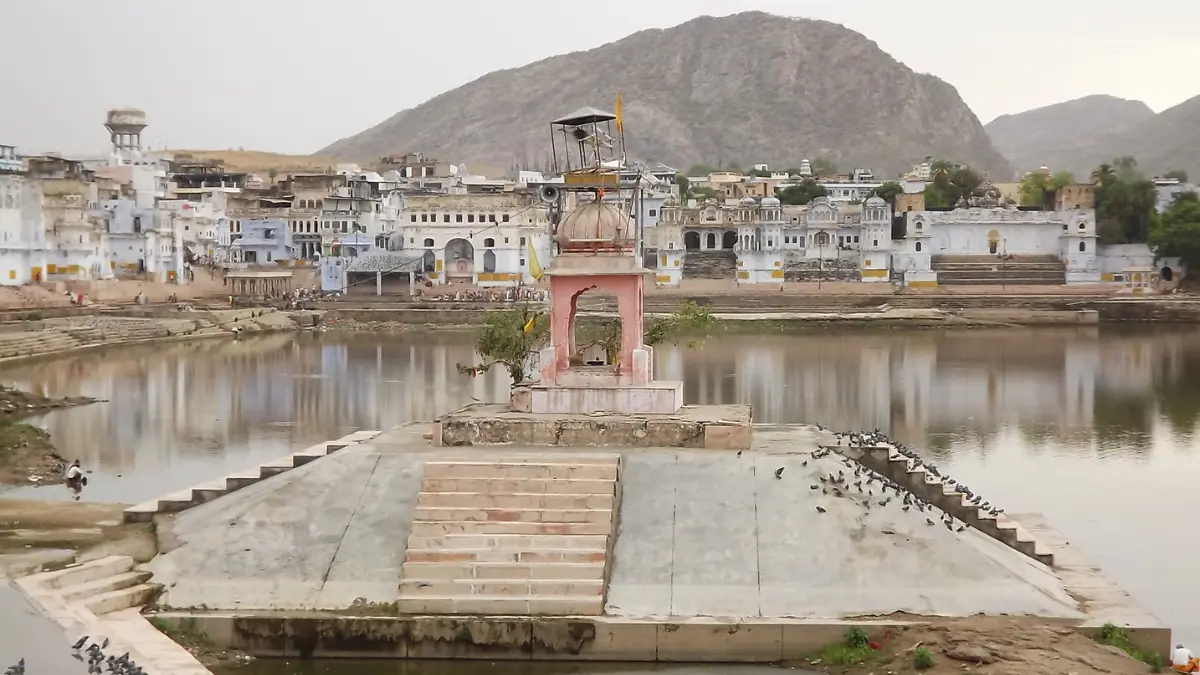 Pushkar is known for the Brahma temple; This is why it is the most well-known temple in the world despite only one temple on the planet. 
• Pushkar Mela: –
Pushkar Fair is a famous fair and India's biggest animal Mela, attracting millions of visitors worldwide with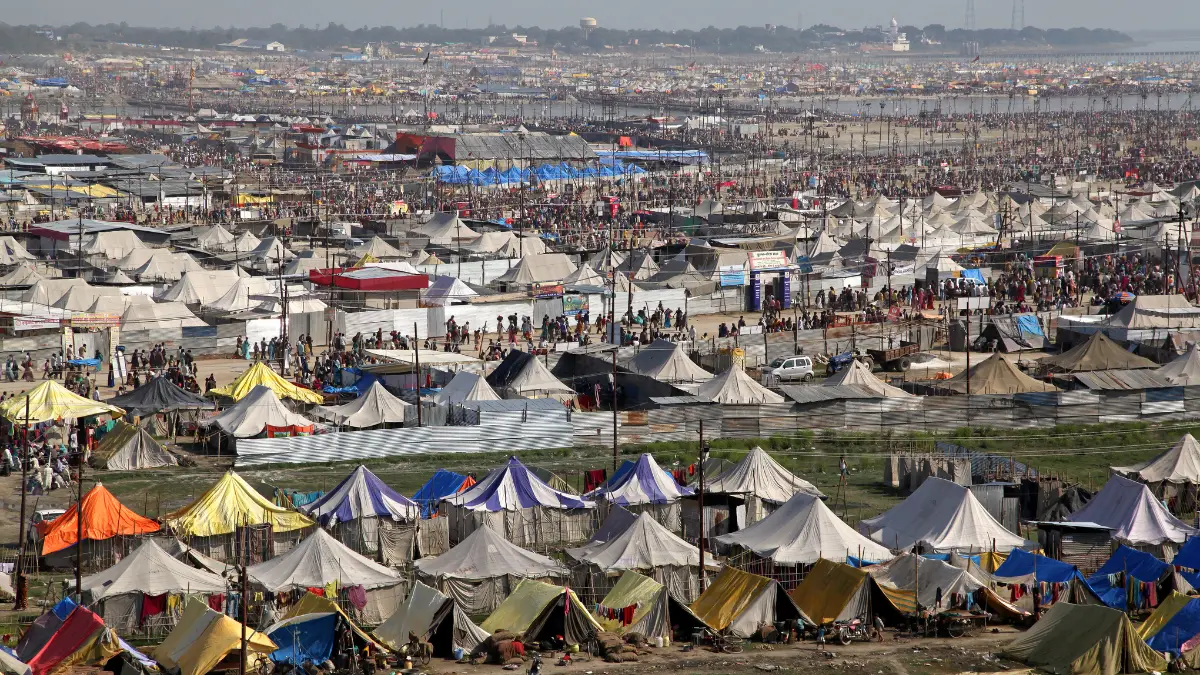 folk performances, rides, stalls, and even magic shows.
What is the best time to visit Ajmer?
The optimum time to visit Ajmer is from October to March, which falls throughout the winter and monsoon seasons.
It is suggested to skip the summertime between April to August. Most Religious Places in Ajmer and cultural festivals occur in October and November. The beautiful weather in winter makes it a much Best time to visit Ajmer.
How to reach Religious Places in Ajmer?
Ajmer is a well-developed city connected with all the major cities around India. Ajmer has a railway station and junction, so visitors can find trains diverting everywhere in India. It is well connected with roadways also so you can reach here easily. The closest airport to Ajmer is Jaipur International Airport, which is 135 km away.
#Muin-ud-din Chishti: – Hazrat Khwaja Moin-Ud-Din Chisti was known as the founder of Islam in India and a great promoter of Islam worldwide. He was known for spreading social peace and social deeds in the world. He came to India from Persia and stayed in Lahore for a short period, after which he finally started living in Ajmer City. It was the resting place of Hazrat Khwaja Moin-Ud-Din Chisti. He died in 1236; since then, his resting area has been known to have magical spiritual powers. It is believed that every wish made from a pure heart at Dargah Sharif gets fulfilled by God. It is believed that when the Sufi saint turned 114 age, he locked himself up for six days to pray the God, and then they left his mortal body behind, and now everyone has respect for them in their hearts.
# Pushkar Mela: – Pushkar Fair is a famous fair and India's biggest animal Mela, a popular destination for tourists to buy and sell animals. It is a fairly well-known fair among farmers. 
You can see many activities like folk performances which are amazing to see and provide a touch of culture, and that is why many people come here to know these folk shows; many people come here to take the ride of animals like camel's ride is a very famous ride among people, stalls of Rajasthan food which provide the touch of Rajasthan and that is why many people attract here, and even magic shows which are done by natural arts. One of India's top fairs.
#Brahma temple: – Lord Brahma is known as the father of the universe (jagatpita). Lord Brahma is a very important part of Hindu dharma. Lord Brahma is known for managing the universe, which is why they are among the Lord's most significant attributes. In this universe, only a single temple exists and is situated in Pushkar in the Ajmer district of Ajmer. It is very famous among the faithful, and thousands of people come here daily. It was erected in the fourteenth century, and later, it was rebuilt, and that is why most people come here to see the ancient architect.