Bundi Fort: Alluring beauty of Rajasthan
Bundi Fort is one most beautiful forts in Bundi near Jaipur. Bundi was ruled by the Hada Chauhan royal dynasty, which derived its name from a Meena king named Bunda Meena. The fort's dominating and attractive beauty is Garh Palace and the Tarahgarh Fort, with their grand and massive gates, splendid halls, paintings, sculptures, and pavilions. The Bundi fort has a "Chitra-shala" where lots of pictures are made on the walls. The Bundi fort paintings have admirers like "Rudyard Kipling," the author of the classic novel "jungle book." called it the work of a goblin rather than the creation of man." Rudyard Kipling stayed in the Pavilion around the lake when he visited Bundi in early 1900, and now that Pavilion is better turned into Museum.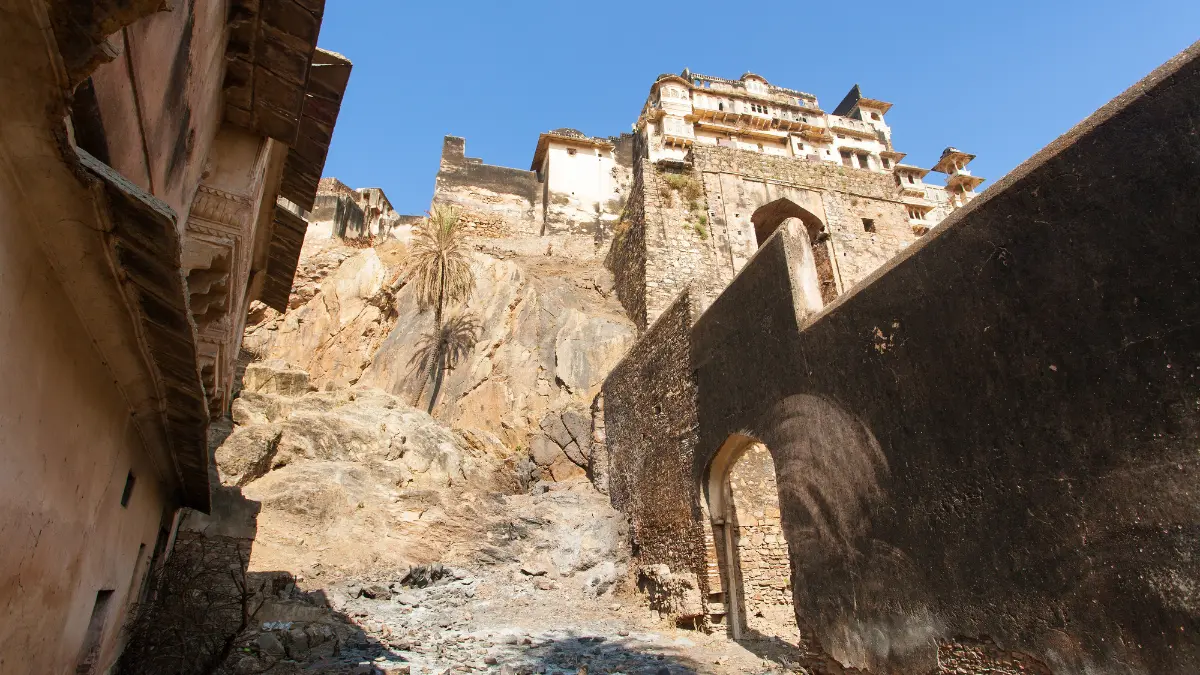 How to Reach?
The place Bundi is well connected by road to the rest of India. There needs to be direct connectivity by train or air. Jaipur International Airport is the closest one, which is situated 210 km away from Bundi. It connects Bundi to the rest of India. The nearest Kota railway station is located 40 km away from Bundi.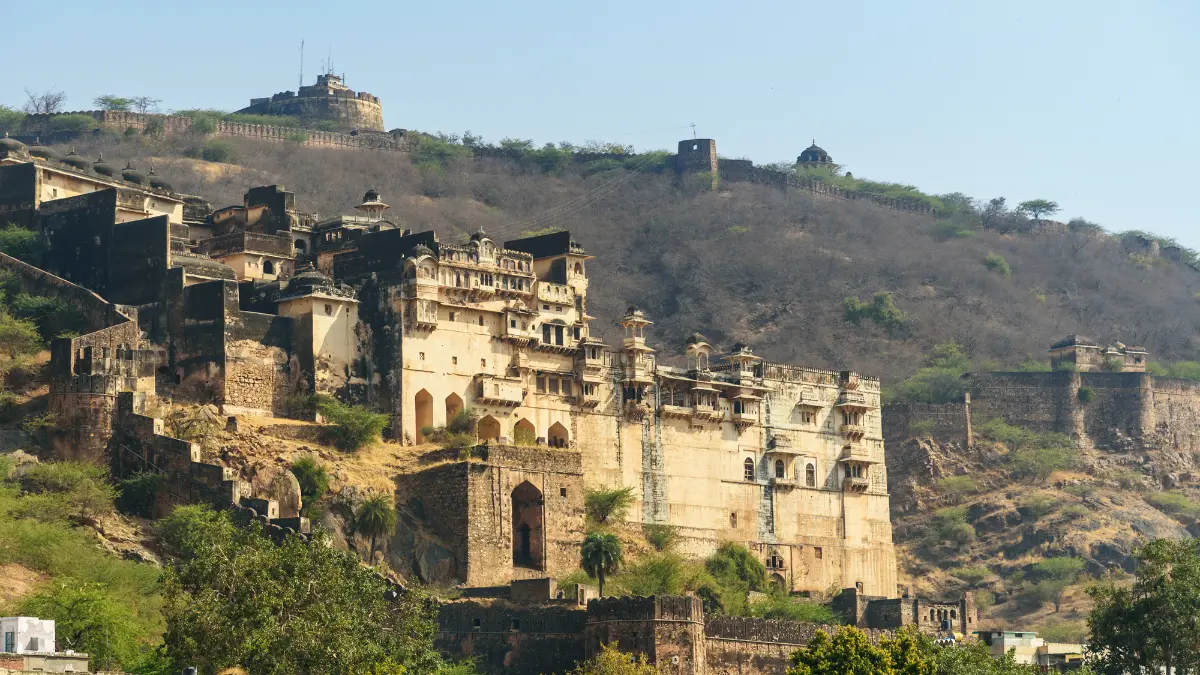 Main Magnetism of Bundi Fort
Another attractive point in Bundi, i.e., Naval Sagar Lake, is in front of the fort. Bundi is also known for its step wells. The best-preserved is Rani-Ji-Ki-Bawli, built by the Rani Nathawati Ji in 1699 CE, and it is one of the finest Bawlies found in Rajasthan. Another most adequate marble structure, i.e., "Chaurasi-Khambo-Ki-Chhatri," is the Shiv Temple, built upon eighty-four pillars looking lavishing, standing firmly on white marble. The fort has the longest and strongest Cannon named "Garbh Gunjam." The viewpoint offers a stunning panoramic view of Bundi City from a steep hill. Breathtaking. Bundi is one of the oldest cities in Rajasthan, 1000 years old. You can hire a tourist guide to explore the fort and know the fort's historical background, and visit the Bundi Fort in November and December.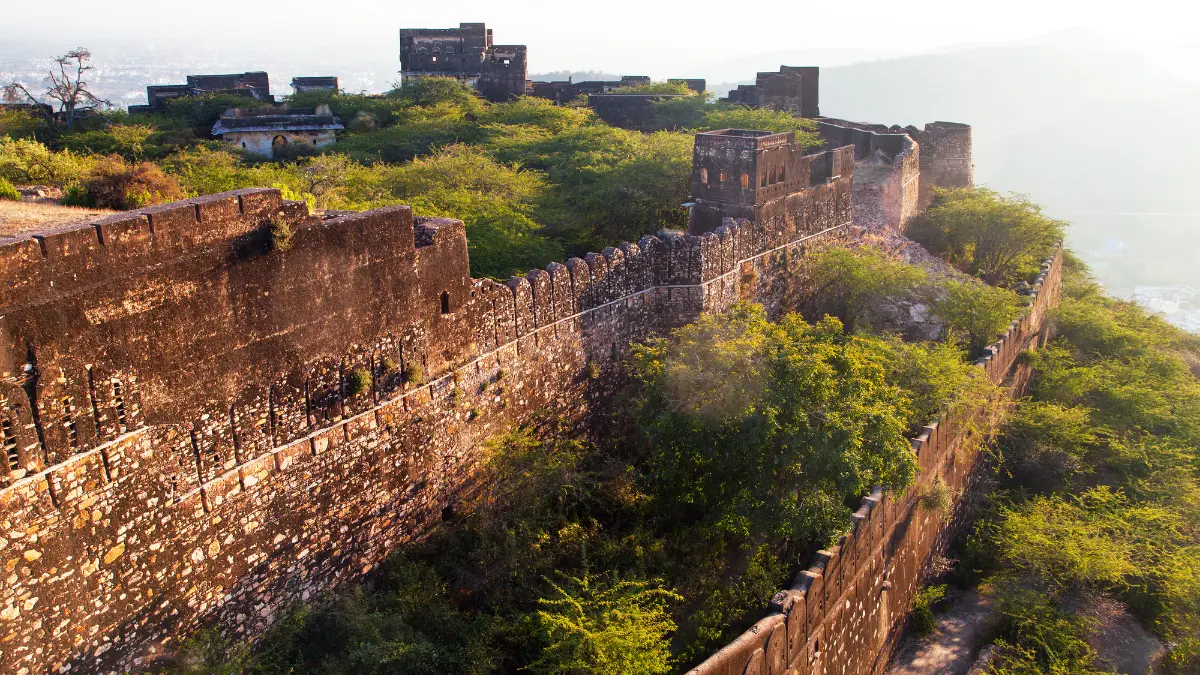 The occasion in Bundi Fort
You can attend the "Bundi Utsav," where many competitions are held, like turban-binding competitions and moustache competitions; battles take place, and traditional folk music and folk dance of the region are also the festival's main attractions. You can visit Bundi by Car, Bus and you have to park your vehicle outside of the fort because it's not allowed to take the car in the fort. Afternoons and Evening timing are the best to visit the fort and enjoy its beauty and culture.