Gulmarg, Jammu and Kashmir- skiing paradise in India
Place To Visit In Gulmarg is the best skiing destination in Jammu and Kashmir. It is a town in the Pir Panjal Range in the Western Himalayas. One of the most picturesque hill towns is in the Gulmarg nature sanctuary's limits. This hill town is frequently referred to be India's winter sports capital. And famous for its skiing and other winter activities. It is also renowned for its wildlife sanctuary, where you have a great experience with wildlife adventures.
How to reach here
Tourists can reach here by any means of transport like by road, air and train. The nearest airport is Srinagar International Airport, which is 35 km away from Gulmarg. All of the country's major airports are linked to this one.
Direct buses run from Delhi to Gulmarg, Kashmir. Both private and government and all luxury buses run on the way. Jammu Railway Station is the nearest one to Gulmarg Kashmir, which is 290 km away from the Gulmarg Kashmir.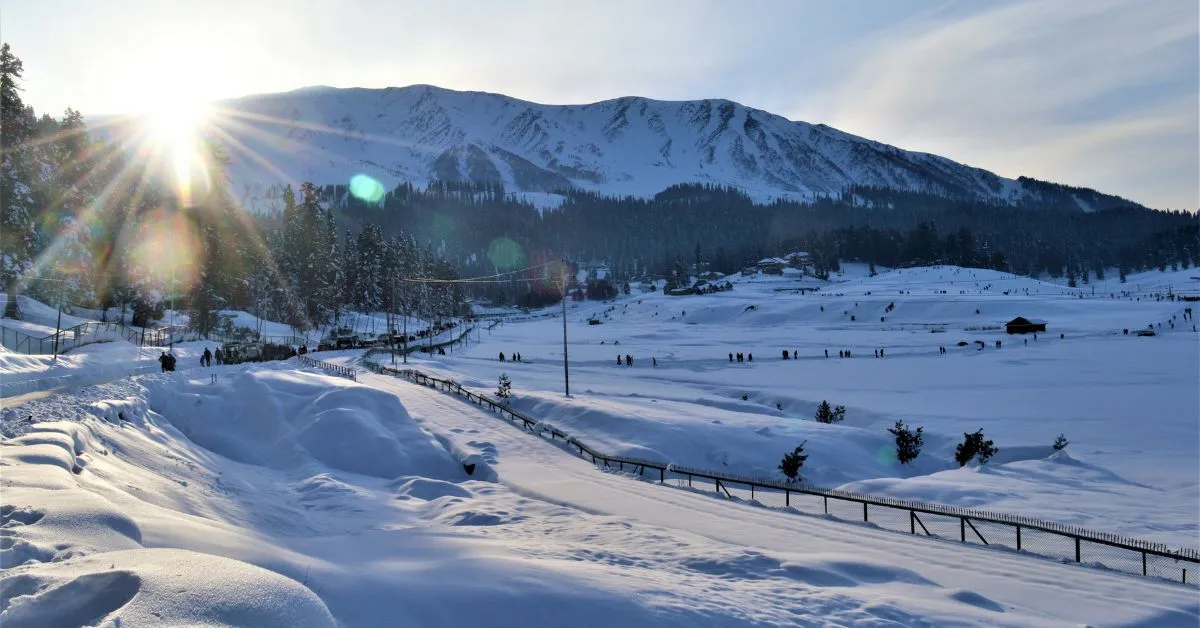 The primitive town of Gulmarg Kashmir
It is a primitive town in Jammu and Kashmir, well known for its snow-capped mountains. And a favourite country for skiing destinations. The wonderful hunting grounds for adventurous lovers are here. Who wants to serve their family a perfect holiday gateway? From their hustle-bustle life, city life, and those who consider peace of mind. The most important part of this hill station. Not only do you see the beauty of the snow surrounding this hill station. Also, you can enjoy yourself by doing many activities that entertain you.
Best Place To Visit In Gulmarg
Gondola Lift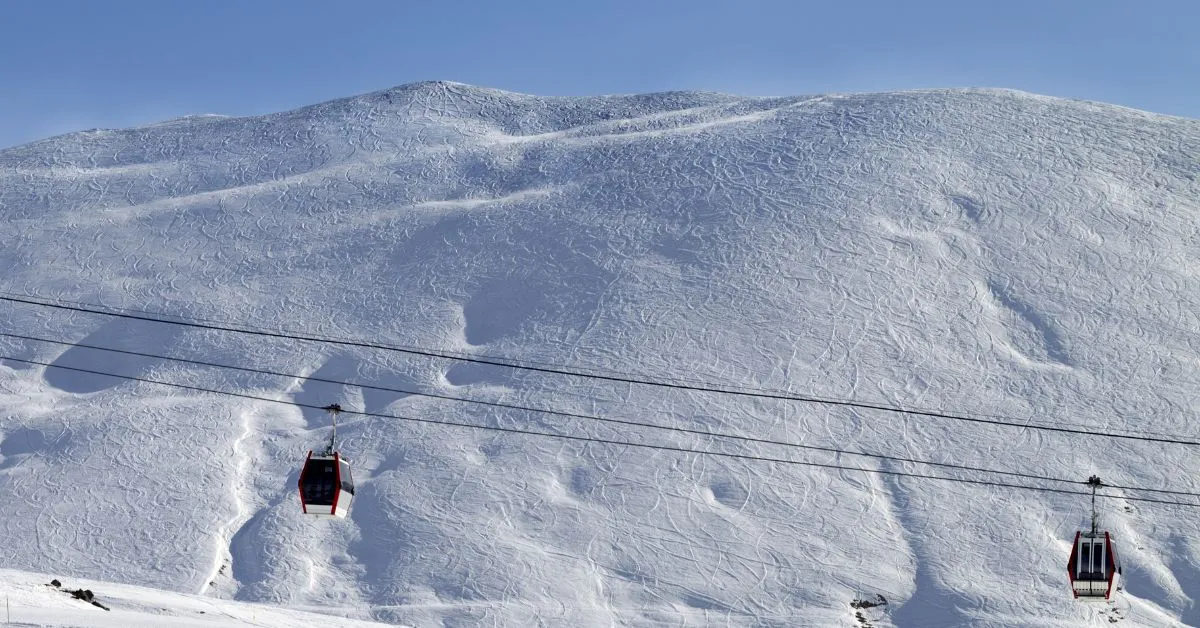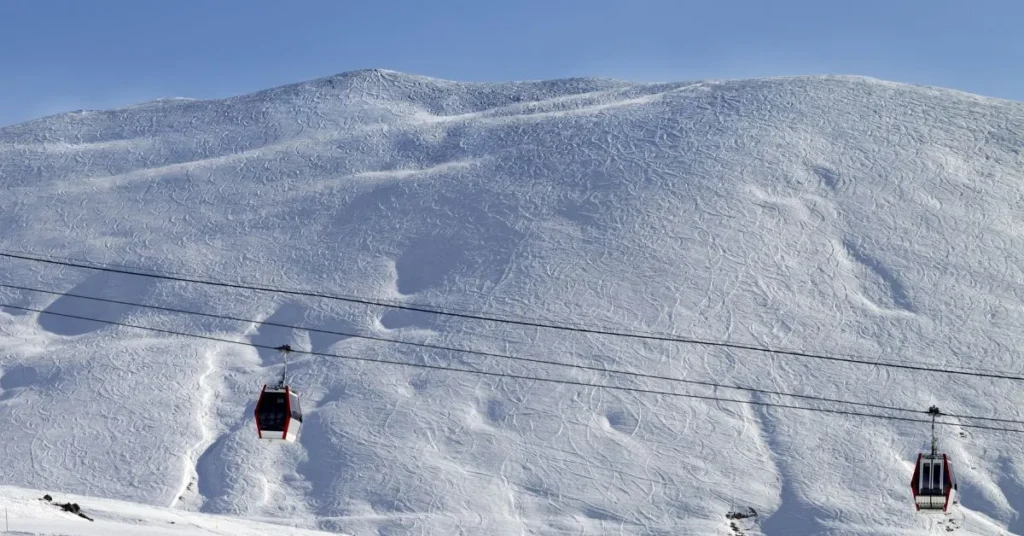 If you are visiting Gulmarg, you have many chances to try your hand at skiing. Gondola Lift is one of the major fascinating hill stations. It is only part of the cable car at the exaltation of over 13,500 ft above sea level in Asia. This hill station gives you extraordinary views of the valley's natural, immersive beauty, extending over 5 km.
The Gulmarg Ski Area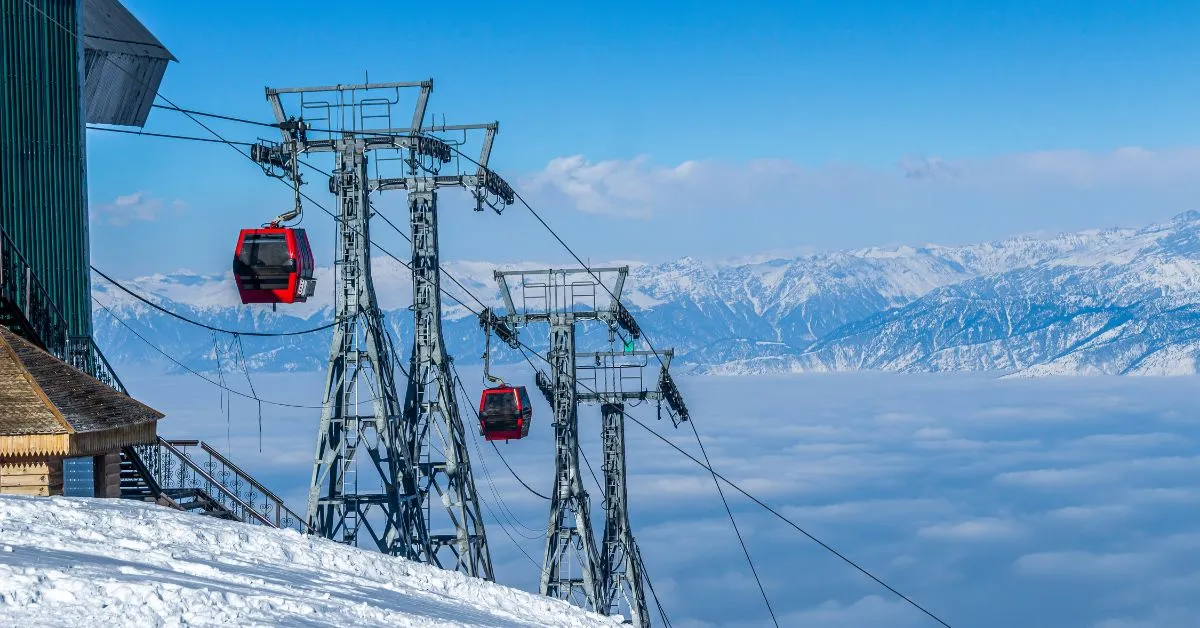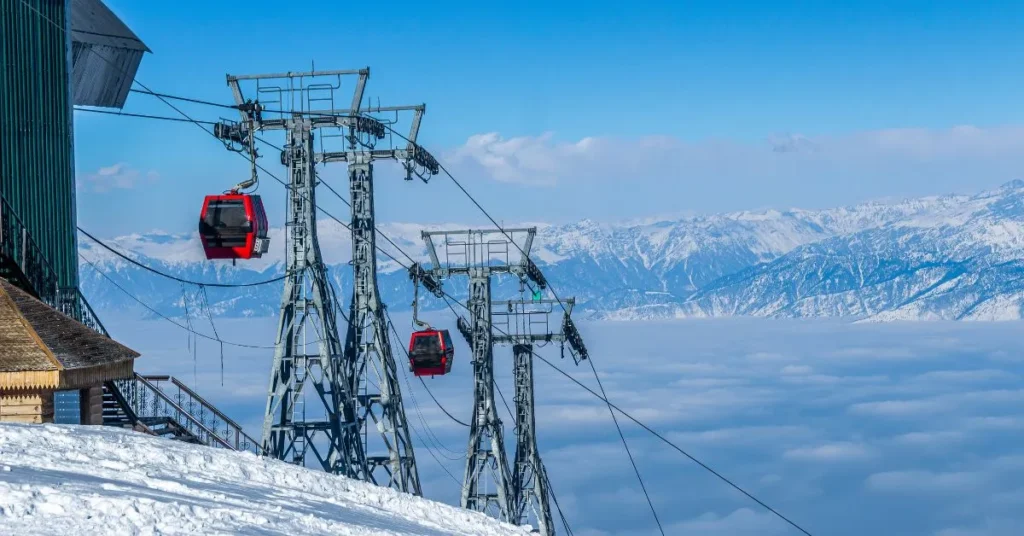 This Place comprises the Poma Terrain and the Gondola Valley. This hill station has become the most admired Place for skiing because it grabs you to the valley between pine trees. This hill station area provides skiing and gives you many other sports, such as snow bobbing, snowboarding, and snow scooters. This Place is a paradise for Tourists as well as adventures lover.
Alphather Lake
It is placed about 13 km away from Gulmarg, encircled by the Apharwat range hills with snow-capped. It takes an entire day to see this Place because the Lake is covered in ice in June. This Lake also has a plummet crystal in the Himalayan. And furnish placidity where there are no other places like this.
Baba Reshi Shrine
This Place is frequently alluded to as an eccentric temple, i.e., ambient by elaborately carved out walls. This temple is well known for its delicious langar. It provides to the people who came there; remember to grab a bite whenever you visit this temple. Local people say that the parents are praying for their children's good health and wealth at this temple. This holy Place is well known for its historical significance.
Nagin Valley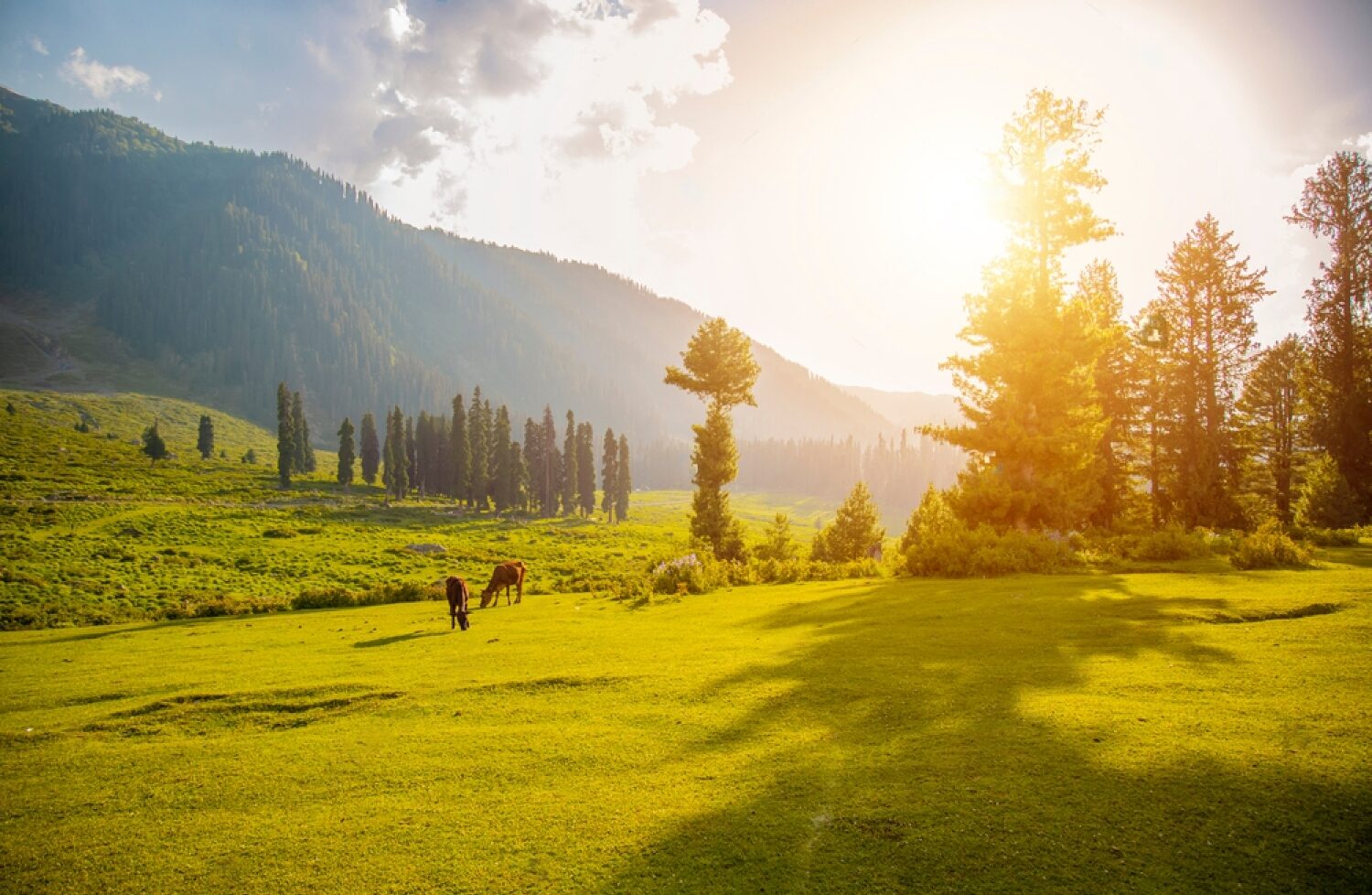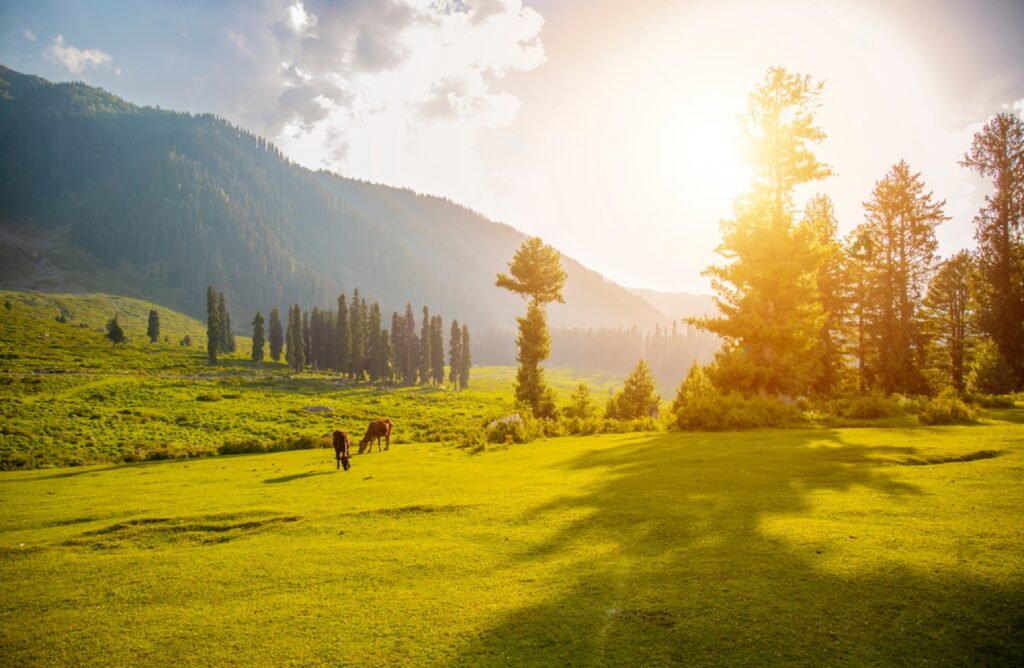 This valley had a ban on its entry. But now, after 22 years, it has been freshly opened up for tourists. At this valley, the tourists set up their sites the valley. This valley is perfect for the Tourist who loves trekking because it offers heaven trekking on this valley. The road trip to this valley gives you fascinating expertise. And the sight of this valley itself is a view to perceive as clouds subside to the road.
From a Tourist's point of view
In the end, Gulmarg is the Place where Tourists can feel real peace and natural beauty. That attracts many people towards it again and again. This Place is the absolute destination for the Tourist who is a nature lover. They want to go somewhere exciting and have some quality time with their partners.
In Gulmarg, there is a humid continental climate. Here you can see heavy snowfall in winter, which will be a mesmerizing experience for the tourists. Gulmarg Kashmir Hills station is always covered with snow in winter. This Place's nature is outstanding, whereas, in summer, there should be moderate temperature.
One of the best locations for winter sports is here, such as skiing, paragliding, trekking, and many other activities and other winter sports games in India. This Place is also famous for its Maharani temple, built by a Hindu leader for his wife, who ruled till 1915.
This temple is visible from all the corners of the Gulmarg Hills station, where their culture is famous all over India.
Gulmarg culture is India's beauty, where they have their own culture, followed by the local people of the Gulmarg. More than 5000 tourists visit and get expertise from this Place in a day. Many adventures and winter sports activities are held in Gulmarg.
There are many facilities provided by the people who live there. Tourists can also enjoy the night camping with a Bonfire in the night. It is 56 km away from Sri Nagar, where you get the transportation facilities for Gulmarg. It is one of the most skiing winter sports destinations for tourists, where skiing occurs on the slopes of the mount part and the Gulmarg hill station.
Gulmarg Temperature
Gulmarg is a high-altitude hill station in the Indian state of Jammu and Kashmir. Gulmarg is situated in the Pir Panjal Range of the Himalayas, at a height of 9,000 feet., at an elevation of 9,000 feet. The climate in Gulmarg is cold and dry, with average temperatures ranging from -10 degrees Celsius (14 degrees Fahrenheit) in winter to 25 degrees Celsius (77 degrees Fahrenheit) in summer. The best times to visit Gulmarg are during the shoulder seasons in the spring (March to May) and fall (September to November). Rain or snow is less likely during these months, and the weather is mild and pleasant.
MonthAverage Temperature (°C)
| | |
| --- | --- |
| January | -10 |
| September | -5 |
| March | 0 |
| April | 5 |
| May | 15 |
| June | 20 |
| July | 25 |
| August | 25 |
| september | 20 |
| October | 25 |
| November | 10 |
| December | -5 |
Here is a table of the average temperature in Gulmarg for each month of the year:
The average temperature in Gulmarg can vary depending on the year and the season. For example, the temperature in Gulmarg was as low as -20 degrees Celsius (-4 degrees Fahrenheit) in January 2018 and as high as 30 degrees Celsius (86 degrees Fahrenheit) in July 2019.
The weather in Gulmarg can also be affected by the altitude. The temperature drops off as altitude increases. For example, the average temperature at the top of the Gulmarg Gondola is -5 degrees Celsius (23 degrees Fahrenheit), even in the summer.
If you plan to visit Gulmarg, it is important to pack warm clothes, even in the summer. It is always a good idea to be prepared because the weather can change quickly in the mountains.
How to reach Gulmarg from Delhi by train?
The nearest railway station to Gulmarg is Jammu Tawi Railway Station, 290 kilometres away. Several trains run between Delhi and Jammu Tawi, including the Jammu Mail, the Himsagar Express, and the Andaman Express. You can take a bus or a taxi from Jammu Tawi to Gulmarg. The journey takes about 4 hours by bus and 2 hours by taxi.
How to reach Gulmarg from Bangalore?
The distance between Bangalore and Gulmarg is 2,366 kilometres. The fastest way to reach Gulmarg from Bangalore is by plane. Several airlines offer direct flights from Bangalore to Srinagar, which is the nearest airport to Gulmarg. The flight time is about 2 hours. You can also reach Gulmarg by train and bus. The train journey takes about 3 days, and the bus journey takes about 2 days.
What is famous in Gulmarg?
Gulmarg is famous for its snow-capped mountains, lush green meadows, and crystal-clear lakes. It is a popular destination for skiing, snowboarding, trekking, and hiking. Some of the most popular attractions in Gulmarg include:
The Gondola Ride: The Gondola Ride is a must-do for any visitor to Gulmarg. The ride takes you up to the top of the mountain, where you can enjoy stunning views of the surrounding area.
The Gulmarg Golf Course: The Gulmarg Golf Course is one of the highest-altitude golf courses in the world. It is a challenging course that offers stunning views of the mountains.
The Gulmarg Ski Resort: The Gulmarg Ski Resort is one of the best ski resorts in India. It offers a variety of slopes for skiers and snowboarders of all levels.
The Gulmarg Lake: The Gulmarg Lake is a beautiful lake surrounded by mountains. It is a popular spot for swimming, boating, and fishing.
Gulmarg is a beautiful and exciting destination that has something to offer everyone. Whether you are looking for adventure, relaxation, or stunning scenery, Gulmarg is the perfect place.
What is the cost of living in Gulmarg?
The cost of living in Gulmarg is relatively low compared to other parts of India. You can expect to pay around 500 rupees per day for food, accommodation, and activities.
What are the must-do things in Gulmarg?
Skiing and snowboarding at the Gulmarg Ski Resort
Taking a gondola ride to the top of the mountain
Hiking in the surrounding mountains
Trekking to the Lone Pine
Visiting the Gulmarg Lake
Playing golf at the Gulmarg Golf Course
Shopping at the local markets
Enjoying the local cuisine