Rishikonda, the 'Jewel of the East Coast
Rishikonda is one of the best beaches in India. It is situated on the eastern coast of India, and it touches the Bay of Bengal. Rishikonda Beach is located in Vishakhapatnam city of Andre Pradesh state. Rishikonda is also known as Rushikonda beach.  This beach is one of India's cleanest beaches, which is why people love to visit here. On this beach, you will see the natural beauty and pristine blue water. Rishikonda Beach is also known as the 'Jewel of the East Coast' for its natural beauty. Nearby this beach, there are many things available that are amazing to see, like the Rishikonda hills. The golden sand looks more attractive, which makes it too amazing and provides a unique look.
In India, there are many beaches available for a visit, and every beach has different and different specifications. Like those beaches, Rishikonda beach has also had many special things like water sports and natural beauty. Many people come here to make their holidays and carry many amazing memories. Let us know more about Rushikonda beach; read the below content carefully.
Why should we visit Rishikonda beach?
If you are an adventures lover, then this beach has many water sports available so you can go for that like this beach is on one of those beaches which provides you with swimming permission under the supervision of the experts so if anybody does not know how to swim and want to enjoy the swimming then they should come here. Its natural beauty attracts people to come here and enjoy nature as well as the best weather in the state of Andre Pradesh.
What are the things that can be done at Rishikonda beach?
The visitor can do many things here. Let us discuss the points below.
Boating: One of the favorite things that can be done on the beaches, Rishikonda beach is also providing you with the boating experience. Either you can go along with the motorboat, or you may go with a group on a ship, so this is one of the common things which people can do.
Swimming: – Rishikonda beach is one of the cleanest beaches, so people love to swim here. If any visitor is scared by swimming, then there are trained teams available by which the visitor can swim fearlessly.
Water Surfing: Many sports and adventures lover love to do water surfing, which is why most adventures lover comes here for surfing.
Peaceful nature: – this beach is one of the most tranquil beaches. Hence, many people come here to listen to the voice of the water and their waves, which provide you inner peace to the visitor's heart and mind, so if you are a peace lover, you should definitely visit this beach.
Natural beauty: This beach is situated near the Rishikonda hills, so people can feel nature and spend some time with nature. The palm trees and the coconut trees give a unique and amazing texture to the beach.
Sunrise view: If the visitor is a nature lover, they definitely want to see the sunrise, which is one of the best times to visit, especially for photography which is the best place. Many photographers come here and love to do sunrise and natural photography.
Fresh seafood: – the Traveler can get new seafood so you can enjoy your days in a better way and can enhance the taste.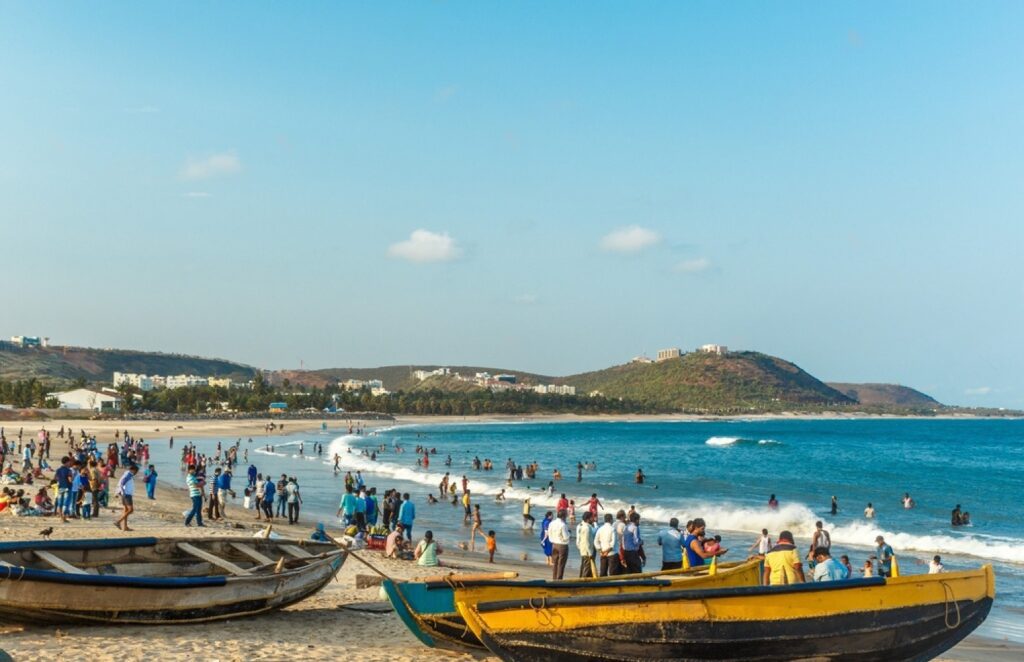 How to visit here?
Rishikonda Beach is situated on the edge of Vishakhapatnam. It is 8 km away from the city center, so if any visitor wants to visit there, they can visit via taxi, public transport, and personal transport. The city is too near to the beach, which is why there is no worry about a stay problem. There are too many resorts and hotels available which provide the best services to their visitors.
What is the perfect time to visit Rishikonda beach?
The morning time or evening time is the best time to visit a beach, but if the temperature is moderate and you want to go for adventure water games, you can also visit between noon.