TOP Eight street food to eat in Kashmir
Street Food in Kashmir, Do you love to eat different and different food? Well, India is one of the beautiful places where you can find too many things which are necessary for the people like visiting new places, different things like lots of all enjoyment places, fun activities and many more things but the thing is that we can't forget food while adding in this list. Because the food is one of the amazing things which is to explore and if you talk about the street food then it comes to a unique picture in your mind because street food is always like with the spicy tasty which the entire person love it. So today I am going to tell you about some of the amazing street food of Kashmir which will lead you to enjoy yourself while visiting Kashmir. So have a look below to get more information about the street food of Kashmir.
There are many street foods which are must to eat so let us start to explore them one by one. 
Kalari kulcha: – This is one of the very famous street food and top on our list while visiting Jammu and Kashmir's restaurant or street food vendors. Kalari Kulcha is made with dense cheese which is made with the cow or got milk. The Kalari Kulcha is served with vegetables, Kulcha and Chutney. Now it is innovated a new type of this dish. So the restaurant started filling it into a bun of the burger so it is made like and burger plate with Kalari. 
Kachalu chaat: – This is a common street food that you will see in the state of Jammu and Kashmir. It is made with mixed Tangy tamarind and spicy chili flakes with potatoes to make it so delicious if you are looking to visit Jammu and Kashmir then you must try this kanchalu chart.
Dum Aloo: – It is one of the very famous street foods and the proper name of this is known as Kashmiri Dum Aloo which is made with the boiled potato and after crushing that yogurt cream is used to mix as well as some spices are added so it could be made so amazing in the test.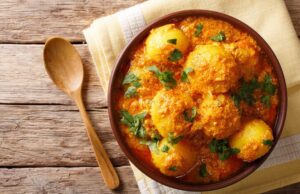 Monji Grade: – This is a non-vegan dish if you are a non-vegan dishes lover then you will going to love this dish. Because this dish is made with the fish which is dipped into gram flour and rice flour batter and then made it deep fry with adding some salt and food color. After this is cooked to serve with various things like naan, Shufta, bread, and many more thing.
Halwa paratha: – The Halwa is made with semolina which is known as Suji also this halwa is served with the Paratha which is having a diameter of 3 feet and make with flour it is very known for its sweetness and attractive look people love to eat this food because it is sweeter and having something unique taste from others.
Lala shangram: – this is a very famous and crispy snack which is made with the semolina are you can say Suji and flour and add did some sugar to make it sweet after eating sugar it is deep-fried in the ghee this is so delicious whenever you will eat this it will melt in your mouth and change the texture of your mouth and you can easily find it on the streets of Kashmir.

Nadir Monji: -It is made with the lottery system which is dipped into a batter of gram flour and flour of rice. Then it is deep-fried with adding some amount of salt for making it a bit harder. Whenever you eat this delicious food it will look like a crispy part outsider and whenever you eat the inner part of this dish you will find the lotus steam inside. 
Masala tchot: – The chickpeas and the radius Chutney is wrapped beautifully in a Kashmiri style in a Kashmiri bread which is called Lavasa this is the best breakfast which you will definitely be going to enjoy in the streets of Jammu and Kashmir whenever you visit Jammu and Kashmir so it will definitely be going to make your day special because the taste of this is something different which you have not eaten yet.