TASTY STREET FOOD OF HYDERABAD 
Delicious Street Food of Hyderabad, There are many things in India that make it differ from other countries like its culture, its food, its tradition, and many other things which are related to India. But if we talk about India then in India also you can separate it in 29 different and different states which make it so amazing and different and that are why there is some different style culture and tradition you will find in every 29 states. Today we are going to touch the food of a very beautiful state and that is none other than Hyderabad. It is especially known for its special biryani. But there are too many Delicious Street Food of Hyderabad which you will definitely love.
So let us taste some Delicious Street Food of Hyderabad in between the streets of Hyderabad.
Hyderabadi Biryani: – it is a portion of delicious food and very famous street food in the world. This delicious food is made with delicious long grain basmati rice. You will see this delicious food in every corner of the city. It is a kind of the main course which is served in every Delicious Street Food of Hyderabad. The long grain rice is boiled and some spices are added to it with the pieces of meat to make it delicious. So whenever you visit Hyderabad you must have Hyderabadi Biryani once and I am sure that you will definitely miss the taste of Hyderabadi biryani after eating this.
Phirni: –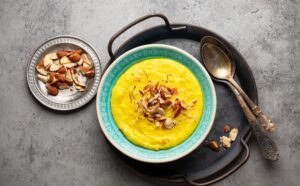 Phirni is made up of rice, milk, and sugar. After cooking it for half an hour it gives you an amazing test which you will definitely not forget. You will find this famous street food in Hyderabad as well as it is especially served in the festival of Ramadan. The unique flavor and taste of it make it much delicious.
Hydrabadi haleem: –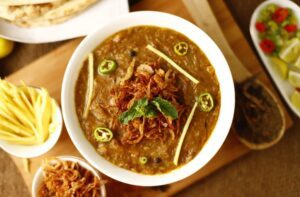 it is one of the delicious food which was invented during the rule of Nizam. It is a very famous dish which you will find in every state of Hyderabad because of its traditional spicy taste people love to eat it. In this dish, the lentils are contained with pieces of meat as well as pounded wheat which makes it like a thick paste. This dish is used to see usually in the month of Ramzan.
Boti Kebab: –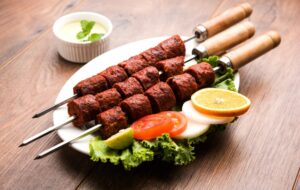 is one of the finest and delicious foods which is a kind of a starter orphan lamb if you are the meat lovers and it is the best option for you to go with because it is made with the grilled lamb and the spices of it make it more delicious eat it. And that is why whenever you visit Hyderabad and you must have to eat this Delicious Street Food of Hyderabad.
Qubani ka meetha: – it is one of the best dishes which you will find in Hyderabad. It is a kind of sweet dish. It is used to say that if you would not eat Khubani ka Meetha then visiting the city of Nizam is useless. The garnishing of it is done with the cream, Malai as well as cashew nuts which will help you to serve The best authentic taste of Hyderabad.
Iranian Chai with Biscuits: –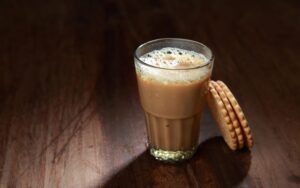 It is a unique dish which is very famous in Hyderabad because it contains tea which contains 3/ fourth part of milk and fourth part of the decoction of tea. As well as the biscuits of it are amazing which you must try to have whenever you visit Hyderabad.
Fruit flavored ice cream and faluda: –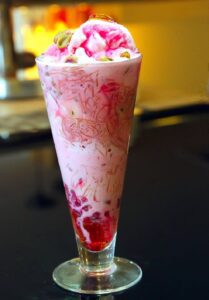 it is the best Indian dessert which is served in Hyderabad. It is made with milk and rose syrup the Falooda is garnished with sweet basil seeds and Jerry pieces. Ice cream scoop makes it more delicious whenever it is added. ice cream and call the things lover then you must have ice cream Falooda.
Andhra Dosas: –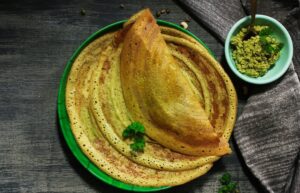 this dish you will find at every street and every place of Hyderabad. It is one of the very Delicious Street Food of Hyderabad which is chosen as per your choice like masala, Paneer, cheese, butter, stuffed and many other things can be used to make it more delicious it is one of the best breakfast which you will see in Hyderabad. So whenever you visit Hyderabad you must have it.
Lukhmi: – It is a kind of different dish which is a non-veg dish. If you are a Samosa lover and you want something non-veg with it then you can ask for lukhmi Which is one of the best snacks of Hyderabad in this you can stop many things like lamb meat, pork and many other things as per your choice search you are the non-veg lover then you must try it.
Nihari: –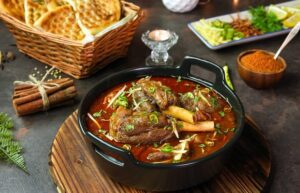 It is a stew of lamb which is specially served during the occasion of Eid so whenever you are visiting during the Eid festival or you may see Nihari everywhere. Because it is a very popular guest people love to have it and if you are also I am always lover then you must go with this Delicious Street Food of Hyderabad .